10 Best Chainsaw Chaps of 2023 – Top Picks & Reviews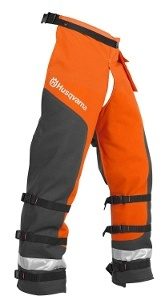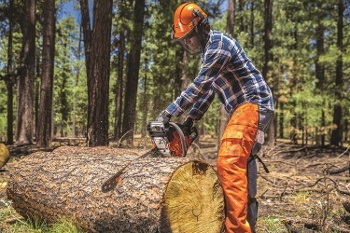 Despite their bad reputation, chainsaws are just tools. They may be dangerous, but if you use them in a smart way, you can cut your risk of harm down to almost nothing. When someone suffers an injury due to a chainsaw accident, chances are they skipped one of the unskippable steps that could have kept that "accident" from occurring.
In this article, we're running down the best sets of chainsaw chaps. You might know that you need to wear goggles to protect your eyes from flying chips, work gloves to protect your fingers from the blade, and a helmet if you're ever cutting branches above your head. Leg protection, however, doesn't get discussed as much.
And yet, if you lose control of the chainsaw due to kickback, where is going to land? Right at your feet. If that happens — and we hope it never does — a good pair chaps can literally be a matter of life and death.
That's a lot of pressure! But lucky for you, we've researched the best pairs so you don't have to.
---
A Quick Comparison of Our Favorites in 2023
Rating
Image
Product
Details

Best Overall

Husqvarna Technical Chainsaw Chaps

Stops a chainsaw
Excellent brush protection
Very comfortable
CHECK PRICE

Stihl Protective Chainsaw Chaps

Open-back design
Easy to take off and put on
Very comfortable
CHECK PRICE

Best Value

Forester Apron Chainsaw Chaps

Full range of motion
Stops a chainsaw
Easy to put on and take off
CHECK PRICE

Husqvarna Open-back Chainsaw Chaps

Open-back design
Dries quickly
Full range of motion
CHECK PRICE

Oregon Protective Chainsaw Chaps

Breathable fabric
Stops a chainsaw
Affordable
CHECK PRICE
The 10 Best Chainsaw Chaps
1.

Husqvarna Technical Apron Chainsaw Chaps – Best Overall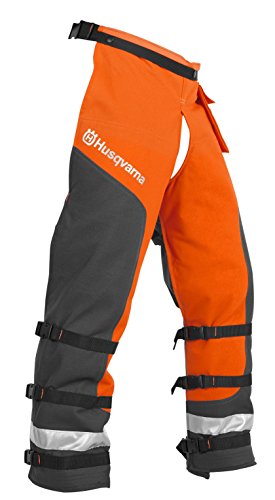 Made by Husqvarna, the pack leader in basically everything to do with chainsaws, these chaps are the top of the line. They're available in 36-inch to 42-inch sizes (note that this is waist to ankle, not inseam), with a 42-inch adjustable waist. Four straps per leg — three on each calf, and one on each thigh — are easy to buckle and tighten.
It never takes more than a minute to get these chaps on, and never more than five minutes to forget you're wearing them. These chaps use 1000-denier polyester as their base material, reinforced with a PVC coating and extra protective wraps. It's comfortable enough to hike through the woods in, yet tough enough to stop a chainsaw blade from running right through them (don't worry, we weren't wearing them when we tried).
Husqvarna's chaps also provide more coverage than most other leg protection. They're able to guard against cuts to your calves and the back of your boots, which we don't see often.
The only complaint we've got is that these chaps are heavy. They're cumbersome to carry around when you aren't wearing them, and in the summer, you should expect to sweat.
Pros
Extremely tough
Most covered area of any chaps
Relatively inexpensive
Easy to put on
Comfortable to walk in
Felling wedge pocket included
---
2.

Stihl Protective Chainsaw Chaps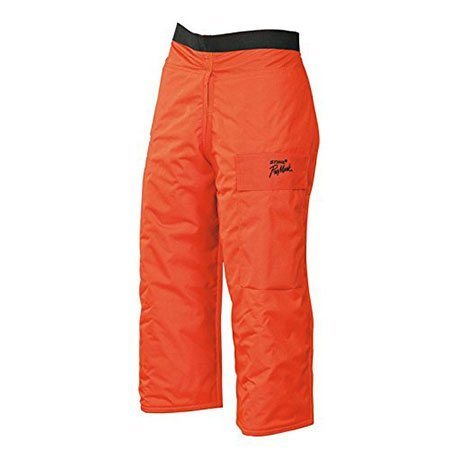 Wherever you find Husqvarna, you'll find Stihl running right behind. These chaps aren't quite as great as our number one pick — and they're a lot more expensive — but they're amazing protective gear when considered on their own.
The one thing Stihl's chaps have over Husqvarna's is that they can be opened in the back. As apron-style chaps (as opposed to the Husqvarna pair which are technically trousers), they're more comfortable to use in the summer.
These chainsaw chaps feature a broadly adjustable waistband that can run from 30 to 42 inches, with a strap that lets them expand even larger. They protect your legs using layers of impenetrable Avertic Pro textile, sewn onto an outer layer of nylon that lets the chaps resist oil and water as well as blades. They're comfy and easy to wear and have a useful pocket on the front for your other tools.
Other than the excessive price, the worst thing about these chaps is the sizing, which can be confusing and inaccurate. Also, we can't condone the ability to open the back and sacrifice protection: people will use that feature if it's there, making everyone who wears these less safe. Saying that, these are the best Stihl chainsaw chaps we have found if you are loyal to a brand.
Pros
Extremely tough material
Cool in summer
Expansive waist adjustment
Convenient pocket design
Easy to put on
Cons
Open-back design
Over-priced
Confusing sizes
---
3.

Forester Apron Chainsaw Chaps – Best Value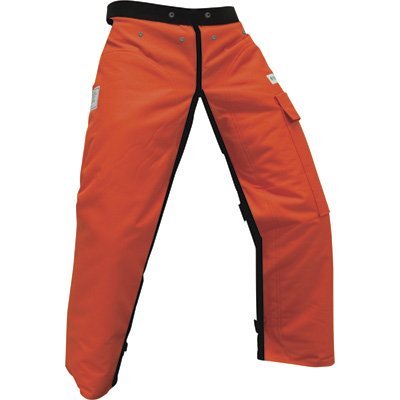 These open-back chaps meet ASTM and OSHA regulations. They're relatively comfortable to wear, although they're much hotter than they should be, given their open-back design. They're available in a variety of sizes and colors. Putting them on and taking them off is simple once the straps are properly adjusted to your fit. Once they're properly fitted, you'll have a full range of motion while wearing them.
The pictures from the manufacturer show the crotch area being covered, but when you open the box you'll find the coverage stops six to eight inches below the waist, leaving the crotch area completely unprotected.
These chaps slide around to the sides, leaving the inner thighs exposed. No matter how you adjust them, they keep doing this. The waist clasp is also poorly designed. Any amount of bending or stooping causes it to loosen, letting the chaps drop. It simply won't stay tight, and you have to keep pulling them back up regardless of what you do. Chaps that won't stay put won't be in place to protect you.
These aren't a match for the top two, but for the price, they'll do the job of protecting the front of your legs.
Pros
Stops a chainsaw
Full range of motion
Easy to put on and take off
Cons
Very hot
Open-back design
Slippage problems
---
4.

Husqvarna Open-back Chainsaw Chaps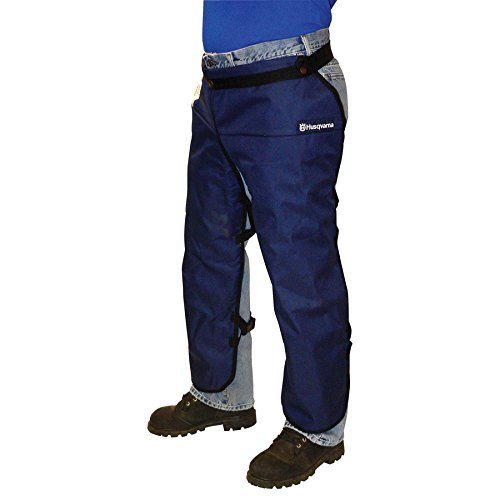 If you want Husqvarna quality but despair about ever affording it, never fear: the venerable Swedish establishment also makes some of the best chainsaw chaps for the money. Significantly cheaper, yet still offering all the certified protection of our number one pick, these 38-inch chaps (that's waist to ankle, not inseam) are a strong option for chainsaw users on a budget.
The base material for these chaps is 600-denier polyester. It's not as heavy or dependable as 1000-denier, but it is reinforced with the same PVC and Tek Wrap outer coating. We put them on our test dummy and took a gas chainsaw to them, and they stopped the blade several times over (don't forget that in the real world you want to replace chaps after they save you once).
Our main concern here is the color. Dark blue and gray might look more stylish, but they're much less visible in the woods, which is cause for worry if you're working with anybody else. Also, while 600-denier polyester will still protect you, you're still potentially sacrificing your safety by choosing to save money.
Pros
Affordable
Easy to fit
Certified blade-proof
Light and comfortable
Cons
Less protection
Only come in one size
Low-visibility colors
---
5.

Oregon Protective Chainsaw Chaps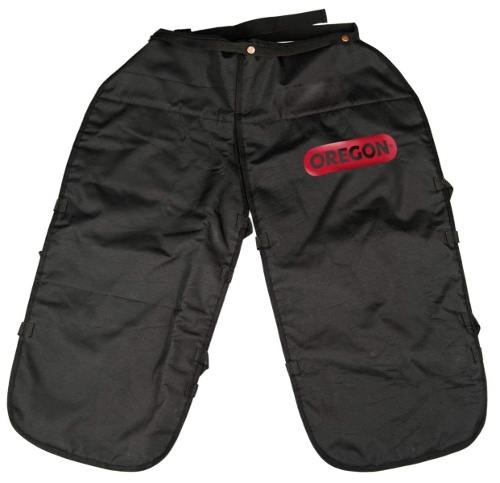 These open-back chaps meet the ASTM regulations. According to the manufacturer, they're made from eight layers of breathable, warp knit 600 Denier Oxford shell nylon. They'll stop a chainsaw.
That's the end of the good news, though. The open-back design won't protect the backs of your legs. The buckles simply will not hold the straps in place no matter how much you adjust them. The straps constantly slip out of the buckles, come loose, and refuse to hold. This leaves the chaps flapping wildly, significantly reducing your protection.
These chaps also suffer from the one-size-fits-none syndrome. If you're six feet tall or taller, they'll be far too short, leaving your lower calves, shins, and ankles exposed. If you're five-and-a-half feet or shorter, you could wind up tripping over them. Neither scenario is very safe.
Pros
Very cheap
Comfortable waist
Stops a chainsaw
Cons
Buckles slip
Uncomfortable
Can't be adjusted
---
6.

LABONVILLE Premium Chainsaw Chaps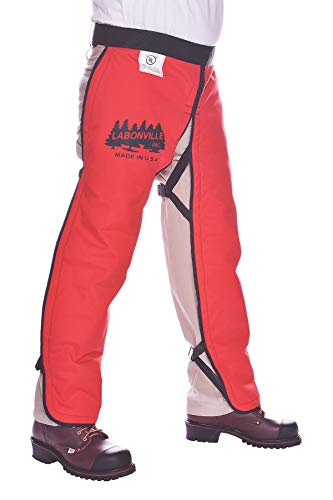 Labonville's chaps are a premium option for chainsaw leg protection. They come at a higher price than picks one through three, but they earn that extra cost. To start, they're American made. If that's important to you, Labonville is the product for you.
The chaps themselves start with five layers of kevlar-polyester blend, which helps them resist cuts while remaining comfy and light. Labonville rounds them off with 1000-denier nylon and a finishing coat of heavy-duty urethane.
It's an unorthodox, proprietary blend, but it works. In our tests, they stopped the blade every time, long before the cut got to the bottom kevlar layer. They're also great at resisting brambles and thorns. On top of that, the straps are easy to adjust, making these a good fit for users of all sizes. We'd recommend these chaps for users of any kind of saw, no matter the weight or horsepower.
The price is pretty hefty, but there's a bigger drawback to be aware of: quality of the sewing. Labonville didn't skimp on protection, but did cut corners when sewing on the straps. Make sure to check all the seams on each strap before trusting these chaps to save you from the ER.
Pros
Top-quality protection
Versatile fit
Great for walking through brush
Cool and light
Made in America
Cons
Expensive
Straps sewn on poorly
---
7.

Arborwear Mens Apron Chap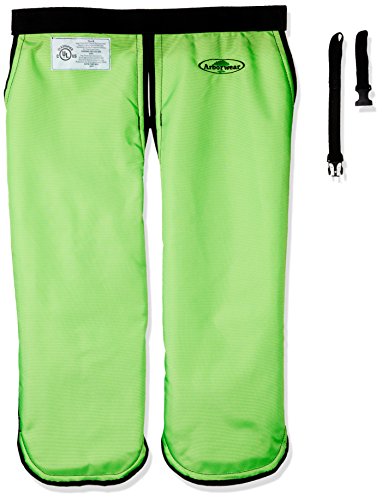 At number seven, we've got these apron-style chaps from Arborwear, which we've ranked cautiously because they're very new to the market. With some time, it's definitely possible that they'll rise in the ratings.
Securing to your legs with two straps on each, these chaps are comfortable and broadly adjustable. By this point, we'd gotten really impatient with the black-magic sizing standards of the major brands, so we love that the sizes actually make sense. If the straps don't fit you initially, Arborwear makes them easy to replace.
The actual protection comes from six layers of nylon: 400-denier on the inside, and 1680-denier on the outside, all reinforced with polyester. The backs are closed, so your legs are safe from all directions.
They held up all right to our tests, but there's only so much we can do to simulate a real-world accident. These are great chaps, but until we've gathered more stories and done more long-term testing, we're not comfortable putting them any higher.
Pros
Sensible sizing
Comfortable and warm
Easy to replace straps
Cons
Uncertain protection
No long-term data
---
8.

Portwest Workwear Mens Chainsaw Trousers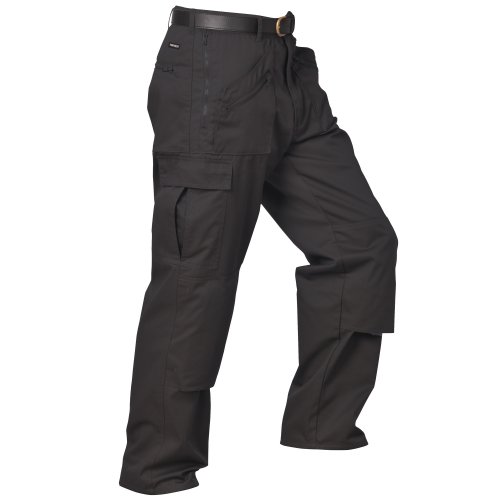 This part of the list is where the cons begin to balance out the pros. That's the case with Portwest Workwear's chainsaw protection pants. They look nice and do a lot of things right, but come with at least one drawback for each selling point.
The best thing about these pants is the comfort. They're 180-degree trousers, not chaps, which makes them a lot warmer in the winter — plus you don't have to wear anything else but underwear. They're totally waterproof, and also protect you against the sun, with an ultraviolet protection factor of 50. And there's a phone pocket!
The first negative is the sizing. The sizes range from "small" to "xx-large," with no measurements as a way to tell what these are referring to.
Much worse, though, is the deceptive safety coverage. These trousers are the same color all the way around, suggesting that they provide total chainsaw protection. In reality, though, only the front of each leg is reinforced, not the back. Portwest owes it to their customers to be clearer about that.
Pros
Warm in winter
Protects against sun and water
Phone pocket
Cons
Illegible sizing
Back half is not reinforced
Too heavy for summer
---
9.

Pfanner Gladiator Extreme Chainsaw Protection Pants
Pfanner Gladiators are another unknown on the chainsaw PPE market, but unlike the Arborwear chaps at number seven, these are starting out with some baggage. For starters, they only offer Class-1 protection, which is enough to stop a blade moving at up to 20 meters per second. More powerful chainsaws can easily clear that, even while cutting.
Second, they're short. These pants don't cover your ankles, and feel like you're wearing chaps that are two sizes too small. There's a lot of space for something bad to happen. Along with all that, they're bulky, and cause a lot of discomfort in the heat.
There are some redeeming factors, however. Though these chaps are heavy, they're otherwise comfortable, and make walking through briar patches a breeze. If they didn't need to protect you against chainsaws, they'd be the perfect field gear.
Pros
Comfortable and wearable
Versatile waistband
Protect against thorns and briars
Cons
Buckles slip
Uncomfortable
No ankle protection
Useless against higher blade speeds
---
10.

WoodlandPro Chainsaw Safety Chaps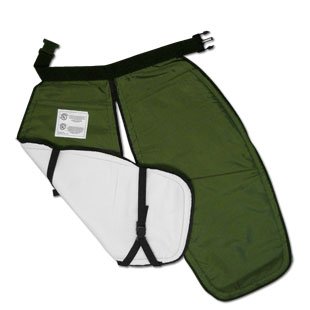 Rounding out the list is another set of chaps we know very little about, other than the results of our backyard tests. Taking saws to these chaps on our dummy, we were pleasantly surprised by how well they held up, once even slowing down the blade twice in the same spot.
Beyond that, though, we've got nothing — Woodland Pro is just a name on a tag. It might sound like we're being paranoid or elitist, but when it's the difference between a Band-Aid and a trip to the ER, it pays to be able to trust the people who made your gear.
The only other thing we can say about these chaps is that some genius decided to color them forest green, cutting down visibility and skyrocketing the chance of an accident.
Cons
Very little information available
Unsafe green color
---
Buyer's Guide – Purchasing the Best Chainsaw Pants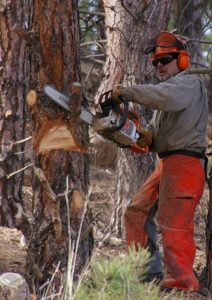 Chainsaw chaps can be used over and over again – until a chainsaw hits them. Once they've been ripped by a chainsaw, it's time to buy a new pair. But just because they're "disposable" doesn't mean you can skimp on them. Which do you value more, your money or your legs? Make sure you're buying chainsaw chaps that meet the right standards and regulations, and that are constructed of material(s) which will actually stop a chainsaw from ripping your leg(s)  apart.
Important things to consider
The heat factor
Chainsaw chaps are hot. That's a given. That being the case, here is something to think about.
Chainsaw chaps are made from multiple layers of special nylon fibers designed to catch and stop a fast-moving chainsaw. Naturally, all that extra material is going to be hot. Is there a difference between full-leg chaps or open-back ones in terms of heat and/or protection?
The only accurate answer is: yes and no.
Most chainsaw accidents happen to the front side of the legs. But "most" isn't "all." There are people who've had a chainsaw slip and cut the backs or sides of their legs, along with all the attendant horrible injuries that occur when flesh meets a chainsaw. This argues for chaps that cover the entire leg.
Is an open-back design just as safe?
Most people will complain that those kinds of chaps are too hot. They'd rather wear the open-back design, which allows for some air to get in and keep things cooler. That's a good theory, but is it accurate?
Oddly enough, the answer is no. Every set of chaps in this list had heat problems, whether they were full-leg chaps or open-back ones. The temperature problems were nearly identical with every pair.
Since there will be heat issues no matter what type you get, you should consider if it's worth it to get a pair of full-leg chaps and have 360º protection on your legs. Don't sacrifice safety for an imaginary benefit that turns out not to exist after all.
What makes good chainsaw chaps?
First and foremost, chaps should protect you if an accident happens and a chainsaw hits your leg(s). Everything after that is gravy.
Comfort
However, chaps should be comfortable, allowing for a full range of motion. You don't want protective equipment making you trip and break your head, arm, back, etc. That's a bad deal.
Ease of use
Good chainsaw chaps should also be quick and easy to put on and take off. Once adjusted to your particular fit, it should only be a matter of moments to put them on and get to work. Chaps that are difficult to get into or out of, or that won't stay adjusted, are a pain in the neck. Pretty soon you'll dump them and get a better pair.
Available Options
If you need chainsaw chaps, you probably also need a helmet with a safety shield for your face. Throw in some steel-toed boots, leather gloves, safety goggles, and sound suppressors to round out your lumberjack equipment, and you'll be set.
Conclusion:
The best chainsaw chaps overall are the Husqvarna 587160704 Technical chaps. They protect your legs front and back, top to bottom. They're easy to put on and take off, give you a full range of motion, and will absolutely stop a chainsaw from tearing into you.
The best chainsaw chaps for the money are the Forester CHAP437-O Apron. It doesn't offer the back-of-the-leg protection of the winner, but within its limitations, it will stop a chainsaw from sending you to the ER.
Hopefully, we've given you the information you need and simplified the decision you have to make about which chainsaw chaps are best for you.
Related chainsaw articles:

A roundup of our favorite homeowner chainsaws
Which 18-inch chainsaws performs the best?