7 Best Chainsaw Helmets of 2023 – Reviews & Top Picks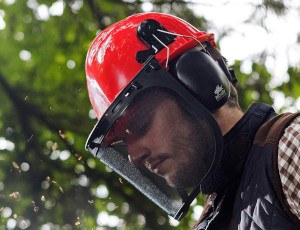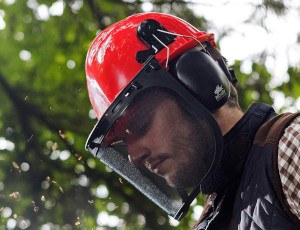 Safety equipment is of the utmost importance when operating a heavy power tool like the chainsaw, and the safety helmet is at the top of the list. It can be challenging to find a suitable chainsaw helmet because there are many different features offered, like headphones and face shields that can make the decision more complicated. Not all brand's idea of "heavy-duty" is the same either, and some may use flimsy materials in their construction.
Join us while we review seven popular chainsaw helmets and discuss the pros and cons of each one. We'll point out durability issues like plastic thickness as well as features like clear and metal mesh face shields. We'll talk about noise-reducing earmuffs and discuss ease of assembly and comfort to help you make an educated purchase.
Comparison Table of Our Favorites (updated in 2023):
Rating
Image
Product
Details

Best Overall

Husqvarna ProForest Chainsaw Helmet

High-visibility orange
Rain neck protector
UV protection
CHECK PRICE

Best Value

TR Forestry Chainsaw Helmet

Five-in-one safety helmet
Six-point ratchet suspension
High-visibility orange
CHECK PRICE

Oregon Chain Saw Helmet Combo

Detachable sun peak
Stainless steel visor
Six ventilation holes
CHECK PRICE

NoCry 6-in-1 Forestry Chainsaw Safety Helmet

Adjustable mesh visor
Fully adjustable headband
Adjustable 25.9 dB NRR earmuffs
CHECK PRICE

Felled Forestry Safety Chainsaw Helmet

Clear polycarbonate visor
30 dB noise reduction
Adjustable six-point suspension
CHECK PRICE
The 7 Best Chainsaw Helmets:
1.

Husqvarna ProForest Chainsaw Helmet – Best Overall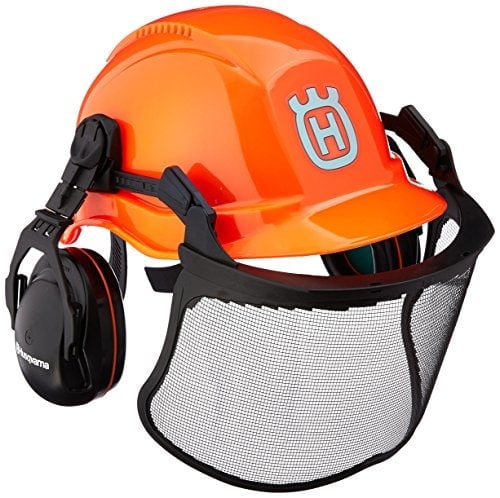 The Husqvarna ProForest Chain Saw Helmet System is our pick for the best overall chainsaw helmet. This "one-size-fits-most" helmet is one of the most comfortable on this list. The shell material is UV protected, so it won't harden and crack in the sunlight. It also features a six-point suspension system to help keep it stable and comfortable on your head for hours at a time. It also reduces any impact damage that might occur.
Built-in to the helmet are 24 dB Noise Reduction Rating (NRR) ear covers that will both protect your ears from the high volume of the chainsaw and the dangers of flying wood chips. It's American National Standards Institute (ANSI) Z89.1-2003 Class G-E-C compliant and comes in Hi-Vis Orange to make sure you are visible on the job, even in low light conditions.
We love the Husqvarna ProForest Chainsaw Helmet and use it often. The only downside is that the visor is a bit challenging to attach to the helmet when you first get it.
All in all, we think that this is the best chainsaw helmet of the year.
Pros
One size fits most
Adjustable six-point suspension
High-visibility orange
UV protection
Rain neck protector
25 dB NRR hearing protection
Face screen
Cons
Headband adjustment is difficult
---
2.

TR Forestry Chainsaw Helmet – Best Value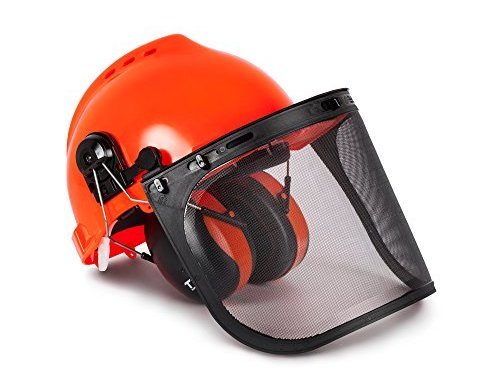 The TR Industrial Forestry Safety Helmet and Hearing Protection System would be the best helmet for the money due to being a five-in-one helmet, but you get two helmets for the price of one here (it's only available as a 2-pack). The value here speaks for itself.
You can use the helmet alone, with or without the adjustable 30 dB Signal-to-Noise (SNR) earmuffs, plastic visor, and metal mesh visor. Both visors give facial protection, but the plastic one has gaps that can allow debris to get behind it. The metal mesh visor doesn't have any holes for falling branches and debris to get caught in. It's ANSI and Certification Europe (CE) approved and features dial knob adjustment for the perfect fit. It even includes helmet ventilation to allow the top of your head to breathe.
The only real downside we experienced while reviewing the TR Forestry Chainsaw Helmet was that the earmuffs weren't all that durable, and we broke the left side of ours after only a few uses.
Pros
Five-in-one safety helmet
Six-point ratchet suspension
High-visibility orange
---
3.

Oregon Chain Saw Helmet Combo
The Oregon 563474 Chainsaw Safety Protective Helmet Combo Set has a highly visible yellow color, a detachable sun peak, and six ventilation holes to allow proper airflow inside and keep you cool.
This helmet features cap-mounted earmuffs clipped onto the sides. It can be inconvenient to raise and lower them, though. It also has a stainless steel visor to help protect your eyes and face from falling branches or other flying debris. It offers excellent protection for homeowners, but it isn't heavy-duty enough to be used professionally.
The Oregon 563474 has an adjustable six-point suspension harness for a good fit to your head. The clips that hold the harness together are smaller than standard clips, so they break easily. You can't switch them out with a harness from any other helmet, though, due to the clip size.
The biggest problem is putting it together and installing it inside the helmet. It's challenging to do, especially when the instructions are terribly written. We found YouTube to be more helpful.
Pros
High-visibility yellow
Detachable sun peak
Six ventilation holes
Cap-mounted earmuffs
Stainless steel visor
Six-point adjustable harness
Cons
Earmuffs inconvenient to put up and down
Not for professional use
Suspension harness has smaller than normal clips
Difficult assembly
---
4.

NoCry 6-in-1 Forestry Chainsaw Safety Helmet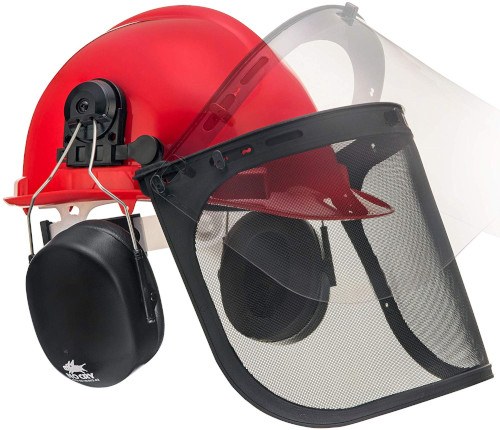 The NoCry 6-in-1 Industrial Forestry Safety Helmet Set has a polycarbonate face shield and a metal mesh visor that can both be set at different angles and depth positions. It also has adjustable 25.9 dB SNR earmuffs that can be twisted around and secured at the back of the helmet if you don't want to use them. They really don't offer much sound protection, so you may want to wear earplugs underneath them.
This helmet has a fully adjustable suspension headband system that is easily adjusted just by twisting a knob. It's effortless to adjust, but a pain to assemble. The instructions are not clear, and the attachment clips were sewn in backward. It took a while to figure out what the problem was. Once that was fixed, it was easy to finish installing.
Special note: The NoCry 6-in1 is ANSI and CE approved for use in a commercial environment.
Pros
Polycarbonate face shield
Adjustable mesh visor
Adjustable 25.9 dB NRR earmuffs
Fully adjustable headband
Easy to adjust
Cons
Minimal hearing protection
Suspension system is hard to install
Attachment clips are backward
---
5.

Felled Forestry Safety Chainsaw Helmet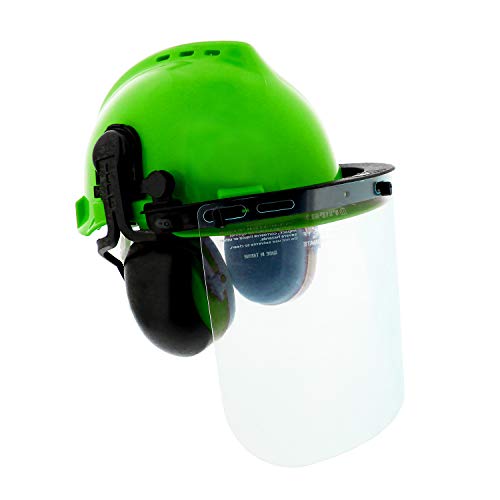 The Felled Forestry Safety Helmet is a four-in-one helmet with six air vents to give your head proper airflow and a six-point adjustable suspension to provide you with a good fit. The clear polycarbonate visor can be raised when you aren't using it. It also has 30 dB noise reduction earmuffs, though they don't really offer much protection. They don't fit tightly to your head, so a good majority of sound gets in.
The helmet, earmuffs, and facemask all seem flimsy and better suited to light-duty work.
Pros
Four-in-one design
Clear polycarbonate visor
30 dB noise reduction
Six vents
Adjustable six-point suspension
Cons
Headset doesn't fit tightly
Flimsy
---
6.

RK Safety Chainsaw-Helmet Combo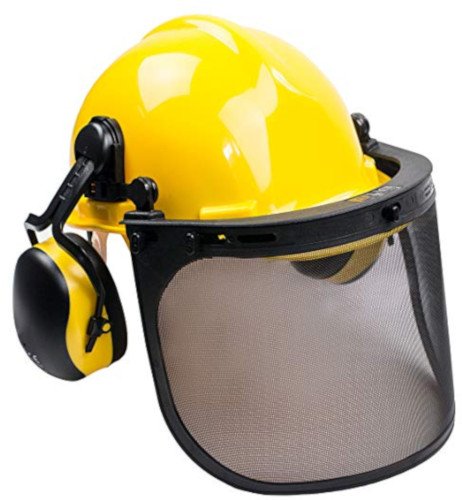 The RK Safety Industrial Forestry Chainsaw Safety Helmet Combo Set is a one-size-fits-most helmet with an adjustable four-point suspension system for a good fit to your head. It also has 30 dB NRR earmuffs to protect your hearing and a steel face shield to help keep your eyes and face from flying debris.
The assembly instructions are poorly written, making putting this helmet together challenging. The materials are of poor quality. The foam inside is cheap and not comfortable to wear for an extended period. It will provide your head with some protection, but it won't absorb nearly as much shock from falling objects as the better quality ones do.
The most problematic downside to the RK Safety Chainsaw Helmet Combo is the lack of a clear face shield, and we like that type of guard for certain jobs. Probably for this reason, RK doesn't provide a warranty on this helmet. Actually, RK doesn't even have replacement parts, so if anything ever happens to this helmet, you'll just have to replace it.
Pros
One-size-fits-most
Adjustable four-point suspension
30dB NRR earmuffs
Steel mesh face shield
Cons
Hard to assemble
Poor quality material
Not recommended for extended periods
No warranty
No replacement parts available
---
7.

Greenworks Chain Saw Helmet
The Greenworks GWSH0 Chainsaw Safety Helmet has a removable mesh screen to protect your face, as well as adjustable and removable earmuffs for your comfort. It also has an adjustable suspension to give it a universal fit so that everyone can wear it.
This helmet is difficult to put together and is not made of the best materials. The unit doesn't ship with assembly instructions, either. It will provide you with some protection, but it won't do much against overly large and heavy objects. The suspension is rather sloppy, so it doesn't have the best fit.
On the bright side, the dial adjustment makes it easy to get snug against your head for better stability. It's also ANSI and CE approved for use in a work zone.
Despite the ANSI and CE approval, we found the helmet made from flimsy plastic and would not trust it on a big job with large saws.
Pros
Removable mesh screen
Adjustable/removable earmuffs
Universal fit
Cons
Difficult to put together
Poor quality material
Flimsy suspension
---
Buyer's Guide – How to Choose the Best Chainsaw Helmet
Benefits of safety helmets
Helps protect your head from heavy falling objects
Guards head from UV rays
Some have earmuffs to protect your hearing
Visors help protect your eyes and face from flying objects
Some have rain neck protectors to keep rain from running down your back
Lightweight and good ventilation system will keep your head comfortable
Choosing the right helmet
There are so many helmets on the market, and they are all different. Below is a list of things to consider.
Material
Most safety hardhats are made from polycarbonate (PC), a thermoplastic (ABS), or fiberglass that's hardened with polyester resins. The hard material absorbs some of the shocks of heavy falling objects if they hit your head.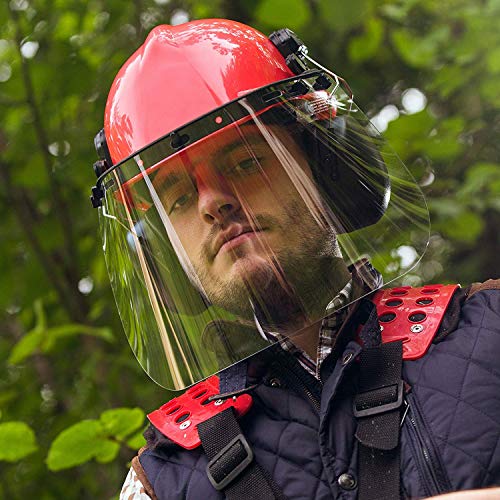 Cost
Helmets are costly. Some have features that others don't, and those items can affect the price of the helmet. Know what your budget is before you shop. Once you're looking, weigh the price difference of the helmets, and the importance of the different features that each one has. You must decide if certain features are worth the extra cost. Safety is important, and so is not breaking the bank.
Color
The helmet's color is essential when it comes to certain weather conditions. White helmets will reflect heat from the sun, keeping you cooler than darker colors will as you work.
Fit
If your helmet doesn't fit comfortably, you won't wear it. Look for easily adjustable helmets. Check that the straps are not so long that they flap around, or so short that they dig into your head.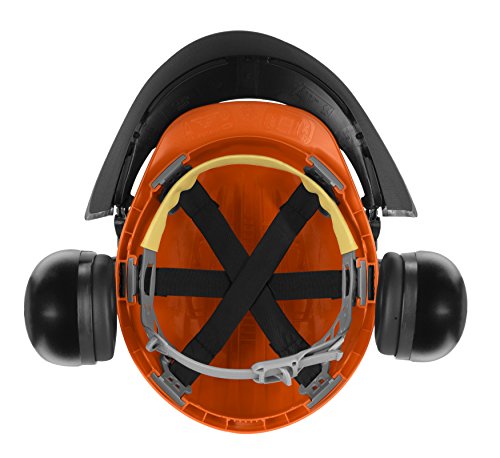 Comfort
Purchase a helmet that doesn't weigh too much to avoid neck stiffness and headaches.
Breathability
A good helmet has proper ventilation to allow good airflow around your head inside it. These helmets are made for use with chainsaws, but they can also be used with any power equipment, such as a lawnmower.
Ear protection
If you don't have ear protection, you can either purchase a helmet with it built-in, or you can buy it separately so it can be used without the helmet.
Face shield
Having a shield will help guard your face from any flying debris that is thrown by the chainsaw.
Safety standards
Helmets must be either ANSI or CE approved to meet health and safety guidelines.
Other chainsaw safety equipment we've reviewed recently:
Conclusion
When choosing a brand of chainsaw helmet, it's important to consider safety first. To provide protection, you need something that uses thick, durable materials, but isn't too heavy or uncomfortable to use or you will be less inclined to wear it. We highly recommend something like our top choice. The Husqvarna ProForest Chain Saw Helmet System has everything you need, including a six-point suspension harness providing comfort and optional mesh or plastic face shield. Our budget choice will save you a few dollars and is almost as good. The TR Industrial Forestry Safety Helmet and Hearing Protection System feature dial knob adjustment and plenty of ventilation fo working in warmer environments.
We hope that you have found these reviews helpful and have discovered some new things about the chainsaw helmet you didn't know before. If you feel you are closer to a purchase, please share this guide to the best chainsaw helmets on Facebook and Twitter.
See also: 10 Best Noise Reduction Earplugs: Reviews & Top Picks