10 Shocking Chimney Fire Statistics – 2023 Update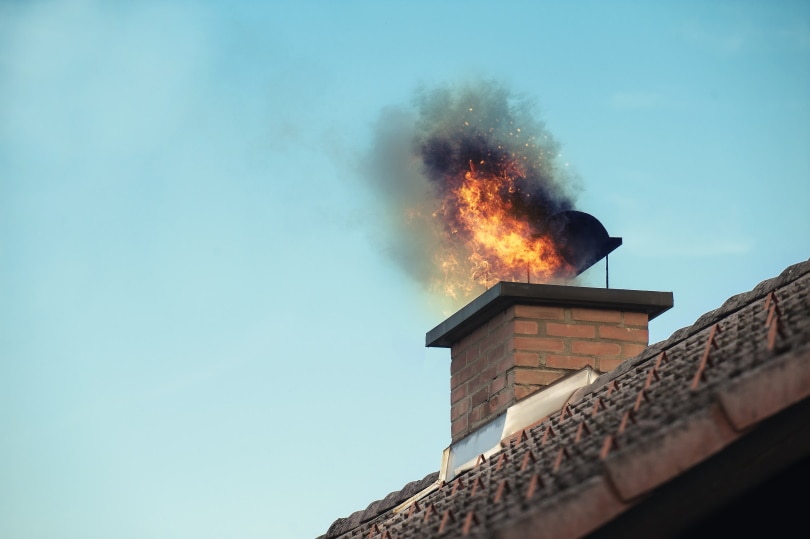 Note: This article's statistics come from third-party sources and do not represent the opinions of this website.
If you are a homeowner, you know a chimney fire can be a very real danger that can result in the loss of your home and even your life or the life of a family member. If you were a new owner and would like to know how frequently chimney fires occur, you've come to the right place. We are about to look at several statistics to help you understand more about chimney fires and why they occur, so you can be better prepared.
---
The 10 Shocking Chimney Fire Statistics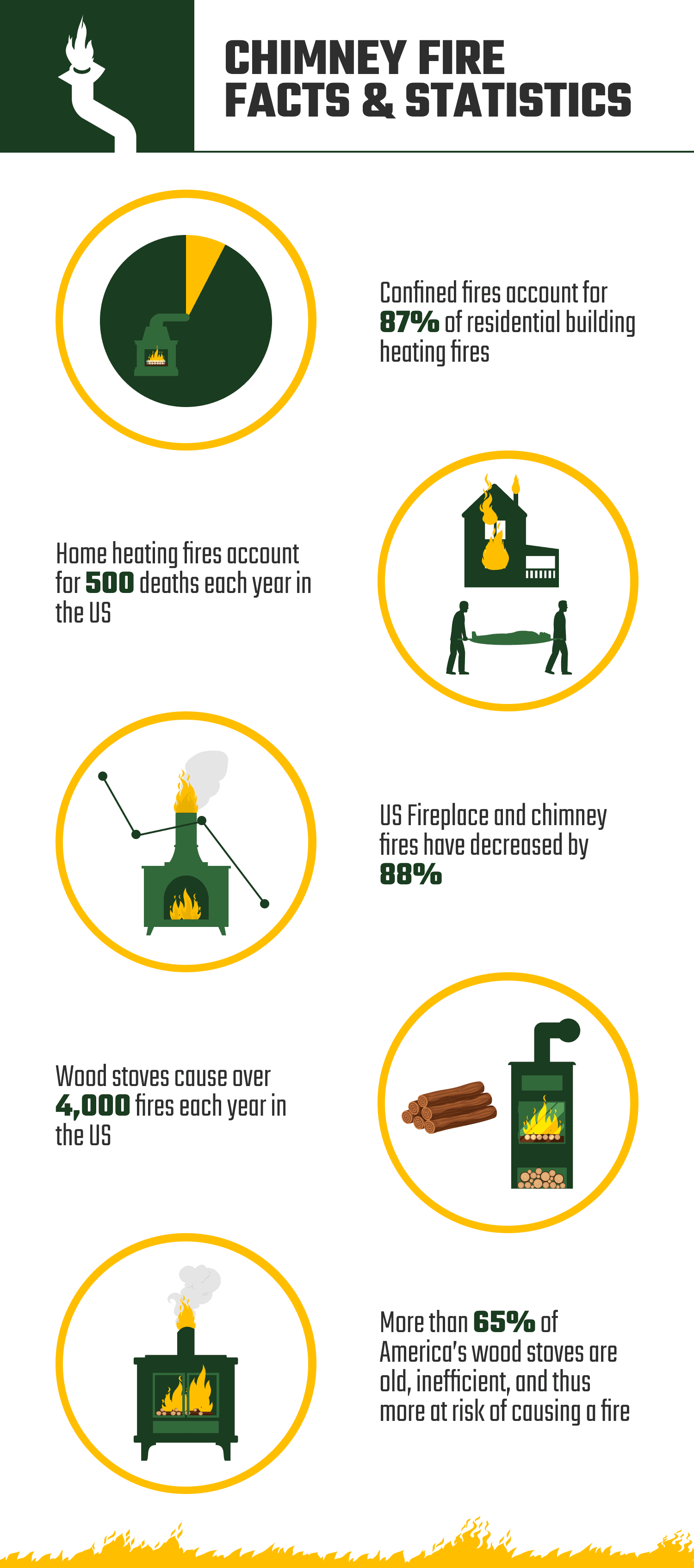 ---
Chimney Fire Statistics
1.

The leading cause of fires in heating equipment is failing to keep it clean.
(National Fire Protection Association)
The primary cause of these fires is the failure to keep the equipment and chimney clean, ultimately causing 25% of the fires. Failure to clean out the creosote from the chimney as it builds up over the years is one of the best examples. Creosote is a flammable chemical that accumulates when burning treated wood or coal, and it can ignite in your chimney if it's not cleaned frequently.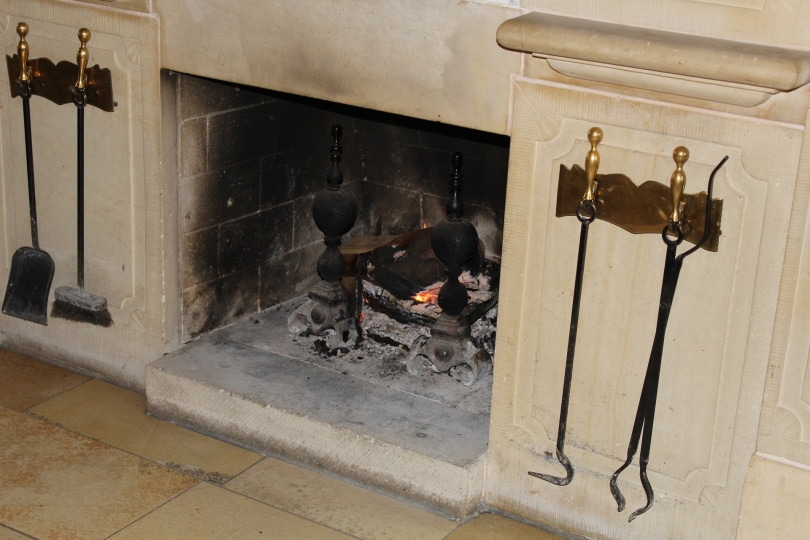 ---
2.

Confined fires account for 87% of residential building heating fires.
(EPA)
Confined fires are the kind you find in chimneys, flues, and flu burners, and they account for 87% of residential building heating fires. Many of these chimney fires happen with wood burners and stoves because of creosote buildup.
---
3.

Home heating fires account for 500 deaths each year.
(National Fire Protection Association)
Each year, home heating causes 500 deaths and 1,350 injuries. Many of these deaths and injuries are preventable by keeping heating equipment farther away from flammable materials.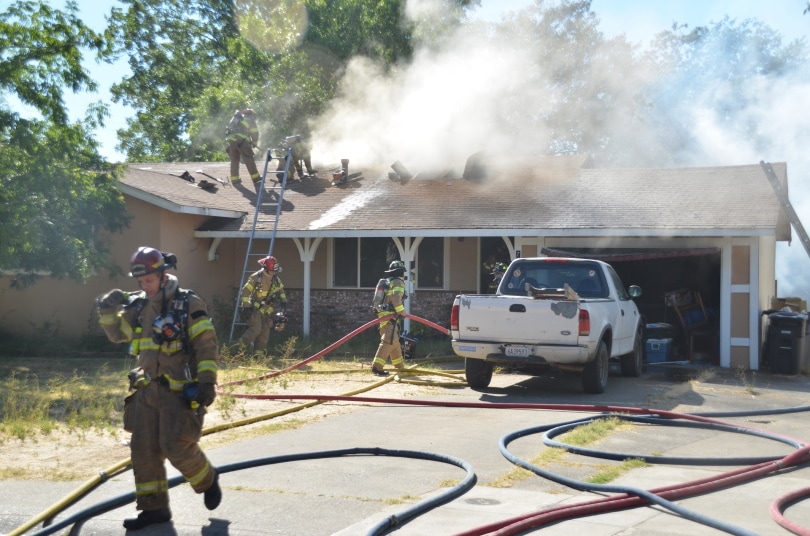 ---
(National Fire Protection Association)
As you might expect, almost half of all heating-related fires occur in the winter months of December, January, and February. Studies show that colder temperatures put more strain on the heating devices, including the chimney, leading to 48% of the fires in just these 3 months.
---
5.

In England, secondary and chimney fires have decreased steadily since 2004.
(GOV.UK)
England has been experiencing a steady decrease in secondary and chimney fires since 2004. In 2004, firefighters responded to more than 450,000 secondary and chimney fires, but in 2021, the number dropped to only 150,000. Other types of fires are decreasing in the United Kingdom as well.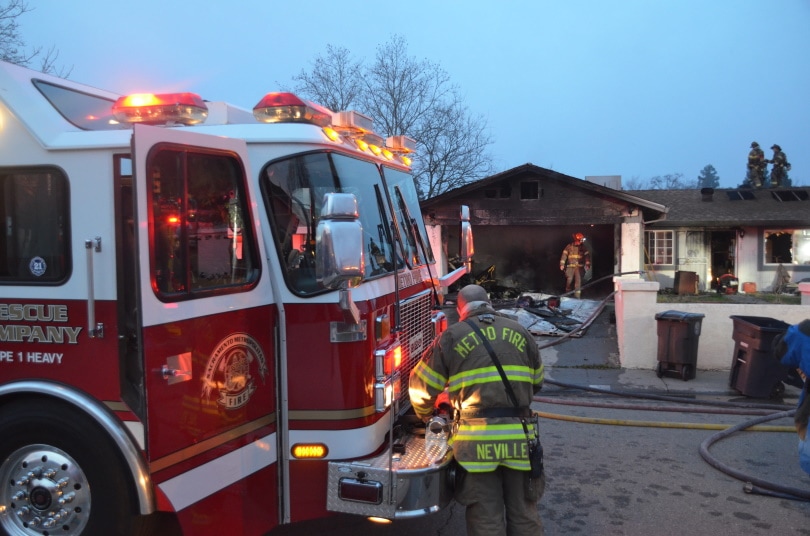 ---
Fireplace Fire Statistics
6.

There was an average of 22,300 fireplace, chimney, and chimney connector fires between 2012 and 2014.
(Chimney Safety Institute of America)
Fireplace chimney and chimney connector fires were responsible for more than 22,300 fires annually between 2012 and 2014. This number is significantly higher than fixed, portable, and central heating combined. Stove and oven-related fires are the closest, averaging more than 13,000 per year.
---
7.

From 2014 to 2018, a fireplace or chimney started three out of 10 house fires.
(National Fire Protection Association)
The National Fire Protection Association reports that between 2014 and 2018, a fireplace or chimney was behind three out of 10 house fires, making it clear that we need to be more vigilant about implementing safety features and properly maintaining chimneys.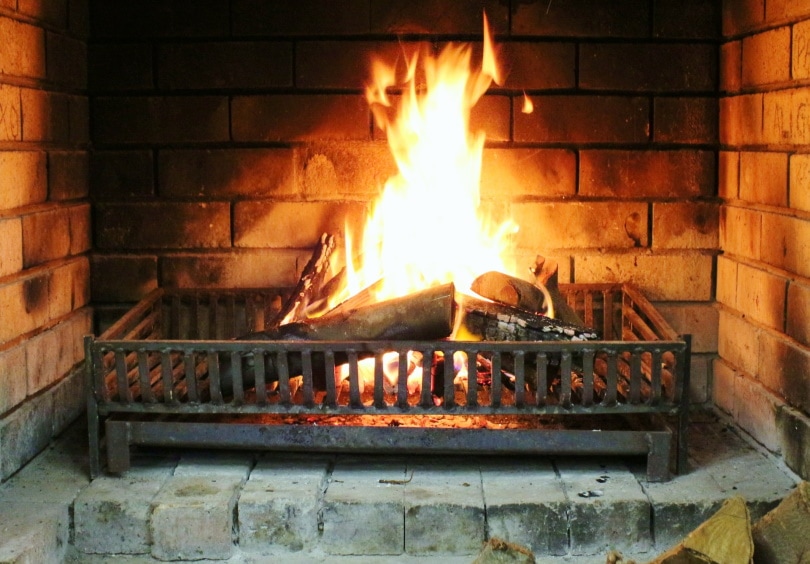 ---
8.

Fireplace and chimney fires have decreased 88%.
(National Fire Protection Association)
Fireplace and chimney fires have decreased 88% when you compare reports from 2014 to 2018 with those from 1980 to 1984. Much of this decrease is likely to do with more safety concerns, higher quality construction, and a transition from wood and coal to natural gas that many people are making.
---
Woodstove Fire Statistics
9.

Wood stoves cause over 4,000 fires each year.
(EPA)
Wood stoves are an extremely popular secondary heater, and many people use them to heat hunting cabins and other small structures. Many experts point out that it's common to fill these stoves with too much wood, which can create high temperatures, and while the stove can handle it, the pipe chimney cannot. A melted or compromised pipe can lead to a structure fire.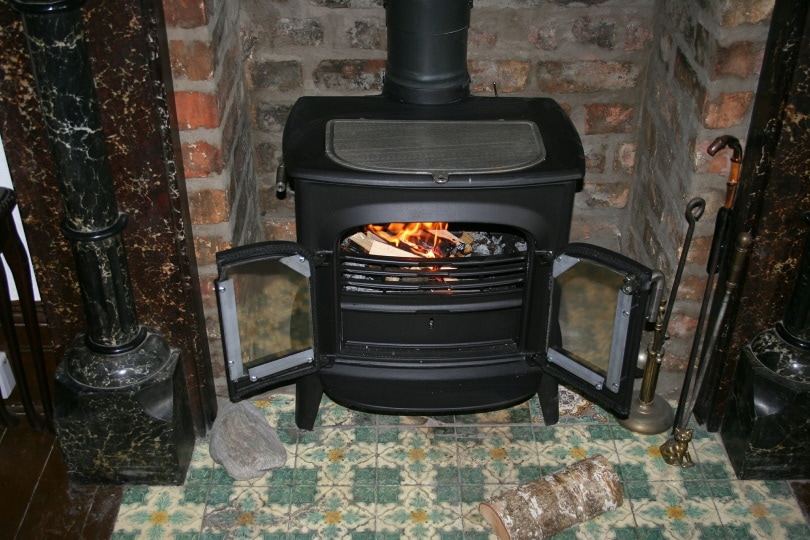 ---
10.

More than 65% of America's wood stoves are old and inefficient.
(EPA)
More than 65% of America's wood stoves are old and inefficient models, and if they were replaced, it could reduce the risk of fire. Modern stoves burn the wood more efficiently and put more heat into the environment to make you comfortable instead of the furnace, where it might start a fire.
---
Frequently Asked Questions About Chimney Fires
What Causes Chimney Fires?
Creosote: Creosote is a chemical preservative that is extremely popular in the United States and abroad. Burning this wood in the fireplace or wood stove can cause the chemical to stick to your chimney. Creosote is flammable, and as it builds up in the chimney, it can become dangerous. It's responsible for many of the home heating fires each year. (EPA)
Improper Wood: Many of the commercial brands found at the local convenience store or gas station are more for outdoor campfires and are not stored properly to avoid moisture buildup and other factors, so it's not a good idea to use these in your wood stove or fireplace because they can lead to a chimney fire. Many people also like to put garbage into their coal or wood stove to save on disposal costs, but this can also lead to strange chemicals in your piping and chimney that can lead to a fire. (Varmefag)
Restricted Air Supply: If debris or should is restricting the airflow through your chimney, you can see an increased buildup of creosote and other chemicals, which can put you on a fast track to a fire. The restricted airflow can also cause more smoke and hot ashes to flow into your home. Closing down the stove damper and air inlets will also reduce airflow through the chimney.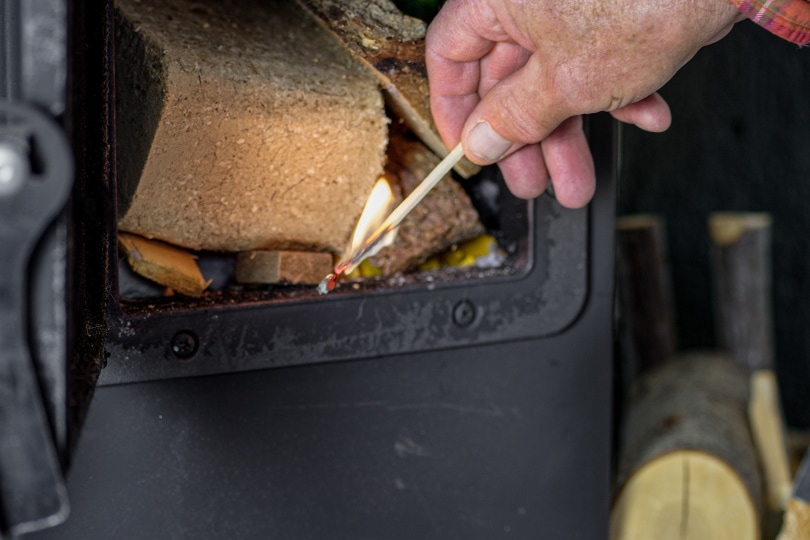 How Can I Prevent a Chimney Fire?
Yearly Maintenance: The best way to prevent a chimney fire is to perform maintenance on it every year before the cold season begins. Hire a professional to look for cracks and other problems that may be forming due to deterioration, so you can repair them before they get out of hand. The professional can also clean and remove soot and creosote to help minimize the risk that a fire will start.
Fencing or Screening: If you have a fireplace that you often use, we highly recommend pushing a fence or screen around the opening to prevent burning wood and ashes from blowing into your home.
Proper Wood: If you are burning wood in your fireplace or woodstove, it's best to use the proper kind. Use something that does not contain chemical additives or preservatives, and use a gauge to make sure it contains less than 20% humidity. Also, look into the type of stove that you are using to see how much wood you should put in it — many people overload their stoves, which can cause temperatures to get too high in the chimney. Never put garbage into the stove or wood burner, especially if it's a modern design. These are not designed to burn these items because doing so can lead to a chimney fire.
What Do I Do If There Is a Chimney Fire?
Call the Fire Department: If you suspect that you have a chimney fire, the first thing that we recommend doing is calling the fire department immediately so you can put it out quickly.
Don't Touch the Chimney Wall: Many people who think that they have a chimney fire will touch the wall to see if it's hot. If you do have a chimney fire, the wall can reach temperatures well over 100 degrees, resulting in an instant severe burn, so touching it is a terrible idea.
Keep a Fire Extinguisher Nearby: We highly recommend keeping a fire extinguisher nearby, which can be extremely helpful if you can see and have access to the fire. Extinguishers can also help put out any fires from backdrafts that can bring hot embers into your home.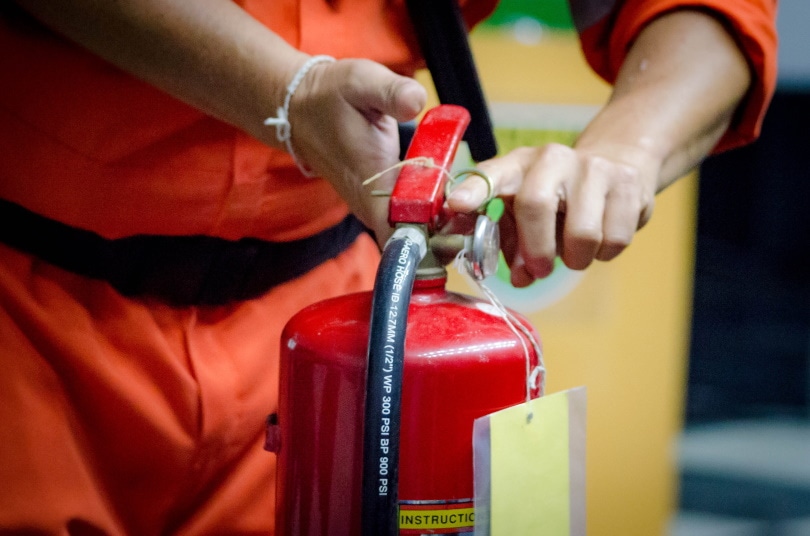 What If I've Had a Chimney Fire?
Many people have small chimney fires that they don't know about but will see evidence later, including a discolored or distorted rain cap, cracked or broken tiles and masonry, creosote flakes on the ground and roof, and more. If you suspect a fire, you will need to call a professional to have your chimney looked at immediately to see what type of repairs are required. Sometimes, you can clean and repair broken tiles, but other times, you will need to rebuild the entire chimney, especially if you haven't had it checked every year and the problem has gotten out of hand. (Chimney Safety Institute of America)
Related Read: 10 Kitchen Fire Facts and Statistics
---
Conclusion
Unfortunately, there are many chimney fires each year because firefighters need to respond to more than 20,000 calls. Many more fires are unnoticed and therefore, unreported. Luckily, more awareness about using the proper type of wood and having the system frequently checked and maintained has helped reduce the number of fires to a much lower average than in the 1980s. Many people switching to cleaner natural gas that does not emit creosote has also helped reduce the number of fires each year.
We hope that you have enjoyed reading over these statistics and learned something new!
---
Featured Image Credit: Photosampler, Shutterstock