9 Best Chainsaws for Cutting Firewood – Reviews & Buyer's Guide 2023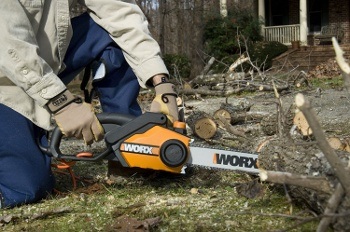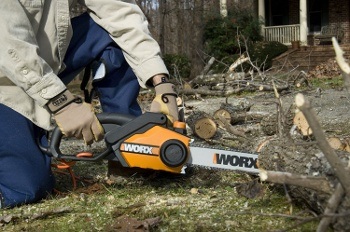 When searching for a new chainsaw, there are a few things you need to ask yourself before you can choose the best model. There are dozens of brands available that offer a wide variety of features. If you are a new homeowner or new to chainsaws in general, it's natural to have a lot of questions about which brand is the best.
We've chosen nine different models of chainsaws to review for you. Each model is a popular choice for cutting firewood, and we'll tell you what we think about each one. While we give you the pros and cons of each, you'll be able to see what you like and what type of saw you want. We have also included a buyer's guide where we break down the chainsaw and talk about how it works, as well as what makes one better than the next.
Keep reading while we take an in-depth look at chainsaws for cutting firewood and discuss power source, RPMs, bar size, cutting power, and more to help you make an educated purchase.
A Quick Glance at our Top Picks in 2023
Rating
Image
Product
Details

Best Overall

Makita EA7900PRZ1 Chainsaw

Slide-out baffle
Two-point chain brake
7-horsepower
CHECK PRICE

Husqvarna 460 Rancher Firewood Chainsaw

Very easy to use
Vibrates very little
Difficult to mishandle
CHECK PRICE

Best Value

DeWalt DCCS670X1 60V Chainsaw

Chain brake
Lightweight
Low noise
CHECK PRICE

BLACK+DECKER LCS1240 Cordless Chainsaw

Easy to use
High-quality battery
Convenient and comfortable to handle
CHECK PRICE

Echo CS-600P Cordless Chainsaw

Heavy-duty air filter system
Easy starting electronic ignition
Easy-clean chain compartment
CHECK PRICE
The 9 Best Chainsaws for Cutting Firewood
1.

Makita EA7900PRZ1 Chainsaw – Best Overall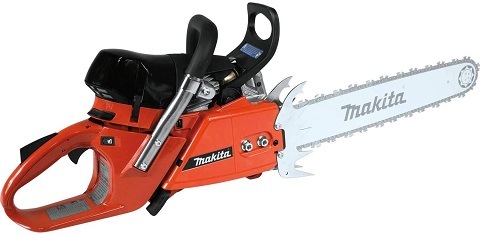 The Makita EA7900PRZ1 is our pick as the best chainsaw for cutting firewood overall. This brand features a powerful 79cc 5.7-horsepower engine that turns at an incredibly high 12,800 RPM. This high of an RPM can make short work of even densely packed hardwoods. The two-point chain brake keeps safety in mind and allows for complete control over the saw. A slide-out baffle will enable you to configure the engine to run better in cold weather, and the easy-clean chain compartment clears away chips without hang-ups. The heavy-duty air filter system helps keep dust out of the engine and extends the life of the saw. We really liked the electronic start, which eliminates the need for string-pulling, and the automatic half-choke lock helps you keep it running while it warms up.
The only thing we could complain about while we reviewed the Makita EA7900PRZ1 was the chain tensioner was a little frustrating to use, and frequently required adjustment.
Pros
Heavy-duty air filter system
Easy starting electronic ignition
Easy-clean chain compartment
Slide-out baffle
Two-point chain brake
7-horsepower
12,800 RPM engine speed
Cons
Chain tensioner needs frequent adjustment
---
2.

Husqvarna 460 Rancher Firewood Chainsaw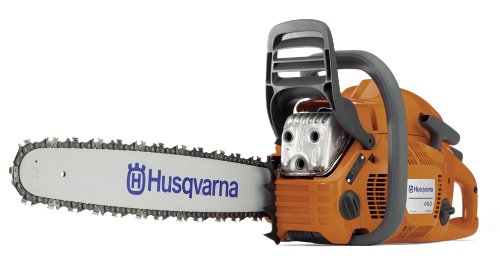 Our runner-up for the best chainsaw for cutting firewood is the Husqvarna 460 Rancher. We aren't the only ones who regard the excellence of the product, its high-quality design, and ease of use.
This is a gas-powered chainsaw that weighs 13 pounds. It's 24 inches long, runs on a two-cycle engine, and uses LowVib features – that way it doesn't vibrate too much and cause you to mishandle it accidentally. With a chain brake mounted to the side, the Husqvarna 460 Rancher allows you to cut firewood with tremendous ease, flexibility, and efficiency. Right now, it is the best on the market for those reasons, and for several more.
No matter what project you're working on, you'll handle the Husqvarna 460 Rancher with immense ease. Due to its simple, quick-handle features meant to reduce vibrating, you can use it to saw whatever you need to. Not only that, it's positively straightforward to maneuver, and it doesn't take long to figure out how to put gas in and successfully handle the chainsaw.
The Husqvarna 460 Rancher is our top pick due to its simple handling, well-made design, efficiency, and power.
Pros
Very easy to use
Vibrates very little
Difficult to mishandle
Easy to set up
---
3.

DeWalt DCCS670X1 60V Chainsaw – Best Value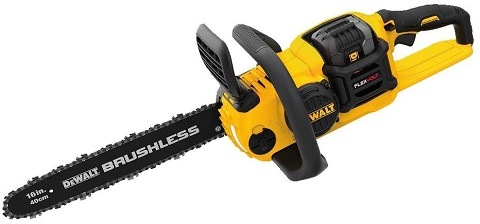 The DeWalt DCCS670X1 FLEXVOLT 60V Chainsaw is a firewood saw created by a company well known for making powerful tools. DeWalt is also a pioneer in the battery-powered tool market and provides several heavy-duty tools in many categories. This DeWalt chainsaw is more than capable of completing most small and medium-sized jobs around the home. It features tool-free chain tensioning, which helps reduce kickback and extends chain life. Its auto oiling feature helps keep the chain lubricated and prevents interruptions while cutting. Since this model is battery powered, it's incredibly lightweight and very low noise. Lightweight earplugs are all that's required, and you're unlikely to disturb the neighbors. One of the greatest features is the ease of use. Simply pull the trigger to begin operation, without any startup cycles or cord pulling.
The thing we don't like most about the FLEXVOLT is that you will need to purchase the battery and charger separately. Both items are quite expensive and add considerably to the overall cost of the saw. Another problem is that it only has a 16-inch bar, which is a significant drop in reach from the 20 or more inches provided by our top models. Less reach can extend the time required to complete a job as well as the effort it takes. It's also a little underpowered for bigger jobs, and it continually loses power as the batteries drain. This model also leaks quite a bit of oil.
Pros
Tool-free chain tensioning
Auto oiling
Chain brake
Lightweight
Low noise
Easy to start
Cons
Battery sold separately
Leaks oil
Short reach
Underpowered
---
4.

BLACK+DECKER LCS1240 Cordless Chainsaw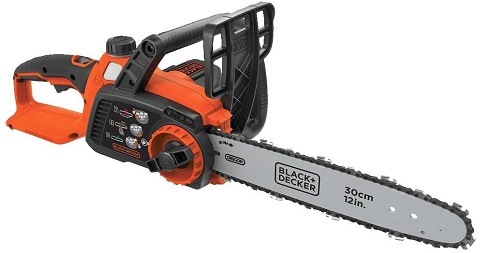 BLACK+DECKER is known for making first-rate products. They've been in the business for over one-hundred years – since 1910 – and they've made a lot of good tools over the years. Unfortunately, the LCS1240 really isn't one of their best products, and while it isn't a bad product, it isn't that great, either. It's merely a passable product that will work for your needs and your purposes, but there are products that are cheaper – such as the one we reviewed up above – that are not only cheaper, but better.
BLACK+DECKER provides some excellent customer service and this is no exception. If you have a problem with the product or questions and concerns, they will help you out. As a potential buyer, this is something to take into consideration and to note. The other thing to think about is the fact that the LCS1240 has a really strong, powerful, 40V MAX Lithium Ion battery that lets you run the LCS1240 for a decent amount of time before it needs to be charged. Finally, due to the convenient handles and the way they wrap around the overall tool itself, this is an easy-to-use chainsaw and you can confidently maneuver and control in a comfortable manner.
The reason that it isn't the greatest product, however, is because, while it does offer a few strong advantages, it just isn't that great of a product. It's expensive and it doesn't offer anything that is new or noteworthy to set itself apart from other chainsaws.
Pros
Easy to use
High-quality battery
Convenient and comfortable to handle
Cons
Expensive
Nothing unique or noteworthy
---
5.

Echo CS-600P Cordless Chainsaw
The Echo CS-600P features an extended five-year warranty that protects this saw far longer than many other brands. You can even call their customer service desk in Oregon when you purchase a new chain to make sure it will fit your model saw. This model starts easily. We used it on several jobs, and we never needed more than three pulls to get it running. You can accomplish chain tensioning and other adjustments easily, and the user manual is easy to follow for the initial set-up. This model comes with a 20-inch bar, but you can swap it out for a different size reaching up to 27-inches.
We really liked using this saw and felt it was almost as good as our top choice. Even though we could get it running in three pulls, the electric ignition was still better, and the half choke lock of our top choice made it easier to keep running. We also felt this model had slightly less power than our top pick.
Pros
Heavy-duty air filter system
Easy starting electronic ignition
Easy-clean chain compartment
Slide-out baffle
Two-point chain brake
7-horsepower
12,800 RPM engine speed
Cons
Chain tensioner needs frequent adjustment
---
6.

DEWALT DCCS620B Compact Chainsaw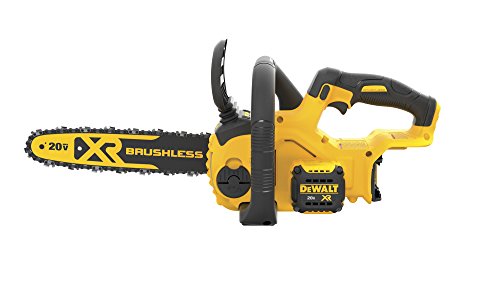 The DEWALT DCCS620B Max Compact Cordless Chainsaw is the second chainsaw made by DeWalt on our list. This model is also battery powered and feature the highly efficient brushless motor. This motor can make dozens of cuts before requiring a recharge. The 12-inch bar is a low kickback design, and the saw is lightweight, weighing less than ten pounds. The battery power allows the saw to operate extremely quietly.
The downside of the DEWALT DCCS620B 20V Max Compact Cordless Chainsaw, like many battery-operated tools, is that you will need to purchase the battery and charger separately. The 12-inch bar is only practical for smaller jobs, and it uses tons of oil while you are using t to make cuts. This model also leaks oil continuously while you store it.
Pros
Easy to use/set up
Very easy to handle
Very little kickback
Compact design
Cons
Not very durable
Motor occasionally overheats
---
7.

Poulan Pro PR5020 20" Gas Chainsaw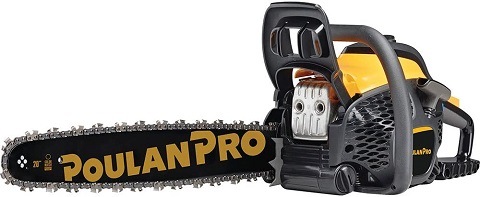 The Poulan Pro PR5020 20" 50cc Gas Chainsaw is a larger saw that features a unique Oxypower engine. This engine claims to reduce emissions and fuel consumption without sacrificing power. This 50cc engine drives the 20-inch bar, which provides plenty of reach. This saw also has a built-in patented starting system that boasts 30% easier starting. While we reviewed it, we rarely needed more than three pulls to get it started, even after storing it for several weeks. The anti-vibration system allows you to work longer without experiencing hand, elbow, and shoulder problems.
Unfortunately, the Poulan Pro PR5020 tended to bog down any time we tried to put it to the test on a larger tree. The engine seems to be better suited to a 16 or 18-inch bar, and we felt that it used a lot of gas despite the patented Oxypower system. The increased fuel usage was likely due to the added run time required because the saw was underpowered. Another thing we noticed about this model was that it would refuse to restart for several hours after we ran it for a short time.
Pros
Oxypower engine
30% easier starting system
20-inch bar
Anti-vibration system
50cc engine
Cons
Bogs down
Uses a lot of gas
Hard to restart
---
8.

Makita EA4300F40B 16″ 42cc Chainsaw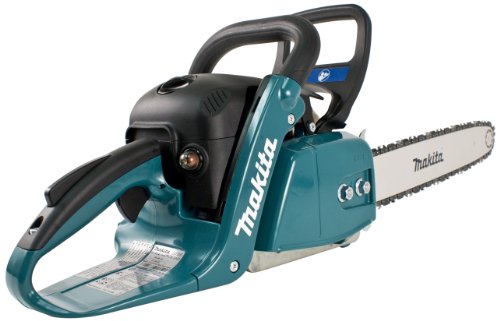 The Makita EA4300F40B 16" 42cc chainsaw features an assisted starting mechanism to help you get this machine running without a lot of cord pulling. It also features a convenient single touch shutoff for increased safety and better control. There are large openings for the fuel and the oil, and magnesium housing improves durability while keeping the saw lightweight. No tools are required to access and clean the air filter, and a choke/run/touch stop switch makes it easy to know what mode f operation you are in at any time.
While we were reviewing the Makita EA4300F40B, it bogged down quite a bit, and there were times that it became frustrating to use. Usually, bogging down is the result of a bar that is too large for the engine, but this saw only has a short 16-inch bar. The last thing we noticed while using this saw was that it was deafening, easily among the noisiest on this list.
Pros
Assisted starting
No-tool filter access
Magnesium housing
Touch shutoff
Large openings for fuel and oil
Cons
Bogs down
Loud
16-inch reach
---
9.

EGO Power+ CS1604 16" 56V Cordless Chainsaw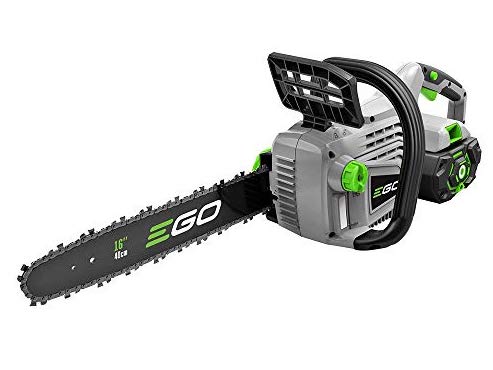 The EGO Power+ CS1604 16" 56V Lithium-ion Cordless Chainsaw is another battery-powered chainsaw on our list. The engine runs at 6800 RPM created by a 56-volt lithium-ion battery. This brand is one of the few that includes the battery with purchase. It's extremely quiet and features a water-resistant construction.
The problem with the EGO Power+ CS1604 16" 56V Lithium-ion Cordless Chainsaw is that it's underpowered compared to the gas types, and the 16-inch bar means you'll need to do more stretching. We also found it to be heavy when compared to many other battery-powered chainsaws, and it used up the battery charge after only a few cuts requiring frequent recharges.
Pros
6800 RPM
Kickback brake
Water-resistant construction
Battery included
Quiet
Cons
Underpowered
16-inch reach
Heavy
Loses power quickly
Related Read: Best Chainsaws – Reviews & Top Picks
---
Buyer's Guide – Picking the Best Chainsaw for Cutting Firewood
Let's discuss the essential parts of chainsaw for cutting firewood. At some point, you're going to ask yourself, do I want a gas or electric chainsaw? Keep reading for some of our expert guidance.
Power
Either battery power or gasoline runs all of the chainsaws on our list of reviews.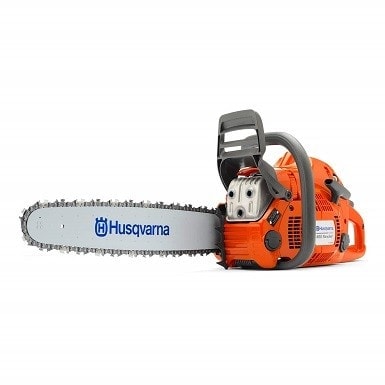 Gasoline
Gasoline power is the best choice for people that need to cut a lot of wood or plan on cutting often. These saws can deliver enough power to cut through large pieces of hardwood, and they are often durable and well-constructed. Firewood is something you are going to need a constant supply of, so the gas-powered saw might be the better choice. However, it does emit fumes harmful to the environment and requires a continuous supply of fuel. The engine can also require frequent maintenance due to its combustion nature.
Gasoline Chainsaw Cons
Bad for the environment
High maintenance
Fluctuating fuel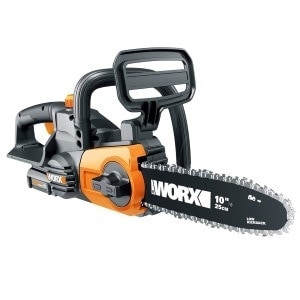 Battery Power
Battery power was unthinkable a few years ago, but thanks to advancements made by DeWalt, Makita, and many more, many power tools are now using battery power. It's quite possible to get a power tool as large as a chainsaw that operates using batteries, and there are several examples in our reviews. These saws are often less expensive and will run much quieter than the gas-powered models. Another bonus is that they don't produce any harmful greenhouse gasses.
The downside to battery-powered chainsaws is that they are still a little underpowered compared to gas saws. These saws are perfect for people that use a lot of smaller trees for firewood or only need to "chop" precut and delivered firewood. Another problem with these saws is that they rarely come with the required battery and battery charger. You will usually want to invest in more than one battery, and in some cases, these devices can cost as much as the saw.
Battery Chainsaw Pros
Quiet operation
Less expensive
No greenhouse gasses
Battery Chainsaw Cons
Underpowered
Battery and charger sold separately
Bar
The bar is the part of the chainsaw that the chain moves around. The bar determines the length of the saw, and most are between 6 and 27 inches long. For cutting firewood, you usually don't need to go any larger than 20 inches. Larger saws may become unwieldy and expensive for firewood cutting.
On the opposite side, anything smaller than 12 inches is probably unusable for cutting firewood.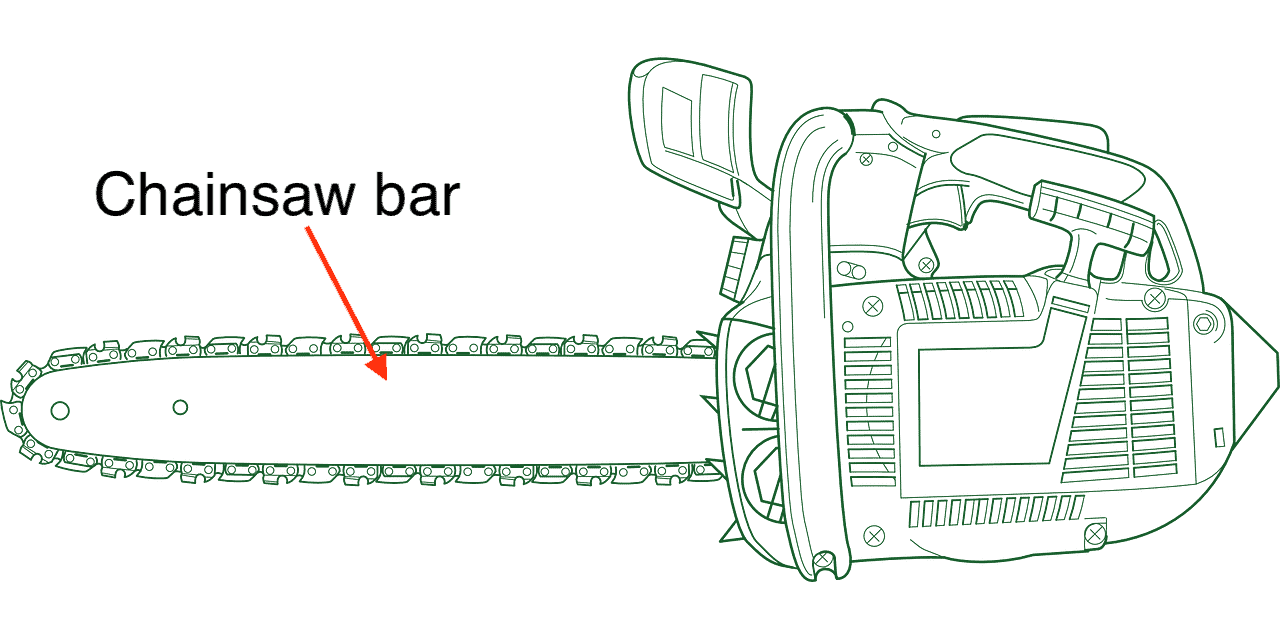 Durability
Chainsaws are required to withstand strong vibrations and pressure as they cut through large pieces of lumber. Saws that have a lot of plastic parts are susceptible to cracks due to the vibrations, and we recommend avoiding brands at use a lot of plastic.
Handling
Handling is something not easily reviewed because we're all a different size, and what feels well balanced to me may not feel that way to you. Besides the balance, the handles must feel comfortable in your hands, or it will be difficult to make accurate cuts and can lead to sore hands and joints.
Weight
The weight goes hand in hand with the handling. A heavier machine will be more challenging to use and can quickly grow too heavy to continue operating. However, a saw that is too light may require additional force to cut through larger pieces of firewood. The perfect weight will be different for everyone, but it's essential to remember while you are shopping, that gas-powered chainsaws tend to weigh more than battery-powered saws.
---
Conclusion:
We recommend choosing a gas-powered chainsaw if you intend to cut large amounts of firewood. The Makita EA7900PRZ1 is our pick for best chainsaw for cutting firewood overall, and is the perfect example of an extremely powerful gas-powered saw that's prepared to tackle any job. It also features electronic ignition and other features that make it easier to use while remaining durable. The DeWalt DCCS670X1 is our pick for the best chainsaw for cutting firewood for the value, and this less expensive gas saw is also slightly less powerful and not as feature-rich. However, it will still outperform any battery-powered unit, many that are the same price once you purchase the battery and charger. We recommend battery-powered saws for people that already own other battery-powered tools or plan on buying several tools from the same brand.
We hope our reviews and buyer's guide have been helpful and have brought you closer to a decision. If you have enjoyed reading and learned something new, please share these chainsaws for cutting firewood on Facebook and Twitter.