DeVilbiss StartingLine vs FinishLine: Which One is Best?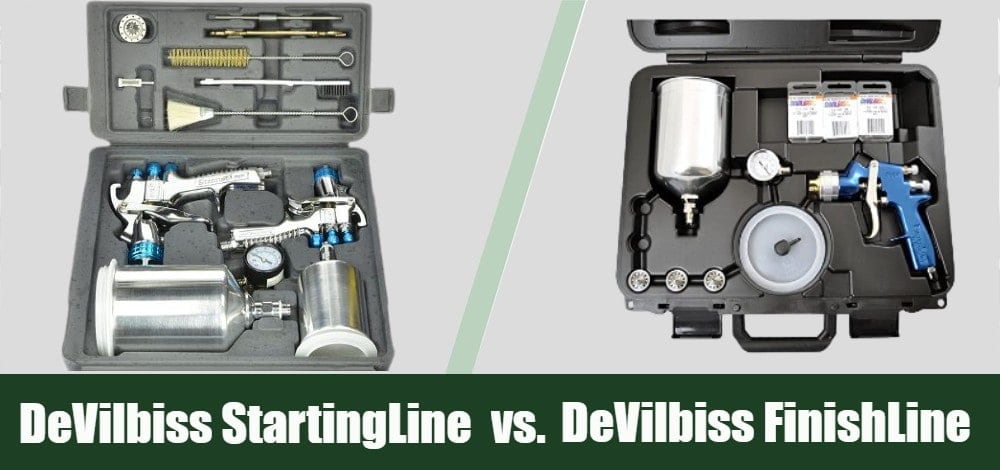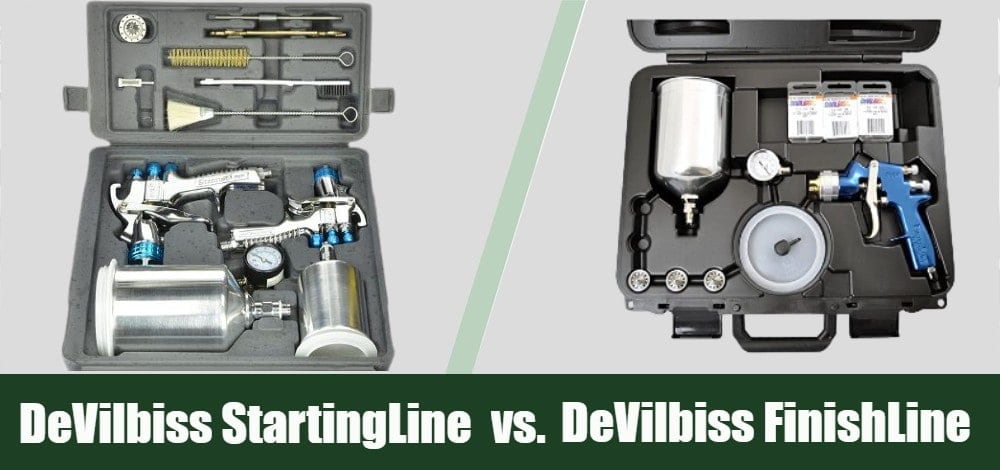 Rating
Image
Product
Details

Best Choice

DeVilbiss Finishline

No streaks or drips
Easy to disassemble
Handles primer
base coats
and clear coats equally well
CHECK PRICE

Best Price

DeVilbiss StartingLine

Easy to clean
Entry level spray gun
Parts readily available
CHECK PRICE
This review puts two DeVilbiss paint spray guns against each other; the StartingLine 802342 versus the FinishLine 4 FLG-670. This is a closer competition than you might think, given that both come from the same manufacturer and address many of the same requirements. They're not even that far apart in terms of price.
The StartingLine 802342 is designed as an entry-level spray gun for the beginning painter. It's easy to operate, disassemble, clean, and reassemble. For the hobbyist or occasional user, this spray gun is ideally suited. The cups are made of plastic instead of metal, which helps keep the cost down but requires you to be a little more careful not to break them.
The FinishLine 4 FLG-670 spray gun is made of better materials and engineered to a finer degree. The atomization is professional quality, it comes with three tips, and is intended to be used by serious hobbyists or professionals who want to dedicate a gun to one type of material in their shop.
While this might sound like a slam dunk for the FinishLine gun, it's really not. It's a bit like asking if Sound of Music is better than Patton? It depends. They're both good movies, but they're very different movies that will appeal to different audiences. The same thing is true here. They're both good spray guns, but they're also very different spray guns that will appeal to different users.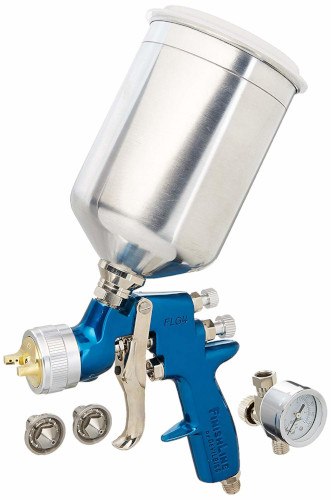 What are the differences between them?
Think of this, not as a competition between two similar products, but as a decision by two different people as to which product best suits their needs.
Performance – Hat tip to the FinishLine
The StartingLine spray gun doesn't have a lot of adjustments that need to be made. It's not quite "Plug-n-Play" but it's pretty darn close. It doesn't take much air pressure either, 10-20psi will be fine most of the time. Ease of use is the watchword here. The FinishLine gun, on the other hand, comes with three tips which are generally used to spray different coats. Epoxy primer will typically be done with the 1.8mm tip, base colors with the 1.5mm tip, and urethane clear coat with the 1.3mm tip. There are more adjustments to make too.
The StartingLine gun is good for touch-ups and small jobs. For home projects such as spraying the patio furniture, this product does the job. The FinishLine gun will handle spraying an entire car or boat with a professional finish. It does require a larger compressor though, between 23-40psi, with 40 being ideal.
Price – It's no contest
When it comes to price it's no contest; they're close, but the StartingLine spray gun wins hands down. It delivers a great "bang for the buck" if you will. You can use the savings between the two to buy extra accessories and tips for the StartlingLine gun, further tipping the scales in its favor.
Durability – It's a nearly a draw
Both guns are made by DeVilbiss, with the same attention to detail and construction. The StartingLine gun isn't made from the same quality of materials as the FinishLine gun obviously, but when you look at it in terms of the price and intended uses for each one, it's basically a wash. The StartLing gun doesn't last quite as long but it's cheaper, and the FinishLine gun is more expensive but lasts longer. We'll give the brass ring to the FinishLine gun on this one, with the clear understanding it won "by seconds and inches."
Design – By who?
The engineers who designed the StartingLine gun also designed the FinishLine model as well. The same quality is evident in both. They're equally well-balanced and comfortable in your hand, with controls, triggers, and adjustments intelligently designed and placed for maximum ease of use. The FinishLine gun may have some extra adjustments the StartingLine doesn't, that's not a flaw in the design. It's a result of their functionality.
Since both were designed by the same technical staff – even if for slightly different uses – we're going call this one a tie. They're both very well designed.
Quick Rundown of the StartingLine 802342:
For beginning spray painters or hobbyists who don't want to spend a lot of money, this is a good place to start.
Pros
Easy to clean
Entry level spray gun
Parts readily available
Cons
Adjustments are a bit too sensitive
Cups and plastic gaskets break too easy
Quick Rundown of FinishLine 4 FLG-670:
Professionals and serious hobbyists will appreciate the extra tips and adjustments available on this gun.
Pros
No streaks or drips
Easy to disassemble, clean, and reassemble
Handles primer, base coats, and clear coats equally well
Cons
No carrying case
No spray gun wrench to change the tips
What the Users Say:
Human nature being what it is, customer reviews generally tend to one of two extremes, they either hate it or love it, with little or no room in the middle. It certainly held true in this case. User experiences were almost all heavily tilted to the positive.
So what did people like?
Both spray guns received high marks for ease of use and ease of cleaning. No one had anything bad to say. The "same designer" argument we used above seems to apply here. It stands to reason they would share the same attributes on this score.
The StartingLine gun also received high marks for the included carrying case while even those users who loved the FinishLine gun were scathing in their ringing denunciations of DeVilbiss for not including a carrying case with this product. We confess to some disappointment ourselves in this area. Tools like this should always have a case for storage and transport.
The spray quality on both guns was rated as being above what people normally expected in their respective price ranges. This is the kind of testimony most manufacturers would give their right arm for.
Conclusion
So here we are the "finish line" if you'll forgive the pun, and the checkered flag has to go the FinishLine 4 FLG-670 spray gun. Yes, the price winner is the StartingLine 802342, for the simple reason that it doesn't cost as much, but for performance, features, and application results, the FinishLine gun is the clear choice.
In spite of its professional applications – and results – the FinishLine spray gun is still simple enough that it can be used even by a beginning painter or occasional hobbyist. And given the relative closeness in their prices, it might be worth to a beginner to go ahead and purchase the more expensive model if they plan to stick with the spray painting for any length of time.
Either spray gun is a good product, but the winner is definitely the FinishLine 4 FLG-670 spray gun.
Related Reads: