Graco SG2 vs SG3 Spray Gun: Which One is Best?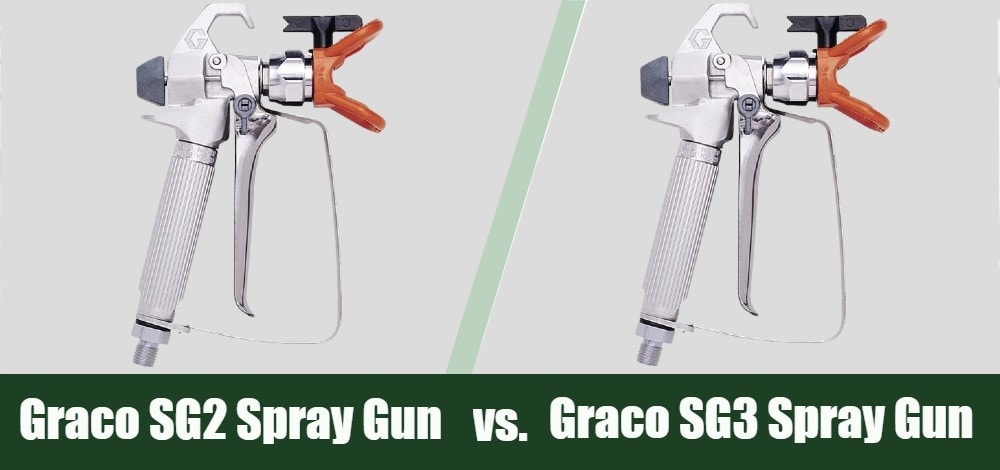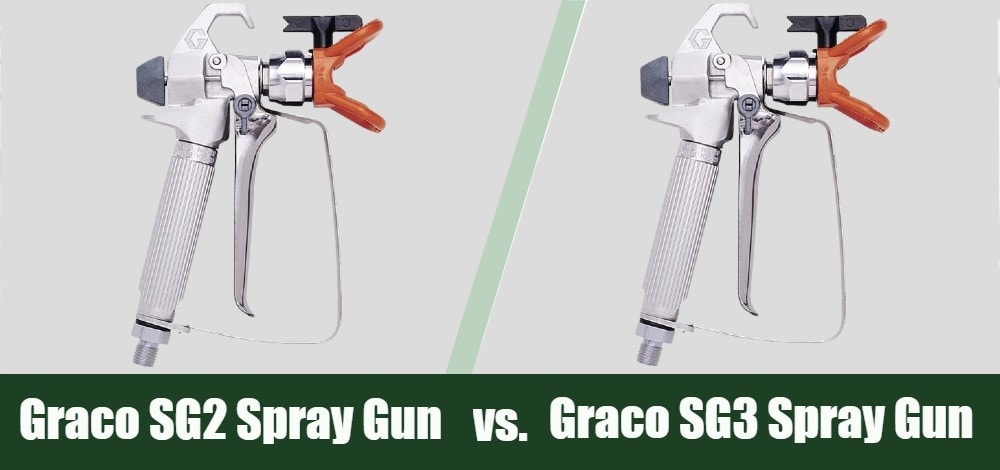 | Rating | Image | Product | Details | |
| --- | --- | --- | --- | --- |
| Best Choice | | Graco SG3 | Professional-grade,Built-in hose swivel,Design optimized for comfort and efficiency | CHECK PRICE |
| Best Price | | Graco SG2 | Lightweight,More affordable,Easy to use features | CHECK PRICE |
Graco makes some of the best personal use paint sprayer systems on the market. If you are looking for something that will be able to reliably address the needs of a large-scale painting job, you would be wise to give their product line a close look.
While it can sometimes be easy choosing a Graco Sprayer over one made by a different manufacturer, the decision is not so clear cut when deciding between two different units in their product line.
Today we will be comparing the Graco Project Painter Plus, and the Graco Magnum X5. Both impressive tools, both with unique attributes that will do well to cater to different types of buyers.
There is no clear cut winner here. In fact, they actually have quite a bit in common. Both feature reversible tips to temporarily mitigate clogs, both feature the ability to control flow rate, and both feature a garden hose adapter for easy cleaning.
There are two main differences: price, and accessibility. The Graco Project Painter Plus wins out in the category of price. Neither are exactly cheap, but this unit is notably less expensive.
However, if you need a lot of reach, you may have no choice but to go with the Graco Magnum X5. This sprayer features a hose length of seventy-five feet (as opposed to the 50-feet that you get with the Painter Plus).
Needless to say, it is a close match. Let's now dive into a full-on review to help you decide between these two high-quality units.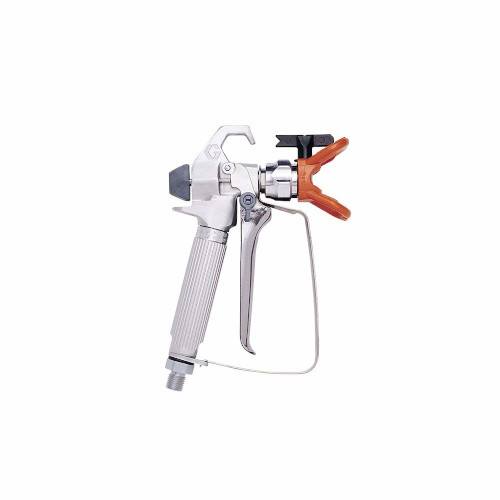 What are the differences between them?
Affordability: Point for the SG2:
For spray guns being sold separate from a full spray system, both of these options are on the pricey side. However, because the SG2 is a little bit older, it does benefit from being slightly more affordable.
The difference is not substantial. In fact, for most buyers, it probably will not be enough to sway the buying decision one way or another.
However, if you have looked at the upgrades available on the SG3, and decided that you really don't need them, then the friendlier price tag of the SG2 is a nice bonus.
That said, if you are a budget oriented buyer, neither spray gun will probably be much to your liking.
Design: Point for the SG3:
Just by looking at these two sprayers side by side, you probably would not notice much of a difference. In terms of cosmetic touches, they look almost identical.
However, it is in the department of design that you will find the only major difference between these two spray guns. While both are designed well, the SG3 has been tweaked a little bit to be slightly more ergonomic.
This means that during long hours on the job, this option is going to be just a little bit more comfortable to use.
The other big benefit is the swivel hose attachment. This allows the spray gun to swivel so that the hose will not get knotted up as you move around with it.
This may sound like a small touch, but it is actually quite impactful. It can be easy to get the hose folded over on itself during a paint job, which can result in a time-wasting mess of a situation. You don't want that hassle, and with the SG3, it is less likely that you will have to deal with it.
That aside, the two spray guns are almost identical in design. You get the same safe guard locking mechanism, the same four finger trigger, and the same overall look with either option.
Everything Other Important Feature: Tie:
It is important for buyers to keep in mind that these are two spray guns in the same product line. As a result, they are almost identical to one another.
Both units are easy to clean, and feature replaceable filters and gun needle for clog reduction and overall maximized efficiency.
Both can be used with most painters, primers, varnishes, and paints, and both are, of course, compatible with Graco Magnum sprayer systems. They even feature the same maximum operating pressure of 3600 PSI.
As is true with most tools that are in the same product line, these spray guns are remarkably similar to one another.
A Quick Rundown of SG2:
Graco Inc. 243011 SG2 Spray Gun
Thumb engaged safety lock allows you to lock the handle when not spraying for safety
Maximum operating pressure of 3,600 PSI
Replaceable in-handle paint filter reduces tip clogging and improves the finish
Pros
More Affordable Than SG3
Max 3600 PSI
Can Be Used With Most Paints and Finishes
Cons
Design inferior to that of SG3
A Quick Rundown of SG3:
Graco 243012 Airless Spray Gun, SG3
Full 4-finger trigger with light, smooth pull provides control and comfort
Thumb engaged safety lock allows you to lock the handle when not spraying for safety
Maximum operating pressure of 3,600 PSI
Pros
Design Optimized For Comfort and Efficiency
Max 3600 PSI
Can Be Used With Most Paints and Finishes
What the Users Say
Users are mostly very fond of both of these spray guns. People appreciate the fact that they are relatively easy to maintain and clean, which naturally is always a big plus.
There is also plenty of praise for the versatility. You can use these guns with latex, oil paints, primers, stains, and varnishes.
Understand, of course, that painters usually praise the sprayer system as a whole more than they actually praise the spray gun itself. But still, for products of this nature, both options have been well received.
We have heard from some users that report that the tip locks up a little bit, which is not ideal, but this also is not an issue that we have heard many people experiencing.
In general, user reception to both products has been very similar. People are noticing the user friendly interface of the SG3, but that aside the comparisons are similar.

Conclusion
Which of these spray guns is right for you? Honestly, it is a toss up. Both are really good spray guns that have a lot in common with one another. The SG3 is, really, just a slightly upgraded version of the SG2.
It is worth keeping in mind that the difference in price is not extremely substantial. If you are on a particularly restrictive budget, you may have to go with the SG2.
However, if you have a little bit of wiggle room, you may think about upgrading to the SG3. For a little bit more money, you get a spray gun that is optimized not to tangle, which is a feature that everyone will benefit from.
Of course, at the end of the day, you will ultimately have to decide for yourself which sprayer you go with.
Related Reads: