Fuji Semi Pro 2 vs Earlex HV5500: Which is Best?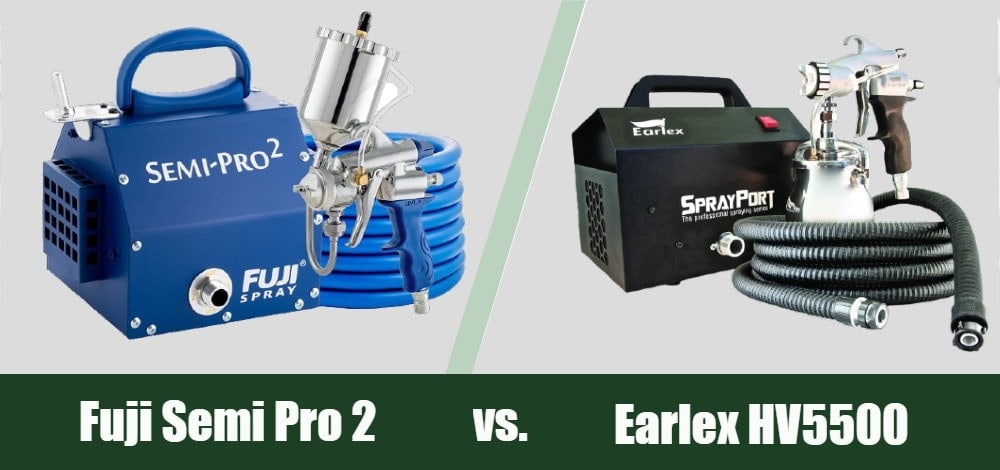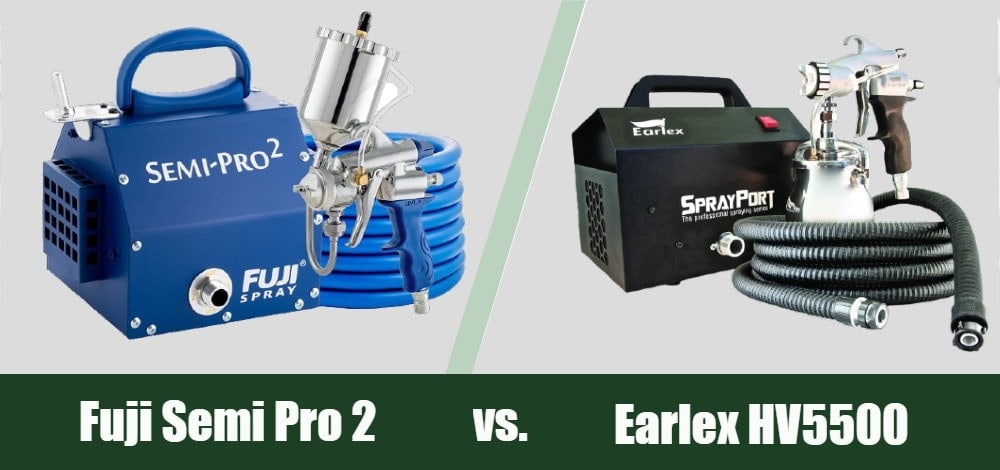 Rating
Image
Product
Details

Best Choice

Fuji 2203G Semi-Pro 2

25-foot hose
Better design
More powerful
CHECK PRICE

Best Price

Earlex HV5500

Affordable
Easy to adjust
High-quality finish
CHECK PRICE
Earlex makes high-quality HVLP paint sprayer systems. Fuji also makes high-quality HVLP paint sprayer systems. Both companies have well-established reputations for quality, and both companies do well to live up to those reputations with each new product that they release.
It makes choosing between them kind of hard, doesn't it?
We certainly thought so. That is why we put together this handy guide to help you choose between the Fuji Semi-Pro 2, and the Earlex HV5500.
A word of warning, the decision will not be easy. Both tools excel in their own ways.
The Fuji features a massive twenty-five-foot hose, an extremely adjustable spray pattern, and a sturdy build that will keep it well protected on the jobsite.
It also comes with a sizable price tag. This unit is near professional quality, and the asking price reflects that.
The Earlex is also a high-quality tool. Its features are a little bit scaled down. It's not quite as powerful, or durable, but it does have the benefit of producing a high-quality finish for a price that is significantly smaller than that of the Fuji.
No, you don't get the same caliber of performance, but it is a great tool with an appealing price.
Today, we examine a battle between uncompromising quality and good savings. Which tool will win out? Decide for yourself as we now dive deep into the review.

What are the differences between them?
Price: Point for the Earlex HV5500 Spray Station:
The first thing that most people will notice when they put these two sprayers head to head, is that the Earlex costs a good deal less than the Fuji.
The difference in price is definitely the result of some enhanced features that you get in the Fuji. However, it would be hard to ignore how substantially the disparity in price could affect the buying decision for many people.
For the difference in cost between the Earlex and the Fuji, you could probably buy another low-end sprayer. Granted, it probably would not be a very good sprayer, but you get the idea.
If you are a pro or a hobbyist that demands uncompromising, pro-like results from their products, you will probably be willing to pay the difference and go with the Fuji.
However, if your objective is simply to get a tool that performs well, the Earlex should hold some appeal for you. It is a great sprayer that is relatively affordable given the level of quality that it produces.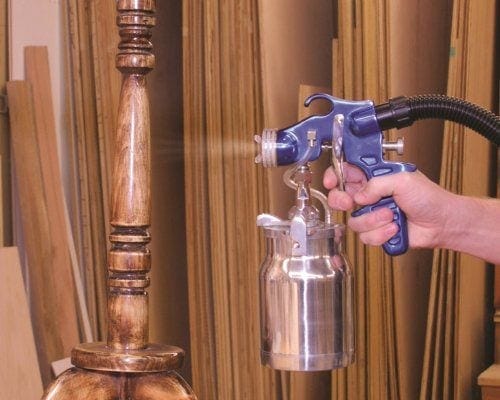 Power: Point for the Fuji Semi-Pro 2:
Power level is one of the biggest differences between these two products. The Fuji features a remarkable 1400 watts of power, while the Earlex has only 650 watts of power.
With 1400 watts of power you get a couple of big benefits. For one thing, this is going to allow you to use longer hoses. The Earlex can use a thirteen-foot hose, which is fine, but the Fuji is capable of using a twenty-five foot hose, which is even better.
The biggest difference though is that with more power, you won't need to thin your paint as much. When a sprayer is lacking in the power department, it often necessitates the over-thinning of paint, which comes at the detriment of the finished product.
With the level of power that you get in the Fuji, that is not going to be an issue.
Build: Point for the Fuji Semi Pro 2:
The Fuji also has the advantage of being very well-built. It's sound, durable, and it won't have any trouble at all handling the conditions of the average job.
Unfortunately, that just isn't quite the case with the Earlex.
The Earlex's fatal flaw is that its design leaves much to be desired. We have heard reports from users that struggle to keep their hoses and spray guns
Unfortunately, this is a fairly major concern. While the Earlex does produce a good finish, the design interface of the tool definitely needs an overhaul.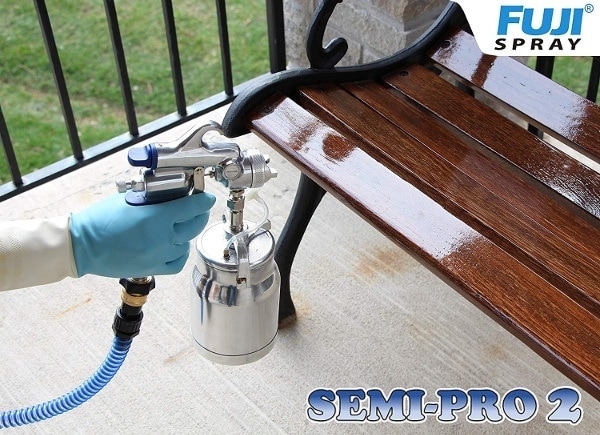 Quick Rundown of Earlex HV5500:
Earlex HV5500 HVLP Spray Station Paint Sprayer for Woodworking and Furniture Refinishing, 2-Stage...
SEMI-PRO PAINT SPRAYER: The Earlex Spray Station 5500 is designed for serious woodworking, light contractor and automotive enthusiasts....
ACHIEVE THE PERFECT FINISH: The professional metal spray gun and 650 watt turbine provide a superior finish on small to medium sized...
ADJUSTABLE SETTINGS: This HVLP paint spraying unit features a flow control dial and a fast push-and-click spray pattern changing system...
Pros
Affordable
Produces High-Quality Finish
Easy to Adjust
Cons
Design flaws create frustrating issues
Not as powerful as Fuji
Quick Rundown of Fuji Semi Pro 2:
Pros
More Powerful Than Earlex
Better Design Than Earlex
Twenty Five Foot Hose
Easy to Adjust
What the Users Say:
In terms of pure finish quality, both units have been broadly praised by the people that use them. In particular, we hear from many professional users that really like the Fuji Semi-Pro.
However, both options do come with their own unique set of flaws.
For example, a lot of people have said that they were disappointed with the way that the Earlex was designed. In particular, we have heard reports that the hoses and spray gun have a tendency to pop out mid-job, which can result in substantial messes.
We even heard from one user that claimed their spray gun was not properly sealed, which led to perpetual paint leaking.
With the Fuji, the user grievances were a little bit milder. We heard from some people that felt the tool was louder than they were used to. This is probably a symptom of the power of the machine, but that doesn't make it any less frustrating.
We also heard from some people that the Fuji is prone to clogging. Unfortunately, clogs are going to be common to most sprayers, but it is still always frustrating to see.
Conclusion
Despite the fact that these tools are quite different, deciding between them will probably still be hard. While they seem very different on paper, they actually perform pretty similarly.
The Fuji is unambiguously the better sprayer. The features ensure that most professionals would probably be comfortable using it for the occasional task.
However, average buyers may well feel that the difference in quality does not proportionately correlate with the difference in cost.
Ultimately, that is a decision you will need to make on your own. Do you want a good sprayer at a moderate price, or are you willing to go all out on something that is top of the line?
Related Reads: