DeWalt DCF885 1/4″ Impact Driver Review 2023 – Pros, Cons, & Verdict
We give the DeWalt DCF885 1/4″ Impact Driver a rating of 4.8 out of 5 stars. 
Build Quality: 4.8/5
Power: 4.8/5
Features: 4.8/5
Price: 4.9/5
The DCF885 is a step up from DeWalt's previous models and comes with an increased battery life. It's a great driver if you want a professional-grade tool at a fraction of the price you'd pay for a professional driver. This impact driver is ideal for anyone who likes doing odd jobs around the house or who wants to go semi-professional in the tool industry. Though there are better models available from DeWalt, the DCF885 is great if you want to save a few bucks but need something that will last a long time. It's cordless, making it ideal for when you're working in tricky areas that are hard to reach. It has a good power motor on it, too. What's great about this model is that it also comes with DeWalt's standard 3-year warranty, so if anything goes wrong or your impact driver starts to break, you can get it sorted without having to pay out any money.
DeWalt is possibly THE biggest brand in the tool industry. They produce thousands of tools every year for beginners, hobbyists, and even professionals. They're known for selling good quality, professional grade tools, and everyone seems to always love their products. Though minor issues do pop up, for the most part, everyone really likes them as a brand and supplier. This is why so many professionals in the industry choose to go with DeWalt products over everyone else. The DFC885 model is no different.  It receives many positive reviews from a wide range of people who say it's powerful and lightweight—both of which are great features for an impact driver.

Dewalt DCF885 1/4″ Impact Driver – A Quick Look
Pros
Compact
Powerful
Solid quality
Lightweight
Cons
Needs batteries
Not well-balanced
Lack of on-tool holder

Specifications
Specifications
Brand Name: DeWalt
Weight: 3.31 kg
Dimensions: 25.7 x 40.6 x 12.2 cm
Color: Black/Yellow
Batteries Required: Yes – 2 Lithium Metal Batteries
Enhanced battery life
The "bad news" is that this impact driver exclusively uses batteries, meaning you have no option to plug in a wire. But the battery life offers great performance: this 20-volt lithium-ion battery offers a solid 35% more runtime than the average 18-volt battery used by the competition.
Lightweight and portable
Weight is a major consideration when it comes to an impact driver. Fortunately, this driver is very lightweight and sports a compact design. Put these two features together and you have one of the most powerful portable tools around!
3-year warranty

When it comes to power tools, any warranty is better than no warranty. In this case, the robust 3-year warranty helps ensure you won't have to pay out of pocket if your new impact driver breaks very soon after use.
A solid tool hurt by its lack of balance
It's a relatively small issue, but this tool feels a bit more off-balance compared to other impact drivers. Driver newbies may not even notice, but experienced pros might find this distracting.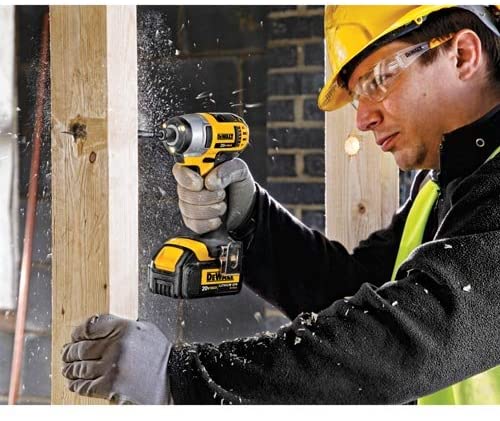 FAQ
How good is the warranty that comes with this model?
The 3-year warranty is reliable. You can use this tool with peace of mind that comes from knowing you're protected.
How durable is this tool?
It is surprisingly durable, especially considering how much power this packs into such a compact frame.
Does it come with a battery?
That's a good question! Generally, model numbers that end with a "B" include a rechargeable battery. Otherwise, you will have to supply your own battery.
Is this a user-friendly model?
Absolutely! This is a mid-range tool that provides solid power and performance without breaking the bank. While hardened pros might need something with more features, this is perfect for beginners.
What the Users Say
What's the first thing you do before buying a new tool? Simple: check out what other buyers have to say!
Here at HealthyHandyman, we're all about saving you time whenever possible. That's why we went ahead and scoped out what different users had to say about this particular tool. By scanning their comments, you can get a better idea of whether this impact driver is right for you and your current needs or not.
Users generally praised the price of this impact driver. While it's not the cheapest driver around, it brings a great deal of performance at a very competitive price
Generally speaking, users praised this tool for carrying on the DEWALT tradition of high-quality tools. And if you already have any compatible DEWALT batteries laying around, that makes this tool even easier to use
Users were impressed by the overall durability of this impact driver. Some users claimed that they dropped this tool almost every day without noticing a serious drop in its overall performance.
The lightweight and compact design was a major hit with most users. This allows you to use the driver for long periods of time without experiencing fatigue.
Other users were very impressed by the year warranty. If your impact driver should break during this time, you can rest assured you will get a replacement ASAP.
One of the few gripes that users had was that the machine isn't very quiet. Most impact drivers are noisy, but you may need to be wary of waking your family when you use this one
At least one user reports that the advertised 3-year warranty is more like a one-year warranty. This may warrant further investigation before you make a purchase
Some users desired more RPM out of an impact driver. While it's true that this driver could sport more RPMs, that would effectively drive up the price and make this tool less accessible to handymen who want a good balance between price and performance.
Other Impact Drivers We've Reviewed

Conclusion
Is the DeWalt DCF885 the perfect tool for every handyman? Of course not. But it is an accurate and reliable tool for most handymen who are looking for a dependable impact driver.
The compact design helps you get into tight places more easily. Meanwhile, the accuracy of this driver really lends itself to precision work.
Just be warned that batteries are sold separately for this model. This ultimately adds to both the cost and the weight of the tool. But at the end of the day, we stand by our assessment that this is one of the best impact drivers you can buy, especially for the price.