Ryobi P237 Impact Driver Review 2023 – Pros, Cons, & Verdict
We give the Ryobi P237 Impact Driver a rating of 4.5 out of 5 stars. 
Build Quality: 4.5/5
Power: 4.7/5
Features: 4.8/5
Price: 4/5
Review Summary
Ryobi took its successful P236 impact driver and added a three-speed option to it. You can go from doing hard work that requires brute strength to a finesse job with the flip of a switch rather than hope your skills and instinct can get it done. They've also upgraded the power to 1,800 inch-pounds, which translates to 150 foot-pounds. That's enough to remove the lug nuts from most cars out there, although it's not really designed for that. It costs a bit more than the P236, but it's compatible with Ryobi's One+ family, which means if you're invested you don't have to spend extra on batteries or a charger.
Ryobi P237 – A Quick Look
Pros
Three-speed power
Excellent torque power
Ryobi One+ compatible
Cons
Not really designed for auto work
Specifications
Brand name: Ryobi

Model: P237

Type: Impact driver

Power source: Cordless

Dimensions: 7.7 x 3.4 x 7.4 inches

Weight: 2.75 lbs.
Three-speed power
Ryobi took its P236 design and basically added more power and a switch that allows you to move between three different speeds. That means you can go from powering screws into a deck to putting the face on a drawer with a simple adjustment. They also upgunned it to 1,800 inch-pounds of power. Although this is best suited to woodworking, that's enough for most jobs around the auto shop.
Ryobi One+ family of tools
Being a part of Ryobi's One+ tool family means that if you've already got other compatible tools that you've got a power source ready for the P237. That translates not only into savings in terms of buying chargers and batteries, but in the efficient operation of your workshop. Rather than rifle through a pile of chargers and cords and batteries to find the right one to run this tool, any charger or battery that is part of One+ will do, although for the hardest jobs we'd recommend one of the more powerful batteries for extra life and juice.
Easy, comfortable operation
The P237 comes with a keyless chuck and magnetic strip to make changing bits as fast as snapping your fingers. It's also got LED lights to illuminate where you're working and a hook for you to hang it from your belt while moving around the worksite. When you've got it rolling, we think you'll appreciate the comfortable rubber overgrip to help reduce wear and tear on your hands and wrists.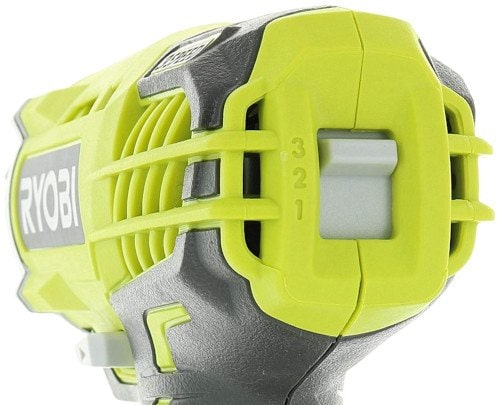 FAQ
How good is the warranty for this?

It has the same basic three-year manufacturers warranty that Ryobi extends to its power tools.

Is the motor brushed or brushless?

It has a brush motor.

How much impact torque can this deliver?

1,600 inch-pounds, which divided by 12 (12 inches per foot) come out to about 133 foot-pounds if you're looking to remove lug nuts.

Conclusion
Ryobi's P237 adds power and an option to switch between three different speeds. That provides a range of alternatives for tool users in how they approach jobs around the house. Rated at 1,800 inch-pounds, it's got enough juice to even work on cars or drive in deck screws, but at low speeds, it's perfect for work you want to finesse rather than power through. It costs a little more money than its predecessor design, but if you're already invested in Ryobi's One+ tool family what you pay extra to buy this you'll save in purchasing batteries and a charger.

You might also be interested in these Ryobi reviews: