DeWalt DW618PK Router Kit Review 2023 – Pros, Cons, & Verdict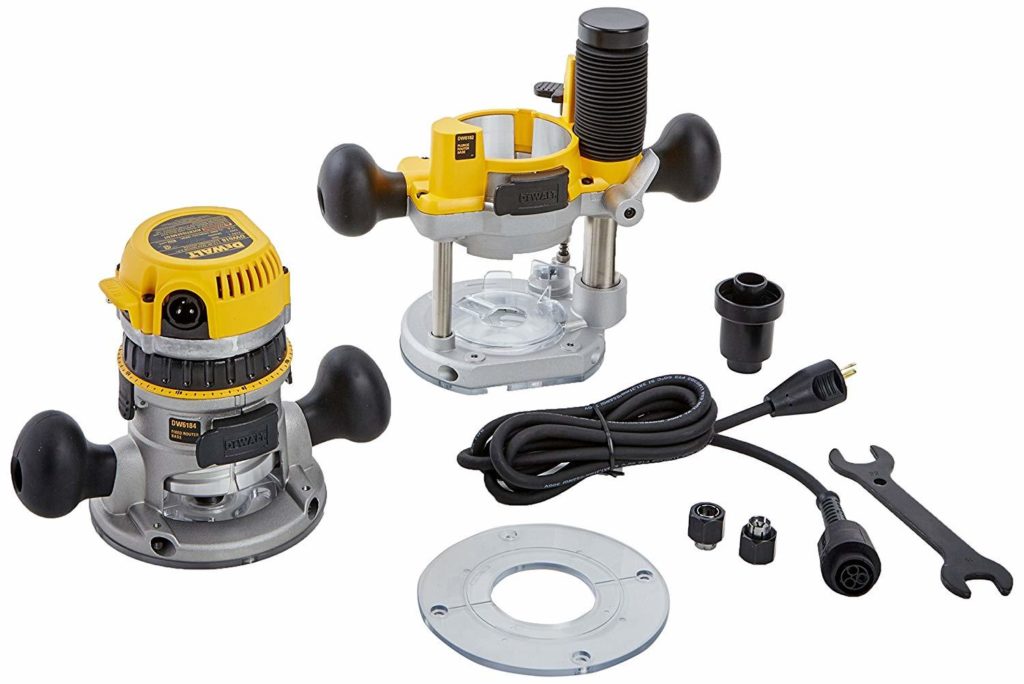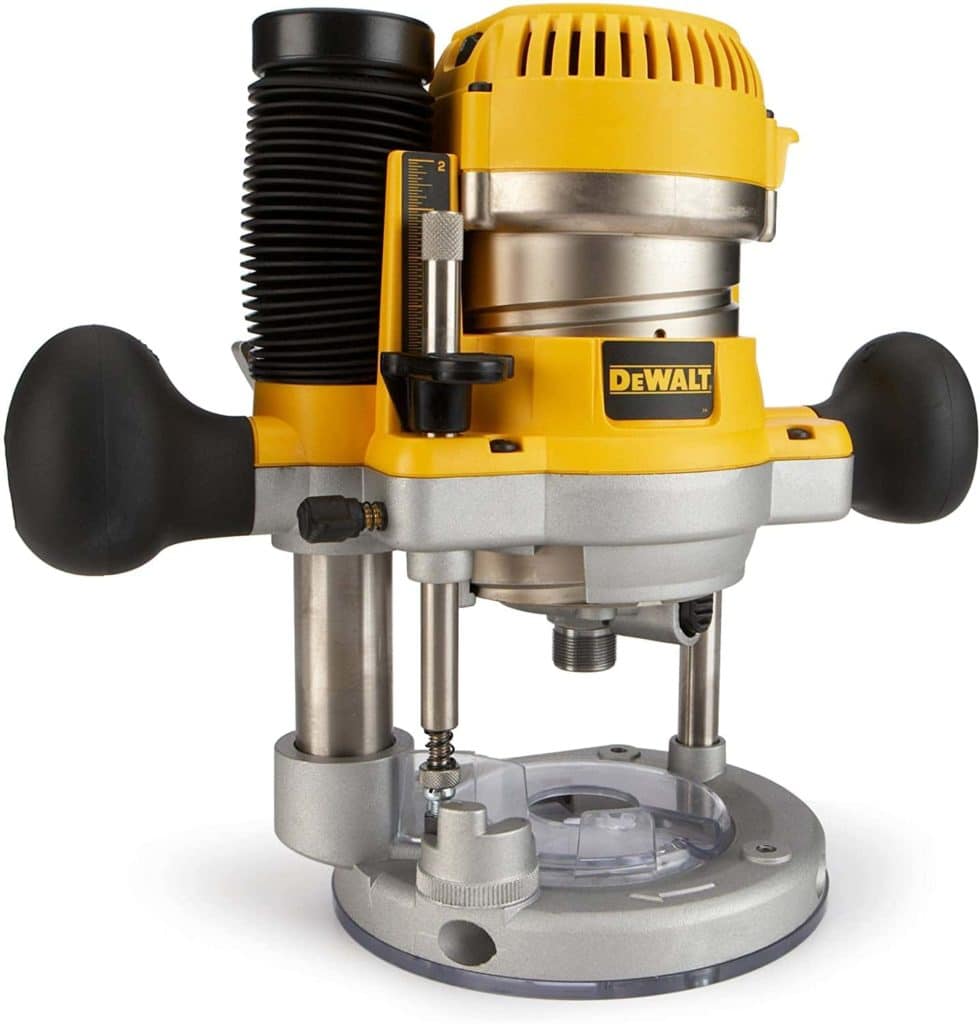 We give the DeWalt DW618PK Router Kit a rating of 4.7 out of 5 stars. 
Build Quality: 4.5/5
Power: 4.8/5
Usability: 4.8/5
Features: 4.8/5
Price: 4.5/5
Review Summary
DeWalt has been a leader in the industry for nearly 100 years, allowing them to create more than 200 power tools and 800 accessories. Between their versatile design and durable quality, DeWalt is easily one of the best manufacturers in the states.
The DeWalt DW618PK router kit certainly lives up to the DeWalt name. This kit is extremely easy to use, making it a favorite among beginners and amateurs. Even those with a little bit of router experience love this kit too. It offers incredible durability, versatility, and enhanced features that allow it to create the perfect cuts.
For these reasons, the DeWalt DW618PK router kit is a great option for those who are a little inexperienced with routers but will need a more advanced and versatile option in a year's time or so. Though this may not be the best option for all professional uses, it is great for more experience amateurs.
With that in mind, let's take a closer look at the DeWalt DW618PK, including its features, benefits, and drawbacks.
DeWalt DW618PK Router Kit – A Quick Look
Pros
Powerful
Versatile
Soft start features
Variable speed dial
Dust collector included
Easy to use
Lamp design with ergonomic grip
Detachable power cord
Cons
Must buy edge guide separately
Short cord
Not suitable for many mounting options
Specifications
Specifications
Brand Name: DeWalt
Model: DW618PK
Style: Router kit
Plunge Stroke: 2½"
Router Base: Combo kit, fixed and plunge
Base Dimension: 6-inch
Horsepower: 2¼ HP
Amperage: 12
Hertz: 60
Voltage: 120 volts
RPM: 8,000-24,000
Dust Collector: Yes
Power Source: Corded electric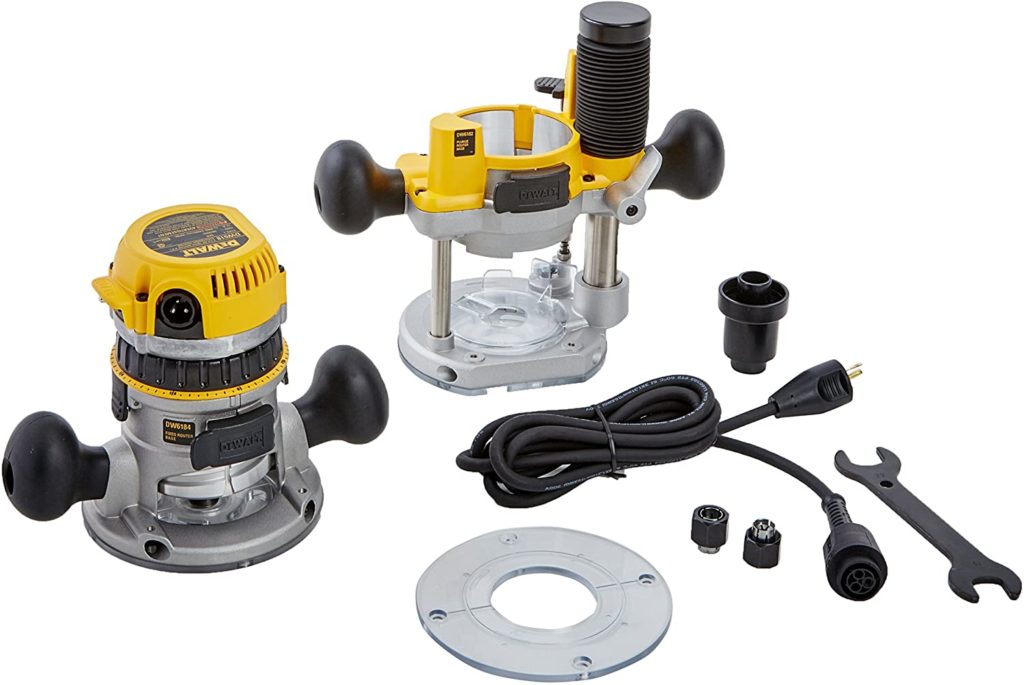 Powerful HP
With any router, one of the first things you need to look at is the horsepower. The horsepower tells you exactly how strong and capable the tool is for cutting through different types of wood. The DeWalt DW618PK comes with a 2¼ horsepower, 12-amp electronic speed variable motor. This strength makes the tool extra powerful so that it can cut through any wood, including tough hardwood.
Because of the powerful motor, the tool also comes with a soft start function. This soft start technology minimizes the torque on the motor for cleaner cuts. It also makes it much easier to use this tool since it doesn't start with a kick.
Variable Speed
One of the most useful aspects of the DeWalt DW618PK is the variable speed setting. This setting allows the device to range from 0 to 8,000 and 0 to 24,000 RPM. To change the speed, all you need to do is change the variable speed dial, which is super easy and convenient.
Dial 1 produces a maximum speed of 8,000 RPM. By turning the dial up to 3, the tool then creates speeds of up to 14,000 RPM. This speed is more suitable with large diameter bits. The tool will then go up from 18,000 to 24,000 RPM once you change the dial from 4 to 6. This RPM is better for smaller bits and cutters.
On top of that, the speed comes with an electronic speed control. This helps the tool to maintain its speed under load. This in part helps to reduce stress and prevent burning while using the tool.
Combo Base
A fixed base will be set to a specific depth that is maintained during use. A plunge base, on the other hand, lets the tool plunge down to make a specific cut. Since both of these options are so handy, it can be hard to pick between a fixed base or a plunge base.
Thanks to this kit, you don't have to decide between the two. This kit comes with a combo base, including both a fixed and plunge version.
Versatility
Between the variable speed and combo base, the DeWalt DW618PK is easily one of the most versatile routers on the market. You can use just about any diameter bit or cutter. Meanwhile, you can create your specific cut with either base. If you are looking for a router with versatility, then this is your pick.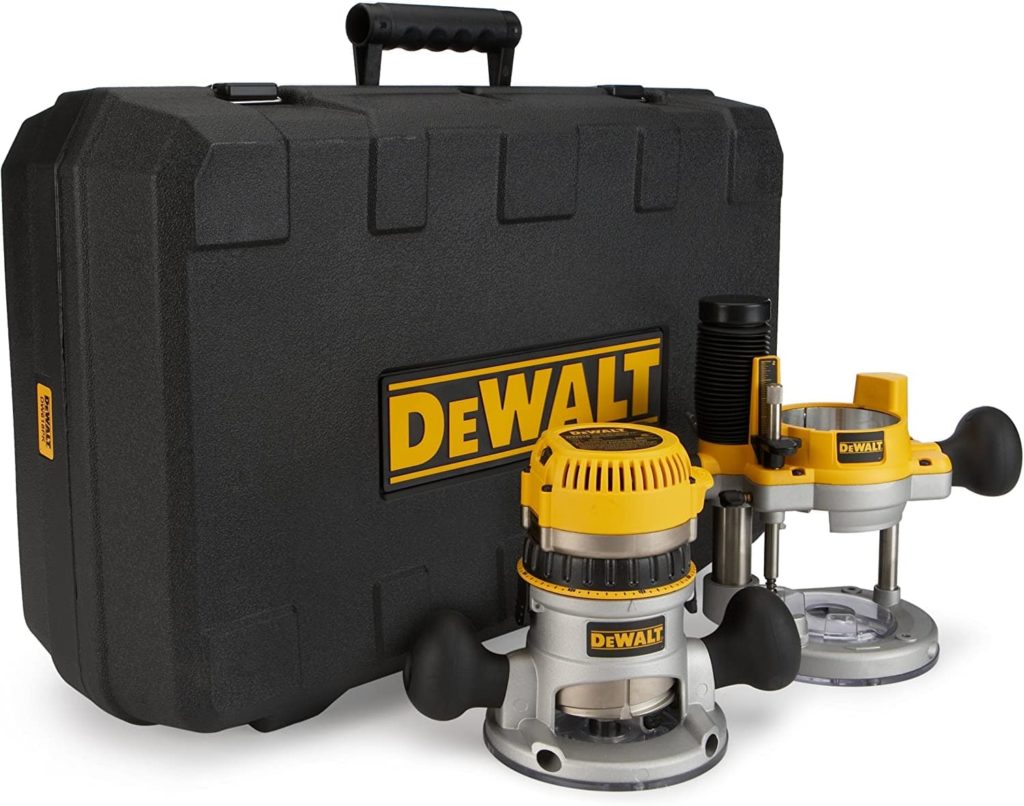 User-Friendly
Routers are one of those tools that both amateurs and professionals need. This makes it important, especially for beginner users, to find a router that is easy enough for beginners but advanced enough that it can stick with them as they become more experienced.
The DeWalt DW618PK delivers on both those things. It is incredibly user-friendly, making it suitable for amateurs or beginners. At the same time, more experienced users love it due to its power, versatility, and advanced features.
No Edge Guide
All good things must come to an end. For the DeWalt DW618PK, that ends with its lack of an edge guide. An edge guide can help you create more perfect and professional cuts. Unfortunately, this kit does not come with an edge guide. You can, however, purchase an edge guide separately and use it with the kit. It's just a bit unfortunate that you have to buy it separately since this is a kit after all.

FAQ
Does the DeWalt DW618PK come with a warranty?
Yes. The DeWalt DW618PK comes with a 1-year warranty, one year service contract, and a 30 day no risk trial.
Does it come with a dust collector?
Yes. This kit comes with a dust collector, but it does not catch as much dust as other DeWalt models.
Can the kit cut through pressure-treated wood?
Yes. This kit can cut through pressure-treated wood. It is designed to cut through most wood types, including tough hardwood, making it suitable for most jobs.
What the Users Say
Given that the DeWalt DW618PK has over a 4-star rating on every site we looked at, it is no stretch to say that customers love this router kit. Here, we have summarized what we found based on reviews so that you could see how other people's experiences compared to our own:
Benefits
Most users loved this router. The quality and durability of this router were constantly raved upon. Several users made a point to reaffirm that all DeWalt products are made in the USA and that the tools, including this one, last many years.
Reviewers raved about the power and soft start function as well. Users expected the kit to be powerful, which it was. They found that it could cut through nearly every material they needed. At the same time, it was easy to use and created beautiful cuts, thanks to its soft start feature.
Another frequent positive review was how easy it was to use. Multiple users noted that they were first time router users, but they had no issue using this tool. Due to its intuitive design, it was easy enough for anyone to use.
All in all, most of the positive reviews about the DeWalt DW618PK matched our own findings. We especially agree with the durability and usability of this tool.
Drawbacks
Although the reviews for the DeWalt DW618PK were largely positive, some buyers were not as pleased. Though these buyers were few in number, they certainly warrant mentioning.
More than a few people noted that their motor was defective or broke early on. Though we did not experience this issue ourselves, enough people made this comment that it does spark some concern.
Users were also less pleased about the number of mounting options. They found that you couldn't mount it many places, and when you could, it was difficult to do so. Some people even mentioned that they pinched their fingers in the process.

Conclusion
The DeWalt DW618PK is a killer router kit because it is easy enough for beginners, but it offers versatility, durability, and advanced features that more experienced users will love. This really is the kit for you if you want a kit that is easy to use and delivers beautiful cuts. Just watch your fingers when you mount it!