Bosch 1617EVSPK vs DeWalt DW618PK: Which One's Best?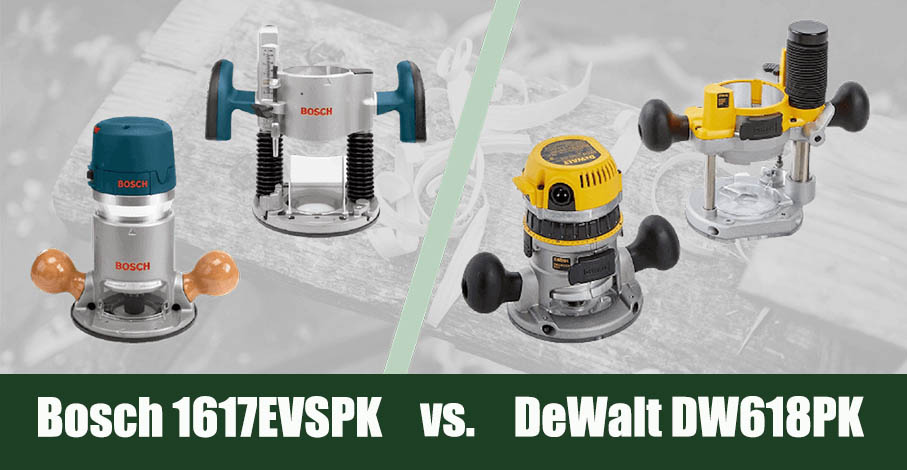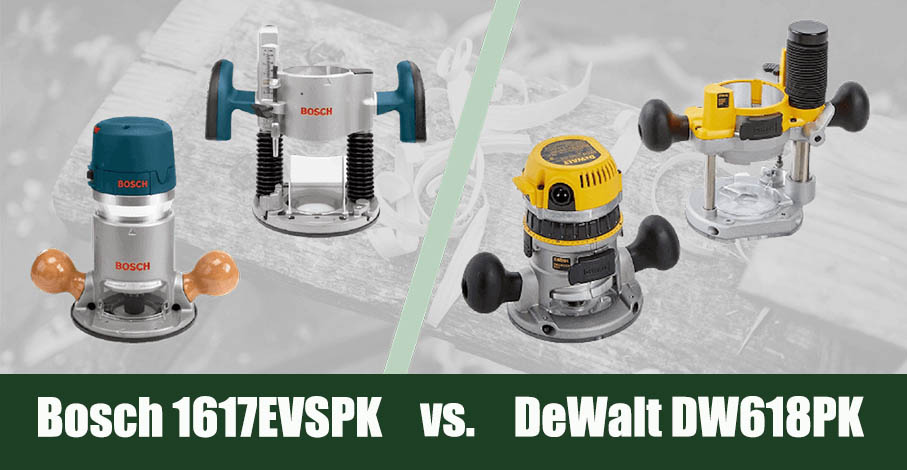 | Rating | Image | Product | Details | |
| --- | --- | --- | --- | --- |
| The Winner | | Bosch 1617EVSPK | Easy to use,More accurate cuts,High-speed motor operation | CHECK PRICE |
| The Runner-up | | DeWalt DW618PK | Versatile,Soft start technique,Tool-free adjustments | CHECK PRICE |
This is a battle of the best, comparing the two most reliable router kits, the Bosch 1617EVSPK, and the DeWalt DW618PK. Well, if you are actually new into woodworking, or better yet, wood routing, and you are confused and actually not sure you will need either a plunge base or fixed base router, then we advise you to go for one of these combo kits.
Having this kind of option to make use of these two types of routers is the best value for your money.
When trimming edges and making high-quality joints, a fixed base router is the best option you have. This is preferred when you are using a dovetail jig. It is also considered the most accurate when compared to the plunge router because it can be easily mounted on a router table, and can be adjusted according to specifications to meet your needs.
If you are considering cutting into the middle or away from the edge of a piece of board, the plunge router is also the best option you would have. This plunge actually helps you place the router over the woodwork, then lower the router accurately and perpendicularly over the woodwork. This is actually perfect for making flutes and mortices or engraving your templates.
Well, if you can't read the full review and wait till the end to reveal the winner, the Bosch 1617EVSPK is the best combo kit you should get. The reason is that it is built better than the DeWalt and it tops it also in speed.

What's the Difference Between Them?
Bosch 1617EVSPK
This package is a 2.5HP, 12 Amp variable speed fixed-base and plunge router kit. It comes with a 12 Amp motor which is suitable to cut through any hardwood or edges it comes across. Its router comes with a soft start technology, that helps raise the RPM slowly until it reaches its peak. This, in turn, helps regulate and ensures that the woodwork you are working on doesn't get damaged. Putting the bits of a router too quickly can cause tears or distortion around the cut.
The router also comes with a constant response circuitry which ensures power is always supplied to keep a constant delivery of the needed RPM. Having a variable speed of about 8,000 to 25,000 RPM, this allows you to select the bit speeds to the available materials you are working on. This means the provision of a cleaner and better cut.
The router kit is compatible with most of the router tables and router lifts such as the Bosch RA1171 and its upgraded version, the RA1181. It can also be used on other different router tables, but it is very advisable to first research on the particular types of router tables you can fit it in.
As mentioned above, this is both a Fixed and plunged router kit which gives you options for the two functions.
Specifications
A 12 Amp motor with 2.5HP
Constant and reliable cutting speed
Soft start technology
Plunge depth – 2¼ inch
Fixed base adjustment in 1/64inch increments
Variable speeds of 8,000 – 25,000 RPM
1-year warranty

DeWalt DW618PK
This is a 2.25 HP, 12 Amp variable speed fixed base and plunge router combo kit. It has variable speeds of up to 8,000 to 24,000 RPM suitable for cutting different wood types. Just like a lot of routers in the smaller range settings, the given RPM will perform best on larger type cuts and hardwood. If set at the high end of the RPM, it is best suited for smaller sized cuts and softer woods.
It comes with a collet, sizes ¼ and ½. This also comes with a standard sized dust collection system, which can be attached to a shop vacuum to keep dust away from cuts and ensure a more accurate job.
For the fixed base, there is a micro-fine adjustment ring, making it possible to adjust the router bit in 1/64 of inch increments. For the plunge base, it comes with an adjustable turrets, which has five different positions on the right-hand side with each allowing a change of 1/32 inch incremental adjustments.
Specifications
12 amp motor with 2.25 HP
Soft startup
¼ and ½ inch collets
Through column dust collection
Variable speeds of up to 8,000 to 24,000 RPM
Lexan sub-base for enhanced visibility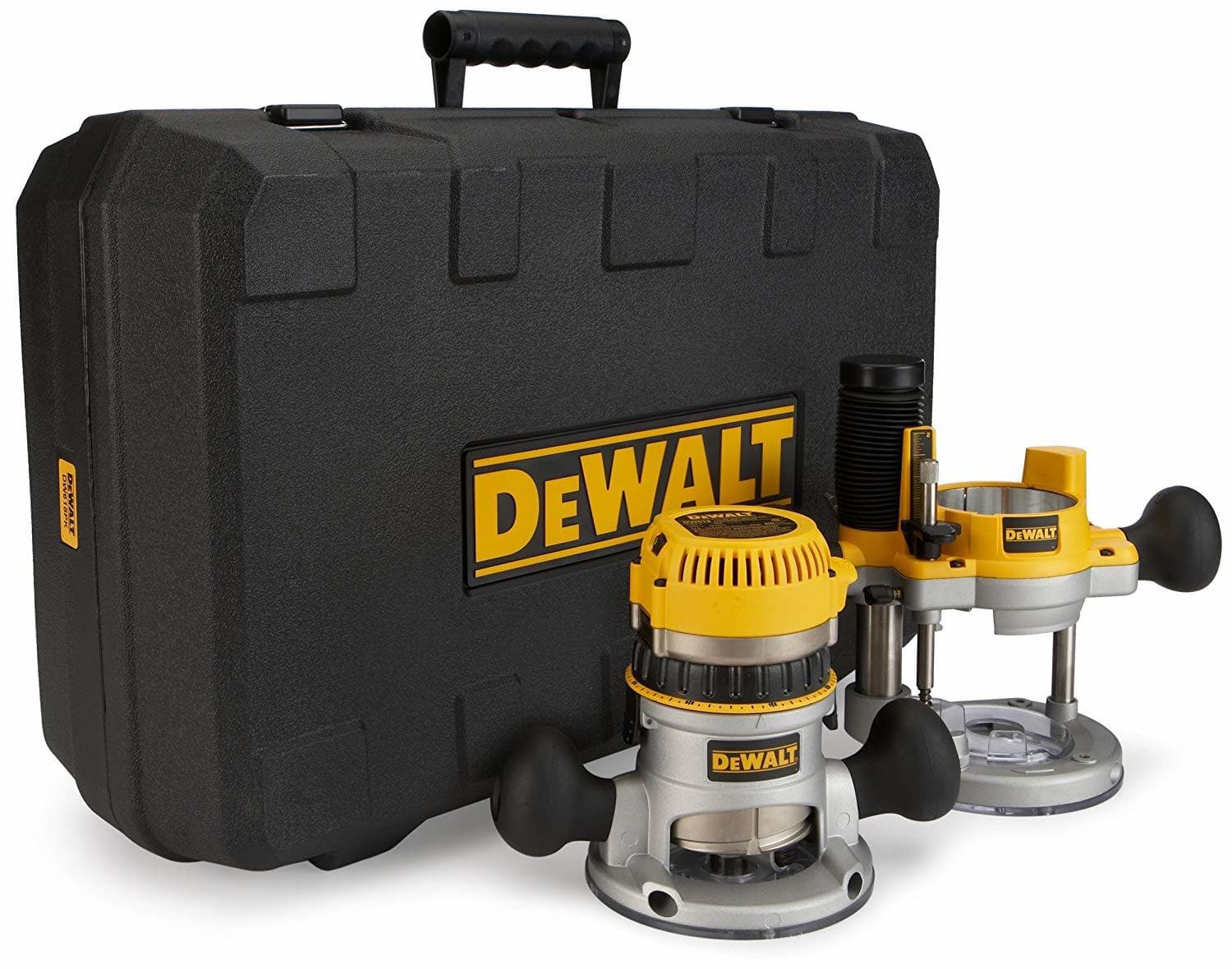 Quick Rundown of Bosch 1617EVSPK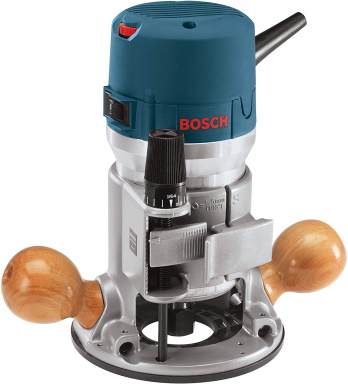 Pros
It is easy to use
It is best suitable for various material cuts
It is strong and durable
It has a very high power compared to its counterpart
It comes with a combo of plunged and fixed base
High-speed motor operation
More accurate cuts
It is very versatile

Quick Rundown of DeWalt DW618PK
Pros
Lightweight
Soft start technique
It comes with both a fixed base and plunge router options
Tool-free adjustments
Ergonomic design
It is versatile
Cons
Not suitable for commercial use
Does not come with an edge tool guide
Has a lower power than its counterpart
It is not the best RPM amongst the two of them.
Popular Alternatives That Are Worth Considering
DEWALT Router Fixed/Plunge Base Kit, Variable Speed, 12-Amp, 2-1/4-HP (DW618PK)
2-1/4 HP (maximum motor HP), 12.0 amp electronic variable speed motor of DEWALT router provides the power to rout smoothly through the...
DEWALT plunge router features electronic variable speed with full feedback control for constant speed under load from 8,000-24,000 rpm...
Micro-fine, depth-adjustment ring provides precise depth adjustments in 1/64-inch increments and adjusts vertically for a constant...

Conclusion
Looking at these two Rivals – the Bosch 1617EVSPK and the DeWalt DW618PK, you can tell that they are very convenient for every workshop use. Each of the reviewed routers is not only good, but they are designed to bring perfection to every production while using it daily. Therefore, if you are looking for a tool that is budget wise, and mild to your pocket, we advise you go for the DeWalt DW618PK. This is because it has a low voltage usage, and also guarantees you low energy consumptions, saving you a lot of cash.
However,  the Bosch 1617EVSPK uses high voltage, but takes very minimum time in cutting through any material. Our final verdict is that it would be wise enough for you to go for the Bosch 1617EVSPK over the DeWalt DW618PK.