DeWalt DW734 Planer Review 2023 – Pros, Cons & Verdict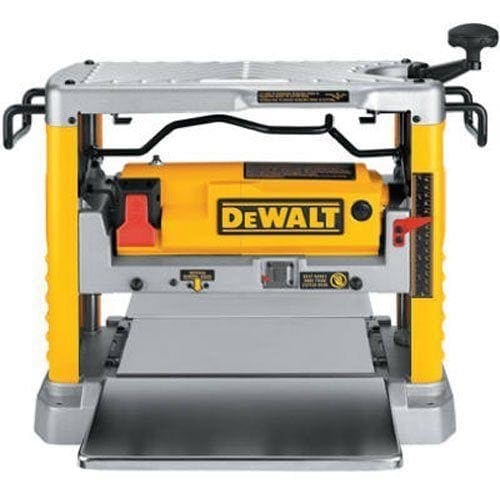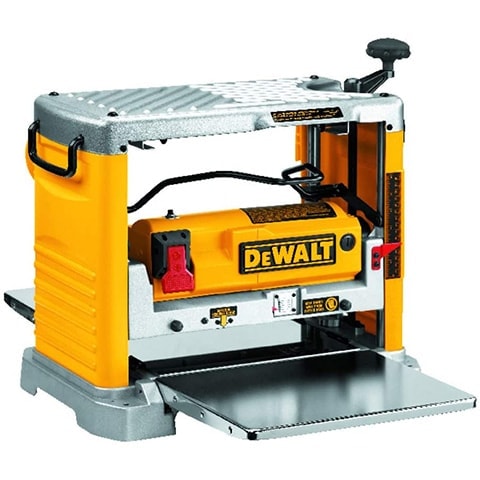 We give the DeWalt DW734 Planer a rating of 4.5 out of 5 stars. 
Build Quality: 4.5/5
Power: 4.5/5
Price: 3.5/5
The DeWalt DW734 Planer probably isn't the first tool you'll get to fill up your workshop. However, once you learn what it can do and how much it can save you, you might want to give it a closer look. DeWalt is a reputable company, so you can feel confident about looking at its product line for these devices. The manufacturer caters to the casual DIYer and professional contractor.
The planer succeeds on several fronts. The powerhouse has the goods with a respectable RPM for both the motor and cutter head. The results are also impressive, with a smooth finish that reduces waste. The width and depth of the cuts are more than you'll probably need, which makes it a versatile tool if your skillset grows to include more complex projects.
We liked the support that the manufacturer gives this product. It extends to its guarantee, service, and warranty. Users often mention the company's customer service. They strive to solve problems and make things right for the buyer. The planer isn't cheap, but it does more specialized tasks that can justify the price tag. Overall, it's a quality product from a company that can indeed rest on its laurels.
Dewalt DW734 Planer – A Quick Look
Pros
Quick assembly
Easy to use
3-year limited warranty
Precision cuts
Specifications
Specifications
Brand Name: DeWalt
Model: DW734
Dimensions: 24" L x 17" W x 21" H
Weight: 80 lbs.
Amperage: 15 amps
Max Cutting Depth: ⅛"
Depth Capacity: 6"
Width Capacity: 12 ½"
No-Load Speed: Motor, 20,000 RPM/ Cutter Head, 10,000 RPM
Cuts per Inch: 96
Power Source: Corded
Powerful Motor for All Wood Types
The DeWalt DW734 Planer has some serious power behind it, judging by its specs. That's why it can cut through hardwoods such as oak like butter. That's one thing. After all, that's the primary purpose of this tool. However, when you combine it with the results, then there's more to consider. The three-knife cutter head delivers smooth cuts without any snipe that would increase waste.
The performance of the planer is spot-on, whether you're cutting pine or something harder like maple or ash. The width and depth are more than adequate for most projects. We liked that the manufacturer included a dust hood to make the work as clean, safe, and efficient as possible. Sure, you have to get a shop vac, but that's a necessity whenever you're doing woodwork and not a dealbreaker.
Accurate Operation
One of the hassles of using a planer is getting accurate cuts and managing the length of the boards. The DeWalt DW734 Planer covers this issue with extra-long infeed and outfeed tables. The 33-inch length makes it easier for solo DIYer to handle the job safely. We also liked the reversible and replaceable knives that add additional support for this feature.
Excellent Manufacturer Support
DeWalt has a solid reputation with both hobbyists and contractors. The company has a long history that goes back to 1922. The thing we liked was that the manufacturer stands behind its products, which is evident with this planer, too. You get a 90-day, money-back guarantee, which is impressive on its own. You'll also receive free service for one year and a 3-year limited warranty.
That speaks volumes for us. It says a lot about the integrity of the company and the trust they have with their products and the employees assembling them. It also makes the high price tag less scary since your purchase is guaranteed—literally!

FAQs
What Can You Do with a Thickness Planer?
The main advantage of using a planer is that you can buy rough-cut wood at a cost saving. You can then take care of the lumber to suit your project. You can also take advantage of those not-so-straight-or-smooth pieces, get them at a discounted price, and finish your project—ahead of budget!
Do You Have to Sand After Using a Planer?
Whether you sand after planing depends on the quality of the cuts. The DeWalt DW734 Planer does 96 cuts per inch, which gets rid of the rough spots to ensure a smooth finish. This feature means that you can save time on your projects without the additional task of sanding. The disposable cutting knives are a crucial part of this feature.
What's the Difference Between a Planer and a Sander?
A planer is typically the first tool you'll use with rough-cut or uneven lumber. It gives it a uniform thickness, which is the ideal starting point for any woodworking project. With lower-end products, you often have to do additional sanding to get the wood ready for prime time. The DeWalt DW734 takes it to the next level by giving you smooth finishes so that you can get building without an extra step.
What the Users Say
The consensus on the DeWalt DW734 Planer is the same. Users love this tool and the power it delivers. It is something more for the serious DIYer than the hobbyist, if just because of the price. Interestingly, the cost isn't a significant factor in our scan of the reviews. Some references the weight of the device, but it's not a negative point, given its function.

Conclusion
The DeWalt DW734 Planer is an investment. It's a pricey addition to your workshop. However, the money you can save by buying rough or imperfect lumber can justify the higher cost with a quick ROI. The more woodworking projects you do, the faster that will happen. After reviewing the specs and its performance, we think it's a no-brainer. This tool is a must-have for the serious hobbyist or pro.
Related posts: