DeWalt DW735X Planer Review 2023 – Pros, Cons, & Verdict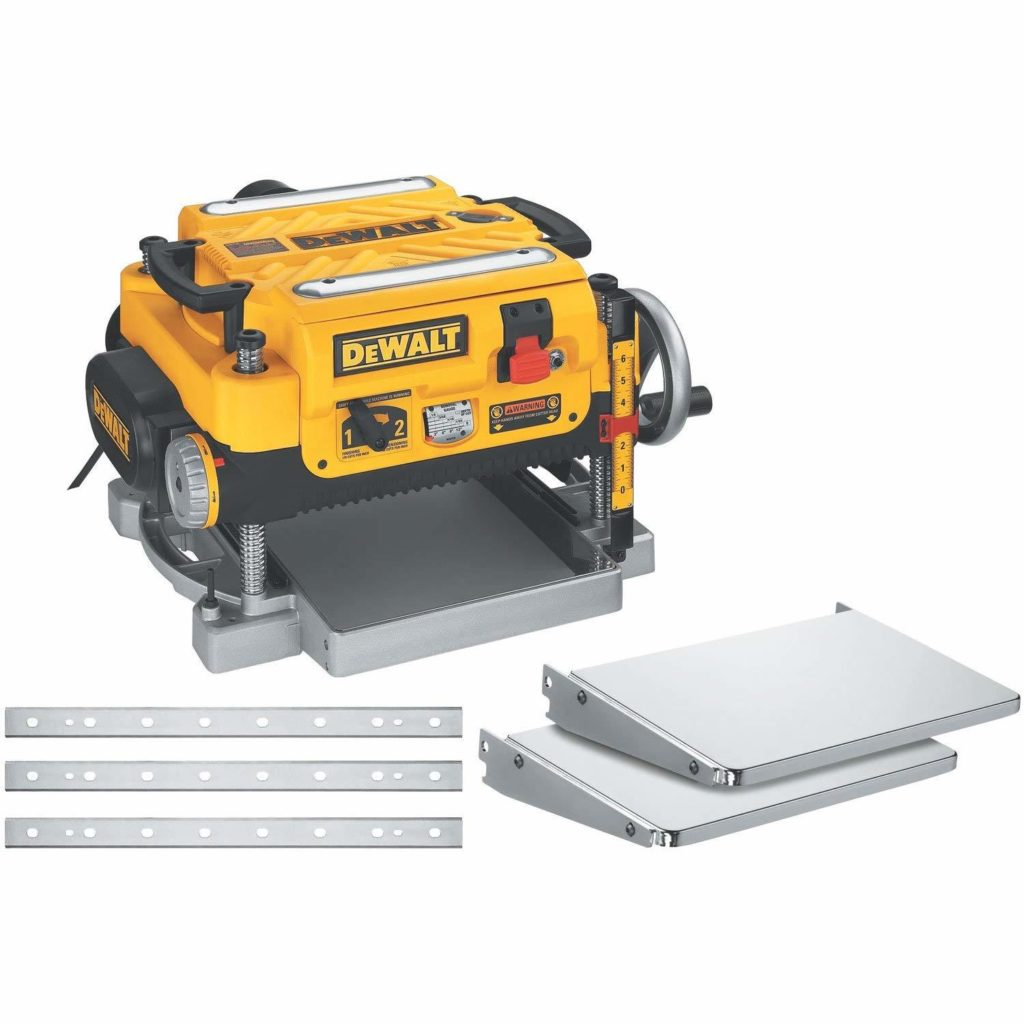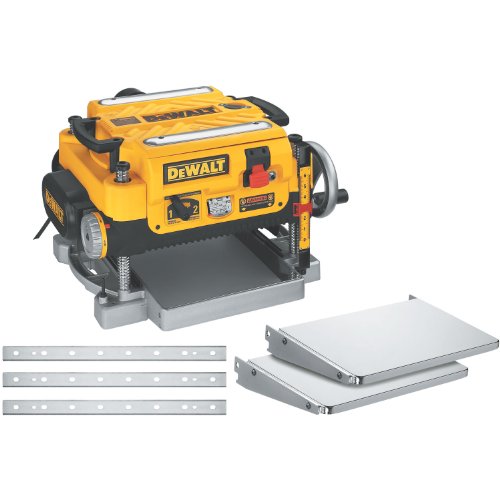 We give the DeWalt DW735X Planer a rating of 4.8 out of 5 stars. 
Build Quality: 4.8/5
Power: 4.9/5
Accuracy: 4.9/5
Features: 4.8/5
Price: 4.5/5
Review Summary
DeWalt has been a leading brand for woodworking tools for decades. Both professionals and hobbyists enjoy the precise results and easy and intuitive designs that DeWalt products offer. One of DeWalt's more impressive tools is the DW735X Planer.
Overall, this planer offers high powered, accurate results that DIYers and professionals will enjoy. It features a 2-speed gearbox, depth setting dial, easy blade changing, and an extensive dust collection system. All the while, the DW735X is highly durable and comes with a 3-year limited warranty like all other DeWalt products.
Of course, nothing is perfect, and that includes the DW735X planer. This model is incredibly loud and noisy because of its high power, meaning you need to wear protective ear gear when using the product. It is also highly expensive, especially for beginner users. Though these drawbacks may deter some users from selecting the DW735, its positives outweigh its negatives by a longshot.
With this in mind, the DeWalt DW735X is a highly impressive planer that should be used by serious hobbyists or professionals on a budget. It's power and precise control gives you accurate and smooth finishes, while the materials and intuitive designs make it durable and easy to use. In other words, you'll be highly satisfied with this product if you are willing to pay its steep price tag.
DeWalt DW735X Planer – A Quick Look
Pros
Powerful
2-speed gearbox
Depth setting dial
Easy blade changing
Highly durable
Cutter-head provides 30% longer knife life
Includes extra knives
---
Specifications
Specifications
Brand Name: DeWalt
Model: DW735X
Weight: 101 lbs.
Dimensions: 24 x 22 x 18 inches
Style: 2-speed 13-inch w/ feed tables and extra blades
Materials: plastic
Power Source: Corded-electric
Voltage: 120 V
Included Parts: dust hose adapter; dust-ejection chute; extra knives
Warranty: 3 year limited
2 Speeds
This DeWalt planer comes with a two-speed gearbox that allows you to change the feed speed per individual cut. One speed is for quick thickness, while the other is for detailed finishing. Though this might not sound like a big deal, it allows you to optimize every cut depending on the inches. These cuts can range from 96 to 179 CPI. This impressive CPI rating is very high for a nonprofessional planer.
Many users don't think that they will often use a slower speed, but it is incredibly helpful because of its smooth finish. This option is helpful for detailed finishes, but it is useful for large cuts too. If you run your boards over with the slower option, it lessens your sanding time since it provides a smoother finish.
Depth Setting Dial
No matter if you are a professional or hobbyist, you need to tailor your cut to specific thicknesses and cut deeply. This DeWalt is a great product because it offers deep cutting depth with a depth setting dial. The dial provides the perfect finish to cut into deep materials.
The depth setting dial has incremental depth stops that range from ⅛ inch to 1¼ inch. This range will allow you to cut into a variety of different wood types for various projects.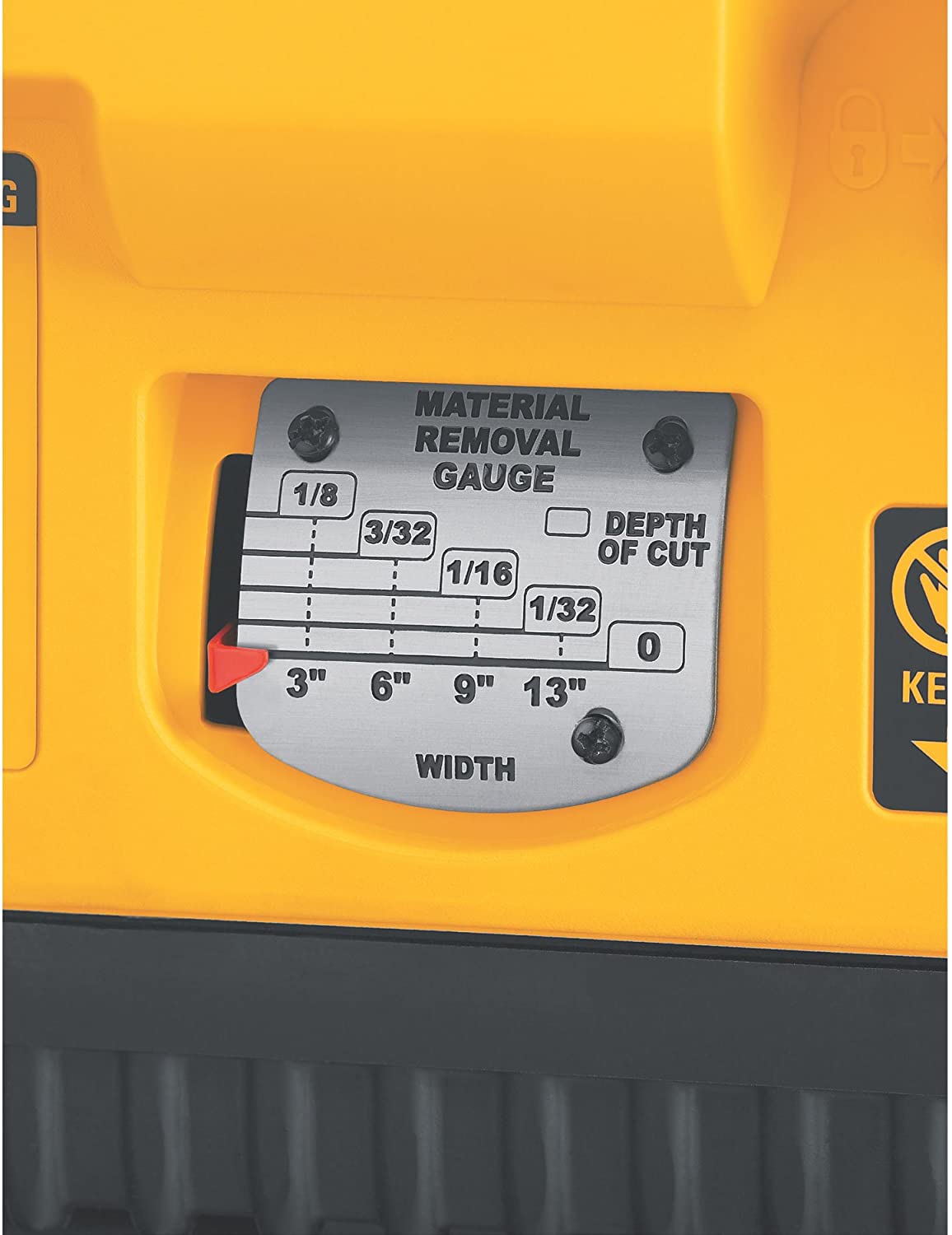 Blade Changing
When you need to change the blade, the DeWalt comes with a handy blade changing system. The kit comes with an Allen wrench for loosening screws and removing the blades. The Allen wrench even includes magnets on the handle to make removing the blade safe and easy. Once the cover is removed, you have plenty of room to change out the blades using the magnet.
The planer even comes with a tray for blade mounting screws whenever you are changing the blades. Though this doesn't help with the blade changing process itself, it alleviates the fear of losing any screws in the process, which is a nice touch.
This blade changing system is much easier than other options. Even beginners will find changing the blades on this planer to be easy, efficient, and safe.
Durability
The DeWalt 735X planer is easily one of the most durable nonprofessional models on the market. The machine sits on a cast aluminum base. Although the casing is molded in plastic, it is incredibly solid and impressively durable. Even though this planer is not intended for professional use, the durability of this model easily makes it professional from this standpoint.
The three-knife cutter head even delivers 30% longer knife life. This means that not only is the planer itself durable, but the knives are, too, thanks to its design. This means that you will be able to use your knives for longer without changing them out.
All around, the DeWalt DW735 Planer is highly durable. It should last you many years because of its impressive materials and overall design quality.
3-Year Limited Warranty
DeWalt even backs up the DW735X with a 3-year limited warranty. Any defects caused due to faulty materials or workmanship will be repaired without charge for three years from the date of purchase. This does not include faults caused by normal wear and tear. Most other planers do not come with a warranty that lasts this long.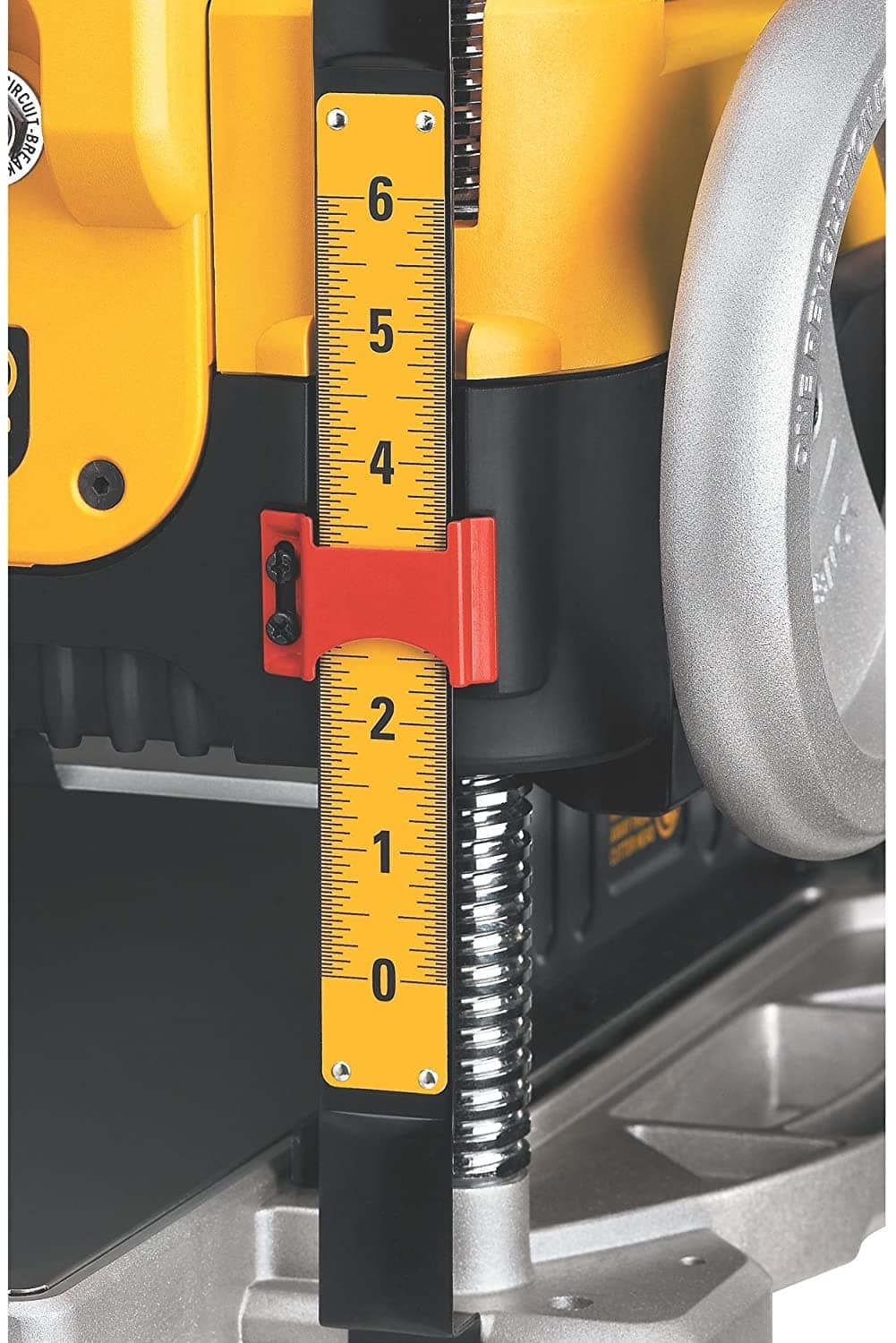 Noise Level
Because of the power of the DW735X, the model is pretty loud. Noise cancellation is really the only feature of this planer that is missing. Expect for the planer to be very loud during use. We recommend using earplugs when using this device. Also, only use this planer in areas where it's okay to be loud.
Price
The main reason people might opt for a different planer than the DW735X is the price. Although you will get your money's worth when using this product, it is highly expensive. Hobbyists on a budget will probably want to look for a different planer with a more affordable price tag.
With that being said, the price is affordable in comparison to other professional options. So, many professionals will find this planer to be a budget option for their work or business.
Other Planers We've Reviewed

FAQ
Is the DW735X good for beginners?
The DeWalt DW735X comes with some easy-to-use features, like the blade change, but it is not the best model for beginners. It comes with many advanced parts and power that most beginners will find overwhelming and unnecessary. If you've never used a planer before, we recommend going with something more basic and less powerful.
Is the DW735X good for professional use?
Although this model is not marketed as a professional device, it offers many professional features such as variable speed, accurate precision, and high power. Professionals looking for a high functioning tool on a budget will be pleased with the DW735X. Even though this planer is expensive for personal use, it is affordable for professional use.
Still, some professionals might prefer a more powerful model than the DW735X. Some professionals claimed that this tool does not provide enough power for large or knotty woods. It really depends on how much money you are willing to pay for your professional devices.
Does the DW735X come with a dust collector port?
The DW735X offers an impressive dust collector port and innovative system. It comes with a built-in blower for clearing wood shavings and dust from the blades. This offers a lot of airflow that prevents dust and shavings from building up on your blades. This allows the lifespan of your blades to be extended. You can attach most shop dust collections to the planer. A 4-inch connection is best.
Is it easy to change the blades?
It is easy to change the blades on the DW735X thanks to its blade changing system. You do not have to have much experience with changing blades in order to change the blades effectively and safely. The Allen wrench included makes it easy to remove the screws and blades.  The helpful tray even removes the fear of losing any screws in the process of changing the blades.
Is the DW735X durable?
As we mentioned previously, this planer is highly durable. Although it is made from plastic molding, this plastic is heavy duty and designed to last many years. Even the three-blade cutting head is designed to elongate the lifespan of the blades, further proving the durability of this planer. These features allow the durability of the DW735X to be comparable to that of a professional model.
What the Users Say
To see how our thoughts compared to other people's experiences, we went ahead and checked out all the reviews for the DeWalt DW735X. Most of their reviews were alarmingly positive and matched up with our own, which is what we expected from a DeWalt product. This is what we found:
Pros
Nearly all of the reviews we read were positive of some sort. Most users agreed that the DW735X is highly effective and powerful. Many even went as far as to say that the model is worth the higher price due to its impressive performance and power.
Several users noted that you get more from this product than you would by getting a different planer. As a result, most users found that the price was completely fair and understandable since it comes with so many additional features.
Just as we noted, other users were impressed by the smooth finish that the second speed offers. The word "flawless" was even used to describe the smooth finish more than once. Reviewer's loved the magnets for blade changing, agreeing that it made the process much easier and safer.
Many users also noted that the planer came with several nice touches. The handy tray for blade mounting screws for changes was especially helpful to many users. Although they said it was not necessary, it made changing the blades more enjoyable and easier.
All around, most users agreed with our final take on the DW735X, saying that it is a highly impressive planer.
Cons
Although most of the reviews for the DW735X were positive, there were a few critical reviews. Just as we found, several users complained about the noise level of the planer. They also recommended wearing ear protection when using this device because of how loud it gets.
One user went as far as to measure the device's noise level and found that it was 126 decibels. If that rating means nothing to you, a lawnmower typically is 90 decibels while a rock concert is about 120 decibels. That makes this tool incredibly loud and harmful for your ears. We did not test the decibel rating ourselves.
Additionally, some reviewers noted that professionals should opt for a more expensive model. These users found that the DW735X is not powerful enough for incredibly thick pieces of wood. Several users found that the tool trips when using extremely thick or knotty wood.
We're not sure if this is a drawback of the device since DeWalt does not market this tool as a professional device, but it is something to keep in mind. Still, other users noted that this device is handy for professional use, so the vote is split between whether or not you can use this for a professional device.

Conclusion
Although the DeWalt DW735X is expensive and loud, it is a high performing, powerful, and durable planer that hobbyists and professionals alike may enjoy. It features a 2-speed gearbox, depth setting dial, easy blade changing, and impressive dust collecting system. Its extreme durability and additional components match these features.
If you are willing to pay the higher price for this product, you will be more than satisfied. This planer is best for serious hobbyists or professionals on a strict budget. Overall, the DeWalt DW735X Planer is an impressive mixture of a personal planer and a professional planer. Just about anyone would be satisfied with this product.
Related Reads: