DeWalt DWS779 Sliding Compound Miter Saw Review 2023 – Pros, Cons, & Verdict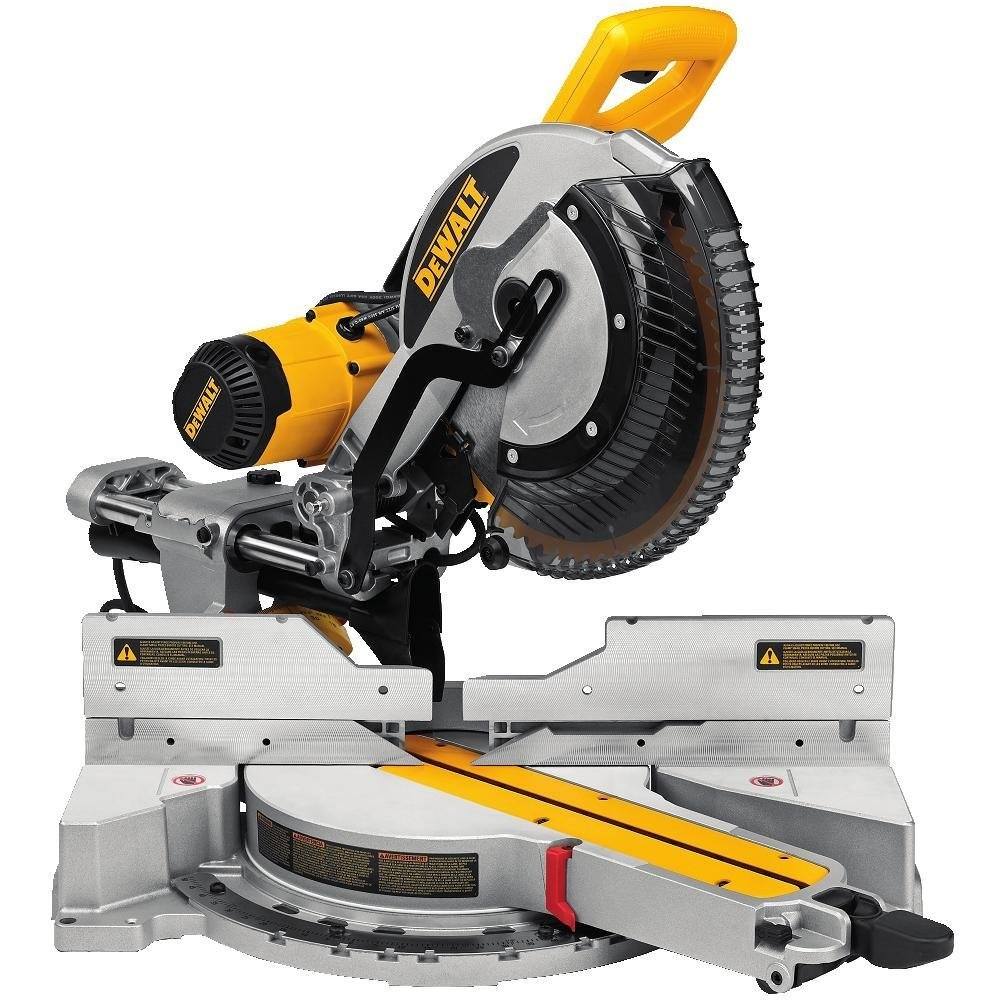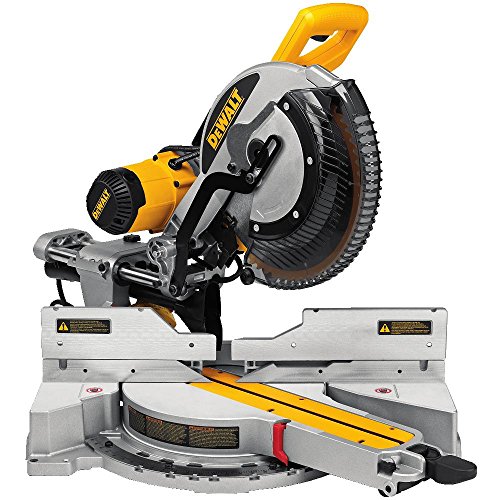 We give the DeWalt DWS779 Miter Saw a rating of 4.6 out of 5 stars. 
Functionality: 4.4/5
Design: 4.8/5
Price: 4.4/5
Review Summary
DeWalt has been one of the go-to power tool manufacturer for professionals, hobbyists, and DIYers for several reasons, but we like DeWalt because their products work as advertised. For example, the DeWalt DWS779.
This compound sliding miter saw is ideal for both professional craftsmen and hobbyists; professionals happy with the accuracy of the cuts that it can deliver, and the hobbyists appreciative of its ease of use.
The powerful 3800 rpm motor will saw through the materials easily and without any hassle. The power comes with a price: the DeWalt DWS779 weighs a whopping 67 pounds, so it won't be a pleasure to move from job site to job site. On the other hand, it's a great model to park in your workshop, and it will serve you for many, many years to come.
Let's take a deep dive into this tool and see if it's right for you.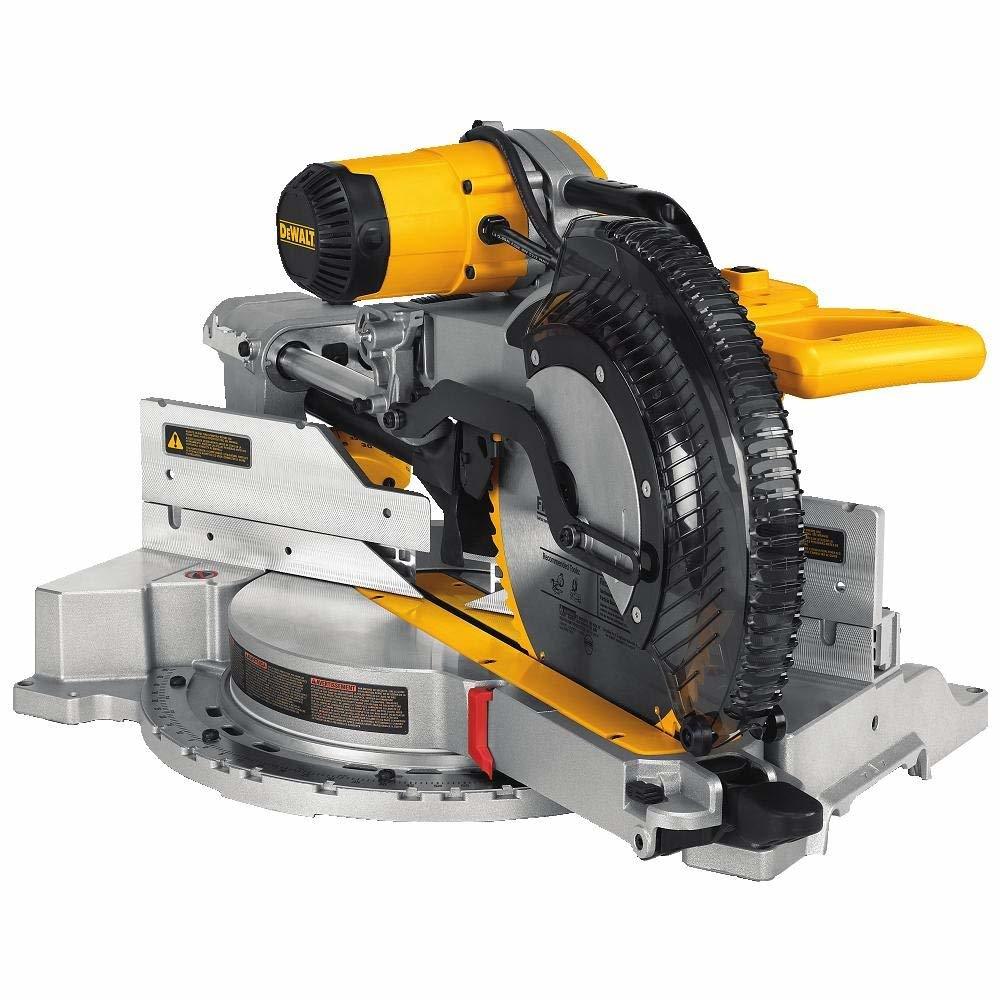 DeWalt DWS779 – a Quick Look
Pros
A powerful cutting tool
Precision cuts
Durable build
Solid warranty
Cons
Difficult to move around
Dust collection bag isn't sufficient
Specifications
Brand name: DeWalt

Model: DWS779

Product weight: 67 pounds

Dimensions: 2 x 23 x 18.5 in

No load rotating speed: 3800 rpm

Amperage: 15A

Voltage: 120V

Blade diameter: 12 in

Miter range: 50 degrees left, 60 degrees right

Bevel range: 45 degrees left, 45 degrees right

Warranty: 3 years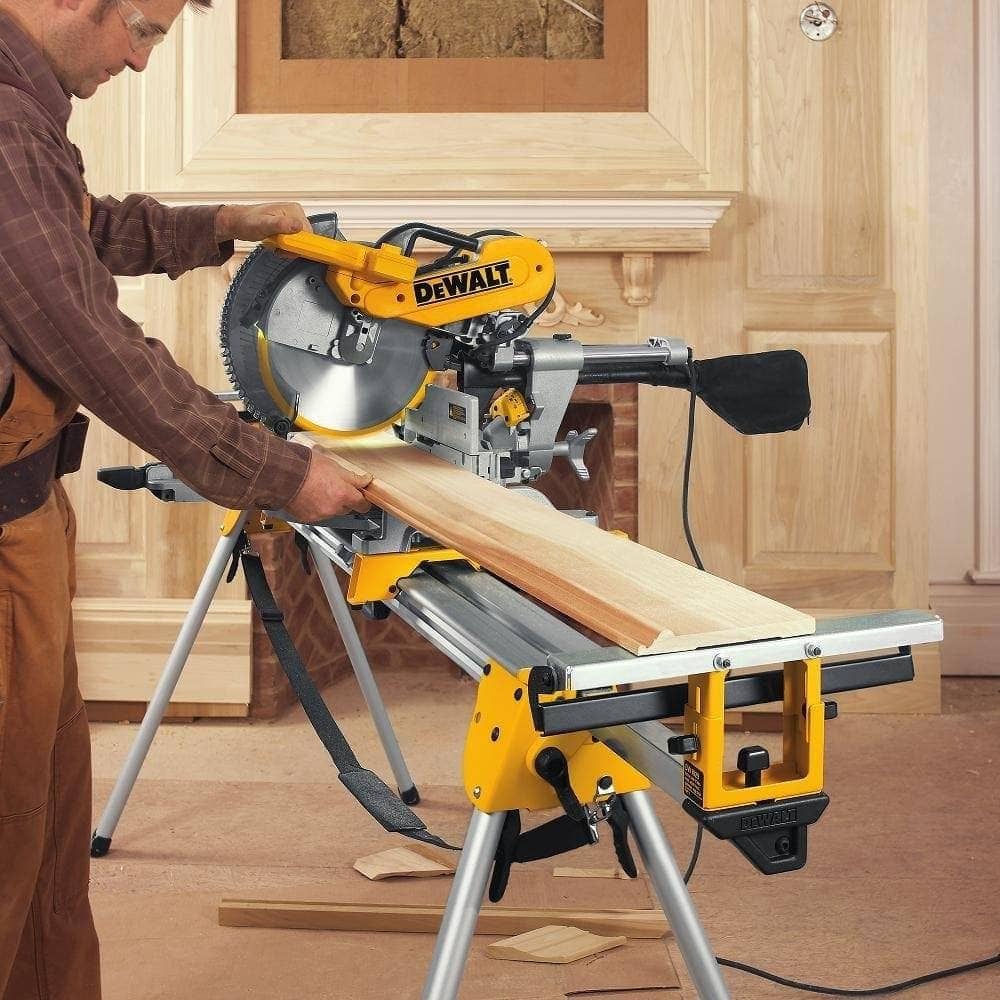 Powerful motor for enhanced cutting
Complex cutting jobs and thicker pieces of wood require a saw with sufficient power, and the DeWalt DWS779 will provide you with just that. With the ability to generate 3800 revolutions in a minute, the DeWalt DWS779 is powerful enough to make your cutting as simple as possible. Other saws can generate more power than this 15A saw but 3800 rpm is sufficient for all your woodworking jobs irrespective of the complexity of the job and the type or size of wood that you have to cut through.
An easy to use and simple tool
A saw has to be easy to use for it to be considered as "great" and we are happy to report that the DeWalt DWS779 is just that. It has been calibrated properly and this makes it easy to make adjustments when you are cutting. The DeWalt DWS779 introduces some complexities when working with the tool but to experienced professionals who have used similar tools before, this will not be a problem.

The learning curve may be a little bit longer if you are a novice but it will be worth it in the long run once you grasp how to use the tool. Setting it up is straightforward and if you have any challenge you can check with the manual.
Precise and accurate cuts
Here is another feature that the DeWalt DWS779 is known for. With the ability to change the cutting angle, the DeWalt DWS779 allows you to make a variety of cuts with ease. Once you change the cutting angle, you can lock the adjustment with a cam-lock and this will allow you to proceed with your cutting duties without any hassle.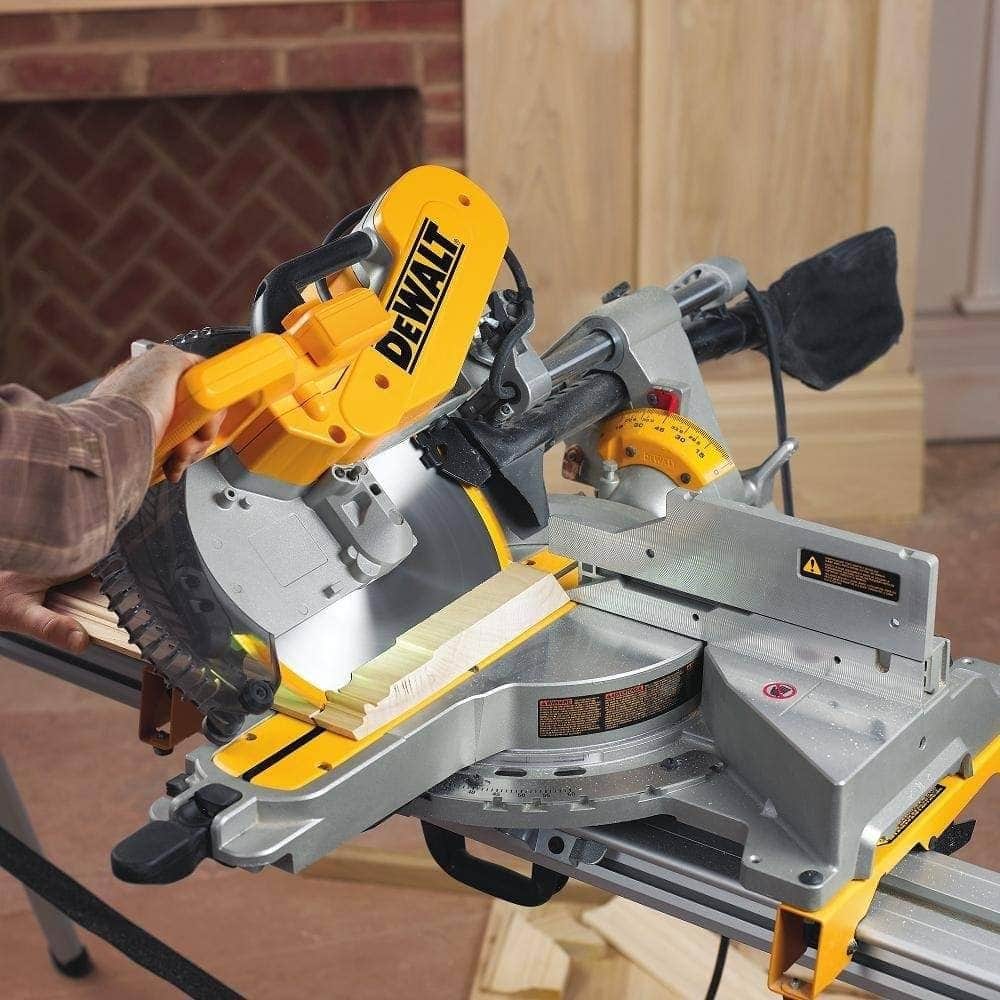 FAQ
Is the DeWalt DWS779 safe to use?

Yes, it is. The blade has a cover over it that keeps the sharp blade away from you at all times. The guard has openings on its surface that allow you to monitor the cutting process from a distant.

Is the DeWalt DWS779 durable?

The DeWalt DWS779 is strong and durable and this will ensure that you can use the tool for a very long time. The exterior has been made of steel and heavy-duty plastic that make the tool very durable and able to withstand wear and tear.

How is the warranty of the DeWalt DWS779?

DeWalt backs all their products with a reliable 3-year warranty. The warranty covers defects in manufacturing and faulty parts. They also offer their buyers one year of free service should the product breakdown and a 90-day money-back guarantee.
General user impressions
To find out what users have to say about the DeWalt DWS779, we searched online for reviews of the product and participated in discussion forums so as to get the opinion of those who have bought and used the product. The reviews were solidly in favor of the product with many people appreciative of how the saw helped them power through complex woodworking jobs.

Just as we have mentioned earlier in the text, the accuracy of the saw was another of its selling points and most users highlighted this fact when giving their reviews of the product. Professional craftsmen also enjoyed the smooth operation and ease of use.

There were complaints, however, when it comes to the value of the tool with some users lamenting how overpriced the product was when compared to other saws on the market. This and a less ideal dust bag were the only negative mentions that we heard of the DeWalt DWS779 and we can confidently say that the DeWalt DWS779 passed the reliability test.
Conclusion
The DeWalt DWS779 portrays excellent attributes that make it ideal for both professional and DIY use. Its powerful motor and cutting accuracy were some of the things that made professional craftsmen seek it over other tools on the market. DIYers liked it because it was easy to use and all these attributes make it one of the best miter saws that you can get if you regularly work with wood.