5 Best Juice Storage Containers 2023 (Bottles & Pitchers) – Reviews & Top Picks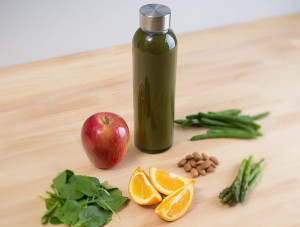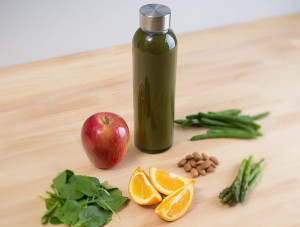 Juicing is a great way to pack extra nutrients into your diet, but doing it daily can be time-consuming and messy. It can be hard to keep the juice fresh, but the good news is that there are containers on the market that are up to the task.
This selected list of juice storage containers has all the information you need to find the system that will keep your juice fresh for longer, and our reviews will help you get one you like while avoiding common flaws that will drive you nuts.
We've also included a buyer's guide designed to help you think through the buying process and help you find the best possible value for your money.
A Quick Glance At Our Favorites in 2023:
Rating
Image
Product
Details

Best Overall

Epica Glass Bottle

Airtight
Lead-free glass
Stainless steel caps
CHECK PRICE

All About Juicing Clear Glass Bottles

Wide mouths
Bottle sleeve line
Dishwasher safe
CHECK PRICE

Takeya Patented and Airtight Pitcher

Large capacity
BPA-free plastic
Airtight
CHECK PRICE

Komax Juice Bottles

BPA-free plastic
Dishwasher safe
Wide mouths
CHECK PRICE

Jarden Ball Mason Jars

Mason jars
Wide mouths
Great seals
CHECK PRICE
The 5 Best Juice Storage Containers
1.

Epica 18 oz Juice Glass Beverage Bottle Containers – Best Overall

There are many things to love about glass storage containers, and the Epica 18-Oz. Glass Beverage Bottles are some of the best glass storage containers for juice. When sealed, these bottles are airtight, so you know that your juice will stay fresher and last longer. They're also made from lead-free glass, so they're safe for contact with food and dishwasher safe. Since they're not plastic, they won't take on a smell and are very easy to clean. They come with stainless steel caps, which are durable, and look great, too.
These bottles are well-designed all around. They're narrow enough at the base to fit most cup holders in cars and backpacks. Plus, they have relatively wide mouths, so filling them isn't as much of a pain as it is on some other models. The one thing we don't like is that these bottles are somewhat fragile. Be extra careful when using them since it is possible to shatter them. Still, if you're looking for a juice container that's safe and designed for daily life, you'll like these juice bottles.
To conclude, we think these are the best juice storage containers available this year.
Pros
Airtight
Lead-free glass
Wide mouths
Stainless steel caps
---
2.

All About Juicing Clear Glass Water Bottles
The All About Juicing Clear Glass Water Bottles set is another line of glass bottles that's exceptional for juice storage. One of the most important features a juice storage container can have is an airtight seal, and this line of bottles lives up to expectations in that area. Like the top choice on our list, they come with wide mouths, so pouring juice and other liquids from a larger container into these bottles is easy.
The plastic lids and glass bottles are dishwasher safe, so cleanup is fast and easy, no matter how colorful your juice is. The bottles are complemented by a line of neoprene and silicone bottle sleeves, which enhance the grip and add a splash of color to each bottle.
While they're not included, it's nice to have the option to upgrade your juice storage experience. The one feature we don't like is the plastic caps, as they lack color, and it would be better if they were made from stainless steel or glass.
Pros
Airtight
Wide mouths
Bottle sleeve line
Dishwasher safe
---
3.

Takeya Airtight Juice Container & Pitcher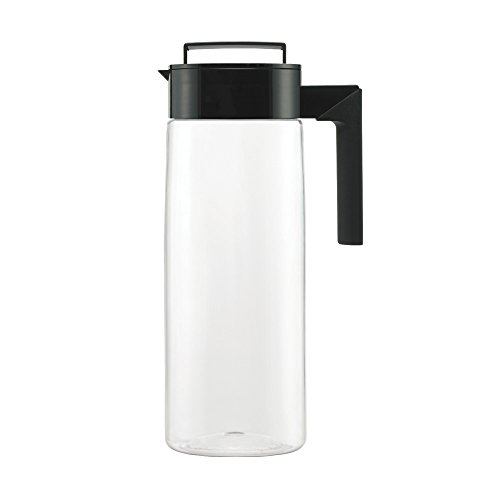 The Takeya Patented and Airtight Pitcher is an excellent choice for someone looking for a very large juice storage container. This pitcher has two quarts of storage capacity, so you can make multiple days' worth of juice at a time and keep it fresh in this container. It's made from BPA-free plastic, which means it's shatterproof, so you don't have to worry if you accidentally drop it.
It's airtight, so you can reliably keep juice in it for days at a time and expect it to stay fresh. Since it is a pitcher, it has a handle, which makes it easy to maneuver while you use it. It also comes with a spout that makes pouring the juice into smaller containers easier.
However, it can be drippy while pouring, though this varies by the viscosity of the juice. Overall, the Takeya is a suitable juice storage container, and it's an especially good choice for people who want to store large batches of juice at a time.
Pros
Large capacity
BPA-free plastic
Airtight
Handle
---
4.

Komax Juice Storage Bottles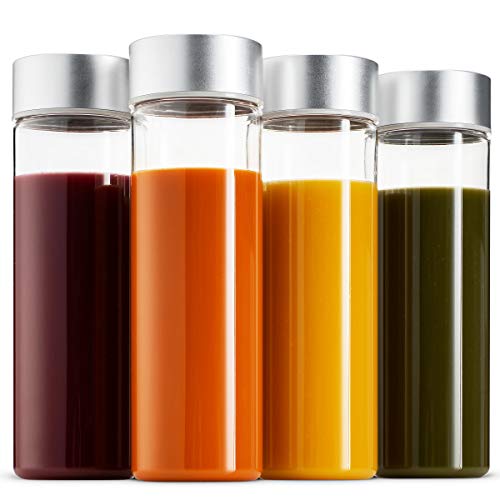 The Komax Juice Bottles aren't terrible, but their value isn't impressive enough to rise above fourth place on our list. They're made from BPA-free plastic, so they're safe for use with food and drinks. They're also shatterproof. That's a big advantage over glass containers, especially if you use juice storage containers on the go.
These bottles are also dishwasher-safe, which is a huge plus. They have wide mouths, like many of the other juice storage containers on our list, so it's easier to get juice in and out of them than with other bottles.
Unfortunately, the lids aren't dishwasher safe. That's a massive pain if you're looking for something that's consistently easy to clean. Since there's a good chance you'll get something on the lids, you'll have to wash them by hand each time. The bottles also come with plastic straw holders, but most people find them more annoying than useful. Given that this set costs more than other bottles on our list but provides fewer bottles, they won't leave most people happy with their purchase.
Pros
BPA-free plastic
Dishwasher safe
Wide mouths
Cons
Lids aren't dishwasher safe
Annoying straw holders
---
5.

Jarden Ball Mason Quart Juice Jars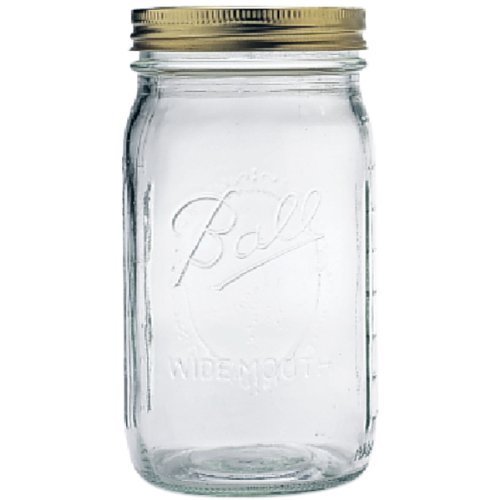 The Jarden Ball Mason Wide Mouth Quart Jars set is a classic product many people use for juicing, even though better options are available. The plus side is that these are Mason jars, which have a nice look and feel. Additionally, they have wide mouths, which makes getting juice in and out far easier than it would be with a standard jar.
They also seal incredibly well when closed, and they have acid-resistant linings on the insides of the lids that help keep it that way. However, the jars have grown increasingly thin over the years and now hit the point where that's a problem. Not only are these unlikely to survive a fall, but many people report one, two, or three jars out of their 12-jar order broke in transit.
The lids also rust, which you don't want to see if you store liquids. Overall, the Ball brand isn't as good as it used to be. If you're looking for a great juice storage container, you're far more likely to be happy with a different option.
Pros
Mason jars
Wide mouths
Great seals
Cons
Somewhat thin
Lids sometimes rust
---
Buyer's Guide: Select the Best Juice Storage Containers
Airtight containers
Airtight containers are very important when it comes to juice storage. Juice is created by pressing fruits and some vegetables, and both categories of plant products are especially vulnerable to the air.
A process called "oxidation" is what causes bananas to brown and causes brown spots in apples and pears. On a chemical level, oxidation is the oxygen in the air reacting with enzymes in fruits and vegetables.
While fruits and vegetables are also vulnerable to light and high temperatures, merely putting them in the fridge can be enough to slow spoilage. However, if a container with juice isn't airtight, the juice will still oxidize, which can lead to it going bad far sooner.
Oxidation does more than just cause the juice to go bad. It breaks down Vitamins A, C, and E so that your juice slowly becomes less healthy when exposed to air. That's why juice storage containers need to be airtight. Limiting your juice's exposure to oxygen will help it last longer and preserve vital nutrients.
Dishwasher safe
Since fruits and vegetables come in various intense colors, the juice is often just as colorful. It also stinks when it spoils, so getting a good clean is essential but sometimes tricky. Cleaning them is simple if you can put all the parts of a juice storage container in the dishwasher. However, many brands advertise their equipment as dishwasher safe when only the jars can be put in the dishwasher. That means that you have to wash the lids by hand.
While that might not sound so bad, the lids on the best juice storage containers are designed to create an airtight seal, and they often have little nooks and crannies that juice gets into but are hard to clean. That can make cleaning them by hand time-consuming, and if you don't do it right, your lids will start to smell.
In the long run, most people will be happier with dishwasher-safe sets where all the parts can be put in the dishwasher.
Capacity
Another vital aspect to consider is the capacity of the containers you buy. If you're making a large batch at once, you have the option of buying a single large container or a series of smaller containers. While investing in a container that can hold all your juice might make sense, it's important to consider the space inside your refrigerator.
Depending on the space between your shelves, including the ones in your door, you may not have the vertical space required for a container that holds all your juice at once since it's likely to be pretty tall. If you have limited space or can't move shelves around without wreaking havoc, investing in a series of smaller containers might be a good idea.
The smaller containers will be closer to the size of a single serving, and many of them are designed to be used as cups as well, which cuts down on the number of dishes you have to clean.
Which juice storage container is right for you?
There's a lot to think through, but as long as you get the right combination of airtightness, capacity, and ease of cleaning, you'll surely have a juice storage container that's right for you. The good news is that there's no significant price variation between these options, so you can safely go with the one that best suits your needs.
One thing to watch out for is that some manufacturers include fewer jars for the same price, so if you're looking for maximum capacity for your money, make sure you double-check how many are included.
Other news from the blog:
---
Conclusion
Our favorite juice storage containers are the Epica 18-Oz. Glass Beverage Bottles, which are airtight, and come with wide mouths and stainless steel caps. Next is the All About Juicing Clear Glass Water Bottles, which have wide mouths, airtight storage, and a great aftermarket line of colorful sleeves. Their plastic caps cost them the first place on our list.
The Takeya Patented and Airtight Pitcher has a large capacity, is made from BPA-free plastic, and has a handle. The Komax Juice Bottles are made from BPA-free plastic and have wide mouths, but their lids must be washed by hand, and they come with an annoying straw holder, which means they end up in fourth place. Our last pick, the Jarden Ball Mason Wide Mouth Quart Jars, seals well and comes with wide mouths but are thin and sometimes prone to rusting.
Being able to keep your juice for longer can reduce the amount of time you spend juicing, and we hope our reviews have led you to the storage solution that will make your life far easier.