11 Dining Room Chandelier Trends in 2023 – Design Ideas for a Modern Home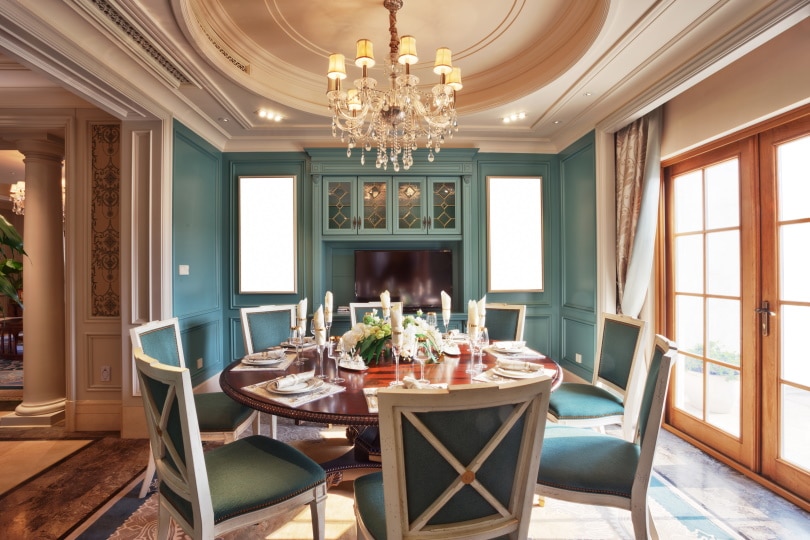 The chandelier looks amazing in any home, especially in the dining room, where it will provide plenty of light and an atmosphere of elegance. If you are looking to add a chandelier to your home but aren't sure where to begin, you've come to the right place. Here, we look at several of the most popular trends this year. Keep reading so you can find something that you like and can develop a plan for your home that will result in the perfect dining room experience.

Top 11 Dining Room Chandelier Trends
1.

Globe Chandelier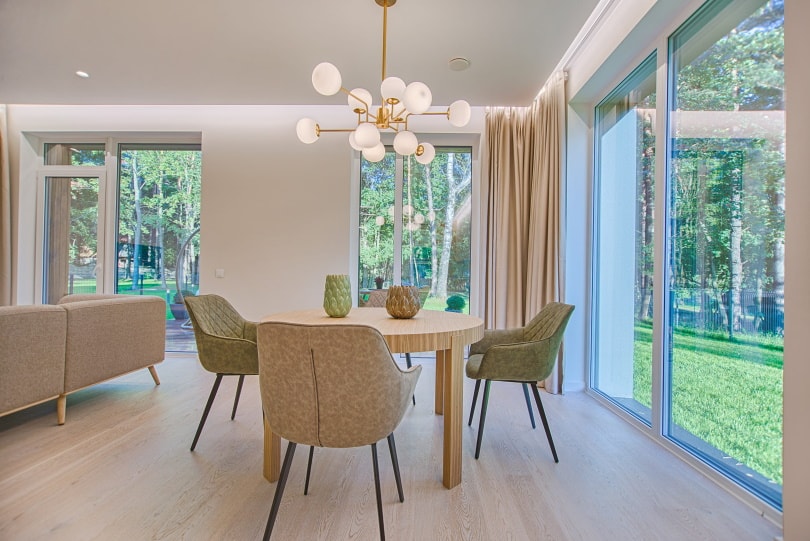 Globe chandeliers have an extremely modern design that will have all your guests talking. The multiple globes produce a soft light that helps perfectly illuminate the area for eating and conversation. They are well suited for a large table and room where plenty of light is needed, but you don't want to create harsh shadows.
---
2.

5-Light Wagon Wheel Chandelier
Five light chandelier uses a minimum number of lights to create a highly attractive modern design that will look great in the dining room or any other room in the home. The frame has a wagon wheel shape, and it hangs on a chain so it can swing naturally. They can be slightly heavier than some other models but is extremely durable and well built.
---
3.

Rectangular Chandelier
Rectangular chandeliers have a shape that is perfectly suited for medium-sized tables, and it beautifully accents rustic designs and modern ones. The crystal scatters the light nicely so your room will look amazing. It will also attract plenty of attention and is a great conversation starter.
---
4.

Gold Chandeliers
Gold chandeliers follows the modern trend of using plenty of white and gold. The tall candle-type lights will help your dining area appear more elegant, and it will also look great in other parts of your home. Its size is especially well suited to large rooms.
---
5.

Unique Chandeliers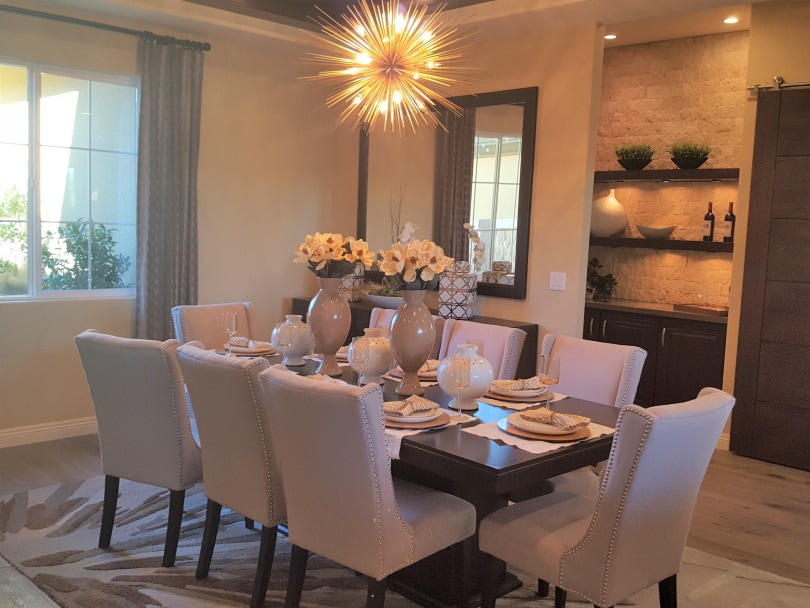 Unique chandeliers are one of the most easily identifiable chandeliers on this list. It has a golden frame that fits perfectly with modern trends. It has many tiny lights that resemble Christmas lights, and the chandelier itself has an extremely festive appearance that will brighten any room. It's long instead of round, so it's well suited to large rectangular tables.
---
6.

Multi-Tiered Chandeliers
Multi-tiered chandeliers are an example of the modern trend of multilevel chandeliers which can start at double tired and can have as many as four tiers. These amazing lights will perfectly illuminate any room and make it suitable for entertaining large parties. It's ideal for large rooms but also can work in a moderately sized rustic room.

7.

Six Light Chandelier
Chandeliers that have the traditional six-lights are a popular trend this year. The dark brass color of the frame makes sure it looks great in any environment, and these lights are often less expensive than some of the fancier types that we've seen. The lights can have large glass orbs that look attractive and make great conversation starters, while the round design is perfect for small round tables.
---
8.

Metal and Glass Chandelier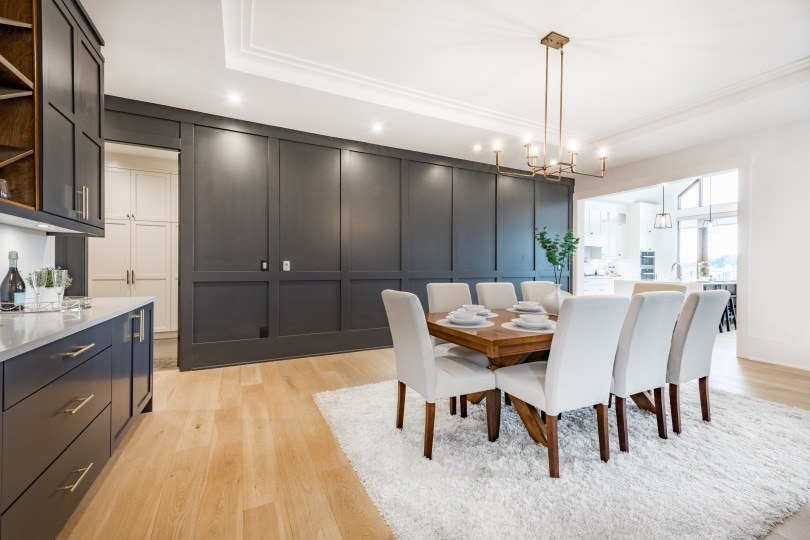 Using metal as a frame and large round light covers for extra protection gives a pleasant eye-catching appearance to this modern trend. A black metal frame helps it look more modern so it will look great in any kitchen but will also look great in a dining area or large room.

Popular Chandelier Trends
Modern
The modern look is extremely popular right now, and anything sleek, colorful, and unusual is sure to be a big hit. Many people are tired of the same old designs and long to have a dining room chandelier that reflects their unique personality, so you will likely see many artistic, modern-style chandeliers.
White and Gold
While many people want a new design, gold will always be a popular color because it does a great job of accenting the dinner table. White is also increasing in popularity because it gives the dining area a clean appearance that many people enjoy. The only thing better than these two colors right now is combining them into one magnificent piece.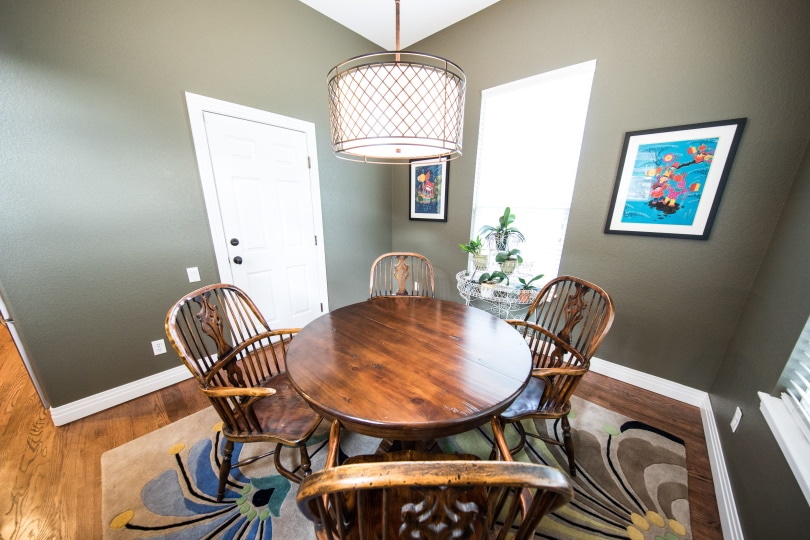 Two-Tier
Multi-tier chandeliers are stunning, and if you like to entertain and have space in your home, it's hard to find something more impressive. It provides plenty of light and acts as a great conversation starter. Choose one with white and gold colors to be the talk of the town.
Traditional Six Light Chandelier
The traditional six-light chandelier is one holdout from times gone by during the current trend to be more modern. This simple lighting fixture is easy to install and inexpensive and helps your dining area have a rustic appearance that many people enjoy. This light is also versatile enough to use in other parts of the home.

Summary
There are plenty of options when it comes to adding a chandelier to your dining room, even if you want to stick to modern trends. The most popular trends this year are white and gold framing, large globe bulbs, traditional six-light chandeliers, and multiple tiers.
---
Featured Image Credit: zhu difeng, Shutterstock