12 Free DIY 2X4 Shelving Plans You Can Make Today (with Pictures)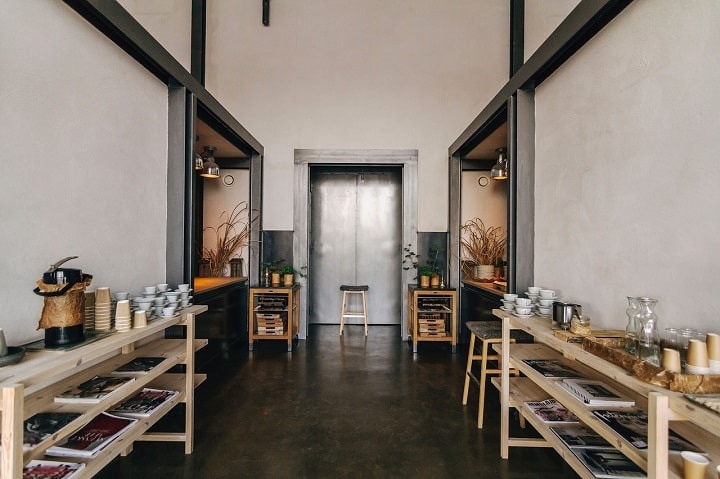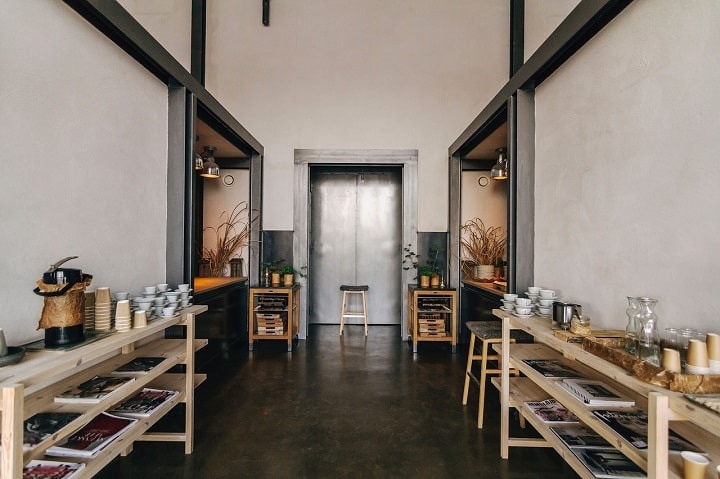 When it comes to 2x4s and what you can build, the possibilities are endless. If you are wanting to get into more DIY type building projects, starting with a storage unit is a great idea. Most shelving units are rather simple in design and only require straight or square cuts. We pulled together 12 completely free plans that teach you how to build 2×4 shelving.
The plans will vary in difficulty, but honestly, most of these are rather simple builds that will require standard tools. One thing you will want to pay close attention to when it comes to shelving is that everything is level. If your shelf is off even by just a little bit, your things will slide over time. Take a look at our 12 free 2×4 shelving plans and let us know what you think.

The 12 DIY 2X4 Shelving Plans
1.

DIY 2 X 4 Shelving Plans from My Outdoor Plans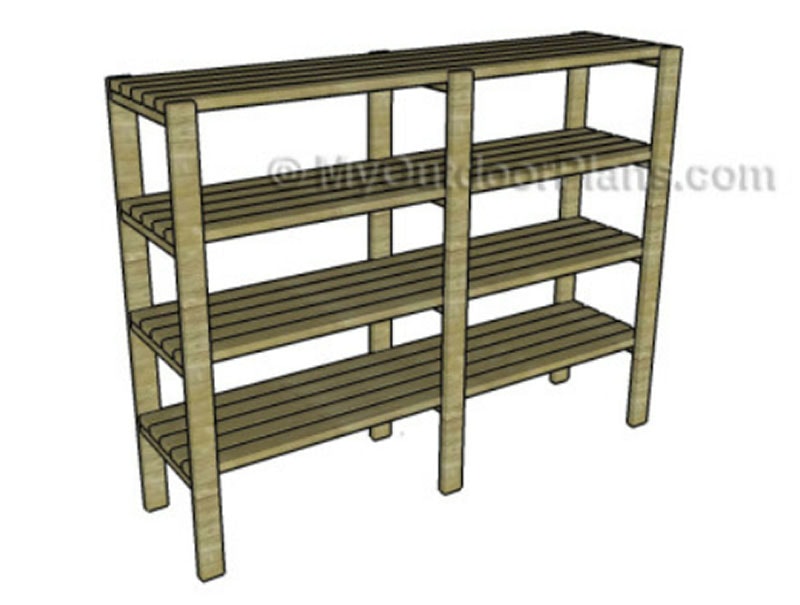 These 2 x 4 Shelving Plans by My Outdoor Plans are some of the more simple but effective shelving units we could find. This entire build should cost you less than $50. The directions from My Outdoor Plans are always very clearly laid out with labeled parts, precise measurements, and instructions. If you want to make these shelves a different size, that will be very easy to accomplish. You will only need some essential tools to complete this project, and you can have your garage or basement looking perfect in no time. Make sure that you use a level to complete this beginner style shelving project; otherwise, your shelves will not be very effective at holding anything.
---
2.

DIY Garage Shelves from Ana White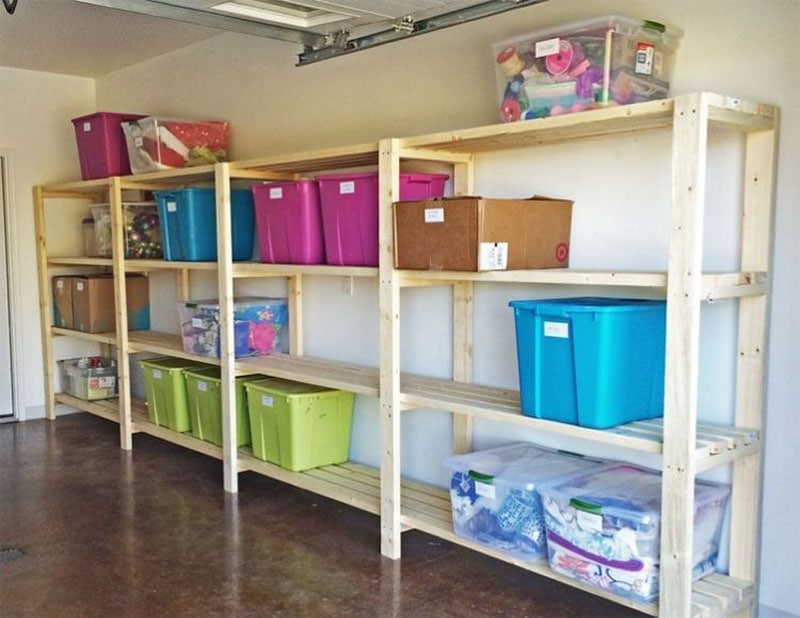 These simple and clean looking DIY Garage Shelves by Ana White are a perfect project for a rainy day garage cleanup. One of our favorite things about these plans is that there is a video tutorial. If you are not sure if this project is one you would like to take on, watch part of the video and decide for yourself if this is something you can do. All we can say is that to purchase shelving for your garage that covers this much space and holds this much material would be extremely expensive.
---
3.

DIY 2 x 4 Shelving for Garage and Basement from Dadand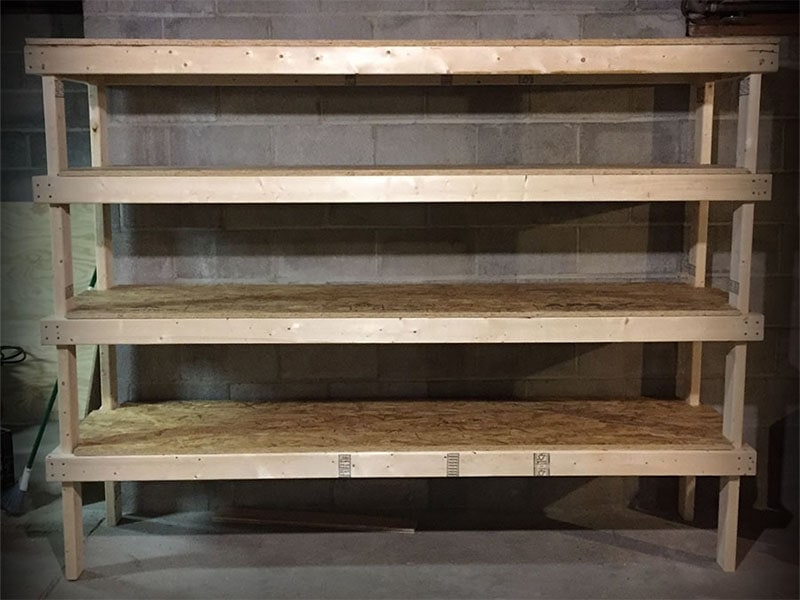 These DIY 2×4 shelves from Dadand are very easy to build, and this plan will help even the newest shelf builder get this project finished. This particular shelf is built using a subfloor as the base of each shelf. This was done to help save on cost, but you could use plywood or other material that works for you. Since these shelf bases will need to be cut to size, this particular project takes a bit more work than some of the other options we have found. On the flip side, this shelf is sturdy. These are a perfect option for a garage or basement to keep things up off the floor and organized. Another great thing about this shelf is that you can make the heights tailored precisely to your needs. Measure a few of the things you plan to store on the shelf before building.
---
4.

DIY 2 X4 Storage Shelves from Construct 101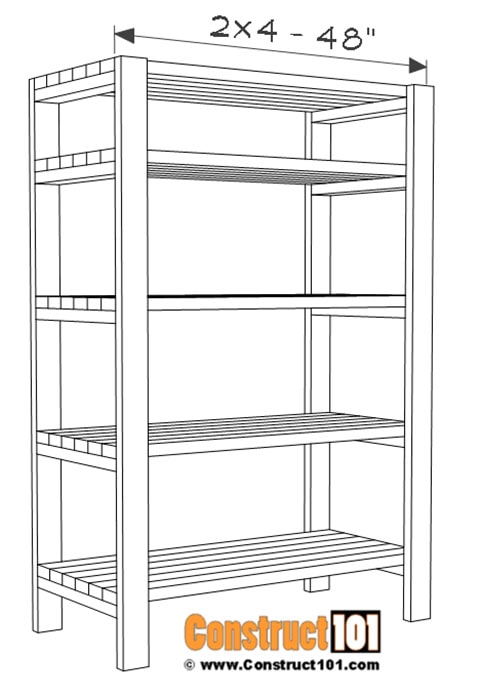 Construct 101 offers up these free storage shelf plans for your convenience. This is a nice-looking and straightforward design that also gives a few varying shelf heights. Everything you need to make these shelves is listed, and the instructions are easy to follow with illustrations outlining every step of the way. Another significant part of this is that these plans are free, no downloading, signing up for something, and waiting for your plan. Just head on over to the website, purchase your supplies, and get started. You can adjust shelf height on this model if you so choose.
---
5.

DIY Storage Shelves from The Handyman's Daughter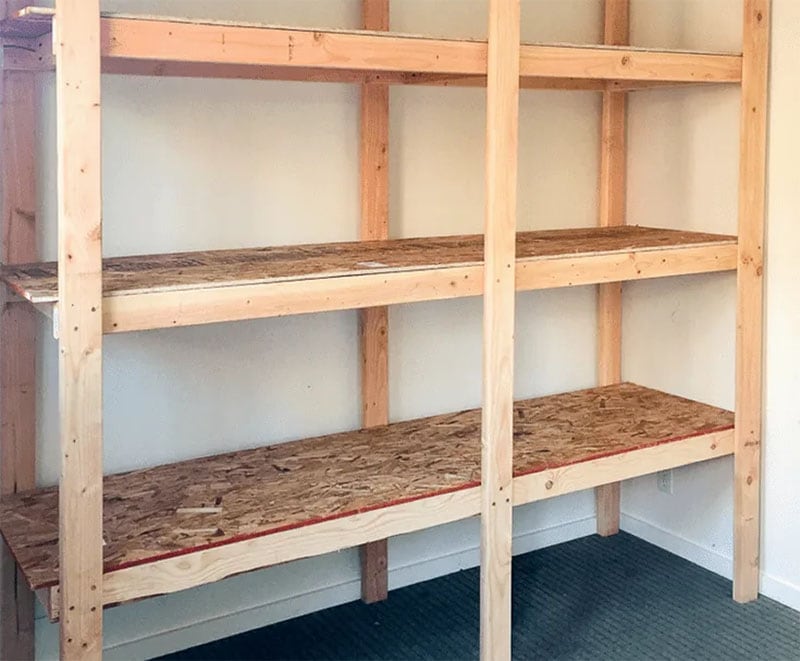 This plan for Storage Shelves by The Handymans Daughter is a perfect option if you have some taller items that you need to store. As you may have noticed, there is no top to this shelf. Some of our other models had smaller height clearances on the top shelf. If you have some more substantial items that you need to put somewhere but won't fit on the lower shelves, this is a great free plan for you to follow. This entire shelving unit costs less than 75 dollars and about a day to complete. The instructions are very clearly laid out with pictures to help you along the way, and you really only need basic tools to complete this shelf.
---
6.

DIY Garage Storage Shelves from Popular Mechanics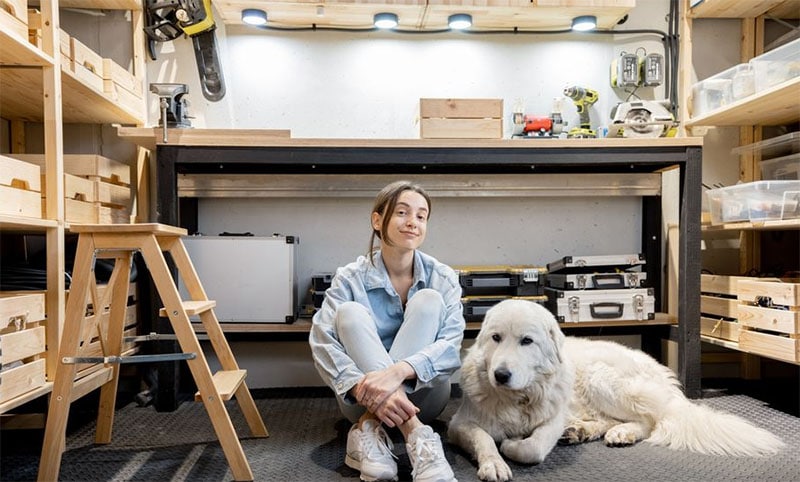 If you want some garage storage shelves but don't have the room for the larger units we have been showing, these Garage Storage Shelves by Popular Mechanics could be a perfect fit for you. These storage shelves are cheap to build, and you can make them as sturdy as you need. Make sure you have the correct tools to anchor these to the walls of the garage. In this model, plywood was used as the base of the shelf mostly because it is a cheap and easy to work with material. We like these shelves because you can customize them to fit whatever space you have.
---
7.

Floating DIY Garage Shelves from The Instructables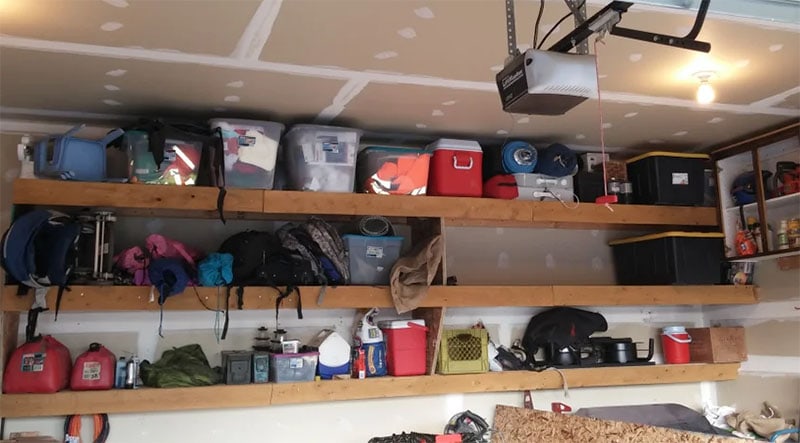 Similar to the Popular Mechanics shelves, these Floating Garage Shelves from the Instructables are not going to take up any of your floor space. This option is excellent if you have larger items or preexisting shelving on the lower part of your garage. The only issue you need to look out for when it comes to the floating garage shelves is that they are adequately anchored to the wall. Especially with this floating version as it is large and can hold a ton of items. If you are storing sleeping bags or bowling balls, you will need to adapt accordingly and make sure your shelf is in it for the long haul.
---
8.

Easy DIY Garage Shelving from Home Talk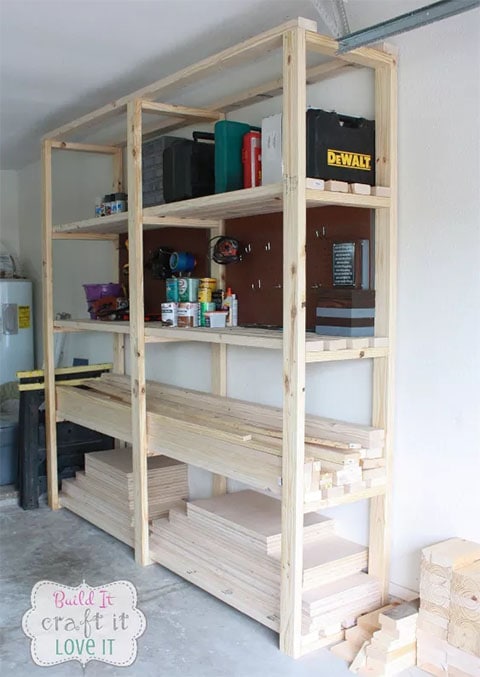 The best thing about these Easy DIY Garage Shelving by Home Talk is the simplicity of the design. If you are new to shelf building and want something that will be quick and simple to build, this is a great place to start. Another great feature here is that this is eight feet tall and eight feet long. As long as you have the room in your garage to accommodate this shelf, you can store a ton of items on it. If you are not looking for a project that will require a ton of cutting, this is also the one for you. Home Talk built this to have the least number of cuts possible.
---
9.

DIY Paint Storage Shelf from Create and Babble
Most of the shelves that we have found are for large storage items, this Paint Storage Shelf by Create and Babble changes things up a bit. What we love here is that this is genuinely a 2X4 shelving unit. In fact, the builder did not use any other wood than just 2×4's. The simple design and small supply list make this a great first build if you are new to woodworking. Ideally, a perfect garage would have a few of these small shelves and some of the large ones for an ideal organizational space. This is said to be a shelf to store paint, but you can customize this to fit any of the smaller things you need to keep track of in your home.
---
10.

DIY Corner Storage Shelves from Kenarry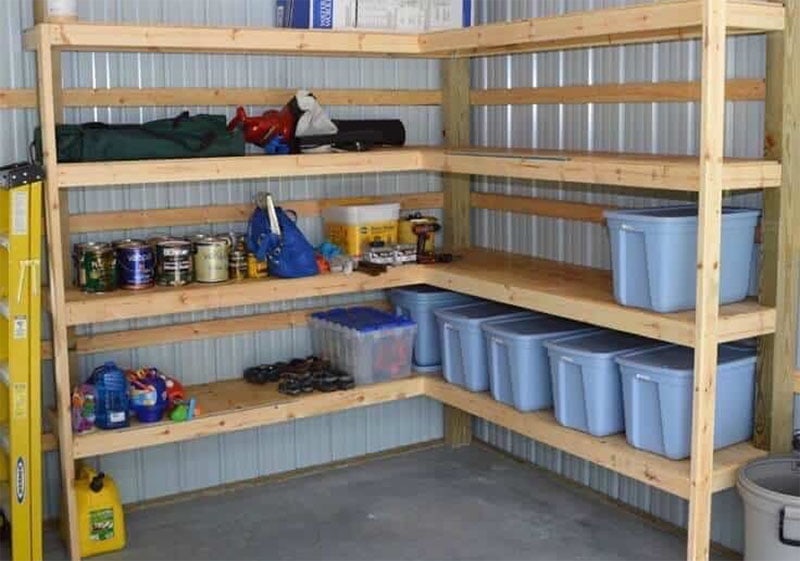 Next on our list is this DIY Corner Storage Shelf by Kenarry. What we love about this option is the fact that it uses corner space so well. If you want to maximize the amount of storage in your garage or basement, this is one of the best plans you can go with. Building two shelves and putting them into a corner will make you lose out on some valuable square footage. The way the shelves work out with these corner units gives you great storage space on the bottom and the top of this unit. The plans for building this storage shelf is easy to follow, although a little more time consuming than some of the other projects we found.
---
11.

DIY 2×4 Shelving Unit from Virginia Sweet Pea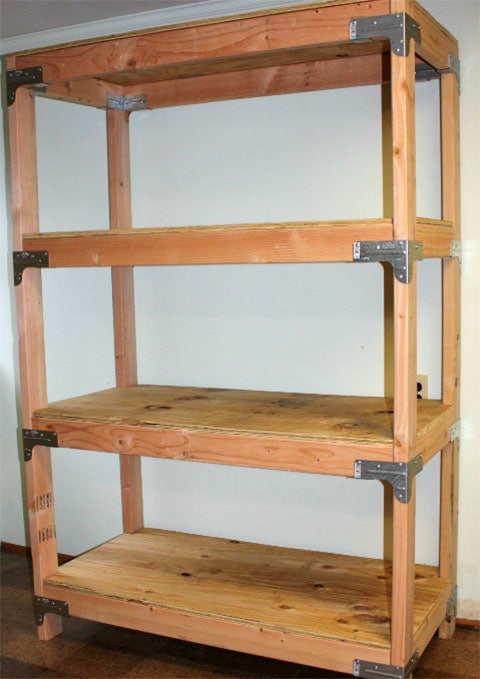 Here is another 2×4 Shelving Unit by Virginia Sweet Pea that is a perfect mix between the larger units we have showed you and the small paint shelf. This probably won't be the cheapest of the models to build, but it should last you for quite some time. This particular shelving unit comes out looking so good you may be able to dress it up a bit and use it somewhere other than the garage or basement. The actual plan for this 2×4 shelf is straightforward to follow with pictures to guide you along the way.
---
12.

Giant DIY Shelves from Andrew Reuter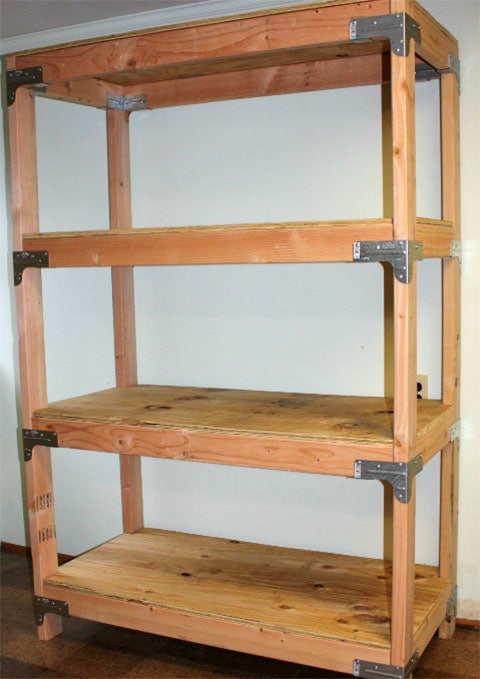 So, we saved the largest for last. The Giant DIY Shelves by Andrew Reuter are more substantial than any of the other options that we found for you. If you have a large quantity of stuff to store, this may be the best choice for you. Luckily the build design is rather simple and uses 2×4 and plywood to complete it. What may be the best part about this particular plan is the video that you can watch that will explain everything for you step by step.
We see this being a great fit if you are a person that has lots of plastic storage tubs and no great way to organize. Slap a label on those things and figure out a system for installing them on these DIY shelves. Check the clearance in your basement or garage before starting any of these projects. Another tip of advice we learned was to build these in the room they will end up in; in particular, this giant unit will not fit through a doorway when it is time to put it in place.
Conclusion
Most of the 2×4 shelving plans that we found are for the garage or basement and work for storage. There is no reason that you can't build some of these to be a little cleaner and more finished and place them in a kitchen, office, or toy room. The possibilities are endless, and most plans can be modified to fit the dimensions of your room or the dimensions of the materials that you need to store. The best part about learning how to build 2×4 shelving units is the ability to maximize your storage space. There is no question that each one of these plans will help you have more room to store things.
Related Reads:
---
Featured image credit: StockSnap, Pixabay