16 DIY BBQ Grill Plans You Can Make Today (With Pictures)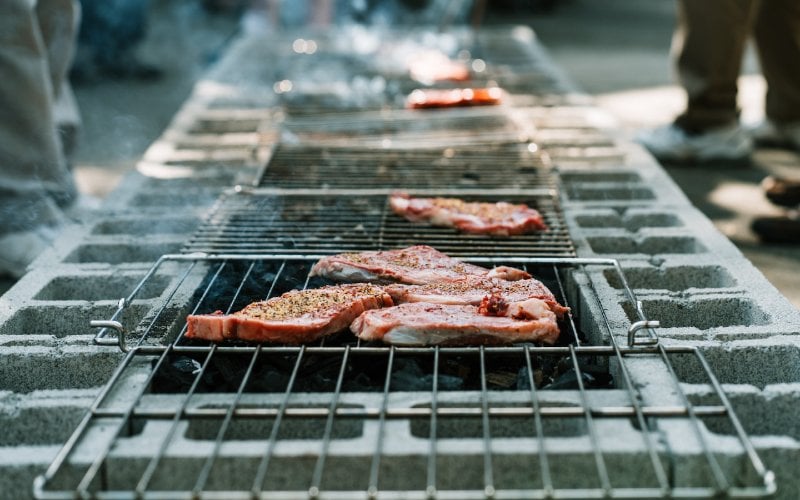 A BBQ grill gives you a way to prepare food outdoors so that if you enjoy eating and spending time outside, you don't have to keep heading back indoors to make food. And a BBQ grill doesn't have to cost a fortune. If you have some bricks or cinder blocks, an old car wheel, or an oil drum, you can put one together yourself, even if you have fairly limited DIY experience or skills. Putting together your own barbecue grill brings the satisfaction of a job well done as well as the joy of ending up with a fully functioning piece for your garden.
Below are plans and guides for 17 different DIY barbecues and grills. You can follow one exactly or make your own amendments and adjustments to better fit the materials you have and the available space.

The Top 16 DIY BBQ Grill Plans
1.

DIY BBQ With a Tire Rim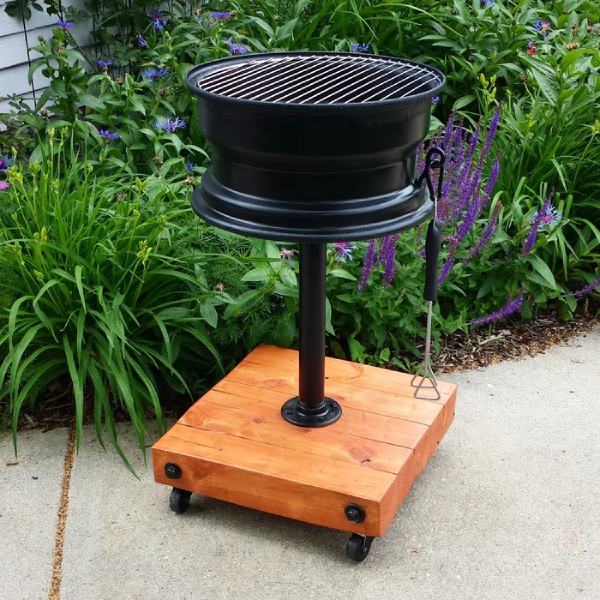 | | |
| --- | --- |
| Materials: | Tire Rim, Grill, Wood, Wheels, Metal Plate |
| Tools: | Drill, Saw, Angle Grinder |
| Difficulty: | Moderate/Difficult |
Using an old tire rim, and applying some metal paint, you can create an attractive and very tough grill. The DIY tire rim BBQ instructions also show you how to use a few pieces of wood to make a base that will keep the unit stable while you cook and prepare food on it. The metal plate acts as a protective barrier to prevent burning hot coals from falling through the grill and onto the floor, or your feet. The hardest part of this build is likely to be popping the tire from the rim, although this may not be necessary.
---
2.

DIY Charcoal Grill by The Online Grill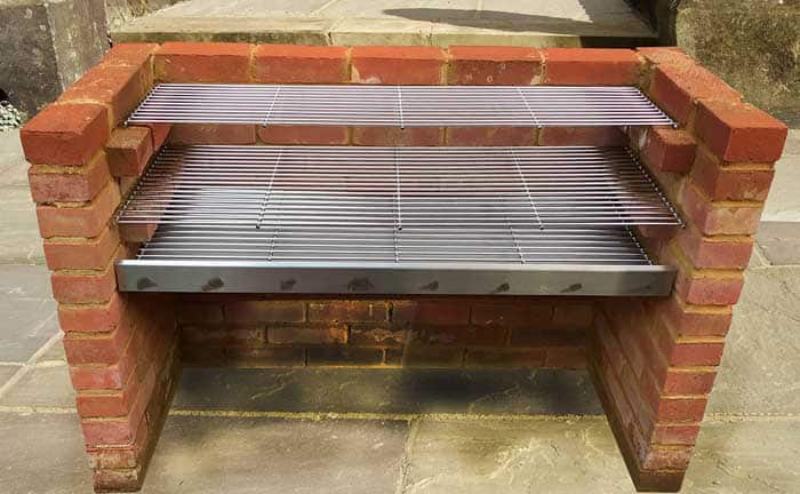 | | |
| --- | --- |
| Materials: | Bricks, Mortar, String, Rack, Grill |
| Tools: | Trowel |
| Difficulty: | Easy |
A brick barbecue is a robust and solid addition to the garden, and this DIY charcoal grill guide shows you how to first lay the foundation and then build a simple brick construction on it. The grill and rack can sit on top of protruding bricks, rather than built into the walls of the BBQ, which enables you to remove them for easy cleaning and to store them during winter so they don't get rusty. When laying the foundation, do make sure that the ground underneath is perfectly level and flat because this will prevent damage and ensure a stable finish.
---
3.

Backyard Concrete Block Grill
| | |
| --- | --- |
| Materials: | Cinder Blocks, Cap Blocks, Expanding Metal Shelves, Angle Iron |
| Tools: | None |
| Difficulty: | Easy |
The backyard concrete block grill is really easy and quick to make and doesn't require any tools. The cinder blocks are stacked with the grates, which make up the cooking surfaces, sitting between layers of cinder block. Because the blocks aren't dug into the ground or fixed anywhere, you could take the whole thing apart if you need to move it or want to change the design.
---
4.

Brick BBQ
| | |
| --- | --- |
| Materials: | Bricks, Mortar, Cooking Tray, Rack |
| Tools: | Trowel |
| Difficulty: | Moderate |
This is another brick BBQ that is built on its own foundations. It would make a good addition to the garden if you're looking to make a permanent grilling area. The guide advises turning some of the bricks in at the 7th row of bricks so that you can rest the cooking grills, but also suggests that you can add metal pegs to the mortar. The metal pegs perform the same function as the turned bricks would. You can base the size of the brick grill on how much space you have and how big of a cooking area you want.
---
5.

Oil Drum BBQ Smoker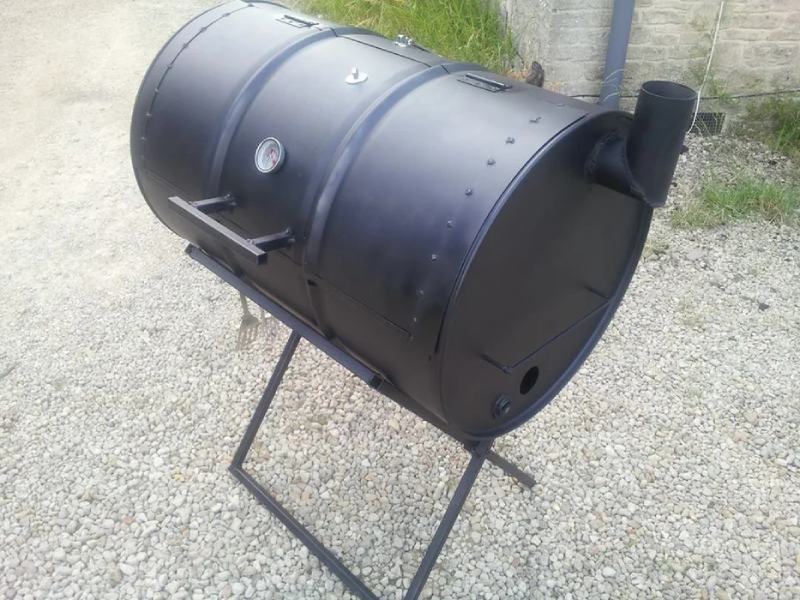 | | |
| --- | --- |
| Materials: | Oil Drum, BBQ Paint, Steel Hinges, Hook, Round Bar, Safety Edging, Steel Sheet, Mesh, Steel Tubing |
| Tools: | Welder, Welding Wire, Angle Grinder, Hammer, Hacksaw, Drill |
| Difficulty: | Difficult |
The oil drum BBQ smoker is a little more complicated to make but it does yield a smoker complete with its own chimney. You can even add a thermometer to the hood that will allow for more precise cooking. There is quite a lot of welding and cutting of the oil barrel involved, which makes this a more difficult project than most others. But if you know your way around the tools, and have an oil drum on hand, the end result looks like a commercially bought smoker and does the same job.
---
6.

Concrete Block BBQ
| | |
| --- | --- |
| Materials: | Cinder Blocks, Concrete Blocks, Grate, Expanded Metal Cooking Surface |
| Tools: | None |
| Difficulty: | Easy |
The concrete block BBQ grill is another design that uses dry stack concrete blocks, which means you don't even need to mix mortar or cement to make it. The only tools you will need are your arms. The addition of the middle column of concrete blocks helps ensure stability so that the blocks won't tumble and take your grill with them. You can adapt the size and dimensions of the base, so it is even suitable if you have only a small amount of room.
---
7.

Rotisserie Pit BBQ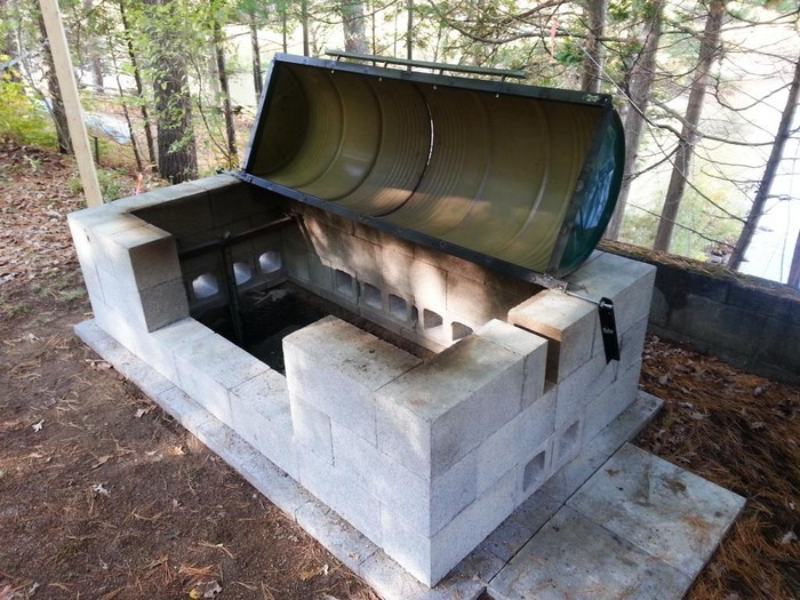 | | |
| --- | --- |
| Materials: | Cinder Blocks, Patio Stones, Stakes, String, Expanded Steel, Rebar, Steel Drum, Angle Iron, Hockey Stick, Steel Plate |
| Tools: | Shovel, Axe, Grinder |
| Difficulty: | Moderate |
This rotisserie pit BBQ is a combination of grill and barbecue pit. You first need to dig down into the dirt, which means choosing somewhere where there are no tree roots or other obstructions. But the body of the BBQ is made by dry stacking cinder blocks, so you don't need to mix mortar. As well as the rotisserie, the barbecue also has the arms and other accessories required for placing a grill, so it really is a multifunctional pit.
---
8.

DIY Car Wheel Rim BBQ Grill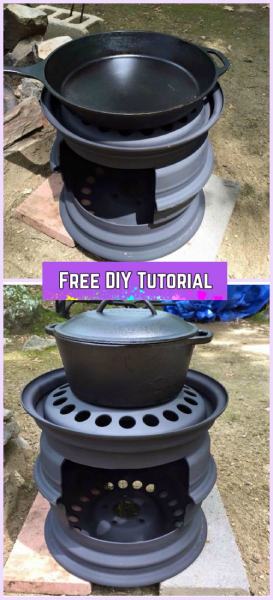 | | |
| --- | --- |
| Materials: | Metal Wheel Rims, Metal Grate |
| Tools: | Welder, Grinder, Metal Sawzall |
| Difficulty: | Moderate |
If you're handy with a grinder and welder, and you have access to two old car tires, this DIY car wheel rim BBQ grill instructional video teaches you how to turn those unused wheels into a circular grill. The base of the wheel should sit neatly on a flat surface and while the grilling surface isn't the largest, it is more than enough to prepare some burgers and dogs as well as a few skewers.
---
9.

BBQ Out of Old Wheel Rims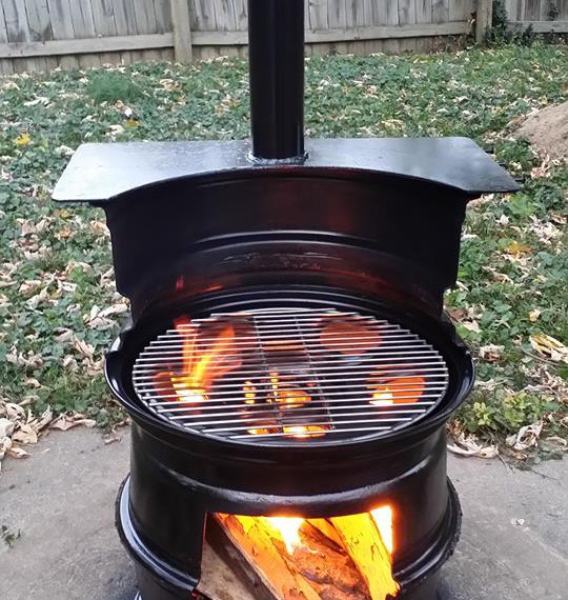 | | |
| --- | --- |
| Materials: | Metal Wheel Rims, Metal Grate, Metal Sheet |
| Tools: | Welder, Grinder, Metal Sawzall |
| Difficulty: | Moderate |
This old wheel rim BBQ uses the same video as the one above, but the grill is painted black using heat-resistant grill paint, and it has some added metal to provide shelter from the wind while also giving the grill a better-looking finish. A little extra effort goes a long way.
---
10.

Brick BBQ Grill by The Gardener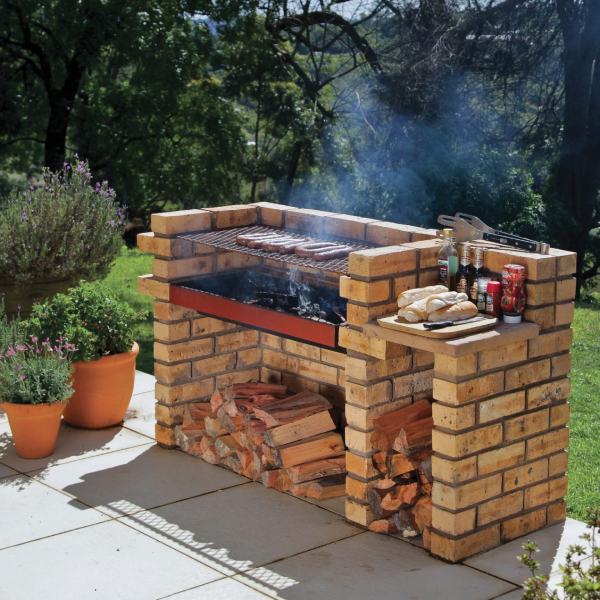 | | |
| --- | --- |
| Materials: | Bricks, Sand, Cement, Braai |
| Tools: | Trowel, Jointer, Grinder |
| Difficulty: | Moderate |
This is the first brick BBQ grill on the list that has an extra work surface to the side of the actual grill. The extra workspace is handy for storing food ready for cooking and for laying tools or holding a drink while you prepare food. It does require the use of mortar and quite a lot of bricks, but you will end up with a permanent braai grill. The instructions also use a bought braai that includes a grill and charcoal tray, but it would be possible to adapt the plan and make your own grill.
---
11.

Outdoor BBQ From an Old Gas Cylinder
| | |
| --- | --- |
| Materials: | Gas Cylinder, Steel Hinges, Metal Handle, Metal Pipe |
| Tools: | Hacksaw, Angle Grinder, Welder |
| Difficulty: | Moderate |
This outdoor BBQ is made from an old gas cylinder. You will need an angle grinder and know how to use a welder, but it turns what is basically an old, toughened metal cylinder into a good-looking and durable outdoor grill. It has a hinged lid with a solid metal handle and even a small table to hold your drink while you're cooking over the hot coal.
---
12.

Yakitori Grill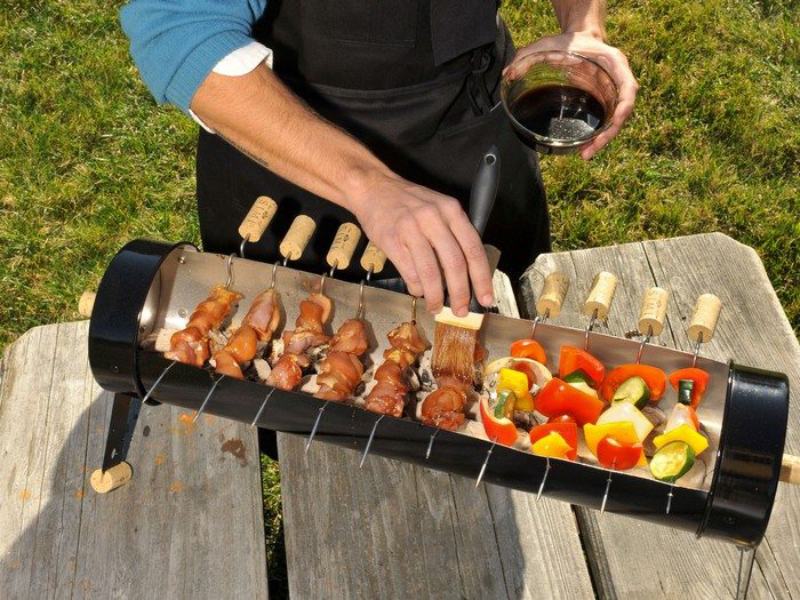 | | |
| --- | --- |
| Materials: | Aluminum Sheet, Steel Straps, Steel Rod, Wine Corks, Cake Pans |
| Tools: | Hammer, Drill, Rivet Gun, Pliers, Knife |
| Difficulty: | Easy |
Yakitori is a chicken dish from Japan that involves grilling skewered chicken. You can buy specialist yakitori grills, but if you can get hold of an aluminum sheet, you can easily make your own without having to weld any of the components using this yakitori grill guide. It is a lightweight and relatively small grill, but it allows for the cooking of several skewers at once. The plans use wine corks to hold the skewers in place, so you won't end with the heartbreak of seeing your chicken end up in charcoal. Some black paint not only protects the aluminum but gives the grill a professional-looking finish.
---
13.

Flower Pot BBQ Smoker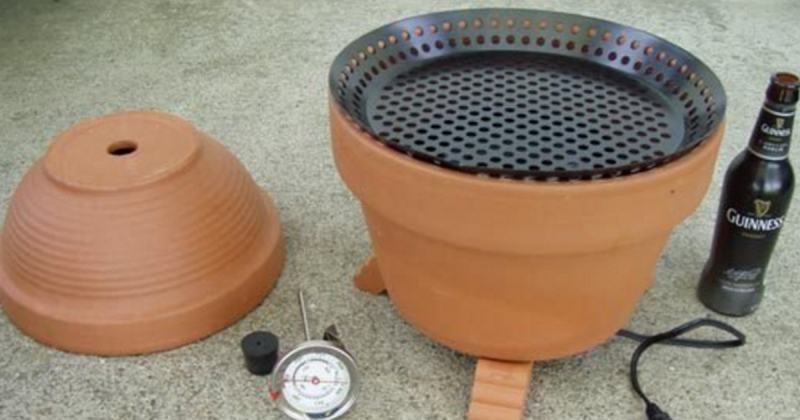 | | |
| --- | --- |
| Materials: | Hot Plate, Saucepan, Skillet, Thermometer, Rubber Stopper, Flowerpot, Terracotta Feet |
| Tools: | Saw, Drill, Screwdriver |
| Difficulty: | Easy |
Barbecues rely on the direct application of heat and while this is an effective way of cooking, it can limit the food you're able to cook. A BBQ smoker acts more like an oven. It cooks at lower temperatures and utilizes the application of smoke. Food tends to come out more tender and it has a great smoky flavor. Unfortunately, commercial barbecue smokers can cost hundreds of dollars. This flowerpot BBQ smoker comes in at a fraction of the price because it uses a terracotta flower pot, a hot plate, and a few other basic and easily accessible materials.
---
14.

DIY Clay Pot Kamado by Grill Girl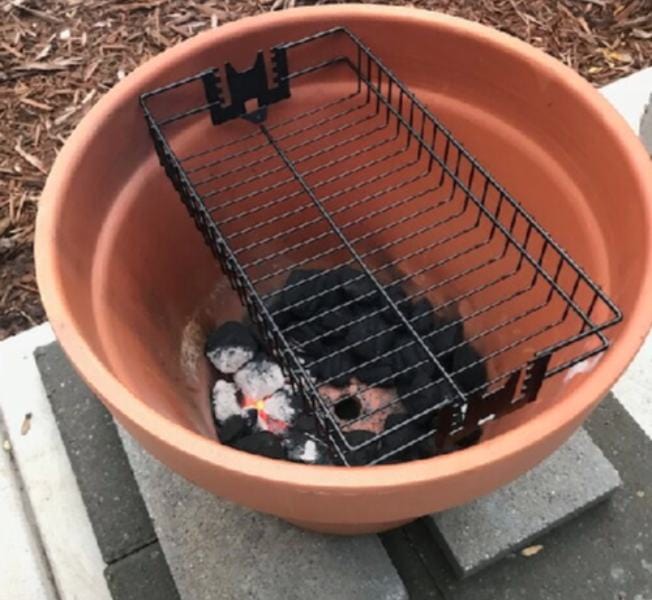 | | |
| --- | --- |
| Materials: | Plant Pots, Cooking Grill |
| Tools: | None |
| Difficulty: | Easy |
If smokers are pricey, some kamado grills are incredibly expensive, especially considering all they really are is a clay oven. This traditional Japanese style of barbecue relies on convection, so when making your own, it is important that you get a relatively airtight environment, but you still need to ensure that there is enough air in the oven that the coals will continue to burn. This DIY clay pot kamado uses two clay pots and a metal grill to create the ideal cooking environment. It is a temporary solution, it will need monitoring during the cooking process, and you should check the internal temperature of the meat before eating just to be safe. But that should be standard when cooking meat.
---
15.

DIY Barbecue Table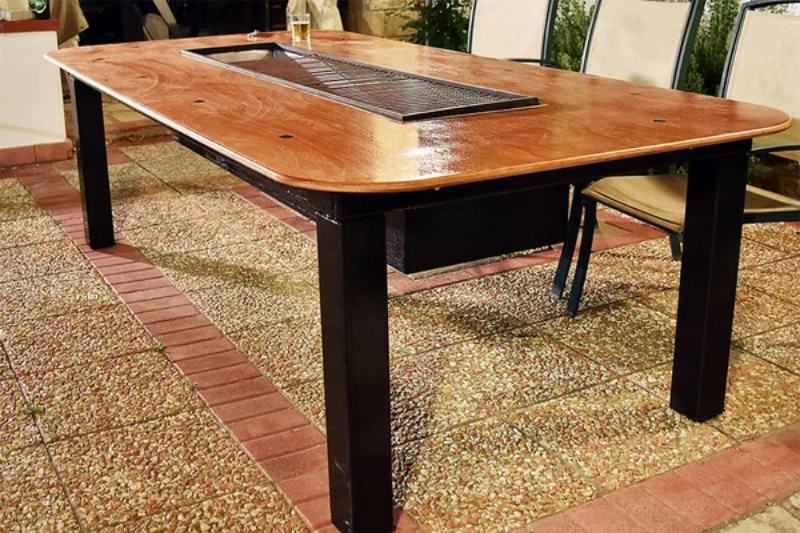 | | |
| --- | --- |
| Materials: | Square Metal Tubes, Wood, Rockwool, Cement Board |
| Tools: | Grinder, Welder, Saw |
| Difficulty: | Moderate |
A barbecue table is a table with a built-in barbecue. It enables you to cook while sitting at the table so you can carry on the conversation without even having to get up and check the burgers. It is also great for chillier evenings because the natural heat from the center of the table will keep everybody warm. However, a barbecue table does raise a few safety concerns, not least ensuring that the wooden table is protected from the flames within the barbecue. There's also the weight of the table and barbecue to consider. This DIY barbecue table takes all of these factors into consideration to provide a substantial dining and cooking area.
---
16.

Whiskey Barrel Smoker/BBQ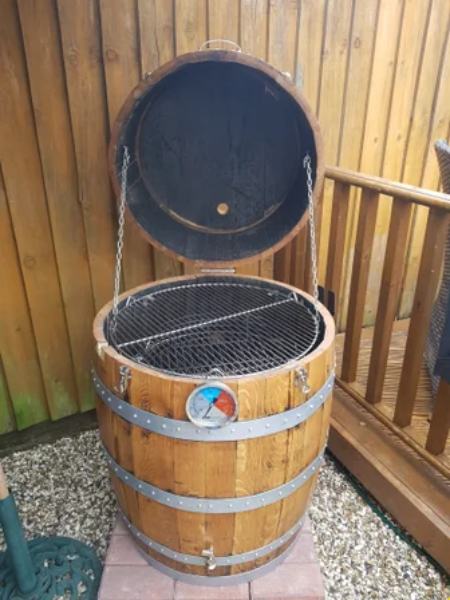 | | |
| --- | --- |
| Materials: | Whiskey Barrel, Temperature Gauge, Ball Valve, Latches, Fire Bricks, Hinge, Handle, Charcoal Basket |
| Tools: | Sander, Drill, Hammer, Hand Saw |
| Difficulty: | Moderate |
The whiskey barrel smoker is a barbecue smoker made from an old whiskey barrel. It contains fire bricks and a charcoal basket, and it has a temperature gauge on the barrel that helps ensure you're cooking food at just the right temperature. The size of the barrel means that you can fit plenty of food while the aged look of the whiskey barrel means that this DIY barbecue wouldn't be out of place in any setting. The plans do suggest that the barrel will need to be filled with water occasionally to rehydrate the wood and prevent the wood staves from shrinking.

Conclusion
Making your own grill could save you hundreds of dollars while also enabling you to get the size, dimensions, and exact style of grill you want. It's also even more satisfying to make your own food on a grill that you constructed yourself. Above are 17 plans and guides that you can follow, adapt, and use to make your next grill.
---
Featured Image Credit: Hermes Rivera, Unsplash