6 DIY Birch Bark Craft Plans You Can Make Today (With Pictures)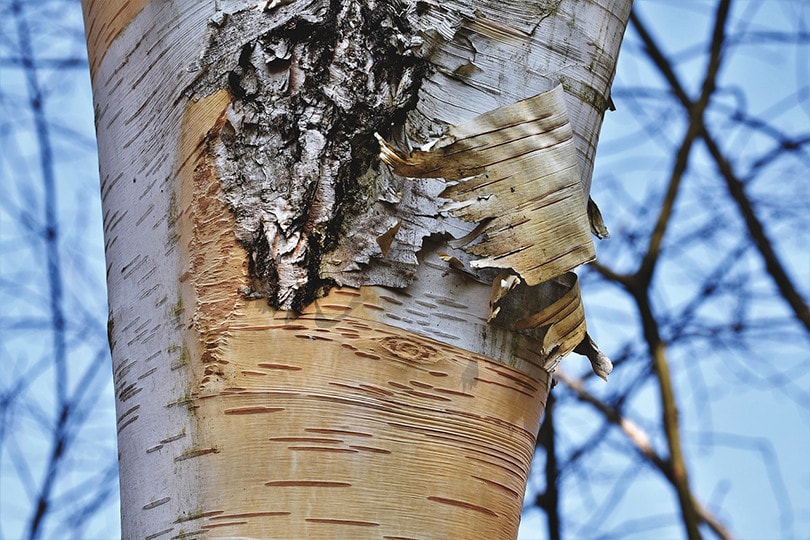 Birch bark is a very interesting material, so it only makes sense that there would be tons of crafts that you can make with it. From home décor to kid's crafts, there are many different options you can make with birch bark (and you are very lucky if you have a birch tree nearby).
Of course, we're referring to white birch trees that shed their bark. There are many different types of birch trees out there, and not all of them make bark that is suitable for these crafts.
However, if you have the right bark on hand, you may want to try one of these interesting crafts.

The 6 Best DIY Birch Bark Craft Plans
1.

Picture Frames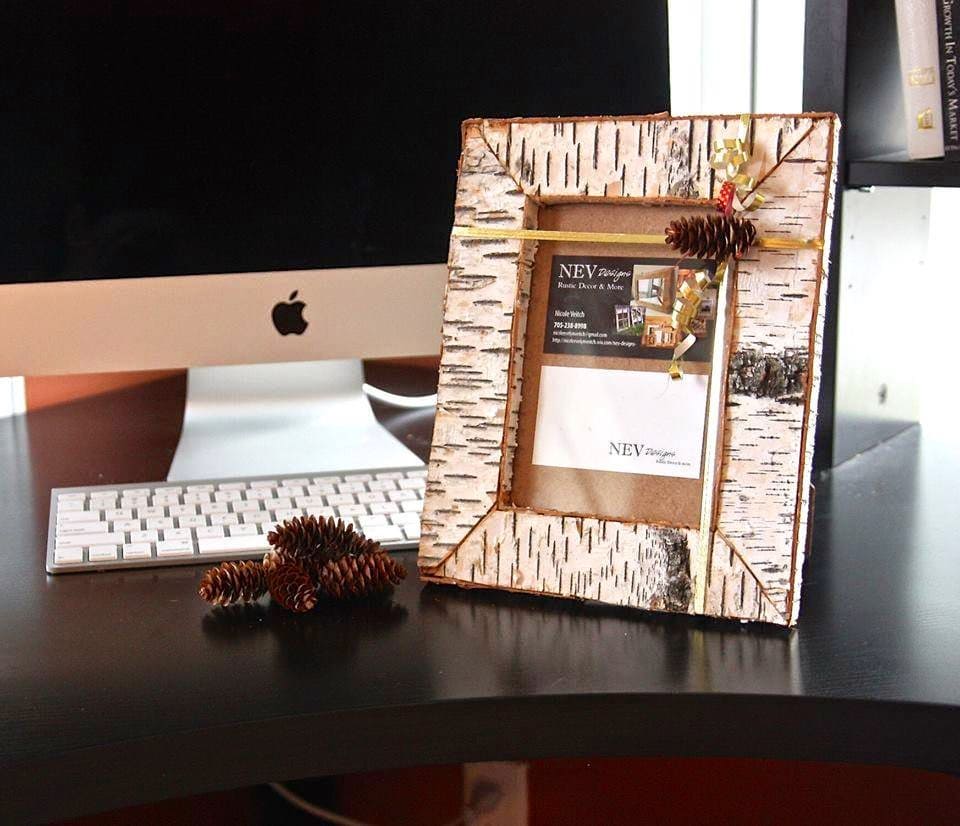 | | |
| --- | --- |
| Materials: | Birch bark, utility knife, C-clamps, wood glue, ruler, picture frame |
| Difficulty Level: | Easy |
Believe it or not, you can make some pretty nice picture frames out of birch bark. This is one of the easiest crafts on this list. In fact, it is so easy that many children may be able to play a role in it. Plus, the picture frame at the end is beautiful and would make a wonderful piece of home décor.
Simply put, you'll need to soak the bark and then flatten it out. After it dries, you'll cut it to the measurements of your picture frame and then glue the bark to it. You'll need c-clamps to keep the bark in place while it is drying.
While this may need some help with the gluing and cutting, many children can help with the other steps. Therefore, if you're looking for something to do with your kids, this is it.
---
2.

Candle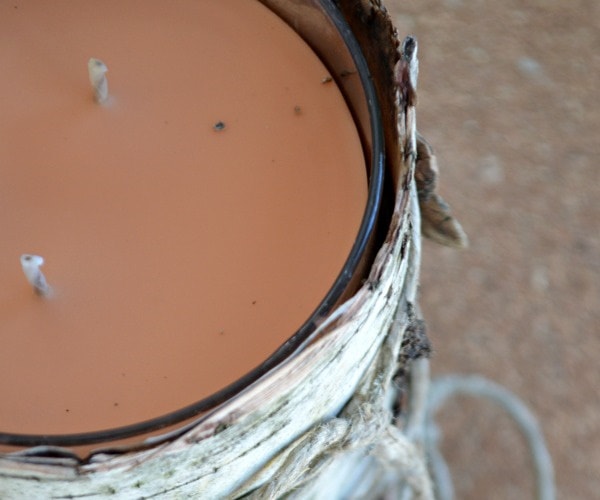 | | |
| --- | --- |
| Materials: | Candle in a glass jar, birch bark, jute twine, wood beads, scissors, glue, drinking pitcher |
| Difficulty Level: | Easy |
You can take an existing candle and accent it with birch bark in only a few steps. Again, this craft is extremely easy. Therefore, you'll be able to accomplish it even if you have little DIY experience, plus your children can get in on the action too.
You'll need to measure the birch bark to the correct measurements to put it on the candle. Choose a piece of bark that isn't too thick, as that may make your job harder than it needs to be. Of course, you'll need to soak it to help make it a bit more pliable. Then you can roll it using the drinking pitcher until it dries—at which point it should be stuck in that position.
The rest of the steps are pretty straightforward and mostly involve cutting, gluing, and decorating the bark.
---
3.

Flower Vase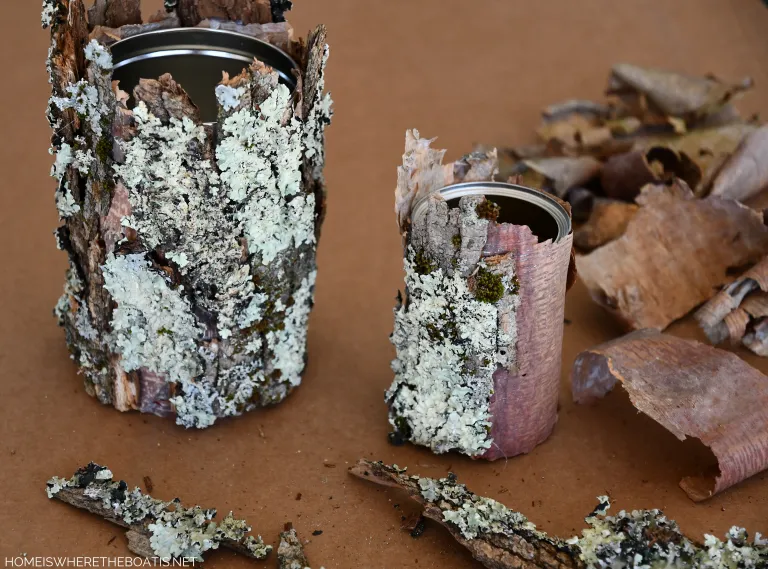 | | |
| --- | --- |
| Materials: | Empty metal cases, birch bark, glue sticks |
| Difficulty Level: | Easy |
While this craft calls for any type of bark, you can do it with birch bark very easily. You should change a few of the steps, though. Instead of using different pieces of bark around the vase, you're better off rolling the birch bark around it. Remember to soak it in water so that it is mailable or you risk breaking it.
This craft is so easy that most children will be able to do it with ease. Plus, you can also do it out of different kinds of bark, allowing you to make an array of vases if you so choose.
---
4.

Birch Bark Canoe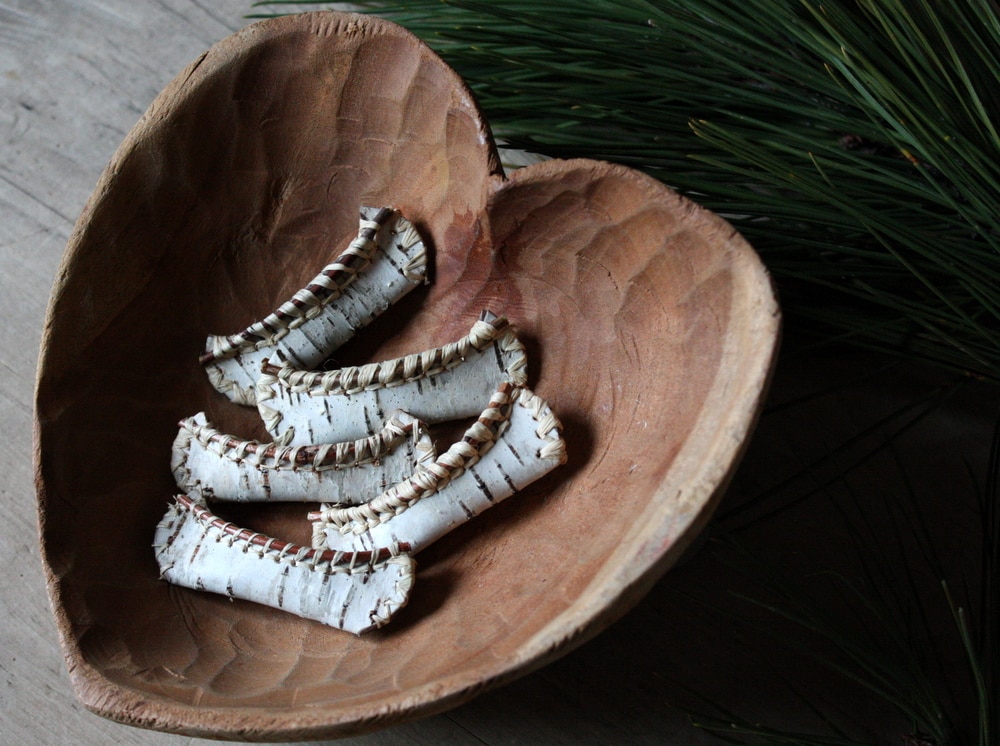 | | |
| --- | --- |
| Materials: | Birch bark, waxed thread, sturdy needly, twigs, scissors, clothespins |
| Difficulty Level: | Medium |
Compared to the other crafts we've mentioned, this one is a bit more difficult. It simply requires a bit more finesse, so it helps to be crafty. Children will likely have trouble with this project unless they are older, so we don't recommend it for smaller children.
You'll want to start by soaking the birch bark like usual. After that, you'll need to sew it while it's wet, which is typically why this craft is a bit harder. If it starts to dry out, you'll need to re-moisten it. It may take a bit longer, just because you'll have to stop and wet the bark every so often.
---
5.

Paper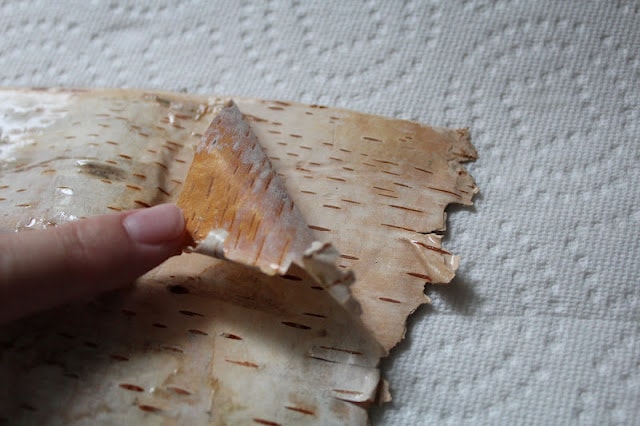 This interesting craft is a fun experience for both adults and children alike. You can make your own paper using birch bark easily since it is already a lighter color. We find that children, in particular, like to do this craft, especially if they get to use the paper for a special journal. However, adults may also find this craft interesting, as it provides you with a practical piece of paper at the end.
The process is a bit more involved than the other crafts, so we don't recommend it for those that just want something fast to do in the afternoon—it requires quite a bit more effort on your part. Furthermore, much of this project is about finesse, so you'll need to be gentle and take your time.
---
6.

Containers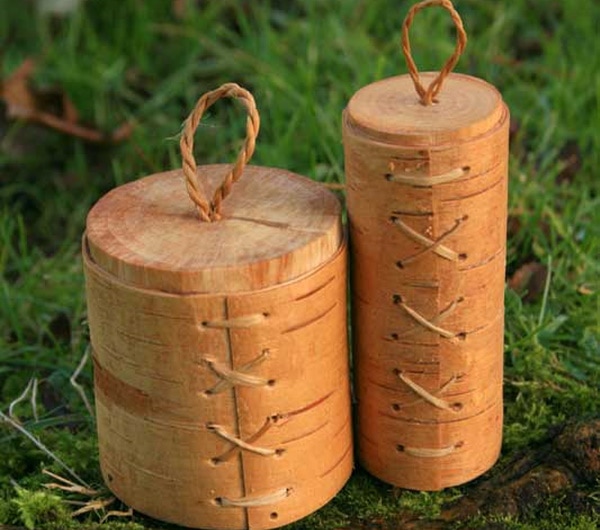 For those looking for something a bit more involved, these containers are a great way to make something practical out of birch bark. There are quite a few steps that you'll have to take, so be prepared to work on this project longer than those we've listed thus far.
Most of the steps require careful measurements and tool work, so it is best for someone who already has some DIY experience. Of course, we don't recommend this craft for small children for this same reason.
However, you can't find a more practical project than this one.

Conclusion
Birch bark is a great material to work with simply because it is so versatile. You can do a lot of different things with it, as you can see by looking through our list of projects. From candles to containers, you can find both simple home décor crafts and very practical options. Some are easy enough for children, while others will keep you busy for a few hours.
Either way, if you have a birch tree sitting in your backyard, all of these crafts are a great way to use the peeling bark.
---
Featured Image Credit: Ralphs_Fotos, Pixabay