30 Beautiful DIY Birdhouse Plans You Can Build Today (with Pictures)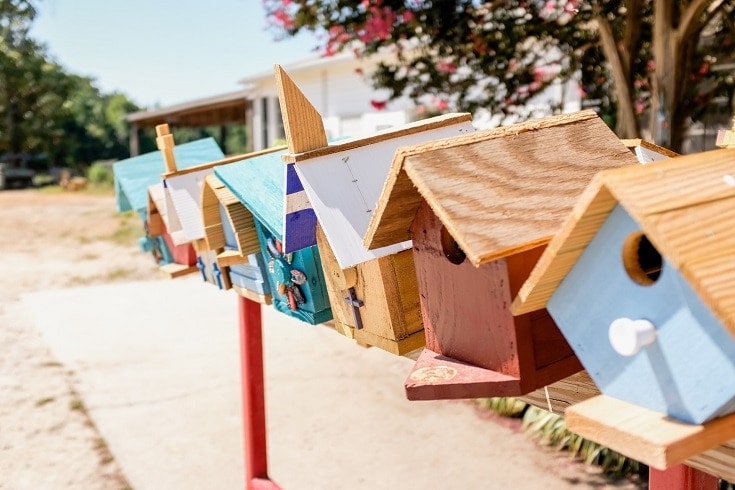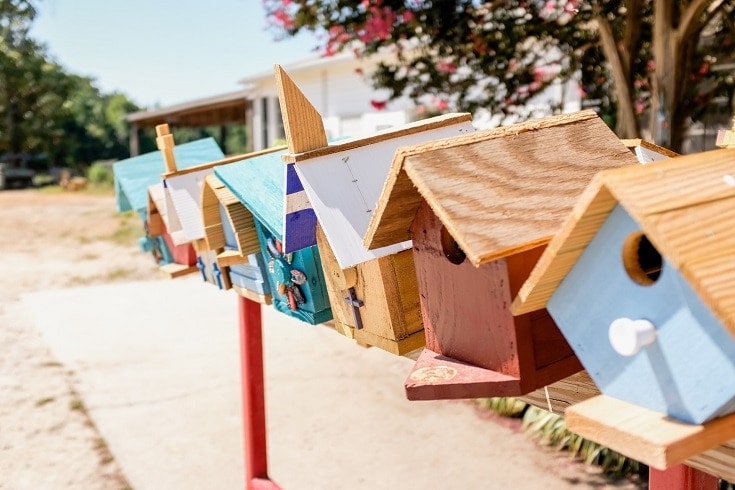 Birdhouses are one of the greatest woodworking projects to take on. They're perfect for building with a niece, nephew, or grandchild. You can learn how to build a bird house in many different designs, sized for different types of birds. Best of all, once it's finished, you get to hang it outside and watch one or many avian guests move in.
If you're looking to build a birdhouse project, then we've got some great options for you. These simple birdhouse plans will allow you to build a birdhouse in an afternoon. Pick a design that really appeals to you and enjoy the process. Soon, a feathered friend will be thankful for your hard work.

The 30 Beautiful DIY Birdhouse Plans
1.

Bluebird Birdhouses
These birdhouses for bluebirds are simple to build and look great. You'll only need a basic set of tools to build them, making this an accessible project for just about everyone.
---
2.

Easy DIY Birdhouse Plans
One of the best things about birdhouses is that they're incredibly simple to build, but this easy DIY birdhouse takes it to the next level. You can easily put this together in an hour or two, and it's a great first project for the young aspiring woodworker.
---
3.

Birdhouse from a Single Pine Board
These plans show you how to build another extremely simple but time-tested birdhouse. It's a classic design that requires only a few items to build. Perfect for fledgling woodworkers, this birdhouse won't require many pre-existing skills.
---
4.

Log Cabin Birdhouse
Stepping away from some of the simpler designs, this set of plans will help you build a birdhouse that looks like a log cabin. There's even a video to help walk you through the process. It's a bit more involved than some of the other plans on this list, but the results are also more impressive.
---
5.

Outhouse Birdhouse
This is the birdhouse to build if you've got a sense of humor. Rather than sticking to traditional birdhouse designs, this one mimics an outhouse. Dads everywhere will get a kick out of joking about the birds living in their outhouse.
---
6.

Easy Cardinal Birdhouse
Cardinals are colorful birds that can be loads of fun to observe. With this simple DIY cardinal birdhouse, you'll be able to get a bird's eye view of a cardinal's activities since the entire front is open and exposed.
---
7.

Cedar Board Birdhouse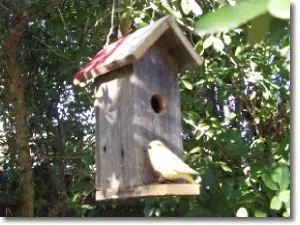 These plans call for the use of a cedar board to build the birdhouse, but other woods could definitely be used instead. It's an easy project with a simple drawing that shows you all the dimensions you need to cut out the six necessary pieces.
---
8.

Simple Birdhouse Plans
These birdhouse plans are about as simple as they come, but it's a good-looking design that's easy to mount and will home many different types of birds comfortably.
---
9.

Build a Birdhouse with Minimal Tools
You don't need many tools to build this birdhouse, which is why it's a perfect project for beginners. If you don't have a good tool collection built up yet, then try taking on this birdhouse for a skill-boosting project that you can make without purchasing a whole new set of tools.
---
10.

Peterson Bluebird Nest Box Plans
The entire front of this birdhouse hinges open for easy access. It's a simple to mount birdhouse with nailing areas at the top and bottom. You'll find step-by-step instructions that make this project easy to follow and build.
---
11.

  License Plate Birdhouse Plans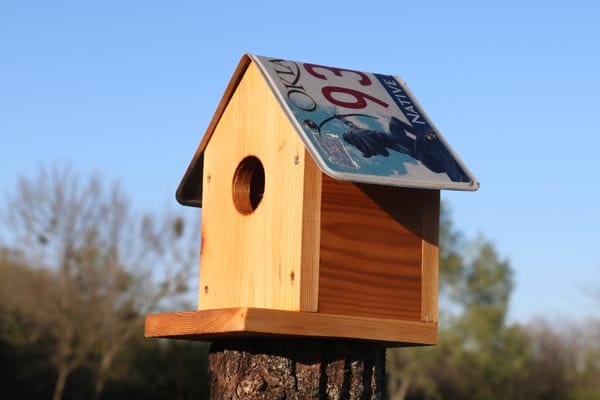 If you're looking for a really unique birdhouse, try building this one with an old license plate. It's a great way to repurpose some old scrap into something interesting and unique. If you get the wood from an old pallet, then the whole project could be crafted from recycled materials.
---
12.

$2 Cedar Birdhouse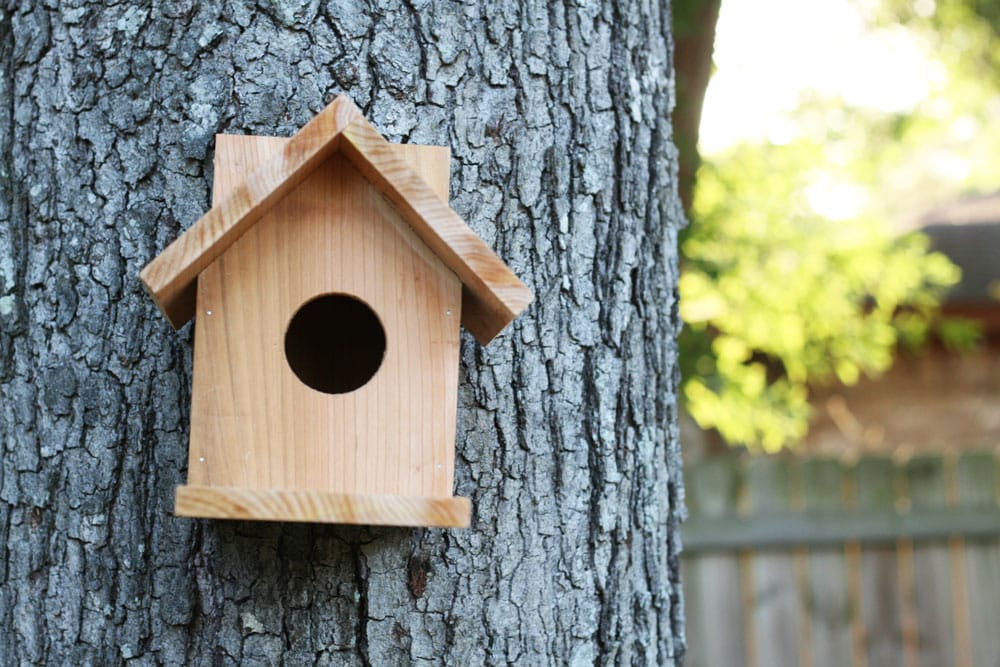 Many woodworking projects are pretty pricey to build, simply because of the material cost. But this cedar birdhouse is on the far opposite end of the spectrum. You can purchase what you need to make it for just two dollars!
---
13.

Owl House Plans
We don't know about you, but if there's one bird we'd especially love to have nesting in our yards, it would be an owl! These graceful and incredible creatures of the night are some of the best visitors you could have. And if one calls this owl house their home, you can say goodbye to any rodent problems.
---
14.

Robin Bird House
Robins don't need a front wall on their home. This makes them great guests since you'll always have a great view of what they're up to. You can build this birdhouse in an afternoon with ease.
---
15.

Chickadee Nesting Box
Meant specifically for chickadees, this nesting box is a bit more complicated to build than some of the simple birdhouse projects. This is mostly due to the triangles that you'll have to cut out for the front and back walls.
---
16.

Bluebird House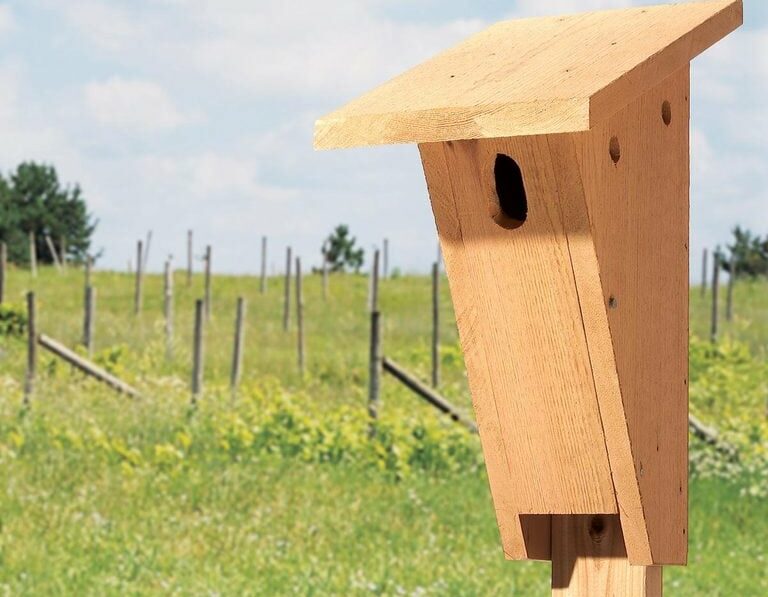 Simple yet effective, this bluebird house is an easy project you can build to try and attract a bluebird to your backyard. These colorful critters are a joy to watch, making them one of the top prospects for backyard residency.
---
17.

One Board Easy DIY Birdhouse
Do you have a single pine board in your garage or shed that you don't know what to do with? You can make a birdhouse from it! These plans from Birds & Blooms show you how. Their step-by-step instructions are easy to follow and provide a materials list and measurements. The results, while not stunning, will certainly suffice for many birds in need of a nice home to raise their chicks. Plus, it's an easy afternoon project to share with a family member.
---
18.

Modern Cedar Fence Picket DIY Birdhouse
The website Ana White provides these basic but modern birdhouse plans. You can bet this is a strong birdhouse because it's made by someone who lives in Alaska! The instructions are easy, but the result will be a birdhouse built to last and keep a family of feathered friends happy and healthy. Especially if they're birds native to Alaska!
---
19.

Hanging DIY Birdhouse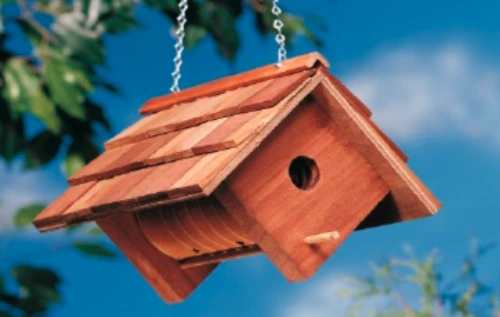 Depending on where you live, a hanging birdhouse might be better than one you attach to a pole or a tree. The plans for this one from Homedit will help you build a functional hanging birdhouse that looks beautiful. It can also be hung at different heights to attract several bird species. Remember that you can always make a pole to hang it from if you like.
---
20.

DIY Gourd Birdhouse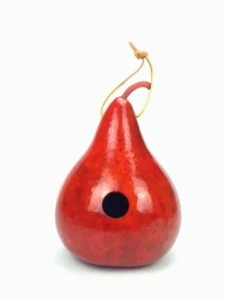 If you're looking for a truly unique birdhouse to hang in your yard and help your local birds, this one made from a gourd is perfect! Not only is it easy to make but every gourd birdhouse is unique since all gourds are unique. You can also paint it for a birdhouse that you'll be proud to show off to your neighbors. These plans are one of our favorites!
---
21.

DIY Bluebird (and Other Bird) House
This bluebird house from DIY Garden Plans is simple, attractive, and easy to make. All of the cuts, measurements, and tools needed are shown right on the website for an easy afternoon project. This birdhouse can also be used for other birds depending on how large an entrance hole you create. Big or small, any bird that uses this beautiful birdhouse will be very appreciative. For bluebirds, consider making a skylight to keep away nasty starlings.
---
22.

Attractive Stone DIY Birdhouse
Empress of Dirt designed this unique, attractive, and eye-catching stone birdhouse. It's actually a regular birdhouse that's been covered with stones, but don't tell anyone! Since you don't need to make a birdhouse, this one will be easier than other plans. However, you could start from scratch and make one if you have excellent DIY skills. Either way, the results will be stunning.
---
23.

Fancy Teapot DIY Birdhouse
From Robin's Nesting Place comes this adorable teapot birdhouse you make with a basic box frame and a teapot hung inside. The creator of this cute birdhouse suggests finding a used teapot at your local Goodwill or dollar store. The design is certainly easy to make and will add a touch of flair to any backyard. Even better, it's also self-draining, since the spout is on the bottom when it's hung!
---
24.

Penny Roof DIY Birdhouse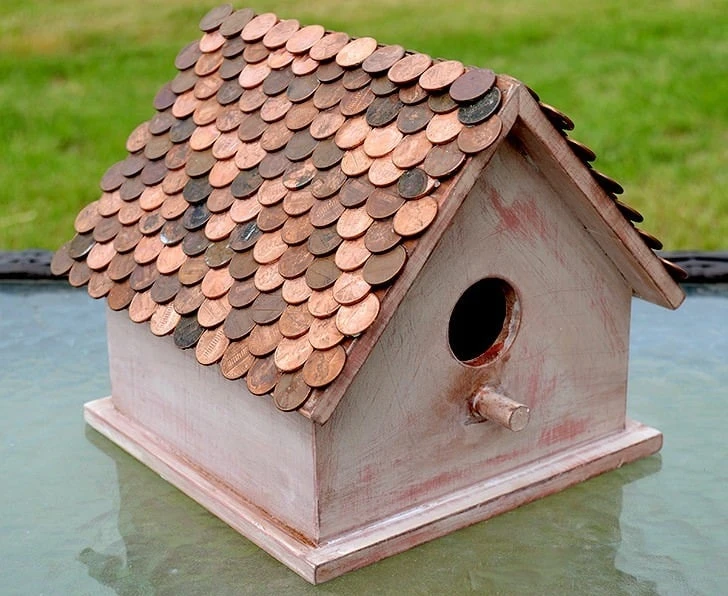 While this isn't a DIY birdhouse, per se, it shows you how to take a pre-made birdhouse and create a fabulous roof for it out of pennies! The results are unique and eye-catching and will likely add a layer of protection from the elements for any birds that are nesting inside. After a few seasons it will also turn that famous shade of green copper is known to make! One thing is certain; all those pennies you've kept for years in a pickle jar will finally be put to good use!
---
25.

Flower Pot DIY Birdhouse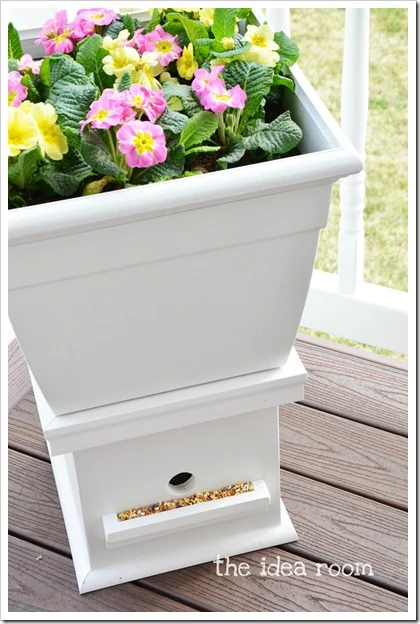 If you have a porch or patio you almost undoubtedly have at least one flower planter. These plans from The Idea Room show you how to take the base and turn it into a beautiful birdhouse. It's a win-win for birds and flowers and a beautiful way to add more life to your outdoor space. It's also a very easy afternoon project that requires minimal DIY skills. The results, though, are genuinely attractive and will bring birds closer to your window.
---
26.

Whimsical DIY Birdhouse
Who says that all birdhouses need to look like actual houses? Not us, of course, which is why this Whimsical DIY Birdhouse looks like so much fun! The plans, from Her Tool Belt, also include several PDFs that make it much easier to create. You can also use a bit of your own creativity and personality to create a unique birdhouse that's ready to hang in your yard and keep a family of local birds happy and safe. It may be whimsical, but this birdhouse is also very practical!
---
27.

Old Clock DIY Birdhouse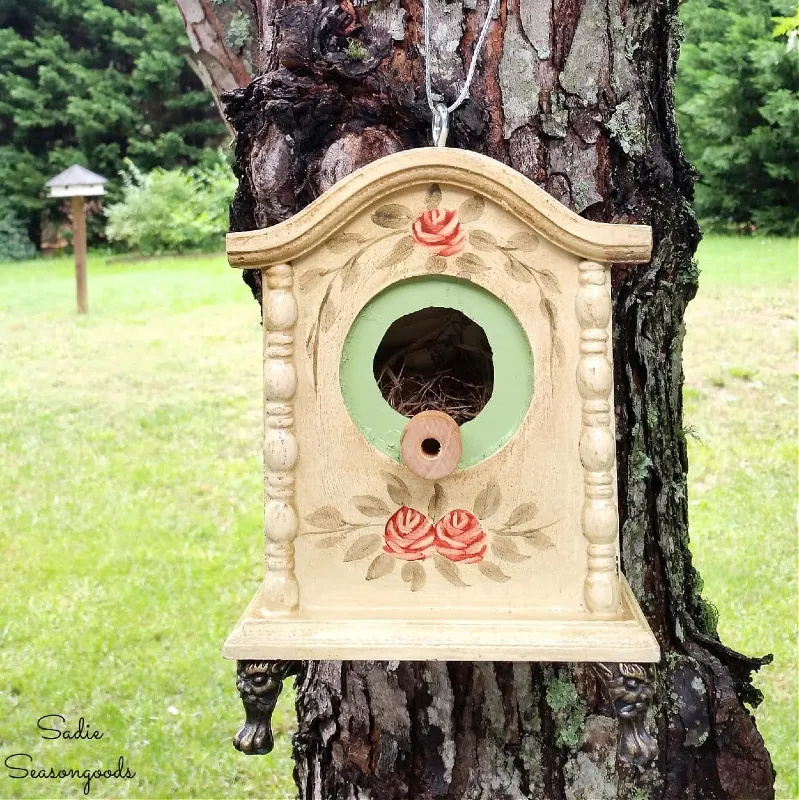 It's not time to get a new clock but instead to turn that old clock into a beautiful birdhouse! The DIY plans, from Sadie Seasongood, give you easy step-by-step instructions on how to turn a small wall clock into a birdhouse where birds will be living large! It's a beautiful way to up-cycle an old clock, too and a fun afternoon project to create with your kids!
---
28.

Rustic DIY Birdhouse
One thing about birdhouse projects that many don't like is that they don't fit into the natural surroundings in their back and front yards. That problem is solved with these rustic birdhouse plans from My Bright Ideas. The design involves taking a pre-made birdhouse and using twigs, sticks, and other items to turn it "rustic." The best part is that the birdhouse melts into the surroundings, which provides an extra layer of protection for your local birds and their families.
---
29.

Minimalist DIY Birdhouse
This DIY birdhouse, although it says "minimalist", might be one of the best on our list. It certainly has the best plans, with everything laid out extremely well including tools, materials, and cutting sizes. That makes it one of the easiest birdhouse plans to follow on our list. You can paint the finished birdhouse any way you like and it will make a beautiful addition to your front or backyard.
---
30.

Scrap Wood DIY Birdhouse
If you have scrap wood around your home or garage, why not consider making a scrap wood birdhouse? Not only is this an easy project with basic tools but, if you already have the tools, it will cost next to nothing. Some glue, nails, screws, and basic DIY skills are all you need to make a birdhouse any bird would be proud to call home.

Conclusion
Regardless of where you live, there are guaranteed to be many beautiful avian species inhabiting the trees and skies nearby. Learning how to build a birdhouse is a great woodworking project that will allow you to enhance your skills, have some fun, and offer one of these feathered flyers a custom-built home. It's a project that keeps giving back, long after you put on the finishing touches.
Related Reads:
---
Featured Image Credit: Jonathan Hanna, Unsplash