10 Best Chainsaws of 2023 – Top Picks, Reviews, & Buyer's Guide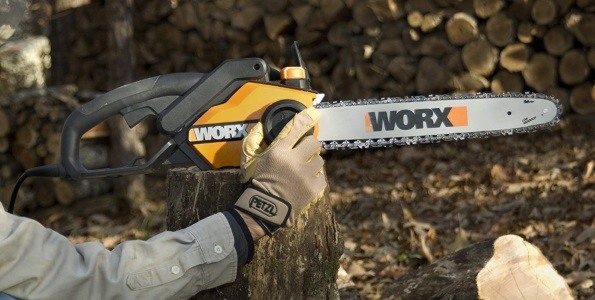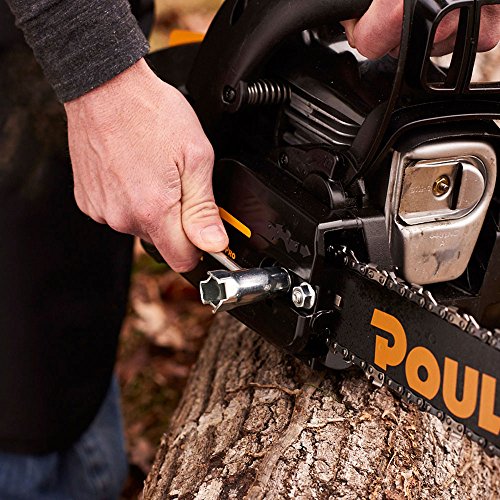 If you're in the market for a chainsaw, you may not know which model is the right one for you. There's a whole lot of options on the market now, including gas-powered, corded-electric, and battery-powered chainsaws. Not only do you have to choose what kind of power the machine uses, but you also have to look at the blade length, ease-of-use, and the amount of maintenance required.
Even if you are an experienced pro when it comes to chainsaws, a lot of things have changed in recent years, so you may want to brush up on your chainsaw knowledge. And, if you're brand new, you're in luck, because we've assembled reviews of some of the best chainsaws on the market today, walking you through what's great and what's not-so-hot about each model.
We've also included a buyer's guide so that you can gain an in-depth knowledge of chainsaws. If you find the right model for you, then you need to know what kinds of things you should be paying attention to when shopping.
---
A Quick Glance at our Favorites of 2023:
Rating
Image
Product
Details

Best Gas-Powered

Husqvarna 460 Chainsaw

Easy start
Powerful
High-quality materials
CHECK PRICE

Best Battery-Powered

Makita XCU03PT1 Chainsaw

Brushless motor has a long lifespan
It's not very loud
Variable speed trigger
CHECK PRICE

Best Value

WORX WG304 Chainsaw

Electric
Auto-tension chain system
Good safety features
CHECK PRICE

Best Corded

Oregon CS1500 Chainsaw

Self-sharpening blade
Tool-less chain tensioning system
16" bar
CHECK PRICE

Premium Choice

DeWalt 60V MAX Cordless Chainsaw

Very lightweight at 12 lbs
3-year warranty
Nearly silent
CHECK PRICE
The 10 Best Chainsaws:
1.

Husqvarna 460 Chainsaw – Best Gas-Powered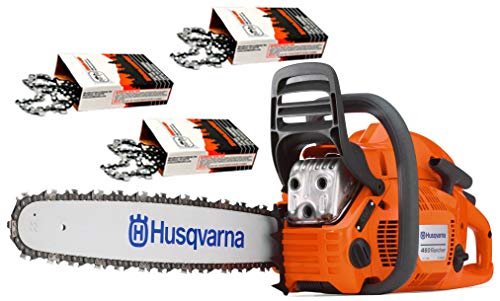 Way back when all chainsaws were gas-powered behemoths, Husqvarna was known for making some of the best and most reliable chainsaws around. That hasn't changed today, and their 460 Rancher chainsaw is the best gas-powered chainsaw that we've used.
It packs tons of power behind its 24-inch blade with a 60.3cc gas motor that sends the blade gliding effortlessly through trees, logs, and stumps like they were made of bread. But somehow, very little of that vibration transfers through the saw, making for very comfortable operation.
All that power comes with the slight drawback of taking up some space. That means that this saw is pretty big, definitely larger than most of the electric saws we tested. For smaller people, this saw might be a bit bulky and heavy, making it more difficult to use.
We were impressed with how reliably the 460 Rancher chainsaw starts. Gas-powered saws are infamous for starting problems, but even in the cold mornings and hot afternoons, this saw never gave us any issues. It's also very well-built, and you can tell the high-quality from how it looks and feels.
All in all, we think that this is the best gas-powered chainsaw of the year.
Pros
Easy start
Powerful
High-quality materials
Excellent safety features
---
2.

Makita XCU03PT1 Chainsaw – Best Battery-Powered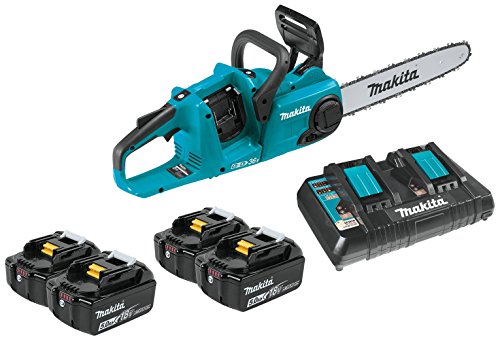 Makita is one of the most well-respected names in power tools, and their 14-inch chainsaw promises to continue their tradition of powerful cordless tools. It manages this by using two of the Makita 18V batteries simultaneously to provide a total of 36 volts of power. Surprisingly, this makes for a very powerful chainsaw that can easily hold its own against small gas-powered saws.
Brushless technology from Makita's other power tools has trickled down to this chainsaw, meaning you get a longer lifespan and improved battery efficiency as well. We were happy to see that all of this resulted in a very powerful but nearly-silent chainsaw. Between cuts, you can't hear a sound. Even during use, this saw produces just a fraction of the noise you get from a gas-powered chainsaw.
We liked the variable speed trigger on the Makita chainsaw. It gave us more control over our cutting and made for a better cutting experience overall. But we weren't as happy with the battery life. Despite the improved battery efficiency from the brushless motor, we were going through batteries rapidly. Even lithium-ion can't keep up with the power demands of this hungry chainsaw.
All in all, we think that this is the best cordless chainsaw on the market.
Pros
Brushless motor has a long lifespan
Very powerful for an electric chainsaw
It's not very loud
Variable speed trigger
---
3.

WORX WG304 Chainsaw – Best Value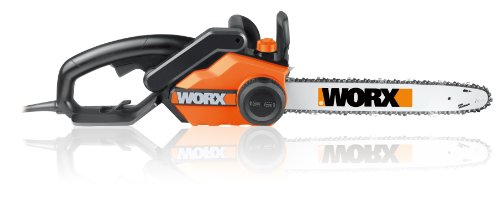 The WORX WG304.1 provides excellent value for the money. It is a corded electric chainsaw, which means that you'll never have to recharge batteries or worry about running out of charge in the middle of the job, though it does mean that you'll need to use an extension cable. It comes preassembled, which will save you a lot of time, though it does need to be regularly oiled.
The design merely requires you to pour oil in a reservoir, and then it automatically applies oil as needed, but still, part of the upside to owning electric tools is that they're low-maintenance, and this isn't. This model does come with an automatically-tensioning chain system, taking some of the guesswork out of your day, and has good safety features that will help prevent accidents.
Overall, if you need a chainsaw that gets the job done, don't mind occasionally oiling, and will have ready access to an electric outlet, you'll get really good value out of this, the best chainsaw for the money.
Pros
Electric
Auto-tension chain system
Pre-assembled
Good safety features
Cons
Automatic oil lubrication
Corded electric
---
4.

Oregon CS1500 Chainsaw – Best Corded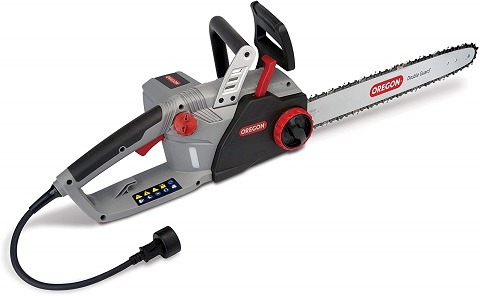 As the name implies, one of the best features of this Oregon chainsaw is the self-sharpening blade. Simply engage the PowerSharp mechanism and run the saw for a moment. Your chain will be nice and sharp. A tool-less chain tensioning system makes it easy and simple to make adjustments on the fly. Since it's electric, you'll never run out of gas or battery. And for an electric chainsaw, this one is pretty powerful.
When in use, the chain just doesn't want to stay on for more than a few minutes. This didn't start until after the first few hours of use though. Unfortunately, the bar also started to come loose around the same time. We noticed that the screws that held it in had wiggled out of place, allowing the bar to start exhibiting some vertical movement. Apparently, it's somewhat of a common problem with this model. When present, these flaws make the saw unsafe. However, we still think that this is the best corded chainsaw on the market right now.
Pros
Self-sharpening blade
Tool-less chain tensioning system
Cons
Chain constantly comes off
Screws that held bar in place came loose
Bar started exhibiting vertical movement
Flaws present are a safety concern
---
5.

DeWalt 60V MAX Cordless Chainsaw – Premium Choice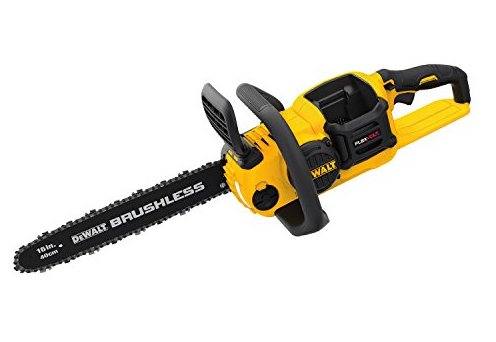 We've been impressed by many DeWalt tools over the years, so it's not surprising to see their DCCS670X1 FLEXVOLT 60V MAX Cordless Chainsaw as our premium choice pick. This chainsaw combines the power and portability of a gas chainsaw with convenience, easy starting, and near-silence of a battery-powered electric chainsaw. It's battery-powered, so it's not quite as powerful as the largest gas chainsaws, but it can definitely give smaller 32cc gas saws a run for their money.
One thing we like about all DeWalt tools is the included three-year warranty. Chainsaws live difficult lives, so having that warranty is a great insurance policy that ensures your investment will be protected. This is especially important with this particular chainsaw for two reasons. First, it's pretty expensive, so it's a major investment, to begin with. Second, this saw doesn't include a case and no case is made for it, so it's much harder to keep it protected.
Pros
Very lightweight at 12 lbs
Surprisingly powerful
3-year warranty
Nearly silent
---
6.

Greenworks 12″ 40V Cordless Chainsaw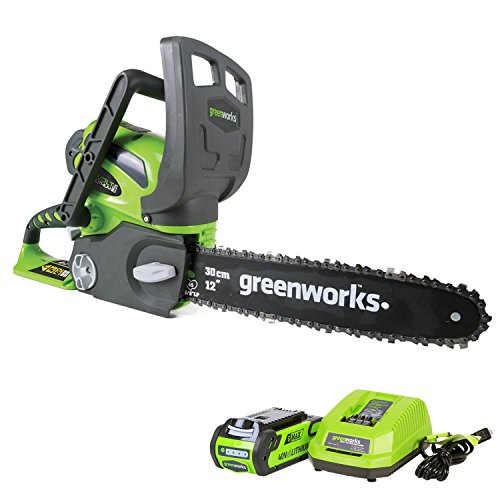 The Greenworks 12-Inch 40V Cordless Chainsaw is a battery-powered chainsaw that uses Greenworks' G-Max lithium-ion batteries. It won't work with any other Greenworks batteries, which we think is a drawback. But with the G-Max batteries, this saw gets a pretty good battery life that outlasts many of its competitors.
As soon as we held this chainsaw, we knew it was one of the lightest of the pack. At just six pounds, it's pretty darn light. It's a bit heavier with the battery, but it's also better balanced with the battery in as well.
We seemed to like this saw a lot after our first use until we came back for round two. That's when we noticed that this saw really likes to leak oil. It had lost all of its oil onto the garage floor. So, we refilled it and headed out to do some work. But we noticed that oil was leaking out while we were walking with the saw.
Overall, it's a good saw, but the limited battery compatibility and its constant leaking of oil prevent it from earning our recommendation.
Pros
Affordably priced
Weighs a meager 6 lbs
Good battery life
Cons
Only works with two specific batteries
Leaks oil
---
7.

Poulan Pro PR4218 18″ Chainsaw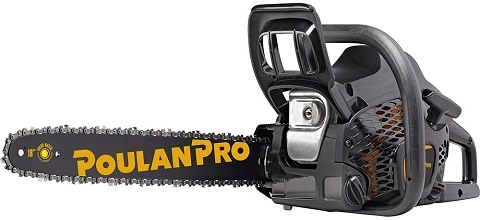 Equipped with an 18-inch bar and a 42cc engine, the Poulan Pro PR4218 gas-powered chainsaw is ready to tackle trees and logs of almost any size. It's packed with power but still manages to start very easily. Well, most of the time. After using it for a short while, it would need some adjusting to keep starting properly. The idle would also be off, causing the saw to die when it should be idling. If you can't do some minor maintenance and adjustments yourself, then you should stay away from this saw.
When we first ordered this saw, we were happy to know we'd be receiving a case with it. Upon arrival, we were disappointed to see a flimsy case that offered very little protection. It even had a crack in one side already.
This saw made it through medium-sized logs with no issue and even through larger logs in a timely fashion. But for the price, you can get a battery-powered chainsaw with similar power that doesn't need all the maintenance that the Poulan Pro requires.
Cons
12" blade
Expensive batteries
Oiling required
---
8.

Remington RM 4216 16″ Chainsaw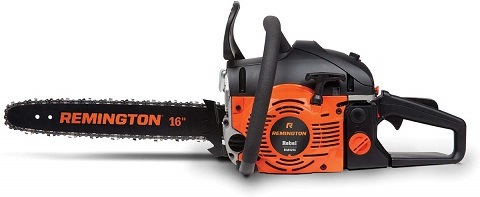 With a 42cc engine powering a 14-inch blade, this Remington chainsaw has lots of power without a lot of reach. This means that it's best suited for medium-sized trees and smaller, where the bar will reach all the way through and the motor will have no problem powering through the cut.
Though it's got quite a bit of power, the three-point anti-vibration system does such a good job of dampening the vibrations that you don't even feel it. But that's also partially because it's a much heavier saw than most of the others we tested, which can make it more difficult for some to operate.
This saw is equipped with Quickstart technology. We hoped this would make for reliable starting, but it was hit or miss. Sometimes, it started right up and the Quickstart did its job. But at other times, we had a difficult time starting this saw, like with many other gas saws we've used.
The chain oiler also tended to clog up, causing the chain to run dry, which can damage the saw. Despite the affordable price, we think these flaws hold the Remington chainsaw back too much to recommend it.
Cons
Auto oiler gets clogged and fails
Overheats
Vapor lock is common
---
9.

BLACK+DECKER LCS1240B Chainsaw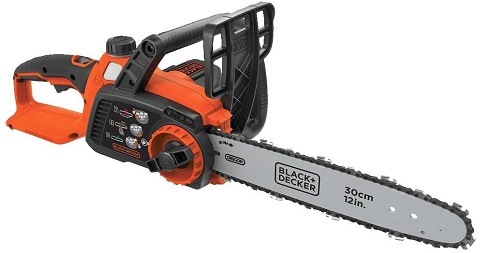 The BLACK+DECKER LCS1240B is a battery-powered electric chainsaw cuts well for its weight class but doesn't do much beyond that. Its weakest feature is its 12" blade that is only going to be useful in limited circumstances, like cutting firewood, pruning trees, or maybe cutting down very small trees.
The good news is that it's electric, so it is very quiet, and since it uses batteries, you have the mobility of a gas chainsaw. Like the previous model, you still have to oil this one, which is a bit of a pain for an electric model.
The batteries for this unit are very expensive, so if you want to get enough that you can switch them out and keep cutting, expect to spend a lot of money. Overall, this is a good chainsaw if you have a lot of lightweight work to do that won't take much time. Otherwise, you might get more value out of a different model. If you're on the look for a lightweight model, you may be interested in reading our "Top 5 Lightweight" chainsaw picks guide found here.
Cons
12" blade
Expensive batteries
Oiling required
---
10.

SereneLife Cordless Chainsaws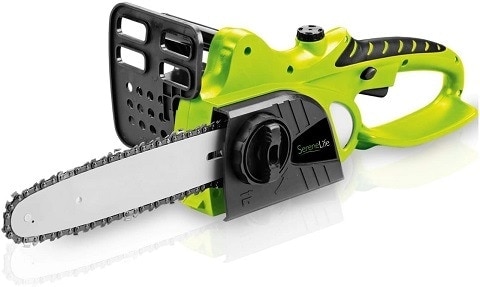 At first glance, we thought the SereneLife Cordless Chainsaw looked like a great pick. It's very lightweight at just eight pounds. Even better, it's one of the most affordable chainsaws we tested, and it even includes a battery and charger. Unfortunately, that was where our list of praise ends.
As soon as we held this saw, we knew it wasn't going to perform as well as we'd like. It's made of plastic and it just feels cheap. When you cut with it, it provides very little cutting power, getting bogged down in even moderately thick branches.
Worse, the battery only lasted for a few cuts before it needed to be charged. Of course, the kit only comes with one battery, so no work is getting done while you wait for it to charge.
Altogether, we think there are plenty of other low-cost options on the market that outperform the SereneLife cordless chainsaw.
Pros
Very lightweight at just 8 lbs
Cheap price
Cons
The chain repeatedly comes off
Has very little cutting power
Feels like a toy when you use it
The battery only lasts for a handful of cuts
---
Buyer's Guide: How to Choose the Best Chainsaw for Your Needs
There are a lot of different chainsaws on the market to choose from. If you're still feeling confused about which one is the best choice for you, then this buyer's guide was written to help you out.
After testing so many of these saws we've learned exactly what differences separate them. Some of these make each saw better suited for particular uses or people. The most important decision you need to make when choosing a chainsaw is what type of chainsaw you're going to get.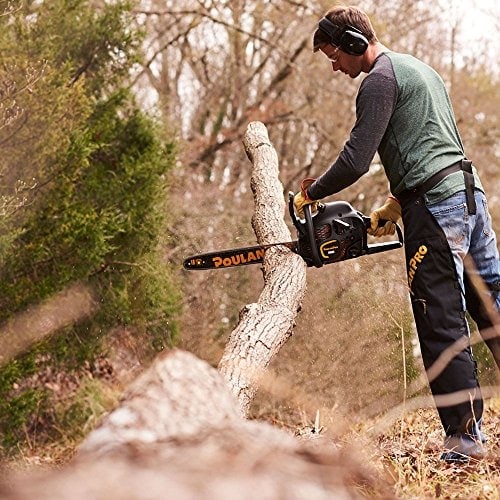 Different Types of Chainsaws
It used to be much simpler to purchase a chainsaw because they were all relatively similar. All of them had gas-powered motors, so your biggest decision to make was what brand you wanted and how long of a bar you wanted your saw equipped with.
Today, we have far more options than that. With our electrical technology improving many times over, power tools have also gotten much better, faster, and quieter by implementing new electric motors. But that doesn't always mean that electric chainsaws are the best choice, even though they do have many advantages over traditional gas chainsaws.
There are three main types of chainsaws to choose from: Corded electric, gas-powered, and battery-powered cordless electric. Each of them has distinct advantages and disadvantages that will make it easier to help you decide which is right for you.
Corded Electric Chainsaws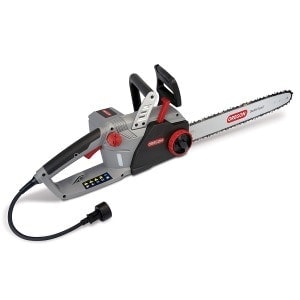 The big advantage that
corded electric chainsaws
have over gas and battery-powered saws is that they'll never run out of juice. You can't run out of gas or have a dead battery when you're plugged into an outlet. But at the same time, that means you'll always be tied to an extension cord and limited to its length.
Corded electric chainsaws can be pretty powerful, though they're rarely as powerful as gas-powered saws. But they make up for that in ease of use. They have much less vibration and they're nearly silent. Plus, electric chainsaws don't need any maintenance that you'll have to perform regularly with a gas saw.
If you're shopping purely on price, you can find some corded electric chainsaws for dirt-cheap. They're also going to be the lightest saws since there's no added weight from battery packs or fuel.
Pros
Never run out of gas or have dead batteries
Very quiet operation
Easy to start
Small and lightweight
Some are dirt-cheap
No maintenance
Cons
Limited to the length of your extension cord
Not as powerful as gas-powered chainsaws
Battery-Powered Chainsaws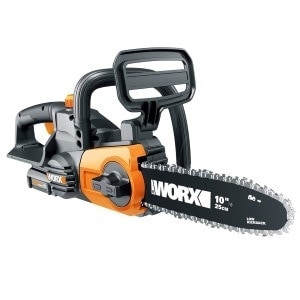 Cordless electric chainsaws
, otherwise known as battery-powered, give you the portability of gas-powered saw with many of the advantages of a corded electric chainsaw. A cordless chainsaw runs off of batteries, so if the battery dies, your saw will too, and you can't just fill back up like a gas saw. Keep in mind, some of these saws eat up batteries very quickly.
But cordless electric chainsaws are very quiet and tend to weigh less than gas saws as well, even though some of them are just as powerful as smaller gas-powered chainsaws. However, they're still not as powerful as larger gas chainsaws, which are still the kings for heavy-duty wood cutting.
Cordless electric chainsaws can go anywhere at any time. They don't need to be plugged in, except when you're charging the battery. They require no maintenance and they start every time you pull the trigger, no priming necessary and no pulling of cords.
Pros
Can take anywhere
Lightweight and maneuverable
Nearly silent
No maintenance
Easy to start
Cons
Not as powerful as gas chainsaws
Battery life can be a limiting factor
Gas-Powered Chainsaws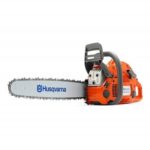 The big boys on the block,
gas-powered chainsaws
are the original and still the most heavy-duty chainsaws available. While some electric chainsaws may rival smaller gas saws in power, they still can't touch the larger 60cc and up gas saws. If you need to fell large trees or cut up very large logs, you're probably going to need a gas-powered chainsaw.
These saws have gobs of power that you can take anywhere. They don't need to be recharged, and if you run out of gas, you can easily just add more.
However, they require regular maintenance. You'll have to change the oil and spark plugs, check the filter, and empty the machine for the winter. Plus, they get temperamental trying to start them in the cold or heat.
Don't forget how much louder a gas-powered saw is! You can't operate this in the early morning without aggravating your neighbors. It's also heavier and will fatigue you more after a few hours of work. And while you're working, don't forget the emissions your saw is producing! Environmentalists will want to stay away from a gas-powered saw because of its carbon footprint.
Pros
Gobs of cutting power
Can take anywhere
Cons
Have to keep fuel on hand
Requires upkeep and routine maintenance
Noisier than electric chainsaws
Releases emissions
Difficult to start
Conclusion:
Hopefully, after reading our reviews and buyer's guide, you know exactly which is the best chainsaw for your needs. There are some major differences between our top picks, and we're going to reiterate them again to make sure that they're fresh in your mind as you go to choose a saw.
We think that Husqvarna 460 Rancher is the best gas-powered chainsaw. It's the best choice for heavy-duty work thanks to its long 24" blade and 60.3cc motor that packs tons of power but doesn't transfer much vibration to the user.
If you're looking for quieter operation and less maintenance in a cordless battery-powered chainsaw, then we recommend the Makita XCU03PT1. This chainsaw gives you a variable trigger for complete control over the long-lasting brushless motor that provides gas-like power with the quiet operation of an electric chainsaw.
For the best value chainsaw, we recommend the Worx WG309. It's got a great auto-tension system and some nice safety features. Our best corded is the Oregon CS1500 Corded Electric Chainsaw. It's nearly silent, weighs just 13 pounds, and it's one of the most affordable chainsaws that we've seen.
And finally, the DEWALT DCCS670X1 FLEXVOLT 60V MAX Cordless Chainsaw is our premium choice recommendation. It packs the power of a small gas chainsaw into a 12-pound battery-powered package that's nearly silent.
We truly hope that our guide helps you find the best chainsaw for your needs! Good luck!