4 DIY Boat Ladders You Can Build Today (With Pictures)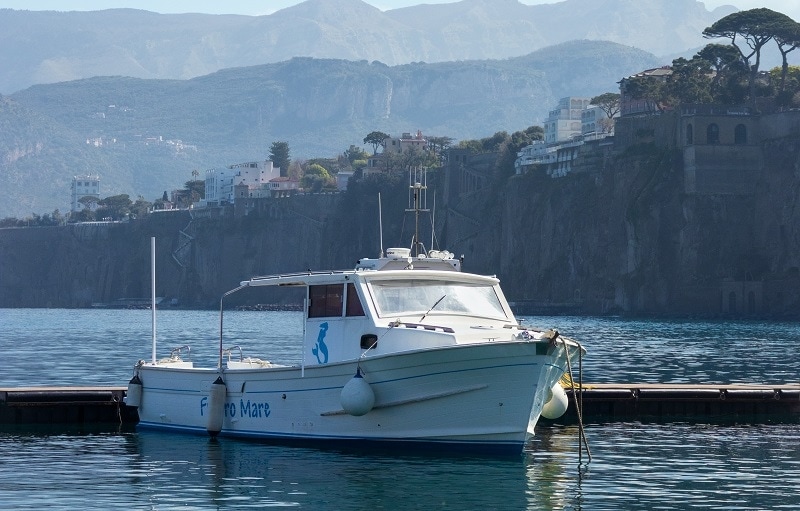 Every boat needs a ladder. Even if you don't plan on getting in the water, you need a ladder in case someone falls off. Having a boat and no way to get up on it from the water is a safety concern.
However, you can DIY a boat ladder if necessary. There are several ways to do this; they are almost all cheaper than purchasing a commercial option. Plus, you can change the details of your boat ladder in various ways and make it customized to your needs.
Here is a list of several boat ladder DIY methods. They all work well, but it does depend on what you're looking for.
The Top 4 DIY Boat Ladders
1.

Rope and PVC Pipe Ladder
| | |
| --- | --- |
| Materials: | 2 elbow fittings, 3 PVC pipes, 12-foot weighted cord, 4 T fittings |
| Tools: | Power drill |
| Difficulty: | Medium |
This plan outlines a simple boat ladder that can easily be climbed. Making it isn't too difficult, so even those without tons of DIY experience should be able to handle it well. The instructions are also well-written, and there are several pictures. We found it pretty easy to follow, for the most part. This makes figuring it out much easier for those who don't have as much experience.
The only tool you need is a power drill. Given that this is a common tool, we found it an easy option for home DIYers. You will need to make several special knots with the rope so be sure to follow the directions carefully.
---
2.

Folding Ladder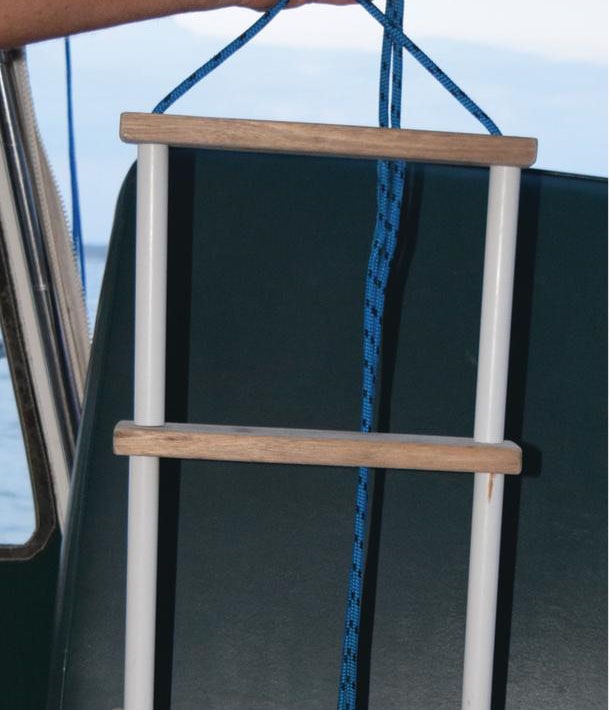 | | |
| --- | --- |
| Materials: | Tubing of some kind, cuts of wood, rope |
| Tools: | Tape measure, Drill |
| Difficulty: | Medium |
A folding ladder may be helpful if you lack storage on your boat. These ladders are much easier to store, as you can easily fold them up and store them in a very small space. Hard-shelled ladders take up much more room.
This plan helps you make a rather straightforward folding ladder. The DIYer uses several leftover pieces of wood and rope. If you have these lying around, you can use whatever you have. However, you may have to purchase these items if you don't have them lying around.
The directions are simple and detailed and so even beginners should have no trouble utilizing them. However, there aren't many pictures to show you what you're supposed to do. If you're a visual learner, this may be a challenge.
---
3.

Swim Ladder
| | |
| --- | --- |
| Materials: | Dock line, PVC pipe, PVC fittings |
| Tools: | PVC cuter |
| Difficulty: | Medium |
This particular plan is designed for an inflatable boat. These boats are notoriously hard to get in and out of. Therefore, having a ladder is helpful, especially if you have children. We love that this plan is simple and doesn't require any complicated tools. All you'll need is a PVC cutter and any drill bit. Metal or even wood works fine, as PVC is very soft plastic.
There are only a few steps. You're mostly just attaching different PVC to the dock line, which creates a folding ladder.
You'll find this ladder very easy to store, as well. Therefore, it's a great option for smaller boats that don't have much storage space, to begin with.
---
4.

Boat Ladder and Platform
| | |
| --- | --- |
| Materials: | Varies |
| Tools: | Tape measure, wrenches, screwdrivers, drill, sealant, stainless steel nuts, bolts, and washers |
| Difficulty: | Medium |
If you have children, this plan helps you make a swim platform and ladder that is very easy to use. It's much easier to figure out than a rope ladder, making it a good choice for children and older individuals. It will cost a bit more money than other options. However, in the end, you're left with a much more professional-looking ladder than other options.
You can use a range of materials as the swim platform and stairs. However, the plan does go into which options work best in which situation. Therefore, you don't want to choose just anything. The higher-quality materials you use, the better your final product will be.
The plan is outlined very well and is easy to follow. There are several different tools needed, but most of them are basic tools that the average DIYer has lying around (or could purchase fairly easily).
Conclusion
While you can purchase a boat ladder, you can also make one yourself using one of the DIY plans listed above. Many of these are cheaper than purchasing a ladder and may actually create better ladders than you could find commercially. However, this isn't always the case, as the materials you use do matter.
We recommend choosing the plan that works best for your situation. Those with children likely want a plan that creates a very usable ladder. However, if you need a quick ladder to use yourself, you can use a rope ladder (which is often more usable and cheaper).
Whatever plan you choose, follow the directions carefully. In several, some steps may look unimportant, but they are vital to the safety of the ladder.
---
Featured Image Credit: Lena De Fanti, unsplash