10 Best Portable Generators for Boat Use in 2023 – Reviews & Top Picks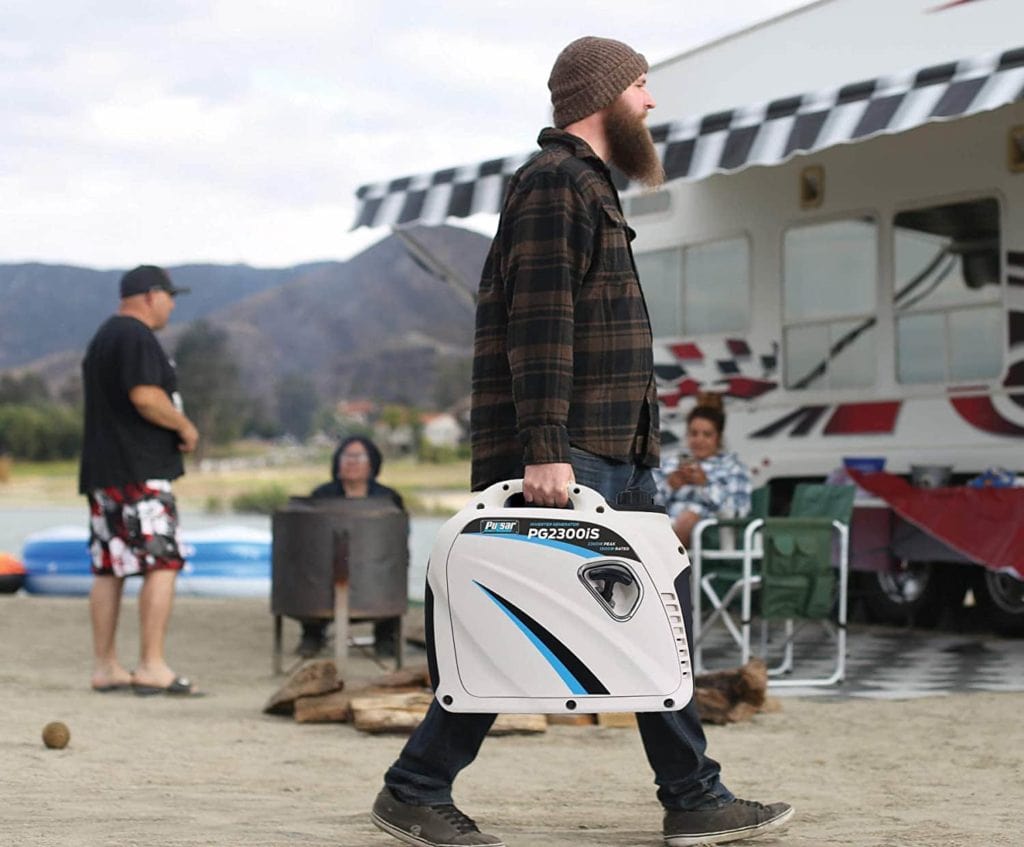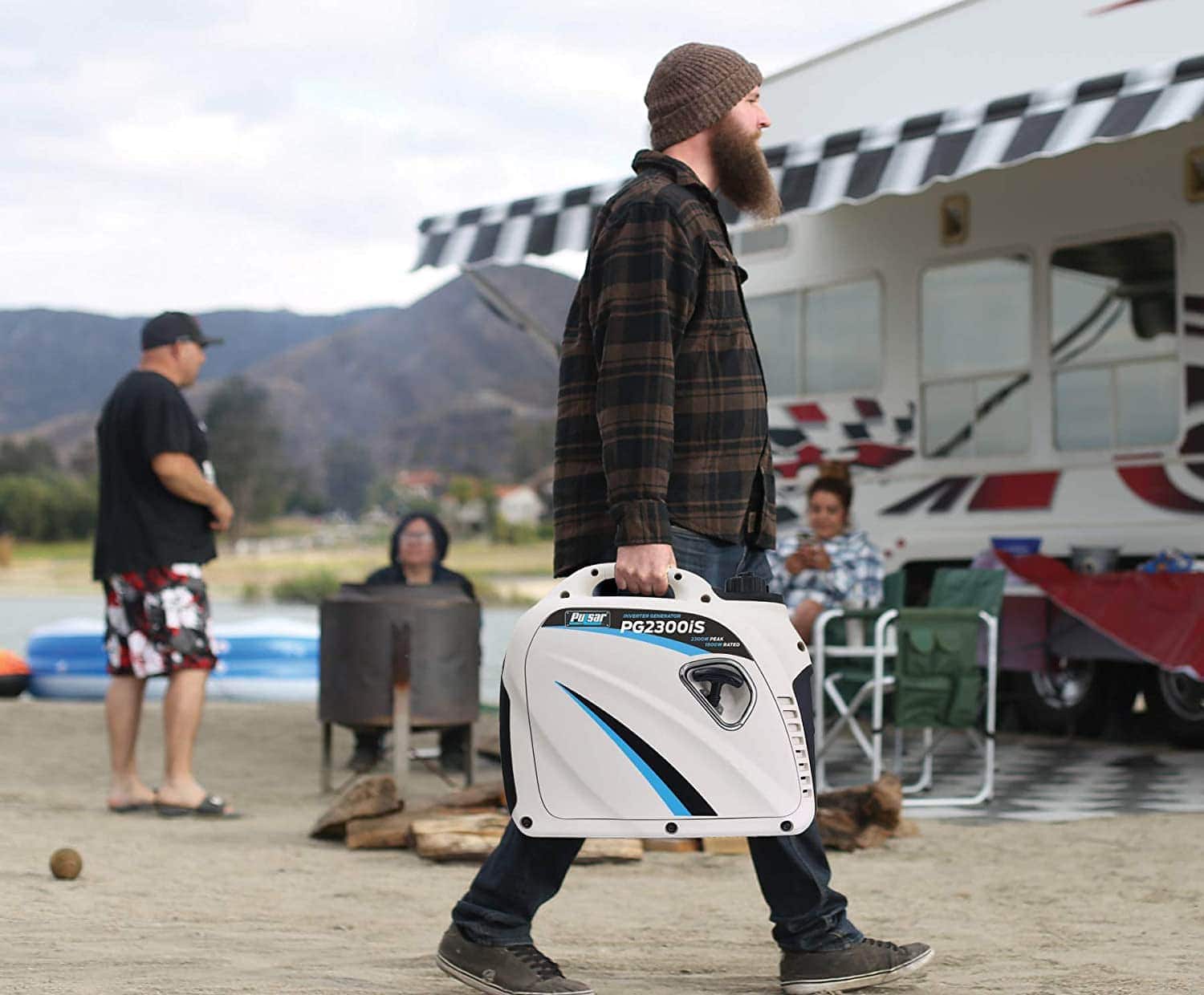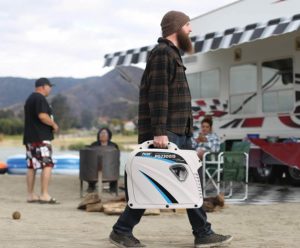 What if your entire boating experience could be ruined by a single item? When you go out on the water, one of the best accessories you can bring is a good portable generator. This helps to keep your various electronic devices charged, which can boost your safety and your quality of life on the open water.
However, finding a good generator is often easier said than done. If you're not careful, you might end up with a low-quality generator that can't keep up with your different devices. And what's the point of a portable generator if you can't trust its power and performance?
To help you find the best generator, we've put together reviews of some of the best generators on the market. Between our reviews and our buyer's guide, finding the best generator will be easier than ever!
---
A Quick Comparison of Our Favorites
Rating
Image
Product
Details

Best Overall

WEN 56200i Portable Inverter Generator

Versatile receptacles and ports
Powerful engine
EPA III and CARB compliant
CHECK PRICE

Best Value

Rockpals WCE001 Portable Generator

Lightweight
Versatile receptacles and ports
Short-circuit and overcharge protection
CHECK PRICE

Premium Choice

Honda EU2200i Portable Inverter Generator

Quiet design
Good power
Can double power with a second generator
CHECK PRICE

Durostar DS4000S Portable Generator

Strong power
Versatile outlets
Good fuel capacity
CHECK PRICE

A-iPower SUA2000iV Portable Inverter Generator

Good power output
Multiple outlets and port
Good runtime
CHECK PRICE
The 10 Best Portable Generators for Boat Use – Reviews 2023
1.

WEN 56200i Portable Inverter Generator – Best Overall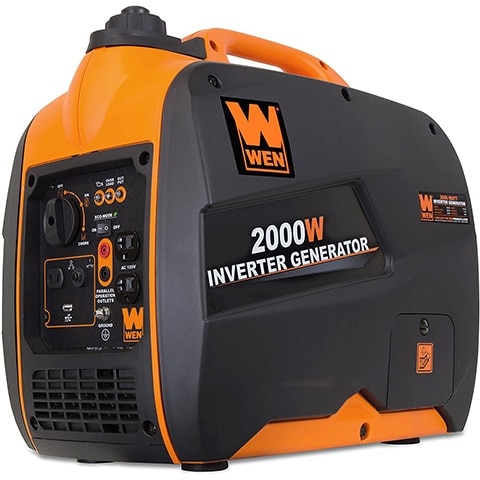 Chances are that you want to get back on the boat as quickly as possible. In that case, let's cut to the chase: if you're looking for the best overall portable generator, the WEN 56200i Portable Inverter Generator is our top choice.
We love the versatility of this generator. With the 5V USB port, 12V DC receptacle, and two 3-prong 120V receptacles, you can power just about anything. Speaking of power, you get a lot with the 79.7 cc four-stroke engine than can provide up to 2,000 surge watts and up to 1,600 rated watts, all while keeping you compliant with EPA III and CARB regulations.
Honestly, the only real issue with this generator is the height. At 18 inches, this may be a bit too tall for certain boats but it is still the best portable battery generator for boats we have reviewed this year.
Pros
Versatile receptacles and ports
Powerful engine
EPA III and CARB compliant
---
2.

Rockpals WCE001 Portable Generator – Best Value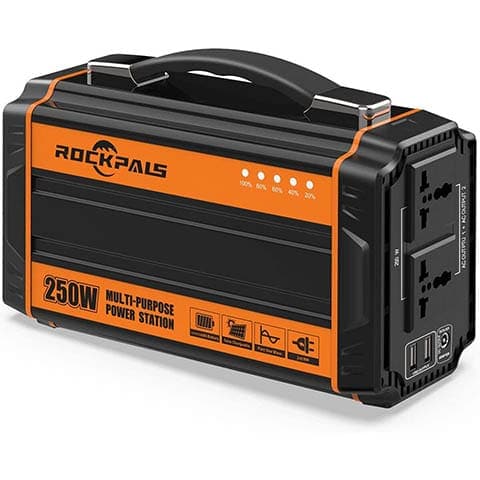 It's an open secret that boating is a very expensive hobby. It's good to save money whenever and wherever you can. And if you're looking for the best portable generators for boat use for the money, then you can't go wrong with the Rockpals WCE001 Portable Generator.
At only 5.5 pounds, this item puts the "portable" back in "portable generator." And you can charge plenty of items thanks to four DC 12-volt ports, two AC outputs, and two 5-volt USB ports. Your gear will be especially safe thanks to the short-circuit and overcharged protection on top of the built-in temperature control.
So, what keeps this from being our "best overall" choice? This generator sometimes has trouble charging Apple products. And you can't always run items while you charge them, which is bad if you were hoping to use your smartphone while it charged. Despite this we think its the best value boat generator on the market.
Pros
Lightweight
Versatile receptacles and ports
Short-circuit and overcharge protection
Temperature control
Cons
May not charge Apple products
You may not be able to charge and use items at the same time
---
3.

Honda EU2200i Portable Inverter Generator – Premium Choice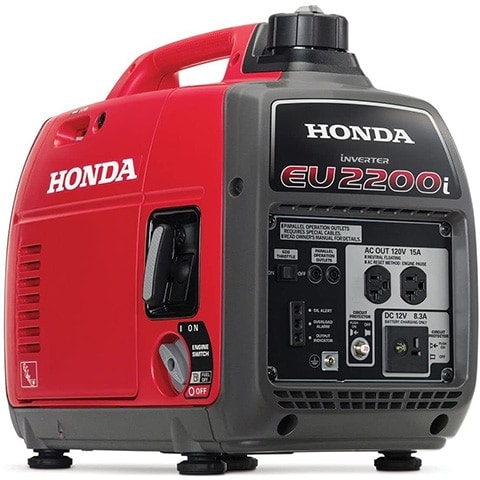 Sometimes, you want the best brand names that money can buy. Are you on the lookout for a truly premium brand of portable generator? In that case, we recommend the Honda EU2200i Portable Inverter Generator.
This is a surprisingly quiet generator, typically running between 48 to 57 dBA, although some users dispute this (see more below). And you get plenty of power thanks to 2,200 watts. If you need more power, you can actually use a special cable to attach two of these generators. Finally, we loved the fuel efficiency: a single gas of tank can get you 4.0 to 9.6 hours of use depending on the power load involved.
However, this premium choice isn't perfect. In this case, several users reported that it is louder than advertised. And you may need to buy a separate funnel to pour engine oil without making a mess.
Pros
Quiet design
Good power
Can double power with a second generator
Fuel-efficient
Cons
Too noisy for some users
Separate funnel may be required
---
4.

Durostar DS4000S Portable Generator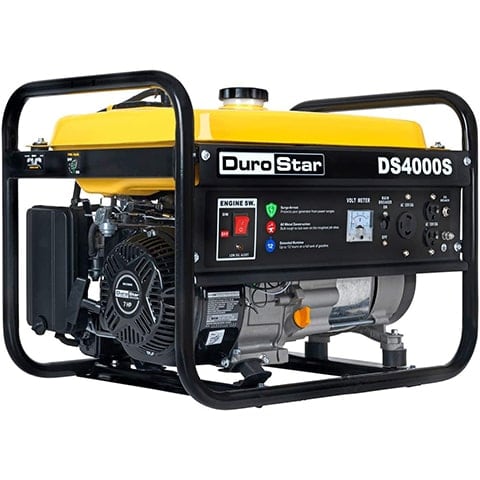 The Durostar DS4000S Portable Generator did not manage to crack our "top three" for portable generators. Nonetheless, this a solid model that is suitable for many of your boating needs.
With its 4,000 peak watts and 3,300 running watts, you get a lot of power from the 208cc OHV engine. You get several outlets here, including two 120V household outlets and a single 20V 30A twist lock outlet. The fuel capacity (3.96 gallons) is pretty solid and the entire thing is EPA and CARB compliant.
What's the catch? Some users report that the fuel gauge isn't very accurate. And others report that the pull-start mechanism can be difficult to get started.
Pros
Strong power
Versatile outlets
Good fuel capacity
Compliant design
Cons
Inaccurate fuel gauge
Difficult pull-start mechanism
---
5.

A-iPower SUA2000iV Portable Inverter Generator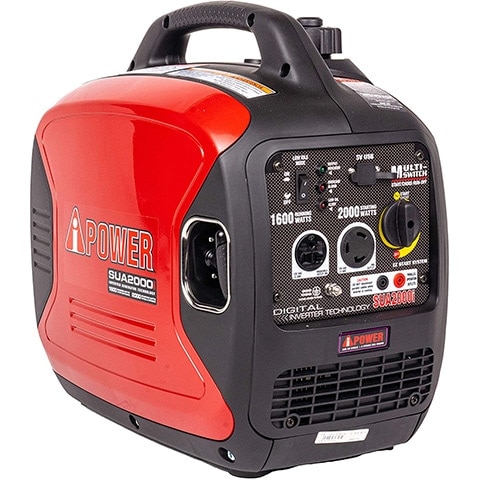 The A-iPower SUA2000iV Portable Inverter Generator was very nearly our choice for best premium portable generator. And depending on your needs, this particular generator may be a perfect pick for your next boating adventure.
The generator puts out 2,000 peak watts and 1,600 running watts which is good (though not great). You have plenty of power options thanks to the two 120-volt outlets as well as the 12-volt multi-function port. At 50% load, you can look forward to 9 hours of runtime, all while enjoying features such as built-in fuel gauge, indicator lights, and overload alarm.
As usual, there are a few downsides you should be aware of. As with most gas-powered generators, this is going to require more maintenance than a fully electrical model. And at 50 pounds, this might be a tad too heavy for service as a portable generator (though we liked the handles).
Pros
Good power output
Multiple outlets and port
Good runtime
Extra features like fuel gauge and indicator lights
Cons
Extra maintenance required
Very heavy
---
6.

Flashfish Portable Power Station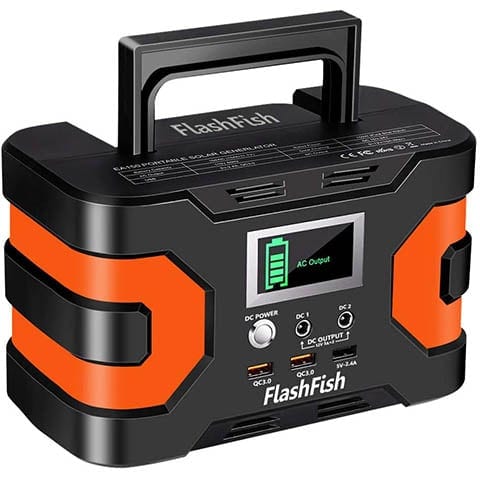 Still on the lookout for a good budget portable power generator? In that case, the Flashfish Portable Power Station may be worth a closer look.
On top of its solid price, this generator provides a reliable 150 watts of sine wave output. And at only 4.5 pounds, this portable generator is truly compact. And there are many power output options, including two 12-volt DC ports, two 110-volt AC outlets, and three USB ports (including two designed for double-speed quick charging). Finally, the LED screen is a perfect way to keep an eye on your generator's power and the power of your attached devices.
What's not to love? According to some users, it is difficult to return this product if it should malfunction. And some of the cooler accessories (like a solar panel to help recharge the generator) are sold separately.
Pros
Sine wave output
Lightweight and compact
Multiple power output options
Convenient LED screen
Cons
Difficult to return
Better accessories are sold separately
---
7.

Yamaha EF2000iSv2 Portable Generator

The Yamaha EF2000iSv2 Portable Generator is not as good as many of the models we tried. But it's not nearly the worst. Ultimately, this portable generator is strictly "middle of the road" in terms of quality and features.
There were some things we liked, including the 2,000-watt AC output and the quiet muffler that brings the noise down as low as 51.5 dBA when you're operating at 25% load. It's also CARB compliant, but there are a few things you need to watch out for.
Specifically, the oil spout is very difficult to access. This alone makes the oil very difficult to fill. And the generator must ideally be level during use–not a great option when you're out on the water!
Pros
Decent power
Quiet operation
CARB compliant
Cons
Oil spout difficult to reach
Must be level for optimal use
Difficult to fill the oil
---
8.

Rainier R2200i Portable Inverter Generator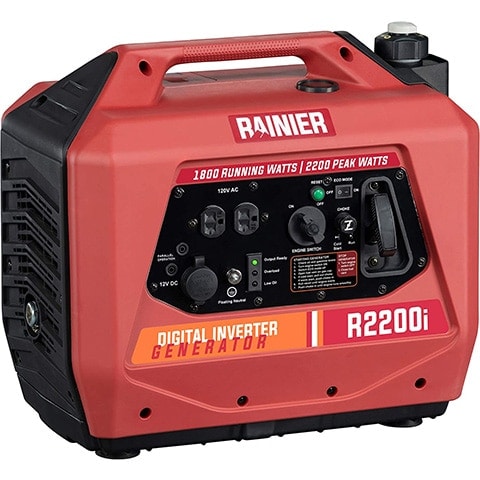 When it comes to our review roundup, there are always winners and losers. Unfortunately, the Rainier R2200i Portable Inverter Generator falls firmly in the "loser" category.
There are some things to like, including the 2,200 peak watts. You can get up to 13 hours of runtime from the 1.3-gallon fuel tank, and it's pretty quiet (as low as 52dBA). But there are quite a few issues to contend with.
The instruction manual is confusing and sometimes references other generators that don't exist. Additionally, it comes with nothing to help you check the oil levels or keep track of service intervals. Finally, some users report the manufacturer is slow to respond to customer concerns.
Pros
Decent power
Good runtime
Quiet
Cons
Bad instructions
No way to check oil out of the box
No way to track service intervals
Bad customer service
---
9.

Generac 6866 iQ2000 Inverter Generator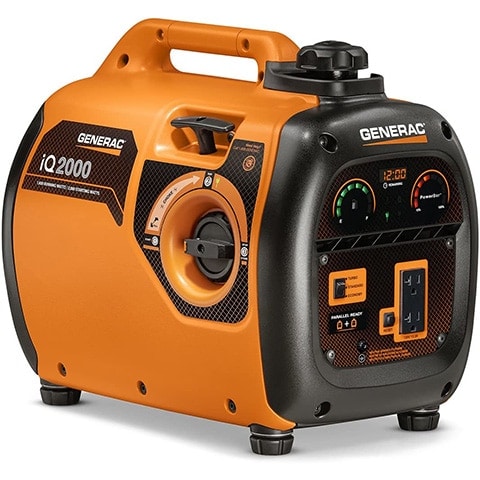 The Generac 6866 iQ2000 Inverter Generator is one of the most expensive generators on our list. You might expect solid performance and features for this price. Unfortunately, you may end up very disappointed!
The max AC output of 2,000 watts is good, if not great. And we liked the intuitive features such as the PowerBar and PowerDial. But many other features disappoint, especially at this price point.
Some users received generators that were broken or otherwise missing parts. The engine tends to sputter, and you can really smell the exhaust. Finally, it tends to stall out during use, especially prolonged use.
Pros
Decent power
Convenient PowerVar and PowerDial
Cons
May arrive damaged or broken
Engine sputters
Prone to stalling out
---
10.

AIPER Portable Power Station
The AIPER Portable Power Station sits at the bottom of our list. Unfortunately, that's not a coincidence: this is one of the worst portable generators for boating.
As usual, there were a few things we liked. That includes the lightweight (3.86 pounds) design and the 12-month "worry-free" warranty. But much of what is good about this generator is outweighed by its negative qualities.
The charge rate from the lithium-ion battery is fairly slow. And it shuts off after about 15 seconds of inactivity, which can be fairly annoying depending on the situation. On top of that, the LCD screen is quite fragile and the company offers poor customer service.
Pros
Lightweight
Good warranty
Cons
Slow charge rate
Shuts off too quickly
Fragile LCD screen
Bad customer service
---
Buyer's Guide – Choosing the Best Portable Generators for Boat Use
Thanks to our reviews, you might already be ready to snag the portable generator of your dreams. However, you may still have a few burning questions. And we're here to answer those questions as part of our in-depth buyer's guide.
Whether this is your first generator or you are a generator veteran, this buyer's guide will help answer your biggest questions. And once you've completed this guide, all that is left to do is hit that "order" button and wait for your new portable generator to arrive!
Preparing Your Generator
You might have used a portable generator for other hobbies such as camping. If that's the case, you might imagine that a portable generator for your boat is a real "plug and play" affair. In reality, there are a number of factors you need to consider when preparing your generator.
The biggest step is "marinizing" the generator. Don't worry: that's just a fancy word for making sure your generator is more suited for use on the water. For example, if you'll be operating in cold conditions, you may want to put lanocote or Tefgel on your fastener threads to keep them from freezing over.
Additionally, you may want to cover the generator exhaust area in rust-resistant, high-heat paint. This ensures that it will still look good after a few years of use.
The final step to marinizing your generator is putting some kind of soft seal on everything except the muffler. This helps to provide an additional layer of protection (quite literally) on the generator so that it can withstand almost any conditions.
Mounting the Generator
Shakespeare's Hamlet famously asked himself, "to be or not to be?" But before you go boating, you need to ask yourself a bigger question: to mount or not to mount?
On paper, the whole purpose of a "portable" generator is that it's…well…portable. Nonetheless, you might have an easier time accessing and using this generator if it is mounted in some way.
Generally speaking, we don't recommend permanently mounting the generator. Instead, you can non-permanently mount it to the deck for ease of access. Ideally, you should mount it in such a way that you minimize your exposure to any unwanted exhaust.
When you're done with the boating excursion, simply put the generator into storage. For more tips on how to do this, check out our storage recommendations below.
Grounding Your Generator
Some generators are designed to be grounded to the earth before you use them. You might think there is no way to use such a generator on a boat. But with a little ingenuity, you can make it happen!
If your boat needs this kind of grounding, you can simply plug it into a shore power connection on the boat. Before doing so, though, you need to make sure that both the generator and the boat in question support this feature.
For maximum ease of use, you can simply snag a generator that doesn't require grounding. And that's a good example of a feature that may well be worth paying a few extra bucks for!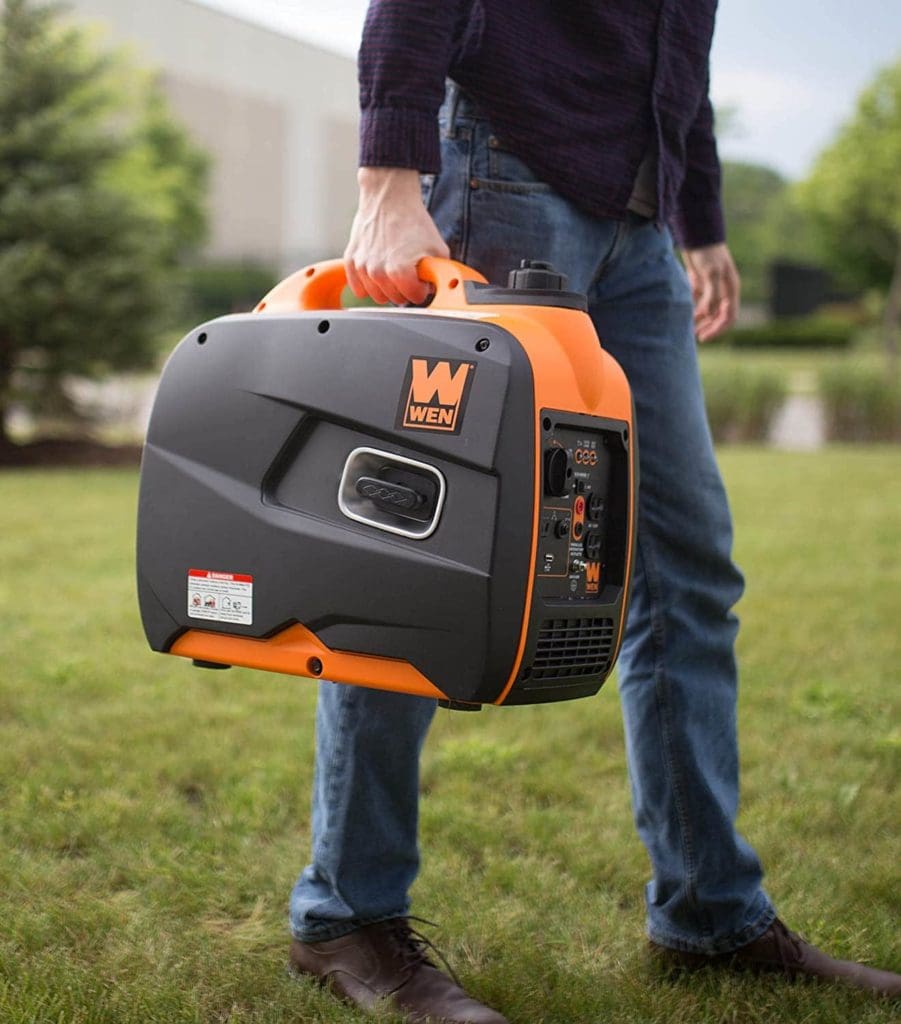 Fuel Considerations
Some portable generators run off of fuel. While this is a great way to provide additional power to the generator, it does bring a few major safety concerns for you to consider.
Never refuel your generator on the boat. In the event of an accident, you could cause serious damage to your boat, your body, or both. To minimize the chances of unwanted ignition, you can simply refuel the generator outside of your boat. This is easy enough considering that these things are portable!
Avoid using the generator in an enclosed space. When the generator is fueled up, you can technically run it anywhere on the boat. But some areas are more dangerous than others. If you use the generator near doors, hatches, windows, or vents, you might accidentally fill the cabin with carbon monoxide. And while a good carbon monoxide detector can mitigate this risk, it's good to play things safe from the beginning.
For added safety, be sure to inspect your generator for leaks before taking it out on the water. And make sure that you and all of your passengers understand the symptoms of carbon monoxide poisoning in the event that your detectors are faulty.
Safe Storage
A portable generator is great for a day or night out on the boat, but the generator was never designed to stay on the boat. When you're not using it, you must keep the generator in storage. And there are a few safety tips you need to follow when doing so.
Place the generator in a locker, and make sure the locker has been drained beforehand. Additionally, the locker should be free of any other anchors, tools, mooring pins, and especially fuel. If you put the generator in a locker crowded with these items, then all it takes is a single spark to start a catastrophic fire.
One of the goals of this storage method is to protect your generator from moisture when it's not in use. But you can take a few easy steps to protect the generator during use as well. This includes building cowling to protect the generator from the water and using rubber mounts for additional protection.
Getting Enough Power
One topic that our reviews frequently touched on was the power output of the different generators. But do you know why this output is so important and how to identify the amount of power that you really need?
It all comes down, of course, to what you are trying to power. If you mostly want to charge phones, tablets, and computers, then a generator with an output of anywhere between 1,600 and 1,800 watts should do the trick. But if you're hoping to power something larger (like major appliances), you may want a generator with an output of at least 2,200 watts.
While we're at it, don't forget a simple rule: all of those little devices add up. While a single phone or laptop doesn't require much juice, attaching several items to your generator all at once will create a larger drain on your power. If you expect to plug in many different items all at once, it's safest to go with something that has enough power.
Better to have too much power and not need it than to need extra power and not have it!

Conclusion
Ready to buy your next portable generator for boat use? We hope that our reviews and our buyer's guide has made your decision easier. If you're still on the fence, though, we may be able to help you out by answering a final question: which were the generators that we liked the best?
When it comes to the best overall choice, we went with the WEN 56200i Portable Inverter Generator. It's perfect for your next boat outing, and is also a real game-changer when it comes to camping.
Are you boating on a budget? The Rockpals WCE001 Portable Generator is a great choice for any budget, and it performs as well as many more expensive options.
But just as different boats call out to different handymen, different generators may be more suitable to your needs. Only you can decide which generator will help power your next outing. But between our reviews and our buyer's guide, you can rest assured that you'll ultimately make the right choice!
Related Reads: