7 DIY Composting Toilet Plans You Can Make Today (With Pictures)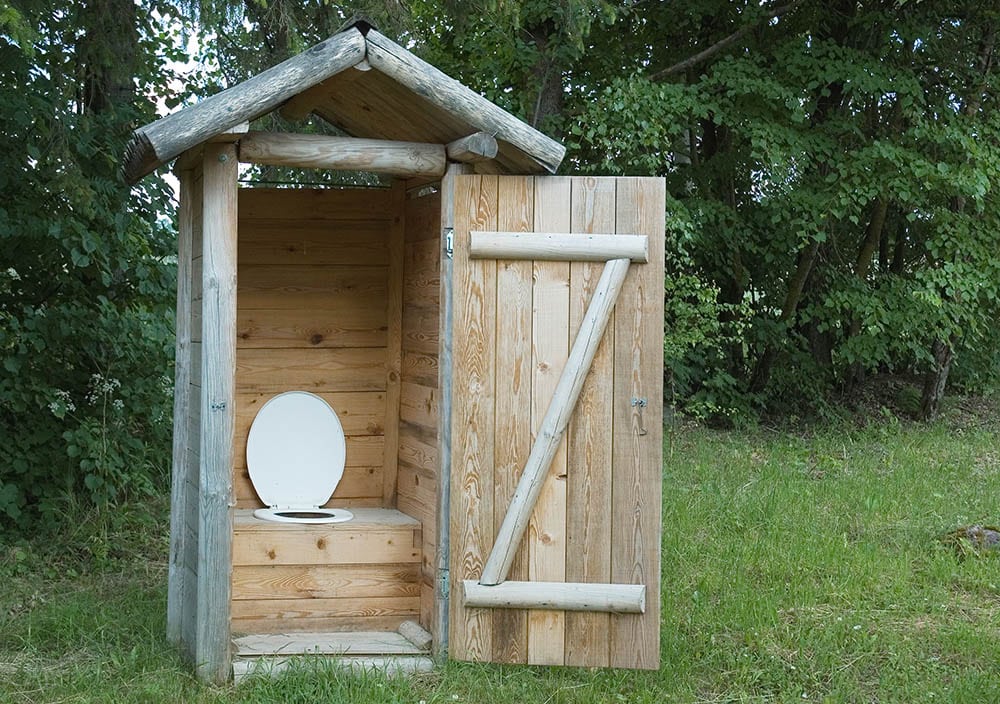 Although there are many composting toilets you can purchase and install in your home, making your own is a great option too. Not only will you be able to enjoy the satisfaction of a job well done, but it is better for the environment.
Of course, it's important that you know how to build a functional composting toilet, or else you could have a messy and smelly situation on your hands. Whether you are looking for a portable compost toilet or a composting outhouse, we have the plans for you.
Read on to learn how to build a composting toilet today.

The 7 DIY Composting Toilet Plans
1.

Journey Home Made DIY Composting Toilet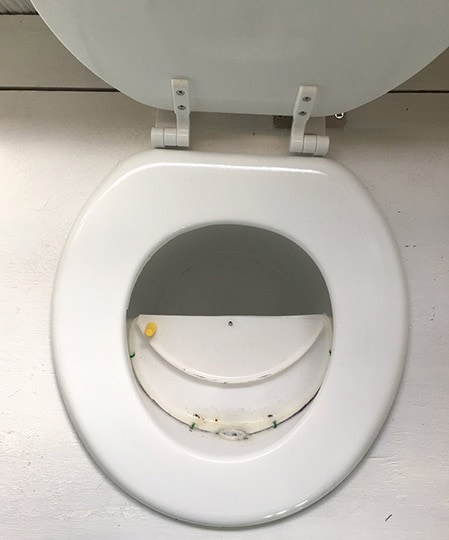 | | |
| --- | --- |
| Materials: | 2 large buckets, garden hose, plumbing hardware |
| Tools: | Cotter pins, zip ties, silicon chalk, rubber washer, screw, snob |
| Difficulty Level: | Beginner |
Journey Home Made offers a step-by-step guide for building your own DIY composting toilet. The instructions are very simple, and it does not require any fancy tools or materials to get started. This is a super beginner-friendly plan that you can make today.
Even though the materials themselves are unattractive, you can easily make this composting toilet look attractive in your bathroom. In fact, the last picture of the plan shows exactly how this composting toilet looks in the author's bathroom. It is very attractive and modern looking.
---
2.

How To Specialist Simple Outhouse
| | |
| --- | --- |
| Materials: | Lumber, plywood, paint, glue |
| Tools: | Screws, brad nails, hammer, tape measure, framing square, level, saw, drill, screwdriver, sander, safety gloves, safety glasses |
| Difficulty Level: | Intermediate |
How To Specialist gives very thorough and professional plans for a simple outhouse. An outhouse is essentially the most basic form of a composting toilet. If you want an outside option, this is the plan for you.
These plans do require some carpentry skills, but you do not need a ton of experience. The plan shows real-life pictures, animated graphs, and written instructions to ensure anyone can build this simple outhouse.
---
3.

Free Range Designs Compost Toilet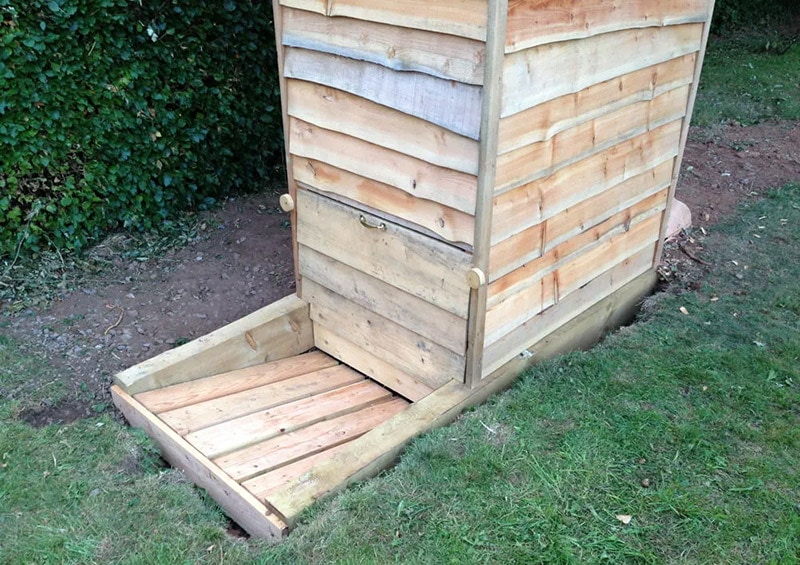 | | |
| --- | --- |
| Materials: | Lumber, buckets (depends on plan) |
| Tools: | Depends on the plan |
| Difficulty Level: | Intermediate |
Free Range Designs offers various compost toilet plans that you can purchase. These plans are some of the most extensive and result in the most professional-looking compost toilet final results.
There are multiple designs to pick from, ranging from a full-size outhouse to a small bucket toilet you can install in your bathroom. Although these plans cost money, they are some of the best online—do not overlook these plans just because they aren't free.
Because of how extensive the paid plans are, they are suitable for both beginners and experts alike. Beginners can use the plans to create a fantastic compost toilet without much effort.
---
4.

Permaculture Vermicomposting Flush Toilet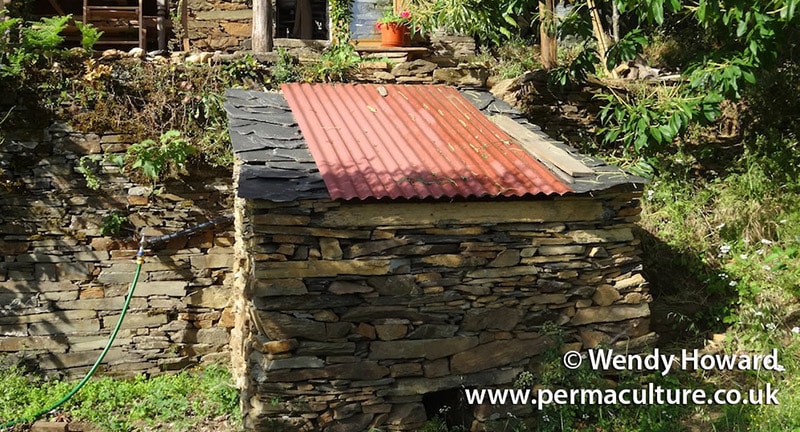 | | |
| --- | --- |
| Materials: | Worm composting bin, filter bed, etc. |
| Tools: | Old hen house, vermiculture container, many small items |
| Difficulty Level: | Expert |
This Vermicomposting Flush Toilet utilizes composting with the use of worms to create an environmentally friendly toilet. In this plan, an old hen coop is converted into an attractive outhouse toilet where nothing is wasted.
One downside of this plan is that it does not give extensive instructions about what you need to do. Instead, it gives more of an overview of the Permaculture composting flush toilet. In the question section at the end, the writer answers more specific questions related to making and maintaining this toilet.
Because it does not include step-by-step instructions and requires some vermiculture experience, this plan is more suited for experts with experience in building and vermiculture.
---
5.

Rural Sprout Compost Toilet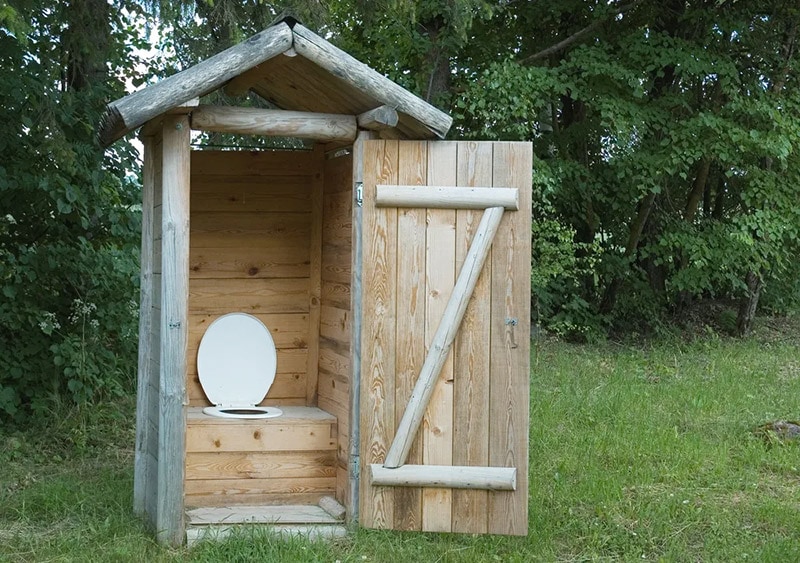 | | |
| --- | --- |
| Materials: | Depends on variation |
| Tools: | Depends on variation |
| Difficulty Level: | Beginner to Expert |
Rural Sprout offers one of the most attractive and rustic-looking compost toilets. It is a great choice if you want a separate outhouse that still has all of the advantages of modern composting toilets.
The article is unique because it provides you with different options, based on your experience level and skills. For example, it gives tips for purchasing a premade compost toilet, as well as instructions for building a full-on compost outhouse.
The article also provides tips for maintaining compost toilets, further making this plan suitable for beginners. Basically, any question you may have about compost toilets is answered here.
---
6.

Tiny House Blog Portable Composting Toilet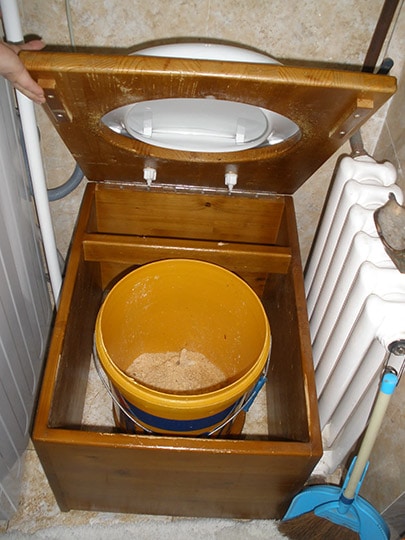 | | |
| --- | --- |
| Materials: | Not listed |
| Tools: | Not listed |
| Difficulty Level: | Intermediate |
Tiny House Blog offers a portable composting toilet to make for under $50. As a result, this is one of the best options for RVers, campers, and those who love to be on the go. It uses the Humanure (human + manure) System.
It's important to note that this blog isn't responsible for making the plan. Instead, it gives you some information about The Humanure Handbook system, which is a book this blogger used to create their own composting toilet. Using this book, they created a composting toilet for under $50.
To get started, you will have to purchase the book, but the book comes with a physical copy and a PDF download. Many composters have noted that this is the book you need if you want to get started in composting. There are also a lot of videos and other resources related to the handbook to help you create your toilet.
---
7.

Growseed Blog Compost Tumbler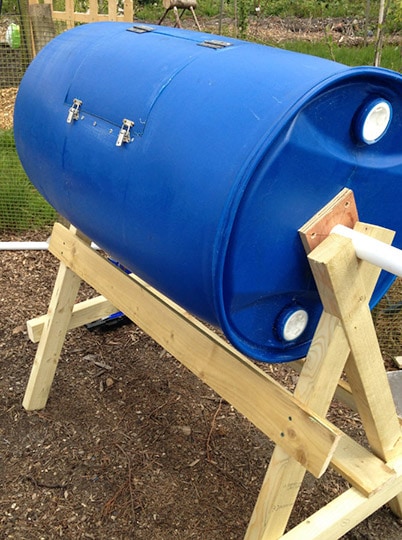 | | |
| --- | --- |
| Materials: | Plastic drum, pipe, plywood, pallets, lumber |
| Tools: | Screws, saw, drill, marker |
| Difficulty Level: | Beginner |
This Compost Tumbler is not exactly a toilet, but you can use it in junction with a compost toilet. All you would need to do is have a separate space to go to the bathroom and bring the waste to this DIY compost tumbler in order for it to decompose and turn into compost.
The tumbler is very easy to make, and the instructions are extremely thorough. The instructions include written out directions, as well as multiple pictures for every step in the process. It is inexpensive and suitable for beginners.

How To Make A Composting Toilet Not Smell
Whenever composting toilets are built and used correctly, they should not smell. However, there may be times when the smell is slightly noticeable. Other times, you might just want a pleasant smell, as opposed to a neutral one. Either way, there are things you can do to make your composting toilet smell better.
If your composting toilet smells really bad frequently, it likely is because you are not using enough carbon-rich material. Use more sawdust with every use, and you will see that the smell goes away on its own.
Many compost toilet users recommend adding coffee grinds to the toilet too. This will make the bathroom smell really nice, and it utilizes your leftover coffee grinds. This option is good if you just want to make your bathroom smell better.

Conclusion
Hopefully, our list of plans has helped you find the perfect composting toilet for your needs. What are you waiting for? Get to building your own composting toilet today to help make a better future for tomorrow!
---
Featured Image Credit: zvirgzds, Shutterstock