11 Free Beginner Woodworking Projects that are Easy & Simple
One of the hardest things about getting started on a woodworking hobby is knowing what to build first. It's like an art student who sits down at a blank piece of paper and is stuck immediately on what first to try to draw. It's that first step that is the hardest to take.
We've found a nice selection of projects that are excellent for beginners. Some are a little more difficult than others, others look a lot more complicated than they are. They range from a bed frame to gift boxes to a bathtub caddy. We looked for projects that aren't just easy but that provide some immediate satisfaction after you're finished.

11 Free Beginner Woodworking Projects
1.

Modern platform bed plan from Shanty-2-Chic
While it might sound like you're starting with something that is really hard to build, in reality, bed frames can be pretty simple and ideal for beginners. Building one not only gives you a bed frame for great savings compared to what you'd pay in stores, but it also gives you a sense of accomplishment.
The instructions at shanty-2-chic are simple enough to follow and come with a complete set of necessary hardware. No matter your skill level, sticking close to instructions when building a bed frame is a good idea.
---
2.

Wedding wine box plan from Rogue Engineer
Although touted as a gift for weddings, this is a great idea for any time you give the gift of wine to someone, from birthdays to Christmas. It adds a layer of sophistication and gives you a chance to show off your woodworking skills. You can also build them for decorations around the house once you've got the hang of it.
The instructions are as complete as you'd expect from a website called rogueengineer. There are detailed schematics and instructions on what nails to use for what joint. There's no need to feel intimidated by the idea of building a gift box.
---
3.

DIY modern chair plan from Cherished Bliss
This is another piece of furniture that looks a lot more complicated to build than it really is. The most difficult part of this project is just getting the self-confidence to start putting it together. Of course, you'll want to build several of them so that you've got a set to sit in.
The instructions aren't at cherishedbliss. They're available at the click of an embedded link. What is included is a full list of hardware, materials, and tools necessary to build them. Don't forget the cushions for your seat and back.
---
4.

Modern tablet stand plan from HGTV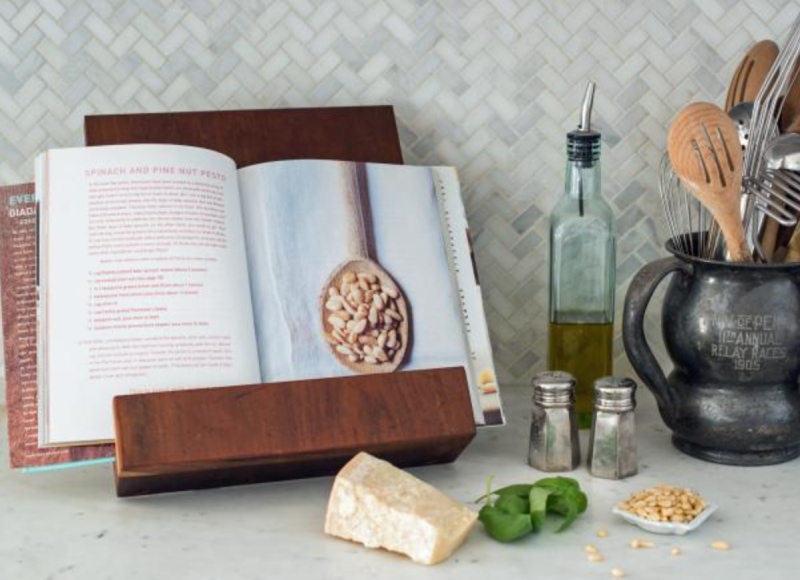 Everyone has run into the problem of, when trying to follow a recipe, of the book folding up and losing your place. This combination cookbook/tablet holder takes care of that, giving you something that will keep your place while you're making that perfect crock of soup.
This is a really easy project for beginners and has a lot of utility right off. You can find the instructions at hgtv. Don't be afraid to freelance when it comes to staining it at the end.
---
5.

Modern wine rack frame plan from Kendall-Jackson
This might be the easiest project on this entire list. Given what it is, it also has the highest return in terms of sophistication. As long as you have enough wine bottles to put in it. It's a great addition to your kitchen decoration scheme.
There are two basic things you need for this project: Really big spikes and a flat piece of wood. Of course, you'll want some tools to make sure that it just doesn't look like a piece of wood with nails driven through it. But you can find it all at kj, the official website of the Kendall-Jackson wine line.
---
6.

DIY tree swing plan from Momtastic
This swing is a lot easier than it looks. It's really just about drilling holes where you need them to be and to get them wide enough to accommodate the rope you have. Then, it's just hanging from a tree branch sturdy enough to bear the weight and finding a perfect afternoon to use it.
Momtastic has just the instructions you need to build this. It includes them not just written out, but also photos so you know what it's supposed to look like at every step. Just make sure that you get a rope that's thick enough for the job.
---
7.

Wooden couch caddy plan from A Beautiful Mess
This is another simple woodworking project that delivers big results almost right off. Spilled coffee, soda, and beer will be a thing of bad memories once this is in place. It also comes with a little hard surface behind it so you can do a crossword puzzle while sipping your favorite beverage.
Most important in the instructions are getting the dimensions of your couch armrest correct. Too wide and it'll still slide over. Too narrow and it won't fit. So, be sure to carefully read the instructions before you start to freelance your own ideas.
---
8.

Bath caddy plan from It All Started with Paint
Although this is a really simple project, it delivers in terms of convenience when you want it most, when you're luxuriating in a nice warm bath. It's got space for candles, flowers and things you need to get the most out of your bath time. Just don't put a radio or anything else with a power cord on it.
This might look like you don't need instructions for this, but it's probably a good idea to make sure that you've got it right so that you don't have things slipping into the tub with you. So, make sure you check them out.
---
9.

DIY bird feeder plan from 100 Things to Do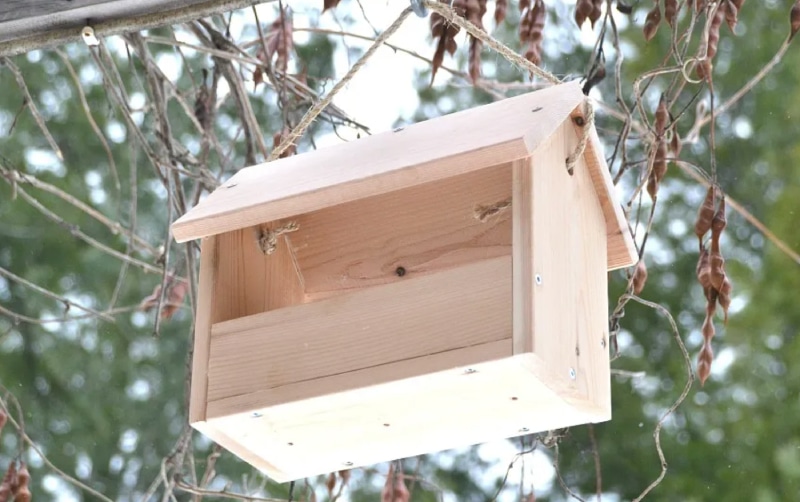 No list of beginner woodworking projects would be complete without a bird feeder. These are a staple of kids' arts and crafts classes and give you a great way to learn how to work with wood while also doing something that can bring the family delight watching our fine feathered friends have a wintertime meal.
There a plans all over the Internet for bird feeders, which you can find on its own dedicated search. We like these plans as sufficiently simple for a beginner. If you enjoy building this, consider your success encouragement in building new, interesting designs.
---
10.

DIY pet bed plan from Prodigal Pieces
Up the list, we included plans for you to build your own bed frame. Now, it's time for Rover to get something out of your newfound passion for woodworking. Give him, or any of your pets, a comfortable place to lay their heads. They'll know you appreciate and care about them, and you'll have a lot of fun putting it together.
This project is building a frame large enough to accommodate a nice comfortable body pillow. You'll still want to read the instructions and follow them because you want to get the measurements right and know best how to build it so that it doesn't fall apart.
This list of DIY dog beds is also a good place to start.
---
11.

Shoe organizer plan from Family Handyman
Everyone needs something to keep their shoes off the ground and organized. That way you don't lose them or trip over them and can find them when you need them quickly. This project is a good challenge for a beginner woodworker because it involves working with angles. It's also kept in the closet so you can hide your mistakes from guests.
The instructions are here. They include a complete list of necessary hardware and materials to build your shoe organizer. The great thing is that when you've done one, it's easier to build two, or even one for every closet in the house.
---
So that was the post for this week guys. I was really close to adding a few more projects such as an outdoor slingshot, or a very simple pool table that TheHomeDweller showed me. However, I had to prioritize when it came to this list, and decided that the aforementioned was too hard for a beginner.