15 DIY File Cabinet Plans You Can Build Today (with Pictures)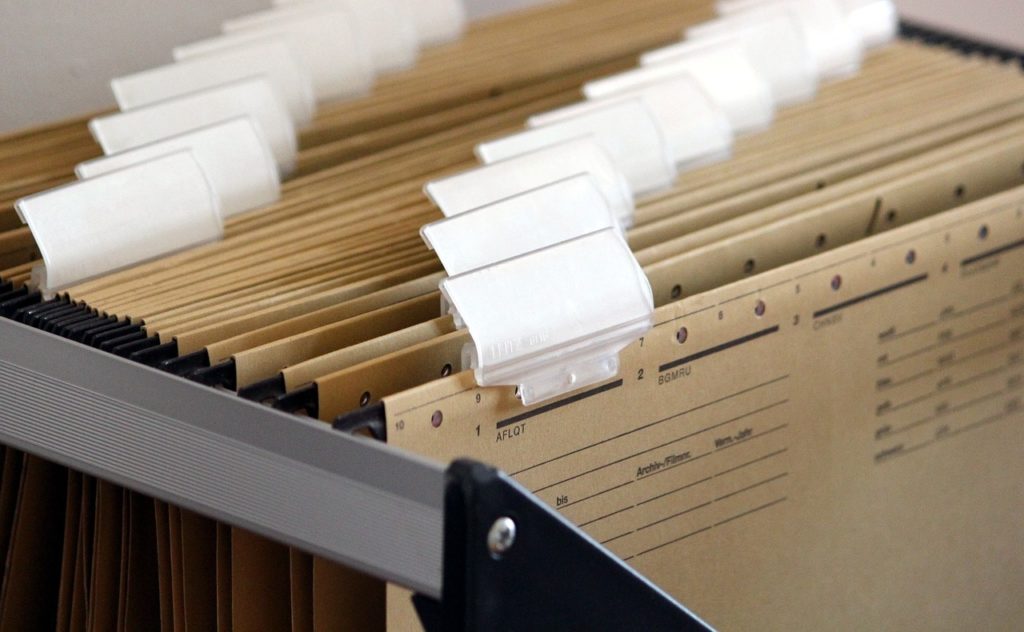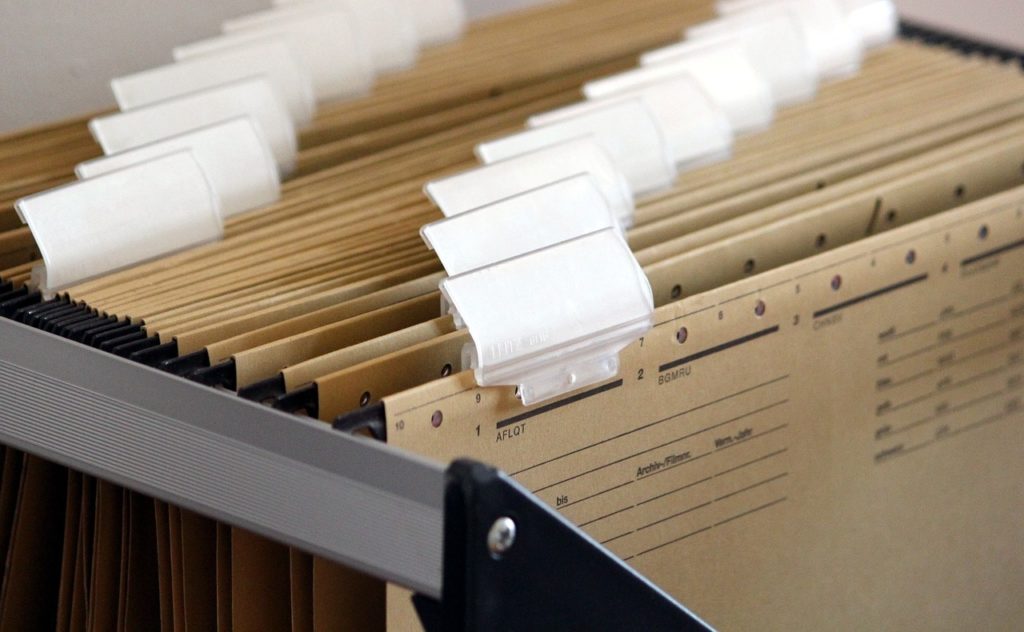 More and more of us are being asked to work from home: a trend that looks set to continue through this year and beyond. Rather than using the kitchen table as a desk and cardboard boxes for storing important work files, now is the time to convert a home office space and introduce practical and purpose-built furniture. But that doesn't mean you have to spend a fortune or give your home a utilitarian office look.
Below, we have included 15 plans that will teach you how to build a filing cabinet including ideas for repurposing, and refurbishing existing file cabinets. As ever, you can get the best results by modifying one of these designs, or combining features from two or three of them, to create a functional and attractive piece of furniture.

The 15 DIY File Cabinet Plans
1.

Trunk Home Filing System
The toy chest, blanket chest, linen trunk. They're different names for basically the same thing, and they can all be converted easily into a home filing system. In this case, the file cabinet uses a hanging rack system so that you can hang your files up and slide them along the tracks. The plans also suggest using different colors of file holder so that you can more easily sort and retrieve the files.
---
2.

Pallet Wood Printer and File Cabinet Stand
There are plenty of items in the home office that will need a new home. You can create all kinds of pallet desks, including built-on and even modular designs. This particular DIY design uses reclaimed pallets to make what is basically a short file cabinet. The flat and sturdy top is great for standing your printer, too, which means that you can keep your paperwork next to the printer that produces it.
---
3.

Rustic DIY Filing Cabinet
This rustic DIY filing cabinet has a unique finish. The upright folder drawers are numbered and the whole thing uses reclaimed wood, but you could use precise cuts and finish it with a stain or other paint for something a little more modern. It is a tall and narrow design, which may be very beneficial in a lot of people's makeshift home office spaces.
---
4.

DIY Wood File Cabinet Plans
The designs of these DIY wood file cabinet plans have an almost Tudor appearance. They are quite small, but they have ample room to hold a few files. If you need solid, reliable, dedicated storage for a small amount of work, these plans are more beneficial than giant four-story filing cabinets that will remain half empty.
---
5.

Repurposed Coffee Table File Cabinet
If you use a laptop, or you sit in the living room to do most of your work, then why not repurpose a coffee table as an effective and efficient file cabinet design? This upcycling project has individual drawers for each file, but you could play with the design yourself and use this for inspiration.
---
6.

Kitchen Cabinet Hanging File Drawer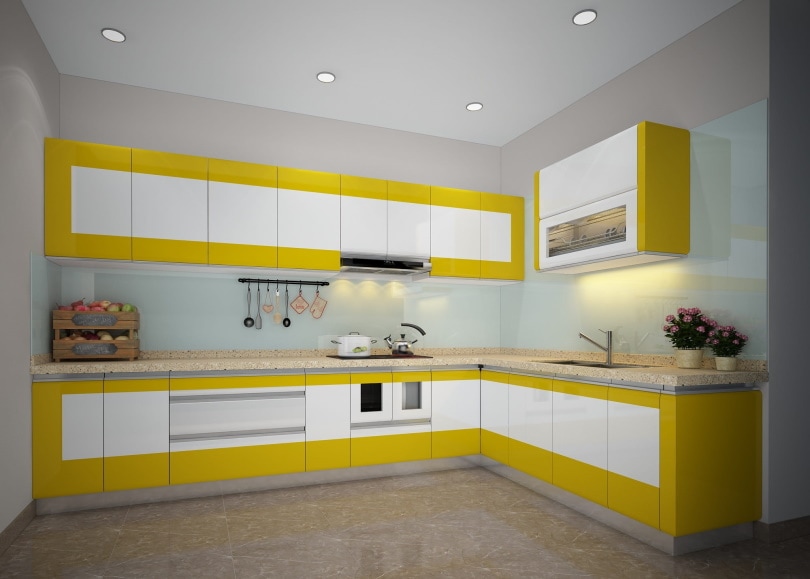 Many of us have found ourselves lacking home office space. If you're devoid of space under the stairs and have no cubby in which to locate the tools of your trade, you may well find yourself at the kitchen table, in among the coffee cups and potato peelings. This kitchen cabinet hanging file drawer is brilliantly disguised as a kitchen unit. Once open, it gives you easy access to your required paperwork.
---
7.

Plywood File Cabinet
This file cabinet plan starts from scratch, uses inexpensive plywood, and can, according to the creator, be used as part of a modular desk design, as well as working well as a standalone file cabinet. The design includes measurements, but you can alter these to match your own needs and to ensure that the cabinet fits neatly into its ideal spot.
---
8.

Built-In File Cabinets
Working from home is likely to become the new norm for a lot of us, so there's nothing stopping you from having built-in desks and, as in this case, a built-in file cabinet. This plan is for a large file cabinet drawer and it can be built anywhere that you will be doing your work from home, or it can fit into the hallway or other available space.
---
9.

Filing Cabinet Project
This lateral file cabinet has plenty of room for paperwork and documents. It would look good in a dedicated home office, and with a few modifications and the right choice of ornaments, would look good in any room of the house.
---
10.

Mail Sorting And Handling Console
The mail sorting and handling console is another piece of home office furniture that serves multiple purposes. It's another piece that looks ideal as home furniture because its design belies its purpose. It has a built-in shredder for secure file disposal. There are several file cabinet drawers as well as additional drawers for stamps and other stationery. It's a great way to keep everything in one place when you don't necessarily all of your paper and pens out on display, and certainly not your old paperwork.
---
11.

Faux Zinc File Cabinet Finish
This is another plan for those that have an existing metal file cabinet but that want to do something a little different with it. In this case, adding a layer of primer and then black paint, and finally dabbing some metallic silver paint on the cabinet, gives a zinc look to the finished item. This plan utilizes a short file cabinet, but there is nothing to stop you from using a tall cabinet or any other piece of metal furniture to get the same result.
---
12.

Painted Filing Cabinet Transformation
The zinc cabinet looks great, but it does take several layers of paint and it may take some practice before you get the cabinet looking great. Much easier is this plan to paint an old metal filing cabinet. While it is easier, it still breathes a fresh lease of life into the cabinet so that it can stand as a feature, rather than an eyesore.
---
13.

Repurposed File Cabinet
If you have a filing cabinet already, but you don't appreciate the way the industrial metal looks in your home office, these plans show you how to repurpose the cabinet. The front, sides, and top are covered in reclaimed wood. The file cabinet retains its functionality while enjoying an improved design and better looks. Between the metal cabinet and the wood shell, it is going to be a very heavy cabinet.
---
14.

Rust Effect Metal Cabinet
With the right paint, you can take on any project and turn any old item into something stunning. This rust effect metal cabinet uses chalk paints to bring a retro, antique style to something just old and ugly beforehand. It does, of course, rely on you having an old metal filing cabinet, or finding one in a thrift or second-hand store.
---
15.

Transformed Metal File Cabinet
This refurbishment does require that you have a metal cabinet. It combines the shell of the cabinet with some reclaimed wooden fruit crates, although you could make your own crates. The crates slide in and out, and they are used to hold hanging file containers. This design doesn't hide your paperwork and files out of the way, but it certainly improves the look of them. If you can find some way to upcycle the old drawers, too, then all the better.

File Cabinet Plans You Can Build Today
More and more people are working from home, and it is becoming the new norm for many of us. Whether you have the benefit of a dedicated home office, or you have to adapt somewhere like the cubby under the stairs or the kitchen table to become your place of work, you will need storage and other furniture. Above, we have included designs to help you learn how to build a file cabinet including plans that utilize reclaimed wood, and those using existing file cabinets.
You might also be interested in: 11 Free DIY Wood Gun Cabinet Plans You Can Make Today
---
Featured Image Credit: Pixabay