How to Position an Area Rug in a Bedroom: 11 Tips and Tricks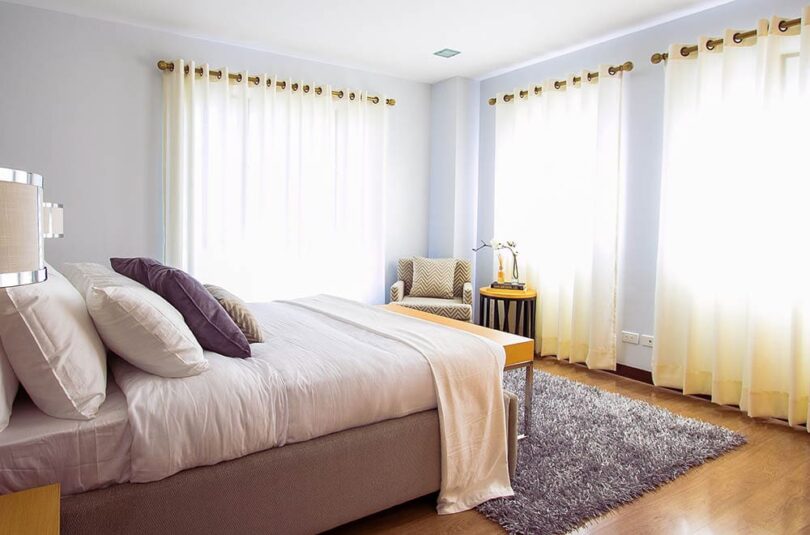 Wall-to-wall carpeting is a common sight in millions of homes, covering floors that, in many cases, are bare plywood and thus not very comfortable or attractive. However, a house with gorgeous wood floors has an easier, appealing, and convenient alternative: area rugs. Area rugs are superior in several ways to wall-to-wall carpeting. For one thing, you can easily clean them, and if you get bored with them, area rugs are easy to remove.
One question many folks have about area rugs is the best place to position them on the floor, especially in the bedroom. While they might be infinitely moveable, some worry that they aren't getting the full value of their area rug due to poor placement on their bedroom floor. To help, we've gathered 11 tips and tricks to position an area rug in your boudoir.

The 11 Tips to Position an Area Rug in a Bedroom
1.

If It's Big, Place Your Area Rug Under your Bed
| | |
| --- | --- |
| Materials | Large area rug |
| Tools | N/A |
| Difficulty Level | Low to moderate |
Area rugs come in many sizes, from only a few square feet to massive area rugs that take up most of the floor (even in a big bedroom). If you have a large or extra-large area rug, a common position on your bedroom floor is directly under your bed, with your bed centered on top. That way, the room looks balanced and in the correct proportions.
More importantly, if two people share the bed, both will have a nice, soft rug to step onto in the morning when they wake up. For a king-size bed, experts recommend getting a 12-foot by 15-foot (3.6 meters by 4.6 meters) area rug. Anything smaller, they say, will be too narrow for the entire bed. A 9-foot by 12-foot area rug is recommended for a queen-size bed; the smaller the bed, the smaller the area rug can be.
---
2.

If It's Small, Place Your Area Rug Beside your Bed
| | |
| --- | --- |
| Materials | Small area rug |
| Tools | N/A |
| Difficulty Level | Low |
Large area rugs for a double, queen, or king-sized bed come with a hefty price tag. If you're not willing or able to get an area rug large enough to do that, a smaller one placed at the side of the bed will work just as well. If two people are using the bed, you should consider getting two small area rugs.
---
3.

Use a Longer "Runner" Area Rug at the Side of the Bed
| | |
| --- | --- |
| Materials | Long, thin area rug(s) |
| Tools | N/A |
| Difficulty Level | Low |
If you're going with smaller area rugs in your bedroom, consider getting long area rugs that act as "runners." These carpets are long and narrow, so they run the length of your bed (thus the name). Of course, two area rug runners will be necessary for two people. You might also consider ordering a custom area rug so that it fits next to your bed perfectly.
---
4.

Bigger Is Usually Better When It Comes to Area Rugs
| | |
| --- | --- |
| Materials | Large area rug |
| Tools | N/A |
| Difficulty Level | Low to moderate |
We've talked about "balancing" your bedroom with an area rug, which means everything looks more or less equal all around. To get that balance, it helps to have a larger area rug so that furniture doesn't appear to be "falling off" the edge of the carpet. It is crucial to have a rug that's big enough to handle all the furniture you plan to put on it. A rug that extends further than your furniture is the best choice.
---
5.

Put an Area Rug in Your Bedroom's Seating Area
| | |
| --- | --- |
| Materials | Area rug |
| Tools | N/A |
| Difficulty Level | Low |
If you're lucky enough to have a big bedroom with a dedicated seating area, placing an area rug is the way to go. Martha Stewart, the home and garden celebrity maven, advises that any reading area, nook, or corner desk should have its own area rug. It makes the space more comfortable, cozy, and enticing. It doesn't need to be big but should be big enough to fit any seats, side tables, and other items you want in your nook.
---
6.

Place Small Area Rugs Throughout Your Bedroom
| | |
| --- | --- |
| Materials | Several small area rugs |
| Tools | N/A |
| Difficulty Level | Low |
What's better than one area rug in your bedroom? Multiple area rugs in your bedroom! This brilliant tip involves placing an area rug wherever you have separate spaces, like the reading nook. For example, an area rug underneath is charming and cozy if you have a makeup vanity. You can place area rugs under dressers, a desk and chair, and even under a large, freestanding mirror. A round area rug under a standing mirror would be perfect!
---
7.

Don't Sit Nightstands on Your Area Rug
| | |
| --- | --- |
| Materials | N/A |
| Tools | N/A |
| Difficulty Level | Low |
One tip we've seen if you plan to put your area rug under your bed is to place it so that your nightstands won't sit on it. That keeps them level on the floor and gives you more area rug sticking out on the foot end of the bed. That, in turn, allows you to see and enjoy more of your beautiful area rug. If your carpet is big enough, the front end of the nightstand can sit on it, but make sure to place casters under the nightstand's back legs.
---
8.

Place Your Area Rug at the Foot of the Bed
| | |
| --- | --- |
| Materials | Area rug |
| Tools | N/A |
| Difficulty Level | Low |
No rule says you have to position your area rug underneath the entirety of your bed. Placing it so that only the last few inches of the foot of your bed are on your area rug can be very attractive. Experts recommend putting between 12 to 24 inches (30 to 60 centimeters) of your area rug under the bed and ensuring everything is perfectly symmetrical on both sides. Otherwise, you'll lose that all-important balance!
---
9.

Use an Oblique Angle for Your Area Rug Under Your Bed
| | |
| --- | --- |
| Materials | Area rug |
| Tools | N/A |
| Difficulty Level | Low to moderate |
This tip is trendy but works best in large bedrooms. Using an oblique angle means not balancing your bed directly in the center of your area rug but instead off to the side. For example, if you have a bed with only one nightstand, you can place the bed closer to one side of the area rug so that the nightstand side of the carpet has a much larger footprint on the floor. It's daring and different but can add a big dash of style to any bedroom.
---
10.

Use Several Area Rugs Layered Together
| | |
| --- | --- |
| Materials | Several area rugs |
| Tools | N/A |
| Difficulty Level | Low |
Have you ever considered putting an area rug on top of an area rug? If not, it's something interior designers say you need to try! By layering area rugs, you can, for example, accentuate a specific piece of furniture or a particular part of the room, like a freestanding fireplace.
---
11.

Avoid Square Area Rugs in the Bedroom
| | |
| --- | --- |
| Materials | N/A |
| Tools | N/A |
| Difficulty Level | Low |
One common mistake is to place a square area rug in a bedroom. The problem is that beds are rectangular, so they don't go well with square shapes, especially rugs. You could, however, use a square area rug in a bedroom reading or sewing nook. However, before you purchase a square area rug, consider a round one instead. Round area rugs compliment practically any space, making them easier to use in your home decorating plans.
---
Bonus Tip. Be Sure To Purchase the Correct Size Area Rug for Your Bedroom
| | |
| --- | --- |
| Materials | Correctly sized area rug |
| Tools | N/A |
| Difficulty Level | Moderate |
It might seem like a no-brainer to get the right size rug, but many people still make the mistake of buying one that's too large or too small for their bedroom. One excellent suggestion is to measure your room size before shopping for an area rug. With the dimensions in hand, the associates at the rug store will be able to help you pick the best size for your bedroom.

Final Thoughts
Many interior designers see area rugs as the final decorating touch that brings a bedroom together and turns it into something special. Area rugs come in a glorious array of sizes, shapes, and colors to match any home décor. They can turn drab floors into something extra special and make your bedroom more comfortable and appealing. We hope you enjoyed our 11 tips and tricks for positioning an area rug in the bedroom.
---
Featured Image Credit: Pexels, Pixabay