23 DIY Fire Pit Plans You Can Make Today (With Pictures)
The approach of Spring and Summer are our favorite times to think about sprucing up the backyard. It's finally warm enough to spend evenings outdoors. And what better way to do it than gathering around a blazing fire?
We've gathered 23 free fire pit plans you can DIY today to help your campfire dreams become a reality. Learning how to build a firepit is easier than ever and there is something for everyone – from stylish looks, to strong and rugged, or even indoor and fireless! Plus, almost all of these can be completed in a weekend.
Go on and get outside. Build a thing. Burn some stuff. Be safe and have fun!

The 23 DIY Fire Pit Plans
1.

Round Paver DIY Fire Pit from Home Road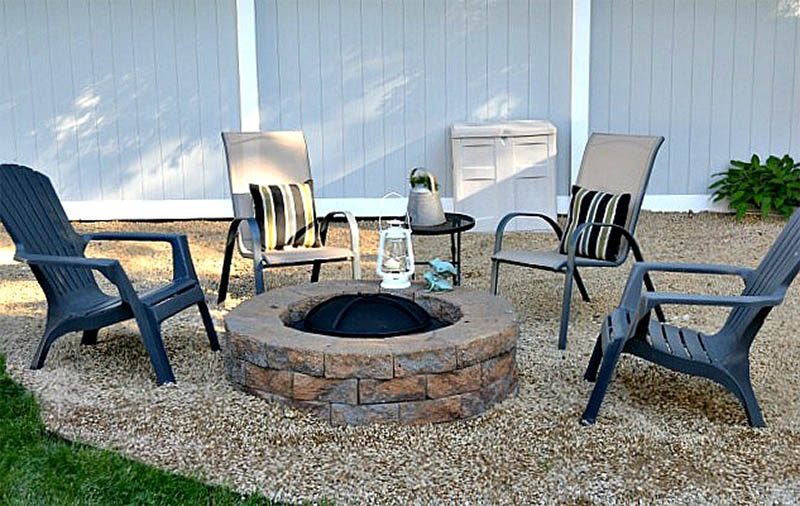 | | |
| --- | --- |
| Materials: | Paving stone (Nicolock recommended for circular build), Cement or non-combustible adhesive, Weed barrier and pea gravel (if desired), Landscape edging (to hold section off gravel) |
| Tools Needed: | Shovel, Hammer, Level, Mixing container and stirrer for cement, Wheelbarrow (for gravel) |
Simple and sturdy, this paving stone fire pit from Home Road would be a perfect weekend project. Attractive enough to make a lovely centerpiece in your yard, but also designed with functionality in mind. Whether cooking or lounging, you'll be set.
---
2.

Deluxe Swing Fire Pit DIY from Instructables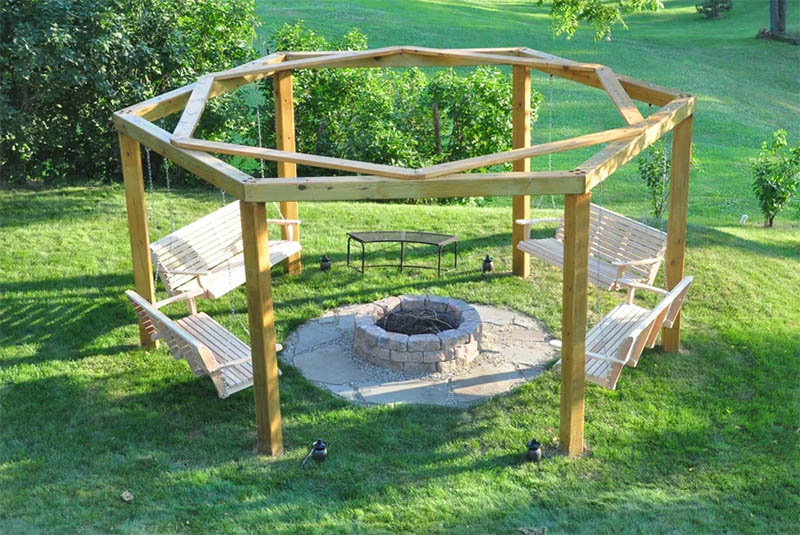 | | |
| --- | --- |
| Materials: | 6″x6″x10′ pressure treated boards, 6″x6″x8′ pressure treated boards, 2'x6″x8′ pressure treated lumber, 1/2×8″ galvanized lag bolts, ½ " galvanized washers, 4″ deck screws, 3″ deck screws, 2″x2″x8′ white pine boards, 50-60lb bags of concrete, Paver base for drainage, 4' steel re-bar, Stain or water seal, The fire pit itself (material of your choice), Landscape adhesive, Pea gravel and/or topsoil, Swings, Galvanized steel eye bolts OR 7" swing hangers with locking washers & nuts |
| Tools Needed: | A-frame ladders, Miter saw (12" sliding compound recommended), Post hole digger, Shovel, Sledgehammer, Post level, Line level, Box beam level (6' or longer), Tape measure, Layout string, Speed square, Pencil, Marking paint, Mixing container for concrete (plastic recommended), Cordless drill and bits, 12" bit, 1 1/4 countersink bit, #8 pilot bit, Socket and socket wrench, Paint brush, Router and round-over bit (optional), Sander (optional), 2-person auger with 8-10" bit, Gloves and goggles |
For the DIYer who wants a fun challenge and a huge payoff, take a look at the hanging fire pit on Instructables. A glance will tell you that this is not a beginner friendly build. However, if you have access to a woodshop it could be the coolest thing you've ever done for your yard!
---
3.

No-Tools-Needed DIY Fire Pit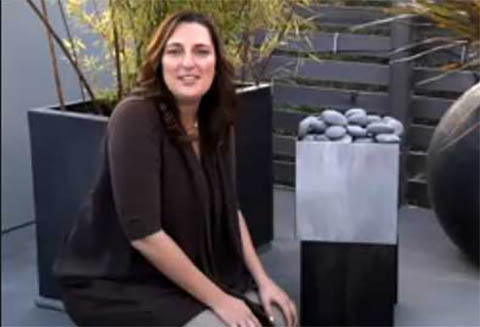 | | |
| --- | --- |
| Materials: | Large container (metal, ceramic, glass), Inflammable filling material (river stones, recycled glass, etc.), Granulated charcoal briquettes or bio-fuel (like Instafire or Ecofuel) |
| Tools Needed: | Lighter |
For a totally tool-less approach to a safe fire in your yard, we love Fine Craft Guild's DIY eco-friendly outdoor fireplace. Besides being creative and cozy, it features environmentally friendly fuel. These charcoal briquettes are often cheaper than firewood! This build is not very functional though, so stick to just warming your hands… or marshmallows.
---
4.

Wooden Fire Pit from Instructables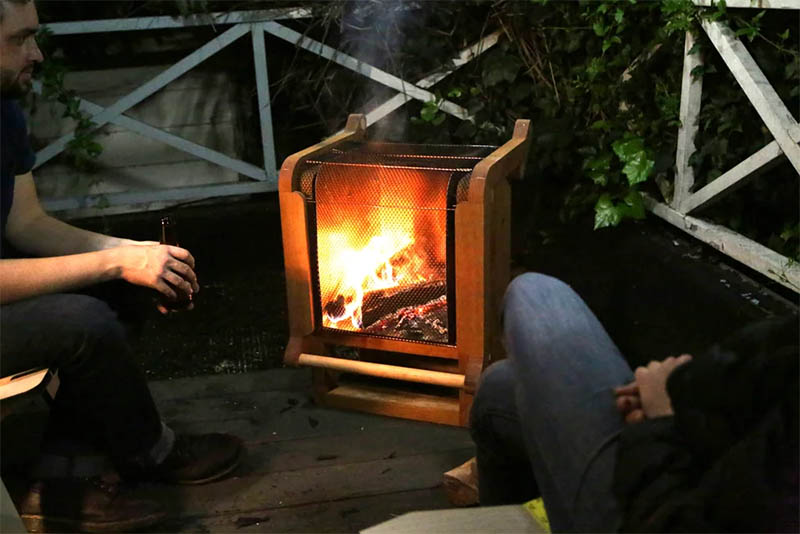 | | |
| --- | --- |
| Materials: | Table or circular saw, Bandsaw or jigsaw, Japanese flush saw, Drill (drill press recommended), Bits: 1½" Forstner bit, 1¼" Forstner bit, countersink bit, Doweling jig, Chisel, Mallet, Clamps, Jigsaw with fine teeth and metal blade, Hand drill and ¼" metal drill bit. |
| Tools Needed: | 2X10 hardwood boards, Dowels: 1 ½", 1¼" dowel, ¼" joining dowels, Stainless steel sheet (34″X32″ total), Fireplace curtain screens, 1″X ½" corner bead, ¼" diameter machine screws ¼" long, and nuts |
Don't have a lot of backyard to work with? No sweat. This sleek and space efficient wooden fire pit on Instructables could be perfect for gathering round on a patio. For a slightly cheaper version, pick up some mild steel sheet metal from the hardware store. To avoid rust over time, however, find a seller for 0.105" stainless steel.
---
5.

Recycled Washing Machine DIY Fire Pit from Instructables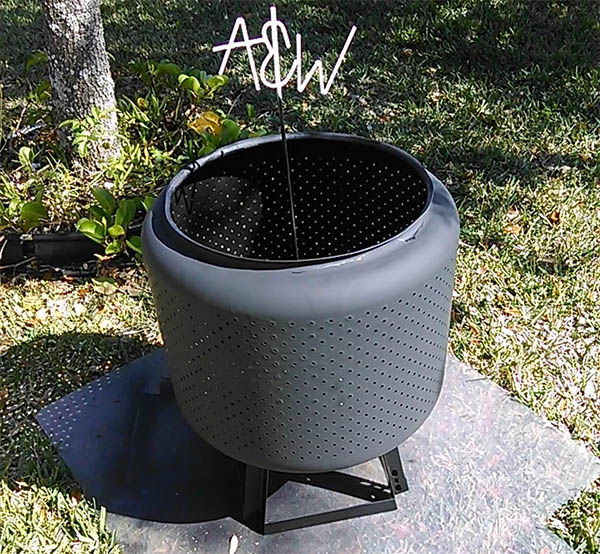 | | |
| --- | --- |
| Materials: | Washing machine, Metal bed frame, High Heat spray paint in white & black, Two 3′ x 3/16″ steel rod, Two 3′ x 1.25″ flat bars |
| Tools Needed: | Angle grinder, Wire welder |
A creative builder on Instructables made this DIY fire pit from an old washing machine and mattress frame. You can upcycle your own old appliances, or even snag materials from the dump for extra thrifting points!
---
6.

Table-top DIY Fire Pit from Instructables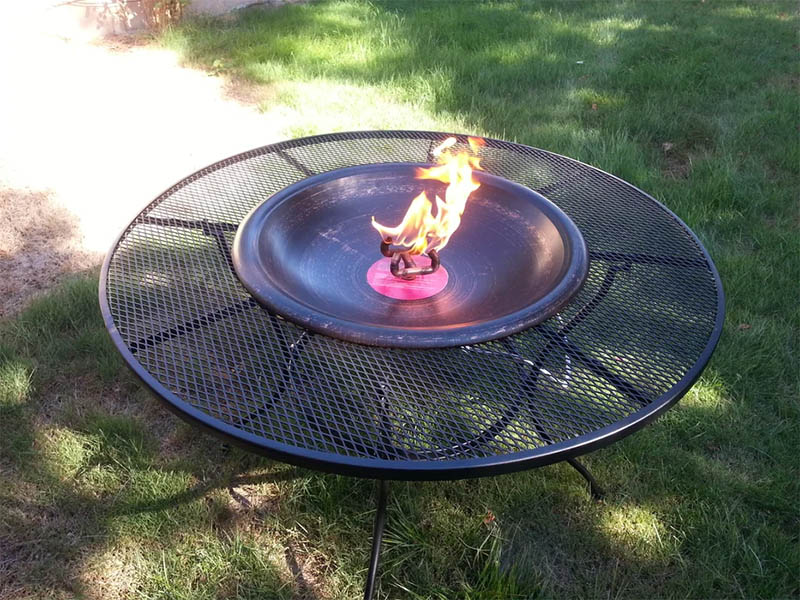 | | |
| --- | --- |
| Materials: | Metal garden table, Small fire pit, Propane tank, Black paint |
| Tools Needed: | Tape measure, Sawhorse, Metal cutting tools, grinder, cutoff tool, Dremel, Jig Saw, Sawzall, or good old hand tools, Grinder or sander, Welding tool for copper pipe, and one for just joining metals, Safety glasses, gloves, ear protection |
For style, function, AND economy of space we love this fire pit table on Instructables. It's mysterious and magical looking in the dark. Plus, if you already have a garden table you can bring new life to it and save on material costs.
---
7.

In Ground DIY Fire Pit from Instructables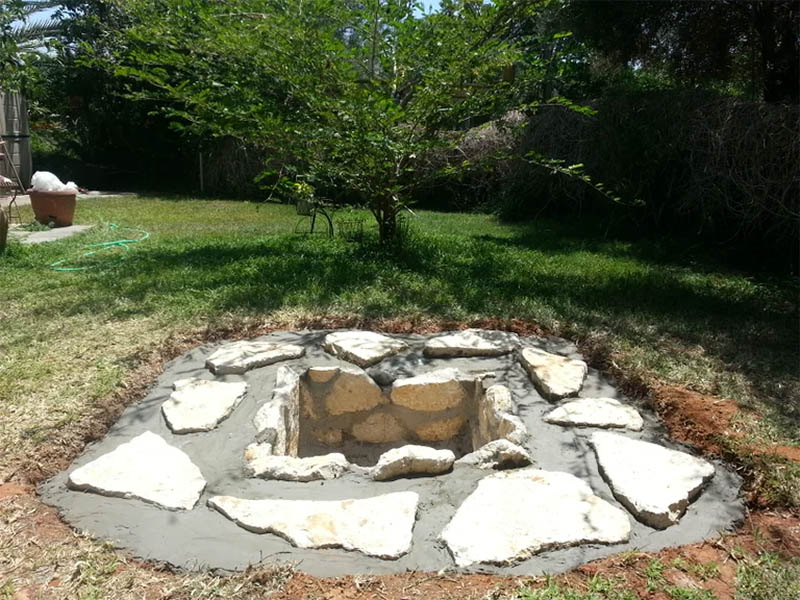 | | |
| --- | --- |
| Materials: | Cement (see the plans for detailed mix recipe), Stone, Rebar |
| Tools Needed: | Shovel, Mixing container and stirrer for cement |
This fire pit set right into the ground on Instructables has loads of rustic charm. The stone is both ruggedly beautiful and helpful for radiating warmth. These plans are also the least tool-heavy build we found – a great choice for beginners!
---
8.

Flameless DIY Fire Pit from Bldg 25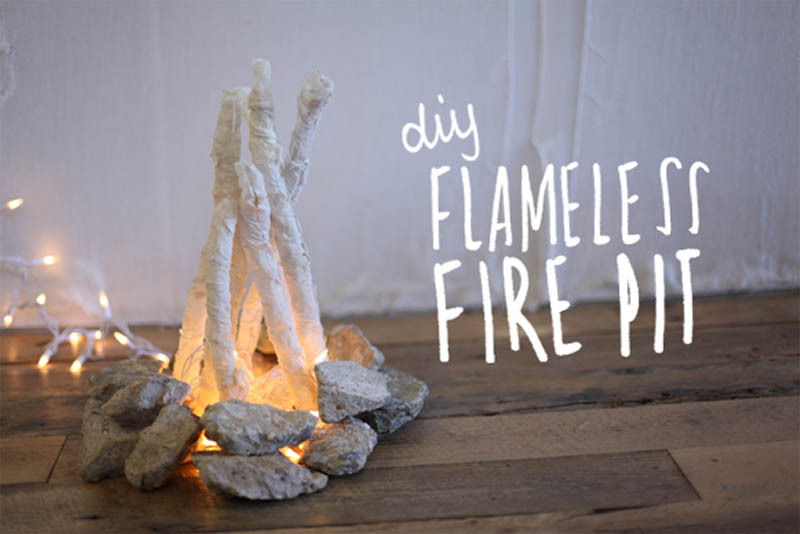 | | |
| --- | --- |
| Materials: | Lace strips, Tree branches, Rocks, Aluminum foil, Washable school glue or fabric stiffener, String lights |
| Tools Needed: | Paintbrush, Scissors |
This one is a fun project made with kids and clumsy pets in mind. Check out this DIY flameless fire pit from Bldg25 to bring that sweet & cozy atmosphere indoors. Many of the materials can even be found in your backyard, making it an ideal craft for children.
---
9.

Glass DIY Fire Pit from Instructables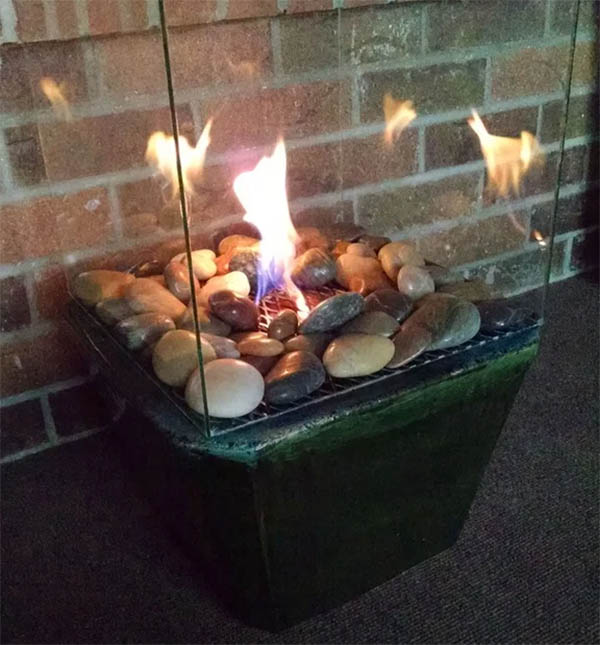 | | |
| --- | --- |
| Materials: | Planter, Glass panes, Grating, Rocks, Gel fireplace fuel, Marine silicone sealant, Tin can |
| Tools Needed: | Hacksaw. Dremel, Bench grinder, Razor blade |
For a sleek look and extra safety features, we think this personal fire pit from Instructables is a winner. The glass around the flame provides less intense direct heat without giving up that warm glow. That barrier also means you need to worry about stray scarves and children less around this open flame.
---
10.

Simple Budget DIY Fire Pit from Renew Redo!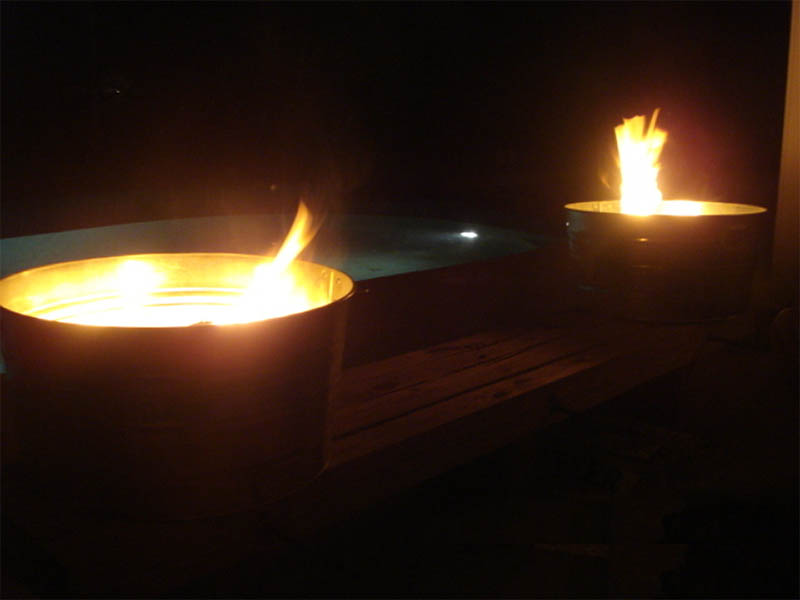 | | |
| --- | --- |
| Materials: | Hacksaw, Dremel, Bench grinder, Razor blade |
| Tools Needed: | Lighter |
This super affordable DIY fire pit by Renew Redo! is one of the quickest and easiest on our list. Heck, you might even be able to pull it together with the current contents of your garage! The low cost means you can make a number of them for a variety of decorating options. Children and pets should be extra careful around these, however, as the metal gets very hot.
---
11.

Star Wars DIY TIE Fighter Fire Pit from Instructables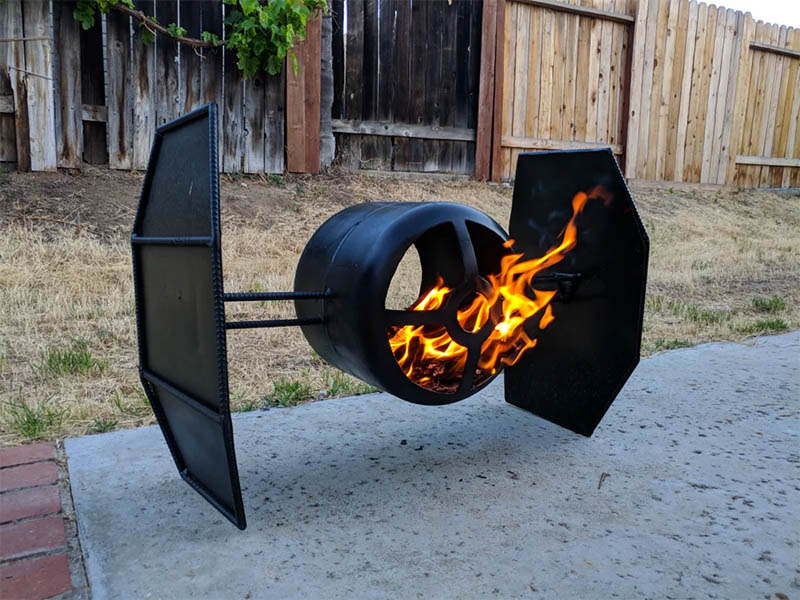 | | |
| --- | --- |
| Materials: | Propane tank, Rebar, Sheet metal |
| Tools Needed: | Welder, Angle grinder with cutoff wheels, Hammer, Welding safety gear |
Nerd out over welding gear and Star Wars at the same time with this TIE Fighter fire pit from Instructables!  We gotta say, this is the coolest fire pit we've ever seen. Not only does it lend an epic atmosphere, but it's also incredibly sturdy. The builder recommends a pricey MIG welder, but it may be a worthwhile purchase for seasoned crafters.
---
12.

Masonry DIY Fire Pit from Instructables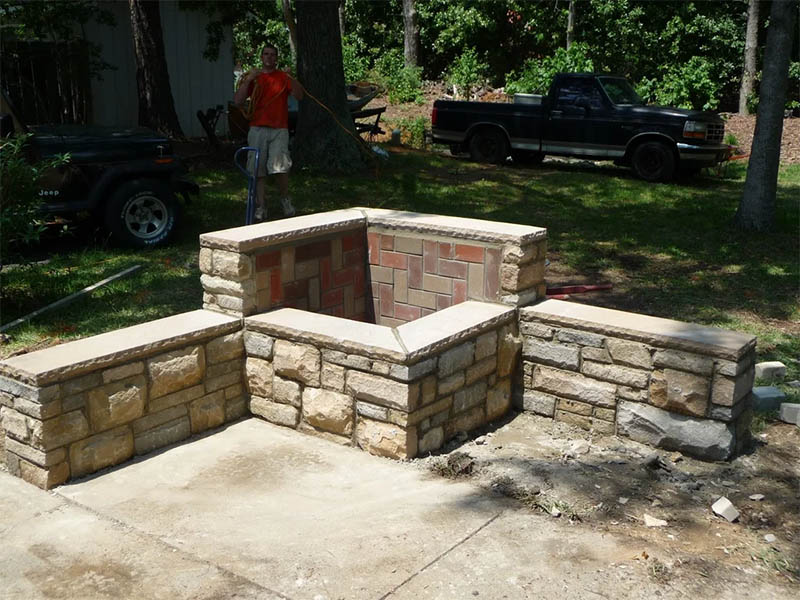 | | |
| --- | --- |
| Materials: | 70 sq.ft Arriscraft stone,  6 Eldorado 12×48 mantle, closure bricks, (30) 4″ blocks, 5 bags Type S mortar, 1 bag fireclay, 20 bags Quikrete 5000 |
| Tools Needed: | Trowel, Hammer, Shovels, Concrete mixing container and stirrer, Levels |
Go all out and make your fire pit the centerpiece of the outdoor living space. This masonry fire pit on Instructables isn't just beautiful – it's built to last. Our favorite choice for full functional, aesthetically pleasing, and straightforward design.
---
13.

Coffee Table DIY Fire Pit from Instructables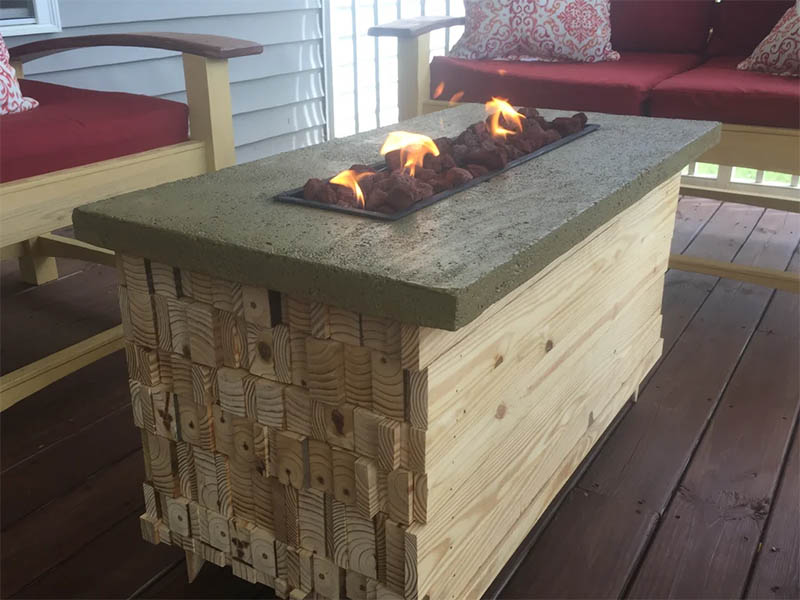 | | |
| --- | --- |
| Materials: | 80lbs Quickcrete, 20lbs lava rocks, 2x10s, Angle iron |
| Tools Needed: | Bandsaw, Miter saw, Table saw, Nail gun, Grinder, Welder |
For those wanting something closer to a gas powered space heater, this DIY fire pit coffee table on Instructables might be just right. Easily crafted from wood and metal scraps, the builder made the burner removable so you can swap out your fire with succulents or a zen garden in warmer months.
---
14.

Modern DIY Fire Pit from Man Made DIY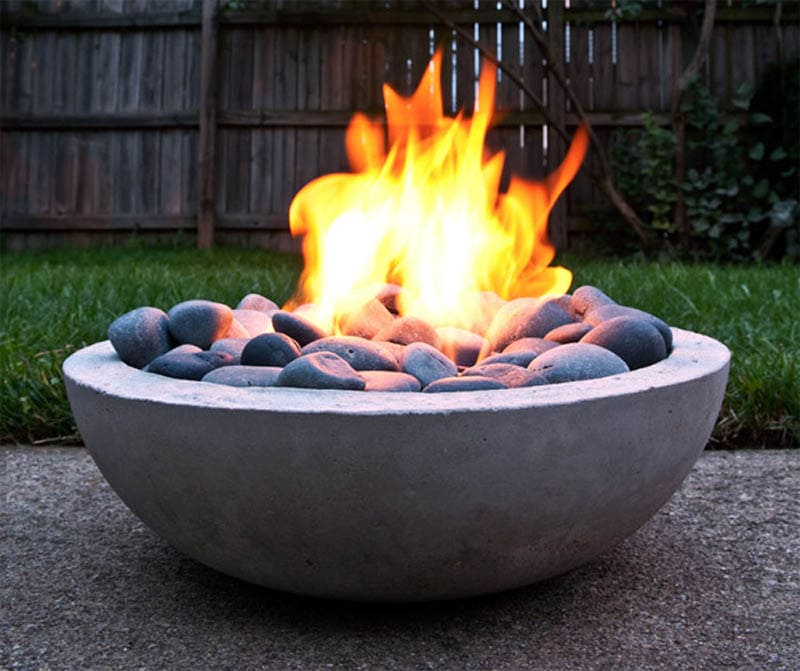 | | |
| --- | --- |
| Materials: | Concrete. Large bowl for exterior mold (18" diameter), Large bowl for interior mold (15" diameter), Non-stick cooking spray or oil and brush, Heavy objects (weights, rocks, etc.), Gel fireplace fuel canisters, Grill grate (14½" diameter), Nonflammable rocks, stones, or glass |
| Tools Needed: | Sandpaper, Masonry trowel, Container for mixing concrete and stirrer |
Made primarily from concrete, this modern looking fire pit on Man Made DIY is a great project for all skill levels. The builder makes use of many household items, which means the upfront cost of this fire pit is low. Well written and clearly laid out, these plans are also accompanied by informative tips, tricks, and photos.
---
15.

Wine Barrel DIY Fire Pit from Instructables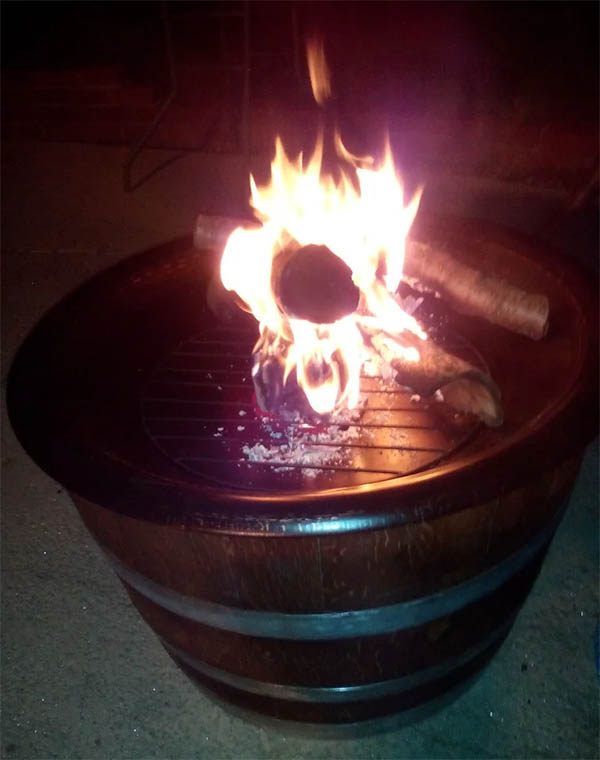 | | |
| --- | --- |
| Materials: | 29" fire pit from a hardware store, Wine barrel, Wood stain (if desired) |
| Tools Needed: | Belt sander, Sandpaper, Rags |
Our favorite DIY plans are those that give new life to used items. And this wine barrel fire pit on Instructables does a great job of upcycling AND keeping it simple. A total win-win!
---
16.

Tabletop Glass DIY Fire Pit from The Art of Doing Stuff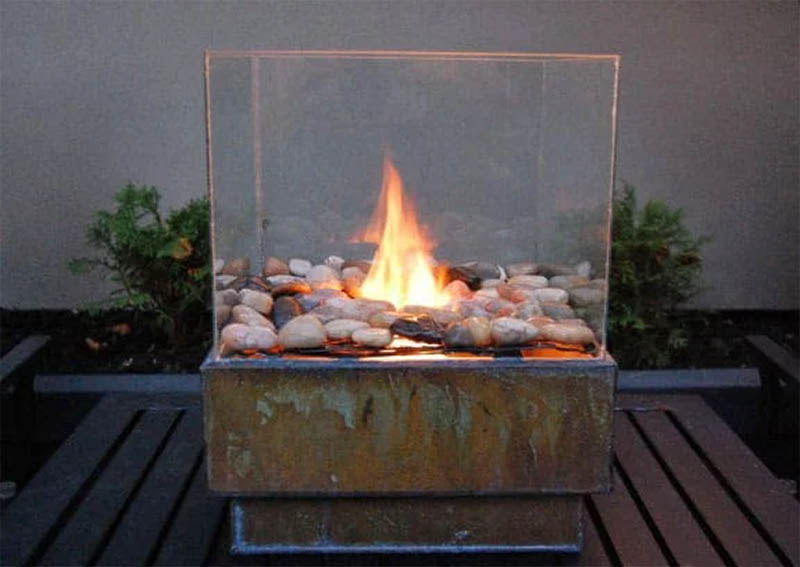 | | |
| --- | --- |
| Materials: | Marine silicone, 4 cheap glass picture frames, Small rocks or glass, Metal mesh/grate, Metal planter with a lip, Gel fuel |
| Tools Needed: | Lighter |
Another excellent option for those without extra yard space is this personal fire pit by The Art of Doing Stuff. It's sleek and contemporary, takes up minimal space on a patio or porch… and you can make one for under $25! That's a lot of warmth and style with a teeny price tag. Please note that you should never use tempered glass in projects near flame as it can explode.
---
17.

Easy Stone DIY Fire Pit from The Inspired Room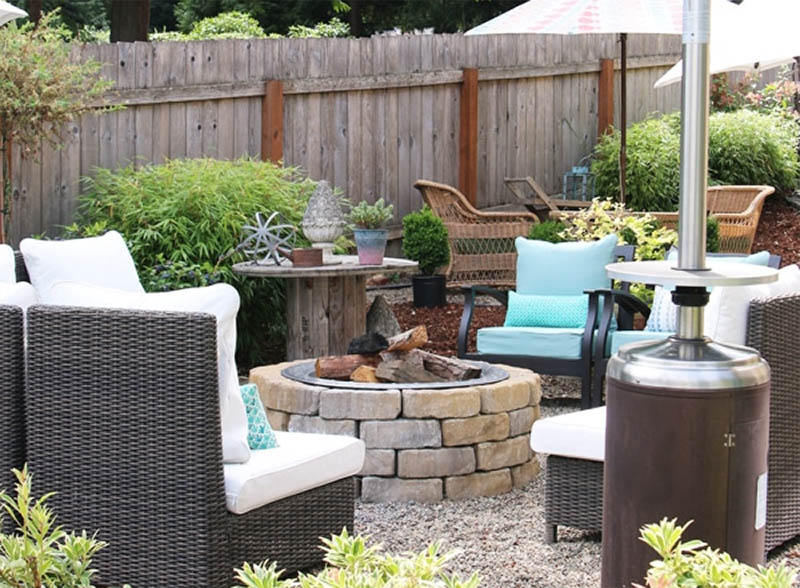 | | |
| --- | --- |
| Materials: | Fire pit kit, Stones (builder used Allen & Roth Bertram collection) |
| Tools Needed: | Level |
As this list shows, you don't have to craft your fire pit from scratch. This easy fire pit by The Inspired Room used a fire pit kit available at most hardware stores and built a housing out of stone. Once you've got the supplies, you could be warming your hands over your very own fire pit in under 20 minutes!
---
18.

Modern Concrete DIY Fire Pit from Instructables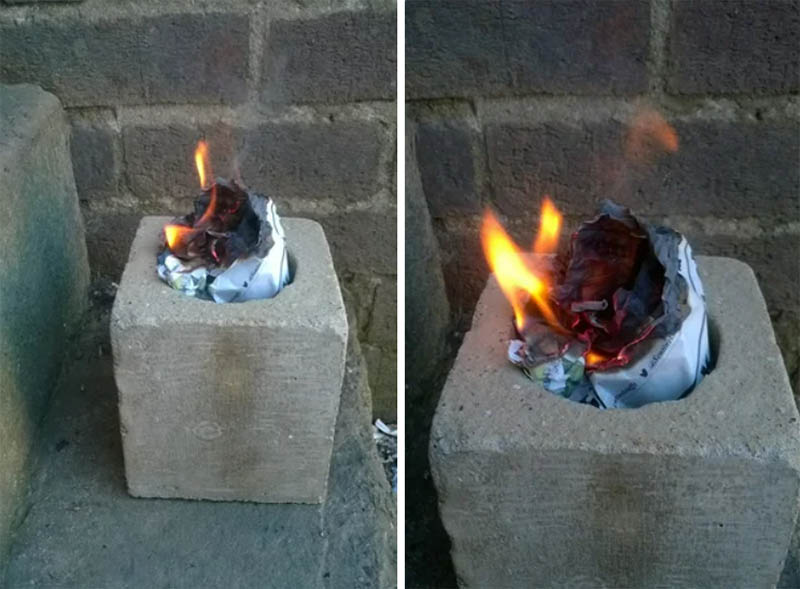 | | |
| --- | --- |
| Materials: | Concrete, Plywood, Carboard tube (3" diameter) |
| Tools Needed: | Tri square, Pencil, Ruler, File or sandpaper, Band saw, Container for mixing concrete and stirrer, Hot glue gun |
For a mod, minimal look on a budget check out this concrete fire pit on Instructables. Simple design and tools, the only time consuming part of this project is waiting for the concrete to cure. And with these plans you build your own mold, so you can easily make your fire pit to custom specifications.
---
19.

Simple Backyard DIY Fire Pit from Instructables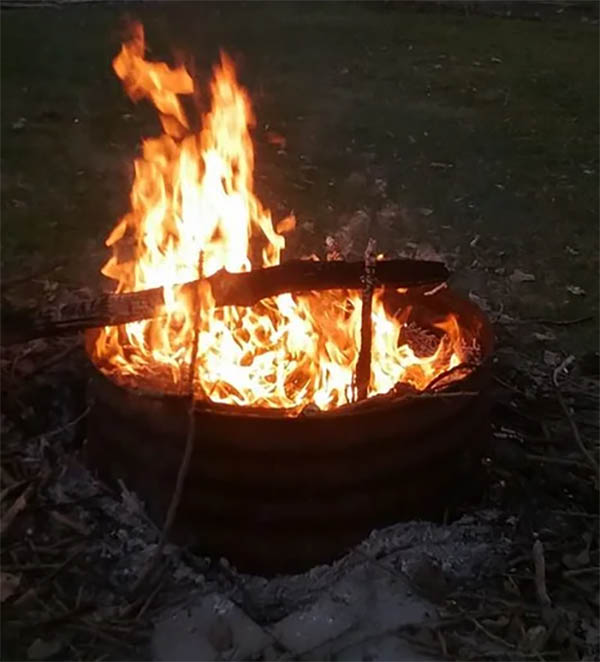 | | |
| --- | --- |
| Materials: | Galvanized steel ring,  Bricks, Stepping stones (if desired) |
| Tools Needed: | Shovel |
Those looking for a straightforward fire pit that won't break the bank should see this design on Instructables. Made from common hardware store items like bricks and a galvanized steel ring, this build will take barely any time at all to assemble.
---
20.

Square DIY Fire Pit from HomeMade Modern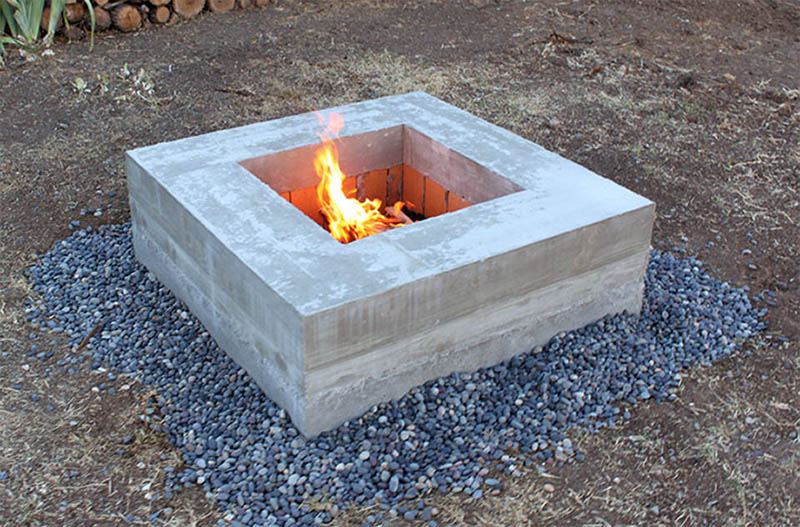 | | |
| --- | --- |
| Materials: | Quikrete 5000, Fire bricks, Mortar, Rebar, Gravel, Lava rock, 2x4s, 2x6s, L brackets, Screws |
| Tools Needed: | Drill. Circular saw, Compound miter saw |
We love the chic look mixed with practicality of this modern fire pit by HomeMade Modern. And style doesn't have to be expensive if you've got access to a woodshop. With the proper tools, the builder's detailed diagrams & step by step video this could be a fun and rewarding project for any skill level.
---
21.

Fire Glass Tabletop DIY Fire Pit from Today's Creative Life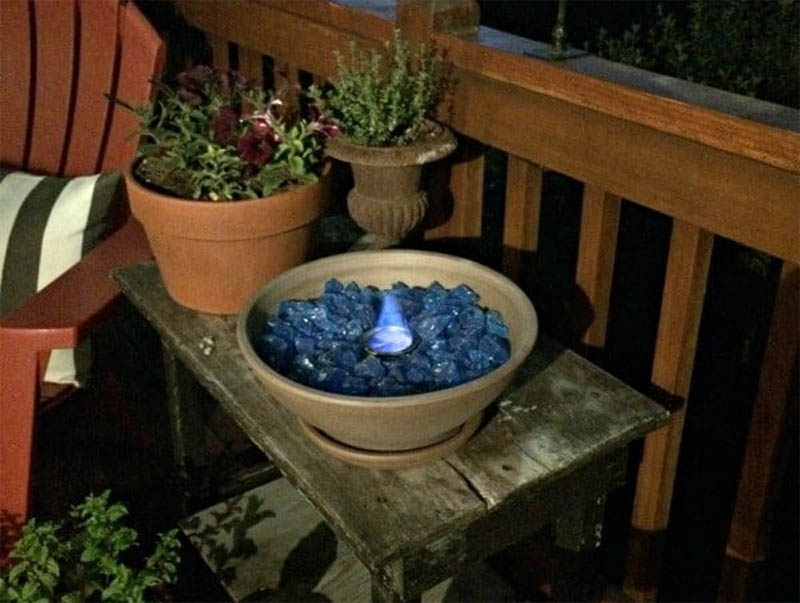 | | |
| --- | --- |
| Materials: | Fire glass or pea gravel, Terracotta flower pot, Sterno clean burning gel (food safe if desired) |
| Tools Needed: | Lighter |
Your own tabletop fire pit can be as easy as taking a trip to the hardware store! Check out how Today's Creative Life uses colorful fire glass, a planter, and burning gel to make a beautiful centerpiece.
---
22.

Swedish Torch DIY Fire Pit from Instructables
| | |
| --- | --- |
| Materials: | Dry softwood. Tinder |
| Tools Needed: | Chainsaw |
If you've got a chainsaw at your disposal, the Swedish torch on Instructables is by far the cheapest and easiest DIY fire pit of all! Designed on simple fire building principles, the Swedish torch is simple to make and even has integrated cook pot support.
---
23.

Flameless Glass DIY Fire Pit from Instructables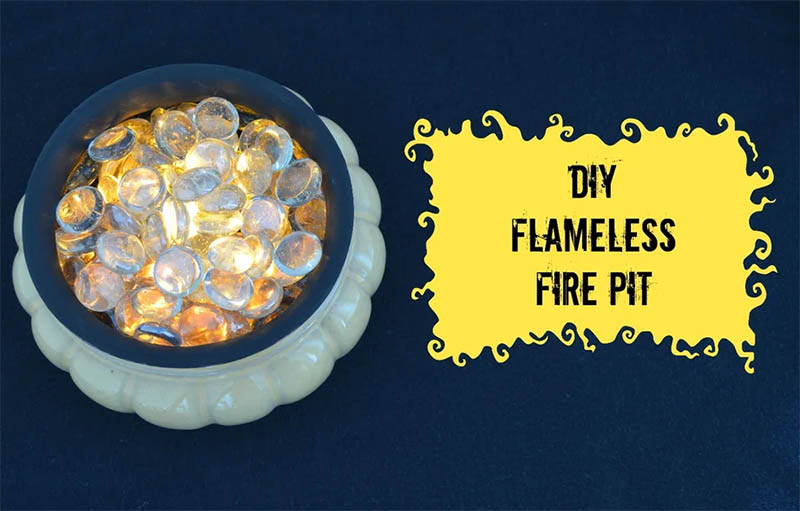 | | |
| --- | --- |
| Materials: | Container of choice, Black chalkboard paint (if desired), Glass gems, LED candles, Double sided tape |
| Tools Needed: | Paintbrush |
Don't have an outdoor space for a real fire, but want to add some of that cozy ambiance? Then this flameless fire pit on Instructables is the perfect decoration. We love the soft glow made by the light shining through the glass pebbles and the affordable materials. Perfect for Halloween!

Final Thoughts
We want to leave you with a few fire pit maintenance & safety tips:
If burning wood, make sure it is clean and dry
Flammable materials or those prone to melting should be kept far away from the fire pit
Many parts of the entire pit can get hot enough to burn, not just the flame
After dousing and letting it cool, clean your fire pit after every use to prevent buildup
Paint the inside with heat resistant paint or varnish every so often to keep it looking great
If using gel or fuel canisters, always check if they are food safe before roasting your s'mores
We hope that you enjoyed learning how to build a fire pit of your dreams! Be safe and have fun!
---
Featured Image Credit: Vladvictoria, Pixabay