How Much Is a Jeep? Models, Facts & FAQ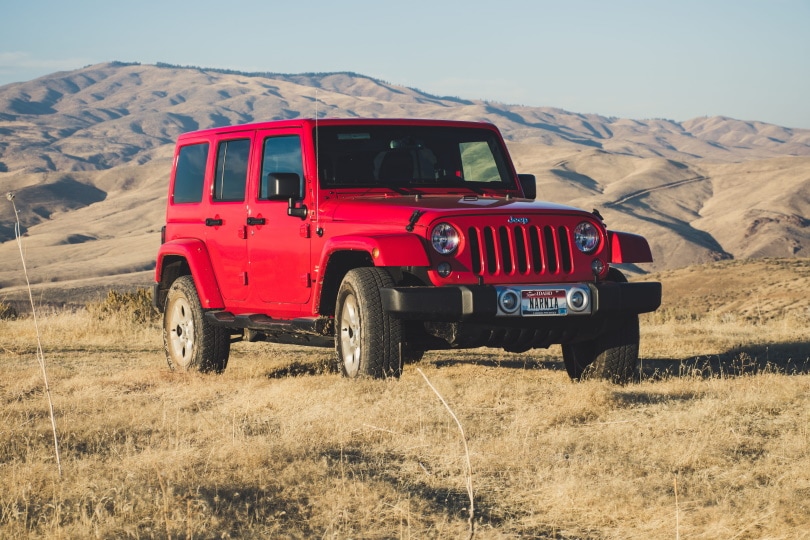 The Jeep brand may be synonymous with adventure and rugged performance, but today's lineup offers options for all drivers, from off-road explorers to family chauffeurs.
Alongside the array of vehicles comes an even broader price range. With models starting around $25,000, entering the exclusive and tight-knit community of Jeep owners doesn't have to be an expensive venture. We'll detail how much a Jeep costs this year to help you find the perfect model to meet your needs.

Are Jeeps Getting More Expensive in 2023?
Supply issues have taken away vehicle choices and raised prices in recent years, making it harder to get what you want at a cost you can afford. Used cars jumped a whopping 40.5% in price while new cars saw a more modest, yet still eye-opening, 12% increase. As if prices weren't bad enough, paying over sticker price is now more the norm than the exception.
Jeep buyers know the common industry issues well. The Wrangler 4xe, a top-selling plug-in hybrid electric vehicle (PHEV), increased in price several times over the past year, jumping nearly $5,000, or around 9%. The 2023 model now starts at $54,595. Next year, other models like the Jeep Grand Cherokee L will also see considerable price bumps.
Increases may also be a natural part of Jeep moving towards premium branding. The Wagoneer sub-brand is a notable boost that brings Jeep into upmarket territory shared by names like Range Rover.
How Much Does a Jeep Cost?
Destination fees are one downside to Jeep models and Stellantis brands in general. From 2012 to 2019, Jeep destination fees increased by roughly 90%, bringing the delivery costs for a new vehicle to an average of $1,495.
Despite the high shipping costs, Jeep's sticker prices are at least relatively reasonable. The seven gas-powered Jeep models have an average starting MSRP of only $32,861. Between the gas models, hybrids, and the Wagoneer luxury-brand SUVs, there's a vast spectrum of Jeep price points in 2023 to accommodate more buyers.
Renegade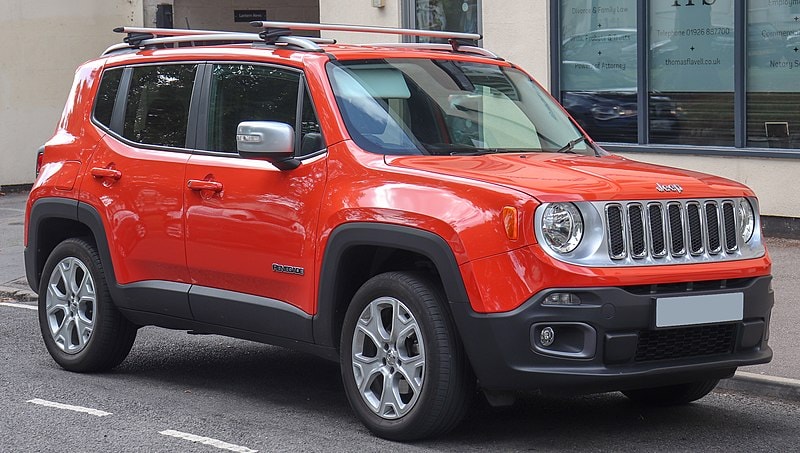 The Renegade is a subcompact SUV and Jeep's most affordable vehicle. It features a turbocharged 1.3L four-cylinder engine, and AWD models can tow up to 2,000 pounds. There's not much power or excitement behind the wheel, but you can confidently take the Renegade off-road with the Trailhawk edition (starting MSRP of $31,340).
Available in six models, the Renegade starts as low as $24,695 in the FWD Sport model and as high as $31,145 in the Limited. You can upgrade the entry model to AWD for $1,400. All subsequent models are only available with the 4×4 drivetrain.
Compass
Slightly girthier than the Renegade, the compact crossover Compass is available in eight models, starting at the Sport for $26,785 and ending at the High Altitude, which starts at $37,085.
Compass models are available only with 4×4 drivetrains except for the Sport, Latitude, and Altitude. These models have FWD options and 4×4 upgrades for an additional $1,500.
Wrangler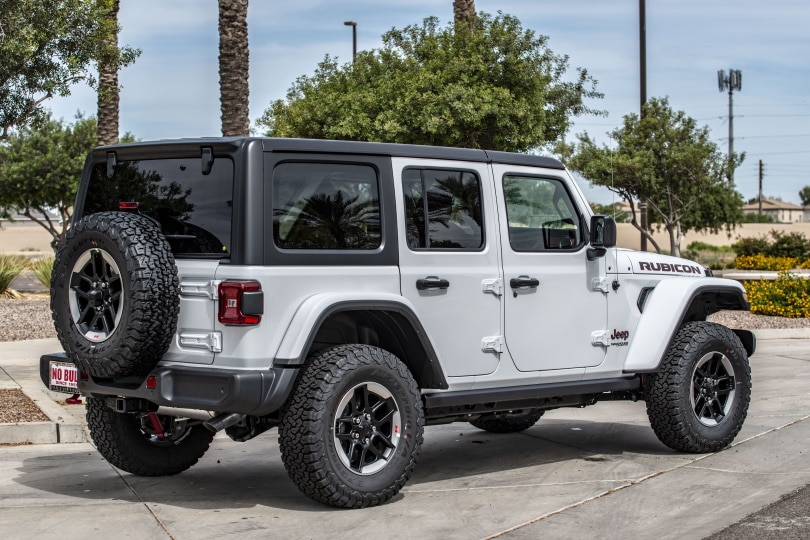 It's awkward and unrefined in the city, but the Wrangler's true home is far off the beaten path. The iconic off-roader supplies a throwback style and the most rough-and-tumble driving experience of any off-road vehicle.
All of the 12 Jeep Wrangler models in 2020 are 4WD, but bottom-tier models offer your choice of doors. On the entry Sport, Willys, and Rubicon models, you can upgrade from two to four doors for an extra $4,050.
As the Wrangler's cheapest model, the 2-door Sport starts at $29,995. Meanwhile, the 470-horsepower Rubicon 392, featuring an enormous 6.4L HEMI V8, is the most expensive Wrangler with a starting MSRP of $79,990.
Cherokee
The Jeep Cherokee is a sleek and capable collection of features wrapped in an affordable package. It offers smooth performance with enough off-road power and towing capacity to outmatch its competitors.
There are only four Cherokee models available, with your choice of a V6 engine sporting a 4,500 towing capacity or a zippier 4-cylinder option. The price range is relatively tight from top to bottom, with the basic Cherokee X starting at $34,895 and the top-tier Limited starting at $39,345.
---
Grand Cherokee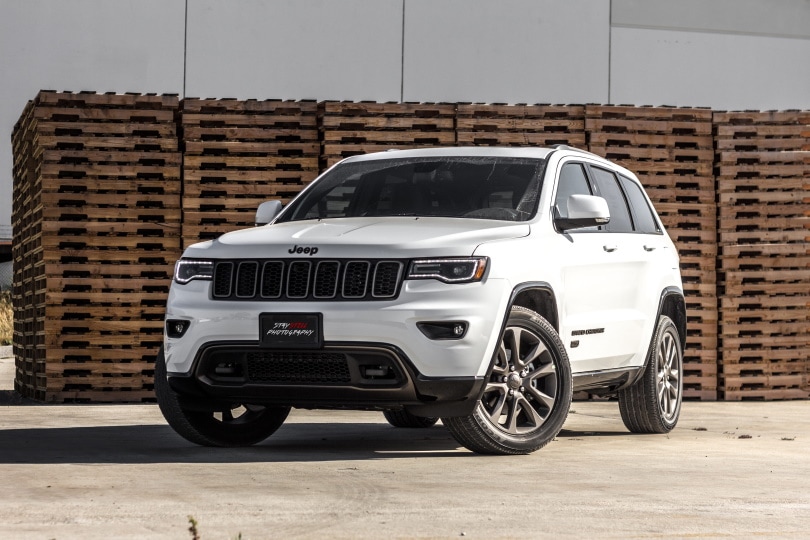 The Grand Cherokee is one of Jeep's most popular vehicles, and this year marks a transition that presents us with two offerings—the old WK which is on its way out, though still in production, and the new Grand Cherokee. While the old model is still available, it comes with the best pricing at about $1,500–$2,000 less than the latest version.
There are seven levels to the new Grand Cherokee, starting at the Laredo and ending at the Summit Reserve. Most options come in 4×2 with an available 4×4 upgrade for $2,000. The Trailhawk and Summit Reserve only have 4×4. The relatively new third-row option, available on all but the Trailhawk, adds yet another $2,000.
---
Gladiator
The Gladiator is the Wrangler for people who need a truck's utility and extra hauling strength. The 3.6L V6-powered pickup comes with transmission options similar to the Wrangler as well as the trademark removable panels.
There are nine Gladiator models. The Sport, which can tow up to 4,000 pounds, starts at $37,565, while the decked-out High Altitude starts at $54,080. The top-end Gladiator supplies an additional 2,000 pounds of towing capacity and premium features, including leather seating and 20-inch black gloss wheels.
---
Wrangler 4xe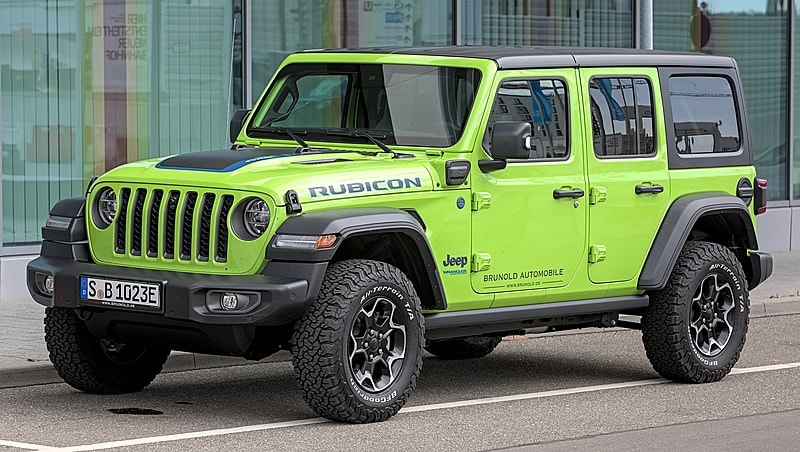 Jeep is finally catching up with the rest of the eco-conscious car community with its two hybrid options. The 2022 Wrangler 4xe is the second iteration of Jeep's premier hybrid model, a high-powered off-road monster with a 49 mpg-e rating.
The Wrangler 4xe comes in three trim levels—Sahara, Rubicon, and High Altitude. The Sahara starts at $54,595, but for the best off-road features, you'll want to jump to the Rubicon at $58,790 or the flashier High Altitude starting at $60,170.
---
Grand Cherokee 4xe
The Grand Cherokee 4xe is the second phase of Jeep's entry into the electric-powered vehicle market. The hybrid version of the brand's most popular vehicle boasts a 56 mpg-e rating while delivering 375 horsepower and 470 pound-feet of torque for off-road traveling and towing up to 6,000 pounds. You can even switch from hybrid to all-electric for instant acceleration and 25 miles of range.
All five 4xe trims are available only in 4×4. At the top is the Summit Reserve 4xe at a lofty $74,695. The only trim to start under $60,000 is the entry-level 4xe at $58,095, though, after options and distance fees, it will likely reach or exceed that threshold.
---
Wagoneer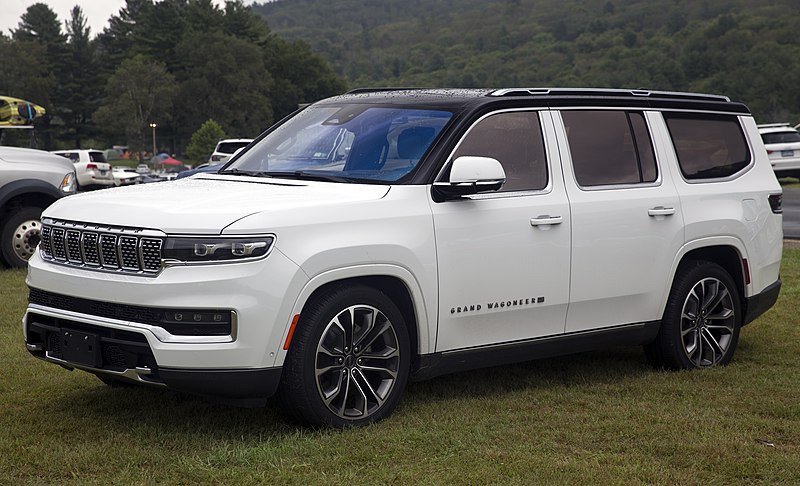 The entry model to Jeep's luxury line affords friendly-family comfort in an off-road 4×4 exploration machine. The three-row SUV is a clean combination of the Wagoneer's classic power and attitude in its 5.7L V8 engine and modern features such as wireless phone charging, a 10.1-inch touchscreen, and a rear-seat entertainment system.
The Wagoneer comes in Series I, II, and III models along with Carbide versions of each for six total trims. Every model comes in 4×2 with a 4×4 upgrade available for $3,000. The Series I 4×2 is the least expensive, starting at $58,995. The 4×4 Series III Carbide is the priciest at $78,835.
---
Grand Wagoneer
There was no corner-cutting with the Grand Wagoneer, as you would expect from a vehicle at these prices. Poor fuel economy aside, the premium Wagoneer model offers exceptional off-roading capability backed by a 6.4L V8 engine and up to 10,000 pounds of towing capacity. At $88,640 starting MSRP, the Series I is the cheapest of four Grand Wagoneer trims, while the Series III is the highest, starting at $107,995.
| | | | | |
| --- | --- | --- | --- | --- |
| Model | Trim Levels | Lowest MSRP | Highest MSRP | Avg. MSRP |
| Renegade | 6 | $24,695 (Sport) | $31,145 (Limited) | $29,633 |
| Compass | 8 | $26,785 (Sport) | $37,085 (High Altitude) | $32,843 |
| Wrangler | 12 | $29,995 (Sport 2-door) | $79,990 (Rubicon 392) | $45,243 |
| Cherokee | 4 | $34,895 (X) | $39,345 (Limited) | $36,858 |
| Gladiator | 9 | $37,565 (Sport) | $54,080 (High Altitude) | $44,744 |
| Grand Cherokee | 7 | $40,720 (Laredo) | $67,175 (Summit Reserve) | $53,904 |
| Wrangler 4xe | 3 | $54,595 (Sahara 4xe) | $60,170 (High Altitude 4xe) | $57,852 |
| Grand Cherokee 4xe | 5 | $58,095 (4xe) | $74,695 (Summit Reserve 4xe) | $66,329 |
| Wagoneer | 6 | $58,995 (Series I) | $78,835 (Series III Carbide) | $71,573 |
| Grand Wagoneer | 4 | $88,640 (Series I) | $107,995 (Series III) | $99,853 |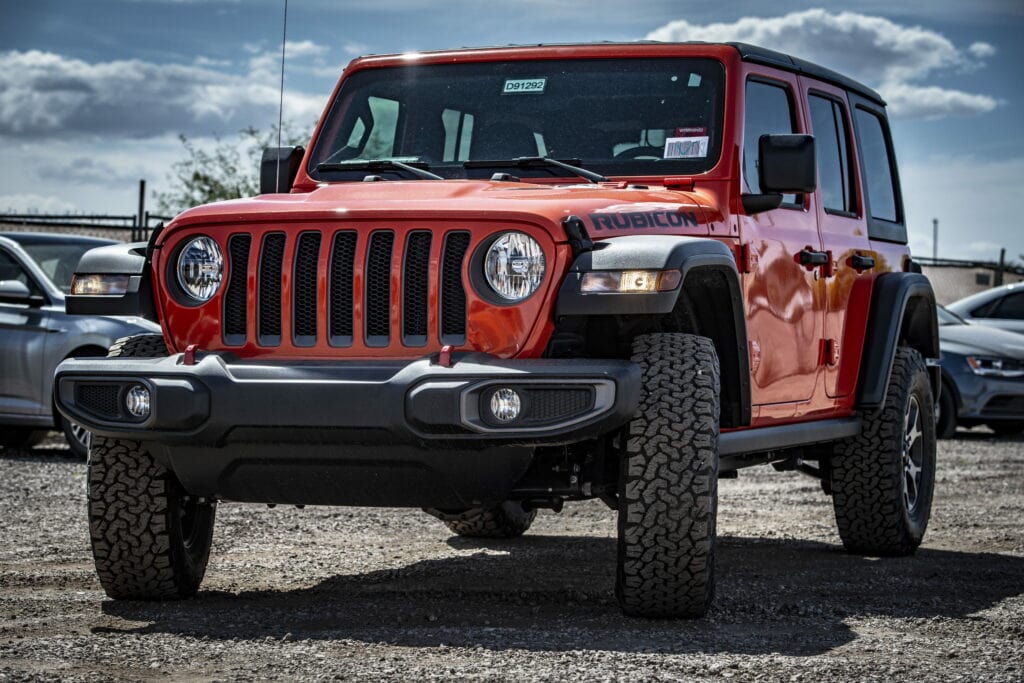 Conclusion
From the 2023 models, you can see there's a Jeep for every style and budget, and with options starting under $25,000, joining the club is as easy as ever. Jeeps may have a reputation for being pricey, but any loyal owner knows the value extends far beyond their utility. Every trip becomes an adventure in a Jeep, and thanks to the brand's passionate following, every destination becomes a chance to start conversations and make new friends.
---
Featured Image Credit: Piqsels