10 Free DIY Fishing Rod Rack Plans You Can Make Today (with Pictures)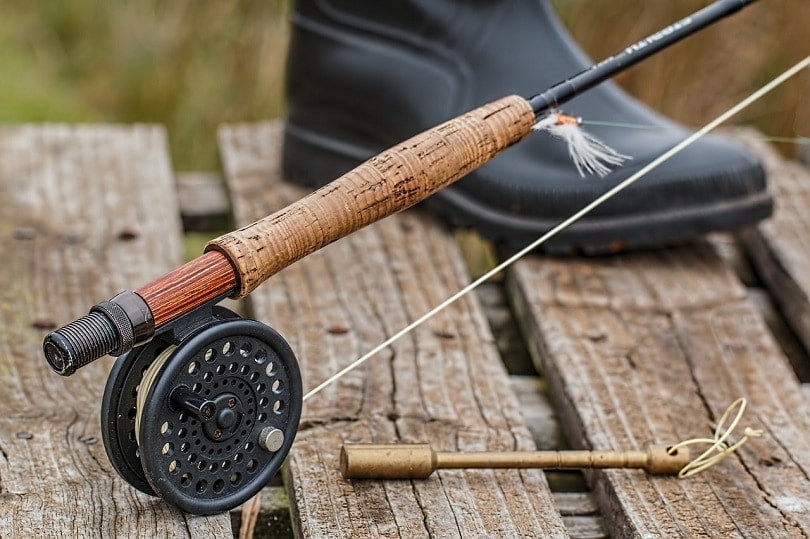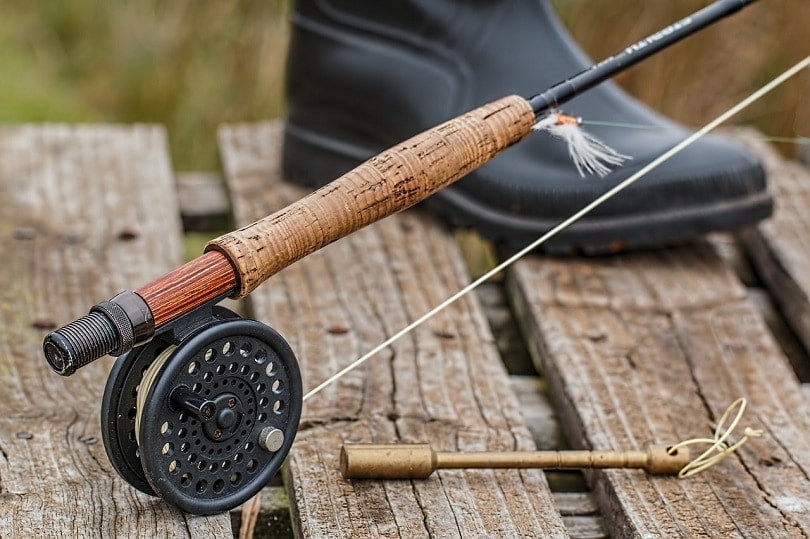 If you're an avid fisherman, then you know the importance of keeping your rods and tackle neatly squared away. However, with all the lines, leaders, hooks, and other stabby bits, it can be a pain to keep just a single rod untangled and organized. And if you've got multiple rods… Good luck. But there's a relatively simple solution for that:
Use a fishing rod rack. Of course, you could go pick one up at your favorite sporting goods shop. But why would you? They're relatively simple to make at home!
In this article, you'll see five of our favorite (and free) plans that teach you how to build a fishing rod rack of your very own. We'll also go over why you should have a rack in the first place.
But before you start, be sure that you've got the proper PPE for working. This means eye protection, gloves, aprons, and avoiding loose-fitting clothing.

Top 10 DIY Fishing Rod Rack Plans
1.

My Outdoor Plans Fishing Rod Rack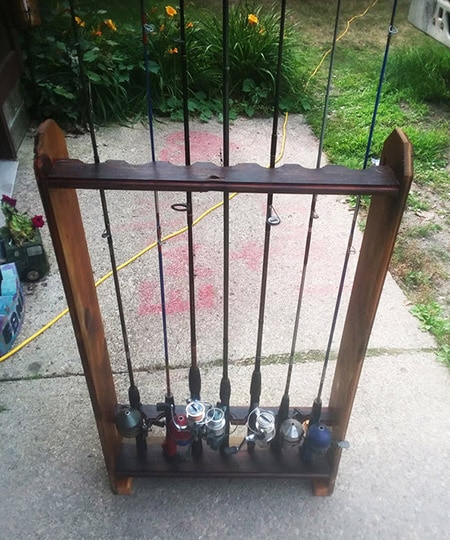 Sometimes following a DIY plan can be pretty complicated. You'll have to use your experience and critical judgement for key steps. And while that's expected for intermediate and advanced DIY'ers, beginners will run into a few ruts.
But this free plan for My Outdoor Plans Fishing Rod Rack is the exact opposite. It's a basic looking design that prides function over aesthetics, and perfect for any fisherman's garage or workshop. With detailed instructions, even those with a novice skill level can follow along.
---
2.

Outdoor Life DIY Fishing Rod Holder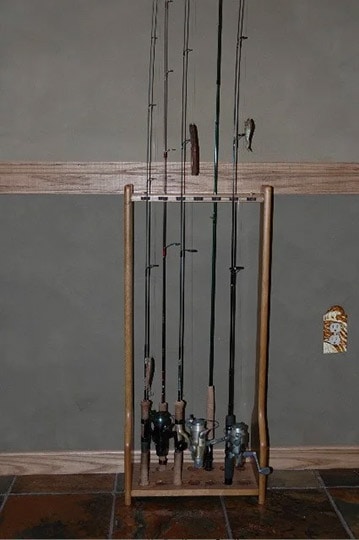 The Outdoor Life Fishing Rod Holder is probably the simplest design of our vertical fishing rod holders. But don't let that fool you. There's elegance in its simplicity.
This unit can hold up to 12 of your favorite fishing rods once constructed. And it does so in a relatively compact space. This is definitely a great project for a beginning DIY'er or someone who's got limited room to place a rack.
---
3.

How To Specialist Fishing Rod Rack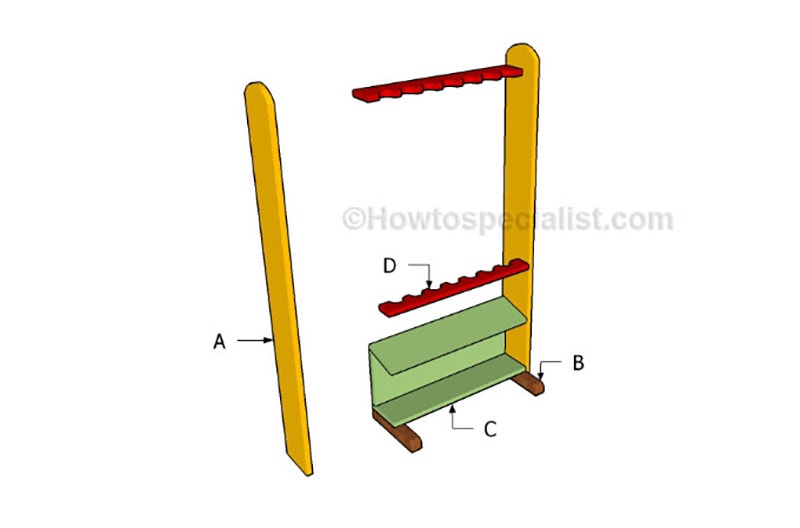 This is another easy to build design. From How To Specialist, this rack's capacity is 7 rods and includes a small shelf on the bottom. The plan is easy to follow with several infographics to help guide you along.
---
4.

Boy's Life Fishing Rod Rack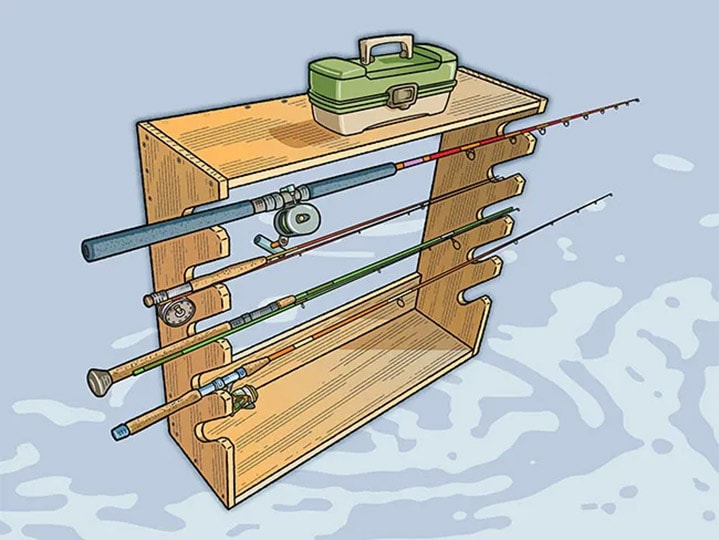 Many of us actually started our DIY careers in the Boy Scouts. And wouldn't you know it, they've got a great free plan in Boy's Life for a fishing rod rack!
Their plan is a super simple project you can put together over a weekend. And it'll provide more than just a neat weekend project. It's a practical horizontal rod rack that can stand on its own or be mounted to a wall.
---
5.

Wall-Mounted Rod Rack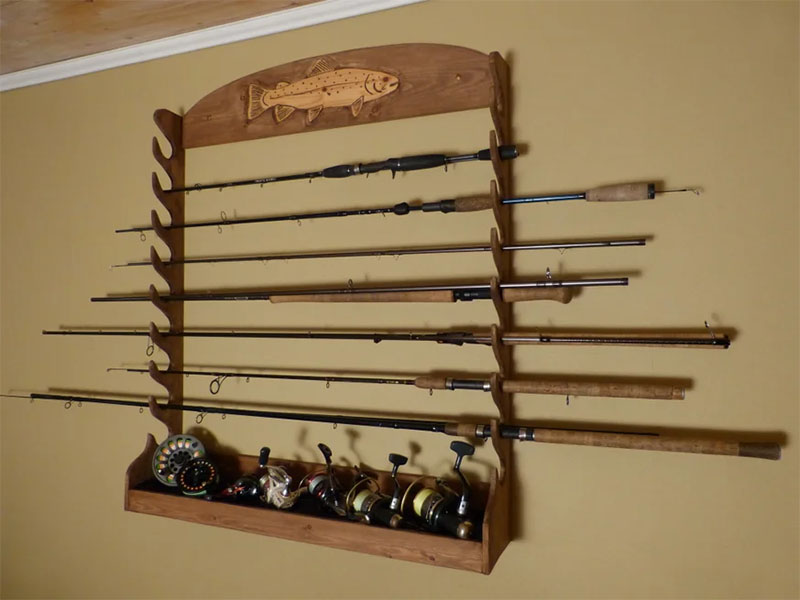 This DIY wall-mounted shelf is a great solution for organizing and displaying fishing rods and reels. The design is simple and adjustable to fit any size of boards and number of rod slots. The shelf is made from wood boards, wooden dowel pins or screws, wood glue, and stain and can be built using basic power and hand tools.
The addition of a lower shelf provides a neat and secure way to store fishing reels. The shelf is a functional and decorative detail that can be mounted indoors and would make a great gift for any fishing enthusiast.
---
6.

Storage Rod Holder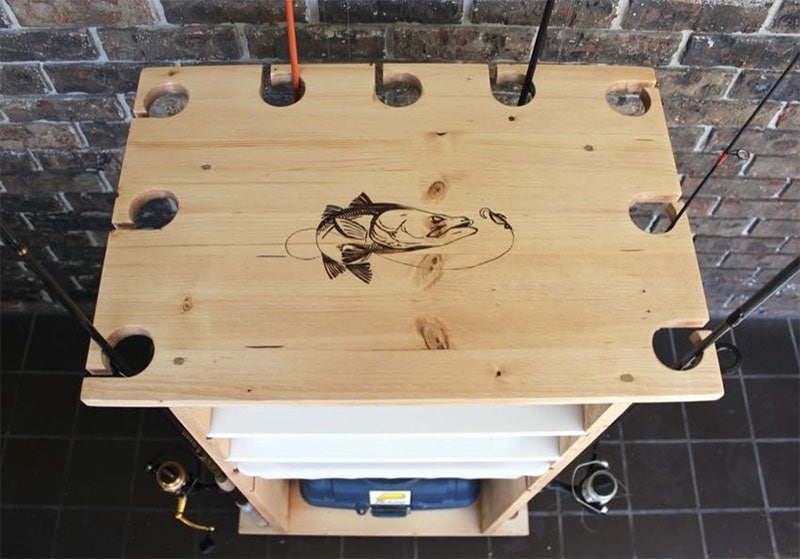 This DIY holder comes with storage and is a creative and practical gift idea for any fishing enthusiast. The design takes a fishing rod holder and combines it with a Lego tote, using IKEA's TROFAST system as inspiration.
The holder has sliding drawers that can store fishing equipment and accessories, keeping everything organized in one place. You will need some basic woodworking tools, such as a table saw, Forstner or hole saw bits, drill, and a pocket hole system. With some adjustments, the design can be modified to fit individual needs and preferences.
---
7.

Mobile Fishing Rod Rack
If you're looking for a way to transport your fishing rods while driving, this DIY car fishing rod holder might be the perfect solution. With a few basic tools like a long wood-cutting saw, nuts and bolts, drills, rubber bands, and screws, you can create a custom holder that fits the dimensions of your car's roof.
The tutorial provides a detailed guide on where to find the necessary materials and how to attach the holder to your car. If you prefer not to make it a permanent fixture, avoid using screws and instead opt for a more temporary solution like rubber bands. This DIY project is a great way to maximize your car's headroom and safely transport your fishing rods while on the road.
---
8.

Salt Strong DIY Rod Rack
If you don't want to spend a small fortune on a high-quality fishing rod rack, Salt Strong has a simple DIY solution that is sure to please. For around $50 (and your time and labor), you can craft a custom rod rack that can hold eight rods. For most casual fishers, this rack should meet your needs handily.
But if you require more space to stash your rods, you can always adjust the directions to suit your specific requirements. It's an easy entry-level build that can be completed in short order. So, start crafting your very own DIY rod rack today, courtesy of Salt Strong!
---
9.

Standing Rod Rack
Looking for a compact and stylish way to store your fishing rods? Look no further than this DIY fishing rod stand. Though it can only accommodate five to six rods, it's a great option for small families or those with limited space.
For larger families or those with more rods to store, the stand can easily be scaled up with additional materials and measurements. The tutorial provides step-by-step instructions for building your own fishing rod stand, making it a great project for DIY enthusiasts!
---
10.

Super Simple PVC Rack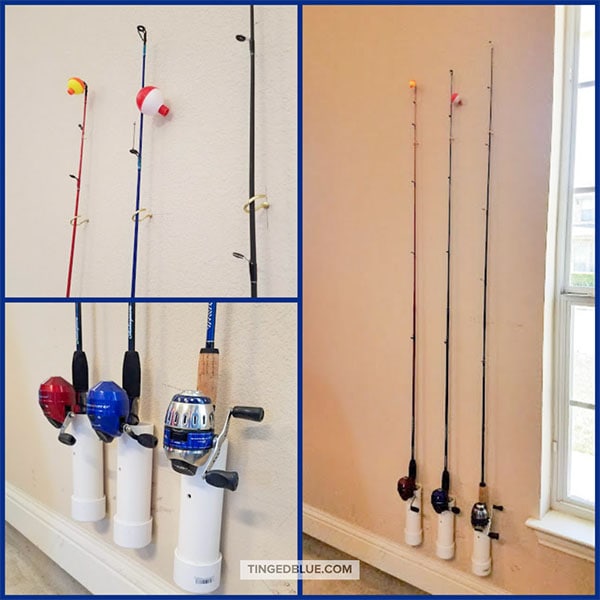 Want an even simpler way to make a fishing rod holder from PVC pipes? This project can be completed for just $10 and requires only a 2-inch diameter PVC pipe that is 24 inches long. The pipe needs to be cut in one-third, and end caps can be added for a sleek and finished look.
This easy-to-follow project is perfect for those who are new to DIY projects or for those who want a quick and affordable solution to storing their fishing rods. The end result is a functional and stylish holder that is sure to impress any fishing enthusiast.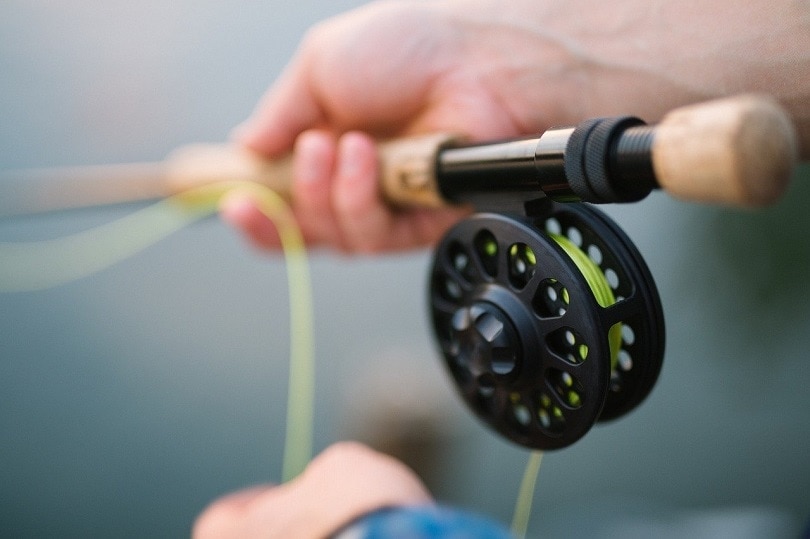 Why You Should Have a Fishing Rod Rack
There are two great reasons why you should learn how to build a fishing rod rack for your garage:
Your rods are less likely to be damaged or broken.
As sad as it sounds, many people just store their rods tucked away in some corner of their garage or shed. And this is when they're most likely to snap. If something falls on them or they topple over, that can spell out the end of your favorite rod. Keeping them properly stored in a fishing rod rack can help maintain the integrity of your rod and reel.
Rod racks have more than just a functional purpose. They've got style. Fishing rod holders and stands make an excellent addition to any den or rec room, especially when built right.
Which Style of Fishing Rod Holder Is Right for You?
Choosing between these plans might be difficult. They're all great. So, how are you going to know which is right for you?
Here are our recommendations:
1.

My Outdoor Plans
If you need fully detailed instructions to follow, this is the right choice for you.
---
2.

Outdoor Life
If you've got a larger number of fishing rods that need proper storage, go with this one.
---
3.

Minwax
The Minwax rack is amazing if you want to showcase your fishing hobby in a rec room while providing ample storage for all your gear.
---
4.

How To Specialist
For a barebones basic project, How To Specialist has got you covered.
---
5.

Boy's Life
Select this project if you're looking for an easy to build wall mount with a shelf.
---
Featured Image Credit: Fishing rod by stevepb, Pixabay