5 Free DIY Fishing Rod Rack Plans You Can Make Today (with Pictures)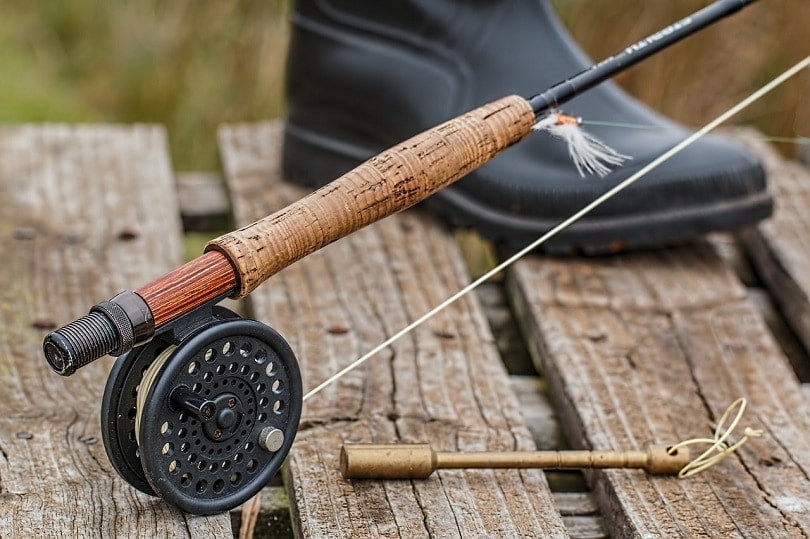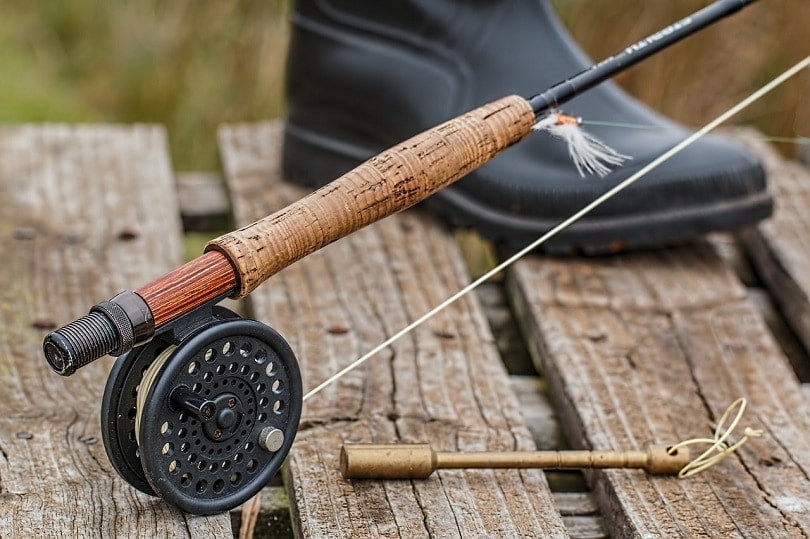 If you're an avid fisherman, then you know the importance of keeping your rods and tackle neatly squared away. However, with all the lines, leaders, hooks, and other stabby bits, it can be a pain to keep just a single rod untangled and organized. And if you've got multiple rods… Good luck. But there's a relatively simple solution for that:
Use a fishing rod rack. Of course, you could go pick one up at your favorite sporting goods shop. But why would you? They're relatively simple to make at home!
In this article, you'll see five of our favorite (and free) plans that teach you how to build a fishing rod rack of your very own. We'll also go over why you should have a rack in the first place.
But before you start, be sure that you've got the proper PPE for working. This means eye protection, gloves, aprons, and avoiding loose-fitting clothing.

Top 5 DIY Fishing Rod Rack Plans
1.

My Outdoor Plans Fishing Rod Rack
Sometimes following a DIY plan can be pretty complicated. You'll have to use your experience and critical judgement for key steps. And while that's expected for intermediate and advanced DIY'ers, beginners will run into a few ruts.
But this free plan for My Outdoor Plans Fishing Rod Rack is the exact opposite. It's a basic looking design that prides function over aesthetics, and perfect for any fisherman's garage or workshop. With detailed instructions, even those with a novice skill level can follow along.
---
2.

Outdoor Life DIY Fishing Rod Holder
The Outdoor Life Fishing Rod Holder is probably the simplest design of our vertical fishing rod holders. But don't let that fool you. There's elegance in its simplicity.
This unit can hold up to 12 of your favorite fishing rods once constructed. And it does so in a relatively compact space. This is definitely a great project for a beginning DIY'er or someone who's got limited room to place a rack.
---
3.

Minwax DIY Fishing Pole Rack
We really like this particular fishing pole rack from Minwax. It can accommodate 7 different poles in its vertical design. But what really makes this one unique is the use of dowel pins on the outer walls of the rack. These are awesome for hanging extra reels, lures, or tools.
But there's one thing we wish this plan had…more pictures. Minwax claims that this plan is great for beginners. And we believe that this claim would have more validity if there were better pictures to guide us along. Other than that, it's an awesome plan that looks amazing.
---
4.

How To Specialist Fishing Rod Rack
This is another easy to build design. From How To Specialist, this rack's capacity is 7 rods and includes a small shelf on the bottom. The plan is easy to follow with several infographics to help guide you along.
---
5.

Boy's Life Fishing Rod Rack
Many of us actually started our DIY careers in the Boy Scouts. And wouldn't you know it, they've got a great free plan in Boy's Life for a fishing rod rack!
Their plan is a super simple project you can put together over a weekend. And it'll provide more than just a neat weekend project. It's a practical horizontal rod rack that can stand on its own or be mounted to a wall.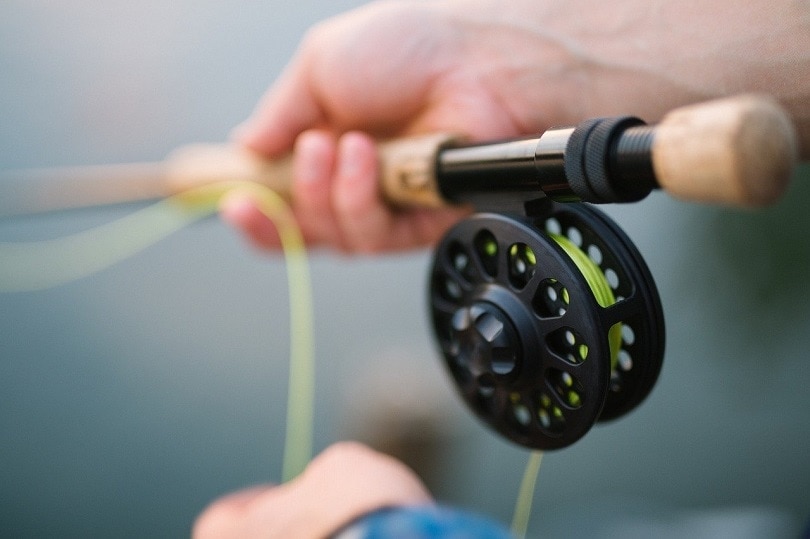 Why You Should Have a Fishing Rod Rack
There are two great reasons why you should learn how to build a fishing rod rack for your garage:
Your rods are less likely to be damaged or broken.
As sad as it sounds, many people just store their rods tucked away in some corner of their garage or shed. And this is when they're most likely to snap. If something falls on them or they topple over, that can spell out the end of your favorite rod. Keeping them properly stored in a fishing rod rack can help maintain the integrity of your rod and reel.
Rod racks have more than just a functional purpose. They've got style. Fishing rod holders and stands make an excellent addition to any den or rec room, especially when built right.
Which Style of Fishing Rod Holder Is Right for You?
Choosing between these plans might be difficult. They're all great. So, how are you going to know which is right for you?
Here are our recommendations:
1.

My Outdoor Plans
If you need fully detailed instructions to follow, this is the right choice for you.
2.

Outdoor Life
If you've got a larger number of fishing rods that need proper storage, go with this one.
3.

Minwax
The Minwax rack is amazing if you want to showcase your fishing hobby in a rec room while providing ample storage for all your gear.
4.

How To Specialist
For a barebones basic project, How To Specialist has got you covered.
5.

Boy's Life
Select this project if you're looking for an easy to build wall mount with a shelf.
---
Featured image credit: Fishing rod by stevepb, Pixabay