Honda Odyssey vs. Toyota Sienna: Comparing Quality, Style & Sales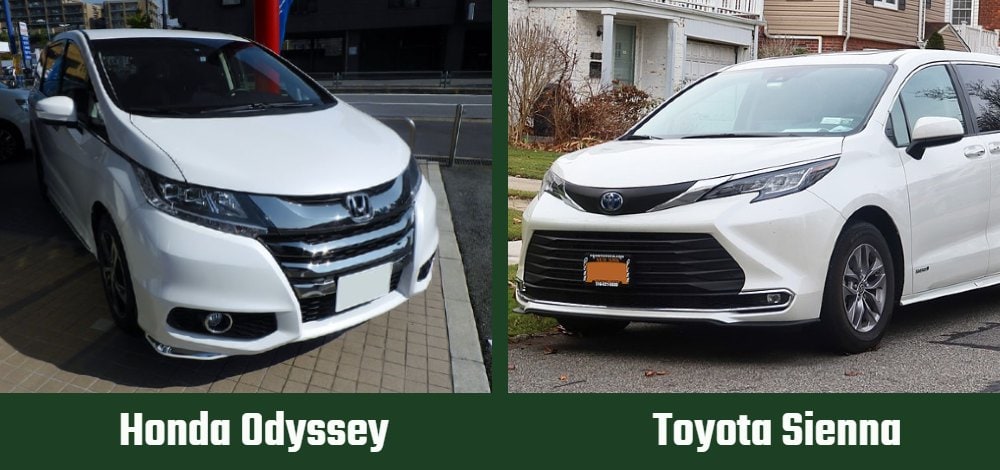 Toyota Sienna is the best-selling minivan in the United States, with 75.6K vehicles sold in 2021. More importantly, it boasts superb fuel economy: 36 MPG city/36 highway versus Odyssey's modest 19 MPG city/28 highway. So, if fuel efficiency is the top priority for you, Toyota's family hauler will be the obvious choice. Speaking of families, both minivans can easily seat 7–8 passengers.
However, when it comes to cargo capacity, Odyssey is the obvious winner. People that do lots of camping, like to travel, or prefer to do grocery shopping for an entire month will appreciate Odyssey's above-average cargo space. Now, with Sienna, you have a choice between FWD and AWD, while Honda's minivan is only available in FWD. However, Honda packs a bit more horsepower (280 HP vs. 245 HP). Besides, Sienna has poor passing power and mediocre performance on highways.
But it does offer refined, polished handling and ride quality. Next, Sienna comes packed with a long list of entry-level features; Odyssey is all about security and offers a wide range of safety features instead. That makes Odyssey a better pick if you drive your kids to school and back regularly. Both these vehicles feature high-end interiors with cozy seats, with Odyssey's comfort level being slightly higher.

At a Glance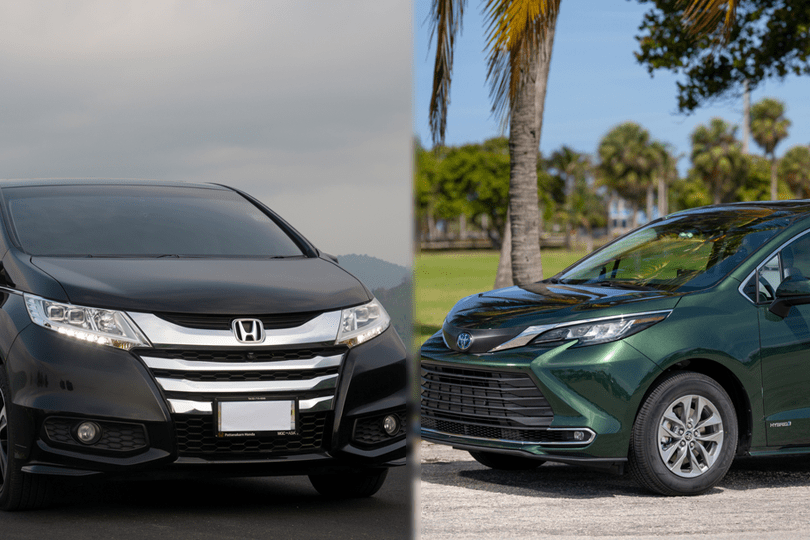 Let's look at the key points of each product.
Honda Odyssey
Powertrain: 3.5-lit V6 (280 HP)
Drivetrain: FWD
Transmission: 10-speed automatic
Fuel Economy: 19 MPG city/28 MPG highway
Towing Capacity: 3.5K pounds
Seating: 7–8
Cargo Space: 158 cubic feet (total)
Toyota Sienna
Powertrain: 2.5-lit 4-cylinder engine + electric motors (245 HP)
Drivetrain: FWD, AWD
Transmission: CVT
Fuel Economy: 36 MPG city/36 MPG highway
Towing Capacity: 3.5K pounds
Seating: 7–8
Cargo Space: 101 cubic feet (total)

Overview of Honda Odyssey: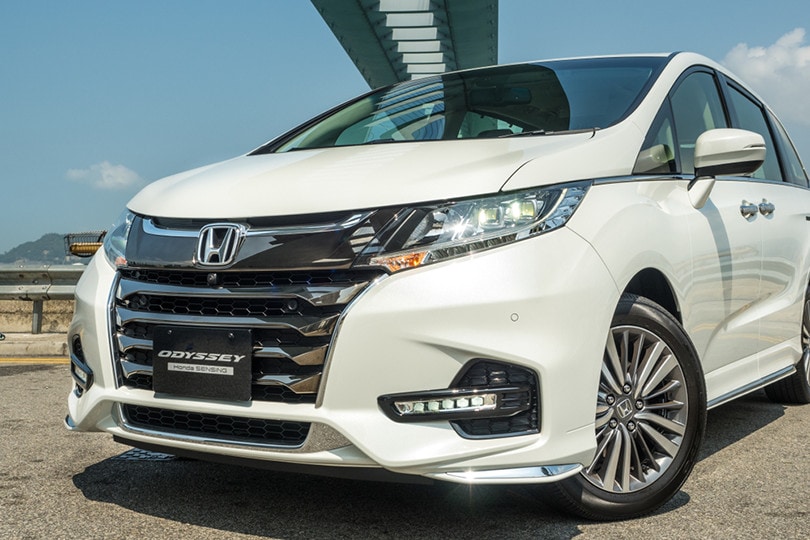 Honda entered the market of US minivans in 1994 and is still in large demand. Thanks to the powerful motor, advanced safety features, and upscale interior, Odyssey is a sure pick. And let's not forget about the impressive cargo capacity! Here's a closer look at both the advantages and disadvantages of Honda's 8-seater.
Capable Powertrain
Wait, does a minivan really have to pack a mighty engine? The answer is yes, it does. While Odyssey won't be able to catch up to a Ferrari, the powerful motor will make it feel like you're driving a four-door sedan. The 10-speed automatic transmission complements the potent engine. Fuel efficiency isn't chart-topping, but it's still solid.
Safe And Secure, But A Bit Outdated
What's the most important thing in a family vehicle? Security, of course! With Odyssey, you'll get all the standard safety features plus a couple of very important extras. We're talking about automatic emergency braking, traffic sign recognition, stop-and-go adaptive cruise control, and road departure mitigation, to name a few. Strangely enough, navigation is slow and, at times, inaccurate. Furthermore, you won't be able to connect your phone to the entry-level Odyssey.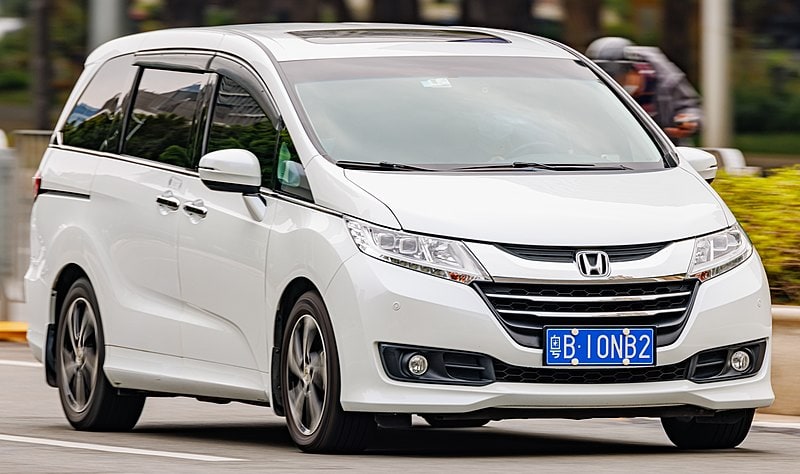 Above-Average Cargo Capacity
Arguably, this is the biggest selling point of the Odyssey minivan. With a total of 158 cubic feet of cargo capacity, you won't ever have to worry about running out of space. Behind the third row, Odyssey "hides" 38.6 cubic feet of space. If you also access the space behind the second row, you'll get 92.3 cubic feet. The maximum capacity—158 cubic feet—is only possible with the front row.
A Comfortable Interior
Even when the road is in an ideal condition, long trips do tend to be exhausting, especially when the seats aren't at all comfortable. The good news is—Odyssey has some of the coziest seats on the market and lots of legroom. Along with that, you won't hear any outside noises or the sound of the engine.
Pros
Impressive Power Output
Lots of safety features
Extended cargo space
Practically noise-free
Cons
Outdated navigation
No Smartphone support in base trim

Overview of Toyota Sienna: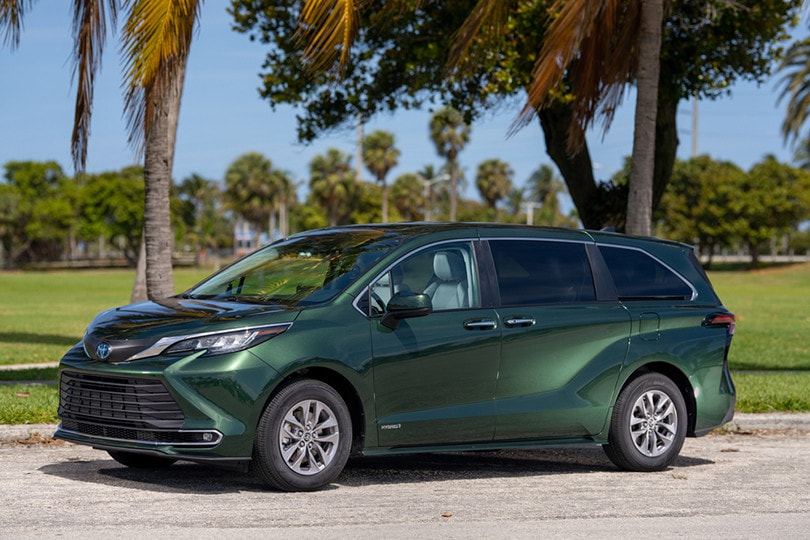 First introduced to the world back in 1997, Sienna is a go-to minivan for the average American family. It is durable, has an excellent set of standard features, and is a wonderful long-term investment, thanks to outstanding fuel efficiency. There's a lot more to it, however. So, let's take a closer look at Toyota's famous hauler.
Market-Leading Fuel Efficiency
Sienna is the most fuel-efficient minivan on the US market, up to 36 MPG in combined driving. You'll get the same terrific economy both on busy highways and city streets with tight corners. That's why this vehicle has such a high resale value—it's all because of the above-average ROI for a family car.
Generous Entry-Level Features, Not Enough Cargo Space
Don't have the budget for the more expensive tiers (six in total)? That's ok because the list of features for the cheapest trim—SE—is quite big. We're talking about climate control (tri-zone), push-button start, keyless entry, full Smartphone integration, a big touchscreen, lots of USB ports, and more. Compared to Odyssey LX (the standard trim level), this is, indeed, a generous set. On the downside, Sienna only has 101 cubic feet of cargo space.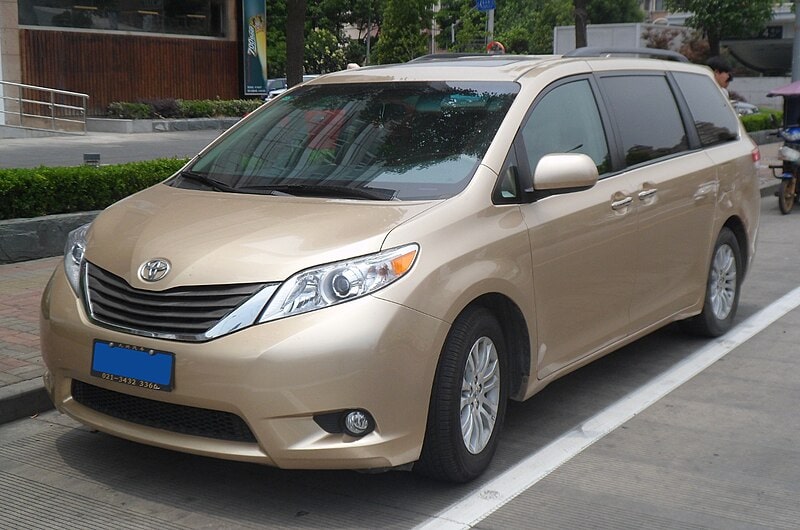 Extended Durability/Lifespan
The 2022 Toyota Sienna ranks #1 on the most recent J.D. Power Vehicle Dependability Study, and that speaks values about its reliability, sturdiness, and lifespan. In contrast, Odyssey didn't even make it in the Top 3. So, if you want a minivan that doesn't break down in the middle of the road and can take a beating, it doesn't get better than a Toyota Sienna. The extended lifespan, in turn, means it will be a very reasonable investment.
Easy To Drive, Yet Not Enough Oomph
The continuously variable transmission and the soft suspension make handling this minivan a blast. Even if you're just learning to drive, you won't have any trouble keeping it straight on the road. With that said, Sienna lacks passing power. You'll instantly feel this when driving on rough-tough terrain or trying to go from 0 to 60: Sienna isn't particularly quick to accelerate.
Pros
Top-of-the-class fuel economy
Abundance of standard features
Dependable and reliable
Polished ride quality
Cons
Average-at-best cargo capacity
Mediocre passing power

How do they compare?
Performance/Handling
Honda's Odyssey packs one of the mightiest engines—a 3.5-lit V6. No matter how challenging the road is (like climbing a steep hill or driving through mud), this minivan never feels like it is dragging. The suspension is a bit too firm for a vehicle this big, however. So, expect it to be a bit rough on far-from-ideal paths, especially bumpy trails. Handling is quite alright, though, and Odyssey makes it into tight corners better than most minivans.
The transmission also deserves our praise. The 10-speed automatic is perfect for the V6. Now, Sienna has a hybrid powertrain, and, as we learned earlier, that means incredible fuel efficiency. It also ensures a smooth, controlled ride quality. Sadly, passing power is lackluster: this minivan isn't quick to accelerate and might struggle on difficult terrain. On the bright side, you will get AWD with Sienna.
From a performance standpoint, Odyssey "beats" its competitor, but it's not as easy to drive. And since these vehicles have an identical towing capacity (3.5K pounds), that leaves us with a draw.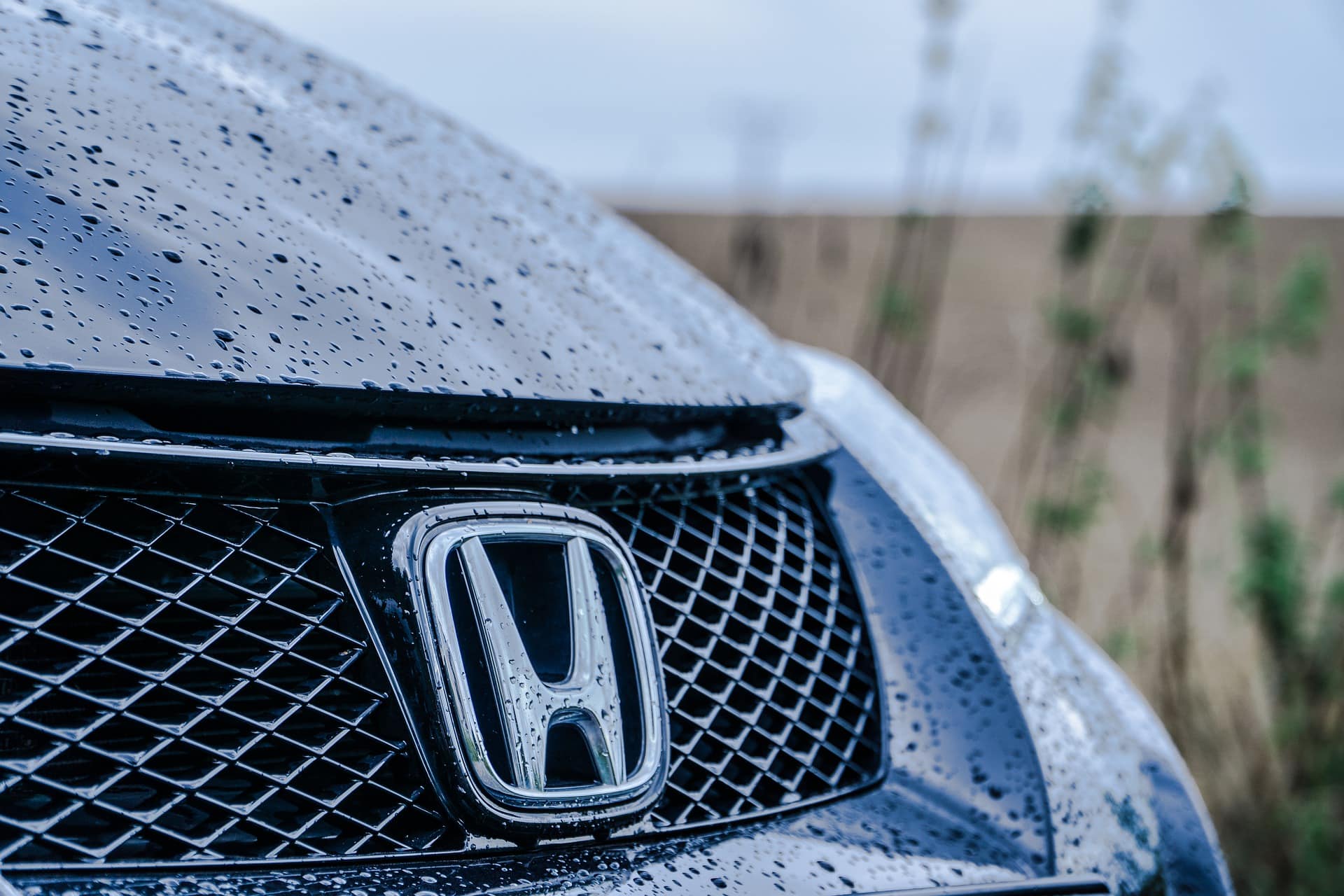 Price/Warranty
The 2022 Toyota Sienna is slightly more expensive than the latest Odyssey. The price difference isn't very big, but it's still there. As for the official warranties, both minivans have standard warranties (3 years/36K miles) and powertrain warranties (5 years/60K miles). However, Odyssey's roadside assistance coverage is better: 3 years/36K miles versus 2 years/25K miles with Sienna. Toyota's vehicle does have two extra warranties, though: hybrid system (8 years/100K miles) and hybrid battery (10 years/150K miles).
Still, overall, Honda Odyssey is the preferable choice when it comes to the price and warranty coverage.
The Interior
Honda's Odyssey has always been acknowledged for solid construction. And with the 2022 model, you can expect a soft dash, cozy armrests, cushioned seats, and high-quality plastics (for a minivan). Along with that, you'll get heaps of headroom and legroom. This applies both to the front and the second row. The third row isn't quite as spacious, but it still has more room than your average minivan.
Sienna's interior material quality is so-so. The seats are quite comfortable, but not for long-hour trips. Now, the first-row seats are quite roomy, and you will get footrests in the second row. Still, Sienna doesn't have nearly as much space as Odyssey. Furthermore, the dashboard doesn't at all look premium and features cheap plastic. So, yes, Odyssey is both more comfortable and offers more space to stretch your legs.
Technology
Honda's 5-inch touchscreen (for the entry-level trim) is decent, but it does have its fair share of problems. For example, Smartphone connections aren't always stable. On top of that, the interface tends to glitch and stutter. Voice controls also leave a lot to be desired. Now, these issues were partially improved in the 2022 model, but they're not completely gone. On the bright side, Odyssey's list of safety features is next to none.
So, what about Sienna? Toyota's minivan comes with a 9-inch touchscreen, and it's more reliable and faster. Plus, there are lots of physical buttons around the dash, which most drivers tend to like. The buttons could've been bigger, however. Another minor con: the screen isn't always visible in sunlight. Smartphone integration is a walk in the park, though. Summing up, Sienna is the winner when it comes to technology, but not by a landslide.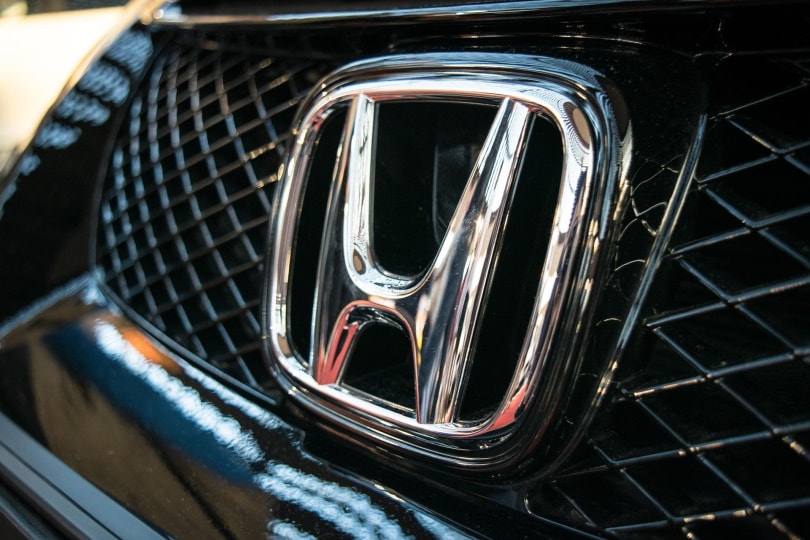 What the Users Say
After doing our own meticulous testing, we took to forums to check unbiased comments and see what the drivers have to say about these vehicles. Odyssey owners praise their minivans for the premium-quality interior materials, intuitive design, and spacious interior. Big families with more than three kids love the extra legroom. They also make great use of the extra cargo space.
Most users also like the fact that Honda's minivan is reasonably-priced and ensures a comfy, noise-free ride. But they would like to see a more intuitive and quick-to-respond infotainment system. Toyota's best-selling minivan also gets lots of love from regular drivers. Obviously, people like how fuel-efficient it is. The generous set of entry-level features, along with the above-average reliability is also mentioned in hundreds of unbiased reviews.
Next, minivan fans claim that it's very easy to drive around in the Sienna, thanks to the refined ride quality. Overall, people tend to like Toyota's bestseller a bit more, mainly because it's economical and durable. However, Odyssey is a crowd-pleaser as well and is only one step behind its prime rival.

Conclusion
Both Odyssey and Sienna are top-of-the-line minivans. Sienna is a lot more fuel-efficient, reliable, and easier to drive. Plus, it has more basic features and AWD. In the long run, Toyota Sienna will be a great investment. But it does struggle on highways and only has 101 cubic feet of cargo space. In contrast, Odyssey boasts market-leading capacity, excellent noise dampening, and a mighty powertrain. The list of safety features is slightly bigger, too.
More importantly, Odyssey is cheaper. So, if you're in the market for a safe and affordable family vehicle with extra cargo space, Honda has got you covered.
---
Featured Image Credit: Left: Honda ODYSSEY ABSOLUTE (Image Credit: Tokumeigakarinoaoshima, Wikimedia Commons CC0 1.0) | Right: 2021 Toyota Sienna (Image Credit: Kevauto, Wikimedia Commons CC BY-SA 4.0)