6 DIY Folding Workbench Plans You Can Make Today (with Pictures)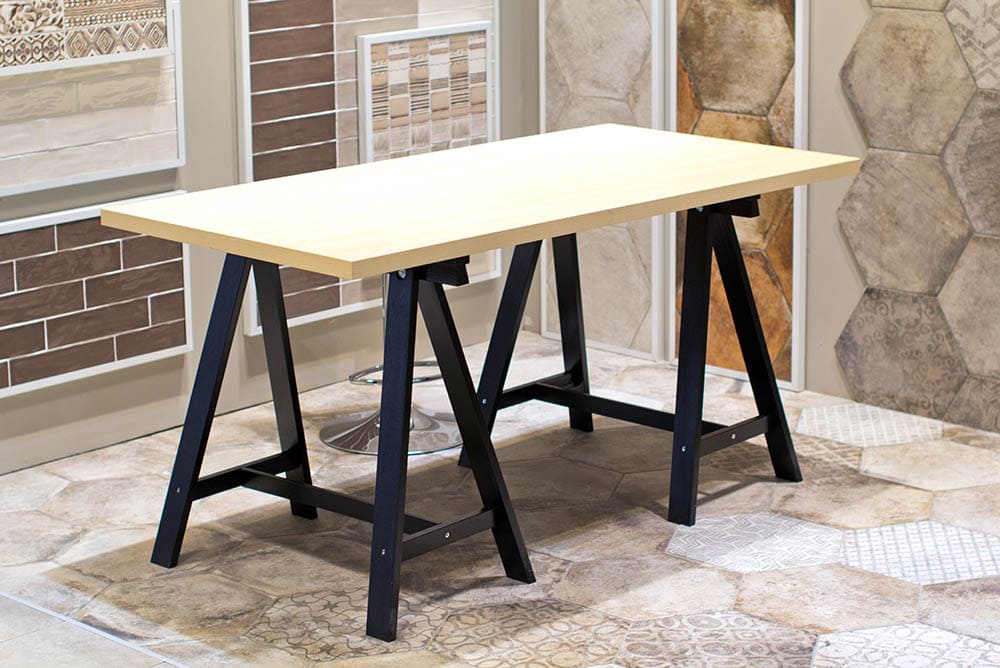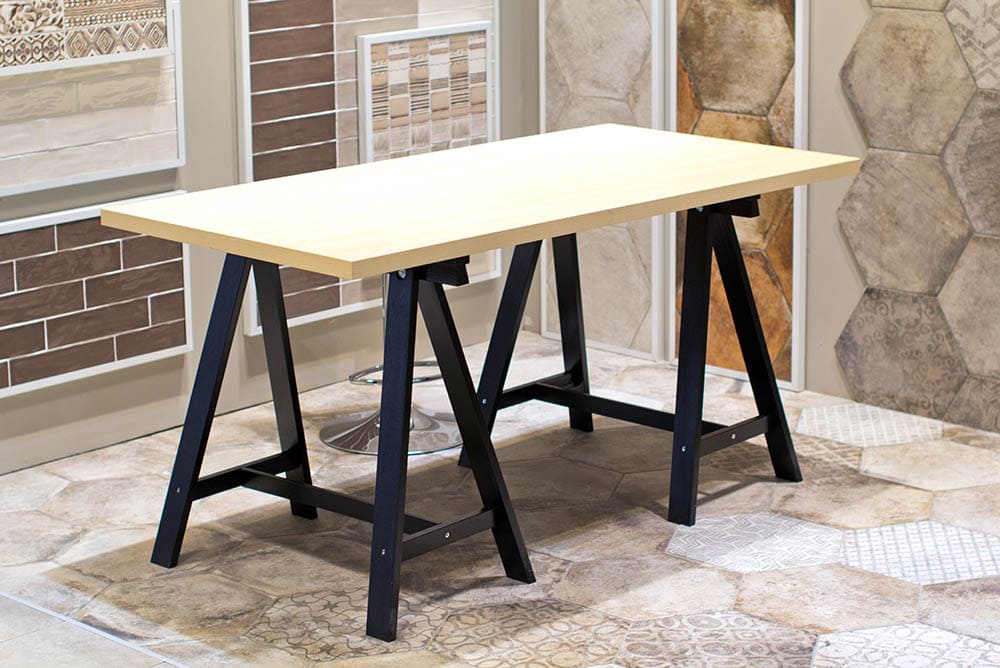 One of the most important things in every DIYer's inventory is a workbench. This isn't just a place where you can do work, it's also important to help you organize and keep track of tools, hardware, and materials. Plus, if you need to use a vise, you absolutely need something to mount that to.
We hunted up some plans for DIYers who have a real need for a portable workbench. You don't need a specific reason to learn how to build a folding workbench that also portable. A portable workbench's utility speaks for itself. We found a range, including some that you can take with you and some that you can collapse to maximize the space in a limited workshop space.
They come in two basic designs. One is a portable workbench that you can break down, fold up and take with you to the job. The other is a folding workbench that you can tuck back into the wall when you're done. Whatever your needs, we're pretty confident that we've found a design that is perfect to match them.

The 6 DIY Folding Workbench Plans
1.

DIY Folding workbench plan from Saws on Skates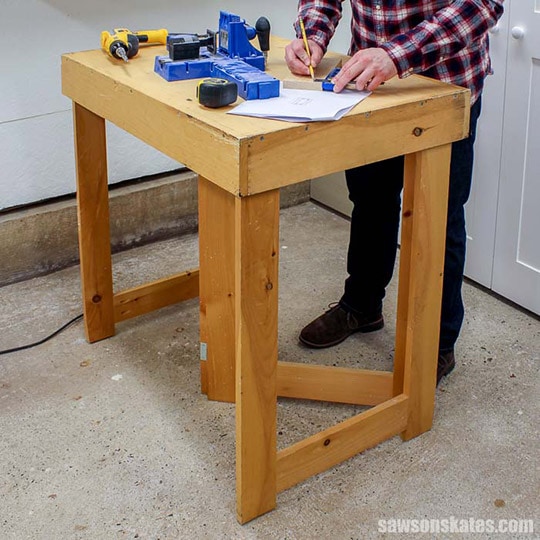 There are two basic types of folding workbenches you can build. One saves you space in a tight workshop. The other is a folding workbench that you can move around your house or property or even properties. We especially like this model because the M shape of the legs gives it maximum stability while also making it easy to move around. Though light, the design maximizes the weight of the projects it can handle.
The instructions are simple enough to follow. The materials will also not cost you an arm and a leg. Pretty soon, you'll ask yourself if you want to go back inside when you can use this instead.
---
2.

DIY Portable folding workbench plan from Remodelaholic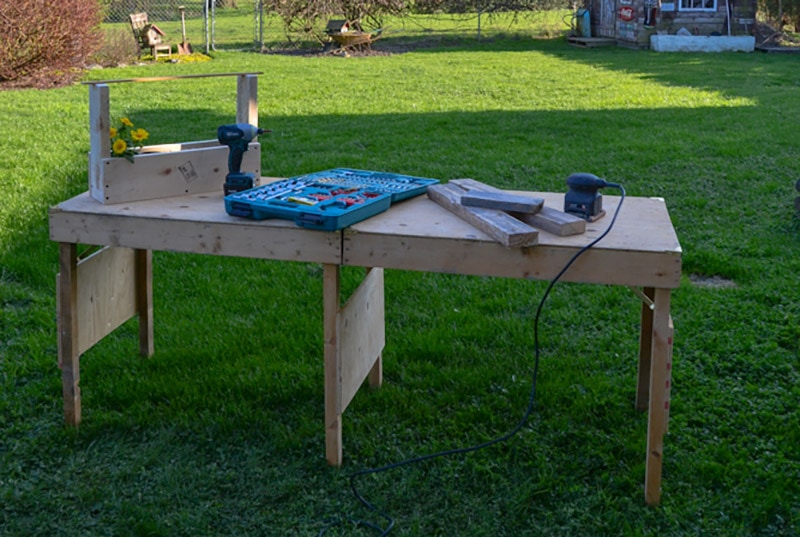 One of the best uses for a folding workbench is to take it with you to where you need to do work. That's one reason we love this one. Hauling around a traditional workbench in the back of a truck can be heavy and unwieldy. This one is in pieces that you can collapse into a size that is perfect to move around a large yard, from project to project.
The plans at Remodelaholic are pretty complete and simple to follow. They will give you a sturdy, portable workbench capable of handling all by the heaviest in DIY jobs.
---
3.

DIY Wall-mounted folding workbench plan from My Outdoor Plans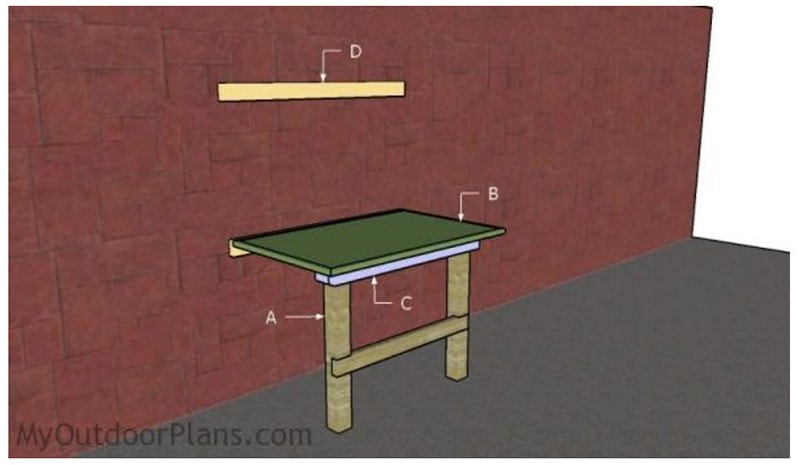 Sometimes you need a second workbench to supplement your working space. This folding workbench is perfect for that. It takes up just a small amount of wall space and isn't big enough for a front-line workbench. It is just right for a secondary workbench, a place you need to put something while the glue holding it together is drying or pieces/parts for another part of a project.
The instructions are pretty straightforward and easy enough, if you have sufficient skills, to freelance to fit it to your space. Just make sure that your floor and wall space are both even.
---
4.

DIY Cheap fold-down workbench plan from Instructables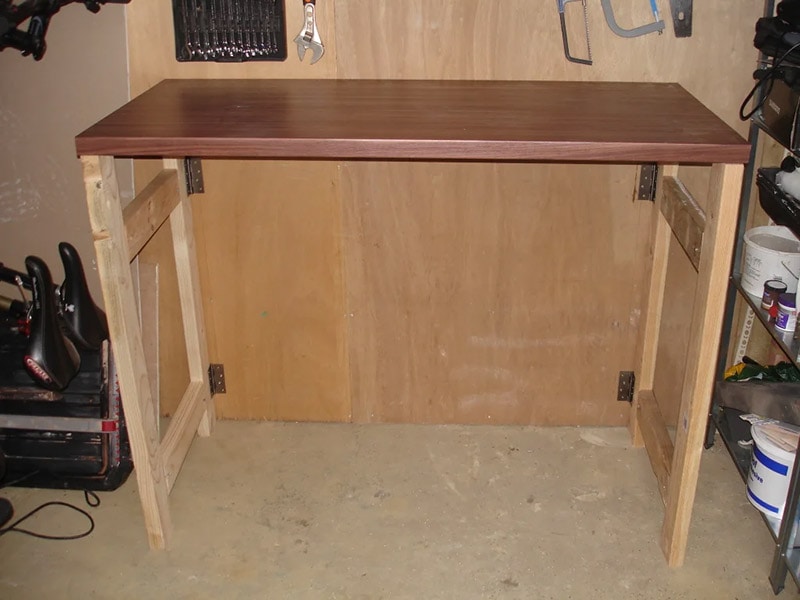 This fold-down workbench is a perfect way to economize space in your workshop. It's not the sturdiest workbench available, but it will fold down into a thin few inches protruding from the wall. That makes it perfect as a secondary workbench if you've got a bigger one for heavy jobs or a small hideaway workbench in workshops that don't require very heavy workloads.
The instructions and equipment needed for this are pretty rudimentary. If you have the skills to nail things together, you have the skills to build this workbench. Of course, if you have more refined skills, you can also freelance the designs a little and get just what you need out of it while still saving a lot of space.
---
5.

DIY Folding workbench plan from Wilkerdos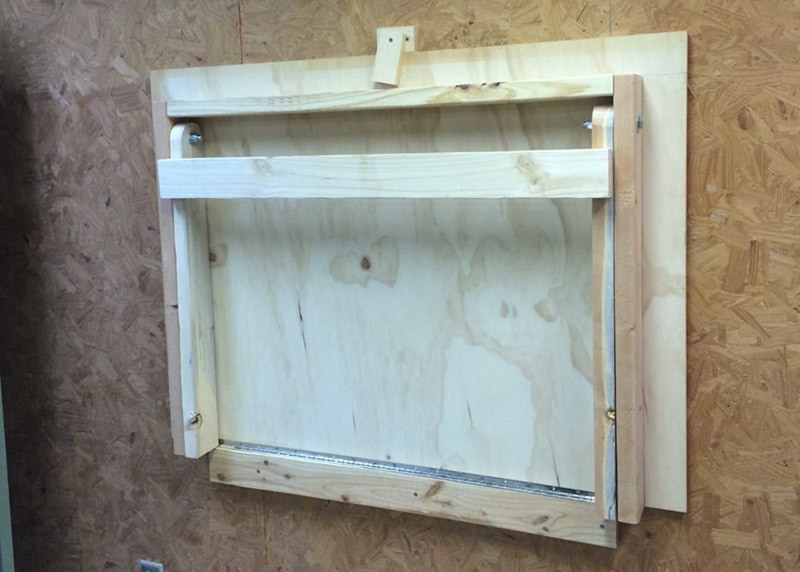 This is a really simple design for a folding workbench. It's also among our most versatile designs. It doesn't just work as a workbench, but you can adapt the design to a home office as a collapsible table either for your laptop or an electronics charging station that you can put away when you take your phone or tablet with you. Don't expect to do really heavy jobs on it, but you can always buff this out a little by freelancing the design a little bit.
According to the instructions, this bench protrudes from the wall only six inches. It's also among the simplest of DIY woodworking projects that you can find. Just make sure that you get the hinges on the right side of the table.
---
6.

DIY Portable workbench plan from Today's Homeowner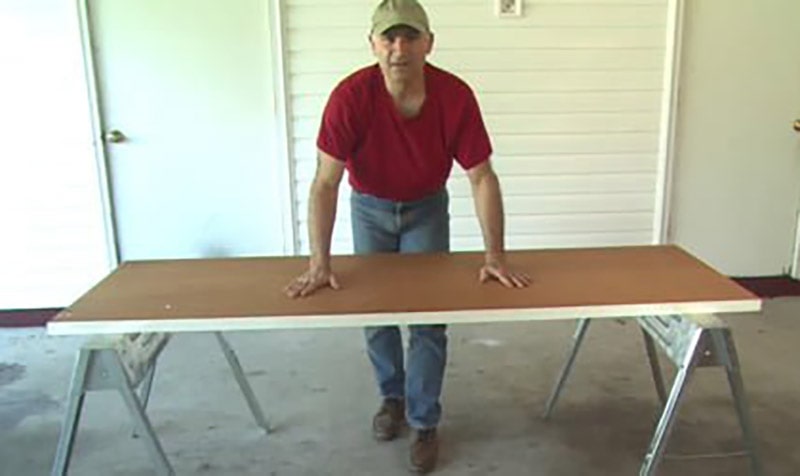 This isn't necessarily a DIY project. It's more like buying a flat piece of table and screwing some sawhorses to it. Still, if all you need is a place to lay tools and do some very light work, that's maybe all you really need. In fact, if you're just looking for a place to organize and lay things, you don't even necessarily need to screw it together. Of course, you might want to just to be on the safe side.
The instructions come with a video that you can follow along while building it. It's short because learning how to build a folding workbench like this isn't very complex. It will, however, give you a really good idea of what it's supposed to look like when you're done.
Related Reads: 
---
Featured Image Credit: iliart, Shutterstock