7 DIY Heavy-Duty Workbench Plans You Can Build Today (With Pictures)
For those with their own workshop space at home, a workbench is a must. Depending on the work that you are doing, you may need a heavy-duty workbench to handle your projects.
You can easily build a heavy-duty workbench yourself with the right plans. There are many different ways that you can build a workbench, depending on your preferences and needs. If you need plenty of storage, there are options for that. If you just need a basic place to work, there are plans that are just a simple table.
Either way, we got you covered with these plans.
The 7 DIY Heavy-Duty Workbench Plans
1.

Basic DIY Heavy-Duty Workbench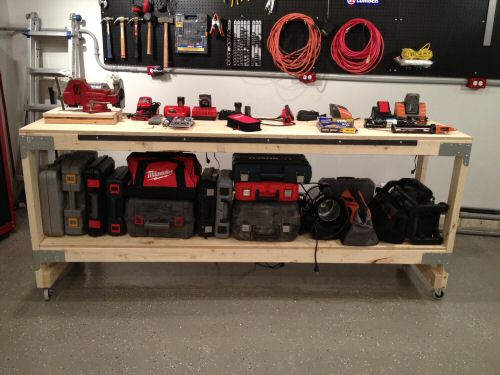 This project is simple, so nearly anyone should be able to use it. Its primary purpose is a workbench. However, you can also use it as sturdy, low shelves in a basement or garage. You can modify the design to include more shelves if you wish, as the basic design only comes with two shelves (or one shelf and a workspace).
This table can move around as necessary. It can support 400+ pounds and is completely free-standing.
It is quite inexpensive too. You should spend a bit over $100 on materials and then a few hours to actually build the table.
---
2.

Inexpensive DIY Heavy-Duty Workbench
For those on a budget, this bench may be a great option. It is heavy-duty but much smaller than some other options, making it less expensive overall. Generally, this bench should only cost around $100. You'll need a few basic boards of wood, wood glue, and screws.
That said, this workbench also requires a variety of different tools, such as a speed square, a jigsaw, and a chop saw. Therefore, it may not be the best for beginners who don't have these tools lying around.
---
3.

DIY Plank Workbench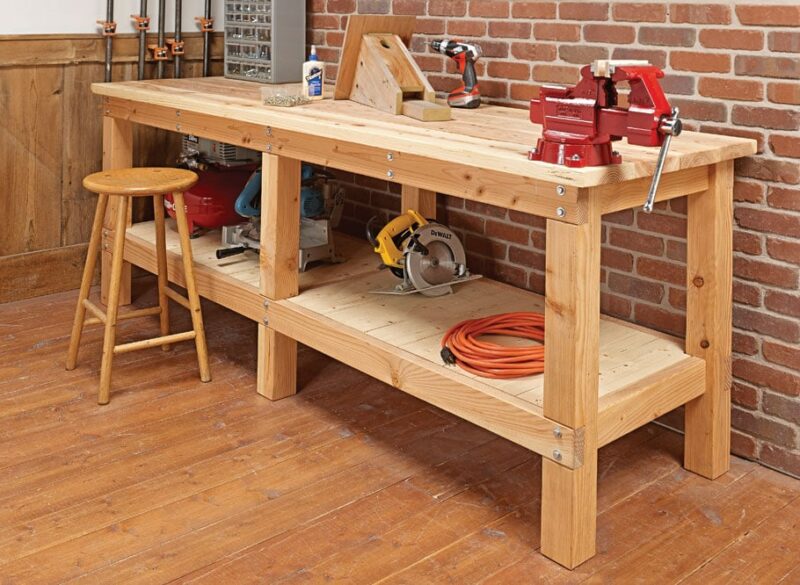 This blank bench is quite strong and should be able to handle anything that you throw at it. You can build it quickly with construction-grade lumber, and the plans are simple. You should be able to build it quite easily, even if you're new to DIYing.
Generally, this bench is made to last as long as possible, making it ideal for most beginners out there.
---
4.

Premium DIY Workbench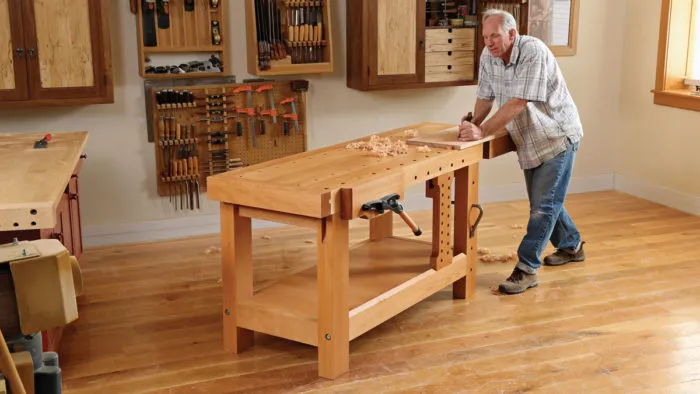 For those with more experience, you may want to give this workbench a try. It is a bit more difficult to make than some other plans on this list, but it does come with a few extra features that you may find helpful. It has a traditional tail vise to fit a wide range of other situations. The top of this bench is quite thick, which is ideal for heavy-duty projects.
While it does look complicated, the process is relatively straightforward. The directions are extremely easy to understand, so you should be able to complete them without too much of a problem.
---
5.

Traditional DIY Workbench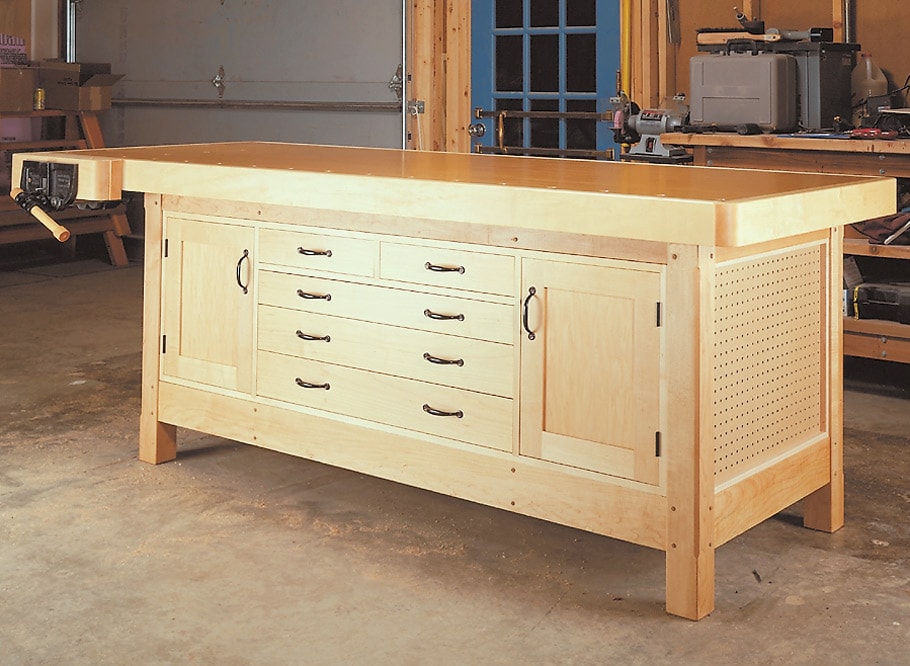 This workbench has a traditional construction that is solid and sure to last a long time. It is an extremely large bench, so be sure you have enough room for it. It is 8 feet long, not including the built-in vise.
While the design itself is traditional, it uses medium-density fiberboard, which is a newer material. The base is built with stronger materials to hold up the rest of the table.
When you combine this workbench with a few accessories, it's quite easy to use.
---
6.

Simple DIY Workbench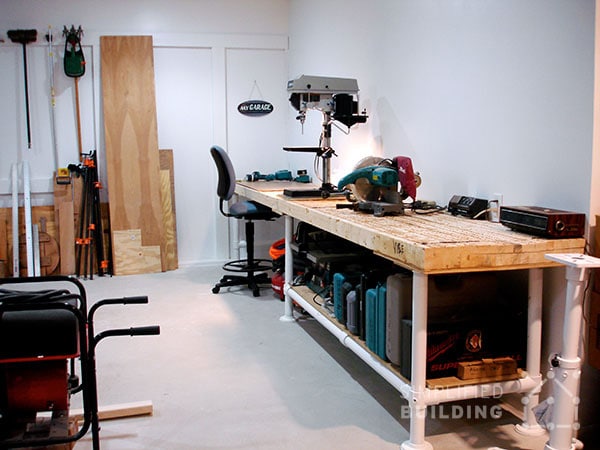 For those who want a cheap and inexpensive workbench, you may want to consider this option. It has basic PVC pipes as the bottom and solid wood as the top. The build is simple and can be accomplished by just about everyone, even beginners.
While this bench is quite straightforward, the use of simple materials makes it a bit less sturdy than most other benches. It is still high-quality and heavy-duty, though
The plans make a large workbench that measures 16 feet long. However, you could easily adjust the workbench dimensions as necessary.
---
7.

Huge DIY Heavy-Duty Workbench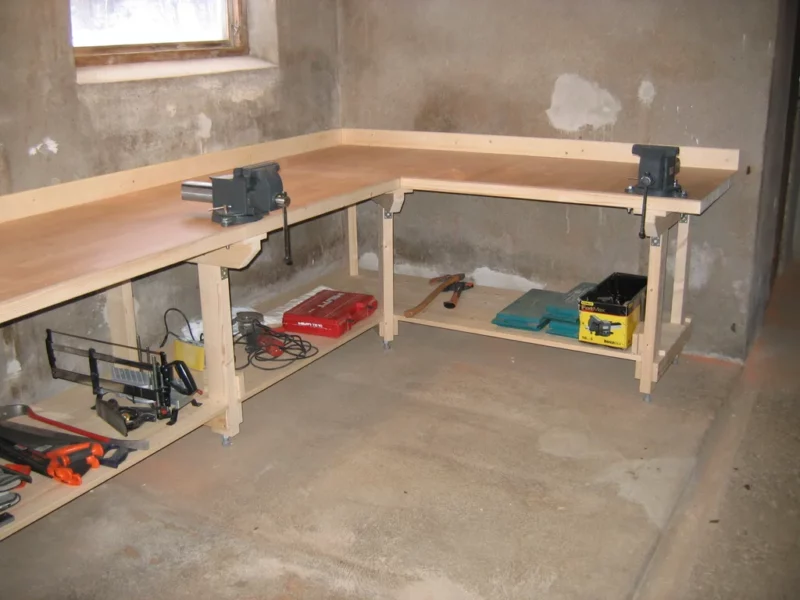 This workbench is designed to be extremely large. It can fit along the walls of your workshop, making it ideal for those who work on many projects at a time or just prefer a larger workspace. There is plenty of storage underneath the workbench. It can hold up quite a bit of weight, so it is perfect for those who work with heavy parts.
The build is quite large. However, it can easily be adjusted to fit your needs. It's designed to be set against a wall and is not portable, though.
You can also adjust what machines you want permanently installed on the bench and where they are located.
Conclusion
A heavy-duty bench is necessary if you're planning on using any sort of heavy machinery and want space to work around it. Most workbenches simply can't hold larger saws, for instance.
Fortunately, building a heavy-duty workbench isn't that much different than building any other workbench. However, you do need to use high-quality materials and generally make everything quite thick.
Many different plans are included in this article, so you can decide on the best option for you. Many of these differ in size and purpose. Some are meant to wrap the wall of your workspace, while others sit in the middle of it. A few are on wheels, making them portable. However, most of them are stationary.
Many heavy-duty benches can support permanently installed equipment, like saws, and come with built-in vises.
Hopefully, one of these plans suits your purposes. Feel free to adjust the size of any of the workbenches too!
---
Featured Image Credit: mavo, Shutterstock