Fluke 117 RMS Multimeter Review 2023 – Pros, Cons, & Verdict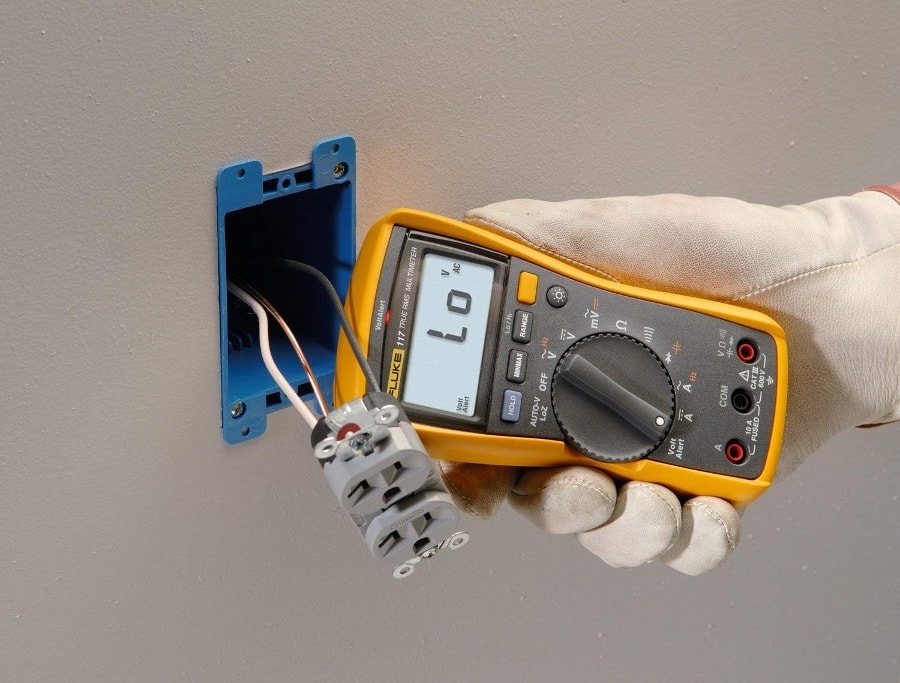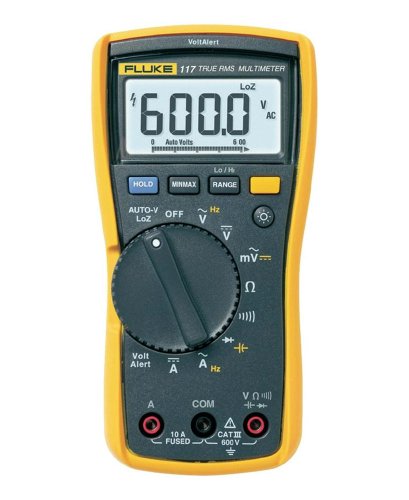 We give the Fluke 117 RMS Multimeter a rating of 4.6 out of 5 stars. 
Build Quality: 5/5
Power: 4.5/5
Features: 4.9/5
Price: 3.9/5
Review Summary
The Fluke 117 is an electrician's multimeter. It's designed to help an electrician work quickly and safely, and its construction reflects Fluke's well-deserved reputation for building quality test equipment. Its built-in features include non-contact voltage detection and the ability to detect whether the current you detect is live or a ghost. Of course, you will pay for Fluke's quality, and its limited amperage measurements make it less than ideal for electronics work.
Average homeowners might find it too expensive, and people who work on electronics will want something that can measure amperage in microamps. However, electricians will find it an indispensable part of their multimeter inventory.

Fluke 117 – A Quick Look
Pros
Hands-free voltage detection
Discerns ghost currents from real ones
Fluke quality
Cons
Quality costs money
Not designed for electronic work
Specifications
Brand: Fluke

Model: 117

Weight: 1.5 lbs.

Dimensions (in.): 6 x 3.3 x 1.8

Voltage: 600V

Current: 10A

Resistance: 40 MOhms

Capacitance: 10000 microfarads

Warranty: 3 years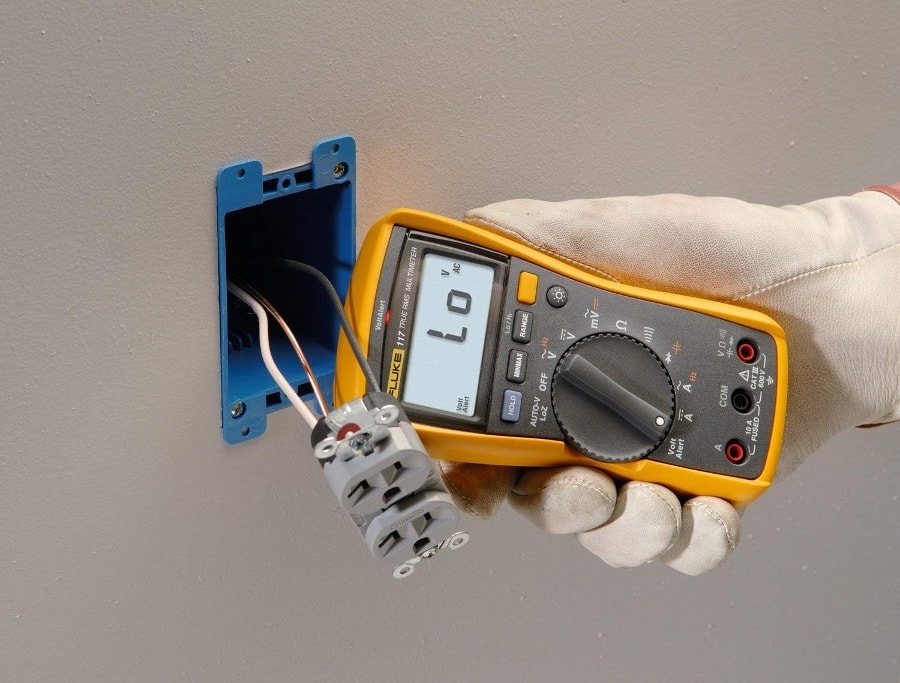 Volt alert
The Fluke 117's volt alert feature will tell you whether a circuit is live without touching its leads. This non-contact voltage detection makes locating dead circuits less of a hassle because it's hands-free. That's a time-saver that makes the electrician's job just a little bit safer.
Ghost or not a Ghost
You're working on a circuit that's supposed to be dead, but your multimeter says it isn't. Is it live? Or have you detected a ghost? The Fluke 117's Auto-V/LoZ feature discerns what's live and what appears to be live but is just capacitance bleed-through, which means electricians can work more quickly and safely.
Proven Safety
For many multimeters, listing the safety rating is more or less an educated guess. It's designed to work in a particular specification, but that's based on the design and what's worked in the past. Individual units might vary. Fluke tests each piece of equipment to ensure it's constructed to operate properly. That is why people pay extra for Fluke's reputation for quality.
FAQ
What Is the Operational Temperature Range for the Fluke 117?

14 degrees Fahrenheit to 22 degrees Fahrenheit.

Is This Good for Industrial Use?

Fluke independently tests all of their products to ensure they operate in the listed safety range. The Fluke 117 is rated for 600V. If your work involves panels below that, then yes, it is good for industrial use. If your electrical load is larger, you should look for a more powerful multimeter.

Is This Model Good for Beginners?

The Fluke 117 is designed for working electricians. Its non-contact voltage detection and ability to discern ghost voltages make it ideal for professionals working in the field instead of homeowners with a home-based workload.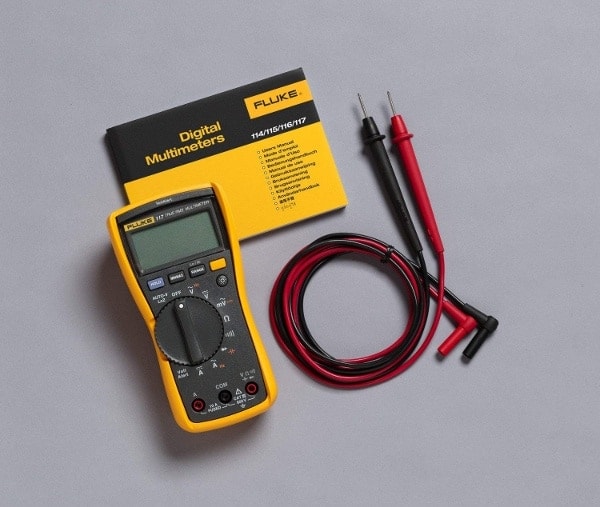 What the Users Say
For starters, whenever the name Fluke is used, the overall consumer experience will be good. Fluke makes high-quality, durable, accurate digital multimeters, and the reviews on the 117 very much reflect that.

Users noted that the 117 is part of Fluke's 110 line, which is the least expensive line of Fluke multimeters. Even though the 117 is pricey compared to similar models, it costs less than other Fluke multimeters.

Customers think the 117 is an excellent electrician's meter. Its built-in features make for quicker, safer work, and Fluke's reputation for durability is justified. If you're an average homeowner with an average workload, you can probably find a multimeter that suits your needs for less money. You just won't get the Fluke name.

Something some users didn't like was the display. Some found it difficult to read or visible only from certain angles. Enough people complained about it to warrant keeping it in mind when you're looking to buy. You'll want to ensure you can easily read the display before taking your multimeter into the field.

The overall consensus, however, is that Fluke hit a home run with the 117. Its features and build justify the extra expense. It's also accurate and a real asset.
Conclusion
The Fluke 117's no-contact voltage alerts and ability to sort out live circuits from ghost signals make it ideal for electricians when working with voltages less than 600 volts. It has the Fluke construction, which means it's durability, but that also increases the asking price.

Average homeowners might find the price too high. Many of the same features are available in multimeters that cost less, and what you're really paying for is Fluke's reputation for safe, durable multimeters. However, if you're in the market for a high-end electrician's multimeter, spending a little extra for a Fluke is well worth the extra dollars.

Related Reads: