5 Free DIY Kayak Storage Rack Plans You Can Make Today (with Pictures)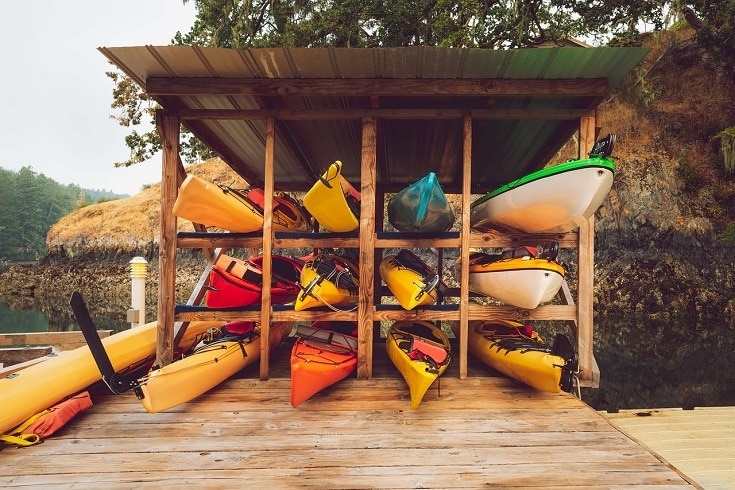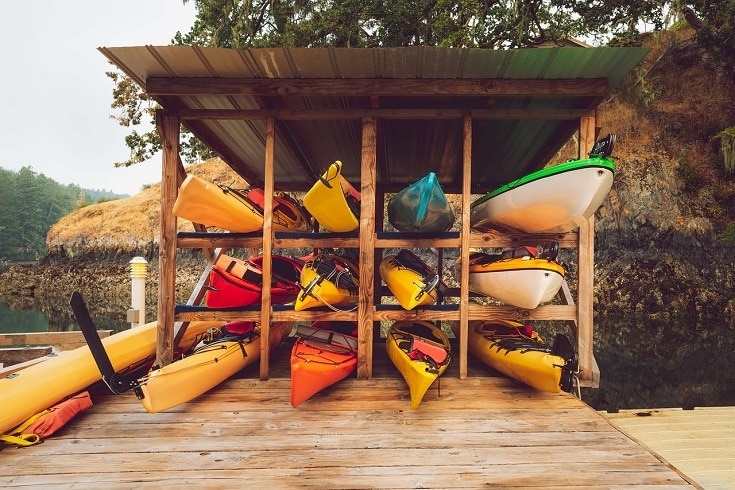 According to the American Canoe Organization, more than 13 million Americans participate in kayaking each year, making it one of the most popular sports in the country.
Despite all the fun that comes with kayaking, most kayaks are quite large, which makes storing them a hassle for individuals who do not have much space on their property. They have to make do with what they have to ensure that your kayak stays safe from the elements.
But how about a DIY rack to make things easier? The following are plans that teach you how to build a kayak storage rack for yourself.

The 5 DIY Kayak Storage Rack Plans
1.

DIY Wall Hanger for Kayaks
If you have wall space to spare, a DIY wall hanger for kayak storage should be one of the first options to consider.
You can make a kayak wall hanger from a pipe. Simply bend the pipe into a shape that you can mount on a wall. This video illustrates how to do this. Moreover, you can create two wall hangers from a single pipe, thereby making the kayak wall hanger one of the most cost-efficient do-it-yourself kayak storage plans. It is also quite easy to assemble.
---
2.

DIY PVC Kayak Rack
As this video shows, a PVC kayak storage rack plan simply involves duct tape, tee joints, and electrical PVC to customize a rack that can store up to three racks. Thanks to its design, this rack is also quite easy to take apart in case you no longer need it or need to transport it.
You also do not have to be a skilled craftsperson to do this project, as the only tools you need are a saw, rubber mallet, and tape measure.
---
3.

DIY Indoor Storage for Kayaks
This DIY indoor kayak storage solution makes do with just posts and ratchet straps. The benefit of this kayak plan is that it ensures that the weight of your kayak is distributed evenly, thereby reducing the chances of damage occurring.
You do not need much skill to make this rack. Additionally, all the tools and items that you will need can be found at your local hardware store.
---
4.

DIY General Kayak/Canoe Storage
To construct this simple kayak storage rack, all you need is plywood, four 2X4s, a PVC pipe, and bolts. You will screw the 2X4s flat into the walls and then add rungs where you will place your kayak. These rungs can be made out of plywood with PVC pipe at the center to prevent the wood from squeezing together, which can result in collapse.
The advantage of using this type of kayak storage is that you can design it to hold several kayaks without using much space.
---
5.

DIY Kayak Cart
This kayak storage solution is quite innovative, as it not only offers you storage but also mobility. This means that you can move it to the space that is most convenient for you at that moment. Loading and unloading the kayak, as well as getting it to and from the truck, also becomes much easier.
You can make a DIY Kayak cart using simple tools in your garage and materials that are readily available at hardware stores. A few of the things that you will need include a drill, drill bit, screws, lumber, casters, and gloves.
---
Tips for Proper Kayak Storage
To ensure that your kayak(s) stays in proper condition while in storage, take heed of these tips:
Always pay close attention to the temperature of the area where you are storing your kayak. This is because if those temperatures either go above 100 degrees Fahrenheit or dip below freezing, the risk of your kayak becoming brittle dramatically increases.
Always clean the kayak before storing it. This will reduce the chances of mildew and mold growing on it. Cleaning your kayak is especially vital if you do your kayaking in saltwater, as salty water corrodes the hull.
If you decide to mount your kayak(s) on a wall, make sure that the surfaces that you mount it on are sturdy. As such, avoid hanging your kayak from drywalls or plain plywood.
Regardless of your choice of kayak storage ruck, it is important to ensure that the weight of the kayak is evenly distributed. This prevents the hull from deforming or warping.
If you must store the kayak outside, then make sure that you utilize a tarp for protection against the elements, in addition to preventing insects and animals from using your kayak as a shelter.

Conclusion
Kayaking is the most appropriate definition of fun. However, if you want your kayak to serve you for a long time, you must store it properly. Hopefully, this article has taught you how to build a kayak storage rack that will help you keep your kayak in good shape for many years to come.
---
Featured Image Credit: Vladvictoria, Pixabay