10 Best Woodworking Aprons of 2023 – Top Picks & Reviews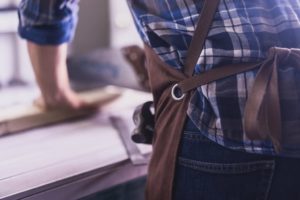 If you work with wood and you don't have a woodworking apron, you're making life more difficult than it needs to be. Aprons are Personal Protective Equipment (PPE) that also serve as a quick-access and mobile storage unit.
Despite how simple they are, there are many differences in modern aprons. You want a good product but don't want to overspend on one that isn't worth its cost.
We want to help, so we've created this list of reviews of the top woodworking aprons of the year to help you with determining the models that are worth the cost and which ones you should skip over.
---
A Quick Comparison of Our Favorites in 2023
Rating
Image
Product
Details

Best Overall

Bucket Boss Duckwear

16 pockets
2 hammer loops
Fits waists up to 52"
CHECK PRICE

Best Value

Ergodyne Arsenal

16 pockets
Adjustable straps to provide a comfortable fit
Heavy-duty canvas
CHECK PRICE

Premium Choice

Hudson Durable Goods

Adjustable size
Two hammer loops
Padded straps
CHECK PRICE

Texas Canvas Wares

Water resistant
Made from waxed canvas
Reinforced using rivets and grommets
CHECK PRICE

Dickies 16-Pocket

Made of durable canvas
16 pockets for tool storage
2 loops for additional storage
CHECK PRICE
The 10 Best Woodworking Aprons
1.

Bucket Boss SuperBib Work Apron – Best Overall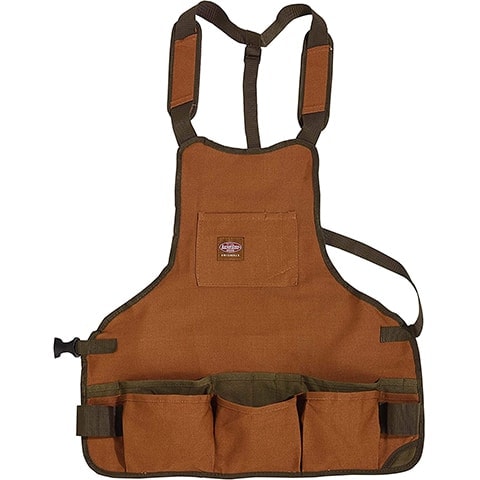 The Bucket Boss SuperBib Work Apron is a woodworker's dream. With 16 pockets, padded shoulder straps, and an adjustable belt, it has everything you could want in a workshop apron.
Made of heavy-duty canvas, this apron has two hammer loops and numerous pockets. It will fit a waist up to 52 inches and is made for efficiency and ease of use. It's an ideal apron for DIY or professional carpenters. The SuperBib is built to last several years, making it our choice as the best overall woodworking apron.
Pros
16 pockets
2 hammer loops
Fits waists up to 52"
Size: 23"W x 24.5"H
Adjustable, padded shoulder straps
---
2.

Ergodyne Arsenal Work Tool Apron – Best Value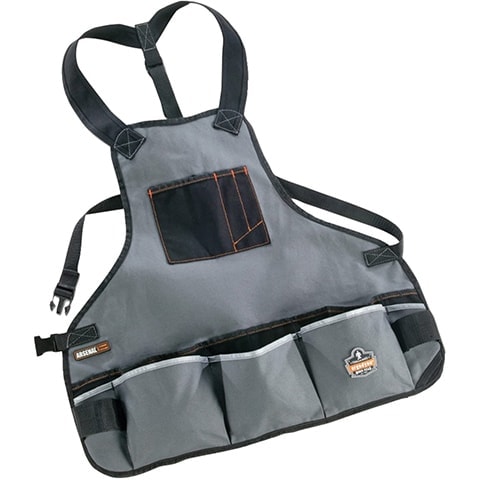 When searching for the right woodworking apron for the money, the Ergodyne Arsenal 5700 Work Tool Apron is the apron to choose.  This 16-pocket apron has plenty of options for holding fasteners, tools, and anything else you may need to carry.
It's ideal for contractors, construction workers, DIY enthusiasts, hobbyists, gardeners, grillers, and anyone looking for a sturdy and durable apron. The Ergodyne Arsenal is made of heavy-duty canvas, but the tight pockets keep it out of the top spot.
Pros
16 pockets
Adjustable straps to provide a comfortable fit
Heavy-duty canvas
14 oz weight
Shorter, so it's easy to bend and maneuver
---
3.

Hudson Woodworking Apron – Premium Choice
When money is no object, we recommend the Hudson HDG901W Woodworking Apron. This waxed canvas apron is adjustable and can go from medium to 2XL to fit just about anyone. The straps are padded and spread the weight of your tools to help prevent neck strain, and the hammer loops and large pockets have ample room for angles, measuring tapes, wrenches, etc.
There's a pocket in the chest for your cell phone, tools, or pencil. Sawdust flaps keep sawdust and dirt out of your pockets, protecting your tools. We liked how we looked in this apron but wish the storage pockets were larger. At 16 ounces, it's a bit heavier than others on this list.
The waxed canvas construction should last a long time, and the Hudson is a wise investment if you like the design.
Pros
Adjustable size
Two hammer loops
Padded straps
Sawdust flaps
Has a quick-release buckle
Cons
Could use a few more pockets
---
4.

Texas Canvas Wares TCW9001 Apron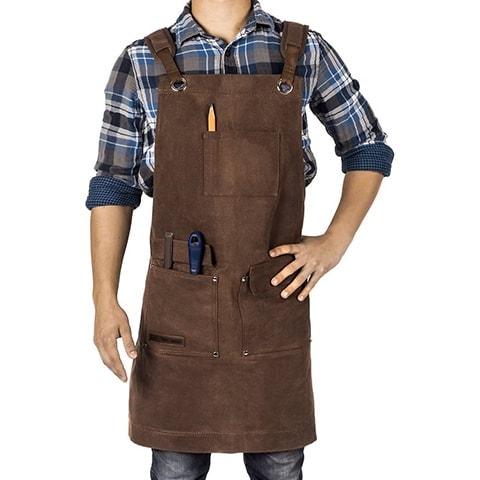 The Texas Canvas Wares TCW9001 Apron is a professional-looking, long-lasting apron made of durable canvas and can go from medium to extra-large. It has a generous 27-inch width and 34-inch length, which might be too large and long for some woodsmiths.
It is also waxed canvas, so it's water-resistant. The shoulder straps are padded for comfort, and the selection of pockets is pretty standard: two large pockets at the waist and one chest bib pocket for pencils and mobile phones.
Though the manufacturer touts the apron's breathability, we found the opposite to be true. It does a great job of insulating body heat, which is good for frozen climates, but it's a sweat factory in warmer zones.
Pros
Water-resistant
Made from waxed canvas
Reinforced using rivets and grommets
Adjustable from medium to extra-large
Cons
May be hard to put on for some
Doesn't breathe well
---
5.

Dickies 16-Pocket Workshop Bib Apron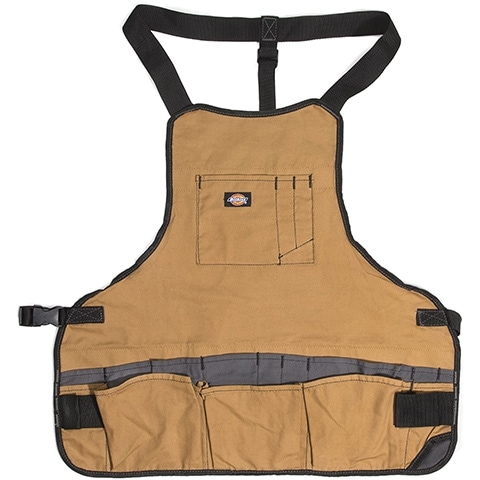 Dickies products have a loyal customer base, so many shoppers choose this apron over all the others without doing the homework. The Dickies 16-Pocket Workshop Bib Apron is made from durable canvas and has 16 pockets, so you will always find a place to put your tools. Also, it's fitted with a pair of tool loops on both sides of the apron.
With an adjustable belt and reinforced edges, this stylish and sturdy apron will bring you many years of use if you take good care of it. Having said that, the only thing that separates this apron from others on the list is the Dickies logo. It's a decent apron at a decent price but offers nothing special. In other words, a perfectly middle-of-the-road product from a brand that many people swear by.
Pros
Made of durable canvas
16 pockets for tool storage
2 loops for additional storage
Edges are reinforced
Belt expands to accommodate waists from 32-52 inches
Cons
May seem smaller than stated
Nothing special
---
6.

Armor Gear Durable Work Aprons
The Armor Gear Durable Work Apron is almost identical to the Texas Canvas Wares product in our number four spot. This apron is just 16 ounces in weight, so it's comfortable to wear, and it can easily adjust to accommodate a 50-inch waist. It's the ideal apron not just for woodworking but for butchers, painters, barbers, baristas, and more.
The Armor Gear apron features wax-infused canvas, so it's made to last. It's recommended for individuals who are 5'2" or taller. On the downside, our apron bled a lot of color during its first washing and lost a lot more color on the second wash. If you don't care about a faded apron, the Armor Gear may be for you.
Pros
Weighs just 16 oz
Made of wax-infused canvas
Adjustable to accommodate a 50" waist
Water-resistant
Cons
Color may bleed in wash
Recommended for people 5'2" or taller
---
7.

Eco Zen Woodworking Shop Apron
It can be hard to find an apron that can be comfortably worn by men and women, which is why we love the Eco Zen Woodworking Shop Apron. This stylish apron has a unique design and quick-release buckle, making it easy to wear and completely adjustable from small to 2XL.
Its pockets are strategically placed so that everything you need is right at hand instead of you having to search for the tool you need. The Eco Zen apron is highly durable, and the pockets have flaps to protect your tools from paint, dust, finishes, stains, and more.
Pros
High quality
Very durable
Flaps on pockets protect tools
Padded straps
Cons
Not good for wider/bigger chests
Length could be longer
---
8.

NoCry Professional Canvas Work Apron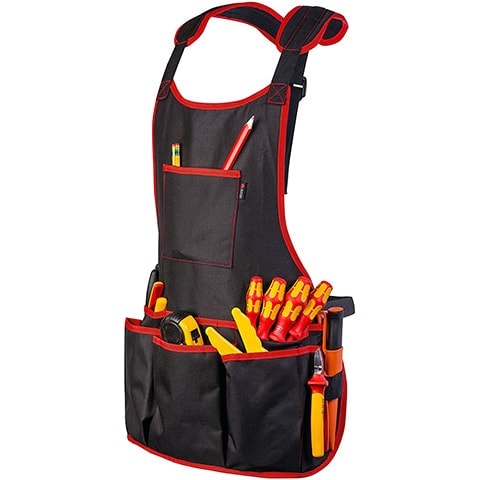 A lot of people enjoy doing projects at home. When you're working, you want to keep your clothes clean. If you are searching for a quality, lightweight apron to wear in the workshop, the NoCry Professional Canvas Work Apron is the one to choose.
This apron has 16 pockets in it, and it can be used for all types of work, from working on wood and metal to doing other types of crafts at home. One thing we noticed about this apron is that it's not sturdy. The material wears out quickly, and the clasps do too.
Pros
16 pockets
Good for many types of projects
Cons
Material wears out fast
Difficult to adjust
Smaller than expected
Material is stiff
---
9.

Angry Beaver Waxed Canvas Work Shop Apron
If you want a stylish and durable apron for your workshop, try the Angry Beaver Waxed Canvas Work Shop Apron. This apron is made with less rigid wax to provide a supple look and feel. It doesn't require any breaking in.
The Angry Beaver can be worn for several tasks, such as gardening, woodworking, grilling, hobbies, and much more, and men or women can wear it.  It can be adjusted and adapted to your needs, and the straps ensure a fit for just about any size.
Pros
Supple look and feel
Adjustable
Cons
Hard to adjust
Hard to put on and remove
Smaller than expected
Strap breaks
---
10.

Rustic Town Genuine Leather Grill Work Apron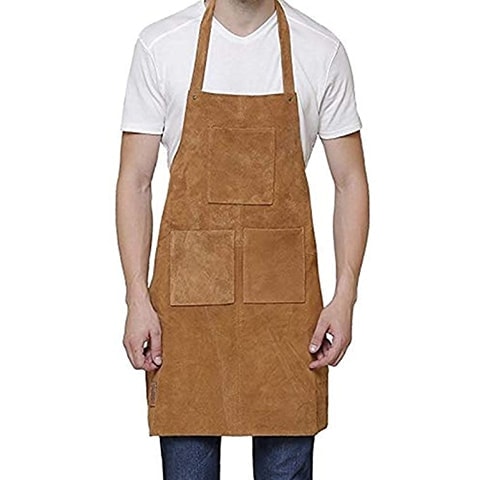 If you dream of having a leather work apron, the Rustic Town Genuine Leather Grill Work Apron may be what you're looking for. The apron has a vintage style and is made for an easy fit and comfort throughout the day. The tool pockets are versatile, with three large pockets that give you access to your accessories and tools. There's a pocket for your cell phone or pencils on the front chest of the apron.
This apron can be used for various reasons and is made to last. The main problems we discovered were that it was shorter than expected, and the neck loop wasn't adjustable, so it felt very heavy.
Cons
Shorter than expected
Neck loop not adjustable
Felt heavy around neck

Buyer's Guide – Choosing the Best Woodworking Apron
What to Look for in a Woodworking Apron
There are a few aspects that you should consider when you are purchasing your woodworking apron. Below are some of the considerations:
Weight
Some people prefer a lightweight apron rather than a heavier one. You are going to be working with wood, and you'll be using up a lot of energy. You don't need a heavy apron since it will make it hard to move. A lighter apron will be much more comfortable and not as hot.
Length
You don't have to choose a full-length apron. Waist aprons aren't much more than wide belts with many pockets. They're handy for carrying items but don't provide much protection. The next type is known as a bib apron. They cover your chest but go down to around halfway down your thigh.
They are good because they offer a lot of movement and give you a decent amount of protection when working at a counter or bench. Full-length aprons will usually go to the knee, but the welding aprons often are longer and cover you entirely while you're seated.
Material
Leather and canvas are the two main types of material that shop aprons are made of. Both of them are very durable and flexible. Shop aprons made of canvas are often waxed, offering a better liquid defense. However, they often develop odors that can be unpleasant. An advantage that leather offers is from welding splatter or sparks. Although they will singe leather, if you are wearing a canvas apron, sparks can go right through.
Durability
First, consider the durability since you are working in a woodworking area. You want your apron to be tough and withstand abuse. You also want to keep the dust and dirt from your woodworking off your clothes.  It's also worth it to find one that is waterproof. Wax and leather aprons can both be treated so that they are water-resistant.
Having a durable apron is also vital because you want to be able to put your tools in it. The last thing you want is to worry about your tools falling out of your pockets.
Pockets
Since we brought up pockets in the last section, the next step is to consider how many pockets the apron has. You want to ensure that it has enough pockets to hold your tools and your phone.
Adjustability & Wearability
Finally, you want to find an apron that can be adjusted around your waist and neck according to your needs. Something else you want to look for is an apron with buckles that you can quickly release.
It's also essential to choose an apron that is easy to wear. You don't want to worry about it being hard to take off or put on.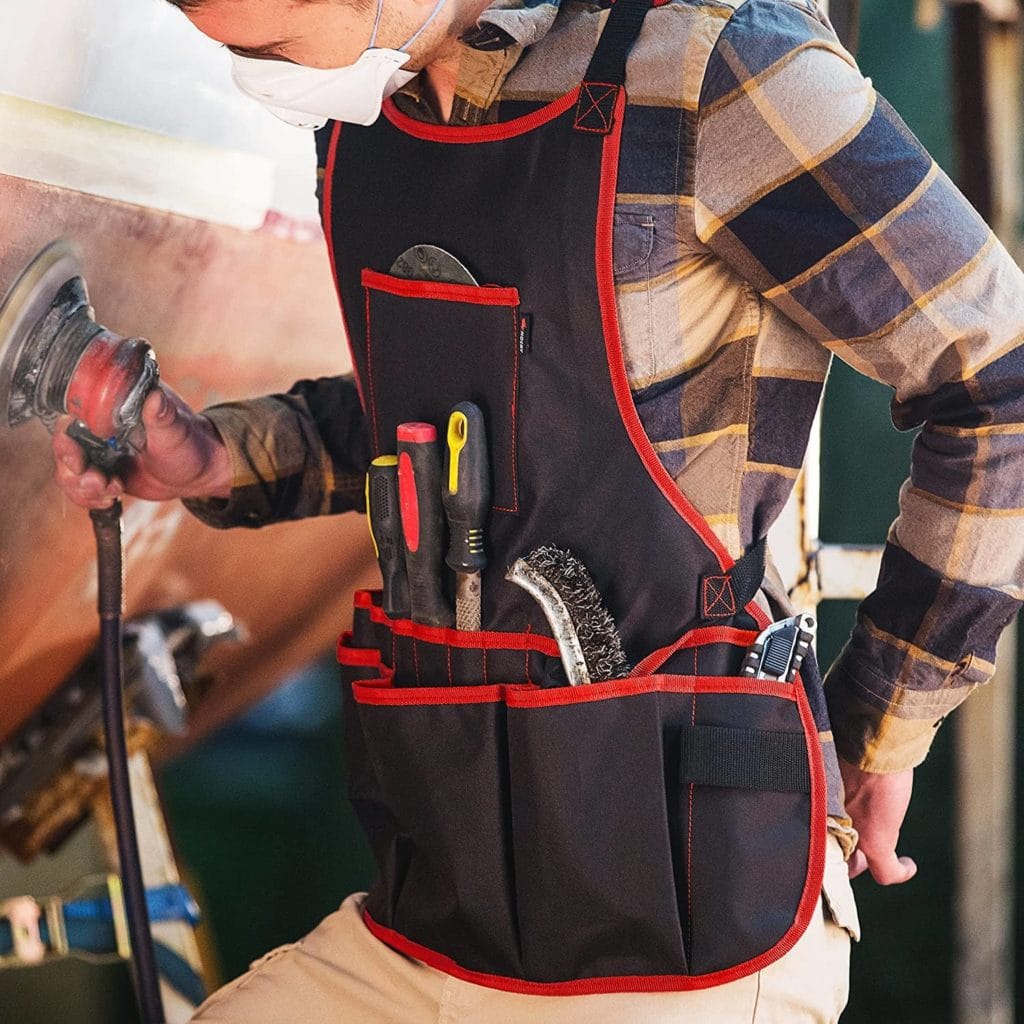 Reinforcement
Even though you may not think of reinforcement when it comes to your daily clothing, you want to consider it for your woodworking clothing. Sometimes, it's annoying to have reinforcements in your apron. They might look cool, but they can make putting it on and taking it off hard. So, look for an apron with grommets and rivets or snap-on buckles.
Size
Most manufacturers have a sizing chart to help you order the correct apron, depending on your height and weight. However, most have adjustable straps to accommodate various waistlines.
Straps of the Apron
The apron's straps will sit on your shoulders and hold the weight of the whole apron. In general, the apron's weight will depend on the material.
Woodworking aprons tend to be strong, so they use leather or canvas. That's why they are sometimes heavier. So, you want to choose an apron with padded straps to make it much more comfortable.

Conclusion
Although we discussed several remarkable woodworking aprons, we have our favorites. The Bucket Boss SuperBib Work Apron is our top pick, and we love its oversized pockets and adjustable straps that can accommodate 52-inch waists. Its durable construction can handle any task in the workshop. If you're on a tight budget, we recommend the Ergodyne Arsenal Work Tool Apron. It only weighs 14 ounces but can hold all your tools. We hope our reviews and buyer's guide help you find the ideal woodworking apron.