6 Awesome DIY Outdoor Fireplace Plans You Can Make Today (With Pictures)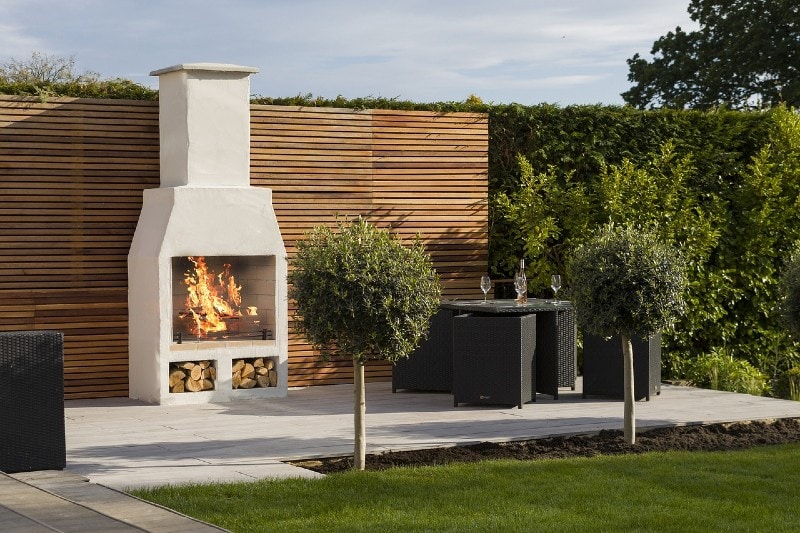 An outdoor fireplace is a great way to provide warmth and comfort to an outdoor space. Some of the most creative plans also double as a place to cook. And even if you have limited space, you can still create a fire pit that offers the same benefits but without being built up or taking up as much space.
While it is possible to buy outdoor fireplaces, and there are plenty of kits that provide the equipment and plans, you can find existing plans online for free and then modify these to more accurately meet your space and design requirements.
Below are six clever and creative DIY outdoor fireplaces to bring comfort and a little luxury to your outdoor space.

The 6 Awesome DIY Outdoor Fireplace Plans
1.

DIY Cinder Block Fire Pit by Designing Idea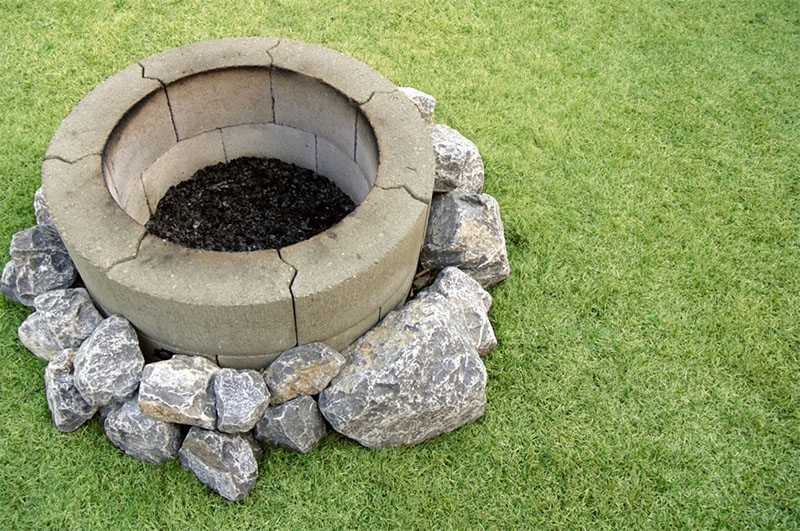 | | |
| --- | --- |
| Materials: | Cinder Blocks, Volcanic Rock, |
| Tools: | Shovel |
| Difficulty: | Easy |
The cinder block fire pit is arguably the easiest outdoor fireplace to build. The plans suggest lining the base of the pit with volcanic rock, although instructions are also included for mixing your own cement to create a concrete lining.
Cinder blocks are used because they are cheap and easy to lug around and move into position. They are porous, too, which means that steam can escape rather than build up. Concrete blocks may break down or could potentially explode. However, other materials can be used where available and when the budget allows. Clay-fired blocks offer much greater fire resistance and arguably look better, too.
---
2.

Easy DIY Outdoor Fireplace by Homestead Survival Site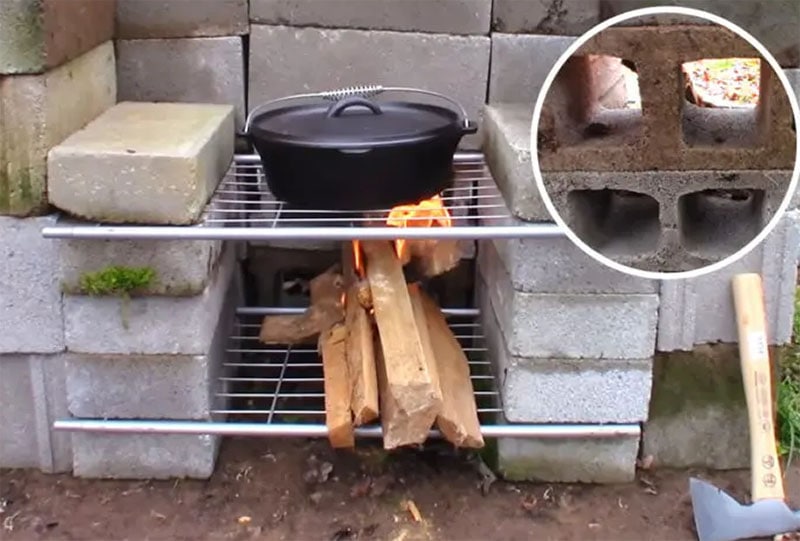 | | |
| --- | --- |
| Materials: | Cinder Blocks, Cap Blocks, Grates |
| Tools: | not needed |
| Difficulty: | Easy |
If you have very limited time and have a few cinder blocks and a couple of grates laying around and want a fireplace to cook on rather than as a permanent decorative item, the easy DIY outdoor fireplace is quick to construct. It doesn't require any tools, and because it uses cinder blocks, there isn't any heavy lifting involved. It can be constructed in 20 minutes or less and provides the perfect environment for outdoor cooking.
---
3.

DIY Outdoor Fireplace by Hailstrom Home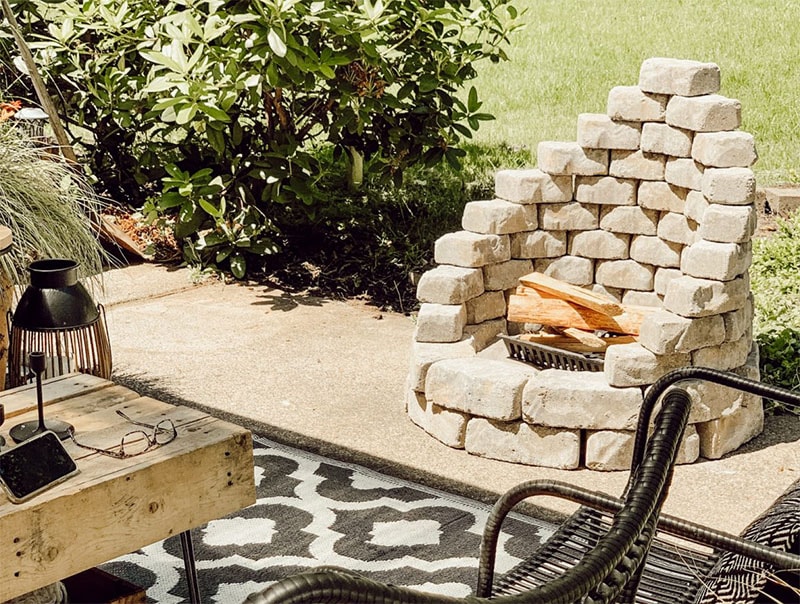 | | |
| --- | --- |
| Materials: | Concrete Blocks, Sand, Compound Glue |
| Tools: | Trowel |
| Difficulty: | Easy/Moderate |
The outdoor fireplace uses small concrete blocks. It has full circular walls on the bottom three layers but an open front above this level. The open front effectively directs the warmth from the fire in one direction, concentrating the heat in a specific area so that you can create a warm seating area.
You could add a grill between layers of the stones if you want somewhere to warm food. The outdoor fireplace plans espouse the benefits of using compound glue between layers. This helps ensure that the blocks don't fall in and brings a little more permanence to the structure.
---
4.

Inexpensive DIY Backyard Fireplace by DIY Outdoor Fireplaces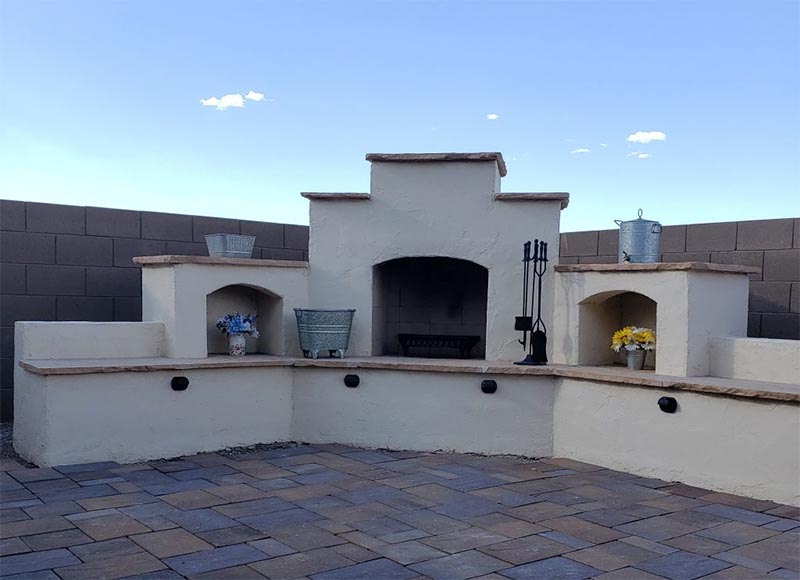 | | |
| --- | --- |
| Materials: | Rebar, Concrete, Cinder Blocks, Firebrick, LED Lights, Stucco |
| Tools: | Saw, Shovels, Trowel |
| Difficulty: | Moderate/Difficult |
The inexpensive DIY backyard fireplace is a large and somewhat involved construction. Initially, it requires the pouring of a concrete slab, assuming that you don't have a perfectly flat area of concrete ground already. It then uses cinder blocks for the main construction and a stucco finish that coats the cinder.
The inside of the open fireplace is lined with fire blocks that are heat resistant. There are also LED lights installed to bring extra ambiance so that you can still enjoy a lit patio area even when you don't use the fire itself.
---
5.

Modern DIY Outdoor Fireplace by Family Handyman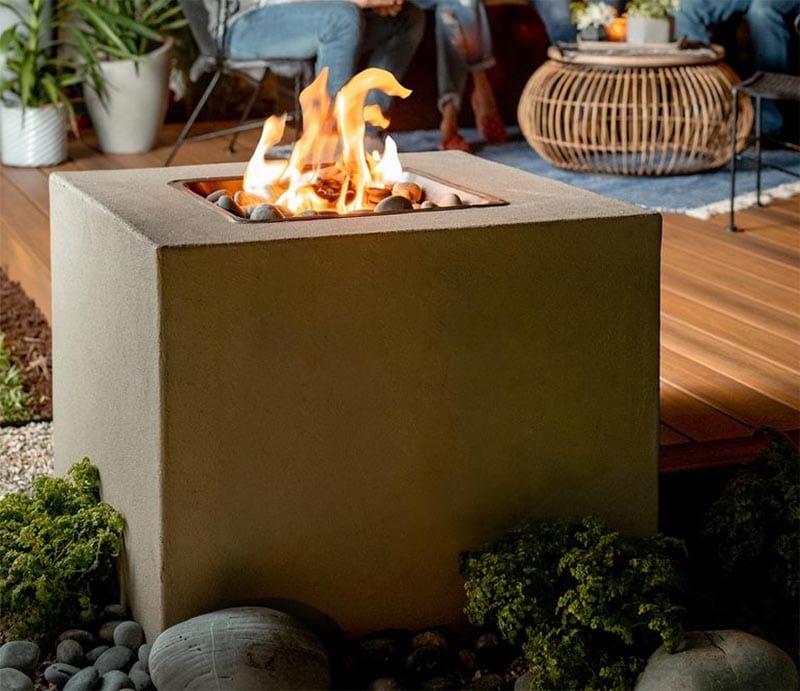 | | |
| --- | --- |
| Materials: | Propane Tank, Regulator, Steel Studs, Backer Board, Foundation Coating |
| Tools: | Drill, Metal Snips, Rasp, Saw |
| Difficulty: | Medium |
The modern outdoor fireplace is light enough to be portable and isn't fixed to the floor, so you can move it around the yard as needed or bring it in during inclement weather. It contains a propane tank and regulator, too, so you don't have to mess around with firelighters and kindling to enjoy the heat of the fire.
It's more akin to a gas fireplace than a traditional fire. It uses steel studs for stability and strength and the plans include details for a ventilation system, which is critical when using propane. If there is a gas leak, the fireplace would become a pocket of gas and a fire hazard.
While you don't have to pour your own concrete for this one, it is a little more complicated than laying a few cinder blocks out, but the modern look and the heat it produces make it a worthwhile venture.
---
6.

DIY Outdoor Fireplace by The Saw Guy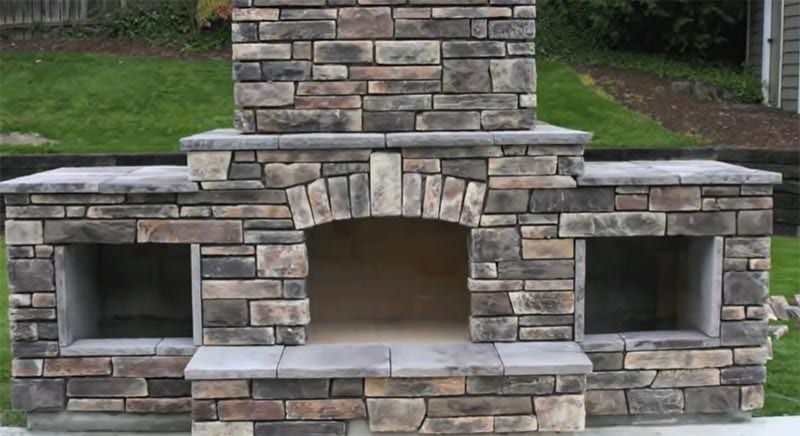 | | |
| --- | --- |
| Materials: | Concrete, Mortar, Rebar, Remesh, Cement, Bricks, Flue |
| Tools: | Shovel, Compactor |
| Difficulty: | Moderate/Difficult |
This outdoor fireplace design does require some brickwork experience, or at least a willingness to learn and practice before you really start the project in earnest. The result is a stone fireplace, complete with flue, and you can use virtually any type of stonework to finish the fireplace design and to cover the giant cinder block fireplace ready for use.

Do You Need Planning Permission?
There are several building codes you need to adhere to when building a DIY outdoor fireplace. If the construction reaches above a certain height, you will likely need a building permit. There may also be rules regarding the materials you can use and even the type of fire you will install, like whether you have a gas or natural fire.
Fire standards also dictate how far the fireplace needs to be from trees and other buildings, so you must have a clear understanding of local requirements and building codes before you begin.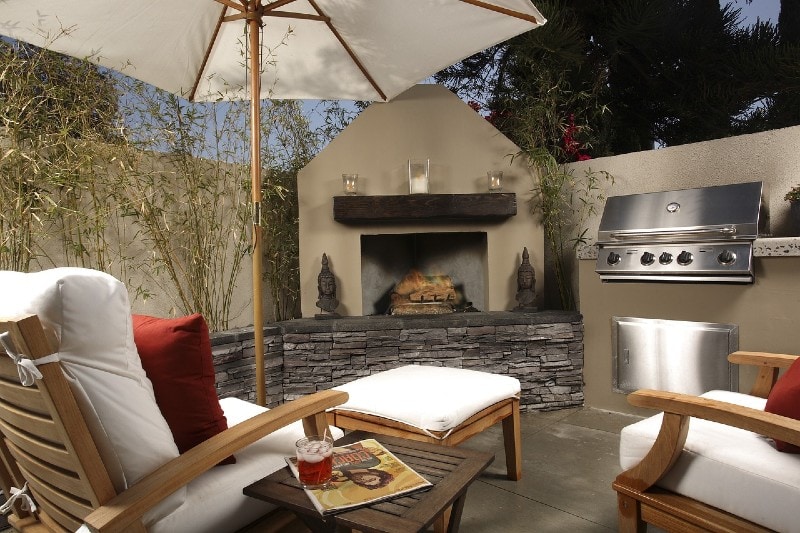 Is Cinder Block Safe for an Outdoor Fireplace?
Cinder blocks are porous, which means that any steam that builds up can escape. Other, denser materials do not allow the steam to escape as freely, which means that the material can crack and may even explode. Cinder blocks are a popular choice because they are inexpensive and are also lightweight enough to be easily moved around.
Can You Use A DIY Fireplace Straight Away?
Typically, you need to give a new fireplace time to cure before you build your first fire. This isn't true of the Easy DIY Outdoor Fireplace (number 2 on the list) but is especially true of those designs that use mortar or glue to fix stones in place.
Fire pits need to be given 24 hours before they are used, and some mortar and fire bricks need to be given at least 10 days before they can be used fully. Check with the supplier or manufacturer for any materials that you use.

Conclusion
DIY outdoor fireplaces are a great way to extend your living space. They can bring warmth, comfort, and even a little luxury to a patio. They can double as barbecues, in some cases, and you don't have to spend thousands having a professional company come and build the fireplace for you.
Above are six plans to build a fireplace in your garden or yard. With some modifications, these plans should be viable for most outdoor spaces and requirements.
---
Featured Image Credit: davindersangha1, Pixabay