Dremel Saw Max vs Ultra Saw: Which One's Best?
Rating
Image
Product
Details

The Winner

Dremel US40-01 Ultra-Saw

More durable construction
More powerful 7.5 amps motor
Handles larger material and additional tasks
CHECK PRICE

The Runner-up

Dremel SM20-02 Saw Max

Less expensive
Smaller and lighter for easier handling
Cuts the same materials as the Ultra-Saw
CHECK PRICE
Are you looking to expand your DIY loadout with a small, circular saw for quick jobs and use in tight quarters? Perhaps you're just getting started building your tool arsenal and want a capable, easy-to-use circular saw, but aren't ready for a full-size model? Maybe you are short on space, so you want a saw that can perform multiple tasks and not take up a lot of room. Well, you are in the right review, because we are getting ready to compare two Dremel offerings that can satisfy all these situations and more.
The origins of the circular saw blade are something of a mystery. There are no clear records of who invented it, or when, although references occur as early as the 16th century. The first modern, hand-held tool appears to have been invented in 1923 by Edward Michel. In 1928, he changed the name of his company to SKILSAW, Inc. and that is why many people call these tools skill-saws.
Dremel's Ultra-Saw and Saw-Max circular saws are scaled-down versions of the typical 7.25" saws, featuring 4" and 3" blades, respectively. Each is a capable saw in its own right, so which one do we call the best? If we tell you now, will you promise to read the entire review? Okay, we trust you. We recommend the Ultra-Saw for reasons we'll lay out in the rest of the review.
What are the differences between them?
You are still reading, right? Excellent, we knew you didn't have your fingers crossed. We like to pit a pair of tools against each other in specific categories and award points to the best performer. In the end, the tool with the most points wins.
Power – Point to the Ultra-Saw
You have to expect this result just from the names of the tools alone. "Ultra" is always stronger than "Max" in the world of anime, graphic novels, and comic books. That's the case here, with the Ultra-Saw hitting your workbench with a 7.5 A motor versus the 6 A motor of the Saw-Max.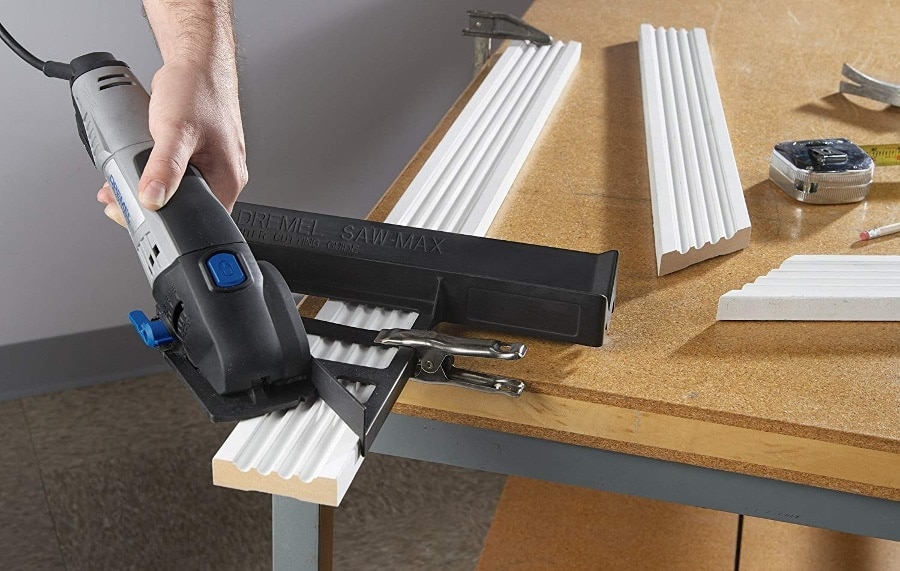 Durability – Point to the Ultra-Saw
Dremel made changes in the materials it uses in the Ultra-Saw to increase its durability and expand the types of tasks it can tackle without damaging the tool. For example, the Ultra-Saw has a metal foot and guard that will resist the heat created in heavy metal grinding and cutting operations. There's nothing worse than having parts of your tool melt while in use. Dremel has also improved the durability of the drive train, claiming three times more life than the Saw-Max.
Material cutting and finishing, type and capacity – Point to the Ultra-Saw
With all the design improvements and upgrades, Dremel has positioned the Ultra-Saw to take on more tasks on bigger stock. While both saws still cut the same materials, you can do more with the Ultra-Saw.
Ease of handling – Point to the Saw-Max
The Saw-Max is lighter at 1.7 pounds, compared to 2.1 pounds for the Ultra-Max. It is also slimmer. This can be an important difference for users with smaller hands and for extended one-handed use. Smaller may also be better for crafters with consistently smaller projects.
Price – Point to the Saw-Max
Does it always have to come down to money? That's a rhetorical question, no need to answer. And, yes, it often does. You can buy a comparably equipped Saw-Max for less than an Ultra-Saw.
Quick Rundown of the Ultra-Saw: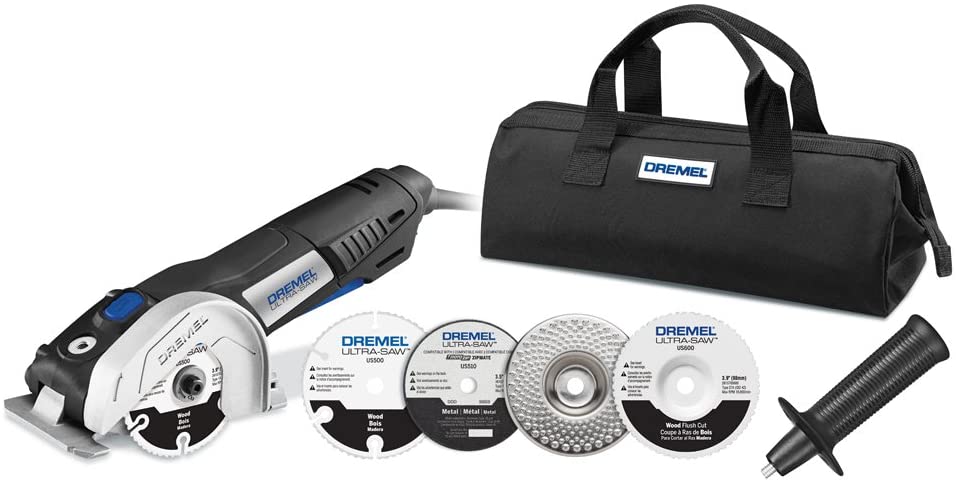 Where does the US40 shine? (No, it doesn't have a LED work light. That's not the type of "shine" we are talking about in this case.)
Pros
More powerful 7.5 A motor
Handles larger material and additional tasks
More durable construction where it counts
Cons
More expensive of the two
Heavier and larger
Quick Rundown of the Saw-Max: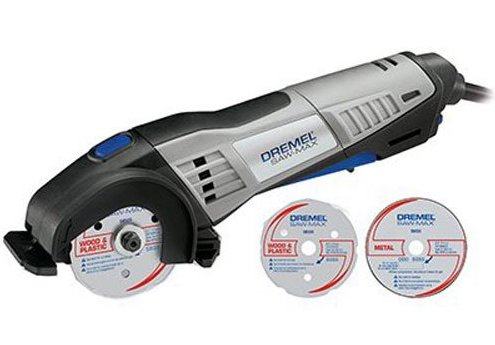 Guess what? The plusses and minuses of the Saw-Max are the inverses of those for the Ultra-Saw. No surprise there.
Pros
Less expensive
Smaller and lighter for easier handling
Cuts the same materials as the Ultra-Saw
Cons
Not as robust a tool; shouldn't be used for certain jobs
Cuts smaller stock than the Ultra-Saw
What the Users Say
We know our tools and are here to help with your decision-making process, steering you to the best tool for your needs. Still, it is our practice to research what other users of the tools have to say about their close encounters with the tools in the review. Without further ado, let's look at a few of those reactions.
Positive comments about the Ultra-Saw include mention of it being well made, powerful, and great on small jobs – just the types of reactions you hope to find when dealing with a tool from a company like Dremel.
Negative comments include the blades being expensive and burning up fast. The special size blade arbor limits users to Dremel blades.  Some people found that the metal guard or foot arrived from the factory cracked. The motor may get hot to the point of smoke and fail.
For the Saw-Max, positive comments include high praise from many female users about the tool's small size and ease of use. It is frequently noted how great it is for small projects and for working on thin materials such as paneling and drywall. It does an excellent job removing dust when using the optional dust port adaptor.
Negatives for the Saw-Max are essentially the same as for the Ultra-Max, with the addition of reports of plastic components melting when grinding and cutting metal. Humm, where have we heard that before?
Popular Alternatives Worth Considering:
WEN 2305 Rotary Tool Kit with Flex Shaft
Perfect for cutting, sanding, polishing, shaping, drilling, deburring, grinding and more
Variable speed goes anywhere from 8,000 to 30,000 RPM
Includes an 80-piece accessory set of bits, sanding discs, polishing pads, mandrels and more
Conclusion
Dremel makes great tools, and both these saws will serve their intended purposes well. For lighter duty crafting and projects, you can get by with the Saw-Max, but we recommend spending a little more for the Ultra-Saw. It is a more robust tool, designed to handle more tasks, work on larger size material, and provide even more life. For the extra money, it is worth the added capabilities it puts in your hand.