25 Free DIY Playhouse Plans You Can Build Today (with Pictures)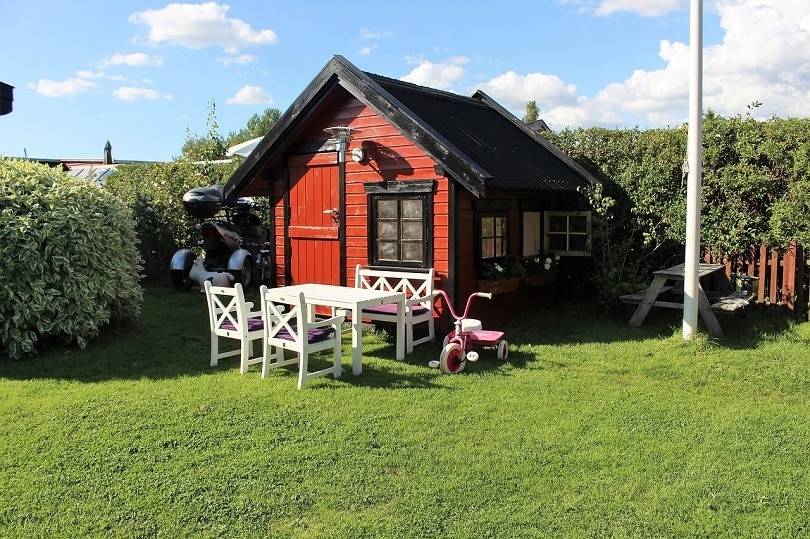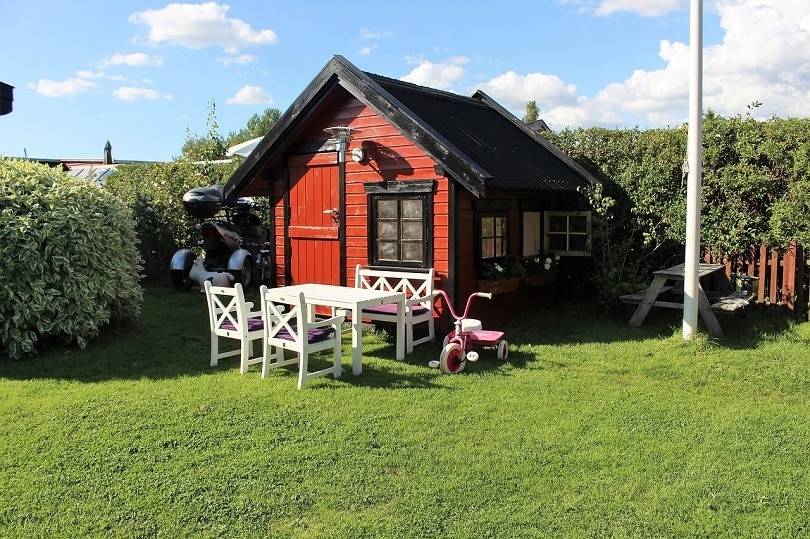 In the modern age of technology, building something that will engage your children might be just the way to go. With many of the designs compiled below, the kids can be a big part of designing or painting the structure if they are old enough.
For the children, there are designs to make any dream come true. From pirate ships to castle walls, there are different plans that teach you how to build a playhouse suitable for all types of imaginations. For the builder, each of the directions linked in the article guides you step-by-step through the process to make it fun and approachable for everyone involved. 
The 25 Free DIY Playhouse Plans
1.

The Easy Kids Indoor Playhouse from the House of Wood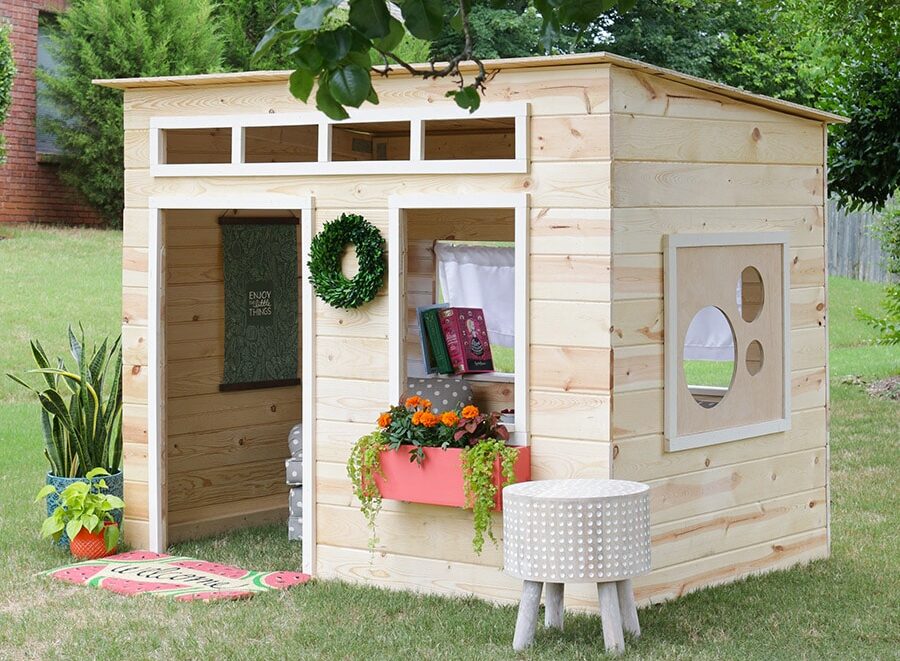 The title describes this fancy playhouse as an "indoor" playhouse. This design from The House of Wood is versatile. Depending on the materials that are used, this can be made for both indoor and outdoor fun. This is an easy playhouse that still gives the builder some fun to make a design that looks fancy for the kids. They can even pick their favorite color to paint the wooden exterior. The downloadable plans include Jen's shopping list as well as her tool list, diagrams, and more.
---
2.

The Old Pallet Playhouse from Instructables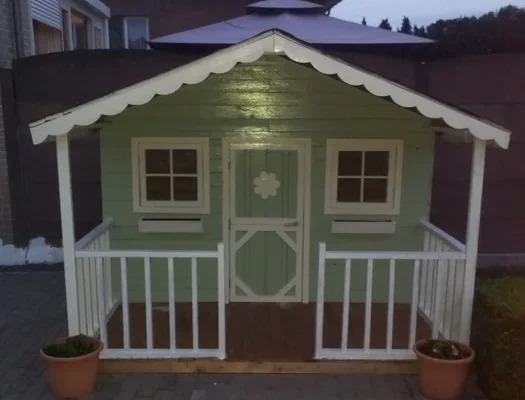 Who doesn't love recycling? This playhouse is made from wooden pallets. It appears to be pulled straight from memories of grandparent's lake cabins and hot summer days. Finding the right materials might only take a quick visit to an old lumber yard for some pallets. It is inexpensive to construct but a great investment in kid's hearts.
---
3.

The Cob-Style Playhouse from Instructables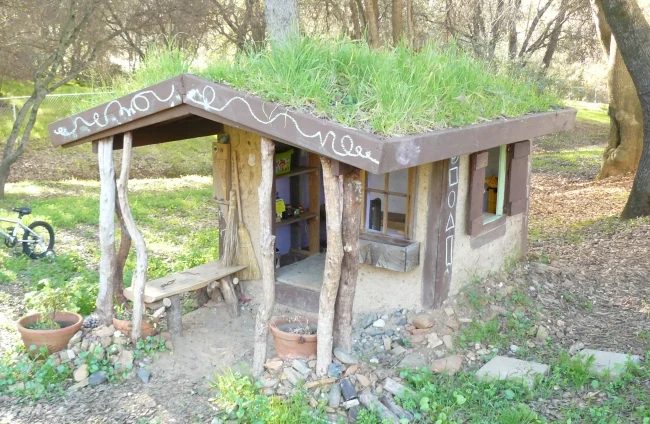 Another interesting design from the Instructables. The cob-style playhouse looks like something your kids might stumble on when looking for fairytale creatures. Follow the link to get the diagrams and make your magic.
---
4.

The Rustic Cabin Outdoor Playhouse Plan from Canadian Home Workshop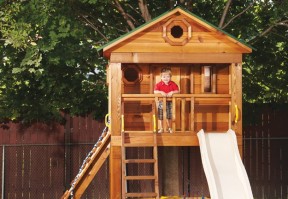 A more complicated design made for even more fun. Kids get the whole package here. The design includes diagrams that guide you through making a step ladder, a small climbing wall, a slide and a windowed house. It appears in the yard like a floating adventure cabin.
---
5.

The Wild West Upcycled Boy's Playhouse Design from The Owner Builder Network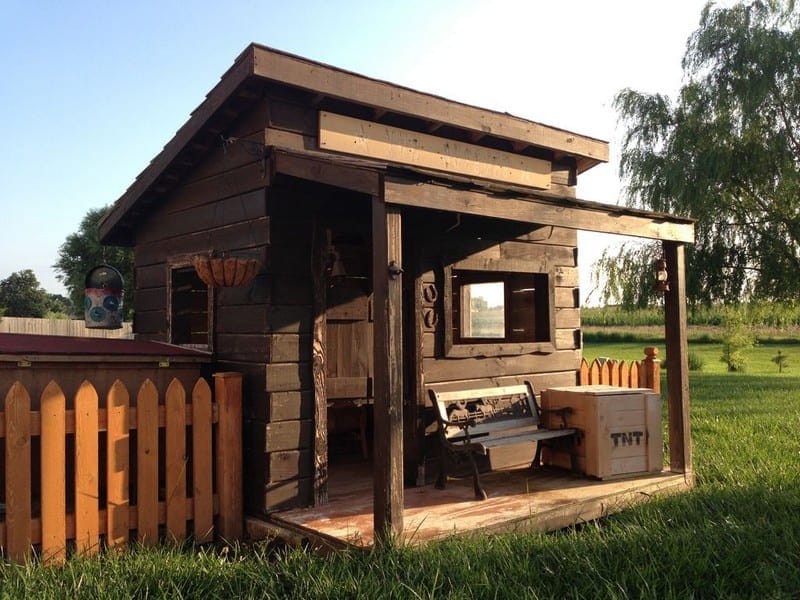 Coming to you right out of a Hitchcock film is your very own Wild West playhouse. Fulfill the dreams of any young cowboy by making him his saloon or ranger station. The shingled roof keeps it protected and sturdy all year long. Get the instructions at the Owner Builder Network to try the wrangling life for yourself.
---
6.

The Summer Reading Nook Hideaway Design from Vintage Revivals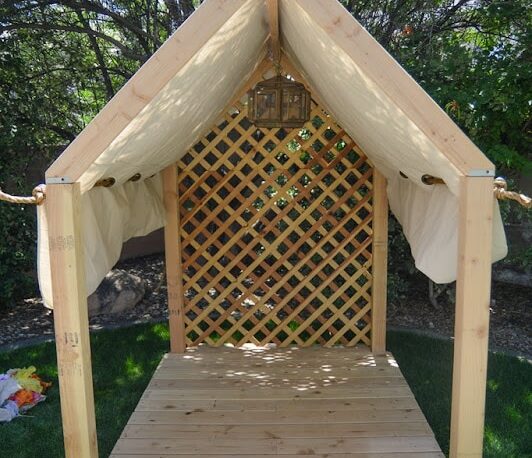 Encourage your kid's inner scholar with this special place meant for reading and relaxation. With curtains that can be extended down on either side, it is an airy place to sit and read. After building it, you may even want to give it a try.
---
7.

The Clubhouse Fort Castle Design from Instructables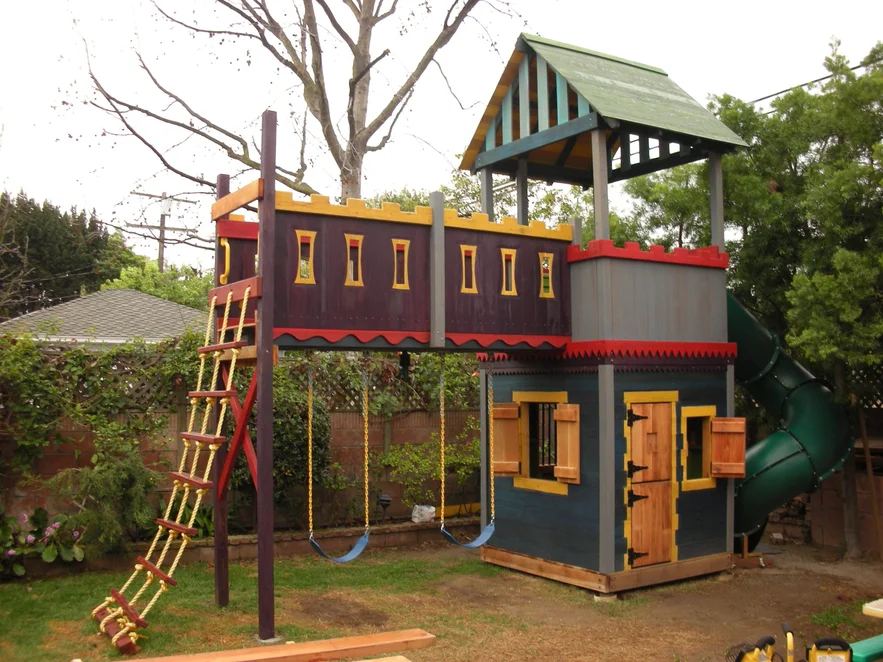 This design will wow any kid or adult with your building prowess. Although the colors to all must be the same, the feeling of a king in a castle will remain. Give yourself plenty of time to work on this as it is more involved than some of the other listed designs.
---
8.

Free Playhouse Plans from Ana White
A very approachable design that looks like a lot of work and thought has gone into it. This is a good project to construct if you don't have a lot of faith in your building abilities. The design from Ana White includes the house and a deck with a stepladder and climbing wall, all primarily built with plywood.
---
9.

A Handmade Hideaway from The Handmade Home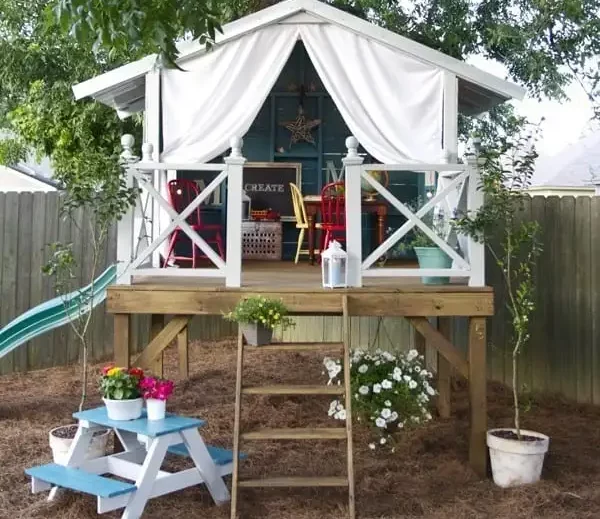 A quaint design with an A-frame structure. This blueprint adds in a lot of fun details to make the simple build look intriguing and homey for the kids. Follow the detailed instructions at A Handmade Home to hand make it yourself.
---
10.

The A-Frame Playhouse from Tiny House Living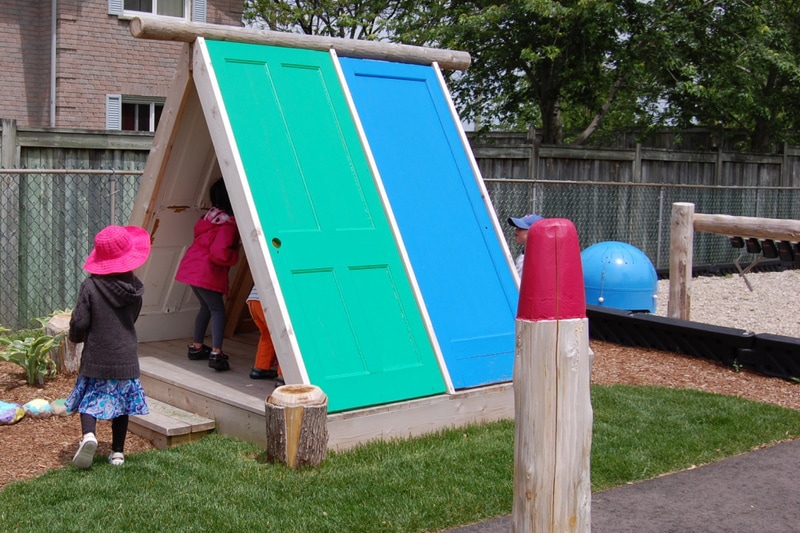 This A-frame design that is meant to bring out the creativity in you. It is easily re-designed, added and modified to make it the perfect playhouse for your kids. The wooden panels can be made from recycled doors to keep the environment happy and the cost down.
---
11.

The Indoor Clubhouse from Ikea Hackers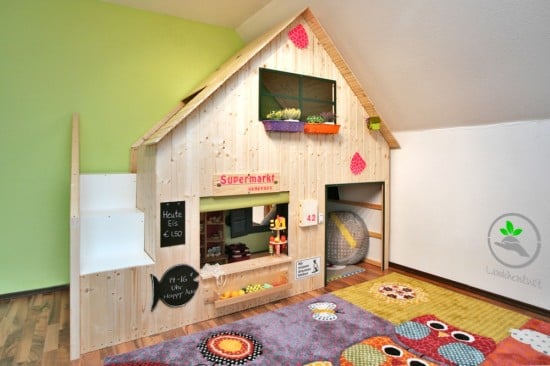 Many of the given ideas are for outdoor playhouses to save space. This clubhouse is designed to be thin but long. It fits in well with the slant in a home's roof and can easily be made to double as a bed.
---
12.

The Canvas Sail Pirate Playhouse Design from Instructables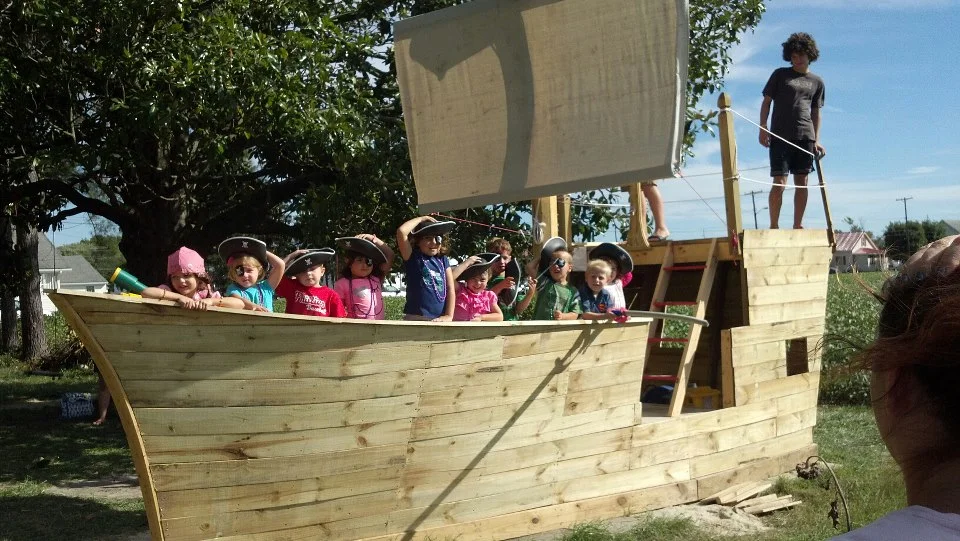 This incredible structure from the talented builders and designers that choose to post to the Instructables website. This is another design meant to fulfill a little boy's pirate dream. It includes instructions for a subfloor and deck, the mast and even a crow's nest.
---
13.

The Portable Prefabricated Domed Igloo from Instructables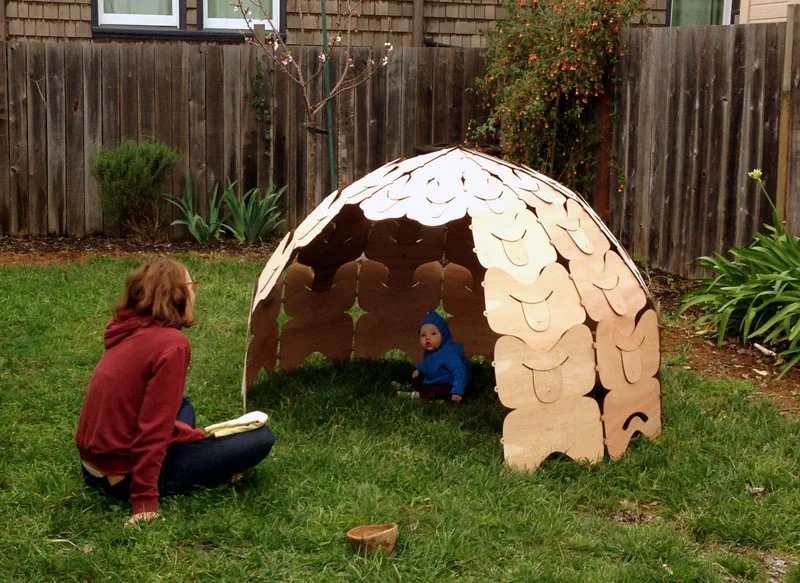 A design that hearkens to the snow and ice igloos of the winter season. The best part of this design is that it is portable, made to be assembled, taken apart, moved and done again. The perfect design for a frequently traveling family. Get the design from Instructables.
---
14.

The Salvaged Goods Tiny House Build from A Place Imagined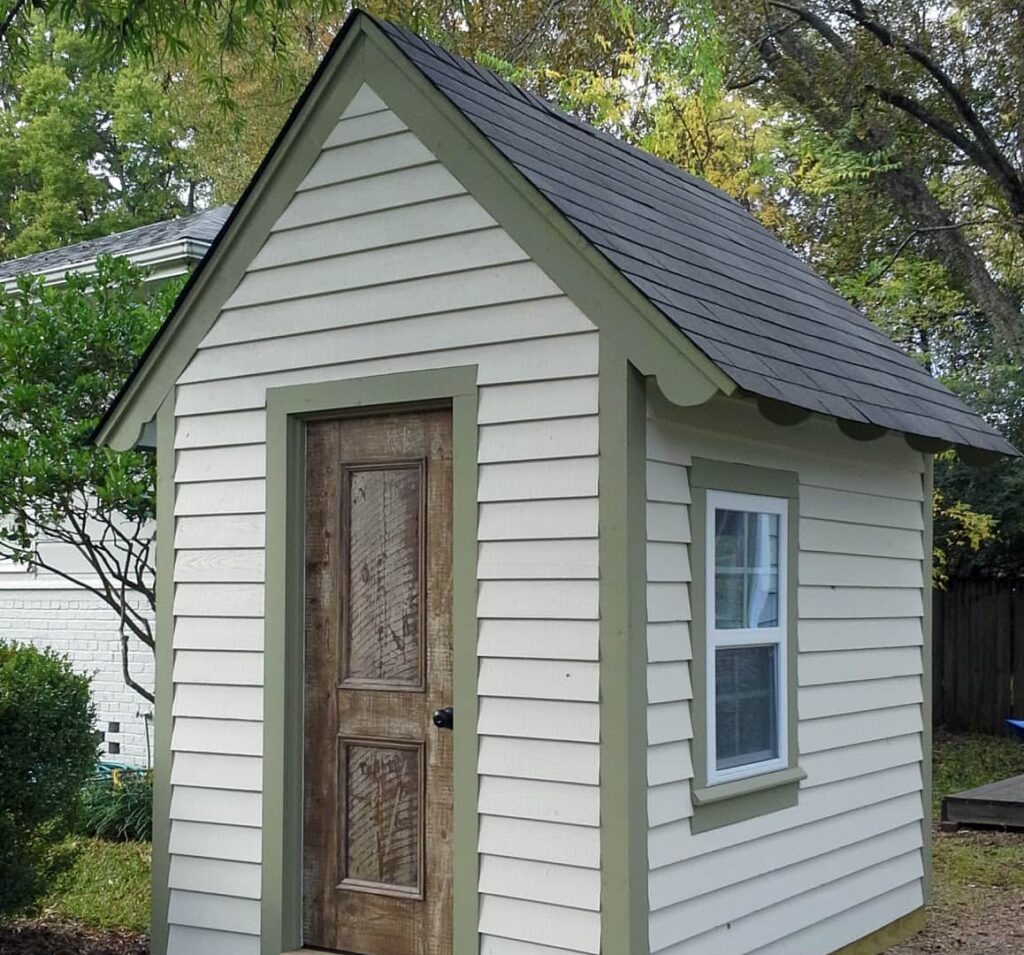 Tiny homes are all the trend nowadays. Give your kids a taste of the tiny life with this small playhouse made to resemble a home. You can even make it from the same materials your home is made from. The design allows for flexibility in the types of materials used. Get the design from A Place Imagined.
---
15.

The Kids Play Outside Cottage Design from Build Eazy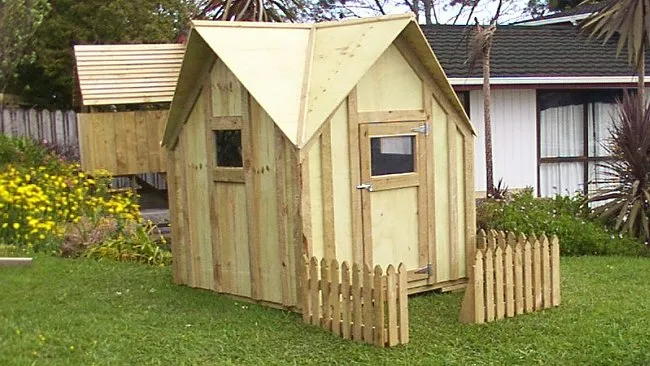 Give your kids the country-side experience with this little cottage. With European design, it can almost feel like a new cultural experience. Easily painted with the kids to make it their own. The design from Build Eazy walks the builder through the design step-by-step. A great project for beginners.
---
16.

The Boy's Fire Station Custom Playhouse Idea from Instructables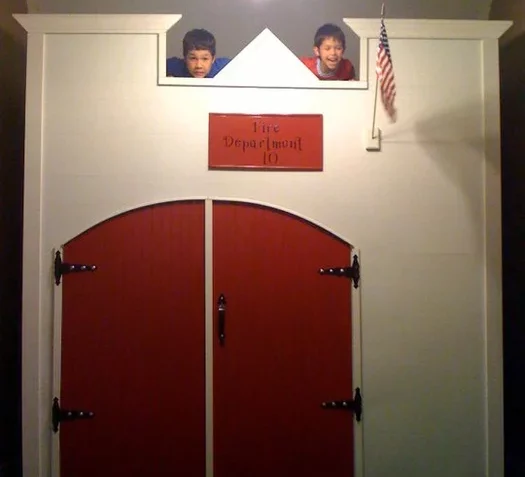 Another indoor design meant to inspire firefighters in the family. A great design for boys, but courageous girls find it engaging as well. Find the inspiration for the design from Instructables to work an indoor station yourself.
---
17.

The Gingerbread Candy Playhouse Build from Instructables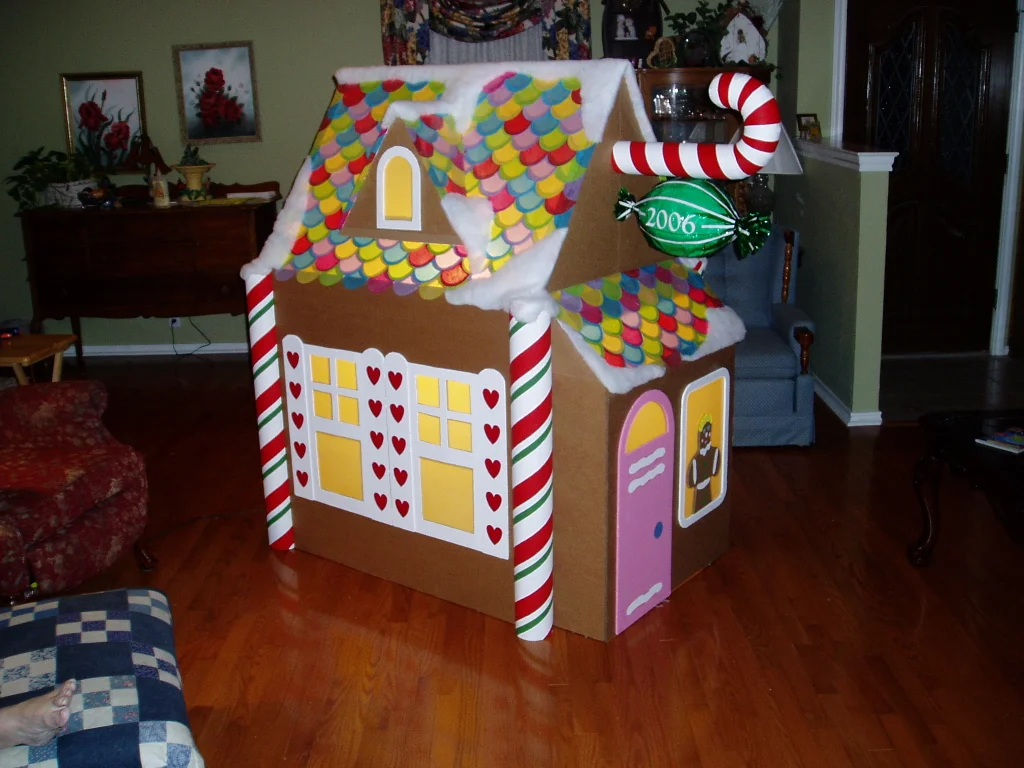 Learn how to build a playhouse that is unique and will keep any kid occupied during the busy holiday season. The design is scaled for toddlers, but it can be scaled up for bigger kids. The color comes from tissue paper and the kids can help with the decoration for another positive distraction. 
---
18.

The Converted Micro-Bus Playhouse Plan from Instructables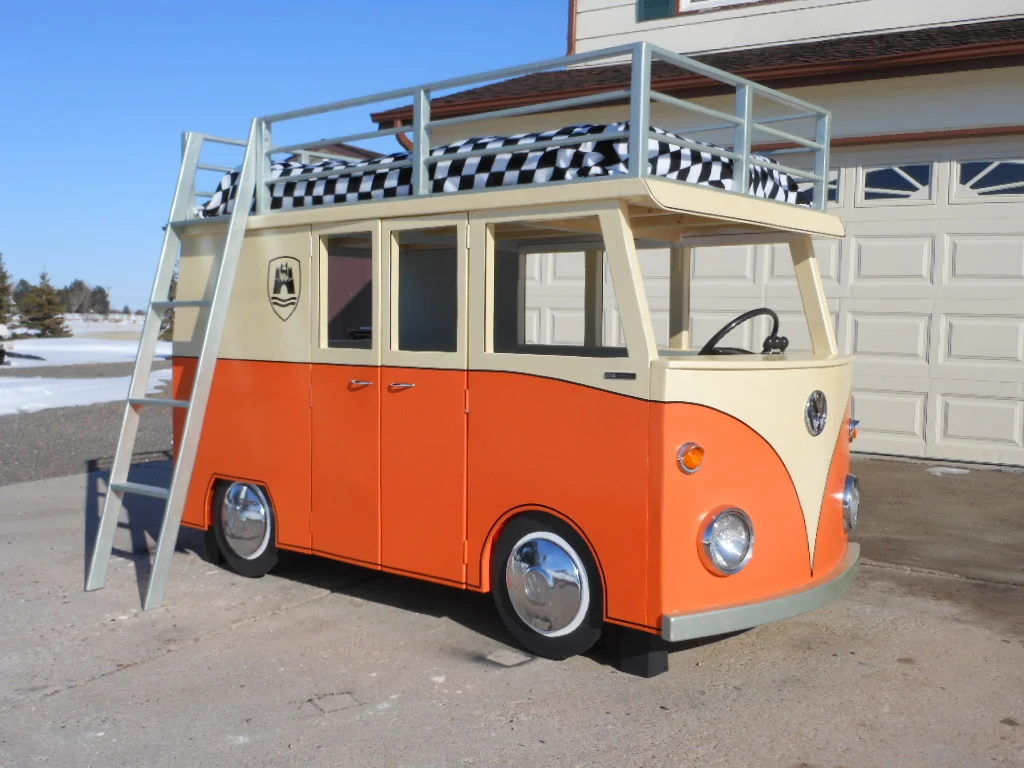 This converted bus inspires the tiny traveler. It can be constructed for indoor or outdoor use. The design includes a space on top of the van that is big enough for a mattress. If left outside, just remove this from the design.
---
19.

Elaborate Two Story Playhouse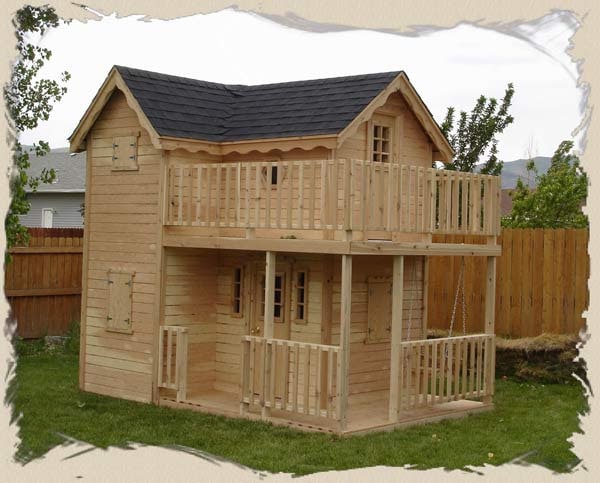 This DIY playhouse is a large two-story house with a pirate feel. This is a very large playhouse with tons of space both inside and outside. It has a front porch and an upper deck. This playhouse looks like a miniature mansion, and it will absolutely thrill your kids for years. However, this house is very detailed and requires a lot of materials. Novices may not be able to finish this project to specifications, so make sure you have everything in order before you begin. You can even put it on a trailer and make it into a sort of tiny house if you wish. Some of the optional add-ons include real windows, a slide, a rock-climbing wall, and more. That gives you plenty of opportunities to customize this build to fit your kids' ages and interests.
---
20.

Cute and Spacious Playhouse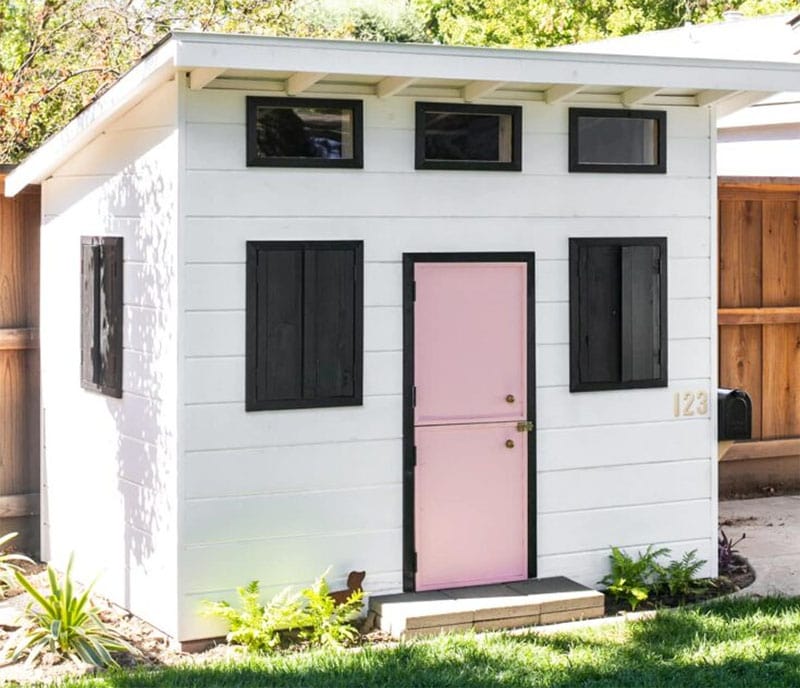 These plans are for a large and spacious playhouse that is absolutely adorable. Inside has plenty of room to play and even add furniture. The plans include a functional Dutch door and multiple windows for airflow and light. The whole build looks great and will fit into nearly any outdoor design aesthetic. This is a playhouse that you will be proud to look at in your backyard. You can also paint it whatever color you want to match your home's design or add some flavor and character. This is a pretty involved build, so make sure to set a budget and get some help. It might take a few days to finish it out the way you want to.
---
21.

Swing Set Addition for Existing Playhouse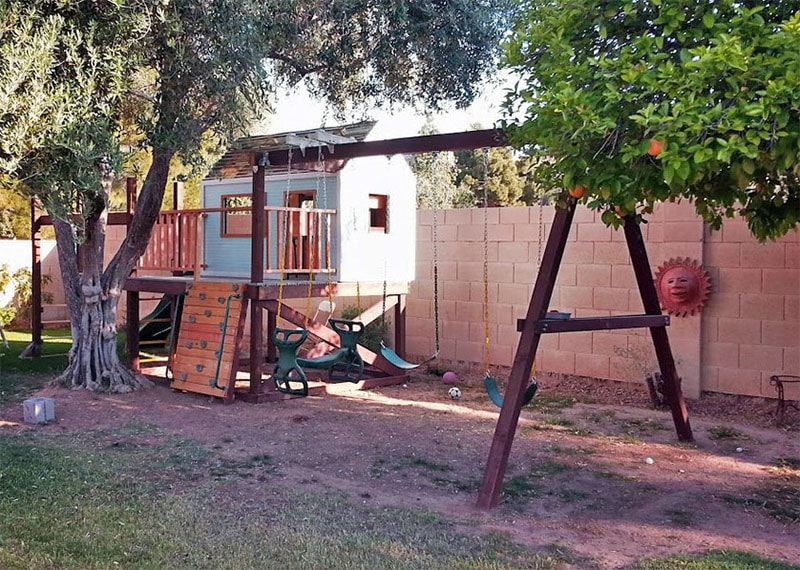 If you already have a playhouse, you can quickly upgrade to be even more functional with these plans. This project helps you add a full swing set to an existing playhouse. You can even combine this project with another DIY playhouse on this list to get a customized swing and playhouse combination. Building a swing set is not as hard as it sounds but be sure to follow all of the steps so that the build remains strong and secure for your kids. Having this project in your toolbox gives you the opportunity to customize and upgrade almost any playhouse.
---
22.

Simple Open Playhouse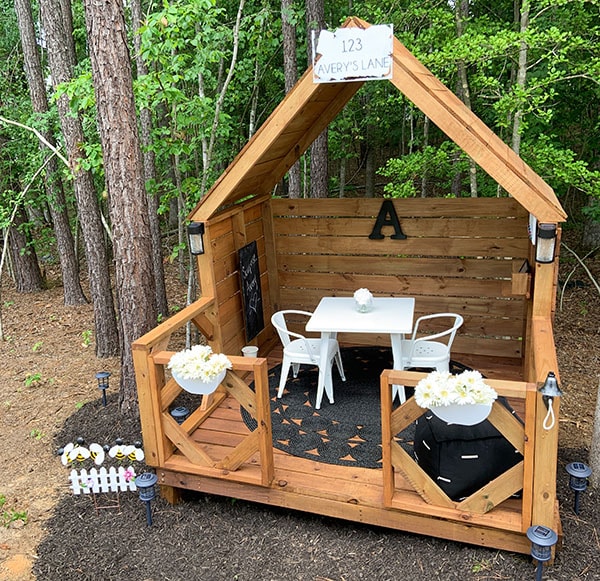 This outdoor playhouse is perfect for kids who like being out under the open sky. Built on a raised platform, this playhouse is open to the elements and gives your kids a fun and safe place to get into their imagination. The open design saves some money on materials and also makes it easier to complete. Roofs can be tricky, especially for novice builders. Leaving this playhouse open can make finishing the project easier and faster than before. This playhouse would do great under the leaves of a large shady tree.
---
23.

Rural Lean-To Style Playhouse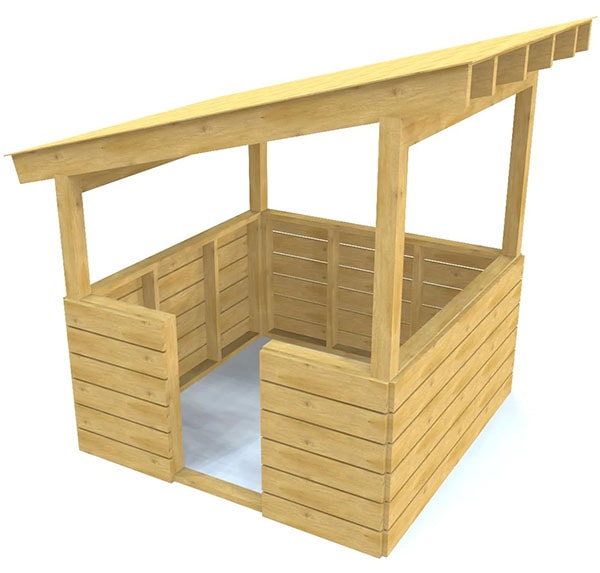 If you live in the country or have a small farm, you have likely built a lean-to in your day. Lean-tos are easy to build and offer plenty of shade and protection for a variety of things. They can also be adapted into a simple playhouse for your kiddos. These plans will help you build your very own rural-style lean-to playhouse. The benefit of this style is that it is easy to build and more affordable to complete than some more elaborate plans. It will also be right at home on a property with other lean-tos, sheds, barns, and more.
---
24.

Classic Kids Playhouse with Porch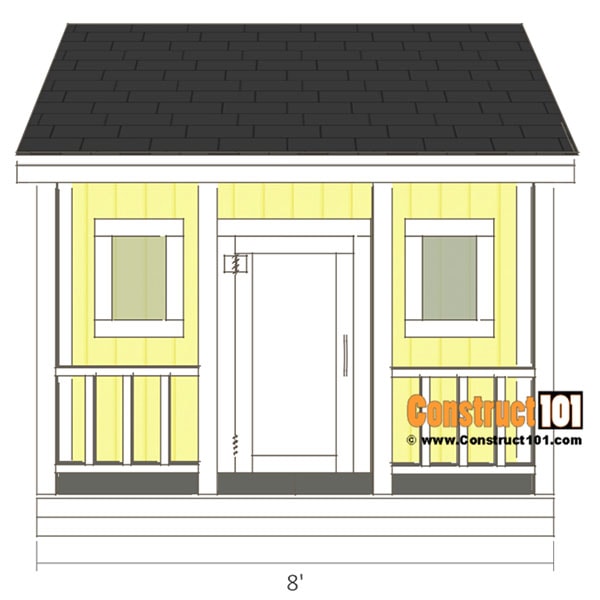 If you want to be the coolest parent on the block, you should check out this classic kids playhouse. These DIY plans walk you through building something that truly resembles a miniature house that your kids are sure to love. It even comes with its very own front porch where your kids can sit and tell you to get off the lawn. The cut and material lists for this project are extensive, and this project might take some time to come to fruition. If you finish it to specifications, it can be a playhouse that will offer years and years of fun.
---
25.

DIY Loft Playhouse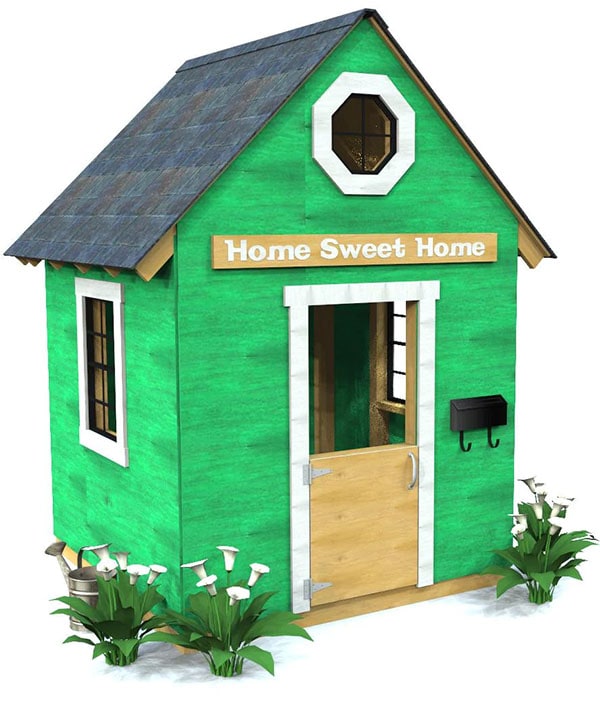 These DIY plans are for a fun playhouse that includes a loft. The playhouse measures 6×6 and comes with a ladder and a loft that your kids can climb up. The loft can be used for storage or as a hiding place for the kids. The playhouse measures over 9 feet tall and has plenty of things to offer adventurous kids. This playhouse is fairly complicated, especially with the loft. However, if you have some moderate building experience, getting the walls up and building the loft should not be too complicated. This project could take a few days to complete, but the results are absolutely worth it.

Conclusion
Whether you are a novice builder looking to surprise your kid with a DIY project from the heart or a retired contractor looking for a challenge, there is a DIY playhouse here that will work for you. From simple pallet-based playhouses to miniature homes that rival your own, there are plenty of ways to build something that kids can use and enjoy for years to come. Many of these playhouses require a serious material list and a lot of time and knowledge to complete, so make sure you prepare and budget properly before starting.
---
Featured Image Credit: kimlimkildewelcher, Pixabay