10 Best Kohler Toilets in 2023 – Reviews & Top Picks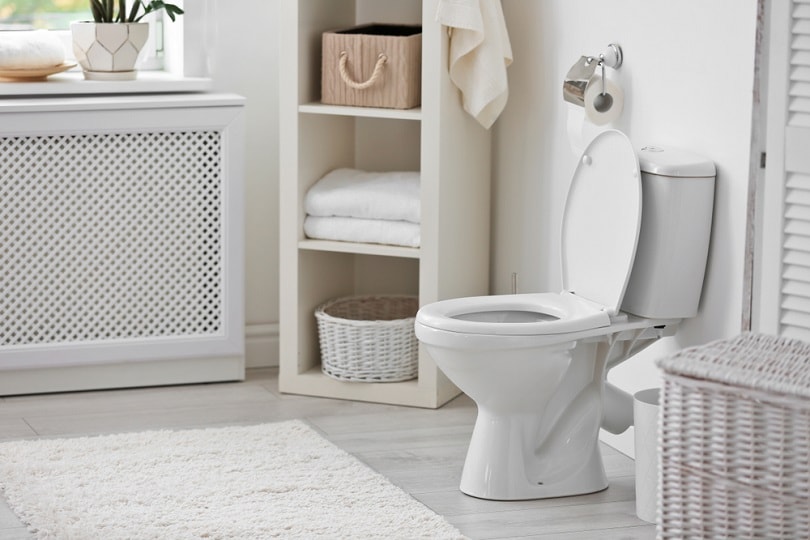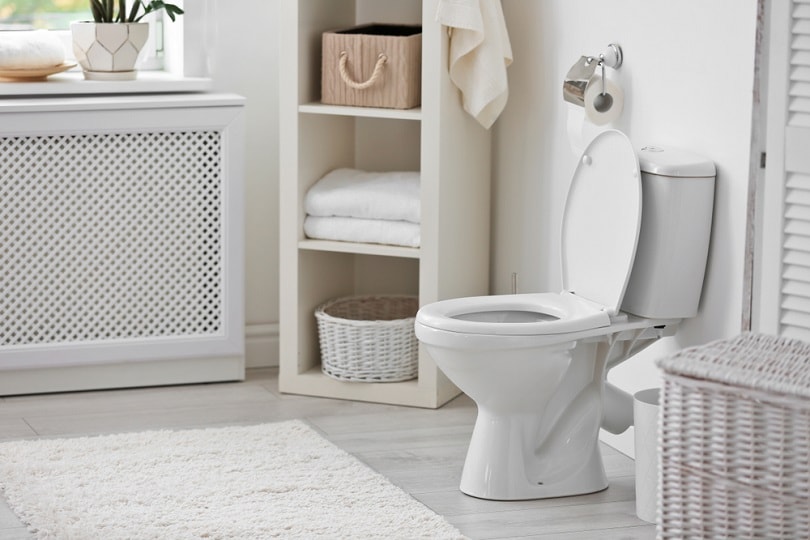 Several types of toilets are available, from one-piece to two-piece, round to oval, and tankless to wall-hung. Many are designed by well-known manufacturers, including American Standard, Toto, and, of course, Kohler.
After inventing the bathtub in 1883, Kohler expanded its line to include additional plumbing ranges for the kitchen and the bathroom. They also produce tiles, flooring, and other decorative items to finish the rooms.
Chief among the company's popular range is their selection of toilets. A toilet is a basic amenity but doesn't need to be basic. Look for features like double flushes, elongated bowls, and taller seats that make sitting and standing up more comfortable.
To help you pick the best Kohler toilet, we have reviews of 10 of the most popular models. Use our Kohler toilet reviews to find your next Kohler toilet by feature, budget, and quality.
---
A Quick Comparison of Our Favorites in 2023
Rating
Image
Product
Details

Best Overall

Kohler Santa Rosa Toilet

Compact
elongated design
Comfortable height for all ages
Seat and lid included
CHECK PRICE

Best Value

KOHLER Wellworth Dual-Flush Toilet

Cheap
Round bowl
Good dual flush at 1.6 and 1.1 GPM
CHECK PRICE

Premium Choice

KOHLER Memoirs Stately Toilet

Easy to clean
Good looking design
Water-efficient flush
CHECK PRICE

Kohler Highline Classic Toilet

Elongated bowl
Chair-height toilet seat
Powerful 1.6 GPF flush
CHECK PRICE

KOHLER Memoirs Stately Elongated Toilet

Easier to clean
Hardware is hidden behind the base
Canister flush
CHECK PRICE
The 10 Best Kohler Toilets
1.

Kohler Santa Rosa Toilet– Best Overall
The Kohler 3810-0 Santa Rosa Toilet is a moderately powered and moderately priced toilet. An elongated toilet offers more bowl space and a larger opening than a round toilet. Despite this extra space, the toilet has the same footprint as a round bowl, which is suitable for use in restricted spaces.
Although it doesn't have a dual-flush button, the Kohler Santa Rosa delivers half a flush if you depress the flush button halfway. A full flush uses 1.28 gallons per flush (GPF), and the partial flush replaces 0.5 GPF. The Kohler 3810-0 is WaterSense-certified by the Environmental Protection Agency (EPA).
This toilet includes almost everything you need, from the toilet seat to the lid, but no wax ring is included, so you will have to buy one separately. Although this is a comfortable and water-efficient toilet, using canisters to minimize clogging and reduce the need for cleaning, the full flush is quite loud, and the partial flush lacks power. Even so, we still believe this is the best Kohler toilet overall.
Pros
Water-efficient flush at 0.5/1.28 GPF
Compact, elongated design
Seat and lid included as part of the price
Comfortable height for all ages
Cons
Partial flush is a bit weak
No wax ring included
---
2.

KOHLER Wellworth Dual-Flush Toilet– Best Value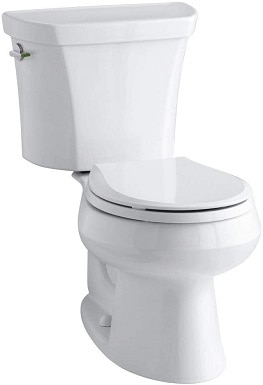 This is the standard version of the Kohler K-3987-0 Wellworth Dual-Flush Toilet. It includes a dual flush with 1.6 GPM at full power and 1.1 GPM for a partial flush.
The round bowl is better suited to small bathrooms and washrooms. The set does not include a seat, but you can buy a soft closing or automatic-closing lid. The Class-5 flush system and the ability to buy your seat keep costs down. All in all, we think the Kohler K-3987-0 Wellworth Dual-Flush Toilet is the best Kohler toilet for the money.
However, the flush system is not as effective at removing stains and solids from the bowl. The exclusion of a toilet seat is only beneficial if you already have one; otherwise, it is inconvenient to buy one separately.
Pros
Good dual flush at 1.6 and 1.1 GPM
Cheap
Round bowl means compact size
Cons
No seat
Not great at removing solids
---
3.

KOHLER Memoirs Stately Toilet– Premium Choice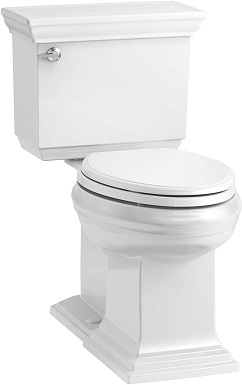 The Kohler K-6669-0 Memoirs Stately Toilet is more expensive than most of the other Kohler toilets on this list. However, it has a host of premium features. For a start, the toilet is raised higher off the ground so that it is chair height. This ensures that it is more comfortable for users to get on and off. It has an elongated bowl with a larger opening that further enhances the user's comfort.
The concealed trap way and hardware offer a better-looking design because fewer bolts are showing. It also makes the toilet easier to clean because there are fewer nooks. In terms of functionality, the Kohler K-6669-0 Memoirs Stately Toilet is only a single-flush toilet. The 3.5-gallon tank flushes at a rate of 1.28 GPF. It is a canister flush design, which means it is powerful and will prevent clogging in the pipes without needing multiple flushes.
The K-6669-0 is an expensive toilet, does not include a seat, and only has a single flush system. However, it looks attractive, is easy to clean, and its flush is highly effective, making it our pick for the best Kohler toilet on the premium end of their offerings.
Pros
Good looking design
Easy to clean
Canister flush prevents blockages
Water-efficient flush
Cons
Expensive
Single flush
No seat
---
4.

Kohler Highline Classic Toilet
The Kohler K-3493-0 Highline Classic Toilet is a two-piece toilet with an elongated bowl design that provides a larger opening and more comfortable seating. As a Highline design, it also has a chair-height seating position, so it is more comfortable for most adult toilet users. Chair-height toilets require less effort when sitting down and standing up.
The flush is a Class-5 flush enhanced with a Pressure Assist flushing system. Rather than relying on gravity-fed water, this system uses compressed air to force the water through faster. This helps prevent blockages, which can be prevalent in a Class-5 flush, but the flush is louder and makes more of a splash than others.
The Kohler K-3493-0 Highline Classic Toilet is moderately priced, but it is a Highline toilet with a chair-height seat. However, it only has a single 1.6 GPF flush that is noisy and wet. The toilet does not include a seat.
Pros
Elongated bowl
Chair-height toilet seat
Powerful 1.6 GPF flush
Cons
Single flush
Class-5 flush is loud
Flush splashes water
---
5.

KOHLER Memoirs Stately Elongated Toilet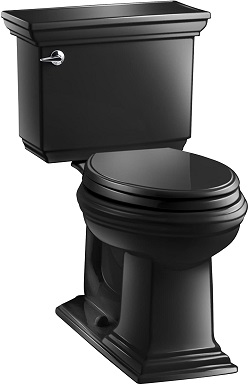 The Kohler K-3817-7 Memoirs Stately Elongated Toilet is another from the Memoirs collection. Therefore, it is luxuriously designed and attractive but also expensive and somewhat lacking in features.
This model has an elongated bowl, providing more room for sitting and a larger space for aiming than round bowls. It is a chair-height toilet that requires less effort to stand up and sit down, and it uses a single AquaPiston canister flush. The AquaPiston design pushes the water out around the edges of the bowl from all sides, which reduces clogging without using more water pressure.
The K-3817-7 toilet is expensive, and while the flushing system is effective at washing right around the bowl, it can be noisy and cause more of a splash than other standard flushes, according to users. It has a great design, with metal bolts and other hardware hidden behind the attractive base. Not only does this look better, but it also makes it easier to clean.
Pros
Hardware is hidden behind the base
Easier to clean
Canister flush does a good job of cleaning bowl
Cons
Expensive
Louder than others, according to users
No seat or wax ring
---
6.

Kohler K-3999-0 Highline Elongated Toilet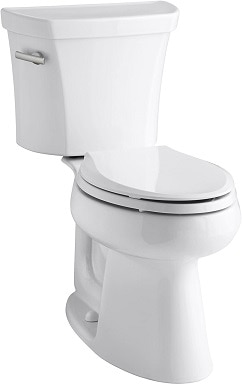 The Kohler K-3999-0 Highline Elongated Toilet is an affordable two-piece toilet with an elongated bowl design. It has a class-5 flush, a left-hand lever flush, and a 1.28 GPF flush. It is also a Highline toilet, which means that it has chair-height seating, with a seat that is 17 inches off the floor, which makes it easier and more comfortable to sit and stand.
The Kohler K-3999-0 Highline Elongated Toilet uses a canister flush. The canister ensures complete coverage of the bowl, which helps ensure that water flushes marks and solids off the whole bowl. This helps protect the toilet bowl from long-term damage, leaves the toilet looking and smelling fresher, and helps eradicate clogs without using more water.
Like most Kohler toilets, this model does not include a seat or wax ring, so you must buy them separately before you can use the toilet.
Pros
Affordable
Chair-height toilet
Canister flush
---
7.

Kohler K-3819-0 Toilet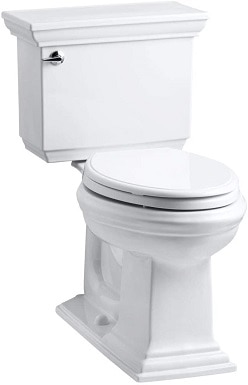 The Kohler K-3819-0 Toilet is a two-piece toilet. It incorporates a Class-5 flush with a large canister flush valve. The canister flush ensures that water washes around the entire bowl and removes all debris before it can clog and make a mess. They use a larger valve that allows more water to pass through when open.
The system also has a directional jet that ensures water is delivered to the entire bowl. While this does mean a greater amount of water hits the bowl in a shorter time, there are some drawbacks to this flushing technology. The flush ends sooner for a start, which may make removing dirt from the bowl less efficient.
It is also louder and more prone to splashing water on the toilet and the seat. The K-3819-0 does not include a seat or wax ring, and there have been some reports of it filling so high with water that it comes into contact with male toilet users.
Pros
Chair-height seat
Water-efficient 1.28 GPF flush
Good looking and easy to clean Memoirs range
Cons
Reports that the water height is too high
Expensive
Seat not included
---
8.

KOHLER Tresham Toilet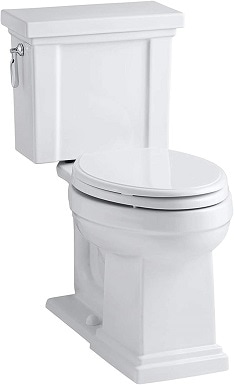 The Kohler K-3950-0 Tresham Toilet is a two-piece toilet from Kohler. It is expensive but has an elongated bowl for extra space and comfort. It also has chair-height seating, so it is easier and more convenient to sit down and stand up.
The 1.28 GPF flush is a canister design, which some people will love, but others will dislike the noise and splash that can occur. Available in 10 colors, the Kohler K-3950-0 Tresham Toilet is well-designed with an architectural trim that looks good and is easier to clean and maintain.
The toilet is moderately priced, not as expensive as some Kohler models, but more expensive than many other toilets. This is especially true considering the price does not include a toilet seat.
Pros
Energy efficient 1.28 GPF flush
Chair-height seat
Great range of colors
Cons
Not everybody likes the canister flush system
Quite pricey
---
9.

Kohler Wellworth Round-Front Toilet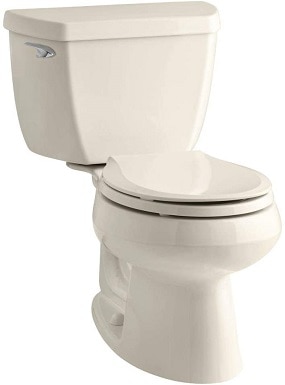 The Kohler K-3577-47 Wellworth Round-Front Toilet is an inexpensive toilet with a round bowl. It is a small bowl, and the shape, combined with the fact that the top of the seat stands 15 inches off the floor, makes it uncomfortable to use.
It does not include a seat or the wax fitting ring; they must be purchased separately. The Wellworth includes Kohler's Class-5 flush technology. It ensures that water is delivered right around the bowl and is designed to reduce clogging and eliminate soiling around the inside of the bowl. It has a water-conserving 1.28 GPF flush, but many owners have reported having to flush twice to clean it.
Pros
Inexpensive
28 GPF flush conserves water
Cons
Round bowl is small
15" seat height is short
Seat and wax ring not included
Class-5 flush won't be popular with all users
---
10.

KOHLER San Souci Toilet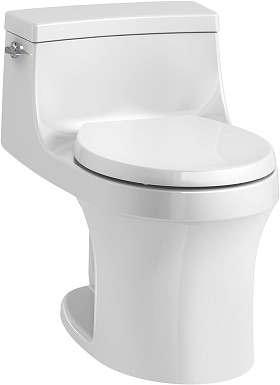 The Kohler K-4007-0 San Souci Toilet is a one-piece toilet that incorporates the tank and bowl into a single unit that is easy to clean and takes up less space. It has a low-profile design, which is helpful for secondary toilets and washrooms. The 1.28-gallon flush system incorporates Kohler's canister system and provides water around the whole bowl.
Although this is a compact toilet, it isn't cheap, it doesn't offer a comfortable seating position, and while it does come with a seat, the seat is made of cheap plastic. It may be beneficial as a secondary toilet, but there are better options for a primary toilet.
Pros
Compact, short design
Water-saving flush
Cons
Toilet is very small
Short
Expensive
Flush isn't very effective
---
Buyer's Guide – Choosing the Best Kohler Toilet
About Kohler
Kohler was founded in 1873 by John Kohler. Kohler is attributed as having invented the bathtub, which he achieved by adding an enamel coat and four decorative feet to a cast-iron horse trough. Since the 19th century, Kohler has continued to concentrate on plumbing products, offering a wide range of baths, toilets, sinks, and showers, but has also expanded to offer decorative items.
Today, you will find a wide selection of products available for the bathroom and kitchen. Among these products are their one-piece and two-piece, compact, and Highline toilets.
Kohler Toilet Buying Guide
We spend approximately 90 days, or three months, of our lives on the toilet, and we should be comfortable while we're doing our business. An incorrect sitting position can prevent us from carrying out the task at hand. There's also the chore of cleaning the porcelain.
Nobody enjoys bleaching and cleaning the bowl. While some cleaning will always be necessary, ensuring you buy a good quality toilet with an effective flush will minimize multiple flushes, reduce waste water, and postpone bowl scrubbing. Below are some of the most important elements to consider when buying your next Kohler toilet.
One-Piece or Two-Piece Toilets
There are two basic types of toilet design: one-piece and two-piece:
The one-piece toilet incorporates the tank and the toilet into a seamless design. They usually take up less space because they do not have a gap between the two sections of the unit. They tend to be 17 inches tall, but that isn't always the case, and they cost more than two-piece units because it is more expensive to craft the porcelain into a single unit. They are heavy and difficult to remove, and you will need to replace the whole toilet even if a single section becomes broken or damaged.
Two-piece toilets have more surface area, which requires more cleaning. They are not molded, and the toilet may become damaged between the two sections, which isn't possible with a one-piece unit. Generally, the two-piece design is considered traditional, but it is possible to find sleek and modern two-piece designs available for most bathroom styles. The biggest advantage of the two-piece toilet is that it is cheaper than the one-piece.
Toilet Shape
The toilet's shape refers to the bowl's shape, but it will need to be matched by the seat placed on top to ensure a proper fit and avoid accidents and more cleaning. There are two options for toilet shapes: round and elongated designs.
The round design isn't usually a perfect circle but is closer than the elongated design. It has the same width as the elongated design, and it does not extend as far out.
The elongated toilet is more oval-shaped at the front. It stretches further out but is the same width as a round toilet.
What Is Better: Round or Elongated Toilet?
The round toilet does not stretch forward as far as the elongated model. It is better for small bathrooms and cramped spaces. In most other situations, the elongated toilet is preferred because it offers a larger hole, produces fewer accidents and spills, and has a more comfortable seating position.
Seat Height
The standard, traditional toilet sits between 15 and 17 inches off the ground. This is the total height, including the seat. Taller toilets are easier to get on and off, but not everybody likes the sitting position because it can restrict bowel movements.
What Is A Comfortable Toilet Height?
Comfort-height or chair-height toilets are 17 inches or taller, often as high as 19 inches off the ground. These are especially suited to those with disabilities and mobility problems because they are easier to sit down on and stand up from.
Flush System
Various types of flush systems are available, and they primarily govern how the water is transferred from the mains to the bowl upon flushing.
The gravity system uses the weight of the water to flush the toilet. The water is delivered to the top of the bowl, where it is allowed to run down the inside of the bowl. They are quiet, but the lack of power means they may not effectively remove stubborn solids.
A pressure system uses pressurized air to force water into the bowl. This additional power can help dislodge solids and improve the cleanliness of the inside of the toilet. However, the pressure system is louder, and it delivers the total water used in a single flush in one go. While some owners prefer this type of system, others believe it to be less effective.
What Is a Kohler Class-5 Toilet?
The Kohler Class-5 system is a flush system with improved solid removal and flush power. It has a wider valve, and the water is delivered more forcefully than through a standard gravity-fed flush. Flush water is delivered right around the bowl. Kohler claims that the torrent of water helps remove solids from the toilet bowl, but some do not believe the system to be as effective as a more traditional gravity system, especially when combined with a limited 1.28 GPF system.
Water Pressure
Water pressure is the amount of water used to flush the system and is measured in gallons per flush, written as GPF. The most common water pressure in modern toilets is 1.28 GPF, replacing the more powerful but wasteful 1.6 GPF flushes of old. The more powerful flushes still exist and are usually part of a dual-flush system with two flush strengths.
The 1.28 GPF is believed to provide enough pressure to clear solids and liquids from the toilet while being environmentally friendly. The flushes are estimated to use at least 20% less water than 1.6 GPF flush systems.
Do Kohler Toilets Come with A Wax Ring?
The wax ring is the most basic of toilet seals, and it forms a seal between the bottom of the toilet and the drainpipe. Most new toilets come with a wax ring, which isn't true with all Kohler toilets. While some include a wax ring, others do not, and you must buy the ring separately.
Do Kohler Toilets Come with Seats?
Similarly, some Kohler toilets do not include a toilet seat. Check the product's description carefully because the display picture of all models includes a seat to show the finished look of the model. Kohler states that they offer toilets without seats because it allows customers to select custom seats with extra features. Bidet seats, LED night light seats, and heated seats are some options owners might buy separately.
Do Kohler Toilets Come in Different Colors?
Many of the Kohler toilets come in a selection of colors. The most common toilet colors are white, cream, and off-white. An increasingly wide range of toilet models are now also available in black.
---
Conclusion – Kohler Toilet Reviews
A good toilet is essential, whether your main or a secondary toilet. Kohler, who was responsible for inventing the bathtub in the 19th century, has a large selection of toilets. Choose according to the features you want, the flush's water pressure, and the toilet's style and design to ensure you get the right addition to your bathroom.
While writing our Kohler toilet reviews, we found the Kohler 3810-0 Santa Rosa toilet was the best Kohler toilet. As well as a standard 1.28 GPF flush, it has a partial flush that saves water and reduces water bills. The elongated toilet is also one of the few that includes a seat.
If you're looking to spend less, or you want a toilet with a dual-flush system, the Kohler K-3987-0 Wellworth Dual Flush Toilet is cheap and powerful. It has a round bowl, so it is suitable for confined spaces. It doesn't include a seat, though, so you will need to buy one separately.
---
Featured Image Credit: New Africa, Shutterstock