15 DIY Outdoor Cat House Plans You Can Build Today (With Pictures)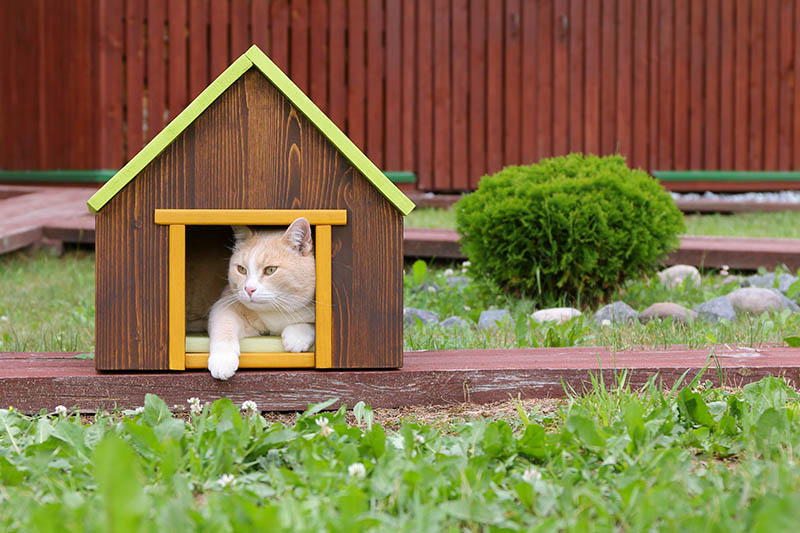 Not all cats like to spend time outside. However, those that do need some shelter, especially in the wintertime. It is vital that you consider the weather and your cat's needs. Plus, stray cats may also need shelter, especially if their previous shelter was removed or cleaned up.
You can purchase outdoor cat houses from many pet stores and online. However, you can also build your own. There are several plans across the internet, allowing you to choose a range of designs that fit your needs and talents. Let's look at a few of the best below.

The 15 DIY Outdoor Cat House Plans
1.

Bin Cat House
| | |
| --- | --- |
| Materials: | Bin, hay or other bedding, wood to raise house |
| Tools: | Knife or box cutter |
| Difficulty: | Easy |
Many caregivers for stray colonies utilize these cheap bin houses to provide shelter for their felines. Building it is pretty straightforward, and you can often get the materials donated. The hay will need to be changed regularly, in any case.
---
2.

2×2 Cat House
| | |
| --- | --- |
| Materials: | 2×2 planks, paint, hinges, weather stripping, plastic |
| Tools: | Basic household tools |
| Difficulty: | Medium |
This cat house is pretty straightforward. However, the plan isn't very detailed. Therefore, it works best if you have some DIY knowledge ahead of time. You may have to fill in many pieces yourself. Therefore, we rate it as a medium, largely because it assumes some background knowledge.
---
3.

Plastic Container House
| | |
| --- | --- |
| Materials: | Storage bin, straw, a sheet of polystyrene |
| Tools: | Yardstick, box cutter |
| Difficulty: | Medium |
This plastic container house is mainly used for feral cats. Therefore, it works well for cats that spend a lot of time outside. It is large enough to place food and water inside, which can help colonies or outside cats, too. If you have an old storage bin, you can make this plan practically for free.
You will need some sort of insulation, such as straw or shredded newspaper.
---
4.

Wooden Cat House
| | |
| --- | --- |
| Materials: | Various cuts of wood, insulation boards, shingles, screws |
| Tools: | Woodworking tools |
| Difficulty: | Hard |
If you have woodworking experience, you may want to try this wooden cat house. However, this plan requires quite a few standard tools in woodworking. We highly recommend only attempting this wooden cat house if you have past experience with woodworking. Otherwise, you may spend quite a bit of money on tools to complete this project.
---
5.

Heated Container House
| | |
| --- | --- |
| Materials: | Fleece cover, heated pad, Styrofoam cooler |
| Tools: | Box Cutter |
| Difficulty: | Easy |
Again, this house is mostly designed for stray cat colonies. However, it is very useful for all outdoor cats if you want something cheap and made with recycled materials. If you can find a cheap Styrofoam cooler, then the price of this house will be extremely low. Many pet stores that sell fish have these coolers as they receive their fish shipments. Therefore, try some local fish stores for cheap coolers.
Once you have a cooler, building this house is extremely easy. It isn't the cheapest house, as you'll have to buy a heating pad. However, it is extremely warm.
---
6.

Fancy Cat House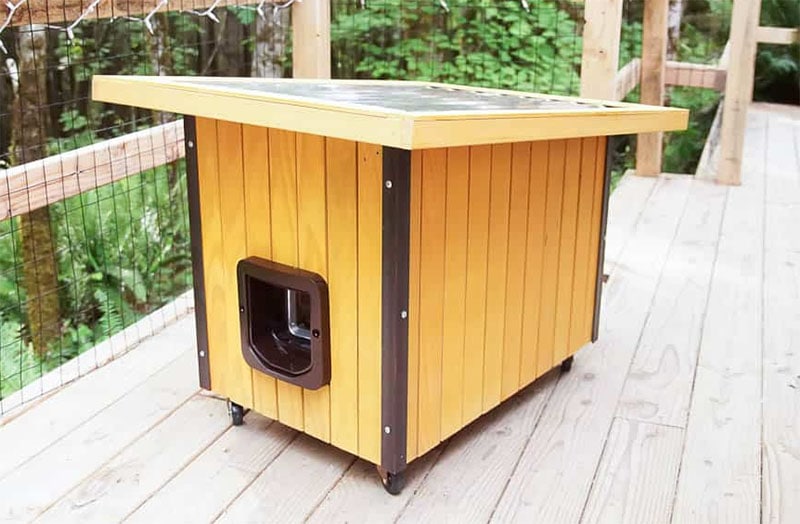 | | |
| --- | --- |
| Materials: | Spray liner cups, stain, clear spray paint, wood glue, drop cloth, swivel casters, various woodcuts, long screws, corrugated metal, angle iron |
| Tools: | Paint spray, miter saw, clamp, driver, drill and drill bits, metal cutting tool, air nail gun, nails, electric sander, Kreg jig, screws, strainer |
| Difficulty: | Hard |
If you're looking for something a bit fancier, we recommend trying this plan. It takes a bit more work and is only suitable for those with some DIY skills. However, it is more aesthetically pleasing than other options out there. Therefore, it works great for those looking for a house that looks professionally built.
Plus, this plan is extremely warm and very practical. It works great and looks great.
---
7.

Wood Pallet House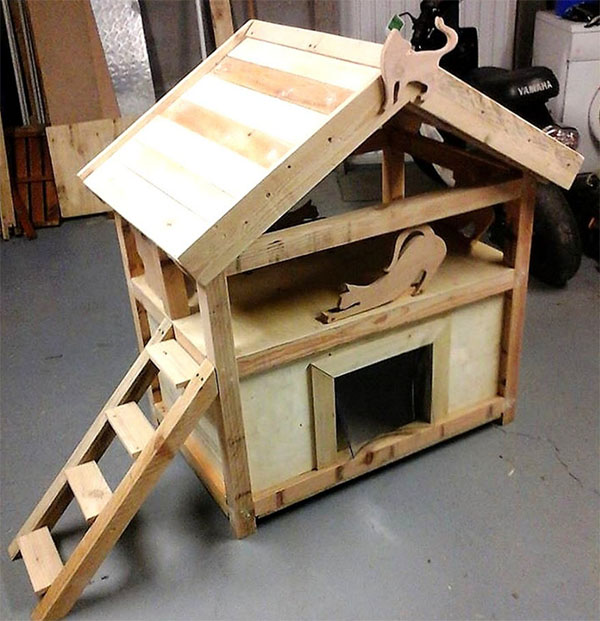 | | |
| --- | --- |
| Materials: | Pallets, nails |
| Tools: | Woodworking tools, sander |
| Difficulty: | Medium |
We highly recommend this wood pallet house plan for those looking for something cheaper. It is made almost entirely out of wood pallets. However, without any insulation or heating, it isn't suitable for very cold areas.
Our only gripe is that this plan isn't very well written. The details aren't prevalent, making building harder for those without DIY knowledge. Plus, the plan presents you with a half-done house. You'll have to paint the house or add heating yourself.
---
8.

Insulated Plastic Tub Cat House
| | |
| --- | --- |
| Materials Needed: | Two plastic tubs with lids (30- and 18-gallon), fiberglass insulation or foam board/polystyrene, expanding foam |
| Tools Needed: | Heavy-duty scissors/box cutter, duct tape, work gloves, a hair dryer (optional) |
| Difficulty Level: | Easy |
If you're on a tight budget, this insulated plastic tub cat house deserves your attention. To build it, you'll only need a pair of plastic tubs, some sort of insulation, and expanding foam. As for the tools, get a pair of scissors (for cutting) and duct tape (to smooth out the edges). First, use the scissors to make an improvised entrance. To make the cutting easier, use a hair dryer to soften it up a bit.
With that out of the way, place the smaller tub into the bigger one and fill the space in-between with foam. Just make sure none of it is sticking out; otherwise, the cat might start pulling, tearing, and maybe even chewing on it. Expanding foam will help fill in the "blanks". The whole thing costs $40 to put together (or less if you already have a spare tub and some insulation).
---
9.

Dirt-Cheap House for Multiple Cats
| | |
| --- | --- |
| Materials Needed: | A large cardboard box, an old T-shirt |
| Tools Needed: | Scissors (not heavy-duty) |
| Difficulty Level: | Easy |
Speaking of inexpensive shelters, it doesn't get more affordable than this dirt-cheap house for multiple cats. It's an incredibly simple project, too. As long as you have a cardboard box that can accommodate one or several kitties, you can get started. Grab a pair of scissors, cut out an opening for the furry buds, cover the box with an old T-shirt that you can spare for this DIY plan, and call it a day! While it won't keep the kitties warm in a harsh winter, it's still a great summerhouse.
Don't have a cardboard box handy? No worries: you can always try and get it for free from a local retail store, recycling center, relative, or neighbor.
---
10.

Stylish, Elevated Cat House
| | |
| --- | --- |
| Materials Needed: | Plywood sheets, pressure-treated pine, fir, bead boards, wood shim shingles, deck screws, waterproof finish, adhesive caulking, corner braces, back flap hinges, heating pad |
| Tools Needed: | Circular and jigsaw, electric drill/screw gun, caulk gun, sandpaper, marker, carpenter's square, level tool, measuring tape, paint lid, safety gear |
| Difficulty Level: | Medium/Hard |
Moving on from plastic tubs and cardboard boxes, let's try and build a stylish, elevated cat house. This is a pro-level project and involves a lot of sawing, drilling, caulking, and sanding: you'll need solid carpeting skills to pull it off. This is especially true for all the measuring and precision cutting. On the bright side, once you put the shelter together, your cat will be able to enjoy it 365 days a year.
Use plywood, fir, and pressure-treated pine for the floor, walls, and ceiling, and cover the roof with shingles to keep the kitty warm. A heating pad placed at the bottom can make this house even more comfortable. Thanks to the elevated platform, sturdy construction, and weather-resistant materials this house will last for many years.
---
11.

Cozy Two-Story Outdoor Cat Shelter
| | |
| --- | --- |
| Materials Needed: | Plywood (1/4"), scrap wood, foil insulation, wood screw pack, exterior paint |
| Tools Needed: | Table saw, drill, stapler, scissors, level tool, pencil, paintbrush, work gloves |
| Difficulty Level: | Medium/Hard |
Platforms are great, but what if we could construct a cat shelter with two stories? The second floor will serve as the house for the furball, while the first one can hold its food and water bowls, along with other stuff. There's only one entrance and no heating on the floor here. Still, your pet will have the time of its life inside this cozy two-story outdoor cat shelter. Besides, the roof does have insulation.
For a feral feline, this shelter will provide a comfortable, safe place of rest and give it an opportunity to "warm up" to its new human friends. The double-decker design is the star of the show here as it can keep the bowls dry when it starts to rain or snow. Plus, if the cat knocks it over, you won't be left with a ruined house. Some scrap wood pieces, plywood boards, and foil insulation will get you started.
---
12.

Spacious, Dog House-Style Shelter
| | |
| --- | --- |
| Materials Needed: | Plywood (3/4"), wood boards (4x8s, 6x8s), door trim, exterior wood screws, glue, caulk, wood filler, stain/paint (optional) |
| Tools Needed: | Circular, miter, and jigsaw, electric drill or driver, tape measure, square tool, level, paintbrush, nail gun (optional) |
| Difficulty Level: | Medium |
Cats are free-willed, headstrong creatures that like it when there's enough space to move around. And with this spacious, dog house-style shelter, they'll get exactly that. As the name suggests, this shelter looks like a doghouse, but that doesn't mean a feline can't settle down in it! First, it features a lovely retro design that's bound to grab attention. Secondly, it's very roomy and has a big entrance to accommodate the largest cats.
The best thing about this DIY plan is that it's very flexible. You can change the size, design, and color while sticking to the same original concept. Now, treated lumber could very well work, but, to make the wood last longer, caulking and staining it will be a better idea. Wood filler, in turn, will smooth out the edges after you cut the plywood.
---
13.

Techy, Solar-Powered Kitty House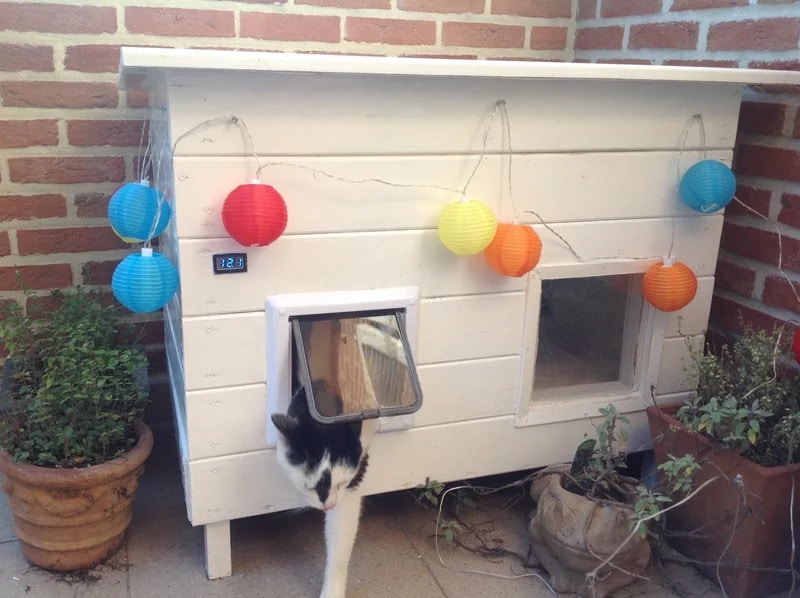 | | |
| --- | --- |
| Materials Needed: | Wooden box/planks, XPS/polystyrene, cat door with a tunnel, solar panel, cable, and wires, battery (12v), sensor, controller, fuse holder, car seat heating kit |
| Tools Needed: | Circular saw, cordless drill, measuring tape, marker, safety equipment, insulation tape |
| Difficulty Level: | Medium |
If your cat is a conscious feline citizen and wants to embrace green energy, this techy, solar-powered kitty house will be the perfect plan for your weekend. It's not going to be cheap ($200–250 for the whole thing), but this shelter is capable of keeping the furball not only comfy but also warm. It's a standalone, winter-ready project that you can either build from scratch or just add the solar panel, battery, wires, and sensor to a pre-existing shelter.
For insulation, we recommend polystyrene or XPS. It's thick, water-resistant, and lasts for a long time. A 100Wp panel, in turn, should be enough to keep the house warm for 3–4 hours even on cold, cloudy winter days. As for the sensor, it does a great job of automatically switching the battery on when the cat enters the house and disabling heating once it leaves.
---
14.

Cute Feral Cat Shelter With Shingles
| | |
| --- | --- |
| Materials Needed: | Wooden box/ boards, roof shingles, ridge cap shingles, synthetic roofing roll, roofing nails (galvanized steel and plastic cap), screws (optional) |
| Tools Needed: | Circular saw, electric drill, measuring tape, level tool, marker, utility knife, hammer, work gloves |
| Difficulty Level: | Easy/Medium |
Feral cats like to hide from a harsh climate in basements, underneath houses, or in old sheds. Well, if you have a stray kitty or two in the neighborhood, try building this cute feral cat shelter with shingles. The main idea here is to use a roofing roll and shingles to keep the indoors warm. So, much like with the previous project, you're free to just add the roof to an old cat house or build the whole thing from the ground.
The elements can do a number on any building, including a cat house. But, with this brick-strong shingled roof, you won't have to worry about that. And, rest assured that the cat(s) living inside that shelter won't have to deal with rain, snow, dirt, or dust coming down from the sky. Use plastic cap nails for the roll, steel nails for the shingles, and a utility knife to cut the excess.
---
15.

Screened-In Patio Shelter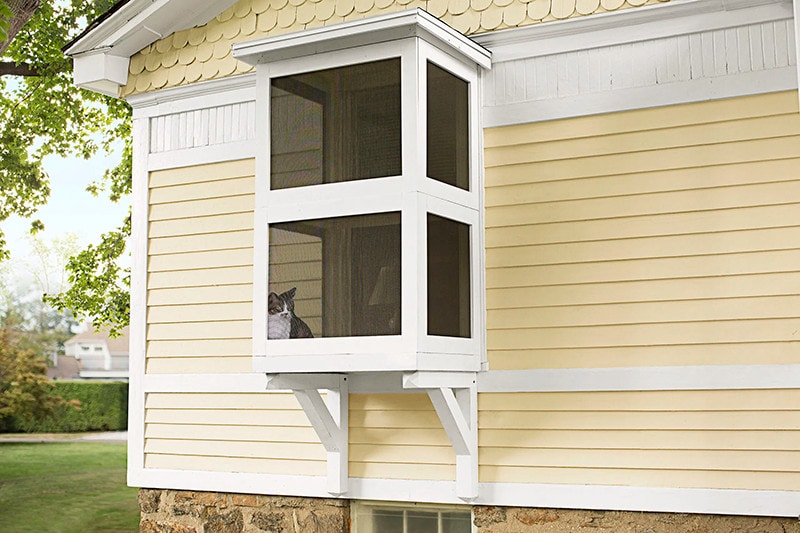 | | |
| --- | --- |
| Materials Needed: | Cedar boards (rot-resistant), plywood sheets, screen rolls, rolled roofing, stainless steel screws, wood stain, wood glue, roofing cement, primer |
| Tools Needed: | Ladder, circular, miter, jigsaw, drill, spade bits, hammer, chisel, clamps, staple gun, utility knife, tape measure, level, pencil, paint roller, brush, caulk gun, tin snips |
| Difficulty Level: | Medium/Hard |
Finishing up with our list of the best DIY cat houses, we have one final plan for you to check out. Technically, this screened-in patio shelter is not an outdoor house, but it's still a wonderful project. If you have the time, tools, and skills to get it done, your cat will get to enjoy the benefits of the outdoors like fresh air and sunlight while staying in the comfort of your house. Cedar is the go-to choice for such projects, as it's practically immune to weather elements.
Some plywood sheets will come in handy as well. Cover the window frames with screen rolls to serve as improvised windows. Next, strengthen the roof with a roll and secure everything using screws, roofing cement, and wood glue. Ideally, this DIY plan should be brought to life by two people. But, if you have a reliable ladder, it's very well possible to complete it manually.

Conclusion
There are many cat house plans out there. However, many of them are extremely similar to each other. We've written about our favorites in this article (and they aren't all cooler houses for stray cats). These plans should help you build a cat house no matter what cat you're building it for.
Furthermore, these plans vary in difficulty. Some look like they're professionally built, while others are much simpler.
---
Featured Image Credit: vubaz, Shutterstock