9 DIY Pyramid Planter Plans You Can Build Today (with Pictures)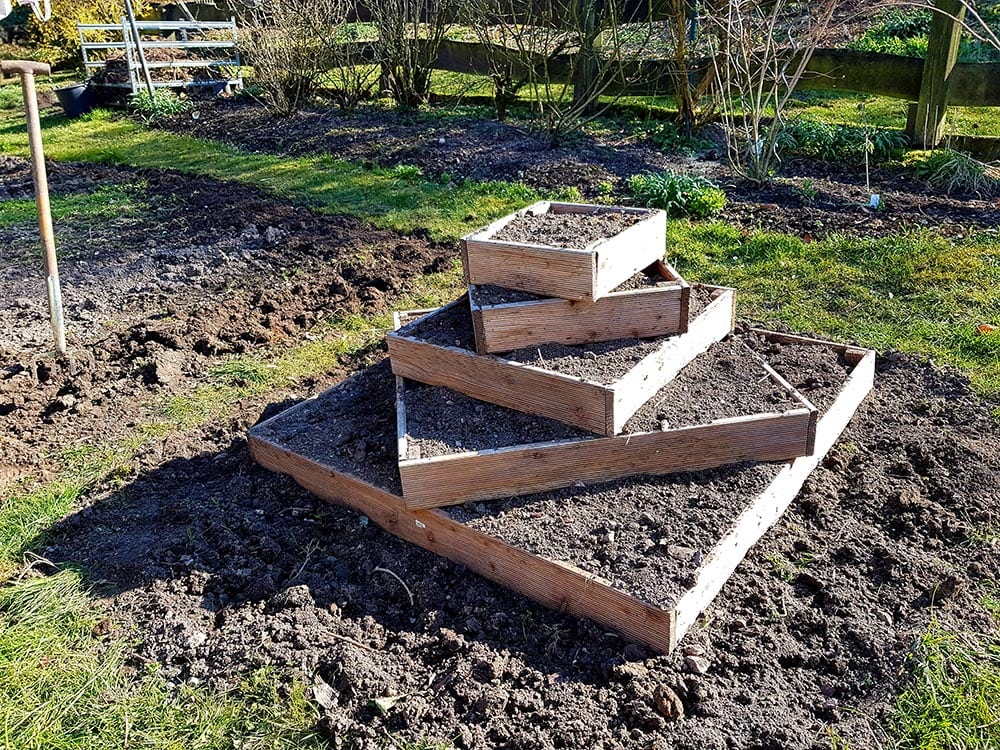 Although pyramid planters are often made for strawberries, you can plant just about any type of flower, herb, or vegetable in most pyramid planters. If you are interested in building a pyramid planter for your garden or yard, here are 9 plans you might want to try out.
Most of the plans on this list are free, but there are a couple you will need to pay for. Browse through each plan to find one that is perfect for your needs.

The Top 9 DIY Pyramid Planter Plans
1.

The Owner Builder Network's Slot Together Pyramid Planter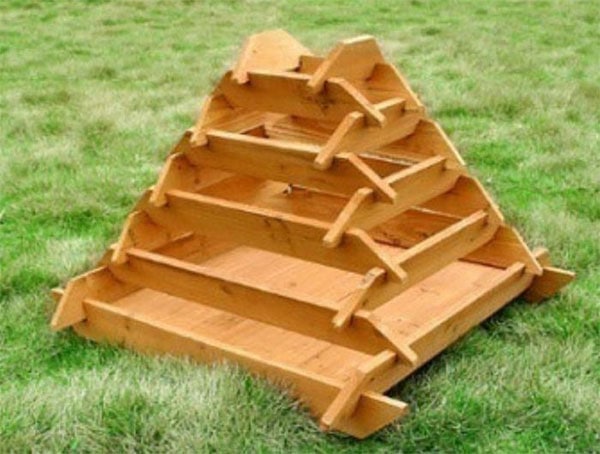 Owner Builder Network's Slot Together Pyramid Planter is a great choice if you are looking for free plans that are easy to follow. This plan explicitly outlines everything you will need and need to do to construct this planter. With each step, the Owner Builder Network provides pictures so that you can easily follow along.
The final product is really beautiful. Because of the slot design, this pyramid planter can easily be customized to fit your exact aesthetic preferences. Of course, you can always follow the instructions if you aren't confident enough to free ball the planter's design.
---
2.

RemoveandReplace's Vertical Garden Pyramid Tower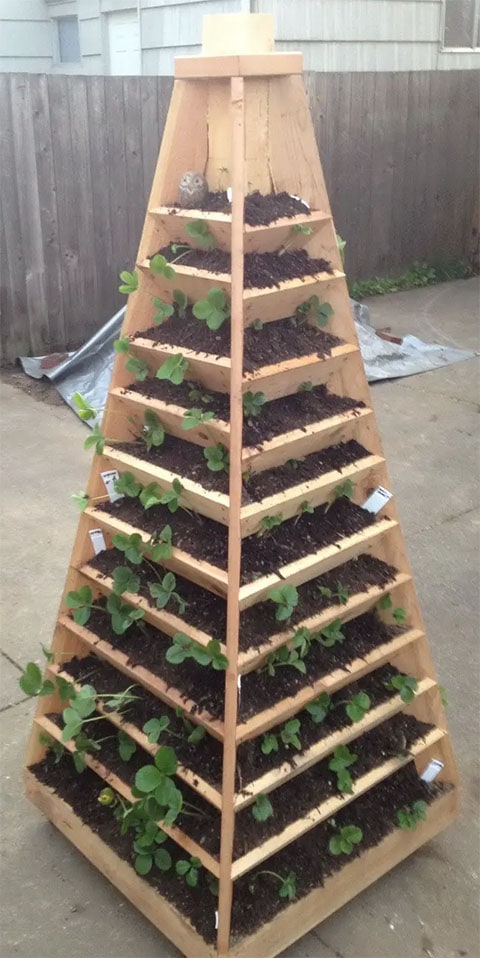 RemoveandReplace's Vertical Garden Pyramid Tower is a great choice if you want a super tall pyramid planter. Because of its tall design, this planter can hold a lot of plants without taking up as much space in your garden bed. Its tall design also means it can make a great statement piece for your yard.
Although RemoveandReplace provides a lot of pictures in their plans, their steps aren't as explicit as some of the others. As a result, this may not be a great plan for you if you don't feel comfortable eyeballing the construction. Even if you decide not to go with this plan, we recommend reading the extra tips section because these tips can be applied to any pyramid planter you make.
---
3.

My Outdoor Plans' Strawberry Tiered Planter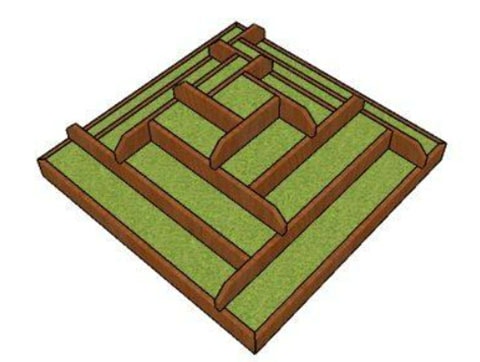 The My Outdoor Plans Strawberry Tiered Planter is a great plan to follow if you are a beginner builder. The plans thoroughly list all the materials and tools needed. More so, the instructions are thorough and come with animated pictures to help you see what you need to do.
Although My Outdoor Plans do not offer a picture of the final product, the plans are very similar to the My Builder Network's final planter. This final planter looks very interesting and much more difficult than it actually is. Even though there are no pictures uploaded, there are some comments that imply other people have tried out these plans and were more than satisfied with their planters.
---
4.

Timberanew's Rustic Pyramid Planter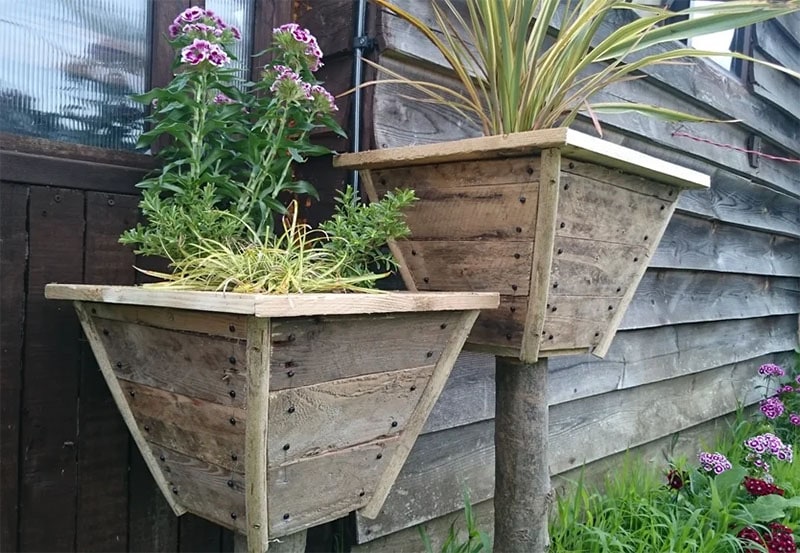 Timberanew's Rustic Pyramid Planters are a bit different from the other planters we have looked at so far. Instead of being placed on the ground, these planters are smaller at the bottom than at the top, which makes them better for posts and off-the-ground installation. So, this planter will really stand out in your yard since it doesn't look like other pyramid planters.
The instructions Timberanew provides are very thorough. You can watch a video of the woodworking project, but you can also read along. With every step in the instructions, there are either images or GIFs so you can see what to do. If you want, you can even download the instructions and print them out.
---
5.

Gareth0123's Slot Together Pyramid Garden Planter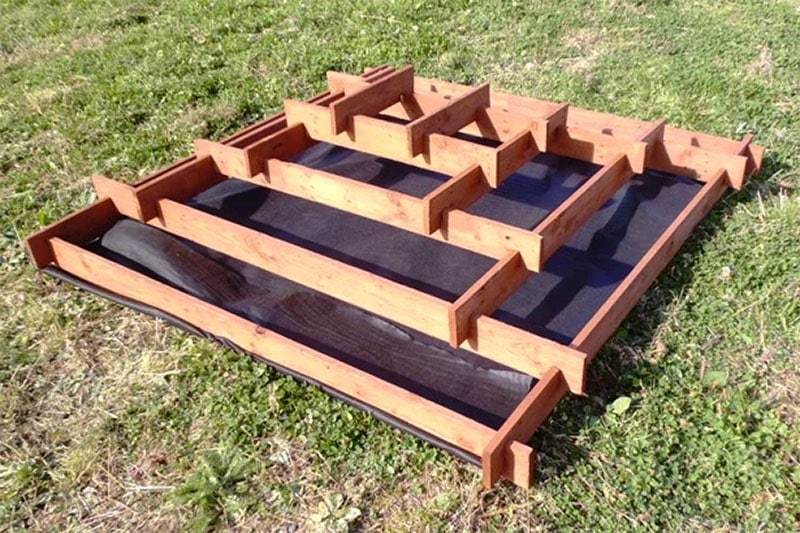 Gareth0123's Slot Together Pyramid Garden Planter is another planter plan that is made from slots. This plan is easy enough for beginners to make, and it only takes about 90 minutes to complete, making it one of the quickest pyramid planters to build on this list.
Each step thoroughly explains what you need to do and offers pictures to help you follow along. Like other Instructables plans, you can also download the plans or watch YouTube videos for further help.
---
6.

RunnerDuck Resources' Strawberry Planter Tree
The RunnerDuck Resources Strawberry Planter Tree is a bit different from the other planters on this list. This tree is only suitable for vined plants because it does not come with boxes that you can plant flowers and other plants in.
If you like the idea of a tree plan, the instructions are thorough and come with a lot of pictures. Although the site looks a bit dated, the plans are still great and reliable.
---
7.

The DIY Plan Gutter Planter (Pyramid)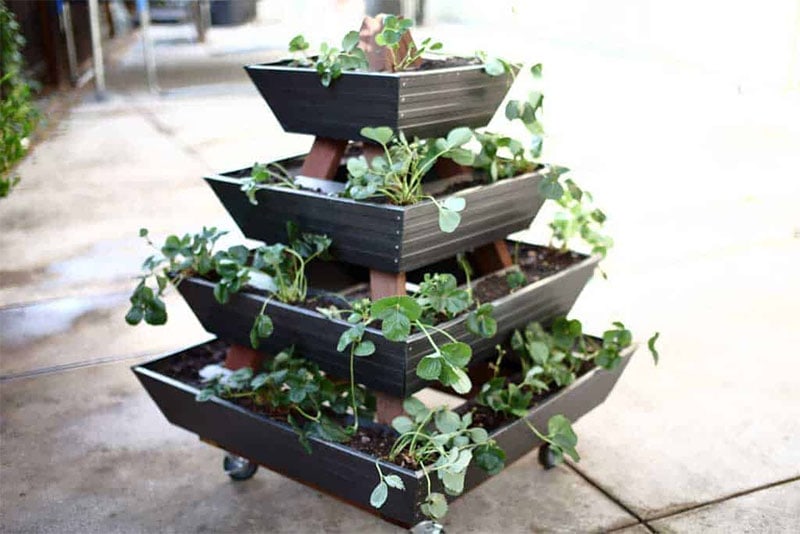 The DIY Plan Gutter Planter is a pyramid planter plan you might want to pay for, but you can get the plans for free too. These plans are unique because you can put the planter on wheels, allowing you to move the pyramid planter around with ease.
If you like the website and want to help them out, the plans only cost about $6, making them more affordable than the ChesapeakeCrafts Strawberry Pyramid Planter below. With the purchase of this plan, you will also get cut diagrams, the supply list, and 3D illustrations. You can read basic instructions for free on the website too.
---
8.

ChesapeakeCrafts' Strawberry Pyramid Planter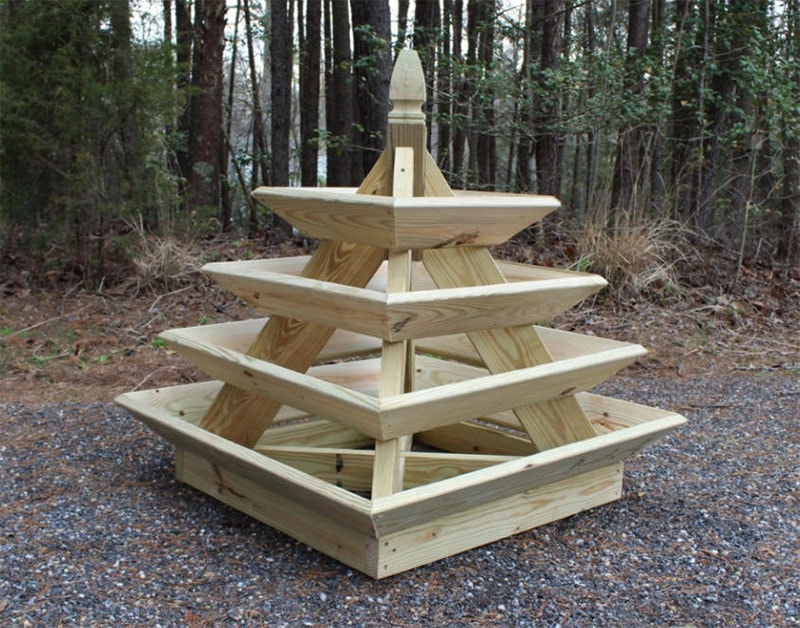 The ChesapeakeCrafts Strawberry Pyramid Planter is a large yet professional-looking pyramid planter that is great for flowers, herbs, strawberries, and other garden plants. This plan is ideal for people with excess space in their garden, deck, or patio.
The plans for this pyramid planter cost about $13. Although you can try one of our free plans instead, this pyramid planter is one of the most professional looking. If you plan on placing your pyramid planter in a commercial location or professional garden, you might want to splurge on this plan.
---
9.

Anna White Cedar Vertical Tiered Ladder Garden Planter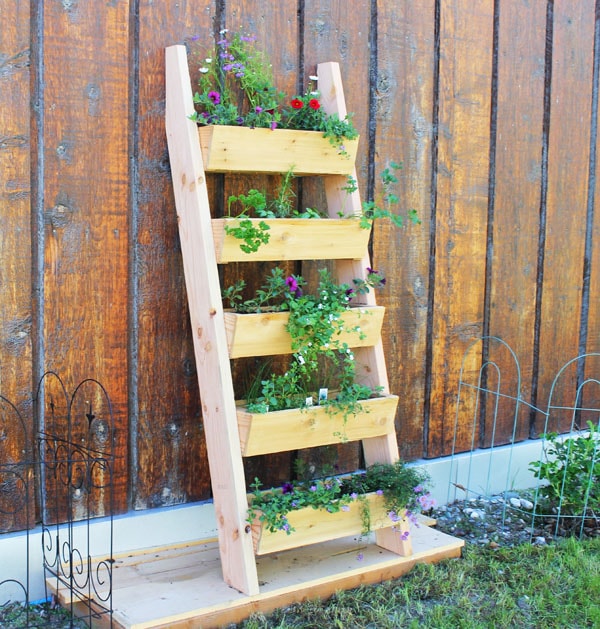 The Anna White Cedar Vertical Tiered Ladder Garden Planter is not exactly a pyramid planter, but we thought we would mention it in case you like pyramid planters but are tight on space. This planter is tiered like pyramid ones, but its ladder design means it takes up less space and only needs to be propped up against a fence or house.
The instructions are very thorough and include pictures for every step in the process. At the bottom of the page, you will find a quick shopping list and cut list, as well as animated pictures to go with each step. So, make sure to scroll all the way down to the bottom of the page for complete instructions.

Tips and Tricks For Building Pyramid Planters
Here are some tips and tricks for building pyramid planters:
Pyramid vs Ladder Planter
Make sure that a pyramid planter is actually what you want to make. Because pyramid planters are so large, they are not ideal for small yards and spaces. If you like the pyramid design but don't have the space for one, try a ladder planter instead. Ladder planters look like pyramid planters from one side because they are tiered and vertical, but they take up half the space.
Varnish the Wood
If you want to use your pyramid planter, or any other planter for that matter, for more than one season, you will want to varnish the wood before constructing it. That way, the planter should last two or three seasons instead of one.
Drip Irrigation
One downside of pyramid planters is that the top layers dry out faster than the bottom layers. This causes the plants to get an uneven amount of water. Use a drip irrigation system to ensure that all levels of the pyramid planter have enough water without getting bogged down.
Water Drainage
To further help with the irrigation system, you can use layers of rocks and gravel under the dirt to increase the drainage.

Final Thoughts
We hope that one of these pyramid planter plans is ideal for your yard and purposes. Feel free to customize any of the plans to make them one of a kind. Remember to be safe and always wear safety gear before beginning the building process.
---
Featured Image Credit: Art_Pictures, Shutterstock