17 Free DIY Quilt Rack Plans You Can Make Today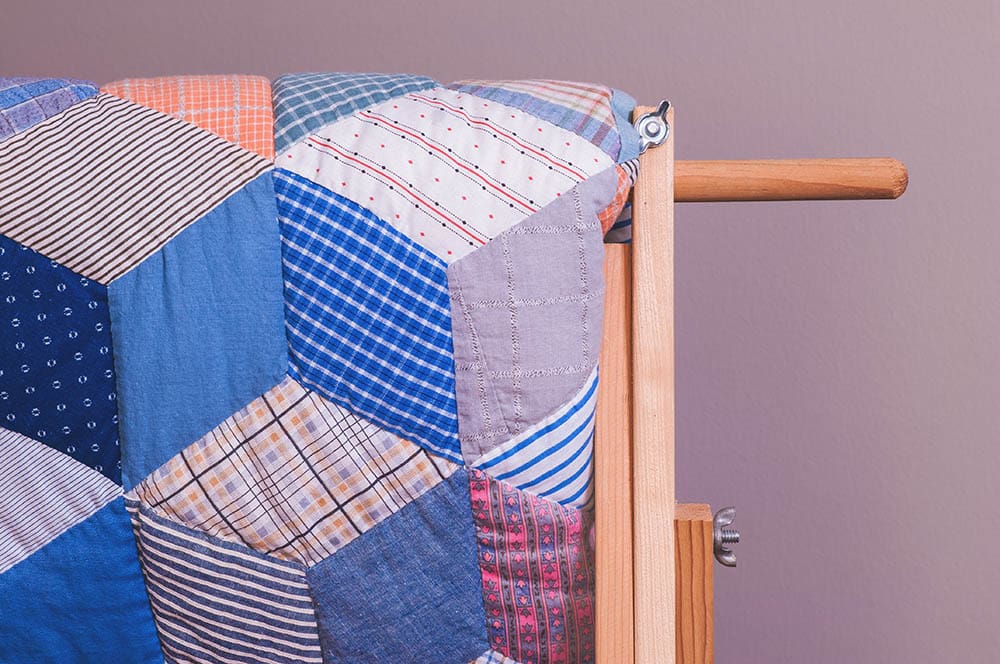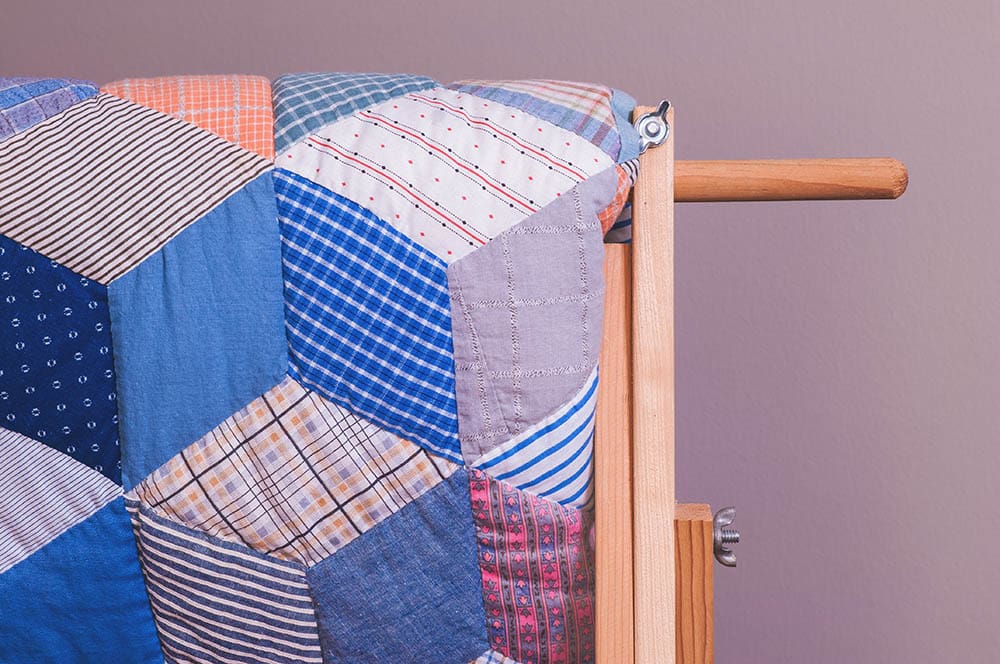 A well-built quilt rack is useful in all kinds of situations. You might have bought a quilt that's so beautiful you intend to display it rather than use it. Maybe you're always cold, and need to have a lot of blankets within reach. Maybe you're sick of your family leaving clothes on the floor, but want a user-friendly rack that can double as decoration.
As a DIY project, quilt racks run the gamut: some are easy to hack together in an afternoon with scrap wood, while others require a weekend in the workshop and mastery of completely new woodworking techniques. No matter what difficulty level you go for, though, we guarantee you'll have fun learning how to build a quilt rack of your own.
If you're ready to add a touch of old-time luxury to your living space, check out one of these DIY quilt rack plans you can download and get started on right now.

The Top 17 Free DIY Quilt Rack Plans
1.

Standing Quilt Rack by Four Oaks Crafts
We'll start things off with this design for a classic standing quilt rack by Four Oaks Crafts, a blog maintained by professional woodworker Stephen Johnson that draws on his 25 years of experience. This broad-sided, freestanding quilt rack can be built in a day, and includes a heart design that makes it a great present.
Tools
Tape measure
Pencil
Hand drill
Jig saw
Sander or sandpaper
Supplies
Wooden planks, at least ¾" thick
Wooden buttons
Wood screws
Stain
Finish
---
2.

Blanket Rack by Wayne of the Woods
Wayne of the Woods, an unassuming site with a big selection of exciting woodworking plans, offers this quilt rack design for anybody who wants to build a rack without the fuss. You can build this rack out of four pieces of wood, and a few other materials, for a total of about $60.
Tools
Tape measure
Pencil
Compass
Table saw
Miter saw
Bandsaw
Sander
Router
Power drill/screwdriver
Supplies
(3) 8-foot 2x4s
(1) 8-foot 1×12
Wood plugs
Wood screws
Polyurethane
Wood glue
---
3.

Modern Quilt Rack by Ana White
Ana White's quilt rack is multifunctional, serving as both a quilt display and a side table. It's great for filling that long stretch of wall you don't quite know what to do with.
The steps for building it are intuitive — start by threading a dowel through the three upright pieces, then add the rest of the planks around that frame. If you have all the tools, the total cost hovers around $30 (paint not included).
Tools
Tape measure
Speed square
Pencil
Hammer
Drill
Circular saw
Sander
Level
Supplies
(3) 6-foot 1x10s
(1) 2-foot 2×2
(1) 6-foot dowel, 1 inch thick
Screws
---
4.

Blanket Ladder by Shanty2Chic
This plan from Shanty2Chic will help you build a multi-use ladder with a vintage look. Its four rungs can hold quilts, blankets, mats, towels, or clothing. Really, the only thing you shouldn't do with this ladder is climb on it.
The pocket hole jig is optional — you can also handle that step with a drill.
Tools
Miter saw
Pocket hole jig
Foam brush
Sander
Supplies
(2) 8-foot 2x4s
(1) 8-foot 2×6
Pocket hole screws
Finish
---
5.

Modern Quilt Rack by Better Homes and Gardens
This design from Better Homes and Gardens is for a wall-hanging quilt rack. Its minimalist hexagon shape accents a display quilt without distracting from it. We love vintage as much as the next DIYers, but if you're tired of distressing all your projects, this frame's modernist aesthetic could be the pallet-cleanser you need.
Tools
Miter saw
Tape measure
Pencil
Drill with ½" bit
Paintbrush
Sandpaper
Hammer
Putty knife
Supplies
8 feet of 2×2 lumber
16 inches of ⅝"dowel
Wood glue
Masking tape
Finishing nails
Wood putty
Stain or paint
D-ring hooks
---
6.

Quilt Rack by The Woodcrafter Page
The Woodcrafter Page's one-day quilt rack is perfect for filling up a blank spot in any room. All you'll need is your tools, a few planks of ¾" to 1″ wood, some plugs and screws, and this design.
If you want the rounded top shown in the picture, you'll need a saw capable of cutting curves; otherwise, a flatter dog-eared design looks just as good.
Tools
Miter saw or table saw
Bandsaw, jigsaw, or scroll saw (optional)
Pencil
Compass
Power drill
Screwdriver
Supplies
¾" planking stock
Dowel plugs
Screws
---
7.

Blanket Ladder by Imperfectly Polished
This free plan from Imperfectly Polished is another blanket ladder which can be used for both quilt display and several other purposes (again, though, don't climb any of these). If you measure and cut the ends of the two long planks right, this rack can lean against your chosen wall without wobbling.
Tools
Nail gun
Drill with ¾" bit
Clamps
Supplies
10 feet of 1×6 board
6 feet of ¾" dowel rod
Wood glue
Finish nails
---
8.

Quilt Rack by Lee's Wood Projects
Lee Swindel of Lee's Wood Projects presents this rack that nicely complements heirloom or vintage quilts. He recommends using African padauk for its darker finish, but if you're planning to paint instead of stain, a lighter pine or alder is more suitable.
Tools
Table saw
Radial arm saw
Jointer
Pencil
Band saw
Spindle sander
Try square
Dowel jig
Hand drill
Wooden mallet
Bar clamps
Planer
Hand router
Drill press
Supplies
Wood (see plan for complete list of specs)
Dowel pins
Buttons
Flathead screws
Wood glue
---
9.

Vintage Ladder Rack by Vintage Home Love
Vintage Home Love is one of our favorite budget blogs, and this ladder rack design illustrates why: the materials cost less than $10. It looks spindly, but it's strong enough to hold quilts.
Putting the pieces together is a one-day job. However, if you want to put the extra effort into that farmhouse look, let the walnut stain dry overnight and spend some time distressing it the next morning.
Tools
Miter saw
Tape measure
Pencil
Drill with 1¼" bit
Screwdriver
Palm sander
Supplies
(2) 1 ½"dowels, 6' long
(3) 1×3 boards, 6' long
Wood glue
Screws
Walnut stain
White paint
---
10.

Quilt Rack by Instructables
This freestanding quilt rack from Instructables user mtairymd is a great-looking conversation piece — we like how the staggered dowels let you accent one quilt with another. Two side planks, a crossbar, and three wooden rods are all you'll need to build this.
Side note: this project offers a forgiving environment to practice rounding edges with a jig or band saw.
Tools
Jig, band, or scroll saw
Drill with 1-inch bit
Sander
Tape measure
T-Square
Compass
Pencil
Supplies
1″x12″x5.5″ board
1″x4″x28″ board
1″x8′ dowel
Wood glue
Paint or stain
---
11.

Clothing Ladder by Remove and Replace
Remove and Replace's DIY ladder is intended to keep clothes off your floor, but it makes an excellent quilt display as well. The small amount of wood it requires makes this an awesome opportunity to get rid of any leftover scrap lumper from your last project.
Tools
Brush
Measuring tape
Clamps
Handsaw
Drill with a bit the size of your dowel
Sandpaper
Supplies
(2) 4' 1x1s
(2) 6' 2x2s
(1) 4', ½" wide dowel
Wood glue
Stain
Varnish
Felt pads
---
12.

Antique Quilt Display Rack by Shop Smith Hands-On
This "major project" from Shopsmith Hands-On is for anybody looking to DIY a more ornate quilt rack — one that's destined to become a family heirloom in its own right.
With its hollow side pieces, it doesn't require much lumber, but decorating the posts takes a lot of careful router work. For the steady-handed only!
Tools
Glue roller
Planer
Pencil
Bandsaw or scroll saw
Disc sander
Drill
Supplies
Wooden stock ¾" to 1″ thick
1″ dowels
Wood glue
---
13.

Simple Blanket or Quilt Rack by Waylight Creations
Instructables user Waylight Creations shares this design for a small quilt rack, great for anybody looking to brighten up a tighter space. With just a few dowels and pine boards, and a day of work, you can have all your comfy blankets and quilts within easy reach.
The link includes a video that helps add more context to the instructions.
Tools
Pencil
Tape measure
Band saw
Clamps
Drill
Router
Sander
Flush cut saw
Hammer
Brush
Supplies
1×10 pine boards
1" dowels
Scrap lumber
Nails
Wood glue
Tung oil
Stain
---
14.

Quilt Rack by My Outdoor Plans
If you're on the lookout for a smaller quilt rack you can also use as an overflow table, My Outdoor Plans delivers. Unlike Ana White's design at #3, this plan starts with the framing planks, then adds the dowel as a final step. It's easy to do — but pre-measuring more than you need is a good idea. (When is it ever not?)
Tools
Hammer
Tape measure
Framing square
Miter saw
Power drill
Screwdriver
Sander
Supplies
(2) 26" 1x10s
(1) 34.5" 1×10
(1) 36-inch 1×10
1" thick lumber rod
---
15.

Bent-Wood Quilt Rack by Woodworking for Mere Mortals
Woodworking for Mere Mortals built a quilt rack with an unusual technique: wood-bending. As the video in that link explains, bending wood into curves leads to a stronger shape than cutting shapes out from a plank — and it's also less wasteful.
Check out the video to learn how, then download the free template from the same page to build this quilt rack with graceful s-curves.
Tools
Bandsaw
Pipe clamps
Glue roller
Sander
Drill
Hammer
Supplies
Spray adhesive
Thin wooden slats
Wide wooden slats
Dowels
Wood glue
Packing tape
---
16.

Blanket Ladder by Dunn Lumber
Kristen Dunn of Dunn Lumber has designed a beginner-friendly quilt ladder we're really impressed with. She clearly understands blanket entropy — the way they always, no matter what, end up in a pile on the floor — so this is a blanket ladder you'll actually want to use.
This design features an extremely quick build, coupled with undemanding tool and supply lists.
Tools
Circular saw
Power drill
Tape measure
Sandpaper
Brush
Supplies
(1) 8' 2×4
(1) 8' 1×3
Wood screws
Wood stain
---
17.

Simple Old-Time Quilt Frame by Texas Bob
To finish things off, we've got this frame from Texas Bob, which can be used to either work on a quilt or display it. The instructions aren't very extensive, and require some understanding of joinery — this design is more for those who already know what a quilt frame looks like. The advantage, though, is that everything attaches with minimal supplies. Learn how to build a quilt rack thats unique yet simple.
Tools
Power saw or hand saw
Cloth cutter
Staple gun
Router
Supplies
(4) C-clamps
(4) 7' 1×2 boards
(4) 6' 1×4 boards
Muslin or ticking
---
Featured Image Credit: Scott L. Williams, Shutterstock