10 Free DIY Gun Rack Plans To Build Today (with Pictures)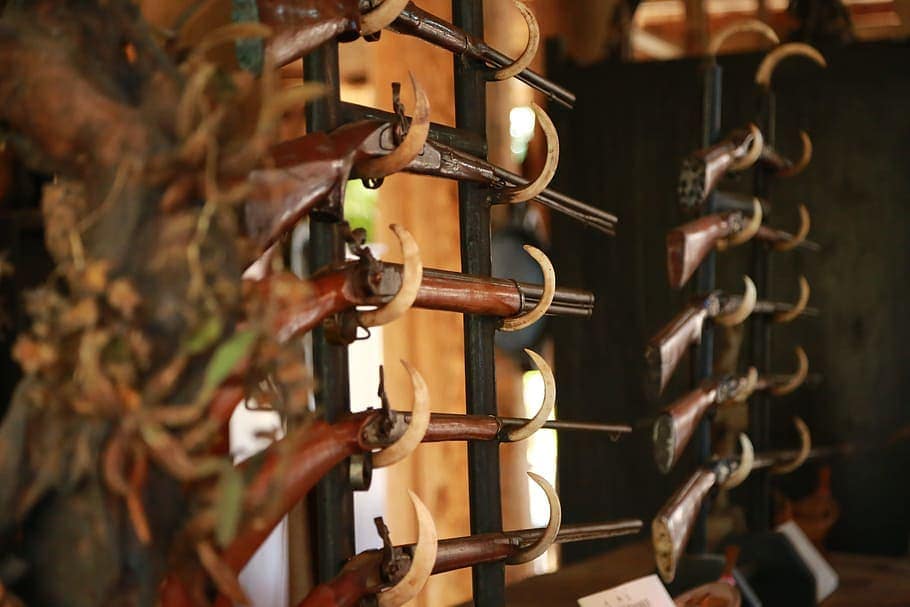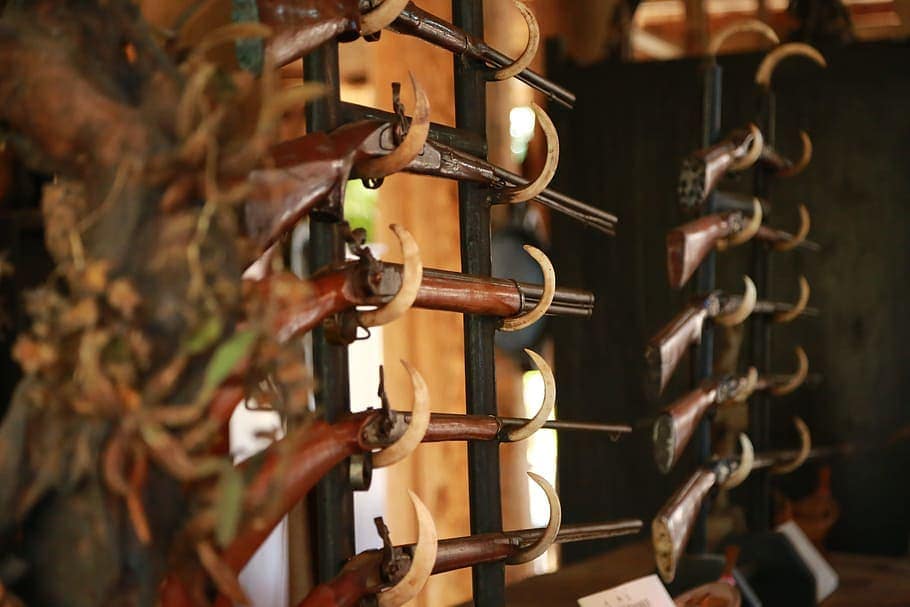 Part of owning a gun is knowing how to store it. If you don't store it right, it could easily break, or worse, injure you or a loved one. You could store a gun in its case or choose a more attractive option – a gun rack.
A gun rack lets you safely store your guns so that they are visible. This is a great option if you have more than one gun that you think looks great on a wall. Unfortunately, many gun racks are unnecessarily expensive, and a gun rack isn't the most intuitive DIY design.
For this reason, we have found 10 free DIY gun rack plans. These plans are totally free and will give you the instructions to learn how to build a gun rack that's specific to your needs. They are simple enough for beginners and will save you money. No need to jabber anymore. Let's get straight to the gun rack plans.

The 10 Free DIY Gun Rack Plans
1.

Rod's Woodworking Shop's Horizontal Rifle Gun Rack Plans
Sometimes, free gun rack plans can be difficult to follow with less than helpful pictures. Rod's Woodworking Shop plans are different. In these DIY gun rack plans, you get detailed instructions, 3D photos, and photos of the gun rack being made. These features make it much easier to follow these instructions and plans.
The gun rack itself is simple yet attractive. It offers space for three rifles and will not distract from the guns themselves. Instead, the rack offers a simple space to showcase your guns, not distract from them. The bottom of the rack even has a little storage box that is great for handguns or gun gear.
---
2.

MosinVirus' Rotating Gun Rack
If you want a gun rack with a little pizzazz, you should look at the MosinVirus' rotating DIY gun rack plans. As the name suggests, this gun rack allows you to spin the rack to maximize space and easily get to any gun you want.
MosinVirus separated the construction demonstrations into Part 1 and Part 2, so you will need to watch both to get the full instructions. The videos are really basic, which makes them super easy to follow and understand.
---
3.

Instructables Outside Standing Gun Rack
Although many people love a horizontal gun rack, sometimes, there's nothing quite like a standing one. If you prefer the standing design, then we recommend the Instructables Outside Standing Gun Rack. This gun rack is so simple and requires so few materials. It is definitely cheaper than buying a gun rack.
These gun rack plans are straightforward and easy to follow. They include lists, pictures, and step-by-step instructions for making this gun rack. The plan does not include any 3D graphics, making it a bit more difficult to follow than some of the other options on this list, but the design is simple enough that you don't need graphics.
---
4.

Dave's Homestead Free $20 Rifle Rack
Do you need both a video and written description to understand how to build something? Watch this video to find out how to make a gorgeous rifle rack for under $20. You read that right: $20. This option is by far one of the most affordable gun racks on this list, making it a great choice for those on a budget. Dave's Homestead also offers a written description, but they are much vaguer than the video.
Although this gun rack is so affordable, it is large enough to house six rifles. So, if you need DIY gun rack plans for more than a few guns, this is the plan for you. The rack is designed so the rifles are positioned vertically, not horizontally.
---
5.

Lee's Wood Project Rifle Gun Rack with Drawers
Do you need extra storage space and organization for your gun gear and tools? If so, you will love Lee's Wood Projects' Rifle Gun Rack. This rack comes with two drawers below the rack, which is great for any gun gear, hunting tools, or any other small items you might want to keep with your guns.
Although these gun rack plans do not include many photos or videos, the directions are straightforward and easy to follow. The plans include a helpful chart of all the tools and supplies you need. With these directions, you will easily make a delicate gun rack with extra storage drawers.
---
6.

Mick Gyver's Pistol Rack
Most gun racks are for long guns, but long guns aren't the only guns that need to be stored and displayed. In Mick Gyver's YouTube video, you can learn how to make a pistol rack for cheap. This video is incredibly helpful, and metalheads will love the music, too!
The final product allows you to display 7 pistols or small handguns safely. Although it isn't the prettiest of gun racks, you can easily decorate it to make it look more visually attractive. But based on the simple design and affordable price, you really can't beat this gun plan.
---
7.

Wayne of the Woods' Simple 3 Rifle Rack Plans
Wayne of the Woods provides a free and easy to follow plan for a 3-rifle gun rack. The rack is incredibly simple and can be made from regular lumber that you might already have. Still, the rack is attractive, and it includes a small storage compartment at the bottom for small items. This rack would be a great addition to any den or mancave.
These DIY gun rack plans follow a very straightforward path. This includes needed materials at the top and step by step instructions below. With each step, you get clear photos of how to accomplish the step and what the rack should look like at that point.
---
8.

The Unknown Cat Vertical Gun Stand of Varying Heights
Most gun racks are designed for one height, which can be a problem for those with many guns of different heights. If this is a common problem for you, check out the Unknown Cat's Vertical Gun Stand.
This gun stand is completely original and can be made to fit your exact guns. It also takes up very little space, which makes it great for tight areas. This gun rack truly is original yet includes no excess features or designs. Minimalists will love this rack.
---
9.

Popular Mechanics Firearms Display Cabinet Plans
Many gun racks are designed to be kept in a den, garage, or someplace else that isn't necessarily in the center of attention. If you want to put your guns front and center in a room like a living room, you should check out the Popular Mechanics Firearms Display Cabinet Plans.
This cabinet is incredibly beautiful and does a great job of framing and protecting your guns. It is very large, meaning it will require a lot of space, but this is perfect for those who need to store several guns. The cabinet even comes with drawers that are perfect for storing small items and souvenirs.
Even though many free gun rack plans are featured on low-quality websites, these plans look more like paid-for plans due to the smoother operating website. You can easily understand the instructions due to the clear format, pictures, and material chart at the beginning.
See also: 11 Free DIY Wood Gun Cabinet Plans You Can Make Today
---
10.

  Gun Locker 75 DIY Gun Rack – Extra Large
Are none of the above gun racks big enough for the size of your collection? Tune into Gun Locker 75's tutorial for how to make an extra-large gun rack. This plan is great for your garage or hunting lodge. You can really make this gun rack fit the length of any room.
Even if you have never built anything before, you will be able to make this gun rack. The only materials are 2x4s and utility hooks. That's it. Super simple, super easy, and super affordable. This tutorial's main downside is that the butts sit directly on the ground, but this shouldn't be an issue if they are kept in a room away from children or pets.

Conclusion
Gun racks are a great way to show off your guns while still being a responsible gun owner. Although buying a gun rack can be expensive, you can easily make your own for very little money.
With these gun rack plans, you can learn how to build a gun rack today for cheap. Not only are these plans affordable (aka free), but they are also highly attractive, unique, and easy to make. Start making your gin rack today and store your long guns in style!
You might also be interested in:
---
Featured Image Credit: Pxfuel