15 Free DIY Gun Rack Plans To Build Today (with Pictures)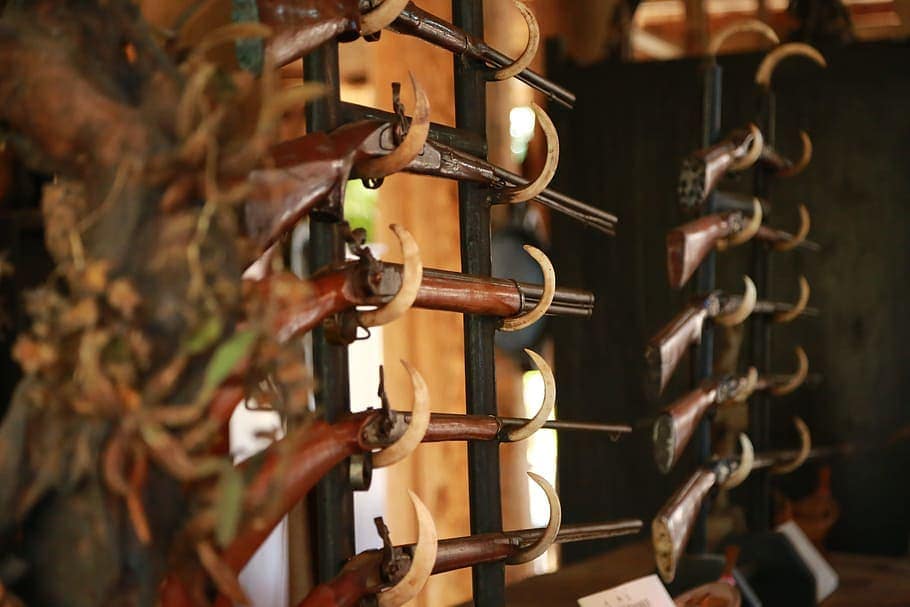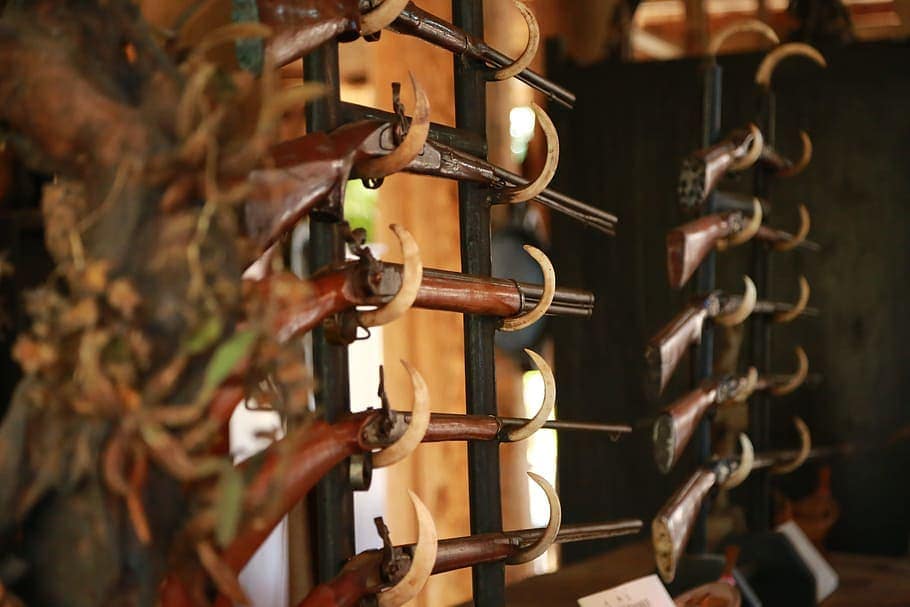 Part of owning a gun is knowing how to store it. If you don't store it right, it could easily break or injure you or a loved one. You could store a gun in its case or choose a more attractive option—a gun rack.
A gun rack lets you safely store your guns so that they are visible. This is an excellent option if you have more than one gun that you think looks great on a wall. Unfortunately, many gun racks are unnecessarily expensive, and a gun rack isn't the most intuitive DIY design.
For this reason, we have found 15 free DIY gun rack plans. These free plans will teach you how to build a gun rack specific to your needs. They are simple enough for beginners and will save money.

The 15 Free DIY Gun Rack Plans
1.

Rod's Woodworking Shop's Horizontal Rifle Gun Rack Plans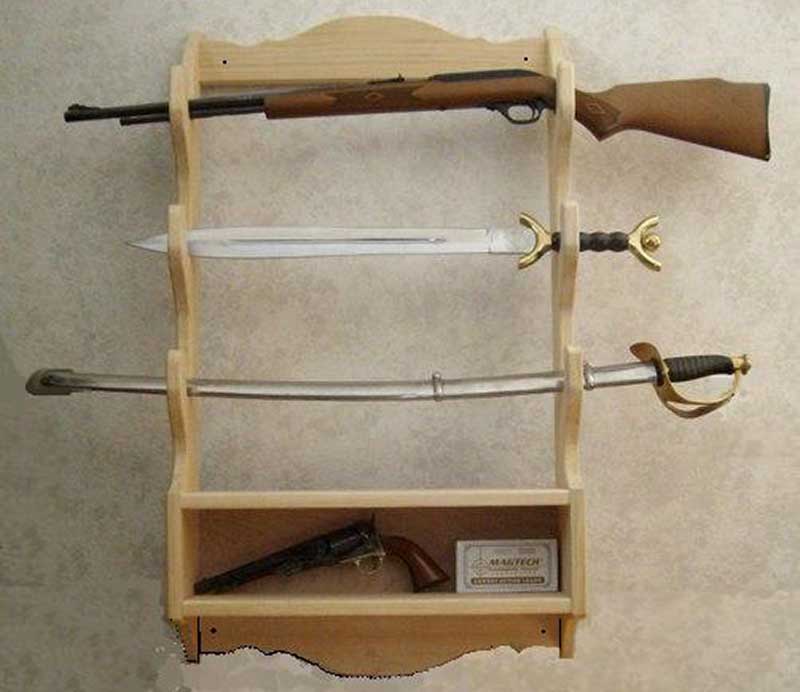 Sometimes, free gun rack plans can be difficult to follow with less than helpful pictures. Rod's Woodworking Shop plans are different. In these DIY gun rack plans, you get detailed instructions, 3D photos, and photos of the gun rack being made. These features make it much easier to follow the instructions and plans.
The gun rack itself is simple yet attractive. It offers space for three rifles and will not distract from the guns themselves. Instead, the rack offers a simple space to showcase your guns, not distract from them. The bottom of the rack even has a little storage box that is great for handguns or gun gear.
---
2.

MosinVirus' Rotating Gun Rack
If you want a gun rack with a little pizzazz, you should look at the MosinVirus' rotating DIY gun rack plans. As the name suggests, this gun rack allows you to spin the rack to maximize space and easily get to any gun you want.
MosinVirus separated the construction demonstrations into Part 1 and Part 2, so you must watch both to get the full instructions. The videos are basic and easy to follow and understand.
---
3.

Instructables Outside Standing Gun Rack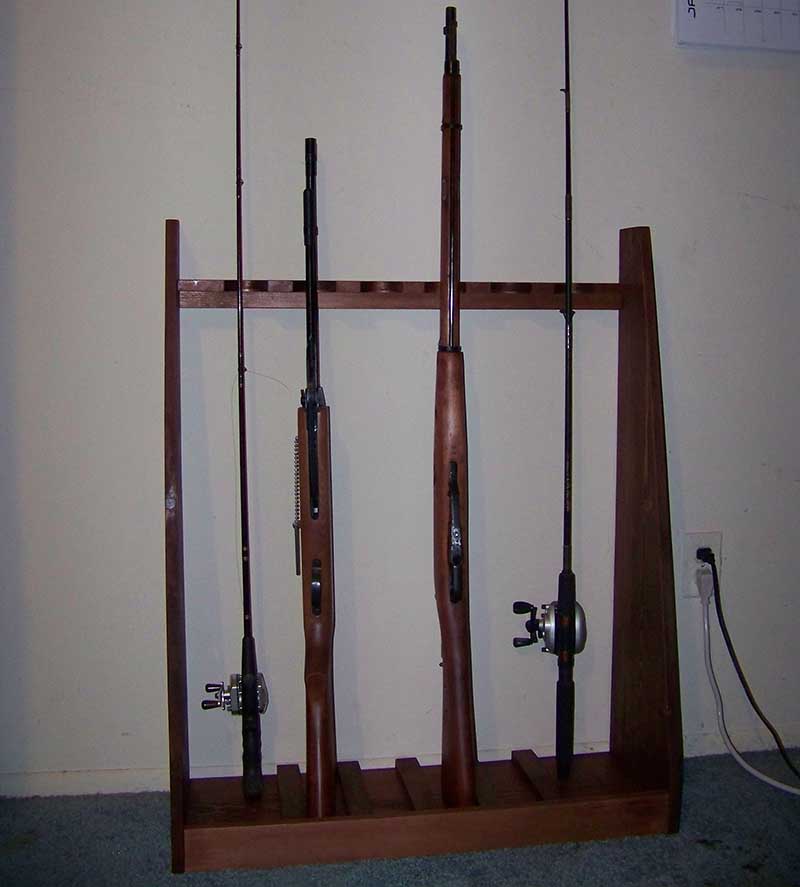 Although many people love a horizontal gun rack, sometimes, there's nothing quite like a standing one. If you prefer the standing design, we recommend the Instructables Outside Standing Gun Rack. This gun rack is so simple and requires few materials. It is definitely cheaper than buying a gun rack.
The gun rack plans are straightforward and easy to follow. They include lists, pictures, and step-by-step instructions. The plan does not include any 3D graphics, making it a bit more difficult to follow than some of the other options on this list, but the design is simple enough that you don't need graphics.
---
4.

Dave's Homestead Free $20 Rifle Rack
Watch this video to find out how to make a gorgeous rifle rack for under $20. You read that right: $20. This option is one of the most affordable gun racks on this list, making it a great choice for those on a budget. Dave's Homestead also offers a description that is much vaguer than the video.
Although this gun rack is affordable, it is large enough to house six rifles. So, if you need DIY gun rack plans for more than a few guns, this is the plan for you. The rack is designed to position the rifles vertically, not horizontally.
---
5.

Mick Gyver's Pistol Rack
Most gun racks are for long guns, but long guns aren't the only guns that need to be stored and displayed. In Mick Gyver's YouTube video, you can learn how to make a pistol rack for cheap. This video is incredibly helpful, and metalheads will love the music, too!
The final product allows you to display 7 pistols or small handguns safely. Although it isn't the prettiest of gun racks, you can easily decorate it to make it look more visually attractive. But based on the simple design and affordable price, you really can't beat this project.
---
6.

Wayne of the Woods' Simple 3 Rifle Rack Plans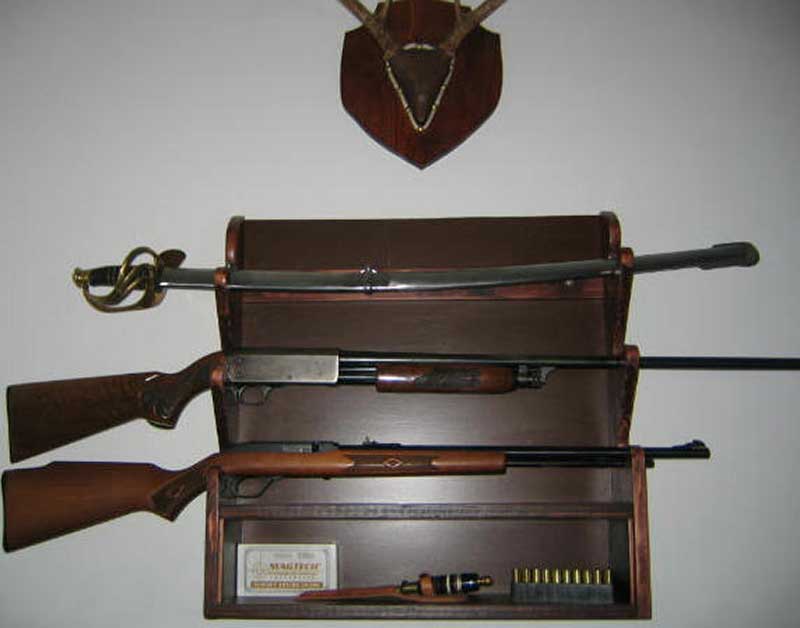 Wayne of the Woods provides a free, easy-to-follow plan for a 3-rifle gun rack. The rack is incredibly simple and can be made from regular lumber that you might already have. Still, the rack is attractive and includes a small storage compartment at the bottom for small items. This rack would be a great addition to any den or man cave.
These DIY gun rack plans follow a very straightforward path. This includes needed materials at the top and step-by-step instructions below. With each step, you get clear photos of how to accomplish the task and what the rack should look like.
---
7.

The Unknown Cat Vertical Gun Stand of Varying Heights
Most gun racks are designed for one height, which can be a problem for those with many guns of different heights. If this is a common problem, check out the Unknown Cat's Vertical Gun Stand.
This gun stand is completely original and can be made to fit your exact guns. It also takes up very little space, which makes it great for tight areas. This gun rack truly is original yet includes no excess features or designs. Minimalists will love this rack.
---
8.

  Gun Locker 75 DIY Gun Rack – Extra Large
Are none of the gun racks big enough for the size of your collection? Tune into Gun Locker 75's tutorial for how to make an extra-large gun rack. This plan is great for your garage or hunting lodge. You can really make this gun rack fit the length of any room.
Even if you have never built anything before, you can make this gun rack. The only materials are 2x4s and utility hooks. That's it. This tutorial's main downside is that the butts sit directly on the ground, but this shouldn't be an issue if they are kept in a room away from children or pets.
---
9.

Floating Shelf Vertical Gun Rack
You won't find detailed measurements in this floating vertical gun rack plan. But that doesn't make the insights any less helpful.
Scrap wood is a clever way to save money while adding style without much effort. The Bird Dog Outdoors walkthrough adds pre-formed elements, like repurposed trim for the lower box and an old tread with nosing for the barrel holder. A simple French cleat keeps it in place, elevated, and looking clean.
The end product is attractive and practical. The rack holds up to 13 guns, while a storage area underneath helps organize gear and ammo.
---
10.

DIY Gun Rack Build
The gun rack in this DIY tutorial is as much a learning experience for amateur designers making it as it will be for you. Nevertheless, they show off some woodworking chops and more than enough good ideas for you to steal.
The result is a clean and effective standing 9-gun rack with a locking crossbar, solving the issue of leaning and falling firearms. Materials cost the builders under $100. Measurements must be precise to get the proper form and function, but the right tools can make the build a breeze.
---
11.

DIY Gun Rack from Reclaimed Barn Wood
Work with what you've got when you want to save time and money on your construction projects. Using scrap wood gives you a perfect chance to clean up around the shop and breathe new life into unused material. Of course, rough reclaimed wood can also add a few hiccups to an otherwise smooth process.
The gun rack walkthrough from Home Built Workshop shares the struggle, showing you how to handle unexpected challenges that appear during the build. With reclaimed wood, you usually don't have an unlimited supply. In this video, you'll learn how to stretch each piece if you face a break. Even though it's old wood, it only takes a few simple tricks and a fresh coat of oil to make it look new.
---
12.

Rifle Rack
Every gun owner needs a functional rack, but when you're building it yourself, a little extra flare and care make the project all the more satisfying. The rifle rack in this lengthy DIY video won't save you on costs or elbow grease, but it will be a source of pride when you pull it off.
Despite the builder designing this rack on the fly, his expert execution makes it work. Details are essential for the look, from the hidden pocket screws to the clean finish. The finishing touch and the ultimate statement is the shell-lined trim. If you finish every step to the same level of perfection, you'll have more than a new gun rack; you'll have a conversation piece.
---
13.

DIY Single Gun Rack
DIY projects can sometimes cause internal conflict. On the one hand, you'll want an attractive, well-built piece you can enjoy for years. But on the other, you don't want an overly complicated project that steals all your energy and patience.
With this single gun rack project, you won't have to compromise. The job requires simple tools and a straightforward process. Making life easier, the designer supplies a printable template to help with clean, uniform cuts and screw holes. You eliminate the guesswork without sacrificing simplicity. It's a low-cost and fun project for you and the kids when you have an afternoon to spare.
---
14.

Reclaimed Pallet Gun Rack
When you just need to get it done, a scavenged pallet can be the ultimate weapon in building a functional gun rack. You'll learn the shortest distance between two points in this DIY video, taking you from a raw reclaimed pallet to a wall-hanging three-gun horizontal in the fewest steps possible.
The gun rack isn't the best display piece when you take the builder's quick-and-dirty approach. But there's plenty of room to clean up the look while following the same time-saving principles. It's easy to adjust the template to fit your arsenal. Find spare pallets behind your local supply store, and you can solve your storage problem with minimal effort and investment.
---
15.

Field Rifle Rack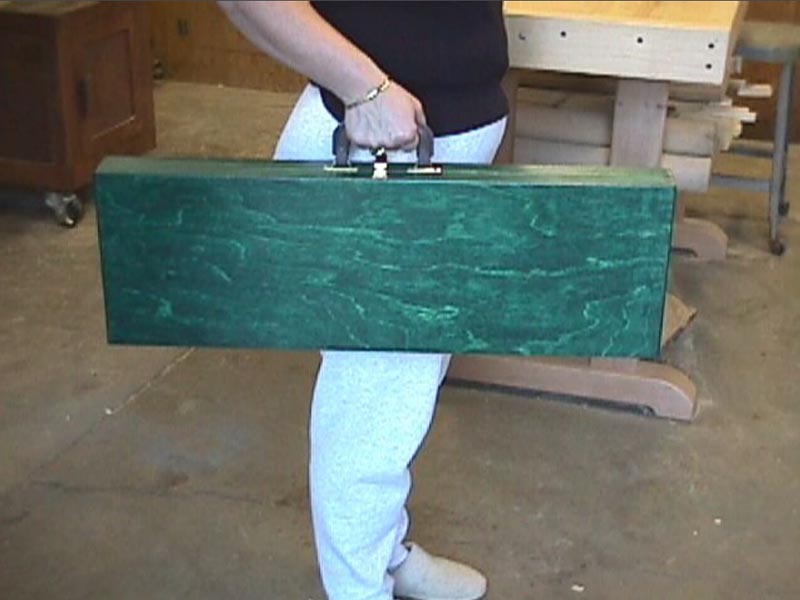 A rack on the run is perfect when you're heading out to the gun range. The portable gun rack in these plans features fold-down legs that support an eight-gun stand. It's a sturdy build that folds into a tidy case. Your new rack will be sure to impress.
A functional case won't come easy. Hinges complicate any build and further heighten the need for accuracy. Toss in the box joinery, and you'll see every step requires a little extra care. In the end, the long-term utility for the avid marksman will make you glad you put in the effort.

Conclusion
Gun racks are a great way to show off your guns while still being a responsible gun owner. Although buying a gun rack can be expensive, you can easily make your own for very little money.
With these gun rack plans, you can learn how to build a gun rack today for cheap. Not only are these designs affordable, but they are also highly attractive, unique, and easy to make. Start making your gun rack today and store your long guns in style!
You might also be interested in:
---
Featured Image Credit: Pxfuel