20 DIY Ladder Shelf Plans You Can Build Today (With Pictures)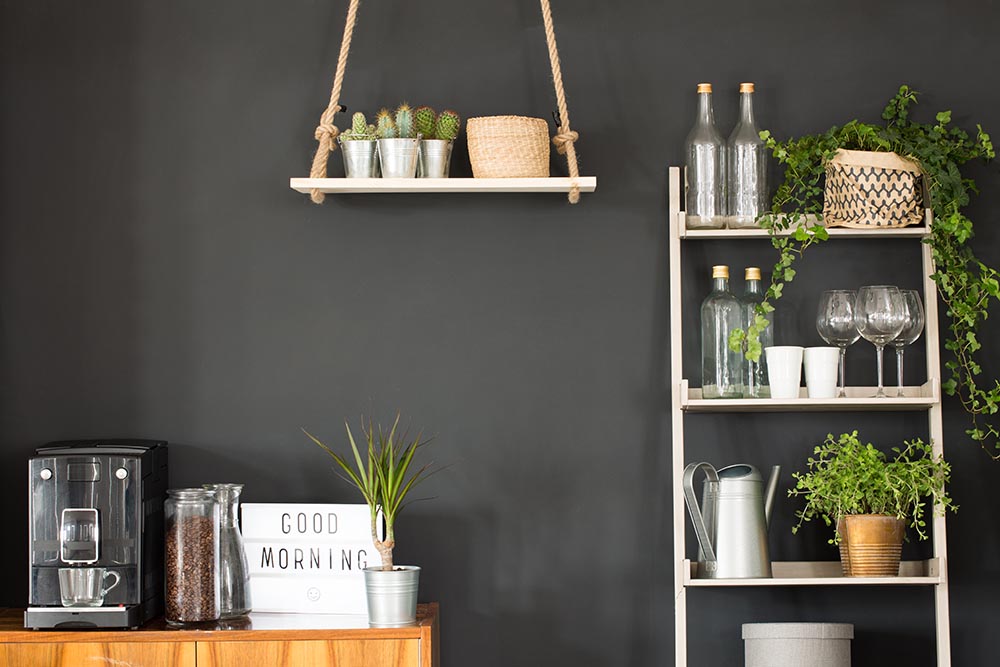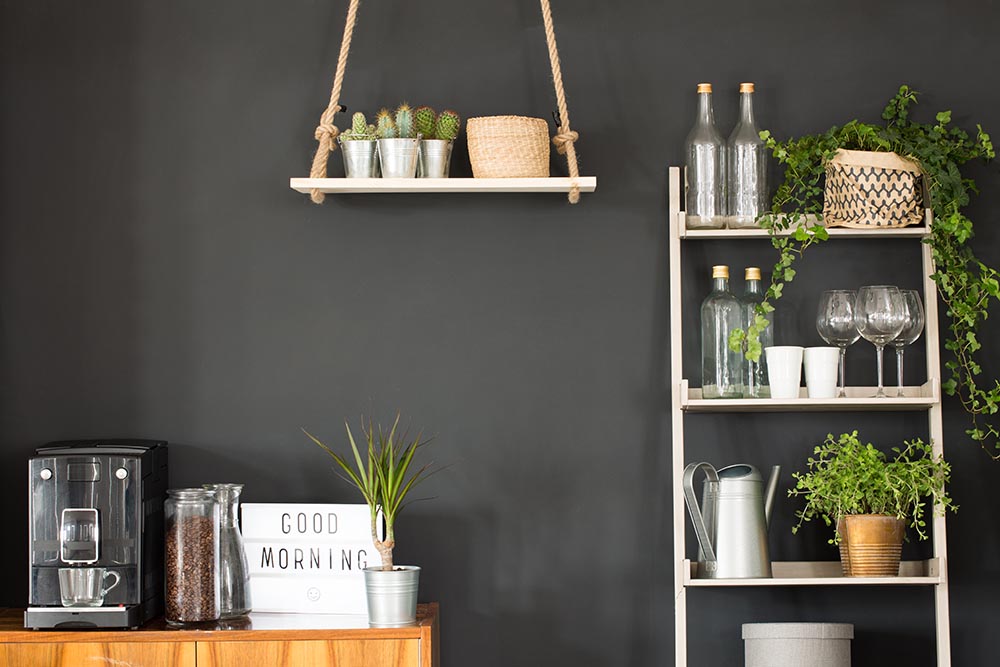 Are you looking for a stylish yet practical way to maximize your storage space?
If so, a ladder shelf construction may be your next project. Ladder shelves are great at doing two things.
Maximizing storage space by storing vertically.
Minimizing the physical space it takes up wherever you place it.
Fortunately, there's a bunch of great designs that teach you how to build a ladder shelf that offer free plans available for just about any circumstance. Whether you need extra shelving in your living room, garden, kitchen, or bathroom, you're sure to find a plan that meets your need.
And before you get started on any of these plans, ensure that you've got all your PPE available. This includes protective eyewear, gloves, aprons, and avoiding loose fitting clothing. And with that—let's build some shelves!
The 20 DIY Ladder Shelf Plans You Can Build Today
1.

Ana White DIY Wooden Ladder Shelf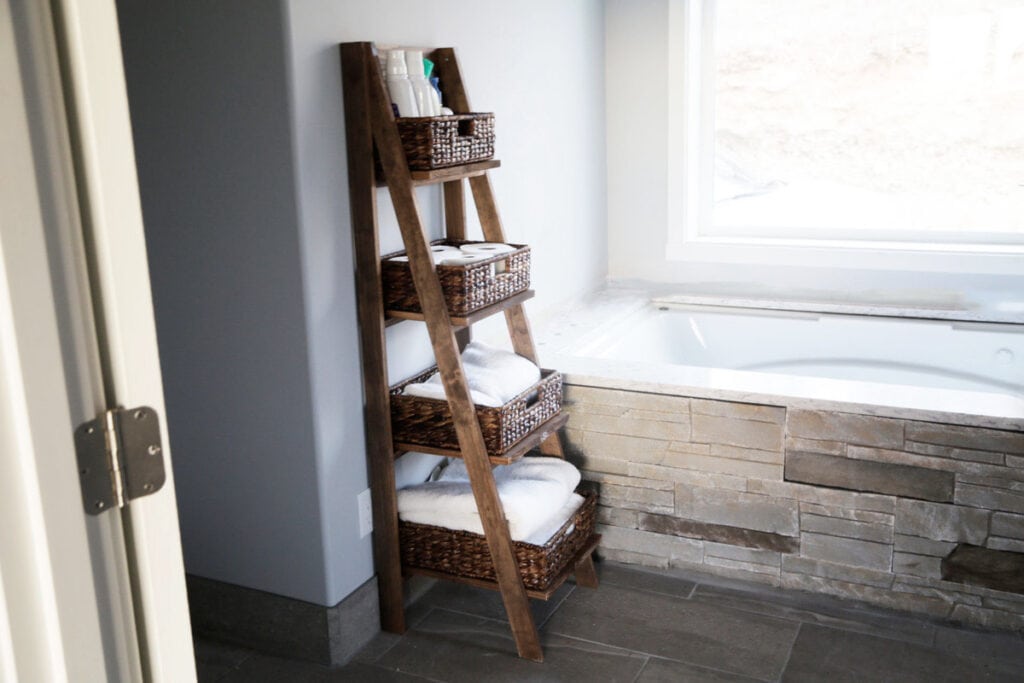 If you're looking for a basic single ladder shelf that can go just about anywhere, these plans by Ana White are what you want. They're well-detailed plans with precise angles and measurements. It would make for a great beginner project.
---
2.

Anika's DIY Life Floating Bathroom Ladder Shelf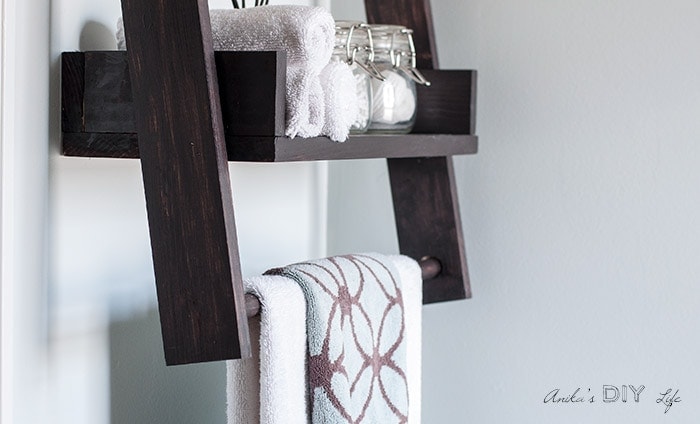 Floating shelves work great in a bathroom. They take up minimal space and can store quite a bit. However, Anika's DIY Life has gone the extra mile. Her floating ladder shelf adds a new element of style while still retaining its practical use. Plus, she's added pictures of the actual construction help you to visualize the building process.
---
3.

Mini DIY Ladder Shelf from Pallet Planks from Instructables
Not every ladder shelf needs to be so tall. As a matter of fact, this mini ladder shelf from Instructables is just right. This shelf is also made out of old pallet planks cutting down the material cost for building this. The mini shelf would be great inside your garage or even hanging out near your garden.
---
4.

DIY Ladder Bookshelf from This Old House
This Old House's ladder shelf is a work of art. It's simple, sturdy, and elegant – not to mention, useful. We like the fact that shelves go inwards toward the wall instead of out. This maximizes its stability while minimizing the amount of space it takes up. This build can get a little tricky though. There's a bunch of miter cuts which could lead to confusion and recuts. But it's a simple plan other than that.
---
5.

DIY Ladder Shelf from HGTV
This ladder shelf from HGTV actually uses an old wooden ladder! It's pretty cool to see materials repurposed and not wasted. They don't get into too much detail regarding measurements. And that's understandable because every ladder is different. But they do break down the general steps so it's easy to follow along.
---
6.

DIY Ladder Shelf with Drawers from Home Talk
Home Talk has a really great idea with this ladder shelf. It's constructed with old dresser drawers providing a lot of storage neatly where there would be none. We just wish this concept was explained a bit more fully. However, if you're great at customizing your own plans, you'll be able to build no problem.
---
7.

DIY Ladder Bookshelf from Better Homes and Gardens
This ladder bookshelf from Better Homes and Gardens is stunningly simple. It's sleek profile would look great in any living or reading room. The biggest gripe about these plans is the lack of explanation or detail. They give a pretty solid set of guidelines, but with minimal pictures and diagrams. If you're looking to build this, it's best if you're used to improvisation during your DIY builds.
---
8.

Book or Magazine DIY Ladder Shelf from Ana White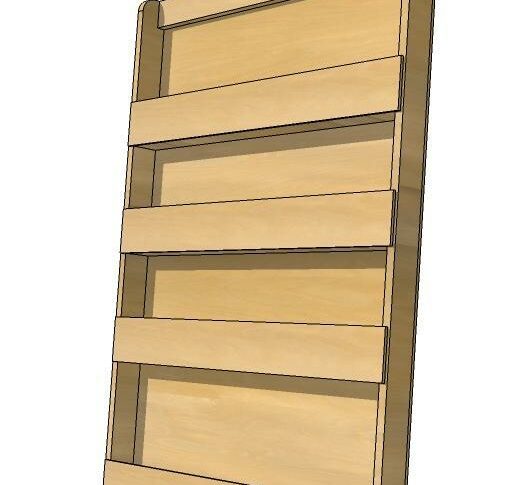 You may recognize this style of shelf from your public or school library. They're ideal for holding thin books or periodicals. If you collect back issues of your favorite periodicals, you should pick up the plans for this magazine ladder shelf from Ana White.
---
9.

DIY Ladder Bookshelf by Instructables
If you're new to DIY and have got the urge to build some ladder shelves, this plan is perfect for you. This plan is exceptionally detailed with multiple pictures provided for each step along the way.
---
10.

DIY Ladder Shelves by Lazy Liz on Less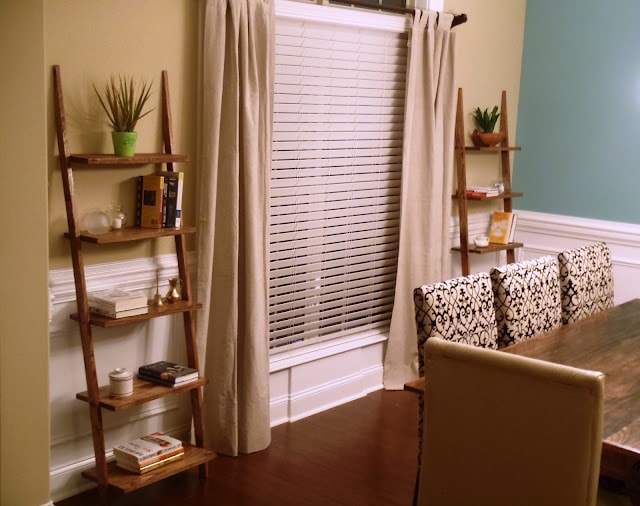 These ladder shelves by Lazy Liz on Less are awesome shelves if you're looking for something practical yet low-profile. It's a five-tier shelf that can hold knick-knacks, books, and other odds and ends. We don't recommend storing too many heavy items on these, but keep them occupied neatly with minimal items.
---
11.

Classic DIY Ladder Shelf from 100Things2Do
This freestanding ladder shelf is a great DIY project and is movable, so you can display just about anything. With enough materials, time, and inspiration, you can make a second one to hold your whole book collection. This plan includes teak as the wood of choice, but if that is out of your budget, you can easily use the same plan with your wood of choice.
---
12.

Freestanding DIY Ladder Bookshelf by Woodshop Diaries
You can build this rustic chic ladder shelf with the tools and wood of your choice. This plan is easy to follow, versatile, and fun! It is a freestanding design which is great if you rent a home and want to take it with you if you relocate. If you only have the weekends free, this project is ideal since it doesn't require hours of your time.
---
13.

Chic Sawhorse DIY Ladder Shelf from Shanty 2 Chic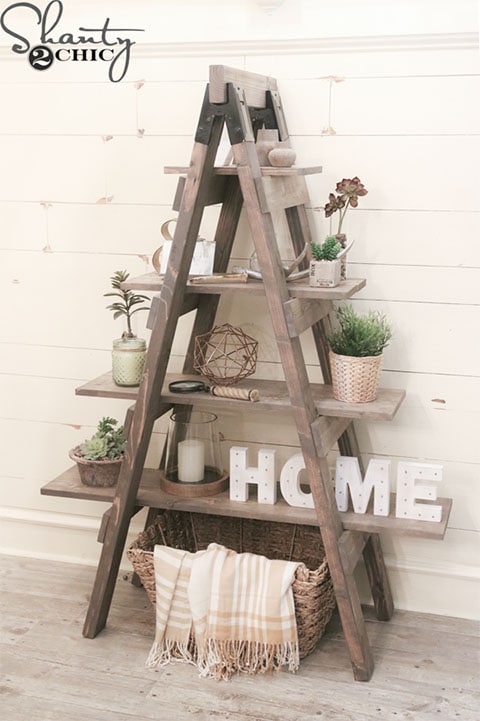 This chic ladder shelf is stylish and will look great in any room. The best part is that it is great for any novice; it only requires three basic tools, and the materials are within anyone's budget. The plans for the ladder are easy to follow and can be customized to your liking. This is a great project to DIY if your time is limited and you only have a few hours on the weekend to spare.
---
14.

DIY Frame Ladder Shelf by Better Homes & Gardens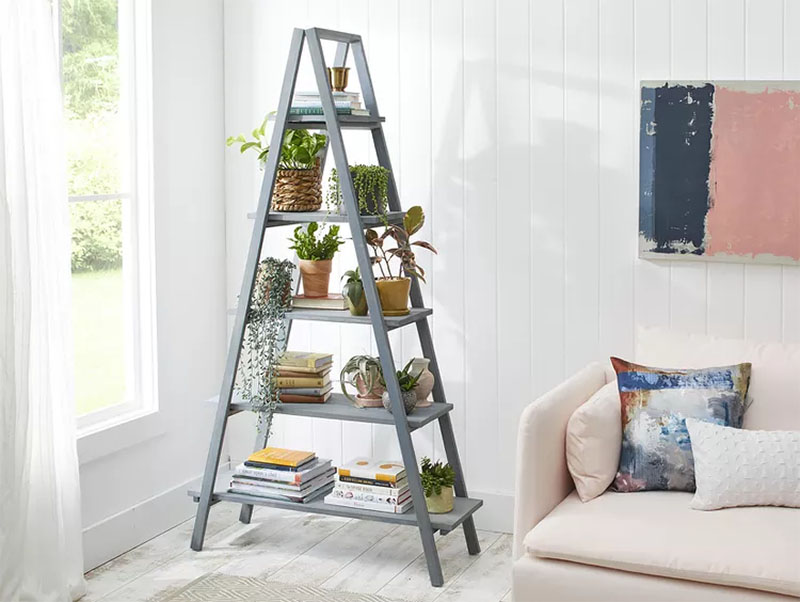 This DIY ladder shelf offers a contemporary alternative to a conventional bookshelf with its trendy A-frame design. You can add a colorful touch to your ladder shelf with paint or emphasize the wood grain with a stained finish. You can add books, artwork, houseplants, and other décor to the shelf to personalize it, and if you need to move it or store it, you can easily remove the shelves and fold it up like a normal ladder.
---
15.

DIY Foldable Ladder Shelf from Casual DIY
You can easily construct this foldable ladder shelf using this excellent video tutorial. You can use it inside to showcase plants, books, photo frames, or ornaments and personalize it with a coat of paint and a creative painting technique. It can also be displayed outdoors to add a touch of natural elegance as a plant shelf for your patio.
See also: 21 Free DIY Bookshelf Plans You Can Build Today
---
16.

Indoor Garden DIY Ladder Shelf by Woodshop Diaries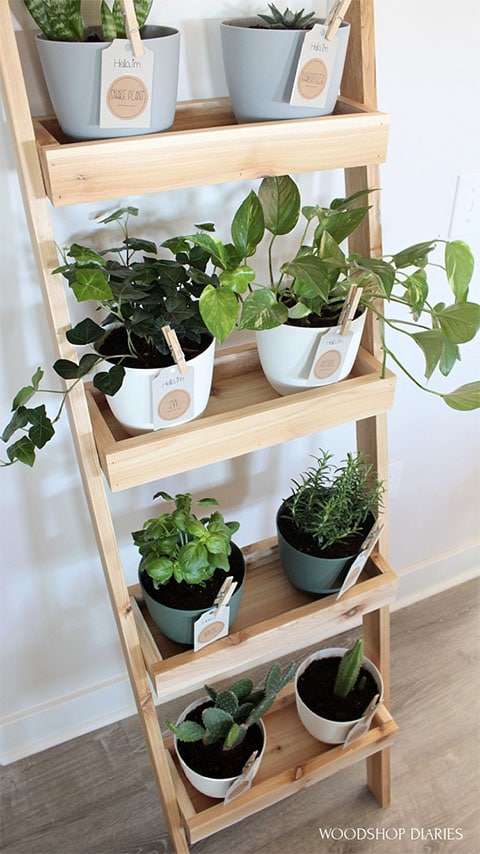 This tutorial will help you build a ladder shelf to create an indoor garden. It is a renter-friendly solution and is great for space that is limited. It is perfect for plant collectors since the shelves are designed like trays so that pots cannot easily be knocked off.
---
17.

3D Corner DIY Ladder Shelf from Handmade Haven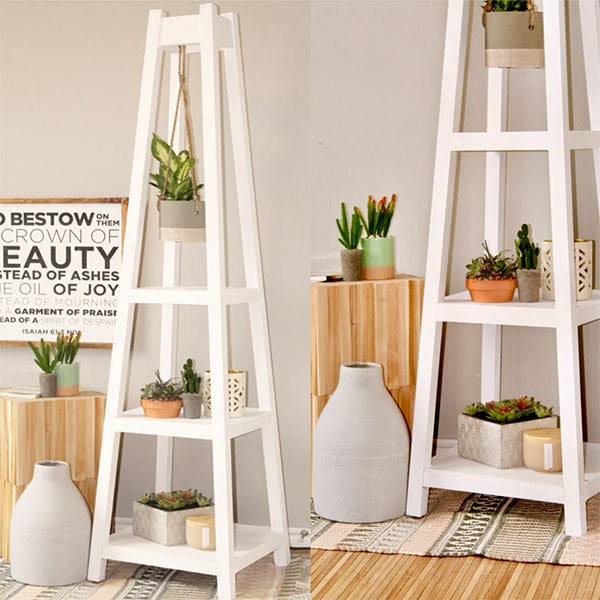 This ladder shelf is ideal for making the corner of a room more interesting and saving space, and it is a unique and brilliant idea to showcase your favorite plants. This shelf is compact, so it fits snuggly into a corner. The plan includes cut lists, materials, and tools that you will need and is detailed enough for even a beginner to follow.
---
18.

Small Corner DIY Ladder Shelf by Woodshop Diaries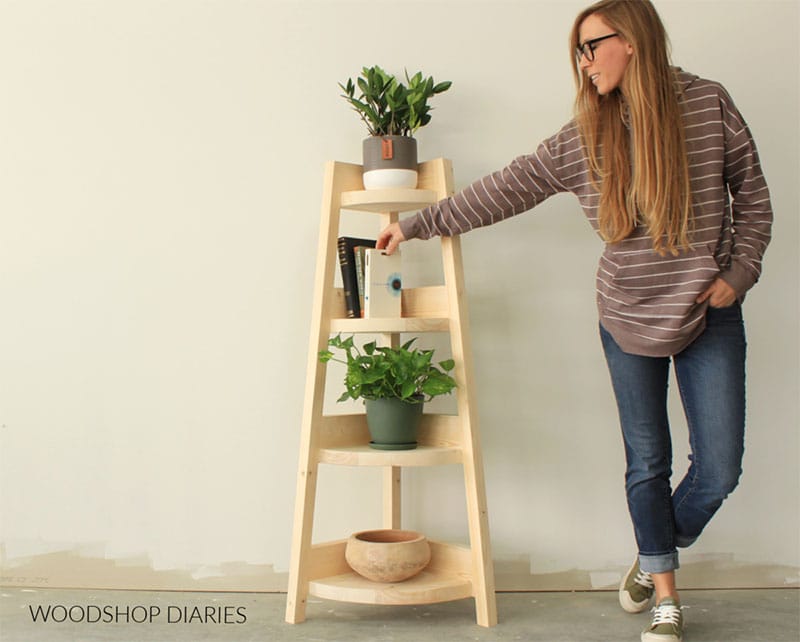 This simple DIY corner shelf is an inexpensive weekend woodworking project that you can finish in a few hours. It is practical and versatile and will look great in any room. Its design makes it an ideal corner for a small bathroom or a child's room to hold their favorite storybooks. A creeping plant can add foliage to the frame and can be the finishing touch that it needs.
---
19.

Dollar Store DIY Ladder Shelf from Simple Made Pretty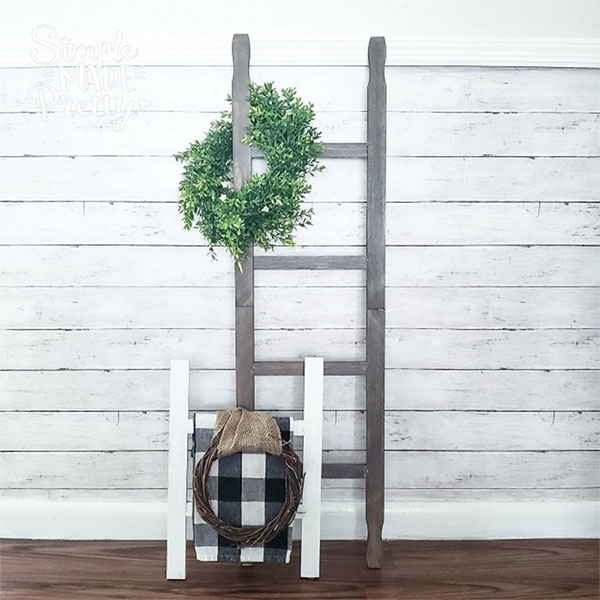 There is no DIY project more rewarding than one that is simple, fast, and below budget, and who doesn't love the Dollar Store, right? This ladder shelf plan uses an old ladder that you can find at a yard sale and dollar store baskets that can hold plants, towels, toys, or bathroom essentials. You can add a coat of paint and other finishing touches to make it your own and suit your home.
---
20.

DIY Basket Ladder Shelf by Snap Society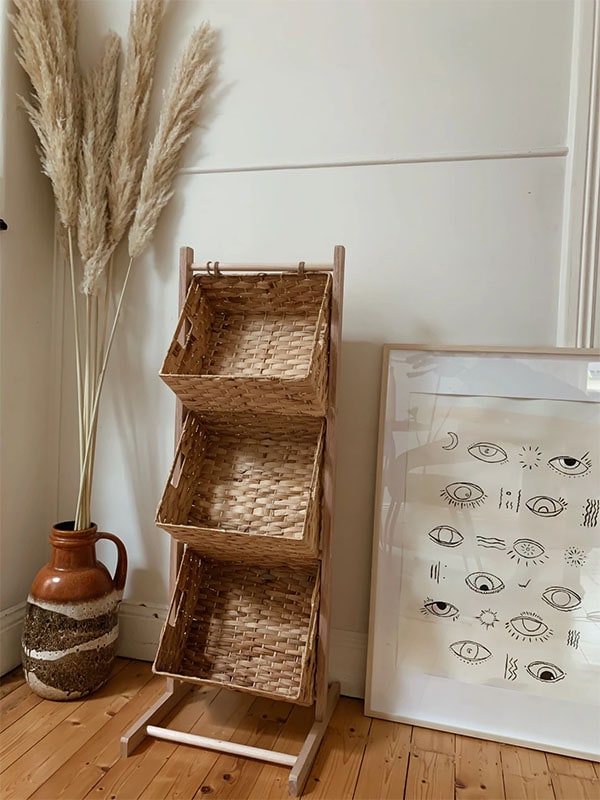 This basket shelf isn't your average ladder shelf, but it works the same way and is ideal for a kid's room to hold toys, for a bathroom to hold towels, or a kitchen to display fruit and vegetables. It looks elegant but is ideal for any home décor. Don't be afraid to try this one; it's relatively simple to construct if you know how to use simple tools like a drill.

Conclusion
We hope this list has provided you with some great ideas or inspiration for your next shelving project. Learning how to build a ladder shelf is the perfect project for most DIYers since they  are simple to build, easier to maintain, and look great in any home. The only part hard is deciding which to build and where to put it.
Related Reads:
---
Featured Image Credit: Photographee.eu, Shutterstock