10 DIY Recycling Bins & Bin Holders You Can Build Today (With Pictures)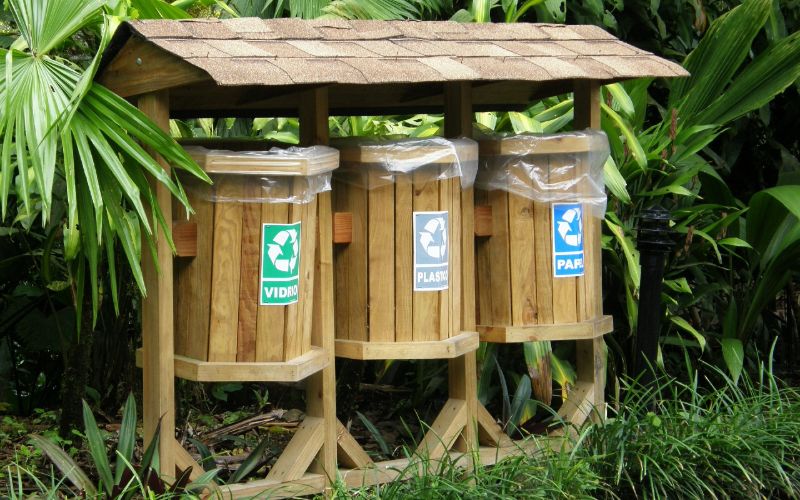 If you need a recycling bin, you have several options, but some commercial containers are flimsy and unattractive. In addition, the plastic look of most store-bought recycling bins stands out amongst your cozy and welcoming furniture, undoubtedly ruining your interior design efforts.
Luckily, you can DIY your recycling bin or bin holder to match your home's aesthetics and continue your ethical practices. Regardless of your preferences, we've included a DIY recycling bin and holder plan for everyone.

The Top 10 DIY Recycling Bins & Bin Holders
1.

Colorful DIY Recycling Center by Laura's Plans
| | |
| --- | --- |
| Materials: | Wooden crates, brightly colored paint, alphabet stencils |
| Tools: | Paintbrush |
| Difficulty: | Easy |
If you've been hoping to teach your kids some environmentally-friendly recycling practices, this Colorful Recycling Center is the best way to do so. Instead of a tedious chore, this center will help make recycling a fun activity they'll be looking forward to every day.
All you need to do is get a few wooden crates and cover them in brightly colored paint to capture your children's attention. Then, you can use alphabet stencils to label the recycling bins for paper, glass, plastic, and cans.
---
2.

Rustic DIY Pallet Recycling Bin by The Thinking Closet
| | |
| --- | --- |
| Materials: | Pallet wood, screws, cellophane bag, hinges, iron brackets |
| Tools: | Spy bar, wooden saw, staple gun, screw gun, measuring tape |
| Difficulty: | Hard |
If a bright color palette isn't your style, this Rustic Pallet Recycling Bin may appeal to you. Undoubtedly, this DIY plan is no easy feat, but the end result will add the perfect homespun aesthetic to your space.
The plan starts with building a wooden base and attaching wood pallets around a plastic recycling bin to conceal it. Then, with some embellishments, a wooden lid, and wood stain, you'll have a rustic recycling bin ready for use.
---
3.

DIY Recycling Bin Tower by Family Handyman
| | |
| --- | --- |
| Materials: | Wood, screws, plastic containers |
| Tools: | Drill |
| Difficulty: | Moderate |
Most people already have a set of plastic recycling bins placed awkwardly throughout their houses, but this Recycling Bin Tower is the perfect solution to this problem. Start by screwing two 70-inch wood pieces with five or six 17-inch ones in the shape of a ladder.
Adding a four-inch piece to the bottom will help the ladder stand diagonally, allowing you to fit the bins above each step. All it takes is an hour of work, and you're done.
---
4.

DIY Farmhouse Recycling Cabinet by The Carpenter's Daughter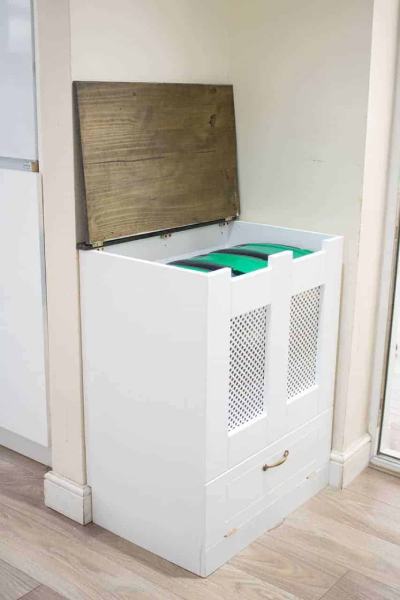 | | |
| --- | --- |
| Materials: | MDF screen, plywood, plastic bin, wood glue, hinges, wood stain, paint |
| Tools: | Circle saw, clamps, jigsaw, sander, pliers, hacksaw |
| Difficulty: | Hard |
If your home has a ranch-style aesthetic, this Farmhouse Recycling Cabinet will fit right in. However, it's only a good DIY plan for those with carpentry experience.
After many hours of hard work, you'll have a beautiful farmhouse-style cabinet that perfectly conceals your recycling bins and their odors. Plus, you can use the cabinet top as additional counter space for your home.
---
5.

DIY Pull-Out Recycling Bin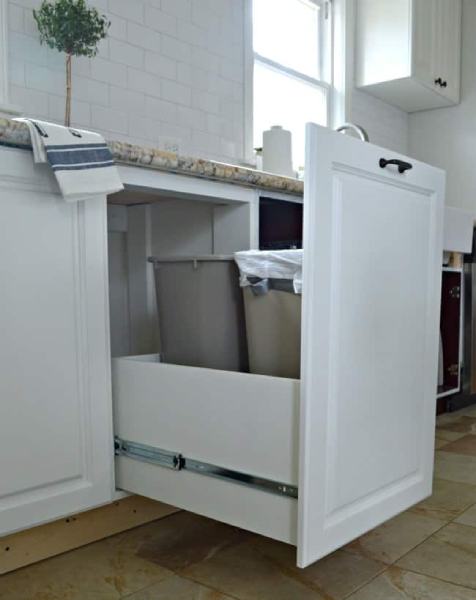 | | |
| --- | --- |
| Materials: | Recycling bins, wooden door, screws |
| Tools: | Drill |
| Difficulty: | Moderate |
Those that prefer placing their recycling bin in the kitchen can benefit from this efficient Pull-Out Recycling Bin design. You can start by installing a deep drawer at the bottom of an open cabinet without shelves.
Then, you can screw an appropriately sized wooden door to the drawer's front by using a drill from the inside. Finally, place your recycling bins in the drawer and a handle on the door, and you have a pull-out recycling system.
---
6.

Metallic Tin DIY Recycling Bins by Sweet Haute
| | |
| --- | --- |
| Materials: | Spray paint, painter's tape, aluminum trash bins, washi tape |
| Tools: | None |
| Difficulty: | Easy |
If you have unsightly metallic tins lying around, you can repurpose them into these stylish Metallic Tin Recycling Bins. First, use painter's tape to create your desired design on the tins before covering them in the spray paint of your choice.
After removing the painter's tape and letting the paint dry, you can use washi tape to label your stylish recycling bins. This plan requires no tools and minimum effort, which is why it's for everyone.
---
7.

Renter-Friendly DIY Recycling Bin by IKEA Hackers
| | |
| --- | --- |
| Materials: | IKEA cabinet, edging strip, doorknobs, wooden plates |
| Tools: | Saw, wood glue |
| Difficulty: | Easy |
DIY plans can be complicated for renters due to strict conditions set by landlords, but this Renter-Friendly Recycling Bin violates no rules. You'll need to purchase an IKEA SEKTION or METOD cabinet, but the finished project makes it a worthwhile investment.
The next step is to cut matching holes in the cabinet top and edging strip/worktop before attaching the worktop to the cabinet with wood glue. Then, you can use IKEA wooden food plates as lids by adding doorknobs to them.
---
8.

DIY Recycling Bin Hangers by Family Handyman
| | |
| --- | --- |
| Materials: | Screws, wood panels |
| Tools: | Cordless drill, level, miter saw, stud finder, tape measure |
| Difficulty: | Hard |
If the recycling bin tower doesn't appeal to you, the Recycling Bin Hangers may suit your home better. This hanger attaches to the back of any door, but it would look best in your garage.
The wooden panels act as clips for the recycling bins to hold on to, making it easy for you to detach and empty them. Luckily, this DIY plan costs almost nothing and saves space in your garage or mudroom by keeping them on the wall.
---
9.

DIY Cabin Wood Recycling System by Kreg Tool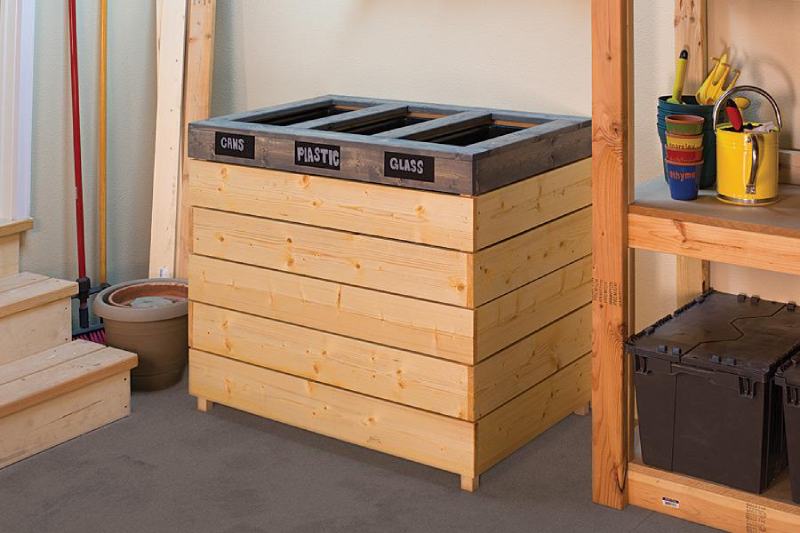 | | |
| --- | --- |
| Materials: | Wood glue, bins, screws, brad nails, wooden boards |
| Tools: | Jig, tape measure, miter saw, nail gun, drill, sander, air compressor |
| Difficulty: | Hard |
This Cabin Wood Recycling System may be the perfect fit for those that have many wooden shelves in their garage or mudroom. Surprisingly, this recycling system can hold up to three 23-gallon plastic bins, which you can remove and install easily.
You can start by making the base frame parts and assembling the front and back frames. Then, you'll need to connect the frames and attach the divider rails. Finally, attach slats under and around the frames to cover the recycling bins completely.
---
10.

Recycling Bin Baskets by House & Home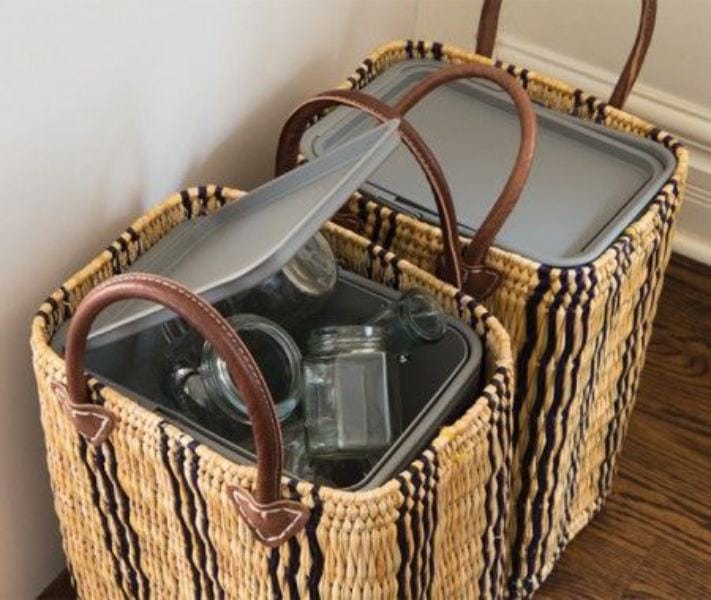 | | |
| --- | --- |
| Materials: | Baskets, bins |
| Tools: | None |
| Difficulty: | Easy |
This Recycling Bin Baskets DIY plan is perfect for anyone looking for something quick, easy, and chic. The idea is as simple as lining your favorite baskets with plastic recycling bins and placing them anywhere around the house.
Not only does the plan cost almost nothing, but it's also stylish enough to be placed in any room in the house. Plus, the basket handles make these bins easy to transport to larger recycling systems in the house.

Conclusion
Recycling is a great practice, but it doesn't have to be boring. If you have the time and budget, consider these DIY plans to enhance the recycling systems in your home without ruining the interior design aesthetics.
---
Featured Image Credit: crivolu, Pixabay