8 Free DIY Saddle Rack Plans You Can Build Today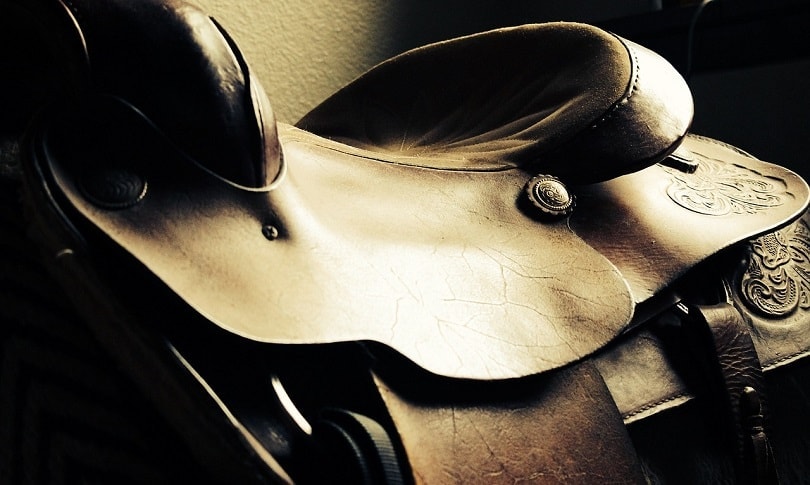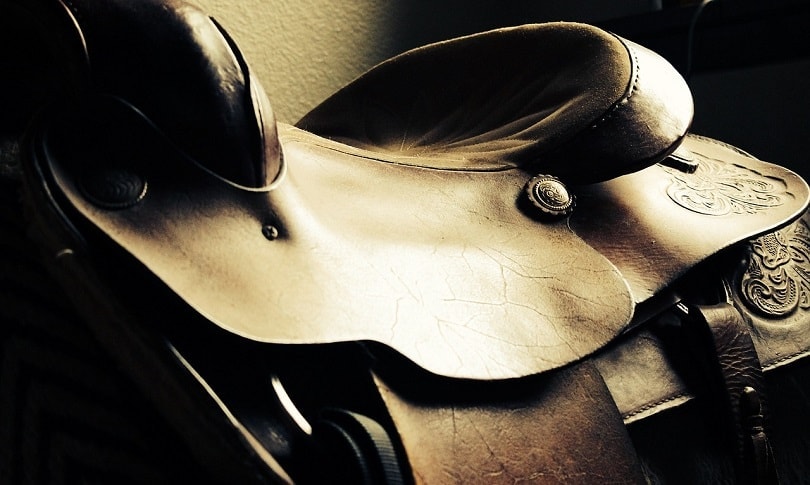 Horse saddles are expensive and need proper care and attention. When left on the floor, they can become dirty and misshapen, which not only means that they will need replacing sooner, but it is also uncomfortable for the horse and can lead to injury.
However, saddle racks are expensive, often costing upward of $100, and while there are attractive metal or even plastic models out there, you don't necessarily want to spend as much on a rack as you do on the tack. So why not learn how to build a saddle rack yourself?
We have found eight saddle rack plans that are easy to make and will keep your saddle away from the dirt while retaining its original shape for longer. Most of the plans are functional, but there are a couple of decorative pieces that would make great ornaments for the house or barn. There's even a PVC plan that utilizes plumbing equipment, if you're looking for something different.

8 DIY Saddle Rack Plans
1.

Wooden Saddle Rack Plans From Loft Bed Woodworking
Horse saddles can weigh anywhere up to 60 lbs., which means that your DIY saddle stand needs to be strong and sturdy. These wooden saddle rack plans from Loft Bed Woodworking are simple to follow and use easily obtainable materials, keeping costs down while crafting a wooden rack that will hold all but the heaviest of saddles.
The rack measures 24" in height, and its sturdy base ensures that the rack won't fall over under the pressure of the saddle weight. The finished stand can be varnished or stained for a more attractive finish and to protect against the damp and mud.
---
2.

DIY Saddle Stand From The Budget Equestrian
The DIY saddle stand from The Budget Equestrian's YouTube channel is approximately 36" high. It uses 1" wood board, which is easy to get hold of, and has metal hooks at the end of the rack. The curvature of the top of the rack helps maintain the natural saddle shape. Square tops can leave your saddle misshapen, and this not only causes cracks in the leather, but it will also be uncomfortable for the rider and their horse. This guide is in video format, so it is easy to follow and enables you to check your own progress at each step.
---
3.

Woodworking Corner Saddle Rack
The saddle rack plans on Woodworking Corner are simple but effective. The end result is a basic stand that gets the job done. It is easy to make and should only take a couple of hours, assuming that you have the right tools and materials. If you follow the guide exactly, you will create a stand that is just over 2 feet high, but you can modify the plans if you need additional hanging space.
---
4.

Easy Wood Saddle Rack Plans From Instructables
The Easy Wood Saddle Rack plan from Instructables not only provides a guide on how to create an easy rack, but it also details how you can modify the design to your own requirements. Whether you want an additional storage shelf or need to create something taller, the guide shows you how to make these modifications. It advises the use of pallet boards to create the curved top of the stand, but if you don't have an unused palette at hand, you can buy 3-inch boards from most hardware or lumber supply stores.
---
5.

Wikihow Wood Saddle Rack Plans
The wood saddle rack plans on Wikihow are designed to give you a better-looking alternative to the metal stands and racks that you find in equestrian shops. There are plenty of pictures in the guide, and the finished stand has large feet that will help keep your saddle and the stand upright. The guide advises measuring your saddle to ensure that your stand is a suitable size. Also, Western saddles will require a stand that is broader and taller to accommodate their size.
---
6.

Free Saddle Stand Plans From How To Specialist
The How To Specialist free saddle stand plans can be used to create a more decorative finish for your stand. The guide advises using better-quality lumber and plywood and ensuring that they are treated. Treated lumber will withstand damp and dirt better than untreated. Even if you use your stand in a barn or the house, it will get damp when you use it for storage, so this is a good idea.
You are also advised to get a friend to help when making this stand. Doing so will help ensure that you keep all the materials in place while fixing and screwing them, which ensures a better-looking finish.
---
7.

Build Something's Decorative Saddle Stand Plans
If you're looking for a decorative finish, the saddle stand plans from Build Something are ideal. The guide uses a dark stain to finish it off, as well as dome ornamental horse head pieces, although these aren't essential to the design. It is a sturdy design, and the gap between the top slats allows your saddle to dry while it stands. The finished saddle stand would look great in any barn.
---
8.

$10 PVC Saddle Stand Project From Budget Equestrian
Many of these plans enable you to learn how to build a saddle rack for a fraction of the cost that you would pay for a manufactured stand. If you're really looking to save money, the PVC saddle stand project from Budget Equestrian can be made for as little as $10, although you may need to invest in a tube cutter to cut the plastic pipes. It uses PVC piping and connections, all of which can be bought from hardware or plumbing supply stores or purchased online. This guide lets you make a portable saddle stand: something that you can place in the trunk of the car or in your horsebox.
Also See: DIY Firewood Rack Plans
---
Featured Image Credit: cmmckeehen, Pixabay