13 Free DIY Firewood Rack Plans You Can Build Today (With Pictures)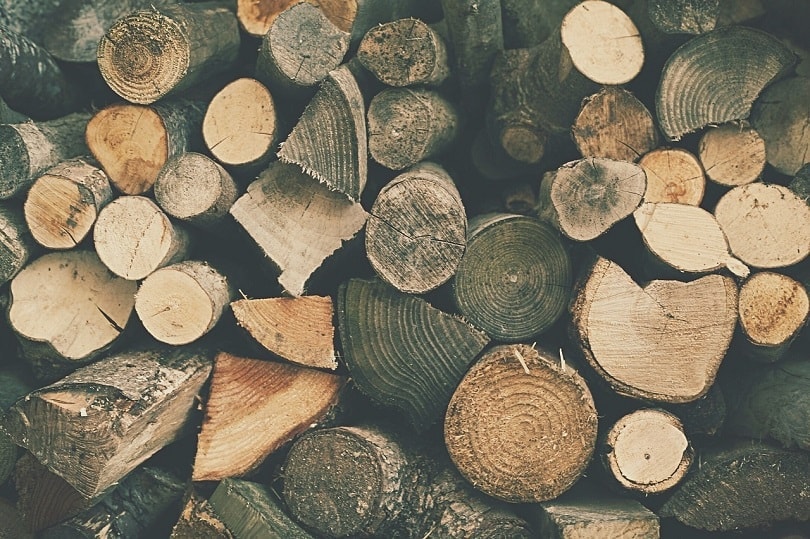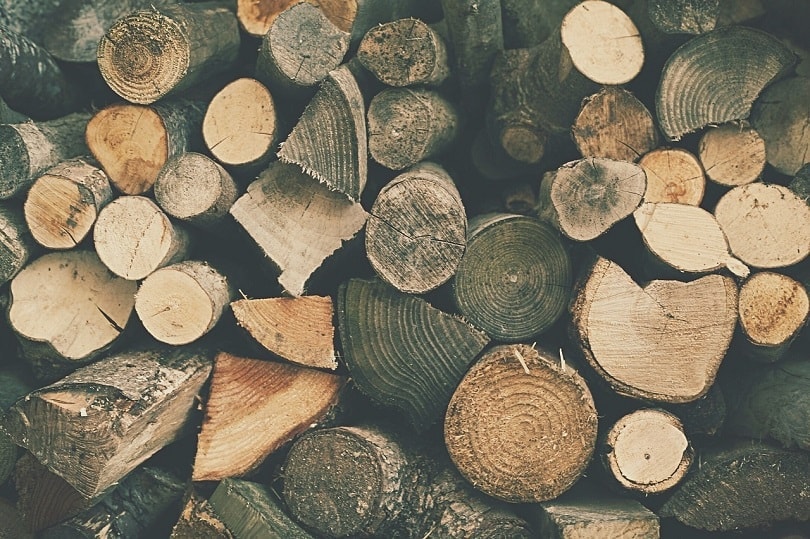 A firewood rack is used to store firewood when it's not being used. Most racks are used outdoors and provide shelter to protect your wood from the damp and pests. Below, we've put together a list of 16 free plans that will teach you how to build firewood racks, ranging from blissfully simple to more complex plans.
We have indoor and outdoor racks, as well as wheeled carts that are great for easily moving your stored wood from the pile to the fire. Some of the plans are made using cheap 2×4 wood, as well as leftover off-cuts that you might have laying around the garden.
Generally, if you are going to buy the wood to make any outdoor woodshed or firewood rack, you should use pressure-treated lumber because this will withstand damp so your rack will stay standing for years to come. Also, unless you have a power saw and experience using it, consider getting the store to cut your wood to size for you.

The 13 Free DIY Firewood Rack Plans
1.

Simple Log Holder From Home Road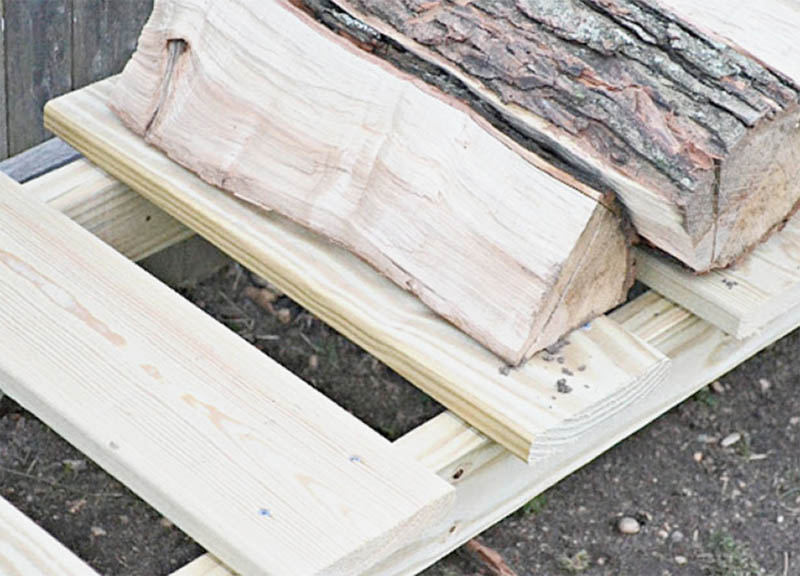 This simple log holder from Home Road uses 4x4s and is designed to keep your firewood off the floor. It doesn't have a roof to protect from rain, but the steps are easy to follow, and you can easily finish the project in an afternoon. Because it only uses 4x4s, the project costs little to make.
---
2.

DIY Log Store From Little House On The Corner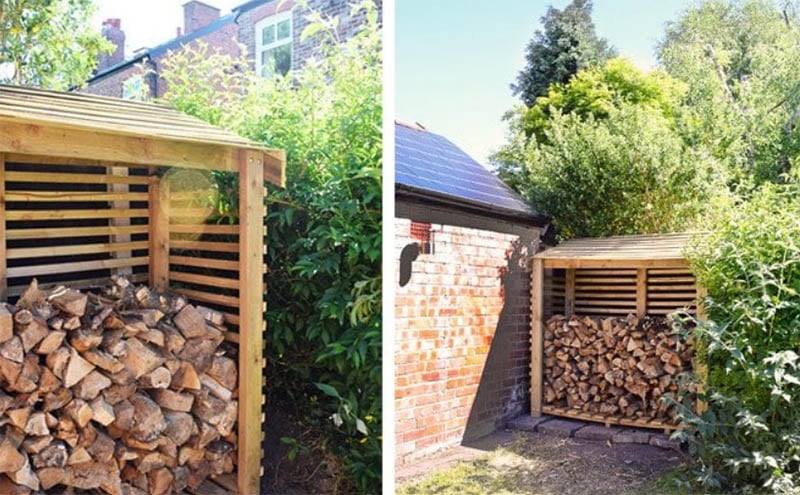 This DIY log store from Little House On The Corner is slightly more complex. The end product has a back and a roof, so it offers more protection from the elements and is perfect for the nook between your shed and fence. It's also a good size, which is ideal for those who like to buy or chop in bulk. The design uses standard lengths of wood, which helps reduce costs and ensure that finding materials is easy.
---
3.

How To Specialist Firewood Shed Made From 2×4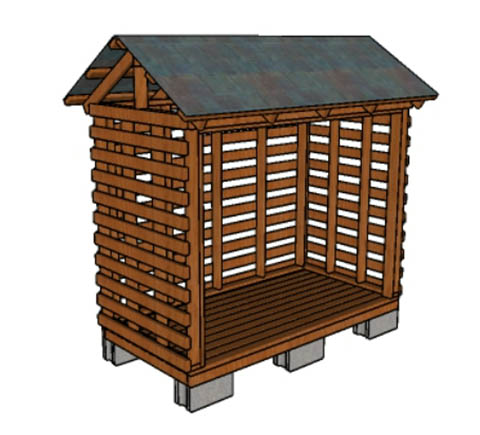 These firewood plans, from How To Specialist, require more wood and have a metal sheet roof. It is a permanent shelter that will last for years and protect your piles of wood throughout the winter months. It will cost a little more to construct than some of the simpler plans, but if you're looking for a shed, rather than a rack, then this is the plan for you.
---
4.

Firewood Shelter Plans From My Outdoor Plans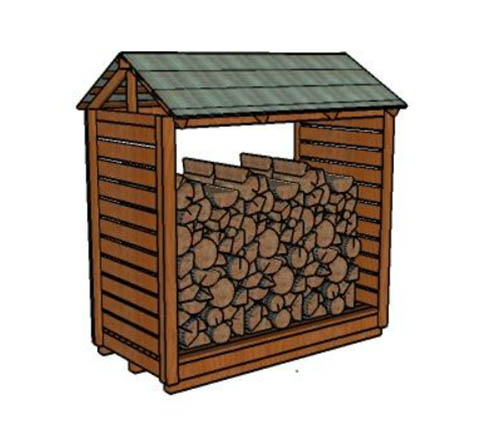 This firewood shelter from My Outdoor Plans is an elevated wood storage shed. When the bottom logs of firewood touch the ground, they suck the moisture up from the ground. Over time, the logs above will become damp too, so an elevated platform is especially important if you store firewood for any length of time.
---
5.

Indoor Firewood Rack From How To Specialist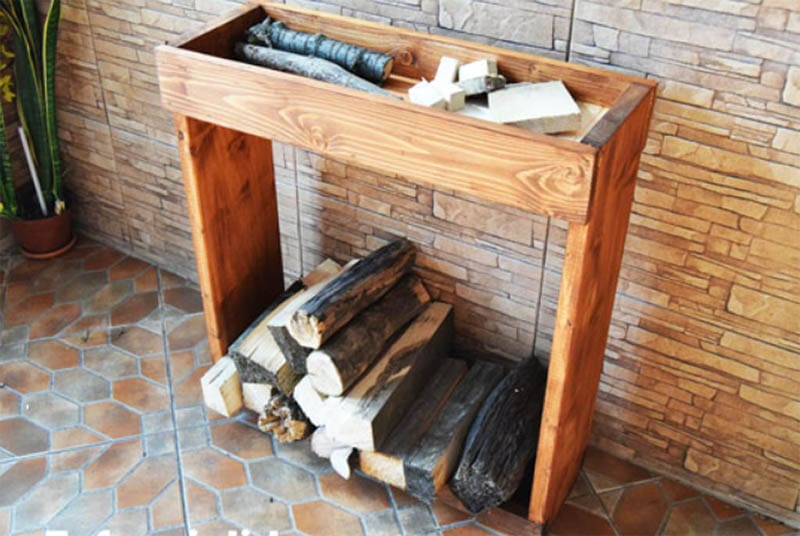 This indoor firewood rack from How To Specialist is ideal for occasional fire users or for moving wood from outdoor storage to indoor. It has a tray on the top for holding twigs or kindling, and because it is designed for use indoors, it is varnished and finished, so it is as attractive as it is functional. Also, it cost less than $15 to make, so it is suitable for any budget.
---
6.

DIY Pete's Firewood Rack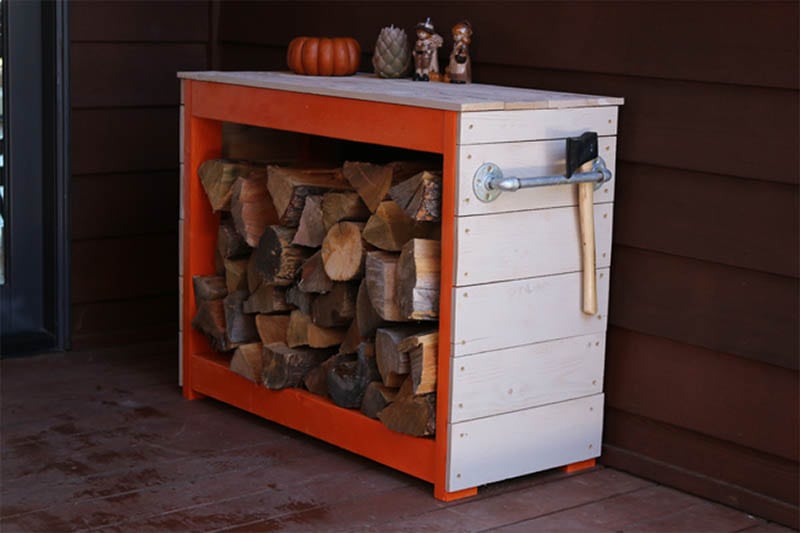 Learn how to build a firewood rack from DIY Pete who uses 2×4 boards and fence pickets. Many firewood rack designs are simple and entirely functional, but this one is painted, looks attractive, and still keeps costs down to a minimum, thanks to the choice of inexpensive materials.
---
7.

Covered Woodshed From How To Specialist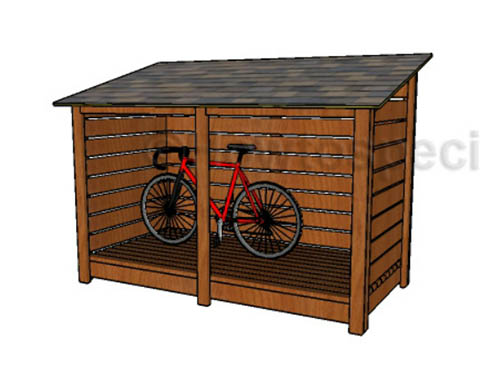 These covered woodshed plans from How To Specialist have a lean-to roof design. It is perfect for a small back yard because the lean-to saves space by being built up against the wall. The roof is weatherproof because it incorporates tar sheets and asphalt shingles.
---
8.

How To Specialist's Firewood Storage Shed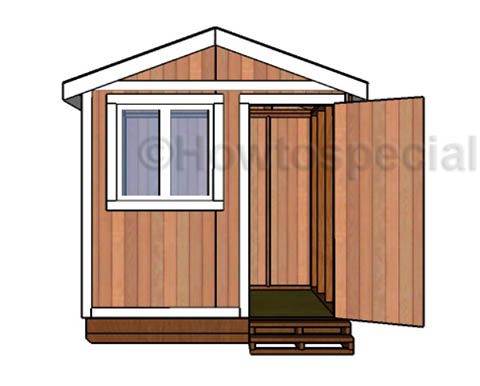 The 4×8 firewood storage shed plan is another design from How To Specialist and another with a lean-to design that will work well in a narrow space. It has virtually solid walls, which can even protect against the driving rain. The plans advise leaving gaps between the floor slats because this will allow the stored firewood to dry out quicker.
---
9.

Rolling Firewood Cart From The Wood Grain Cottage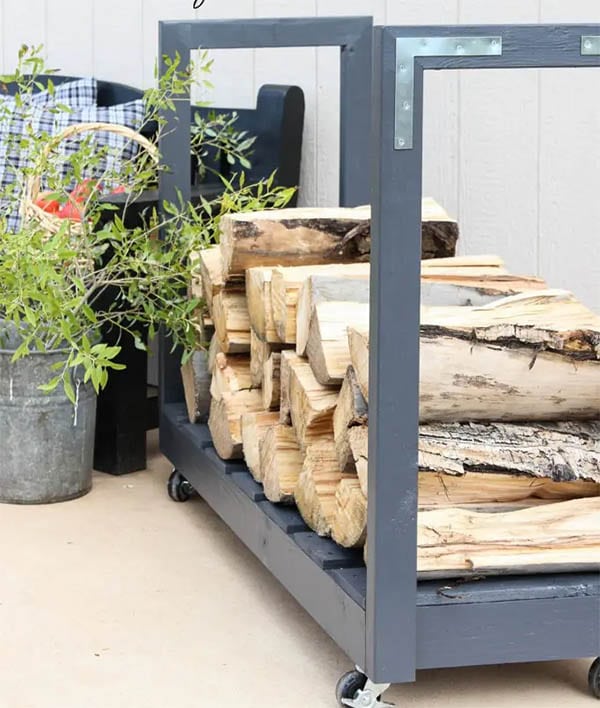 The beauty of the rolling firewood cart from The Wood Grain Cottage is that it not only provides storage for your firewood but can be used to transport it, too. The end product looks great, especially painted in the gray color in the plans, and the caster wheels mean that this cart is ideal for use indoors or on other flat and even surfaces.
---
10.

Raw Firewood Indoor Firewood Rack By Instructables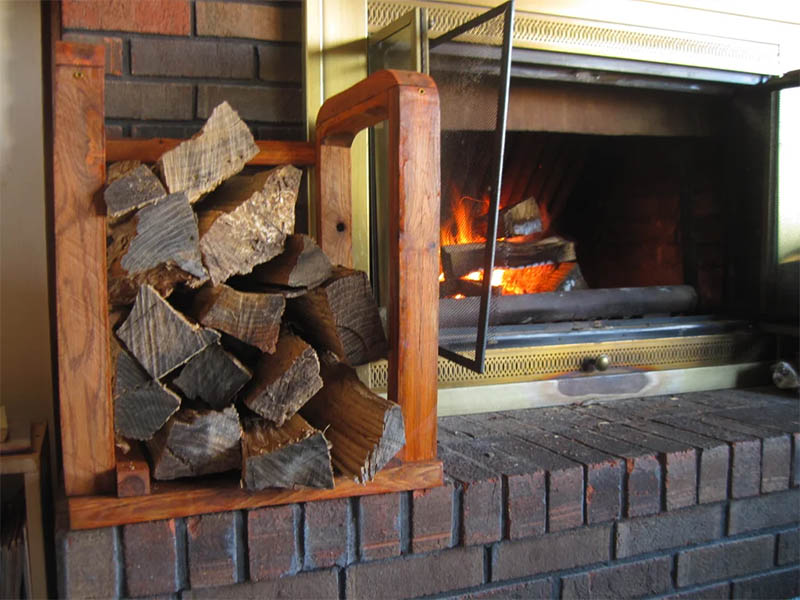 Instructables provides plans for an indoor firewood rack made from raw firewood. It makes sense that you will have raw firewood available, so why not utilize some of it to make the firewood rack? This rack is for indoor use, primarily at the hearth, and the use of raw firewood gives it a great rustic feel that will work perfectly in any room.
---
11.

Log Shed From My Outdoor Plans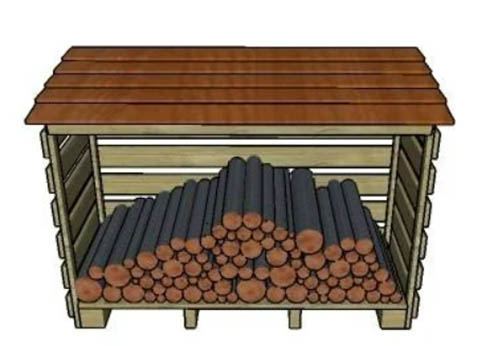 These log shed plans from My Outdoor Plans have a front-oriented slope, and you can use pallet or scrap wood in order to keep costs down to a minimum. The construction itself can be finished in a day, assuming that you have all the materials and tools handy.
---
12.

My Outdoor Plans' Large Firewood Shed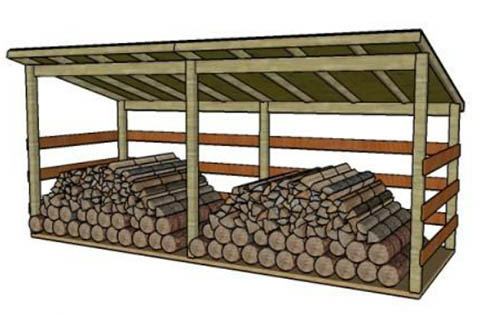 The large firewood shed from My Outdoor Plans will hold up to four cords of firewood, so it is larger than most other sheds. As such, it is likely to take two or three days to complete, but if you store a large amount of wood, it will keep it dry and in a single location, rather than having piles of wood here and there. The roofing underlay and shingles help protect the wood from rain.
---
13.

Firewood Cart From Canadian Home Workshop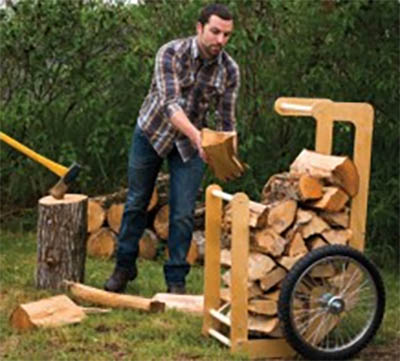 Shifting your firewood from the log pile to the fire or fire pit is a chore. No matter how big your arms, you will need to make multiple trips to replenish the pile. But not with these firewood cart plans from Canadian Home Workshop. It uses large wheels that will tackle backyard terrain, and it has a brilliantly pivoted handle that makes it easy and safe to tilt the cart and move it. It's also designed to fit through a standard doorway.
Related Reads:
---
Featured Image Credit: Free-Photos, Pixabay