26 Free DIY Wooden Toy Plans (With Pictures)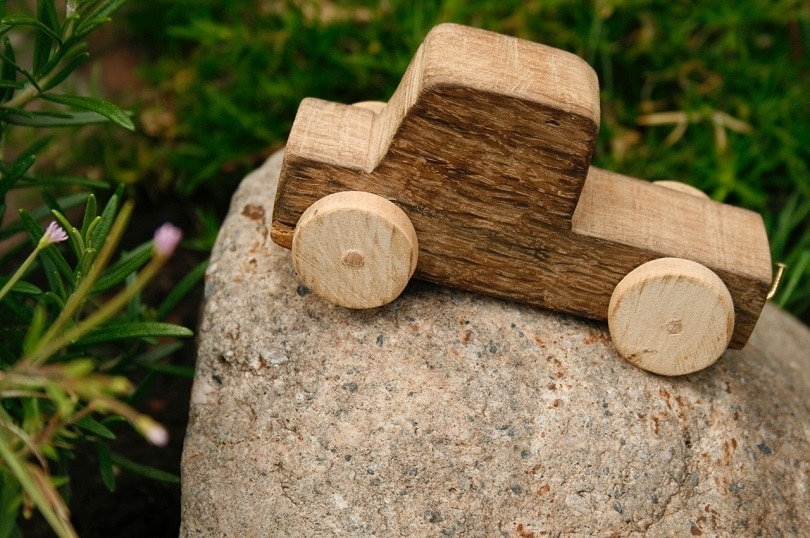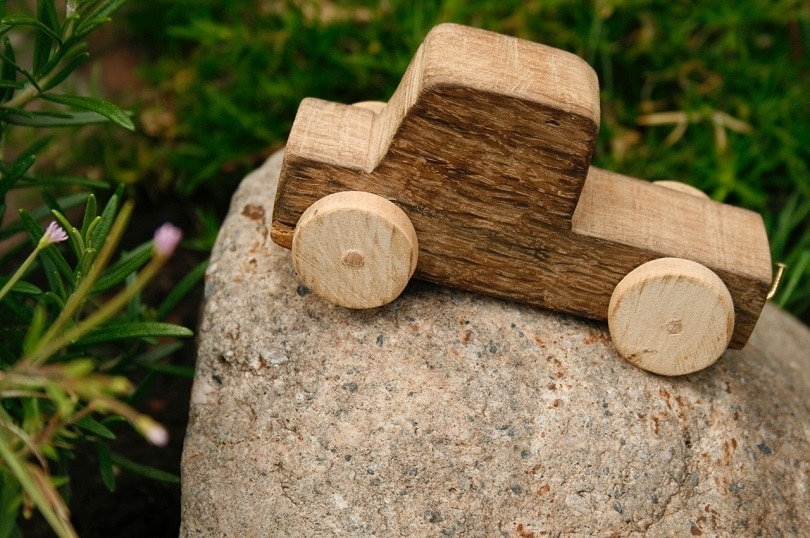 The art of wooden toy making has largely gone by the wayside. It's a shame because a well-built wooden toy can last for generations, sparking the imagination of children for many years to come. Handmade wooden toys may even have considerable retail value (think markets like Etsy).
In this guide, we've selected some of our favorite plans that teach you how to build wooden toys. There will be great options here, both for beginners, and people with a more advanced skillset, so read on for some wooden toy plans!

The 26 DIY Wooden Toy Plans
1.

Wooden Camera: Moderate Difficulty from LilBlueBoo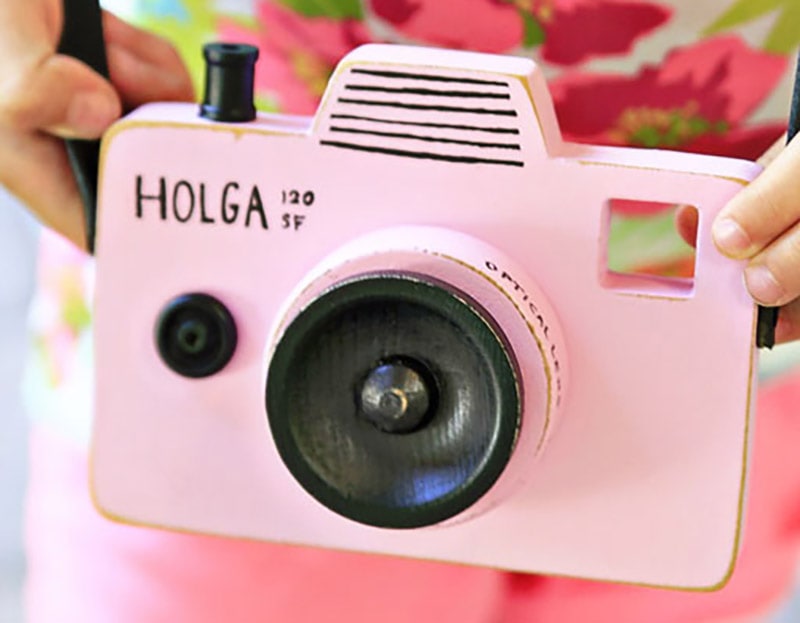 From LilBlueBoo comes this interesting wooden camera. The nice thing about this first design is that it looks harder to make than it is. The wooden camera is constructed from just a few components. The camera outline is cut with a scroll saw, and the pieces are joined using industrial grade glue. After the camera has been assembled, you can sand it, and finish up with any color paint job you want!
---
2.

Chalk City: Easy and Highly Versatile from HelloBee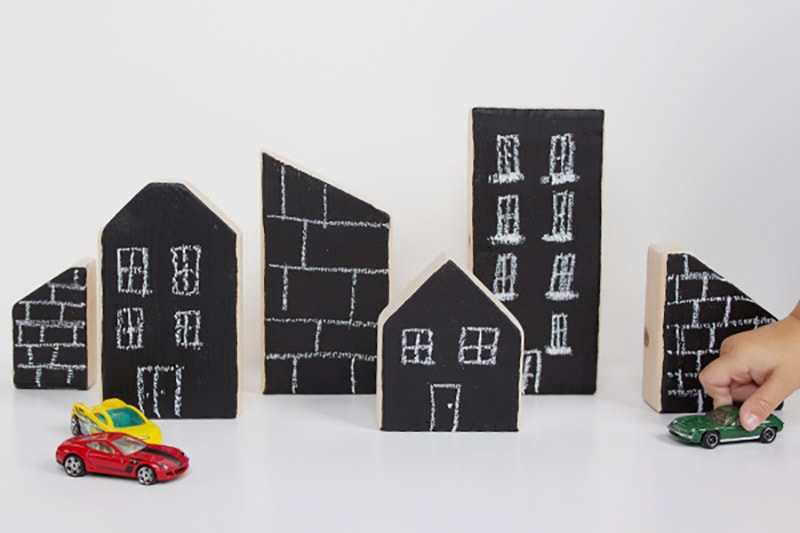 From HelloBee, we get this beautiful, easy to make chalkboard city. The wood outlines can all be cut using a skill saw. The designs can be easily be altered to suit your preferences, and once you apply the chalkboard paint your children will be able to create any design they wish. It's the perfect toy for firing up everyone's creative juices!
---
3.

Dollhouse in a Box: A Delightful Twist on a Classic Toy from Adventure-in-a-Box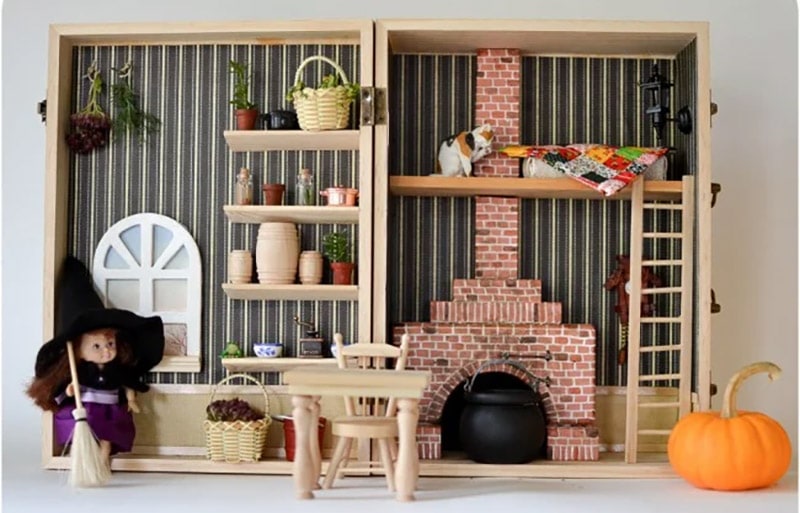 Adventure-in-a-Box.com has come up with this clever twist on the classic dollhouse. Though buying a dollhouse at the store can cost an arm and a leg, this design is affordable, and surprisingly easy to make.
Starting with a wood box, you can then outfit the interior with virtually anything that strikes your fancy. The person that made the unit pictured above went for a witches' cottage, but you are limited only by your imagination.
---
4.

Wooden Nesting Doll: A True Classic from Adventure-in-a-Box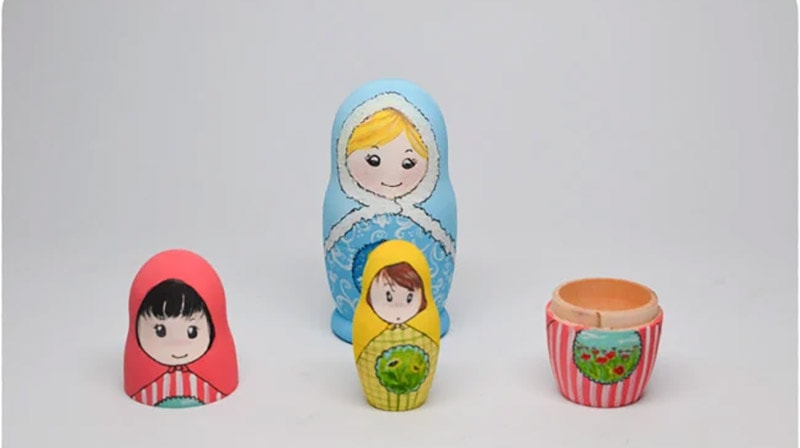 Also from Adventure-in-a-Box comes this remarkably classic design. Nesting dolls have been around for hundreds of years, and this is your opportunity to provide a modern twist on a classic design. The hourglass dolls can be purchased pre-cut or carved yourself depending on your skill level. After that, all you have to do is sand and paint the doll.
---
5.

Classic Wooden Blocks: From FunatHomeWithTheKids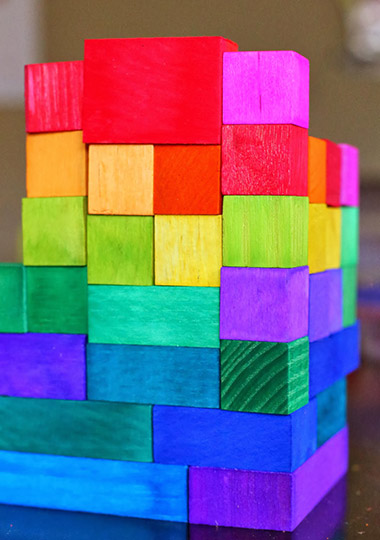 From FunatHomeWithKids comes a true classic. Building blocks are a key component of any toybox, and these are easy enough for even beginners to make. And of course, once you've cut and sanded the blocks, you can paint them any color or colors you want!
---
6.

The Wooden Rocking Horse: From ToyMakingPlans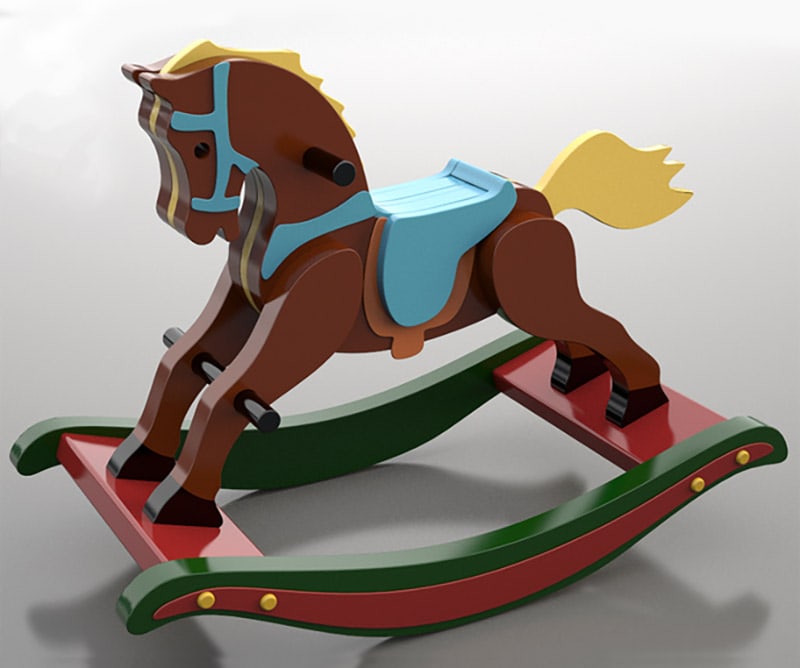 ToyMakingPlans has come up with a classic toy that children from many generations have grown up with. Though this horse takes a significant amount of time to put together the actual cuts are not difficult to make. With a little bit of skill, a scroll saw, and some paint, you will be able to give your child a truly special gift.
---
7.

A Wooden Truck Far Nicer Than Anything At the Store From ToyMakingPlans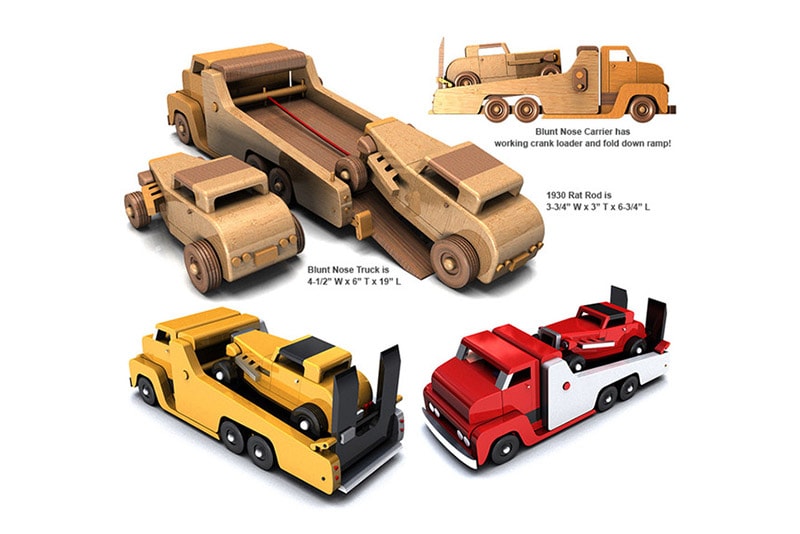 ToyMakingPlans has come up with a wooden car design that is far more beautiful than anything you will find at the store. These highly detailed trucks do require a significant amount of time on your part, but the effort will be well worth it.
---
8.

A Modern Twist on a Classic: From KillerBDesigns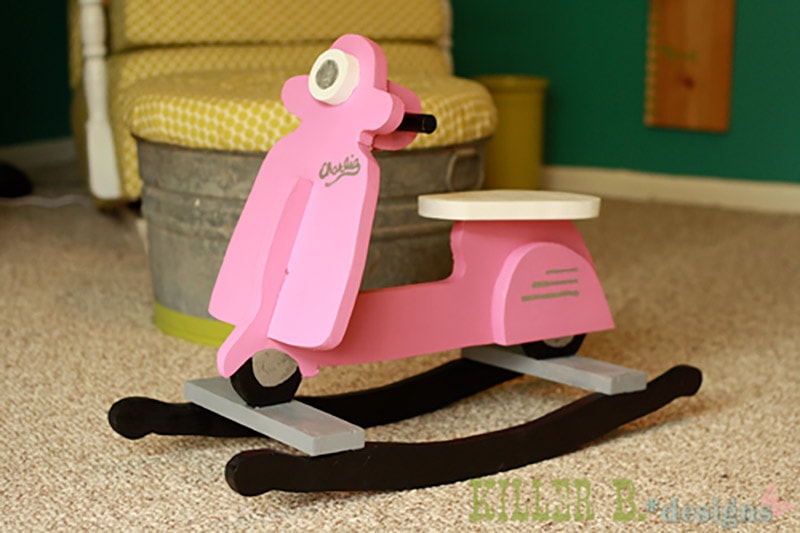 KillerBDesigns has come up with this awesome twist on the classic wooden rocking horse. Similar to the last rocking horse that we highlighted; this design differs in that it bears the appearance of a modern scooter. It looks great and might be slightly more relatable for your children.
---
9.

The Sit and Scoot: Easy and Fun From PrettyHandyGirl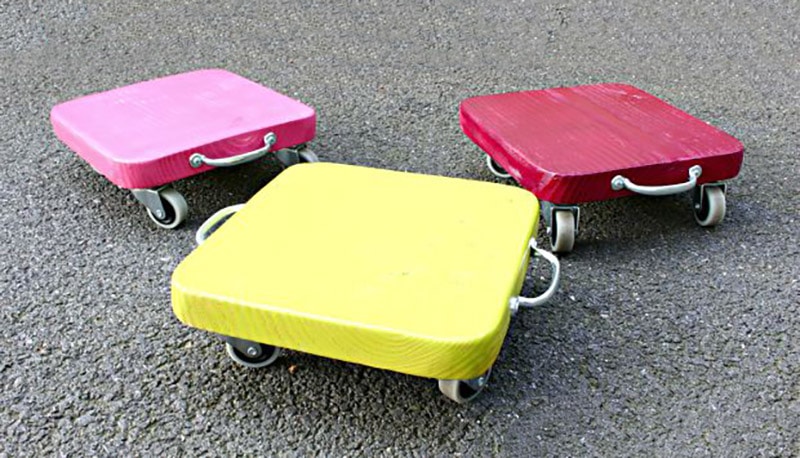 PrettyHandyGirl has released the plan for this very easy to use assemble sit and scoot. The nice thing about this piece is that it can be put together with minimal effort on your part, requiring only a few basic cuts, some cheap hardware, and a basic paint job.
---
10.

The WoodenPlayTent: Easy and Awesome from Adventure-in-a-Box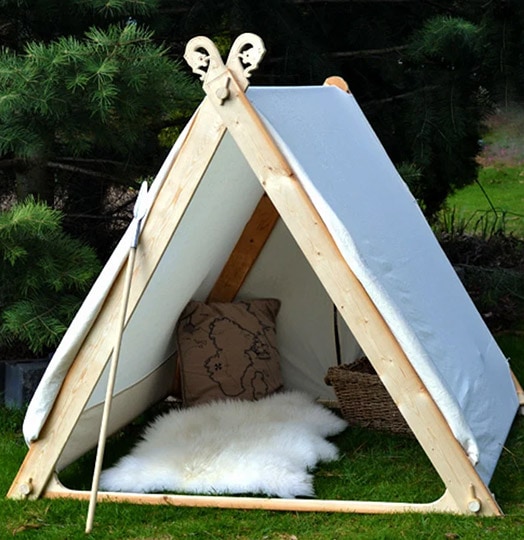 Last, but not least, this tent from Adventure-in-a-Box provides you with a very simple, affordable toy to assemble. Using a few pieces of wood, and an old sheet, you can create an awesome play fort with endless role-playing possibilities for your children to enjoy.
---
11.

Wooden Tipper Truck: A Functional Classic from Wooden Toy Plans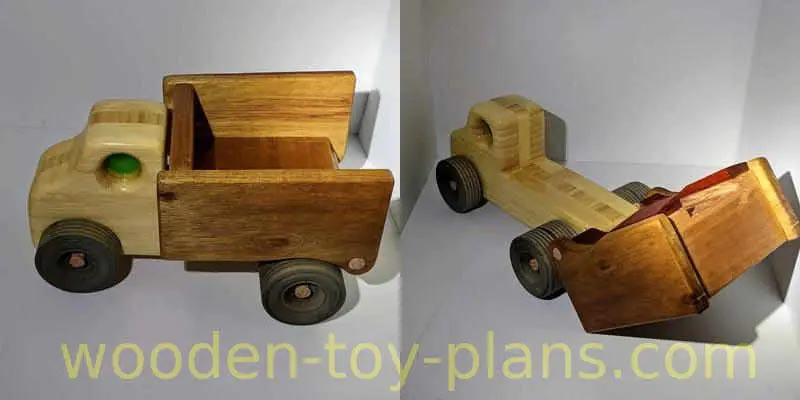 Add to the toy truck collection with this functional wooden dump truck. The look is impressive, but it's surprisingly simple with the downloadable template. Follow the guide to layer three uniform truck cutouts, drill axles, and add the movable bed. Let the kids bring the project home with a custom food coloring paint job.
---
12.

Sphere Puzzle: A Simple Game from Scrollsaw Workshop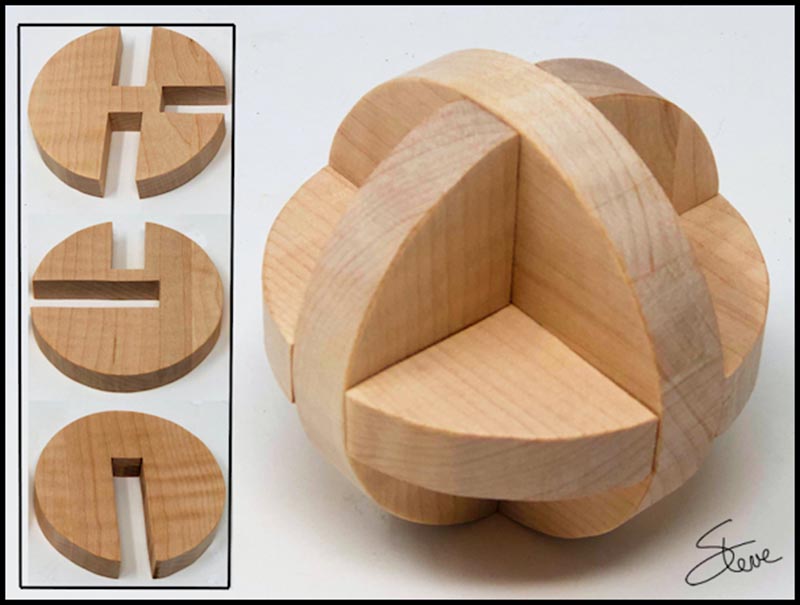 It doesn't take too long to solve, but this sphere puzzle can undoubtedly present a tricky woodworking challenge. A scroll saw and a touch of trial and error is all you need to complete the project. Even if it only gets minor use, it still makes a neat tabletop accessory.
---
13.

Hardwood Yo-Yo: A Timeless Treasure from Instructables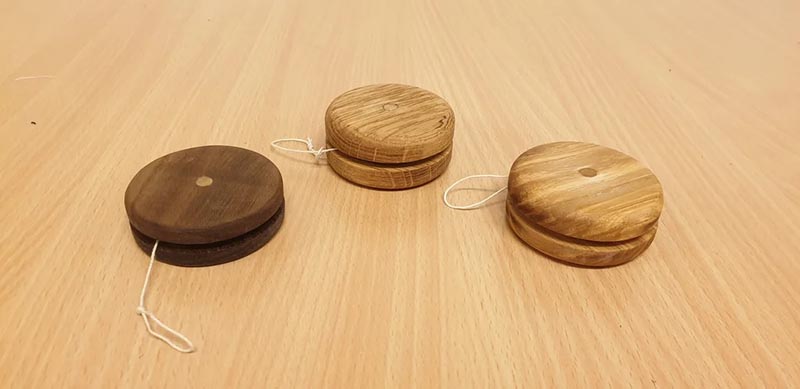 Time to dust off the hole saw and your yo-yo skills. The hardwood yo-yo plans from Instructables are a perfect afternoon project, requiring only a few tools and scrap pieces of wood. After sanding and adding string, you'll have a handy homemade toy to delight adults and children alike.
---
14.

Wooden Toy Barn: Room for the Whole Farm by Houseful of Handmade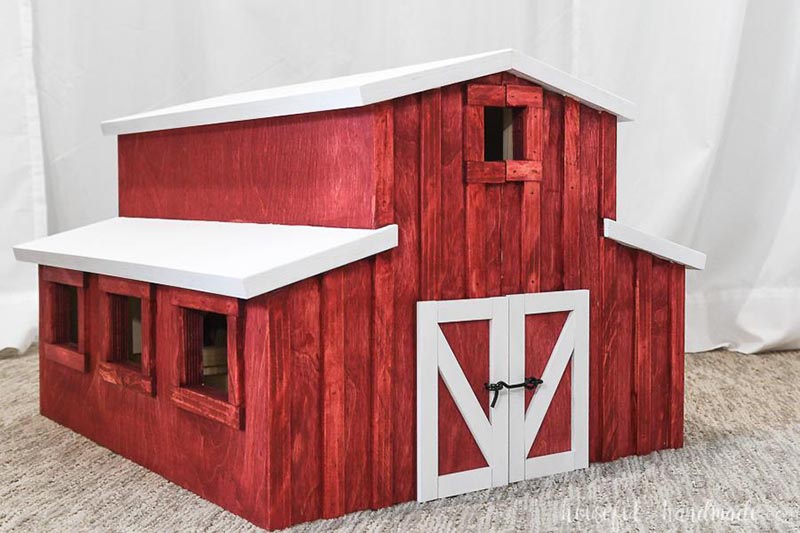 Here's one for the animal lover in the house. Make space for all the creatures on the farm with this miniature toy barn. The precise build is rich in detail. From the movable stable doors to the board and batten exterior, the authenticity adds layers of fun to this rural dollhouse.
---
15.

DIY Building Blocks: Hours of Fun from How Wee Learn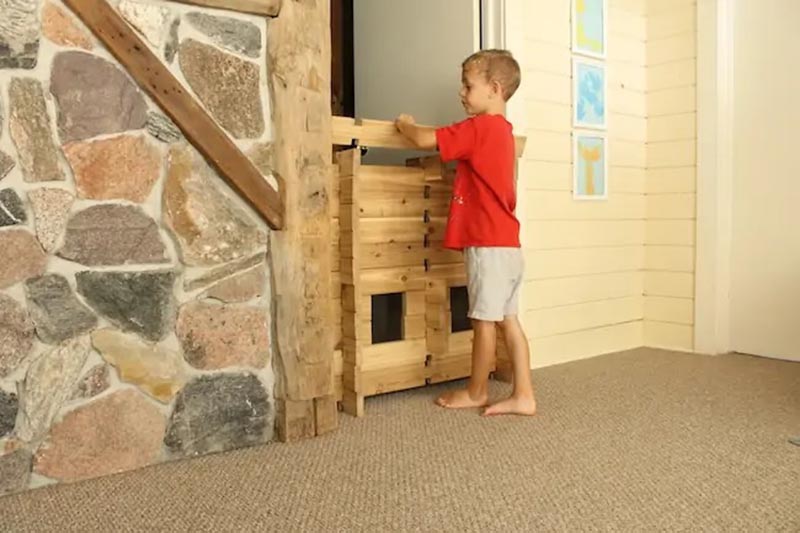 Lincoln logs just got a serious upgrade. Reign in the new generation of creative construction with these interlocking wooden building blocks. The design may be simple, but these wood cuts will give your children unlimited space to flex their creativity as they build forts, games, and more!
---
16.

Toy Sword: Wooden Weaponry from Rod's Woodworking Shop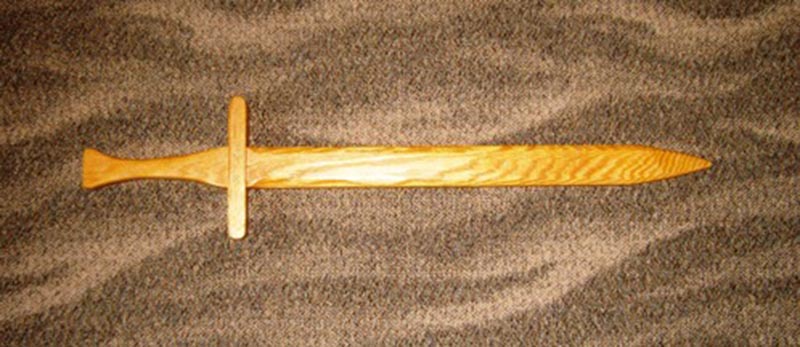 We don't condone violence, but there's nothing nefarious about these wooden sword plans. You'll need a band saw to give it shape, a router with a round-over bit, and a satin poly stain to supply the sleek finish. While it's a nifty prop for the kids at the Renaissance fair or at home, the clean craftsmanship of this toy sword is just as intriguing for adults.
---
17.

Woodpecker on a Pole: Spring-Loaded Decoration from Instructables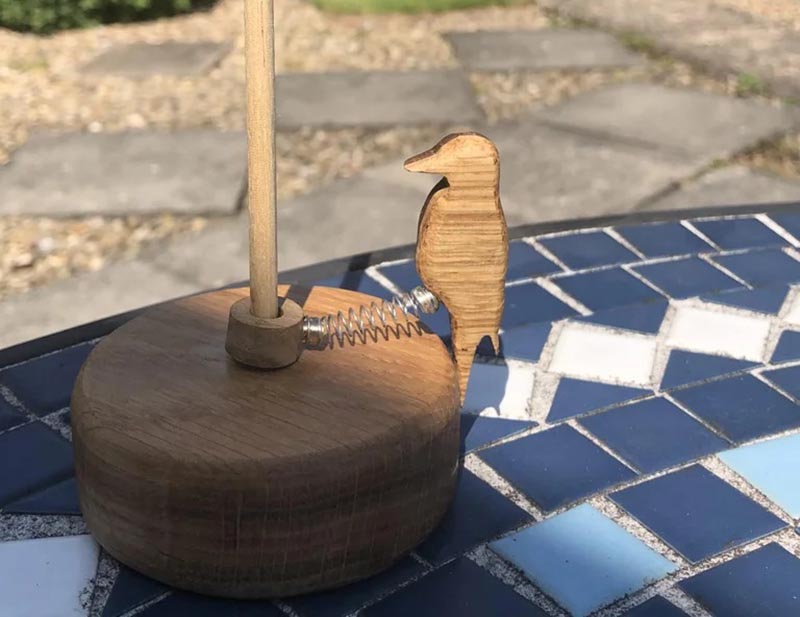 Whether inside or outdoors, this interactive woodpecker on a pole ornament is a fun feature for any setting. Set off the wooden spring-loaded toy and watch it descend the dowel, rocking to-and-fro in true woodpecker fashion. The plans include a CNC machine method, but the everyday woodworker can get by with the slower scroll saw approach. The long route is usually more satisfying anyways.
---
18.

Wooden Velociraptor: A Dynamic Dino from Kayu Nganjuk
Where there's a boy, there's a dinosaur phase. Make these moments memorable for you and your children with this intricate velociraptor walking toy. Detailed cut guides and a video walkthrough make the challenge far less daunting.
Once completed, you'll be in awe of the raptor's running legs, snapping jaw, and swaying tail. It's a life-like wonder, all made possible by you!
---
19.

DIY Busy Board: A Learning Tool from Mikael Benitah
Add to your child's skillset and yours with this simple homemade busy board project. Busy boards build problem-solving and fine motor skills while keeping your child entertained. There's no finesse necessary. Pull ideas from multiple places and snag whatever is on hand. The board is a blank slate, offering countless possibilities to stimulate your child's growth.
---
20.

Tangram Puzzle: DIY Brain-Busters from Instructables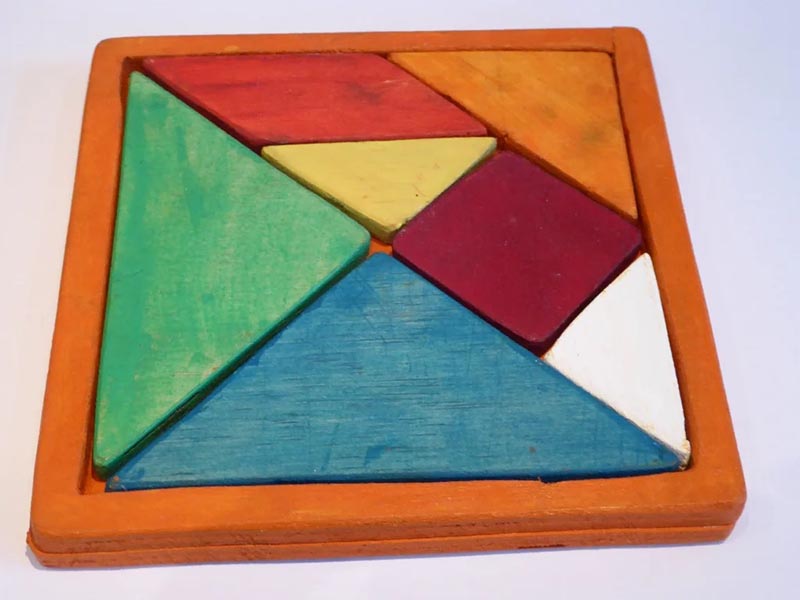 Here's a puzzle that's harder to solve than it is to construct. A tangram puzzle only requires a few MDF pieces and a scroll saw. Use the template to make the puzzle design, or draw any custom layout you want. You can make the puzzle as simple or challenging as you want. As a bonus, the pieces let your kids get creative by forming them into different designs and shapes!
---
21.

Balance Board: A Skill-Boosting Build from Scout Life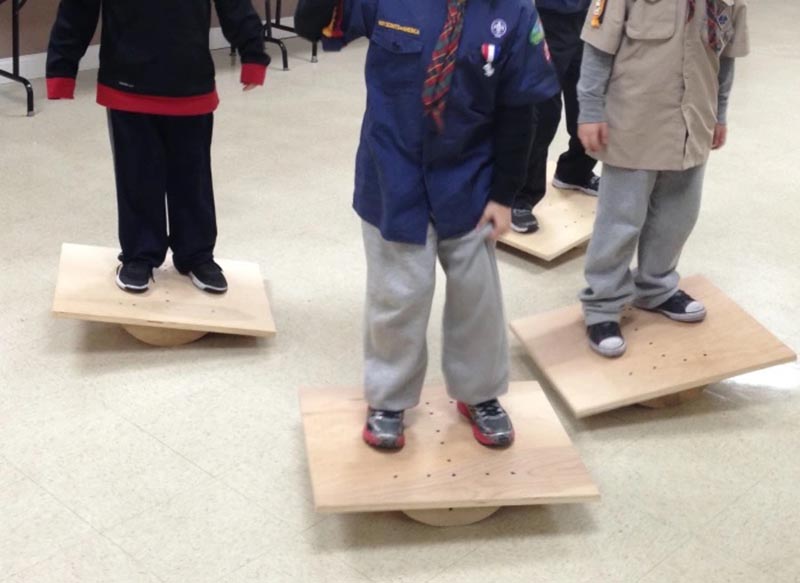 A balance board is a fun and challenging way for your child to boost their coordination and motor skills. If they're getting into sports, it's a great tool to help them gain an edge. Plus, it doesn't require a ton of work from you! A plywood square, a couple of half-circle cuts, and a few screws are all you need to bring the benefits of a balance board to your home.
---
22.

Balloon-Powered Wooden Boat: Seafaring Fun from Adventure-in-a-Box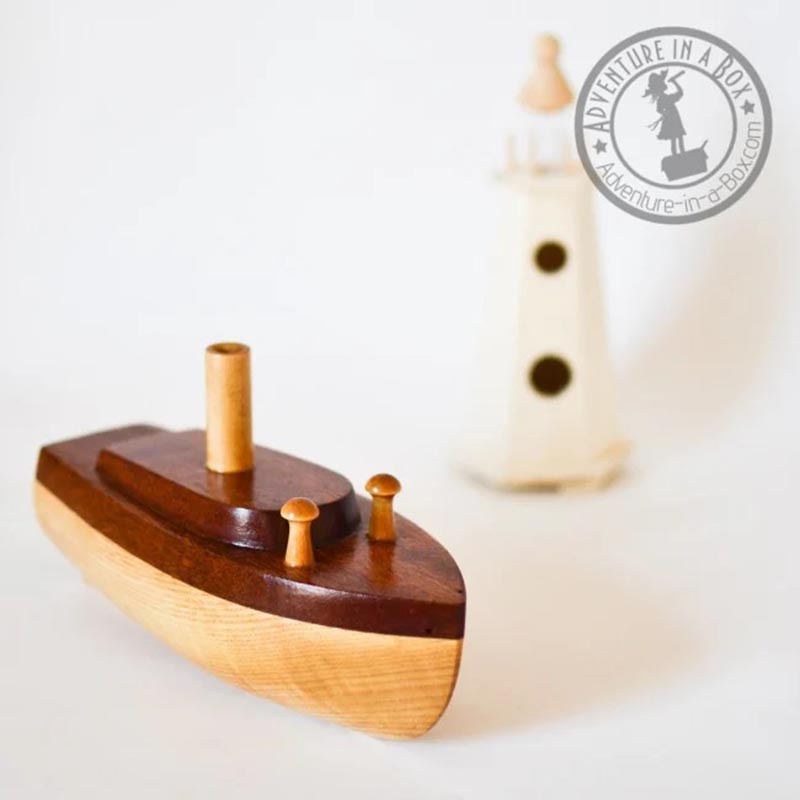 The kids won't fight you over bath time when you have these beautifully handcrafted ships. Two types of wood and a boatload of varnish come together to make the toy. A center dowel "smokestack" gives a loaded balloon a place to mount. Set it in the water, and watch it go!
---
23.

Rubber Band Gun: Simple and Safe Shooters from The Art of Manliness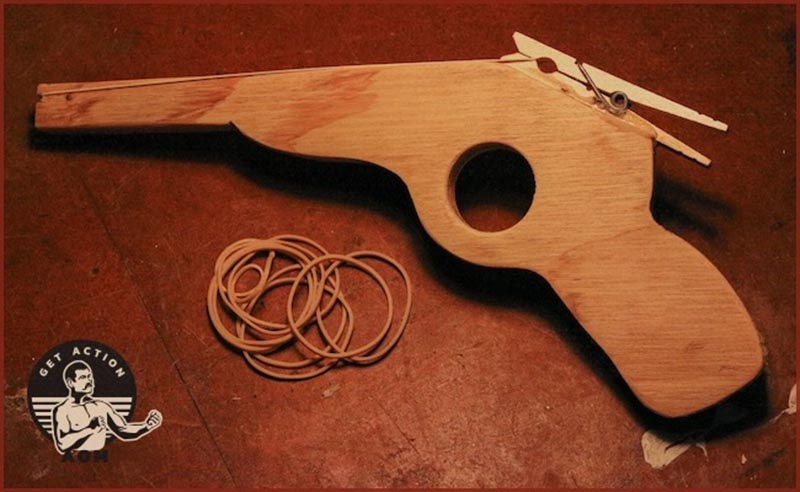 Indoor target practice is perfect for staving off boredom on a rainy day. Make a surprisingly easy rubber band gun with this walkthrough from The Art of Manliness. You don't need fancy modeling tools, only a rough template, a drill, and a jigsaw. Attach a clothespin, load up a rubber band, and find out who is the best marksman in the house!
---
24.

Wooden Tic-Tac-Toe: Go-To Gaming from Anika's DIY Life
When there's nothing left to do, there's always tic-tac-toe. Add some flare to the classic kid's activity by handcrafting a gaming board and pieces from scrap wood. Anika at Anika's DIY Life brings style to the design with varying char patterns, giving it a rustic angle. Whether painted, singed, or stained, you'll love your newest addition to the board game collection no matter how you design it.
---
25.

Stackable Rainbow: Color and Joy from Woodworking with DIY Tools
Bursting with color, this stackable rainbow offers numerous creative opportunities without a demanding build. The designer combines several plywood pieces and outlines the arcs with a compass. After a few passes with the jigsaw (or scroll saw, for simplicity) and several sanding sessions, you're all set to paint and play.
---
26.

Jacob's Ladder: An Easy DIY Trick from Randomize Me
A Jacob's Ladder may seem simple, but it has been a mystery for generations. Now, you get to unravel the secrets of this traditional toy. After a few straight cuts from a piece of scrap wood, you only have to glue and staple the ribbons to complete the build. Learn the design, teach your kids, and pass the fun on for years.
Conclusion
The nice thing about the designs featured above is that most of them are deceptively simple. As you scan through the plans looking for one that you're comfortable with, try to keep an open mind. With a little bit of creativity, you could learn how to build wooden toys that are unique that can be passed on in your family for generations!
Related Reads:
---
Featured Image Credit: Wooden car toy by LeFox, Pixabay