11 Free DIY Wooden Toy Plans You Can Build Today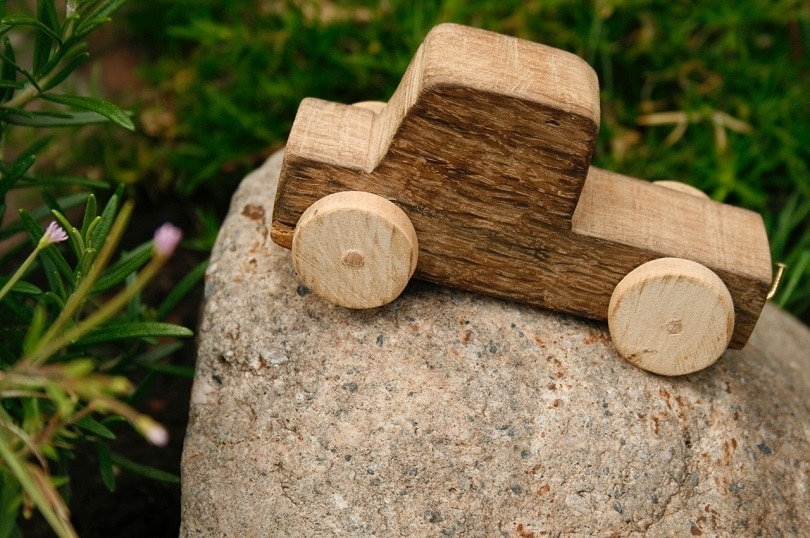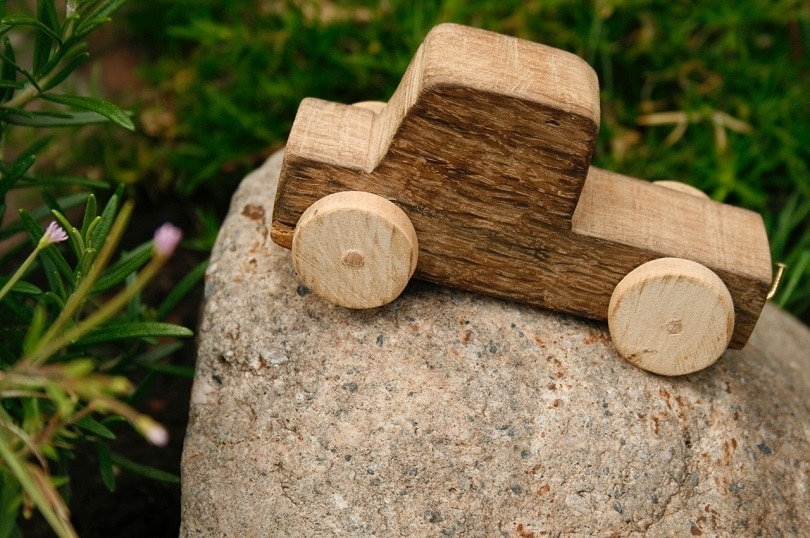 The art of wooden toy making has largely gone by the wayside. It's a shame because a well-built wooden toy can last for generations, sparking the imagination of children for many years to come. Handmade wooden toys may even have considerable retail value (think markets like Etsy).
In this guide, we've selected some of our favorite plans that teach you how to build wooden toys. There will be great options here, both for beginners, and people with a more advanced skillset, so read on for some wooden toy plans!

The 11 DIY Wooden Toy Plans
1.

Wooden Camera: Moderate Difficulty from LilBlueBoo
From LilBlueBoo comes this interesting wooden camera. The nice thing about this first design is that it looks harder to make than it is. The wooden camera is constructed from just a few components. The camera outline is cut with a scroll saw, and the pieces are joined using industrial grade glue. After the camera has been assembled, you can sand it, and finish up with any color paint job you want!
---
2.

Chalk City: Easy and Highly Versatile from HelloBee
From HelloBee, we get this beautiful, easy to make chalkboard city. The wood outlines can all be cut using a skill saw. The designs can be easily be altered to suit your preferences, and once you apply the chalkboard paint your children will be able to create any design they wish. It's the perfect toy for firing up everyone's creative juices!
---
3.

Dollhouse in a Box: A Delightful Twist on a Classic Toy from Adventure-in-a-Box
Adventure-in-a-Box.com has come up with this clever twist on the classic dollhouse. Though buying a dollhouse at the store can cost an arm and a leg, this design is affordable, and surprisingly easy to make.
Starting with a wood box, you can then outfit the interior with virtually anything that strikes your fancy. The person that made the unit pictured above went for a witches' cottage, but you are limited only by your imagination.
---
4.

Wooden Nesting Doll: A True Classic from Adventure-in-a-Box
Also from Adventure-in-a-Box comes this remarkably classic design. Nesting dolls have been around for hundreds of years, and this is your opportunity to provide a modern twist on a classic design. The hourglass dolls can be purchased pre-cut or carved yourself depending on your skill level. After that, all you have to do is sand and paint the doll.
---
5.

Pizza Puzzle: Fun and Educational from ABeautifulMess
From ABeautifulMess comes this pizza puzzle. This toy is very much in the spirit of something you would find from companies like Melissa and Doug. It's a double whammy because your kids can use the puzzle to expand their mind, while also playing chef with the fully assembled pizza! The skill level required is a slightly more advanced thanks to some tight interior cuts, but most should be able to handle it.
---
6.

Classic Wooden Blocks: From FunatHomeWithTheKids
From FunatHomeWithKids comes a true classic. Building blocks are a key component of any toybox, and these are easy enough for even beginners to make. And of course, once you've cut and sanded the blocks, you can paint them any color or colors you want!
---
7.

The Wooden Rocking Horse: From ToyMakingPlans
ToyMakingPlans has come up with a classic toy that children from many generations have grown up with. Though this horse takes a significant amount of time to put together the actual cuts are not difficult to make. With a little bit of skill, a scroll saw, and some paint, you will be able to give your child a truly special gift.
---
8.

A Wooden Truck Far Nicer Than Anything At the Store From ToyMakingPlans
ToyMakingPlans has come up with a wooden car design that is far more beautiful than anything you will find at the store. These highly detailed trucks do require a significant amount of time on your part, but the effort will be well worth it.
---
9.

A Modern Twist on a Classic: From KillerBDesigns
KillerBDesigns has come up with this awesome twist on the classic wooden rocking horse. Similar to the last rocking horse that we highlighted; this design differs in that it bears the appearance of a modern scooter. It looks great and might be slightly more relatable for your children.
---
10.

The Sit and Scoot: Easy and Fun From PrettyHandyGirl
PrettyHandyGirl has released the plan for this very easy to use assemble sit and scoot. The nice thing about this piece is that it can be put together with minimal effort on your part, requiring only a few basic cuts, some cheap hardware, and a basic paint job.
---
11.

The WoodenPlayTent: Easy and Awesome from Adventure-in-a-Box
Last, but not least, this tent from Adventure-in-a-Box provides you with a very simple, affordable toy to assemble. Using a few pieces of wood, and an old sheet, you can create an awesome play fort with endless role-playing possibilities for your children to enjoy.
Conclusion
The nice thing about the designs featured above is that most of them are deceptively simple. As you scan through the plans looking for one that you're comfortable with, try to keep an open mind. With a little bit of creativity, you could learn how to build wooden toys that are unique that can be passed on in your family for generations!
Related Reads:
---
Featured image credit: Wooden car toy by LeFox, Pixabay