11 DIY Under Bed Storage Ideas You Can Construct Today (With Pictures)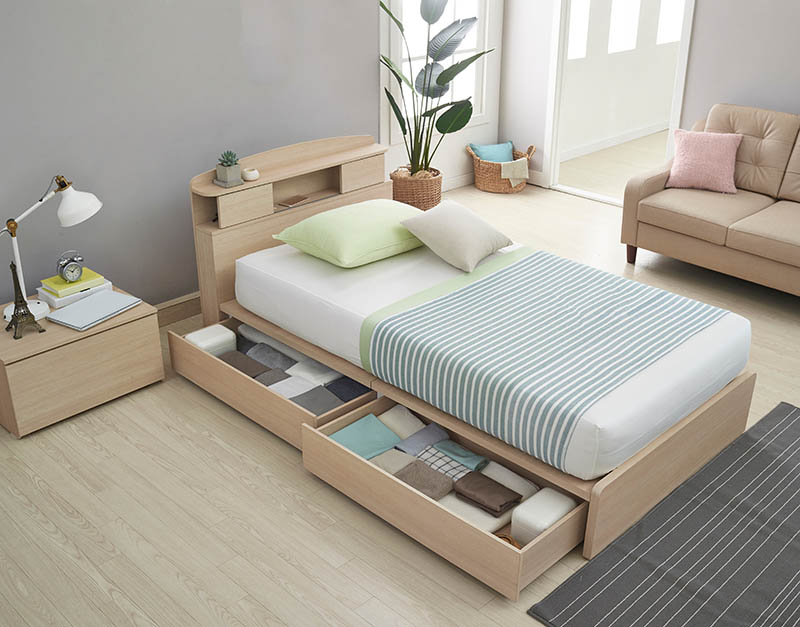 No matter how many closets and how much storage space you have, there almost always comes a time when it just isn't enough. While our wardrobes, toys, and the rest of our collections continue to grow, the closets don't. The space under the bed can be a greatly under-utilized area of the room, and if you have multiple beds across multiple rooms, that's a lot of unused storage space.
Below are 11 plans and DIY projects that you can use to increase the storage you have while reducing clutter and overflow. Some are basic and don't even require any tools, while others do require some DIY skills but can still be used to enhance storage space.

The Top DIY Under Bed Storage Ideas
1.

Unbelievably Quick & Easy DIY Under Bed Storage Idea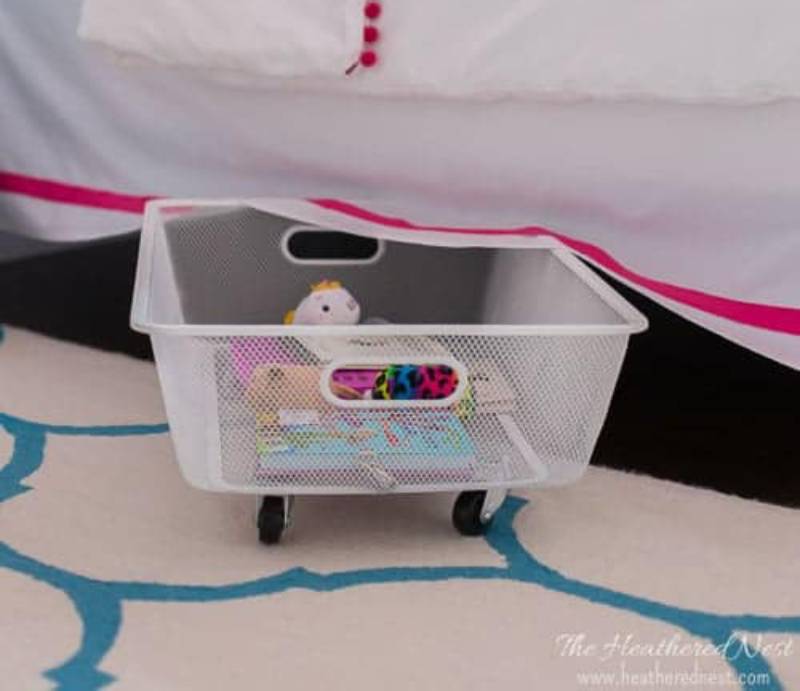 | | |
| --- | --- |
| Materials: | Storage Bin, Swivel Casters, Cable Ties |
| Tools: | Scissors |
| Difficulty: | Easy |
We love an IKEA hack, and this unbelievably quick and easy DIY under-bed storage idea offers a great way to add toy storage to a kid's bedroom. Not only does the drawer make it easier to store toys but its presence means that your kids won't be able to just kick everything under the bed when it's time to clear the room.
The plan uses ALGOT storage baskets, from IKEA, but also provides an alternative if you can't get that particular model. The only tool you need to complete this plan is a pair of scissors, and it takes a few minutes from start to finish.
---
2.

Under Bed Storage for Kids IKEA Hack
| | |
| --- | --- |
| Materials: | Under Bed Storage Boxes, Sawhorse, Multi-Tool |
| Tools: | Sander, Multi-Tool |
| Difficulty: | Easy |
This is a pretty specific DIY plan that enables you to add IKEA's Hemnes storage boxes under the MYDAL bunk bed frame. If you try putting the storage boxes straight under the bed, they won't close because of the position of the ladders. This under-bed storage for kids plan modifies the boxes so they fit while also giving the boxes, which come stained in gray, a wood finish that better matches the bunk bed design.
Whether you already have the popular MYDAL bunk bed or are looking for an inexpensive bed with accompanying storage, this is another beneficial IKEA hack.
---
3.

DIY Plastic Under Bed Drawers by Pins & Procrastination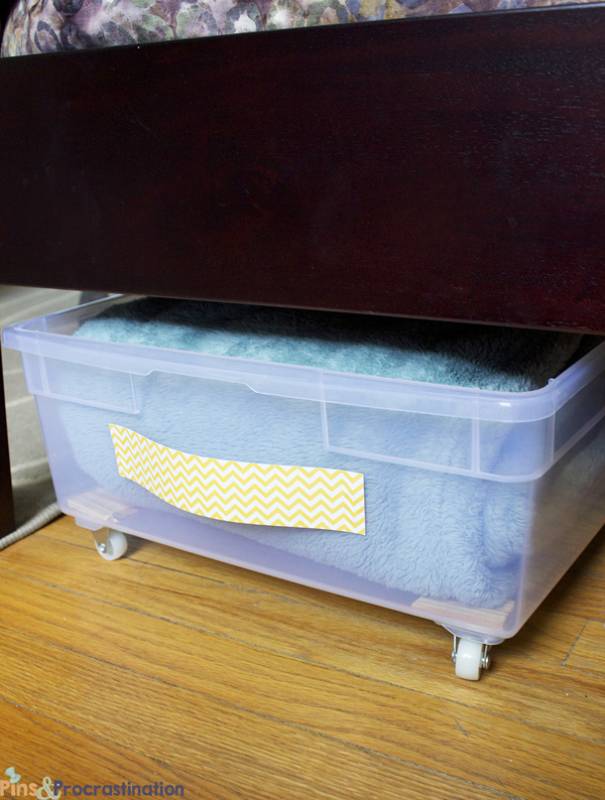 | | |
| --- | --- |
| Materials: | Plastic Bin, Casters, Screws, Masking Tape, Wood Shims |
| Tools: | Drill, Saw |
| Difficulty: | Easy |
Adding some casters to the bottom of a plastic bin, like in this plan for DIY plastic under-bed drawers, makes a simple, inexpensive, rolling storage solution. You do need to ensure that you get a suitably sized plastic bin, and it needs to be 2 inches shorter than the gap under the bed to allow for the casters. But the plans are simple to follow, and you should be done in well under an hour once you have the materials.
---
4.

DIY Under Bed Boot Storage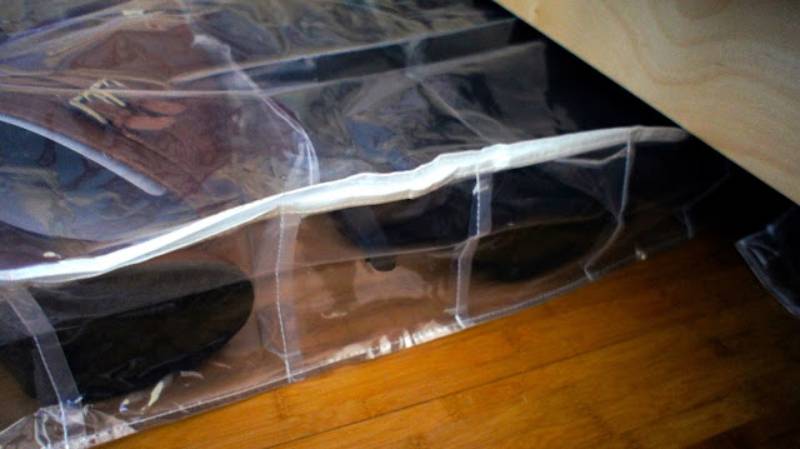 | | |
| --- | --- |
| Materials: | Under Bed Shoe Storage |
| Tools: | Scissors |
| Difficulty: | Easy |
You can buy under-bed shoe storage bags and containers, but few of them seem designed for the larger size of boots and the space available under most beds means that you can't stand boots up.
This DIY under-bed boot storage is a really simple hack that shows you how to convert a shoe storage bag from Walmart into something that will easily hold boots and keep them ordered and tidy under the bed. All you need is a pair of scissors and a few minutes of your time.
---
5.

DIY Under Bed Storage Boxes by Grillo Designs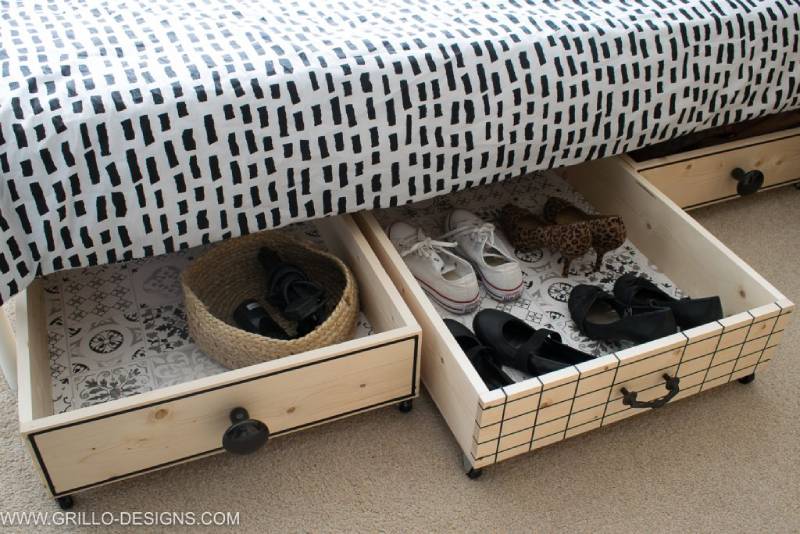 | | |
| --- | --- |
| Materials: | Wood, Plywood, Caster Wheels, Tape, Wallpaper, Knobs |
| Tools: | Drill, Mitre Saw, Wood Glue, Measure |
| Difficulty: | Moderate |
These DIY under-bed storage boxes are great for storage and because there's a little bit of attention paid to the front of the drawers, they look good, too. If your room is designed so that you can see underneath the bed, you will appreciate the finish. The plan shows you how to build the drawers, attach the casters, and how to achieve that finish using tape and drawer knobs.
---
6.

DIY Under Bed Shoe Storage by Anika's DIY Life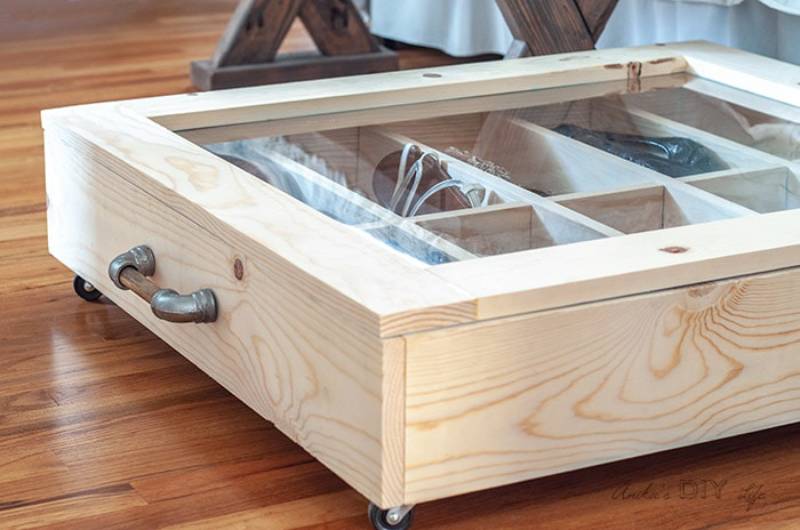 | | |
| --- | --- |
| Materials: | Lumber, Plexiglass, Casters, Pulls, Hinges |
| Tools: | Drill, Kreg Jig, Circular Saw, Miter Saw |
| Difficulty: | Moderate |
Shoes are a common item under most people's beds, but because we tend to just kick them off to join whatever else might be hiding under the bed, the under-bed area can become cluttered. This DIY under-bed shoe storage solution brings a little order to your shoe-based chaos. It does require some sawing, but it isn't too difficult to follow.
---
7.

Rolling Drawer Under Your Bed by Honeybear Lane
| | |
| --- | --- |
| Materials: | Old Drawer, Caster Wheels, Drawer Hardware, Scrap Wood |
| Tools: | Drill |
| Difficulty: | Easy |
A rolling under-bed storage unit is basically just a drawer or, more likely, a box on wheels with a handle at the front. One of the easiest ways to create this kind of storage is to take an existing drawer and add some wheels and a heavier handle. And that's precisely what this plan for a rolling drawer under your bed does.
---
8.

Under Bed Storage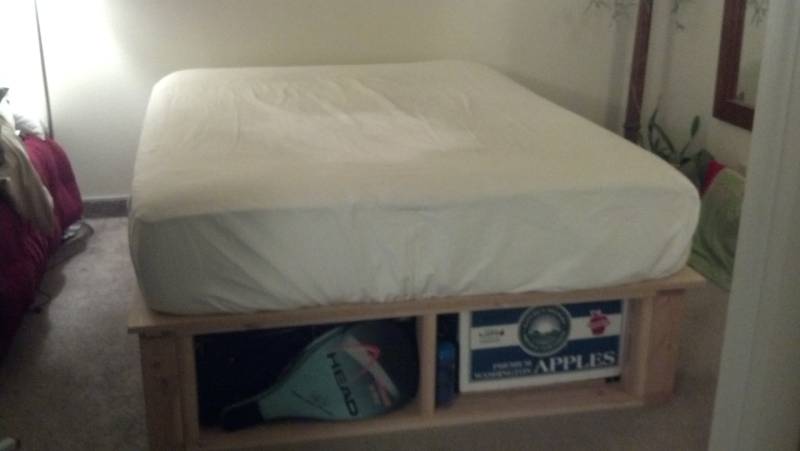 | | |
| --- | --- |
| Materials: | Plywood, Particle Board, Hinges, Catch |
| Tools: | Circular Saw, Drill, Staple Gun |
| Difficulty: | Moderate |
This under-bed storage unit makes the most of every single bit of space you have under the bed. As well as being accessible from the sides, the base of the bed hinges and lifts so that you can get to the whole storage unit underneath. As such, it does require a little more work than most other plans, but if you have a lot of things, you need a lot of storage.
---
9.

Under Bed Rolling Storage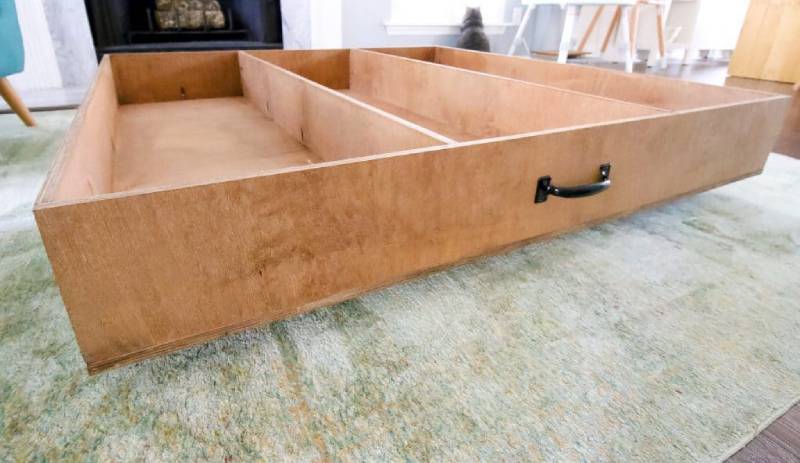 | | |
| --- | --- |
| Materials: | Plywood, Casters, Handles |
| Tools: | Saw, Kreg Jig, Drill, Sander |
| Difficulty: | Moderate |
This under-bed rolling storage is essentially a large drawer with wheels. Where it differs from a lot of solutions is that it is compartmented, which means that you can bring a bit more order to the chaos that accumulates under the bed. It is quite easy to make, although does require sawing, and you can modify the design either to fit the size of bed you have or to customize the storage space with your own compartment dimensions.
---
10.

How to Turn a Dresser Drawer into DIY Under Bed Storage
| | |
| --- | --- |
| Materials: | Drawer, Caster Wheels |
| Tools: | Drill |
| Difficulty: | Easy |
This is another plan that uses an existing drawer and upcycles it into a rolling under-bed storage unit. If you have an old chest of drawers that you're looking to get rid of, you can use multiple drawers and put sensible storage under every bed in the house so you'll never be short of storage.
---
11.

DIY Wood Pallet Under Bed Toy Storage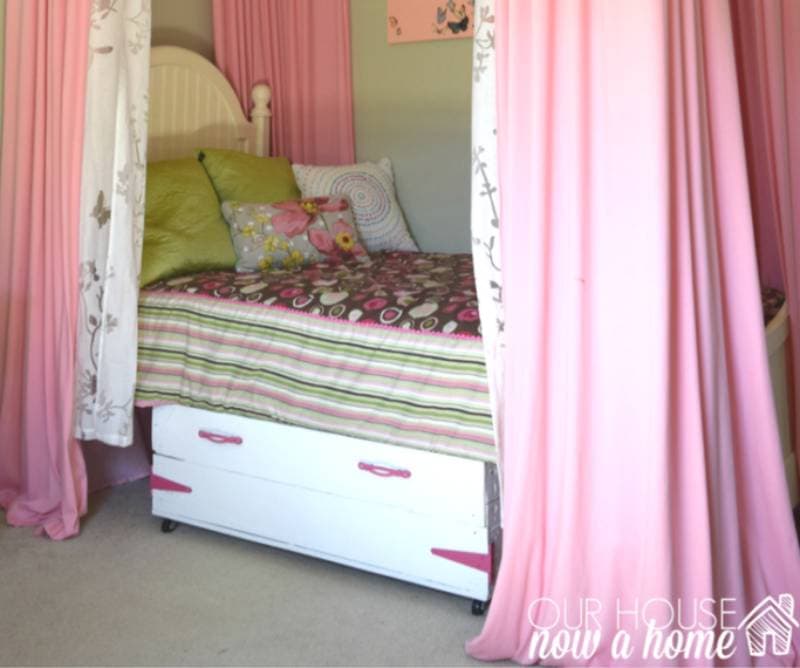 | | |
| --- | --- |
| Materials: | Pallet, Hinges, Handles, Caster Wheels |
| Tools: | Saw, Sander, Drill |
| Difficulty: | Moderate |
The difficulty in this DIY wood pallet under-bed toy storage drawer comes from the amount of cutting and from the selection of wood. It uses old pallets, which can be a great source of wood for upcycling projects, but they do require that you carefully select the planks you use because some can be rotten or badly damaged. The hinges used in the plan are for decoration and not functional, but they do look good, so are worth including.

Conclusion
At best, the area under the bed is unused space. At worst, it's a black hole of clutter and mess where items including clothing and shoes are lost forever. The 11 plans above can be used to bring some order to that area of chaos while providing some structured organization. Most of the plans are simple and the solutions are less expensive than replacing the bed with one that includes its own drawers or other storage solutions. You may need to modify the plans so that they better match the space you have available.
---
Featured Image Credit: Scott-lee, Shutterstock